Physician Assistants: Collaboration and Care, a traveling exhibit from the National Library of Medicine, is coming to the South Campus Library from July 30 through September 8, 2018. This exhibition was curated by Loren Miller, PhD, an independent historian and curator.
Physician assistants (PAs) practice medicine as a dynamic part of a team, alongside doctors, nurses, and other health care professionals and work within diverse communities to treat patients and improve lives by addressing health care shortages. Physician Assistants: Collaboration and Care describes how the profession developed as a solution to meet the social and health care needs of the mid-20th century and continues to evolve today. The exhibit features stories of PAs in communities all over the world and on the front lines of health crises, like the recent Ebola epidemic. It also features PAs from the highest echelons of government, including Congresswoman Karen Bass from California and George McCullough, the first White House PA.
Visit the U.S. National Library of Medicine website for more information on Physician Assistants: Collaboration and Care.
Looking for more information on research methods? SAGE Research Methods helps researchers, faculty, and students with their research projects. Dive into research methods at various points along the research lifecycle with more than 1,000 books (including the Little Green Books, SAGE's popular Quantitative Applications in the Social Sciences series), journal articles, reference works, datasets, cases, videos, podcasts, and more.
Need help getting started with research methods? Try the Methods Map, which provides key terminology definitions, and aids in exploration and discovery of various research methods. Identifying content related to measurement error, research impact, teaching research methods, and more is easy to do using the Methods Map. In addition to the Methods Map, user-driven reading lists, a project planner guide, and a stats test are also available.
SAGE Research Methods has a wide variety of resources of use to students, researchers, and faculty. One can also browse SAGE Research Methods by topic, discipline, or content type. Of particular interest within SAGE Research Methods are the following:
SAGE Research Methods Cases provides more than 1,100 selected case studies, showing the challenges and successes of doing research. Written by the researchers themselves, the cases explain why the researchers chose the methods they did, how they overcame problems in their research, and what they might have done differently with hindsight. Cases are peer-reviewed and include learning objectives and discussion questions.
SAGE Research Methods Datasets is a collection of selected teaching datasets and instructional guides that give students a chance to learn data analysis by practicing themselves. This bank of topical, engaging practice datasets, indexed by method and data type, are optimized to use in classroom exercises or in exam papers, saving faculty members hours spent sourcing and cleaning data themselves.
SAGE Research Methods Videos contains more than 125 hours of video, including tutorials, case study videos, expert interviews, and more, covering the entire research methods and statistics curriculum.
SAGE Research Methods is provided by UT Southwestern and the University of Texas System Digital Library.
Selected materials from the early years of the medical school are now on display until August 31 at the J. Erik Jonsson Central Library in Downtown Dallas. The "UT Southwestern at 75 Years: Early Highlights of Southwestern Medical College" exhibit was curated by staff at Special Collections and Archives (part of the UT Southwestern Health Sciences Digital Library and Learning Center).
This exhibit explores military connections, changes in medical education, and selected departmental highlights and institutional developments during the first two decades of the medical school. Some of the materials on display include:
A patient logbook from the 19th century
The first yearbook from the medical school
A kymograph
Lantern slides
Edward H. Cary, M.D. (1872-1953), more than any other single person, was responsible for the founding of what is today UT Southwestern. He was the originator and first president of Southwestern Medical Foundation, originally founded to strengthen Baylor Medical College. When Baylor Medical College moved to Houston in 1943, Dr. Cary and the Foundation started Southwestern Medical College, now UT Southwestern. As president of the Foundation, Dr. Cary helped negotiate the medical school's entry into the University of Texas system in 1949. This exhibit includes his log book from his training at Bellevue Hospital Medical College.
Both the Army Specialized Training Unit and the Navy V-12 Unit were part of the earliest years of Southwestern Medical College. These two programs, created during World War II, were intended to boost both the number of technically trained personnel and officers. The commemorative plaque given to the school in recognition of the Navy V-12 Unit is featured in this exhibit, along with early images and the first medical school yearbook.
One of the departments of instruction when Southwestern Medical College opened in 1943 was Medical Art and Visual Education. Southwestern Medical College was the first educational institution to offer the Master of Medical Arts degree. An original drawing by Lewis Waters, a 1950s illustrated scholarly work on polio, the seal of Southwestern Medical College, and early lantern slides help reveal how the use of images in medical education has changed over time.
The exhibit is available for viewing on the 5th floor (Business & Technology) of the J. Erik Jonsson Central Library in downtown Dallas until August 31, 2018.
Questions or comments about the exhibit? Contact archives@utsouthwestern.edu.
The UT Southwestern Health Sciences Digital Library and Learning Center is excited to announce the official launch of its new interface and enhancements. The new Library beta site is currently available for use and will be officially switched on Tuesday, May 1, 2018.
The Library's Digital Services and Technology Planning unit has been hard at work collaborating with the Library's multiple units to enhance site content and functionality. We started with a statistical review of website content, requested user feedback, and updated accordingly. Additionally, the new website's design is easier to navigate and use on handheld devices.
Watch the new promotional video highlighting the enhancements and new home page overview below, and then visit the new site and tell us what you think.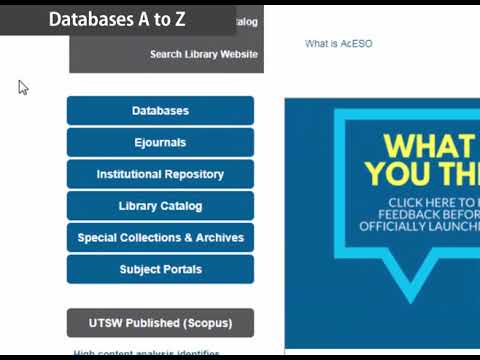 The Library Printing system has undergone some major changes highlighted below:
No more print cards!
Library print cards will no longer be used going forward. Over the past three months, we have been slowly removing swipe card functionality from our print system.
New print release station 
The new print release station is directly opposite the old swipe station. You can now release your print job with your UT Southwestern username and password. When UT Southwestern Information Resources disables someone's UTSW account, the print account will also be disabled. (Note: The old release station will remain available for another few weeks for card holders to use up their balances and only reflect account cards issued in the last six months.)
Adding funds?
You may add funds via the cash box to your print account that is now connected to the new print station. The process is the same as it was with the old station.
Users can also call 214-648-2626 to add money to their account with a credit card.
Secure printing
Users can now only see their own print jobs when they log into either the new release station or PrintCenter, which is the website used to release print jobs.
No more print job passwords!
When you submit a print job, you will no longer be asked to provide a print job password along with the print job name. Your UT Southwestern username and password will now be used. Upon logging in, select the print job, and select the print button to release your job to the printer.
Need a print account?
Currently, this is a manual process while our staff finalizes the automation process. If you require a new account, please send an email to Charles.Robinson@utsouthwestern.edu. Charles reviews all system transactions daily and adds anyone that has attempted to use the system but received an account error.