| | |
| --- | --- |
| | |
No Tax Deduction for Confidential Sexual Harassment Settlements?
I'm sure you've heard about the new tax law, and you probably have an opinion.  But did you know that the new law includes an employment law issue? 
The final Tax and Jobs Act included a little discussed provision that says this: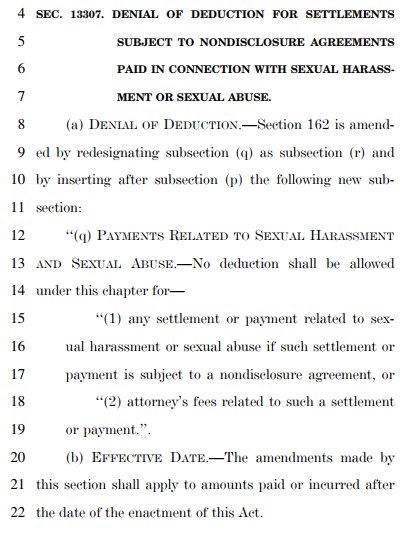 I'm no tax lawyer.  But one time I thought about booking a room at a Holiday Inn Express. So, my take –
Normally, lawsuit settlements are tax deductible to businesses on their corporate tax returns.  This provision pasted above appears to say that employers no longer may deduct settlements in sexual harassment cases, when the settlement includes a confidentiality provision (!)  
So, employers must either remove confidentiality provisions to take the deduction, or forego the deduction. That will make settlements 21% more expensive (no deduction means higher income and higher tax).
The law does not mention what happens when a settlement involves more claims than just sexual harassment.  Can the employer allocate the payments among different claims?  Stay tuned. 
Anyway, please talk with your tax advisers regarding the meaning of this new provision and if there's a tax-friendly work around that protects confidentiality. 
Happy holidays to all.  
The post No Tax Deduction for Confidential Sexual Harassment Settlements? appeared first on Shaw Law Group.
An Incomplete List of Important Employment Law News You Can Use for 2018
Hello, everyone. It's been a while. Not much. How about you?  OK, no more 70's lyrics. I've been off the blog for a while. But I am starting my New Year's resolution early.  So, here goes with a few random updates.  For a more comprehensive (much longer and complete) list of things you need to know, please consider going to one or our legal updates. We are doing another live session and a webinar.  Sign up here: 
2018 IRS Mileage Rates? Not yet. The IRS hasn't set them.  Here's where you'll find them when the IRS updates the rates
 Minimum wage increases – The California minimum wage depends on the size of your business.  Effective January 1, 2018, the minimum wage goes up to $11.00 for employers with 26 or more employees; and to $10.50 for smaller employers. The DLSE has a handy chart here. Remember: some localities in California have their own, higher, minimum wages, such as San Francisco, Oakland, Berkeley, Emeryville, Los Angeles and more.  So, please check to see if your business has a location in one of these cities and counties and adjust your minimums accordingly. 
Don't forget that the minimum wage increase means a lot of other things have to change, like the minimum salary for exempt employees (at least 2x minimum wage).  The minimum split shift calculation will have to increase.  
The DLSE also sets other minimums, such as the required hourly rate for the "computer exemption," (here) and the hourly physician pay required for exempt status (here).  
Employment applications must be revised to delete questions about convictions and arrests effective January 1, 2018.  In addition, employers using background checks for criminal history have to comply with new disclosure and procedural requirements also starting on January 1.  This is brought to you by AB 1008, the state wide "Ban the Box" law.  Our recent article on the subject is here.
While we're on the subject of applicants, it is illegal to consider prior salary when interview and hiring applicants, effective January 1.  That will require revision of the application as well, and training hiring personnel.  See AB 168. 
Don't forget to update your anti-harassment training programs and distribute the new Transgender Rights pamphlet / notice. The Legislature recently revised the AB 1825 training requirements. SB 396 is here. Training is more important than ever, as you know if you watch Matt – er Charlie – er Garrison – er – whoever is still employed. 
California is going further with its laws protecting those who are not authorized to work in the U.S.  AB 450 (here) is a new law that will make it harder to comply with federal law without offending California law. Basically, to avoid potential liability under California law, it is important to comply with federal immigration law, but go not one step further than federal law requires.  For more guidance on how to walk between the rock and the hard place, please talk to immigration counsel or your employment lawyer of choice. 
Finally, for now, small employers have to get ready for mandatory "parental leave."  California has expanded part of the Family Rights Act to employers of 20-49 workers.  That's courtesy of SB 63, which is here.
Are there more employment law changes you have to know for 2018?  Yes. Yes, there are. Can you skip our legal update now?  No way.  
I'll be blogging more regularly if I can hold to my resolution.  For now, the above is a good start.  Stay tuned for our upcoming longer articles on new laws and preparations for 2018.  Sign up for the Firm's newsletter at shawlawgroup.com
DGV
The post An Incomplete List of Important Employment Law News You Can Use for 2018 appeared first on Shaw Law Group.