Find Out Your College Admissions Chances on Your College List
Remember when Amazon was just an online bookstore? Now, an entire day can be filled with Amazon products – just ask Alexa! She'll send you dinner, put on your favorite show, and help you store a lifetime of memories. Simply put, technology is amazing.
At Parchment, we use the power of technology, our expanding network, and some pretty smart data wizards to go beyond just helping you send your credentials. We also let you explore what opportunities those credentials can lead to. Answering questions like "What colleges can I get into with my SAT scores" or "what are my chances of getting into my parents' alma mater." If you thought Parchment was just for sending your high school transcript to the college of your dreams, think again.
Use Parchment's College Tools to think bigger and discover colleges you may not have even known should be on your top list. Just like the "You may also like" or "People also viewed" sections on your favorite streaming app showed you your new favorite show, Parchment College Tools will help you explore new colleges and find out your true potential.
Parchment College Tools
Complete your Parchment profile by answering a few quick questions at the top right-hand corner. Question include:
Where you went to high school

Unweighted and Weighted GPA

SAT and ACT scores

Class rank and class size

College majors interest

Extracurricular interests
Once your profile is complete, that's when the data-magic happens. Quickly add colleges you are interested into your "College List" and gain an inside look* at the types of students who are also interested in that school. For example, you can see the average ACT and SAT scores, GPA, top states they are coming from and their top majors, so you know how you rank against your competition.
Better still, let the colleges you've added to your list know you are interested in them. Their admissions office will be happy to hear you are interested in learning more about their school. You can also keep track of important admissions deadline information or your application statuses, then export the list to share with your high school counselor or parents. They'll be impressed that you are staying organized and taking the next steps towards your future goals – college, here you come!
Get started today by visiting My Chances.
*Our college predictions, ranking, and recommendations are powered by 765,689 college applications annually – the largest application database online. The Admissions Chances algorithm we've created should not be considered a guarantee that you'll get into your top choice. But, it's still a helpful guide to create a list of colleges where you have a good chance of admission.
The post Find Out Your College Admissions Chances on Your College List appeared first on Parchment.
Digital Credentials Are the Key To Opportunity for Professionals
As professionals, each of us is looking to improve our careers and potentially make that next step. To do that, at one point or another we may need to seek additional learning or skills. Whether that's a professional development course, a training program, or even going to trade or graduate school. Each one will result in a credential, such as a badge, certificate, license or degree, that certifies all of your new knowledge and opens the door that was holding you back.
With so much on the line, it doesn't make any sense to have these credentials only as paper documents that your employer will never see. Without verified proof, they just have to take your word for it that you have the credential you say you have.
Luckily, employers, licensing boards, associations, and other organizations are utilizing Parchment's digital credential platform to issue digital diplomas, certificates, and badges to their recipients. Offering digital credentials makes a big difference to both the learner and to the organization.
For Employers, Going Digital Is Simple
Adopting digital credentials for your organization is simple and secure!
Employers love being able to increase brand awareness and employee recognition with a shareable digital certificate.
Licensing boards and other organizations find managing their credential programs simple by uploading a spreadsheet.
Associations can increase their membership and reach by letting their members promote the association through their social media channels.
The secure and verified link to a digital credential is used by employees any time they need to share the credential you've issued them.
Learners Love Digital Credentials
We live in a digital world, so having our achievements in an easily shareable format can help learners make the most of their investment.
Available immediately, digital credentials can be put to work right away. Most recipients of digital credentials are able to get the steps to their promotion moving more quickly. They don't need to wait for their paper credential to arrive!
Being able to share digitally on social media platforms like LinkedIn can make them much more marketable. Back up your claims with verified credentials to rise to the top of the pack.
Enjoy one place to collect and manage all of their credentials. Parchment lets everyone store their transcripts, diplomas, licenses, and certificates in one convenient place. Anytime you need to share your credentials, they're just a click away.
In the modern world we live in, having our credentials stuck in a drawer or on the wall, doesn't help. We need to be able to securely share our accomplishments to get that opportunity we're looking for. You earned your credentials, you might as well be able to show them off!
To learn more about offering digital credentials like badges, diplomas, certificates, and licenses, contact us here!
The post Digital Credentials Are the Key To Opportunity for Professionals appeared first on Parchment.
Scholarship Winners Are Heading To Their Colleges Of Choice
Spring Valley High School in South Carolina was the winner of our Member Status Program for 2015-2016, winning a $10,000 scholarship. During our 2016 Parchment Connect: Carolinas we were so pleased to be able to provide the prize to the Spring Valley High School counselors in attendance (BIG check and all!).
Over the course of the year, Spring Valley High School decided that they wanted to make the most of their winnings, and split the $10,000 scholarship into four $2,500 increments. Each of the four recipients are lower-income students, so this scholarship money was truly impactful to help make their college dreams come true.
Scholarship Winners:
Meredith Kimmer, going to North Greenville University

Aspen Evans going to Clemson University

Maya Ingram, going to University of South Carolina

Sunshine Spiva, going to North Carolina State University
Each winner is going to a university that receives Parchment transcripts electronically!  We wish them the best of luck at their college of choice!
The post Scholarship Winners Are Heading To Their Colleges Of Choice appeared first on Parchment.
A Communication Guide To Promoting Digital Credentials
When diplomas and certificates are digital, they are a powerful tool for your students.  As an institution, you can help your graduates make the most of their education by making sure they know how to claim and use their digital credential.  In this post, we'll cover some of the guidelines for how to really promote digital credentials at your institution.  The more your graduates are claiming and sharing your diplomas and certificates the more your brand will be emboldened. This guide will make it easy as 1-2-3!
Communication Guidelines
Before we get into where you should promote (including some great samples) here are a few things to keep in mind as you're creating your messaging that will make it effective.  
Be brief. No one likes reading a really long paragraph when a sentence will do.

Let graduates know why a digital credential is important for them.

Include pictures. A picture says a thousand words … and you remember how we feel about too many words, right?

Think mobile friendly. Chances are you'll reach students the first time on a mobile device like their smartphone.

Hook to students' emotion. Acknowledge a graduate pride and accomplishment rather than simply providing transactional information.
Making Your Plan
According to Nielsen Media, it requires 42 impressions for the average person to absorb a message or brand. That means you can't promote the fact that you now offer digital diplomas or certificates too much.  Letting your students claim and share their credentials digitally is a big deal … make sure they know how much digital credentials can help them!
Here are the top 5 things to keep in mind as you're developing your strategy:
Add information about digital diplomas or certificates to your website. 90% of your graduates will look there first.

Email graduates before, during, and after their conferral.

Text message too! Institutions that issue their digital credentials via text message see a 30% better claim rate.

Include a flyer in your diploma cover during graduation to let them know about the digital credential they will receive.

Encourage your graduates to share their credentials on LinkedIn!
Download The Complete Guide!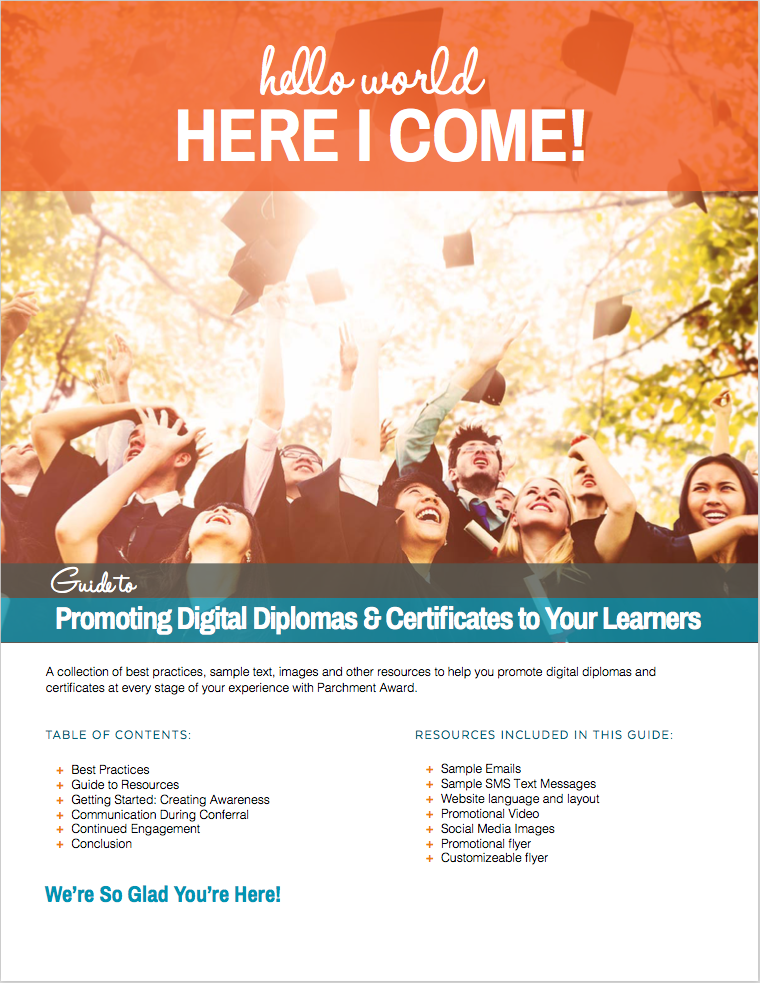 It's easy to get started with this complete guide to promote digital credentials.  Go ahead and check it out and let us know when you're ready to start getting digital credentials into the hands of your graduates!

Guide to Promoting Digital Credentials to Your Learners
Download
The post A Communication Guide To Promoting Digital Credentials appeared first on Parchment.
Rewarding K12 Members With The Member Status Program
With thousands of high schools using Parchment to manage all of their records, there's a range of engagement. With all of the challenges you face each day, it's nice to get rewarded for the work you're already doing!
Parchment's Member Status Program helps K12 administrators learn how to use Parchment better, and rewards them along the way. Administrators can climb up through four tiers (Bronze, Silver, Gold, Platinum) based on how much activity they do with Parchment.
In the 2016-17 School year, we saw members climbing the ranks. One lucky member from each of the top tiers won the grand prize for their category:
2016-2017 Status Program Tier Winners:
Platinum Winner (MacBook Air)

Gold Winner (iPad Air)

Parchment Admin:

Stacey Erwin, Registrar

Silver Winner (Apple TV):
2017-2018 Status Program Is Underway:
This year's Member Status Program is well underway. Log in (see below) to see your status and learn how you can boost your status. We'll give out this year's prizes next summer, so you have plenty of time to get involved and start climbing the tiers.
What's My Status?
Every K12 high school has a custom Status Page to let you know how you stack up. Check out your custom Status Page and see how your school is performing compared to your state's averages. And see which prizes you're eligible for! Simply login to your Parchment Account. Click Support, then click Status Program.
Provide feedback on the Member Status Program! What else would you like to see? How has the program helped your school? Email fbelmer@parchment.com with your comments!
The post Rewarding K12 Members With The Member Status Program appeared first on Parchment.