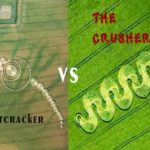 I should have lead off with this before I did the Mud Slinger verses the Gun Slinger.
Did you know that we will beat our weapons into plowshares (Isaiah 2:4) wouldn't it be nice if we could start that now?
If people could only love one another,  that's what is so great about having Jesus living in us.
One of my favorite Bible Teachers and a man with a similar history as my own did a teaching last night that was worth mentioning it comes in two partsGreg Laurie at Harvest Christian Fellowship.