Over on Anxiety Slayer my partner, Shann Vander Leek and I talk a lot on our podcast about the power of EFT Tapping for overcoming anxiety, so we wanted to share this special opportunity about a free event that you can join to learn EFT Tapping for a varity of issues: it's called The World Tapping Summit and it starts in just 2 days time on February 4th - you can reserve your free place here

Find out more about the benefits of EFT tapping in the podcast below - here are some points we covered this podcast:
Introduction to the World Tapping Summit

The buzz around Louise Hay using tapping




EFT Tapping questions sent in by Anxiety Slayer listeners:

EFT tapping seems so easy so HOW does it work?

When you tap on a memory but you don't feel the emotions you just remember them. Does the tapping clear out the emotional charge?


I tapped on something and had an emotional breakthrough and issue had been resolved. My behavior was different for two days, but then I seemed to return to my old behaviors. What do I do in that instance?

Do you have to tap every day and can you tap a few different scripts one after another?

What is a root cause in connection with EFT tapping? How do I get a handle on the root cause of a problem?

How do I tap on issues that seem totally matter-of-fact and beyond my control such as a traffic jam or an incurable illness?

Are there any physical signs that show EFT is working?

Why do I keep yawning during tapping?
How do I know an issue is getting cleared or completely cleared with EFT tapping?
Listen to the full podcast here (if your browser doesn't show the podcast player please listen on iTunes)
You can reserve your free place at the World Tapping Summit here...
image by truester

More and more of us are feeling like we have too much to do. We are disappearing under a pile of expectations and obligations that leave us feeling exhausted and lost.

The ongoing experience of too much information and not enough time causes stress, anxiety and unwelcome emotions. We may also feel ineffectual because we simply can't keep up with it all.

The trouble with overwhelm is that it makes it very hard to do anything to find relief. We are already overloaded and confused so how can we figure out how to deal with it? It's just another thing to think about!

Yet from experience, I know that the answer is to tackle our stuff. Our baggage, limiting beliefs and negative emotions are draining us of our energy and we feel a lot better when we deal with that.

Twelve years ago I fell in love with a technique that I still use personally when I feel stressed or overwhelmed. I liked it so much I wrote a book and a college course about it and later created a workbook with audio support for anxiety relief.

I'm talking about Emotional Freedom Techniques, or EFT Tapping as it is now popularly known.

When I first learned EFT there was little information available and it took me a while to get my head around how to do it and what I could use it for. But once I realised the benefits I was amazed. I took the first ever workshop in the UK and got trained to share with others as soon as I could. People would travel hundreds of miles to attend our workshops and everyone who tried EFT was delighted with it.

Now things are much easier. EFT has been endorsed by Deepak Chopra, Louise Hay, Dr Merocola and many other leading names in the fields of wellbeing and personal development.

EFT Tapping is a great technique for dealing with overwhelm, emotional baggage and limiting beliefs and now there's the chance to learn it for free with 10 expert presenters at the 2013 World Tapping Summit.

It's great opportunity for dealing with your "stuff" and putting down those emotional burdens you've been dragging around with you for way too long.





Recommended Resources:
Introduction to EFT Tapping Teleclass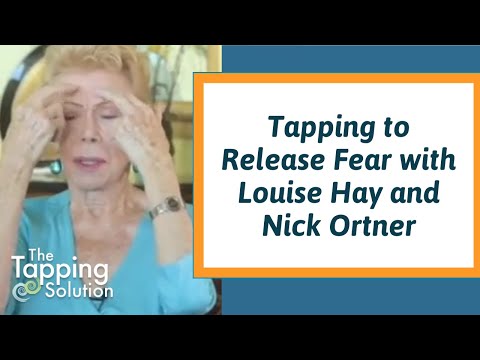 In this lovely video Nick Ortner of thetappingsolution.com talks with Louise Hay about EFT Tapping.
After a brief discussion Louise shares her own experience in using EFT to ease neck pain related to a childhood trauma. There is an opportunity here to tap along with Louise as she demonstrates her mastery of positive affirmation while tapping.
We talk a lot on our Anxiety Slayer podcast about the power of EFT Tapping for overcoming anxiety, so we wanted to mention this special event here. The World Tapping Summit starts on the 4th February 2013 - it is a great opportunity for you to learn EFT Tapping for a variety of issues - and it's free. You can reserve your place here:
Photo by Dawn Ashley
Ayurveda prescribes different behaviours that we can meditate on and work with to nourish our minds and hearts. These are called behavioural rasayanas. In Ayurvedic medicine a rasayana is a special substance, or herbal preparation, that acts as a tonic. These tonics are greatly appreciated for their positive effect on our overall well-being, in particular because they nourish the connection between our physical body and our mind and consciousness.
As Ayurveda encompasses all nature, it teaches that all things can be used to improve our health: our food, lifestyle, emotions and mental self-care are considered as important as any medicine we may receive.
Ayurveda offers these behavioural rasayanas as actions and attitudes we can work on to bring peace to our minds, emotions, and our hearts. They are often prescribed whenever there is anxiety, depression or cardiovascular disease.
Aim towards simple living with space for contemplation, meditation and spiritual development. Ayurveda teaches that spiritual development is the goal for all human life. Simplifying our lives gives us space for reading, thought and prayer on whatever spiritual path we choose to explore. Make time for walks in nature, good conversations with friends, simple loving exchanges like sharing and hearing each other's thoughts, giving and receiving gifts and foods cooked with love.
Manage anger. Anger is a natural part of life that is often expressed when our needs aren't met. Practice listening to your heart and mind to know your needs. Take care of yourself to meet them as best you can. Anger should be expressed, suppressing it causes harm. Express it in a way that doesn't harm others and then let it go. Holding anger causes stress and pain.
Practice non-violence and compassion for all living beings. Ayurveda and yoga teach ahimsa - the practice of causing no harm. When we harm others, we harm ourselves. A plant and grain based diet is recommended as a diet that respects all other life while nourishing our own.
Keep a healthy routine. Morning bathing, cleaning the tongue, sipping warm water. Oil massage. Daily gentle exercise like: walking, yoga, tai chi, breathing practices. Going to bed in a calm state of mind before 10pm whenever possible.
Keep regular rest, work and mealtimes wherever possible.
Practice peaceful speech and allow time for silence. To be always speaking is exhausting. Allow time for quiet to think, reflect and rest.
Keep the company of uplifting and inspiring people. By association in person, or in writing, their wisdom affects us and we gain a broad perspective of priority and purpose. We cannot make all these changes at once, but we can focus on one change at a time and keep these behavioural rasayanas somewhere where we can review them often and meditate on making gentle changes that support us in cultivating a peaceful mind and happy heart.
Further Reading:
Ayurveda & Body Types: Do you Know Your Dosha?
The typical congestion, runny nose, cough and aches that come with a cold can make you feel rotten for a few days, but there is one simple common kitchen ingredient that can help you feel better fast...
According to
Ayurveda
, winter and spring are the time when we are more likely to get a cold. Colds are primarily a
kapha
disorder where the body shows a build up of the cold and wet properties of kapha which reveal themselves as mucous and congestion.
Vata
is also involved causing chills, and sometimes low appetite.
Since a cold is caused by the cool nature of both kapha and vata the best way to treat it is to use the warming properties of ginger. Ginger is good for the lungs, digestion and circulation so it is perfect for treating colds. For the lungs, ginger clears phlegm, for the digestive system it kindles our digestive fire and stimulates the production of digestive enzymes, and circulation is increased along with sweating.
Ginger is so revered in Ayurvedic medicine for it's many healing qualities that it is known as 'the universal medicine'.
Three Ginger Based Home Remedies for Treating a Cold
1. Ginger & Cinnamon Tea

Take a cooking pot and fill with 1 pint of cold water, add one cinnamon quill and 1 inch of grated fresh ginger. Bring to the boil and then simmer for 5-10 minutes. Strain and pour into a thermos flask with a little raw honey. This should be enough for three of four cups to be drunk throughout the day.
You can also add a squeeze of lemon to your flask for extra congestion relief and soothing a cough.
Cinnamon is a popular spice for the treatment of colds and flu due to it's warming nature and it's effect on increasing circulation. It has a cleansing effect on the body and is valuable in the treatment of both Kapha and Vata conditions.
2. Ginger & Honey Cough Syrup

This simple home remedy can be made in a minute and is very soothing to coughs and colds. See the video below for a quick and easy guide to making your own fresh ginger cough syrup.
3. Ginger Bath

Mix one tablespoonful of ground (powdered) ginger with 1-2 cups of Epsom Salts under hot running water and run yourself a warm cold easing, muscle soothing bath.
Keep warm and avoid cold foods, especially dairy, for a fast recovery.
Note:
This article is for information only. If iyou are concerned about your health, please see your doctor. Be careful when using ginger if you are taking anti-coagulant medication and do not use ginger within 3 hours of taking aspirin.