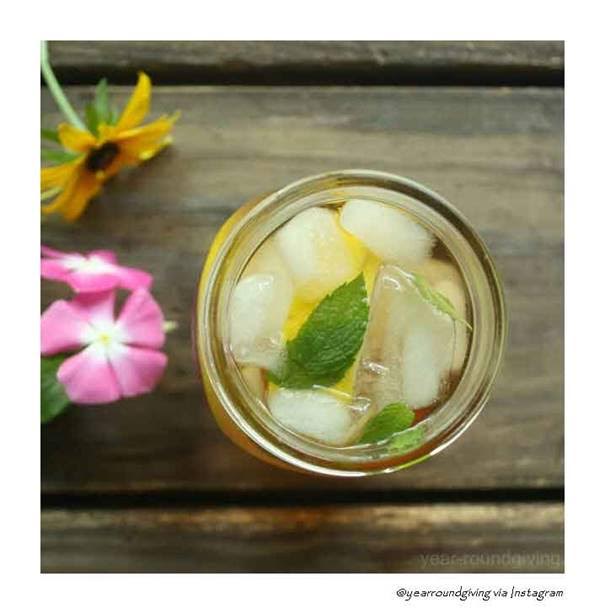 How excited are you that the first day of summer has finally arrived? Hey, even if you still have to go to work and all that, there's something totally cool about June 21st. Everyone knows it's the longest day of the year which gives the #TeaProudly community a totally awesome excuse to celebrate summer fun in ways that you never even imagined…yes Bigelow Tea is part of the scene!
For this year's summer solstice, think out of the (tea!) box and make some really cool recipes that are great for any type of summer picnic or party, or just for chillin out!
For example, these Endless "Pop"sibilities popsicles are totally unique! They are the most amazing treat for getting refreshed and revived on a hot summer day- can't you just see yourself lounging in a hammock in the backyard catching all the drips before they hit your shorts?
Endless "Pop"sibilities (Popsicles)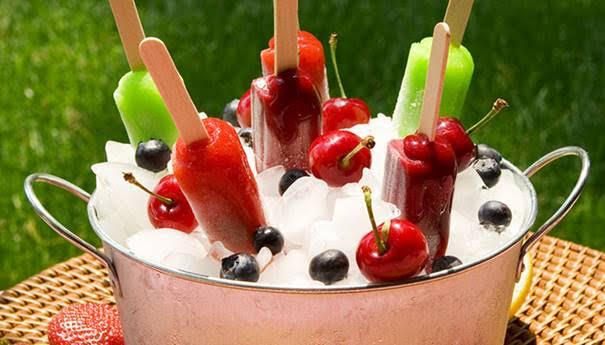 Ingredients
3 Bigelow Pomegranate Pizzazz Herbal Tea Bags
3 Bigelow I Love Lemon Tea Bags
2 cups boiling water
2-3 tablespoons agave nectar
Instructions
Steep all 6 tea bags in water for 3 minutes. Remove bags. Stir in agave nectar syrup; let cool. Pour into 6 molds; freeze 6 hours or overnight. Run molds under hot water for a few seconds to loosen; unmold and enjoy.
Also mega delicious- Green Tea and Coconut Popsicles. So unbelievably simple to make, yet so tasty and such a good way to cool off. (Maybe a fun summer project to do with the kids?)
Green Tea and Coconut Popsicles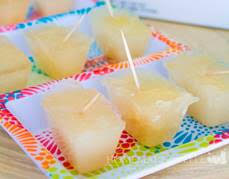 Ingredients
1 cup brewed green tea
1 cup coconut water
1 tbsp honey (raw and local is best)
Instructions
Combine all ingredients in a bowl.  Pour popsicle mix into a clean, empty ice tray.  Place a layer of plastic wrap on top, and pull tight.  Insert a toothpick into the center of each tray, and place in the freezer until frozen solid.
When ready to enjoy, just remove the plastic wrap, and you have 12 individual popsicles!
Finally, this crazy good dessert is basically a great impression in a pan. Make Triple Berry Skillet Tea Cobbler your go-to after dinner treat to bring to barbecues all summer long. It's like eating up the taste of summer in every bite. Are you salivating yet? Yum!!
Triple Berry Skillet Tea Cobbler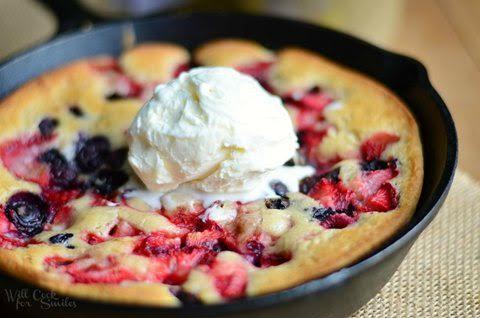 Ingredients
1 cup blueberries
1/2 cup raspberries
1/2 cup chopped strawberries
1 Tbsp sugar
1 tsp lemon juice
Dash of cinnamon
1 cup of flour
2/3 cup sugar
1/4 tsp salt
1 1/2 tsp baking powder
1 egg
1/2 cup Bigelow "I Love Lemon" herbal tea (1/2 cup of boiling water and 1 tea bag)
1/4 cup sour cream
1 tsp vanilla extract
1 Tbsp butter
Instructions
Use a 6 1/2 inch skillet.
Preheat the oven to 350.
Place a tea bag in a cup with 1/2 cup of boiling hot water and steep for 5-6 minutes. Let it cool to room temperature.
In a small bowl, mix berries, sugar, lemon juice and cinnamon.  In a large mixing bowl, whisk together egg and sugar vigorously for about a minute. Whisk in salt, sour cream and vanilla, until all well combined. Whisk in cooled tea.
Whisk in flour until all incorporated. Preheat seasoned skillet over medium heat and melt butter in it. Swish butter all over the skillet. Take off heat. Pour in most of the batter in the skillet and add berries over the top. Drizzle in remaining dough over the top. Place skillet in the oven and bake for 33-37 minutes.
So, which sweet treat are you going to try first this summer? Tell us what's sounding totally delish to you and tag #TeaProudly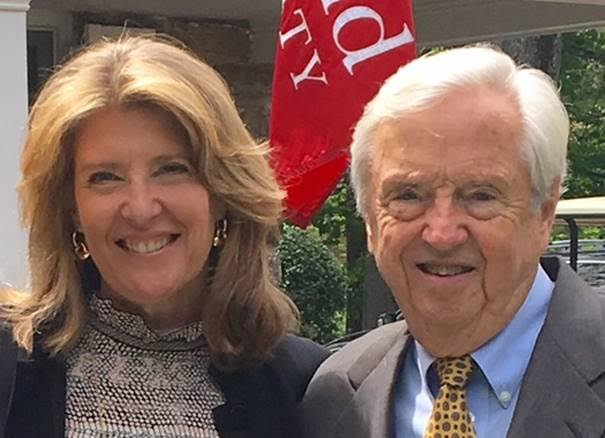 Hopefully it happens other times during the year, but Father's Day (and the whole weekend) is a time when we appreciate what our dads bring to the table. They're role models, they keep us on the right path, and they pass on their own experiences so we can thrive in the world. Whether you're sitting over a cup of Bigelow Tea discussing old family stories or simply driving home – talking about what's new in life – it seems every moment can carry some nugget of wisdom (or, at the very least, a few dad jokes).
It's tough to say which is more important, showing appreciation for our fathers or sharing those moments that make them so special. The good thing is, in today's busy life, taking some time out to spend with dad can be both. And chances are, whether you have a laugh or learn something new, you come away with just as much as he does.
As a family-owned company, Bigelow Tea owes much of its success to the patriarchs who have been leaders and advocates for the company (in concert with the matriarchs, of course!). It started with Ruth Campbell Bigelow's husband who supported his wife in every way possible with what would become his family's now third generation business (painting tea canister labels in their living room in the early days was one great example)! Today, Co-Chairman David Bigelow (pictured with president and CEO and daughter Cindi Bigelow) – one of only two people who know the secret Constant Comment blend – helps to support the company, ensuring the quality of our teas and the well-being of all employees.
Fathers have played an important role in the history of our business, and nowhere is that more apparent than for Cindi Bigelow, who has shared several stories and memories of her father – and his influence – for Father's Day. Check it out, and from our family to yours, have a wonderful Father's Day on Sunday!
Cindi Bigelow: Lessons my father taught me
During my first week on the job in our family business, my father taught me a lesson I never learned at Northwestern's Kellogg School of Management.
I had just received my MBA and was proud of that accomplishment. I immediately started work as the family company's cost accountant and was ready to set the world — and Bigelow Tea— on fire with my bold ideas and innovative concepts.
On our first PC, I was putting together the company's first bills of material, and I couldn't wait to show the CEO — my father, David — what I had accomplished.
On my third day, he came down to see me.
"How's it going?" he asked.
"It's going great," I said, and was about to explain the project when I noticed he was preoccupied with my "out-basket."
"You have envelopes going out," he said.
"Yes, they are my bills that need to be mailed."
"But they don't have any stamps on them."
"I know," I said.
He paused, reflected a moment and replied, "Gee, Cindi, if you don't put stamps on your envelopes, then why should the other employees put them on theirs? So why don't you go buy some stamps and put them on your mail."
It was the first of many lessons I got from David Bigelow about business practices … and humility. And it was also a lesson in leadership, the kind of leadership that my father exemplified.
Over the years, there were hundreds of similar occasions that emphasized one of his foremost principles: The boss sets the tone, he/she sets the standard. The boss determines how high or how low the bar is for acceptable performance based on his/her personal actions.
You see, he was very democratic in the way he ran his business, and the employees revered him because he had a common touch. I should add that he displayed the same values and integrity as a father.
I'm not engaging in hyperbole when I say my father was a saint. Anyone who knows him always says he's one of the finest men there is, although he would certainly disagree. To my biased thinking, he's one of most giving, loving, intelligent and humble men I've met — in addition to being a great father. That's quite an accolade from a daughter because it is even harder to be a successful parent than it is being a successful businessperson (and that is incredibly hard!).
The most important thing any father can do is give his children the assurance that whenever they turn around, he'll be there — providing, protecting, advising, loving … all the things fathers are meant to do. And that is exactly what my father did for my sister and me. ​ All the years he was running the company, he never missed having dinner with us, and whenever I needed him, he was always there.
He never put his business before his family, and I've tried to be as conscientious in raising my own children.
Every Sunday after dinner, I'd ask, "Dad, can we get ice cream?" And the answer was always "yes." Then, he'd take my sister and me to the local Carvel in Westport and buy us soft-serve cones.
He always offered support, and if he had to teach us a lesson, he did it by example and not criticism. Whenever I came home with a report card, he'd look at it and exclaim, "Cindi, oh my gosh! All A's! I was lucky if I got C's when I was your age."
That praise made me one of the proudest girls in school. Years later, when I visited his alma mater, Avon Old Farms School, to watch as he received a lifetime achievement award, I discovered that he was far from "average." He had received all the top awards from students and faculty, and then went on to Yale. However, he never bragged about the honors or used them as an opportunity to one-up someone else.
I would often sit in executive committee meetings and see him handle volatile issues with a higher level thought process and insight. Most importantly, what impressed me then and continues to impress me was his sense of fairness, not only as a father but also as a businessman. If there was ever anything that even hinted of unfairness, a whole new David Bigelow would show up at the door. This, even more than things like profit margins and marketing, motivated him. He'd get feisty if he thought someone was being wronged, either customers or employees. Many times, I'd hear him discuss company decisions and one of his first questions would be, "Is that fair for the employees?"
He raised me to have same sense of fairness as my moral compass in all aspects of my life. Another lesson he taught me was that leaders should do the right thing even when no one else is supporting them. Sometimes that means staying firm when you know what you're doing is right and have the confidence that it will play out properly in the long haul. When he wanted to build a new plant but still stay in Connecticut, everyone said he was wrong for many reasons … wages, taxes, utilities. The list was endless. He went against all the members of his team because he knew if we wanted to maintain our outstanding manufacturing work force, we would have to rebuild and stay in state.
Thirty years later, I look at our Connecticut plant and see the most engaged and passionate workforce. They are the definition of the perfect plant. And we owe that to him.
He also taught me to be successful without being successful at someone else's expense. ​For my father, the highest calling is to be a good, decent human being. He lives by that in business and with his family. He never compromises.
Over the years, he continues to be an inspiration as chairman of the board, a father and a husband.
Everyone should be as fortunate as I am, because one of life's greatest blessings is to have a father committed to doing right in a world that often confuses right and wrong. His philosophy is very simple: be honest, be fair, be concerned about others more than yourself and remember that success has many different definitions. His always valued being able to look back at his accomplishments and know he thought of the greater good.
Thank you, Dad, for your many invaluable lessons and more importantly, the power of your example.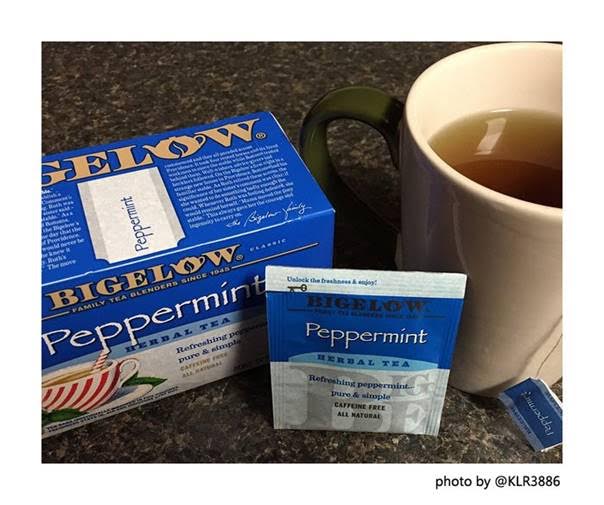 How cool is it that the amazingly talented singer-songwriter Struan Shields is a Bigelow Tea fanatic and makes it part of his pre-show ritual? When he gets ready for a performance, Struan says he absolutely must have his Bigelow Peppermint Tea before a show or else! He says he even drinks excessive amounts of it! (Is there such a thing for a tea lover?)
So what about you? Maybe you've found yourself facing the day of a big party, a huge career-changing presentation, or even a first date. These are all just some of the events that call for a "go get 'em" game plan! Do you have a go-to for getting revved up and ready, or calm, cool and collected? Here are some great ways to get your very own tea ritual going!
Get glowing with tea.
You'll feel your best when you know you look your best—try tea as a way to amp up your beauty routine! For example, green tea and black tea are awesome for all types of beautifying tricks!
Put nerves in their place.
Chamomile Is known for being a calming herbal wonder—so good when you need your mind and body to chill. Sip a cup while getting ready for any sort of event that's got your nerves wracked!
Get moving!
If you need a bolt of energy to get your engines motored and your mind focused, try a black tea such as Lemon Lift® for a refreshing boost to the brain and body!
Keep the good vibes going. 
If it's all good and you want something to sip to keep the mood flowing and the momentum going, Constant Comment® is your go-to. Terrific for when you're hanging with the gang and chatting up a storm.
Wind it down. 
End of a crazy exciting day still got you buzzing? Slide into sleepiness and calm your mind with Sweet Dreams® Herbal Tea, a delicious and soothing mix of chamomile and mint. Nighty-night!
What's your favorite tea ritual? Tell us and tag #TeaProudly.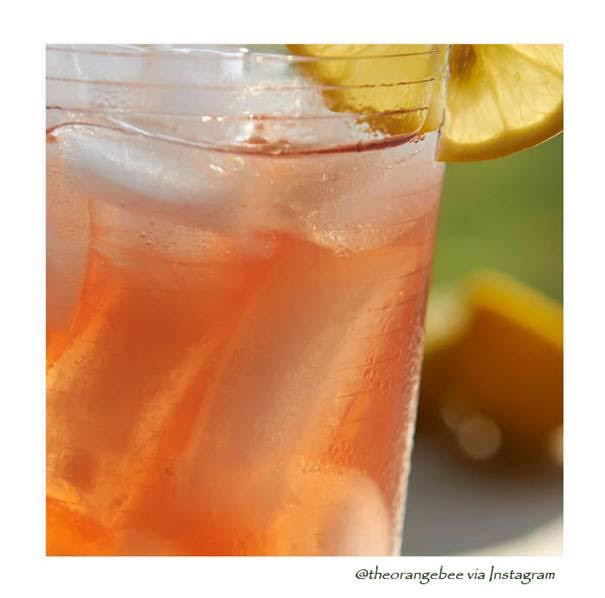 Hooray, it's iced tea weather and Iced Tea Month! And that means it's time for your usual steaming mug of goodness to chill— literally. Bigelow Tea has everything you need for some cool sipping all summer long. Whether you love fruity flavors like Pomegranate Pizzazz®, Red Raspberry™ or Perfect Peach®, or crave the delicious combo of tea and lemonade, get ready to be refreshed.
BTW- you may be a pro at making a hot cup of tea on a cold day, but creating iced tea perfection has its own set of in-the-know tips. Check these out:
Get experimental. 
Try pairing different teabags together to give your iced tea a tasty twist that's all your own. Bigelow Tea has over 130 flavors to choose from, including a bunch of specialty iced teas to get you started. Remember, it's certainly not against the rules if you choose to ice your favorite hot tea, yum!
Grab a spoon. 
In this awesome video, third generation president and CEO Cindi Bigelow recommended putting a spoon in your glass before pouring in the hot water. The spoon will capture incoming heat and prevent your glass from breaking- who knew!
Keep an eye on the clock.
If you're making just a glass for yourself, give two teabags a couple of minutes to steep, but for a quart (like if you're pouring for a party) make sure to steep between 6 to 10 minutes. Feel free to play around with time lengths to find your perfect brew.
Sweeten the deal. 
Besides sugar, think out of the box and try agave or honey. Spruce your iced tea up further with a slice of lemon or a sprig of mint.
What is your favorite Bigelow Tea to enjoy iced? We want to know! Tag #TeaProudly.