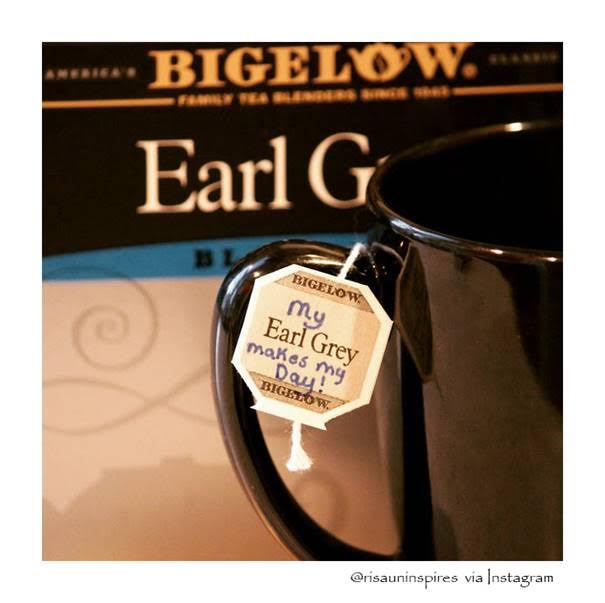 So what's the deal with #TeaProudly? How does this work?  It's simple! We all love tea, right? And along with our passion (yours and ours!), is the fun we all have in sharing what's important cause who doesn't love to talk about favorite tea flavors, awesome mugs, cool tea times with friends and family and any other time tea has rocked our world?!
So just in case you missed some of these special #TeaProudly confessions online, we have brought you some fun tidbits right here. Hey, maybe this will inspire you to leave your own tea thoughts in the comments of this blog, on our TeaProudly site, or anywhere in social (just tag with #TeaProudly so we can join in on the fun!).
Check out the fun tea drinking friends:
Question: describe a day that you could live over and over again (and did it include tea?)
When I received my Ph.D., It was cold and I had my shiny Red mug filled with lemon tea.
Christmas in Quebec City, with the snow coming down. Love my Bigelow Orange spice tea with honey!
Our honeymoon day in Arai Ryokan in Izu Japan. The tea set up was incredible in our traditional room. Hot springs were out of this world!
Ahhh, favorite Bigelow Tea flavors from our TeaProudlyites:
Vanilla caramel. I never liked hot tea until I tried this and it's the only kind I like. I drink it every day I'm at work.
Earl freakin grey……Bigelow makes THE best.
Earl Grey and Green Earl Grey are my favorites but a cup of Constant Comment on a cold, rainy/snowy day rocks my world.
Peppermint! A classic that never gets old. I'm having a cup right now! Yum!!
Lemon Lift! <3 Always lifts my mood up.
Sandra Foster
Sweet Dreams is my absolute favorite tea.
Check out one of our most recent polls: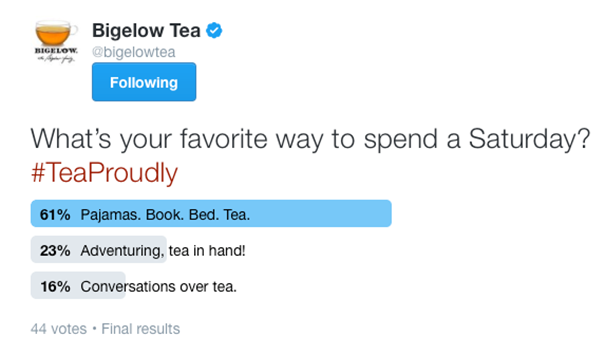 Saturdays still in bed in our pajamas with a book and tea?  Yes…let's all do that and live the #TeaProudly lifestyle!!!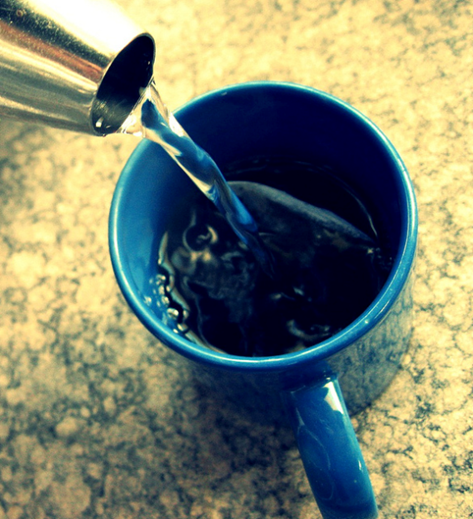 Water, water everywhere- and Bigelow Tea gets just how important it is to have more than a drop to drink!
World Water Day takes place today, March 22nd, which gives us a chance to give some love to water-related concerns around the globe. The day was introduced in 1992 when the United Nations Conference on Environment and Development recommended an international observance for water. Since then, people have used this day as a perfect opportunity to learn and share more about water and its local and global importance.
So what does this day have to do with tea? Water is, of course, of the utmost importance to making a terrific cup of the good stuff! Depending on what tea you're drinking, each variety has its own rules for water. Here are some tea tips to always keep top of mind!
Fresh, cold water is a must-have for tea perfection. It's the oxygen in the water that opens up the tea leaf for full flavor extraction, so you should make sure that you let tap water run for around 30 seconds before filling the tea kettle! And if using bottled water, be sure to shake the bottle to oxygenate the water first.
What to do with black, oolong, herb and rooibos teas: You'll always want to bring water to a rolling boil, then immediately pour it over the tea bag.
The rules for green and white teas: Bring water just to the point where tiny bubbles begin to form, then pour it over the tea bag pronto.
Cindi Bigelow also spills the beans (or should we say tea leaves?) on how water plays a role in brewing the perfect cup of tea in the below fascinating video. Did you know how much more delicious tea can be when the water is just right? Then watch and be amazed!
So, how do you like to brew your tea? Share your secrets for making your cup just right, and tag #teaproudly!
Image by Evan Wood via Flickr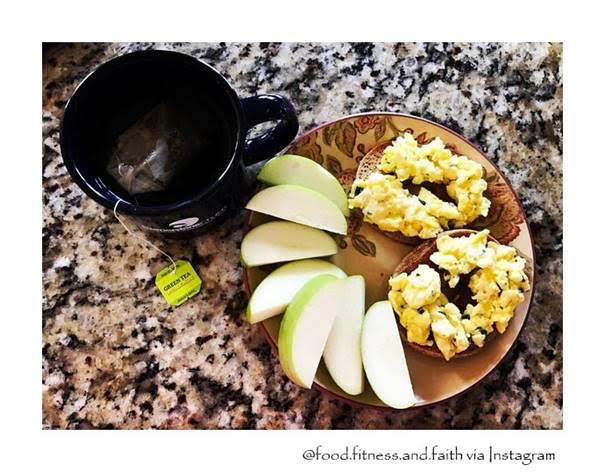 Alright, spring, do your thing! It's the first day of the season and that means it's the perfect time for a fresh start. Because in spring, freshness is everything—from flowers to food to a freshly-brewed glass of iced tea. Bigelow Tea, of course, has you covered… starting with these 6 tips on getting back on the clean-eating wagon!
Stay hydrated! This one is soooo important. According to the American Heart Association, keeping the body hydrated helps the heart more easily pump blood through the blood vessels to the muscles. And, it helps the muscles work efficiently. In addition to lots of water, keep hydrated by adding tea to your daily routine. And, green teas are highest in polyphenols known as EGCG, which is why so many make it part of their healthy lifestyle—why not include a few cups to your day?
Eat your colors! Add more veggies and fruit to your diet. Try one of these awesome (and EASY!) recipes to get yourself started: Chopped Veggie Salad, Spinach Salad Spectacular with Raspberry Vinaigrette or Fabulous Melon and Blueberry Fruit Salad.
Cut out the processed foods. Read the nutrition labels. If there are ingredients that you can't pronounce, leave it on the shelf. By doing so, you can ensure that packaged produce, nuts, meats and other foods contain no added preservatives, sugars or unhealthy fats. We are what we eat, right?!
Kiss goodbye to the refined carbs. Instead, focus on adding more whole grains—which have more nutrients and fiber—to your diet. Try to avoid ready-to-eat cereals, white bread and other refined carbs.
Add more minimally-processed oils. It's important to include a moderate amount of healthy fats in a clean eating regimen. Instead of margarine and vegetable oil, try to use extra virgin coconut oil, olive oil and butter from grass-fed cows. Besides, butter tastes better anyway…
Slash that sugar! You may not be eating a pint of ice cream or guzzling cans of sugary soda, but that doesn't mean sugar is absent from your diet. You're likely eating added sugar throughout the day without even realizing it. Make an effort to consume foods in their natural, unsweetened state. (And, remember, life is all about moderation. So if you want some ice cream, enjoy a few scoops instead. Just get a few extra steps in to balance them out!)
What are your fave tips for leading a healthy lifestyle? Tag #TeaProudly with your best ideas or recipes!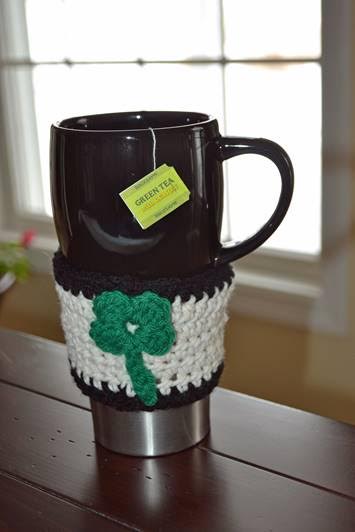 Let's face it, you don't want to be subjected to pinches (legend has it that leprechauns would pinch anyone they could see not wearing green) while carrying around a mug of tea… consider a green scarf, at least. Besides, St. Patrick's Day is a great reminder of how awesome all-things-green are—starting with green tea. And a cup of Bigelow Green Tea may just be the thing to enjoy while reading about these rad St. Paddy's Day facts.
Celebrated on March 17, St. Patrick's Day is an annual feast day recognizing the patron saint after whom the day is named. It's the national holiday of Ireland, but has become incredibly popular around the world. Maybe you've heard of it?! It's a day when everyone wears green, eats corned beef and cabbage, and searches for four-leaf clovers to bring them luck. But, here are a few facts you may NOT be familiar with… Sit back with a cup of green tea and enjoy.
Now about that green tea? Well, green tea is made from Camellia sinensis leaves—the same leaves that make black and Oolong teas, too. However, the difference is in the production process; green tea is the least processed, thus providing higher amounts of the antioxidant polyphenols known as EGCGs, which is why so many make it part of their healthy lifestyle. Green tea is made by immediately steaming or pan-firing the newly harvested leaves, rather than exposing them to air. This process ensures that no oxidation occurs, and this special handling makes for a more delicate brew that is typically lower in caffeine than black and Oolong teas. Pretty interesting, huh?
Whether you're sporting green or sipping it, enjoy the fun of St. Patrick's Day! With such an interesting history, you'd be unlucky to miss out on the festivities. And hey, you can always take a tea break to relax. Tag us with #TeaProudly and share how you'll be celebrating!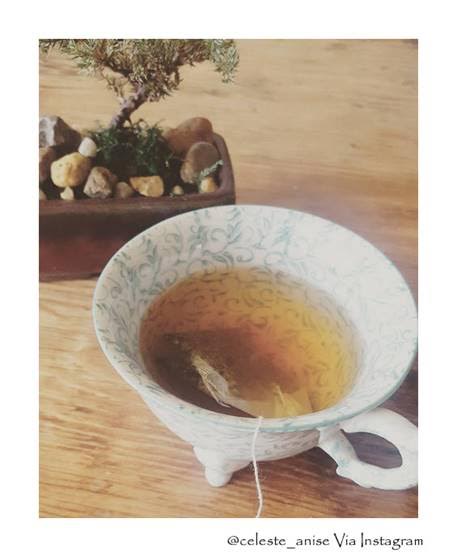 As you most likely know, Bigelow Tea has been a family tea blender since 1945 where creating tea flavors continues to be our passionate pursuit. Perhaps that's why we love exploring the role tea has played in various cultures throughout history. We recently discovered this fascinating map that was published in 1934 by Fortune Magazine and written about on Atlas Obscura, a website that guides readers to wondrous and curious places in the world. The map shows the size of countries based on how much tea was consumed in the area.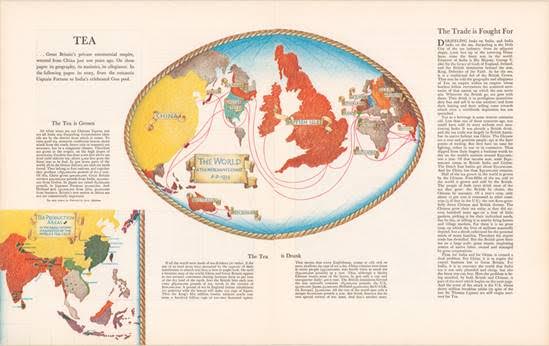 It displays China as about equal to the British Isles, but in reality the article details that the population of China was at the time, nine times bigger than that of the U.K., and the country's inhabitants drank nearly twice as much tea as the Brits did!
The map also demonstrates that each person in Britain consumed around 6 cups of tea a day, adding up to 485,000 pounds of tea per year. That breaks down to one hundred billion cups of tea, total – clearly, the British do love their tea!
Also interesting is the discussion of how the British made quite the profit from their tea habit, with earnings from the tea trade leading Britain into colonizing one third of the world! The map text even quotes, "Where Britain goes, tea goes with them." The article goes on to explain that Britain grows and sells four-fifths of the world's tea, though part of this large tea industry took place in India, where the British grew and sold Indian tea.
Finally, if you notice the red lines drawn on the map, you'll see the many routes of where tea traveled during the time period. The information shows the U.S. consumed 95,000 pounds of tea annually.
One last historical nugget: the map was created not long after the 1929 Wall Street crash, as the article points out. This crash caused tea prices to drop, and in 1933 tea companies in India, Sri Lanka (then Ceylon) and Indonesia (then the Dutch East Indies) came to an agreement to lower output, leading to a slow price increase that was more profitable for all growers and sellers.
Tell us: do you have interesting tea historical tea facts to share?  Please do and tag with #TeaProudly so we can learn too!
More Recent Articles