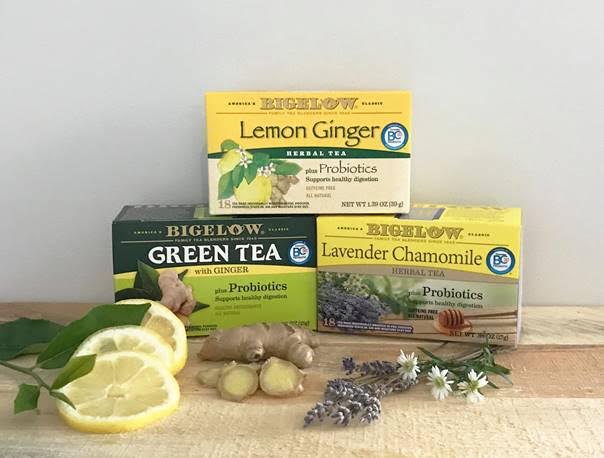 You guys. Guess what?! You know how much you LOVE Bigelow Tea Lemon Ginger Herbal Tea plus Probiotics? Well, now, you can enjoy the same awesome benefits of probiotics in your tea with our two newest flavors: Bigelow Green Tea with Ginger plus Probiotics  and Bigelow Lavender Chamomile Herbal Tea plus Probiotics! How amazing is that?? Bigelow Tea is always thinking of new flavors and ingredients to make our favorite #TeaProudly community happy – and here you go!
For starters, let's take a look at probiotics. If you love our Lemon Ginger Herbal Tea plus Probiotics, you may know that it is supplemented by a probiotic called GanedenBC 30, which is resistant to high temperatures so it won't break down in hot tea. Probiotics are sometimes referred to as "good bacteria" and help maintain a healthy balance in your digestive system. It's always good to have choices though, so we decided to give you more options!
Bigelow Green Tea with Ginger plus Probiotics
Love Bigelow Green Teas? You'll love this one! The forward flavor of ginger makes it a star (you'll see!) and hey, who doesn't love the added benefit of probiotics for healthy digestion? Plus, ginger is a popular choice for tackling nausea and motion sickness, so it's a double whammy for digestive wellness. Score! The popularity of ginger goes back – waaaay back – more than 3000 years. It was first named srngaveram in Sanskrit, which means "horn root". Later, in Greek, it was known as ziggiberis and in Latin it was called zinziberi. Its current name comes from the Middle English gingivere. Known by so many names, it's no wonder ginger is used around the world today, in a variety of cultural cuisines.
Bigelow Lavender Chamomile Herbal Tea plus Probiotics
Lavender is all the rage these days and it makes sense why! This herb is often appreciated for its comforting color, aromatic fragrance, as well as its subtle flavor in beverages and food. Throughout history, lavender has been used as a calming and soothing agent and was used to treat a range of ailments like insomnia and anxiety. Similarly, chamomile has also historically been associated with calmness. Many different cultures have used the daisy-like flower as a soothing beverage to enjoy before bedtime. Today, we're pairing this ingredient power couple with probiotics to de-stress your digestion, too. It's the perfect flavor to enjoy before bedtime. With a relaxed mind and a tummy that's well taken care of – talk about lulling yourself into snooze-land!
With so much good stuff in these new Bigelow Tea flavors, you might just want to spread the word. And we're all for it. If you find yourself with a cup of Bigelow Lavender Chamomile Herbal Tea plus Probiotics or Bigelow Green Tea with Ginger plus Probiotics, grab a selfie or set up the perfect shot for your beverage, and #TeaProudly on your social media channels of choice. We might just give you a shout-out, because we're pretty stoked about these new flavors, too!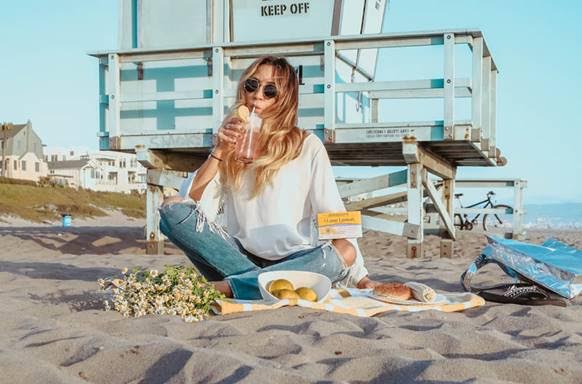 Image from @quartzandleisure
Rewind a few decades and you'd find that tea was only served at teatime or before bed. Well, tea lovers (aka #TeaProudly fans), we have news for you. TIMES HAVE CHANGED. And, as you probably already know, Bigelow Tea is the perfect go-to beverage throughout the day.
Busy morning? Cheers to the parents chasing around a toddler who refuses to put on clothes… High five to the college students who are rushing to an 8:00 a.m. exam (who schedules classes that early, anyway?!). We're looking at you, 9:00 a.m. conference call… Ahem. Time to grab a quick swig of English Breakfast Tea. And, hey, if you're too frazzled to turn on the kettle or heat up some water in the microwave, how about making a pitcher of iced tea to get you through the week? It's a solid #TeaProudly choice.
Mid-morning tea break? We should all have them. Once 11:00 a.m. rolls around, it's not quite lunch… but it's the perfect time for teatime. Find a little buzz in a cup of "Constant Comment"– the Bigelow original. This secret recipe of black tea, rind of oranges and sweet spice will propel you straight through the day (or at least until your afternoon snack).
Fast-forward a few hours – the dreaded 3:00 p.m. slump. Push through the day with a cup of Bigelow Green with Pomegranate. It has all the benefits of green tea with the added touch of sweet pomegranate. Yum!
Feeling like the Little Engine that Could? Well, you should. You're rocking out today. Once you power through the evening, though, try to take some time for yourself. Relax, refresh, and get yourself ready for tomorrow. You know what helps? A cup of herbal tea. Try the ever-so-comforting Sweet Dreams or a cup of I Love Lemon. Because, you know, tea is the perfect way to end the day, and you can never go wrong with chamomile or lemon to soothe the soul.
So, we've taken enough of your time, but whatever time that is, you should know that it's a perfect time for Bigelow Tea. And everyone would love to know: what's your favorite time and tea combo? Comment below or tag #TeaProudly to share – anytime!
                                                                                                                                                                   Image from @lifeisaparty
Did you know that making tea an integral part of a meal can enrich any dining experience and add a striking dimension to both the tea and food being served? Yes, it's true! While Bigelow Tea is quite familiar with the particulars of tea and food pairings, many tea lovers have no idea that there are professional tea sommeliers who study the origins of tea and are trained to identify the nuances of the taste, aroma and complexities of all different types of tea.
Much like wine sommeliers, these skilled tea tasters are well-versed in the art of understanding how food and tea can complement each other and enhance certain flavors. Some tea sommeliers are even experts on how to cook with tea and create deliciously different tea-infused cocktails. (Hmmm. Is it five o'clock yet?)
These days many restaurants have tea sommeliers who help diners find the perfect match of their favorite teas and food. Tea expert Aurelie Bessiere explains: "The whole idea of pairing tea with food is that you should have a tea that's going to enhance the flavor of the food, or vice versa. It's like a wine sommelier, giving you advice, depending on what kind of tea you want to drink, what time of the day it is, and what you're eating,"
Whether you enjoy experimenting in the kitchen and want to try your hand at pairing smooth Earl Grey with hearty comfort food; or if you'd rather let a tea sommelier show you how it's done, there's no doubt that tea and food were made for each other–from the first course to the last. (Yum!) To learn how to cook, drink and talk like a tea sommelier, check out this handy-dandy pairing chart from the Tea Association of Canada.
What's your favorite tea and food pairing? Tag #TeaProudly and let us know!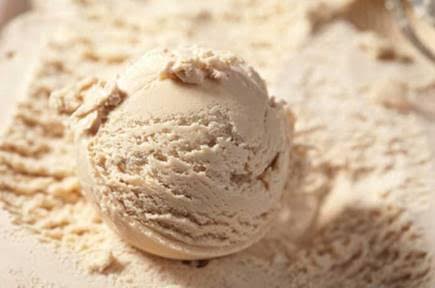 Bigelow Tea has the scoop on the cool, creamy indulgent treat that people all over the world scream for—yep, you guessed it………ice cream! July is National Ice Cream Month, and it's a perfect time to cool off with a scoop (or two!) of your favorite flavor. (Can you say yum?!)
So how did the celebration of this frosty delight come about? In 1984, President Ronald Reagan issued a proclamation designating July National Ice Cream Month.  And this is way cool….he also proclaimed the third Sunday in July National Ice Cream Day, which falls on July 15th this year!
Ice cream is an ideal summertime (or anytime!) treat for people of all ages, and making it at home is easier than you think! There are tons of different ways to enjoy this delightful indulgence!  These scrumptious ice cream recipes incorporate the amazing flavors of Bigelow Tea, making them a 2-in-1 super yummy #TeaProudly treat!
Serve your family this rich and creamy ice cream flavored with Bigelow Green Tea with Lemon and they're sure to ask for seconds.
Makes 1 1/2 Quarts
Ingredients
Instructions
In a small saucepan, combine the 6 tea bags and ½ cup of the milk until bubbles are visible; immediately remove from heat and steep for 5 minutes. Strain tea bags, squeezing out all of the remaining liquid. Beat eggs in a medium size bowl. Temper the warm tea/milk mixture with the eggs (meaning add a quarter of the warm tea/milk to the beaten eggs and keep whisking until completely combined). Add sugar and heavy cream. Whisk vigorously until well combined. Follow directions on a commercial ice cream maker. As the ice cream machine is going slowly add the mixture. Time machine for 30 minutes. After this time ice cream will be ready to consume or remove and place in an airtight plastic container and freeze.
Delicious Vanilla Caramel ice cream sandwiched between two wafers will wow your family or guests.
Makes 24 ice cream sandwiches
Ingredients
1 ¾ cups (409mL) whole milk
2 cups (500mL) heavy cream
2 eggs, beaten
⅔ cup (160mL) sugar
48 chocolate or vanilla wafers – 2 ½ inches in diameter
Instructions
Requires Ice Cream Maker. In a small saucepan, combine ½ cup milk (reserve remaining milk for later use) and 6 Vanilla Caramel tea bags over medium heat until bubbles are visible. Remove from heat and let steep for 6 minutes. Squeeze tea bags, remove and discard. In a small mixing bowl, beat the eggs, add the tea/milk mixture, remaining milk, cream and sugar. Pour back into sauce pan and heat over low heat until the custard thickens but does not boil. Remove from heat and strain; chill. Pour into ice cream maker and follow manufacturer instructions. Place in a plastic container and store in freezer until ready to make sandwiches. To make sandwich: Let ice cream soften slightly, then place a small scoop on flat side of cookie, top with another cookie and press gently. If desired, roll the sides of the sandwiches through rainbow or chocolate sprinkles to coat ice cream. Freeze on a baking sheet for 1 hour; wrap each sandwich in plastic. They will keep in freezer for up to one week.
*This recipe is delicious using any of our Bigelow products. Suggested flavors are: Constant Comment®, Vanilla Chai, French Vanilla, Plantation Mint or Spiced Chai.
Bigelow Earl Grey Tea adds a distinctive taste to this tea-rriffic ice cream.  
Makes 1 quart
Ingredients
2 cups half and half
2 cups whipping cream
8 bags Bigelow Earl Grey Tea
1 ⅓ cups sugar
2 teaspoons real vanilla extract
½ teaspoon salt
Instructions
In 2-quart saucepan combine half and half and whipping cream. Over medium-high heat bring to a low boil (5 minutes). Remove mixture from heat and add 8 tea bags; steep for 5 minutes. Remove bags from cream and squeeze to remove liquid; discard bags. Place tea mixture, sugar, vanilla, and ½ teaspoon salt in mixer bowl; beat on medium speed until sugar dissolves (1 minute). Place in refrigerator; cool completely. Once cool, place tea cream mixture in bowl of ice cream maker; process as directed. Suggestion – top with Earl Grey Milk Chocolate Sauce.
This delicious float made with Bigelow Plantation Mint tea and chocolate tastes like you're drinking a Girl Scout thin mint cookie.
Serves 6
Ingredients
6 cups water
3 tablespoons sugar
12 tablespoons chocolate syrup
1 quart chocolate chip ice cream (or mint chocolate chip)
12 tablespoons club soda
Instructions
Place 6 cups boiling water over tea bags in heat-stable container. Let steep 10 minutes. Squeeze and remove tea bags; add sugar and chocolate syrup. Stir until dissolved. Allow tea to cool, then chill in refrigerator for a least ½ hour. To serve, place 1 scoop of ice cream into each glass. Add the tea mixture. Top off by adding 2 tablespoons club soda to each glass. Serve immediately.
                                                                                                                                                                                                          Image via @erinschow
Sooo… this whole #TeaProudly thing… you've seen it on social media, maybe you've even used the hashtag. If not, let's have a recap. First and foremost, #TeaProudly is a welcoming place that keeps all tea lovers informed about what's brewing and gives rise to expression, both yours and ours together.
Where did it all begin, you may wonder? Well, you know how much we love tea at Bigelow. As a proud third generation family run business, our founder Ruth Campbell Bigelow created our flagship "Constant Comment" tea in 1945 and from that moment on—one tea bag at a time—we have reinvented tea in America by providing tea drinkers with a selection of more than 130 flavors of black, green, oolong, and herbal teas using premium ingredients and foil pouches for each tea bag, so you can sip and savor the highest quality, most delicious cup of tea (listen to president and CEO Cindi Bigelow explain #TeaProudly and what it means to the family and the company!).
But let's get real, drinking tea is so much more, right?
Tea is second only to water as the most widely consumed beverage in the world and we especially love that 82% of Americans drink tea—that's more than 158 million people who count tea as a top beverage choice.
Tea is now considered trendy, with 42 percent of Americans under age 30 preferring to drink tea and 27 percent drink tea exclusively. Historically, while tea holds a special place in many cultures near and far, today we consider tea drinking a proud American tradition!
Tea is warm and cozy. It soothes the soul, one cup at a time.
Tea connects people, invites conversation and makes memories.
#TeaProudly is a celebration for those who take pride in even the little things. And for those who find joy in the simplicity of the day-to-day.
Just think, millions of us share the love of tea in common. This, we believe, is something to talk about… something to share. As an industry leader, we are taking the very tea movement we inspired in America to the next level. We are building a Tea Proudly community and we're welcoming tea lovers across the country to chime in.
Tell us why you #TeaProudly, why you make tea your beverage of choice, when you drink it, who you share your tea moments with, and what special memories have been made over a warm, beautiful cup of tea?
Tag your special moments (and mugs!) using #TeaProudly and let's share a cup or two together!
More Recent Articles