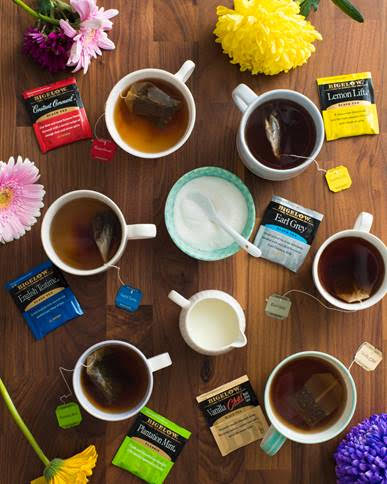 Hey #TeaProudly friends, we took an informal poll to find out what tea lovers find interesting and admirable about Bigelow Tea and below are just a few of the many "loves" to share with you. Have your own list? Bring it on because we want to know what you like about your fave teas and newly designated certified B corp company, Bigelow Tea!
A proud, third-generation, family-run business, the company was founded by Ruth Campbell Bigelow, who created our flagship "Constant Comment" tea in 1945. From that moment on, one tea bag at a time, we have reinvented tea in America by providing tea drinkers with a selection of more than 150 flavors of black, green, oolong, and herbal teas using premium ingredients and foil pouches for each tea bag so you can sip and savor the highest quality, most delicious cup of tea. Because at Bigelow Tea, we take pride in everything we do…everything.
Bigelow Tea recently became a certified B Corporation, and there are so many reasons why this is important, but from a consumer standpoint this new designation illustrates a desire for accountability and an intentional effort towards corporate transparency and community betterment.
In 2009, Bigelow Tea created the Tea for the Troops program, which has donated more than six million tea bags to U.S. service men and women to date. This special American Classic tea features 100% American-grown tea from the company's Charleston Tea Plantation. With customized packaging made exclusively for service members, it is not available for retail sale and gives military personnel, veterans and their families a taste of home at USO centers around the world and provides a warm cup of comfort at VA hospitals and VFW chapters here at home.
Tea is one of the most popular beverages globally (besides water)! Drinking tea can provide a calm moment during a busy day and it can be that ice-cold drink in the heat of summer while hanging on the beach, but did you know that tea also can add that unique zing of flavor to summer BBQ's, or fun tofu stir-fry's! We have hundreds of tea infused recipes so find what looks good to you and surprise your guests with a delicious dish made with tea.
Society is moving faster and faster towards recognizing the benefits of holistic health where each self-care practice is as unique as every human who practices any number of options. For some, it's yoga. Others, it's running. Others meditate. This is an age where many are still discovering what is best for them and Bigelow Tea is right there supporting each person's journey. From a morning or midafternoon caffeine boost of energy to a calming warm mug of tea after a stressful day, you can be sure that with over 150 flavors to choose from, there will be a tea that can be included in every self-care adventure.
Don't forget to share your own list…we want to hear from you. Thanks #TeaProudly fam!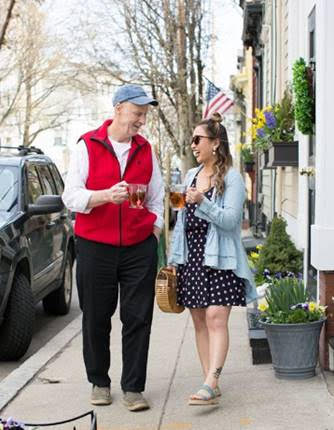 Father's Day is all about honoring the dads in our lives, so Bigelow Tea wants to take time out to do just that! As a family-owned company, showing gratitude for the men who have helped to support the company's success is so important. More than 70 years ago, Ruth Campbell Bigelow's husband David encouraged her to create and sell "Constant Comment" tea, and that legacy has lived on through three generations where more than 150 flavors of Bigelow Tea have since been developed and loved by so many in the #TeaProudly community.
Ruth and David's son, Co-Chairman David Bigelow, Jr. is still one of only two people who knows the secret "Constant Comment" blend and is actively involved in making sure the quality of this iconic tea maintains its historical high standards. David's daughter, president and CEO Cindi Bigelow, has many tales to tell about how her father's strength, leadership and wisdom have helped shape her life and their business philosophy: "Do the right thing and good things will follow."
"Everyone should be as fortunate as I am, because one of life's greatest blessings is to have a father committed to doing right in a world that often confuses right and wrong. His philosophy is very simple: be honest, be fair, be concerned about others more than yourself and remember that success has many different definitions. He lives by that in business and with his family. Over the years, he continues to be an inspiration as chairman of the board, a father and a husband. Thank you, Dad, for your many invaluable lessons and more importantly, the power of your example."
–Cindi Bigelow
Knowing that June not only celebrates Father's Day but National Men's Health Month too, this is a perfect time to talk about the important health issues men face. After his own battle with prostate cancer, David Bigelow Jr. led by example by writing letters to Bigelow Tea employees encouraging them to stay healthy and to get regular prostate exams. Bigelow Tea friend Joe Torre, Baseball Hall of Famer and former New York Yankees manager, also battled prostate cancer. In an article in the New York Times, Joe talked about beating prostate cancer many years ago, and still works to raise awareness with the Prostate Cancer Foundation. When detected early, prostate cancer can be cured in most cases, so spreading awareness and encouraging all men to make their prostate health a priority can make a huge difference in many people's lives. Joe Torre is living proof of that! Listen to Joe share his story: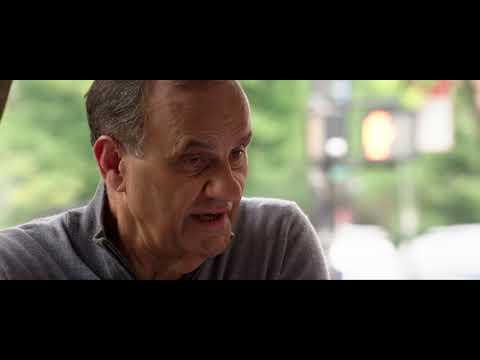 So hug your favorite dad, keep laughing at his jokes, and #TeaProudly by sharing meaningful conversations over a cup of tea this Father's Day during Men's Health Month!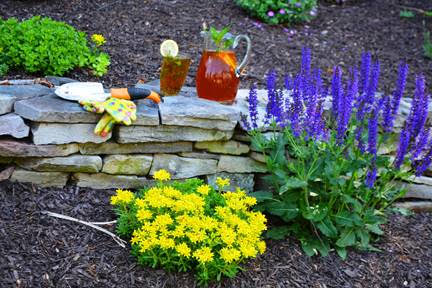 With the mercury rising and summer soon approaching, it's no wonder that June is officially Iced Tea Month! Refreshing iced Bigelow Tea is awesome year-round, but it's a particularly cool way to kick off your summer. Brewing a batch and keeping it in your fridge means you'll always have a refreshing glass of fresh-brewed iced tea to enjoy while gardening or BBQ'ing! Or better yet, dump those sugary sodas and grab a thermos of your fave iced tea flavor (hello Bigelow Green Tea with Mango!) to quench your thirst while chilling at the beach!
It's also fun to totally #TeaProudly by experimenting and getting creative with your own iced tea combinations! (Seriously, it's super easy and fun!) All you have to do is choose two of your favorite Bigelow Tea flavors and use your imagination! Lemon Ginger and Classic Green Tea really pack a punch of flavor you'll love! In the mood for some minty goodness with a little pick-me-up? English Teatime and Mint Medley are super mouthwatering together and make an iced tea with a fresh, crisp flavor. Some other very cool mix-ups include Green Tea and Red Raspberry Iced Tea and Cranberry Hibiscus and Orange & Spice Iced Tea. (Yum!)
If you'd rather take the single route, try iced Plantation Mint to stay hydrated and cleanse your palate or sip on some chilled Perfect Peach for a delicate, sweet thirst-quencher. Going caffeine free is easy as well, and healthy for kids and adults alike. You can put any Bigelow herbal tea on ice! Soothing Benefits Chamomile and Lavender tea iced is perfect for relaxing and unwinding after a long day of summertime fun in the sun! (Don't forget the sunscreen!) Enjoying the crisp but smooth herbal notes of Benefits Lemon and Echinacea iced tea is a delicious way to hydrate and treat yourself any time of day! In the mood for a more adult beverage? (um, yeah!) Try BeauTeaful Blueberry Aloe Sangria, which combines smooth blueberry sweetness with fresh fruit and wine! (aaahhhhhh)
Take a peek at the video below to check out some awesome iced tea combos and keep in mind that if you're expecting a crowd, Bigelow Tea also offers tea bags that will make 2 gallons of iced tea. What could be more convenient for big events like family reunions and picnics, right?! Get creative, pour a tall glass, and savor the flavor of National Iced Tea Month! Tag #TeaProudly in comments or social to share your fave combos!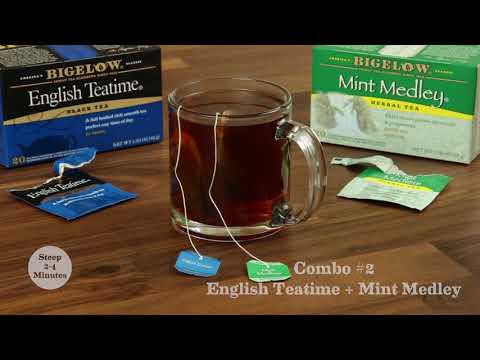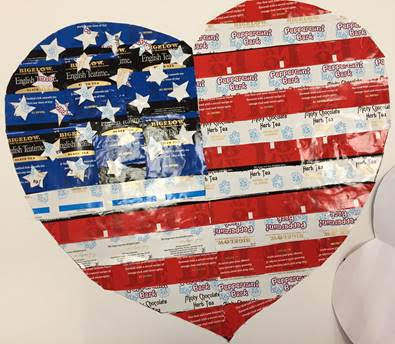 Bigelow Tea is grateful for the amazing men and women in uniform who do so much to keep our country safe. May is National Military Appreciation Month but we take every opportunity to honor and recognize U.S. service members, veterans and their families. This month in particular not only pays tribute to current service members, veterans and those who have made the ultimate sacrifice for our country, but it also recognizes the important role that military spouses and their families play in supporting our troops. Recently a local Girl Scout group put together bags that included Bigelow teas and upcycled foil artwork (seen above) to show our appreciation of Military Spouses!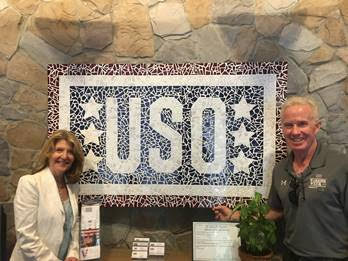 Bigelow Tea is committed to supporting the USO, which serves military personnel and their families through a global network of centers, programs and volunteers providing a home away from home to help bridge the distance, no matter where they serve and no matter the circumstances. Recently Cindi Bigelow went to Joint Base San Antonio (JBSA) which is a medical school for all branches of the military. There, she helped to make three tea infused recipes and served them to two hundred students. Cooking with Bigelow Tea will be an event held in partnership with the USO once a quarter.
"The USO's mission of recognizing the huge sacrifices men and women of our military have made and continue to make is near and dear to the hearts of everyone at Bigelow Tea. Filled with pride and gratitude for all they do, we love doing all we can, whenever we can, to support them," –Cindi Bigelow, third generation president and CEO of Bigelow tea.
In 2009, Bigelow Tea created the Tea for the Troops program, which has donated more than six million tea bags to U.S. service men and women to date. This special American Classic tea features 100% American-grown tea from the company's Charleston Tea Plantation. With customized packaging made exclusively for service members, it is not available for retail sale and gives military personnel, veterans and their families a taste of home at USO centers around the world and provides a warm cup of comfort at VA hospitals and VFW chapters here at home.
During National Military Appreciation Month and beyond, take a moment to show gratitude for the service of the devoted men and women who have sacrificed so much for our country. Here at Bigelow Tea, we salute you and your families for everything you've done and continue to do.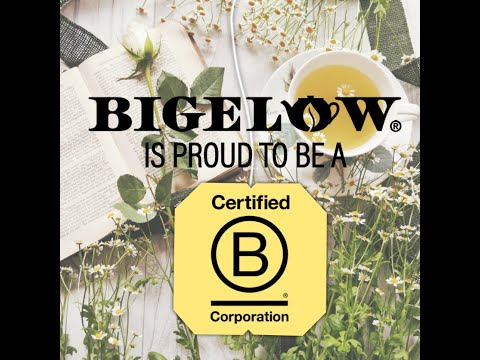 We are proud to share that Bigelow Tea has become a Certified B Corporation, joining more than 2,800 companies worldwide that are committed to using their businesses as a positive force for social and environmental change.
"Being certified as a B Corp officially recognizes a commitment that has been part of the company's DNA since it was founded by my grandmother Ruth Campbell Bigelow 75 years ago," third generation president and CEO Cindi Bigelow said. "Our purpose has always been about much more than making profits. We're committed to good citizenship, ethical business practices, accountability and transparency, protecting the environment, sustainability and supporting our communities."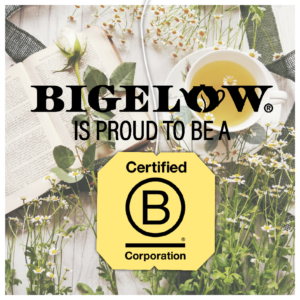 In order to be certified as a B Corp (B stands for "benefit"), a company must undergo a rigorous assessment of its business practices and meet the highest standards of social and environmental performance in addition to expanding its corporate responsibilities to include the interests of various stakeholders. The certification process is conducted by B Lab, a nonprofit organization that measures how a company treats workers, suppliers, environment and the community.
"To me, ethical leadership means thinking about the long term and ensuring we are doing the right thing for our future. It means constantly working to create an environment of pride and making a difference every day so we all feel motivated to be the best we can possibly be," Cindi Bigelow shared. "Being certified as a B Corp redoubles our long-standing efforts and helps everyone understand that we need to take corporate responsibility extremely seriously."
More Recent Articles