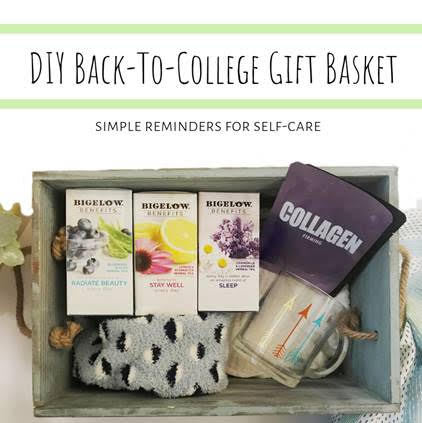 It may only be January in a new year (huzzah, 2019!), but you know what that means… your favorite college student is heading back to school shortly. Sad face. We know, we know. The few weeks between finals ending and waving goodbye to them as they return to school is the best thing ever (even if they failed at doing their own laundry). Whether you're a parent, family member, loved one or friend, admit it – as soon as they're gone, there's a little piece of your heart missing. We get it. Which is exactly why you should let them know that you're thinking of them and that they're missed oh.so.much. It's the perfect opportunity to encourage a dose of simple self-care and self-love as they dive into the second semester of the academic year! With a few boxes of Bigelow Tea, a mug, and a few of their go-to favorites, they'll be powered up to hit the books. Check out these steps to creating the perfect DIY Back-to-College Gift Basket:
Step 1: Get a box, crate or basket. Feeling creative? Draw or color the box flaps so that when they open it, they smile.


Step 2: Fill it with your college student's favorite things. A few suggestions: several boxes of Bigelow's Benefits teas, like Benefits Blueberry and Aloe Herbal Tea, Benefits Chamomile and Lavender Herbal Teaor Benefits Lemon and Echinacea Herbal Tea; 1 or 2 cute #TeaProudly mugs; cozy socks; and face masks. Or, throw in some snacks (oh, hey, homemade cookies – perfect for teatime!), candy, gum, toiletries, stationary (as if they need a reminder to write you) or pictures. One go-to parent move is to cut out newspaper articles or comics that make you think of your kid (yes, they'll always be your baby)… your college student will love it!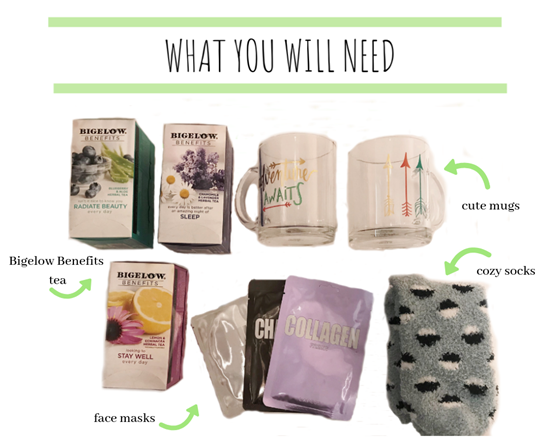 Step 3: Add a handwritten note, card or seal it with a kiss. Send all the good vibes you can muster because they'll certainly need it over the next few months!
Step 4: Mail it out. Signed, sealed and out for delivery.
Step 5: Get excited. Only a few more months until summer vacation. And that's an even longer break with them home.
Do you have other #TeaProudly ideas to include in a college student gift basket or care package? Share it in the comments below!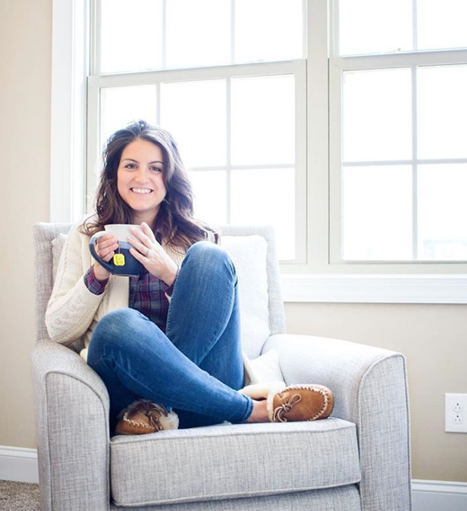 This time of year is the best. It's wintry and cozy (you may even be lucky enough to have some snow on the ground!), and the perfect excuse to snuggle up on the couch with a mug of tea, some yummy food, a warm blanket and movie binge. Whether you've got a fire roaring or company over, who cares?! There's always a good excuse to treat yourself to Bigelow Tea – and what better way to enjoy the flavors than to pair them with your favorite snacks? AND movies? DURING National Hot Tea Month?! Well, guess what. We're on it. Why? Because it's the #TeaProudly thing to do.
A bowl – and cup – of nostalgia
Sometimes, relaxing nights at home call for comfort food. Pair a bowl of homemade mac and cheese with a mug of Earl Grey. The salty cheese balances the robust black tea. Plus, the citrusy bergamot refreshes your palate…making it so you might even have room for seconds. And if you're going for nostalgia, you'll be A-OK with turning up the volume on The Breakfast Club. Don't yooou forget about teaaa.
Thrills and chills
Come on, it's the perfect time of year for thriller movies. There's no shame in hiding behind all.the.pillows. during Bird Box or The Shining – especially if you have a mug of tea with you. And what pairs better with a movie that makes you jump than one of Bigelow's herbals teas? While your heart races fast, sip on a soothing flavor like Lavender Chamomile Herbal Tea with Probiotics. Herbal teas pair particularly well with baked goods and sweets. Try these awesome recipes for Individual Fudgy Brownies or Green Tea-Infused Blondies. You'll love 'em.
That funny bone, though
If you're anything like most people, you may want to follow that scary movie with some comedy. You know, lighten the mood and all… May we suggest Silver Linings Playbook? While you're decompressing a bit, go for a lighter, floral tea, like Bigelow Jasmine Green Tea. Bigelow's floral green teas are fragrant and refreshing, with a smooth structure highlighted by notes of flowers or bright, fresh herbs and citrus. The clean, refreshing flavor and scent of jasmine goes well with light, fresh foods such as berries or citrus. Pair a cup with a slice of Raspberry Royale Angel Food Cake or I Love Lemon® Quick Bread, or a bowl of Fabulous Melon and Blueberry Fruit Salad.
Laughing, screaming or just wistfully watching 80s movies – Bigelow Tea is happy to be your food-pairing and movie-watching buddy. If you've got some go-to treats or cinema pairings for your favorite tea, we want to hear about them. Share them in the comments or tag #TeaProudly on social media and we might even give them two thumbs up.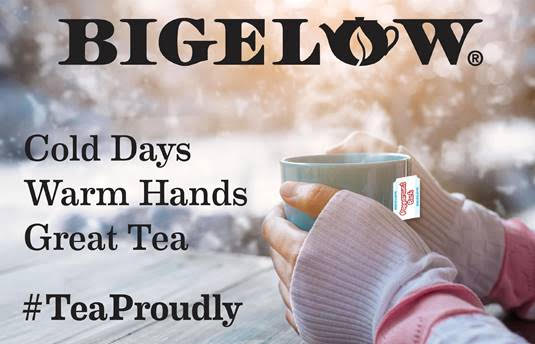 It's the #TeaProudly thing to do! Raise your hand if you love tea?! *THAT* is exactly why we celebrate Hot Tea Month. Tea is more than just a beverage, though. It's warm and cozy. Each cup soothes souls, connects people, is relaxing, invites conversations and makes memories. In life, it doesn't get much better than that. And for 2019, we challenge you to make a tea resolution – maybe it's to drink more tea, or to make a habit to put the kettle on each evening before bed… maybe it's to invite someone out for tea and a conversation, or to send a box and a card to someone special to let them know you're thinking of them. Whatever it is, commit to it and make it happen. And know that you have a whole #TeaProudly community behind you.It's January once again and you know what that means… HOT TEA MONTH! What better way to kick off a new year than with mugs and mugs of Bigelow Tea?! And we've got just the reasons why…
1. It's tradition. As a family-owned and operated business, Bigelow Tea has been celebrating Hot Tea Month since 1945, when Ruth Campbell Bigelow disappeared into her New York brownstone kitchen with the idea of creating a better cup of tea. After weeks of trial and error, blending black tea with orange rind and sweet spices, she emerged with her first cup of specialty tea. Ruth gave the blend to friends who later told her the tea "was a source of constant comment." Her tea found a name and the Bigelow Tea Company was born.

2. A cup of tea makes everyone feel better. Whether you're looking for ways to soothe your soul or you're feeling a little under the weather, tea can help… Why? Because there's just something (we call it #TeaProudly) about holding a warm cup, inhaling the aromatic steam, and taking a sip of tea that makes you feel better, right? Totally. Since it's flu season and all, be sure to check out all the flavors that make up Bigelow's selection of Wellness teas. From Ginger Peach Turmeric Herbal Tea to Lavender Chamomile Herbal Tea with Probiotics, you'll definitely want to add these teas to your shopping list.

3. Tea is delicious. Let's be honest. Tea tastes amazing. For three generations, the Bigelow family has crafted deliciously different, world-class teas and herbal teas for your health and enjoyment – and they all begin and end with quality ingredients. Take Bigelow Tea's Earl Grey. The oil of bergamot in each teabag is the real deal – all the way from Calabria, Italy. Check out this video to learn why that's so important.
4. It's the #TeaProudly thing to do! Raise your hand if you love tea?! *THAT* is exactly why we celebrate Hot Tea Month. Tea is more than just a beverage, though. It's warm and cozy. Each cup soothes souls, connects people, is relaxing, invites conversations and makes memories. In life, it doesn't get much better than that. And for 2019, we challenge you to make a tea resolution – maybe it's to drink more tea, or to make a habit to put the kettle on each evening before bed… maybe it's to invite someone out for tea and a conversation, or to send a box and a card to someone special to let them know you're thinking of them. Whatever it is, commit to it and make it happen. And know that you have a whole #TeaProudly community behind you
How are you making tea part of your January? Tag #TeaProudly and tell us. And while you're at it, don't forget to subscribe to Bigelow Tea emails because we have major tea savings all month, along with an awesome sweepstakes! Cheers!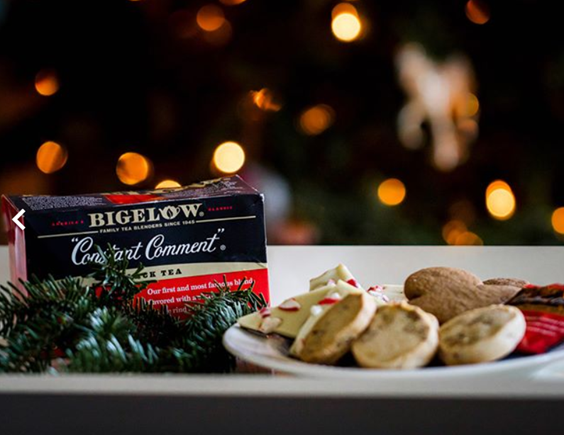 It's a cookie baking frenzy! There's nothing quite like making memories in the kitchen – who doesn't remember baking a batch (or several) of cookies? Whether you're baking up a storm for Christmas dessert, teaching little ones how to make a family recipe, or coming up with the latest and greatest recipe to share at a cookie exchange, we've got you covered. Check out our recipe for yummy Lemon Lift® Glazed Butter Cookies!


It's time for Christmas or New Year's breakfast! We love family traditions. And there's no better time to start one than the holiday season. Cook together on Christmas or New Year's morning, or have family members bring their favorite breakfast dish. Looking for the perfect recipe? That's easy: Vanilla Chai Tea Infused Cinnamon Rolls. Mmm…


It's the last-minute choice! We've all been there! You've spent every waking moment preparing for guests, holiday shopping and crossing off tasks from your "To-Do" list. Who has time to think about dinner?! No problem, we've got just the easy-to-make meals for you – starting with this fab recipe for Moroccan Lentil Stew with Cinnamon.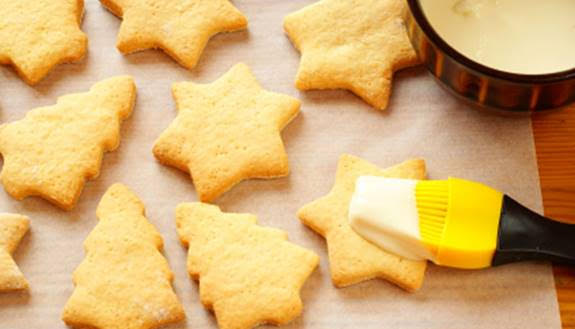 Ingredients
⅔ cups confectioners sugar
1 cup (2 sticks) unsalted butter, softened
2 cups all-purpose flour
¼ teaspoon salt
Instructions
Beat together the sugar and butter until smooth and creamy. Stir in flour and salt, blending until dough is formed. Divide dough in half; shape into disks and wrap in plastic wrap. Chill 30 minutes. Preheat oven to 350° F. Roll dough on lightly floured surface to ¼"" thick. Cut into shapes with cookie cutters, re-rolling scraps for additional cookies. Place cookie shapes on ungreased cookie sheets and bake 12-15 minutes, or until edges start to brown. Remove cookies to wire racks to cool. Drizzle with Lemon Lift® Glaze.
*Lemon Lift® Glaze: Pour 2 tablespoons boiling water over 1 Bigelow Lemon Lift® tea bag in a small bowl. Let steep 5 minutes. Remove tea bag, squeezing out liquid. Gradually stir in 1 to 1 ½ cups confectioners sugar until mixture is a glaze consistency, adding a few drops yellow food coloring, if desired.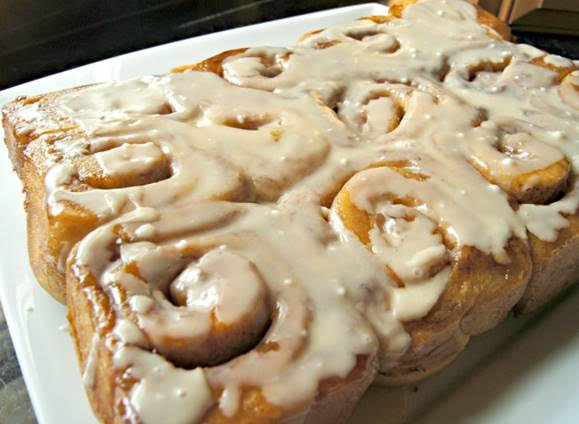 Ingredients
Cinnamon Rolls
1 c milk
2 1/4 t yeast (1 packet equivalent)
1 t salt
1/4 c sugar
5 T butter, softened
1 egg
3 1/2 c flour
Filling
1/2 c butter, softened
1/3 c sugar
1/2 c brown sugar
1 t cinnamon
1/2 t fresh ground nutmeg
1/4 t fresh ground cloves
Glaze
3 T butter, melted
1 t vanilla
2 c powdered sugar
1/4 c brewed Bigelow Vanilla Chai Tea
Instructions
Start making your dough by heating your milk just until it is steaming. Add the tea bag and let it steep for five minutes while the milk cools somewhat. Remove the tea bag, and add your milk to your mixing bowl. Top with your yeast, sugar, salt, and 1 cup of flour. Mix until thoroughly combined.
Add your softened butter and mix again. When mostly incorporated, add the egg and bring to medium speed to beat together. Once incorporated, add your remaining flour slowly to ensure your dough isn't too dry. Mix on low speed until your dough comes together in a ball.
Remove the dough to a lightly floured surface and knead for five to ten minutes, until the dough springs back when you press lightly into it. Return to your bowl and cover with a towel. Let rise for an hour until doubled in size.
Remove the dough from your bowl once risen and roll out to a 9 by 15 rectangle. Using the wrapper as a holder for your 1/2 cup of butter, spread it over the dough, leaving a one inch gap along the top long side so the dough will still stick later. Use the wrapper to spread any remaining butter into the bottom and sides of a 9×13 pan so that your cinnamon rolls won't stick to it later.
Mix together the remainder of your filling in a separate bowl. Use a fork to combine the sugars, cinnamon, nutmeg, and cloves. Spread this over the butter on your rectangle using your fork.
Roll up your rectangle into a long log, starting at the bottom and leaving the uncoated edge for the end. Use a serrated knife to slice into 12 equal pieces.
Carefully lift each piece and place it into your buttered pan. Some will touch and others won't. Replace the towel and let rise for 30 minutes or place in the fridge overnight to finish in the morning. If finishing in the morning, remove the rolls from the fridge and let sit on the counter, still covered by the towel, for 45 minutes.
Preheat your oven to 350 degrees while your cinnamon rolls are rising. Once they are ready to bake, remove the towel and bake uncovered in your oven for 30 minutes until golden brown and the filling has started to bubble at the edges.
Cool in the pan while you make the glaze. Brew a cup of Bigelow vanilla chai tea. In a small mixing bowl, add melted butter, vanilla, and powdered sugar. Pour the hot tea over this. Using a fork, stir until thoroughly combined, adding a bit more tea to thin the glaze if needed. Pour the glaze over your cinnamon rolls and enjoy immediately.
Note – These are best eaten the day they're made but can be stored on the counter in a tightly sealedcontainer for another 1-2 days, if needed.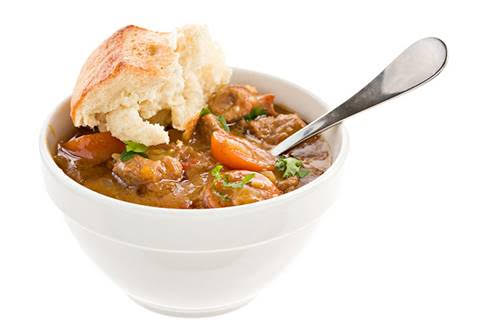 Ingredients
4 cups hot water
½ lb. dried brown lentils, rinsed well
2 tablespoons olive oil
1 medium onion, chopped
2 cloves garlic, chopped
3 lbs chicken, cut into bite-sized pieces
1 – 14.5 oz. can diced tomatoes in sauce
1 teaspoon salt
Freshly ground black pepper
½ cup dry roasted almonds, roughly chopped
3 tablespoon Italian flat leaf parsley, chopped
Instructions
Combine four cups hot water and four Cinnamon Stick® tea bags and allow to steep for approximately 5-7 minutes. Add tea and lentils to a large stew pot. Bring to a boil, cover and simmer for approximately 20 minutes, or until lentils are tender. Remove to a large bowl and set aside. In the same pot, add olive oil and saute onions and garlic until softened. Add cut-up chicken and cook until cooked through and no longer pink inside (about 10 minutes). Add diced tomatoes and cooked lentils to the pan and heat through. Season with salt and pepper. Add chopped almonds and parsley and serve.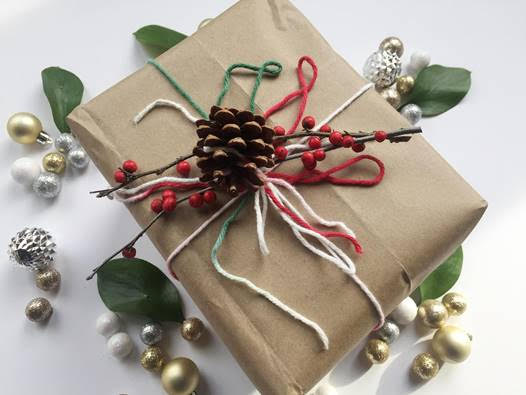 Okay, #TeaProudly fam, question for you! How may gifts do you wrap during the holiday season?! If you're anything like most folks, you probably use a ton of cheerful wrapping paper, gift bags and bows. Which is exactly why we've got a few great and sustainable ways to go green this year.
As many tea lovers know, sustainability is super important to everyone at Bigelow Tea and is a keystone of the Bigelow family's philosophy: "do the right thing and good things will follow." Energy conservation, waste reduction, land preservation and protection, and working with suppliers that use ethical environmental practices are just a few ways that Bigelow Tea does their part to help keep our planet in good shape for future generations. BUT! Sustainability doesn't have to be all business – it can also lead to beautiful, useful and unique results… and if you're looking to start small, gift wrapping is the perfect way. In fact, according to research done by Stanford University, if every American family wrapped three presents in reused materials, the saved paper would cover 45,000 football fields. Wow! Here are a few of our favorite ways to wrap:
1.Reuse, reduce and recycle with this brown-bagged approach. After your next grocery run, save your paper bags. Then, grab some foliage from outside – sprigs of holly or eucalyptus, pinecones or leftover Christmas tree boughs work great. Grab some scissors, tape, and string, twine or ribbon, and get going! Use the paper bag to wrap your gift, and attach the winter foliage for a festive – and sustainable – touch.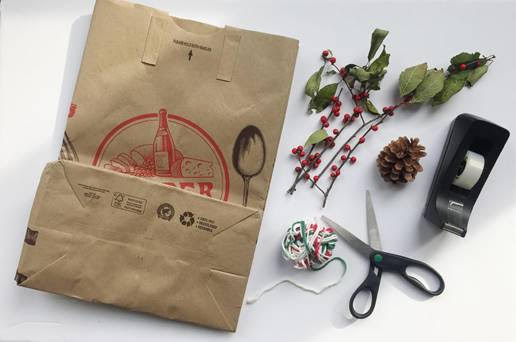 2. Make use of reusable cloth bags or old fabric. Calling all craft-lovers! Do you have scraps of fabric lying around? Use fabric to wrap up gifts. Or for the sentimental gift recipient, can you get your hands on an old favorite t-shirt? If so, use the t-shirt as gift wrap. Take it a step further, and make a quilt out of old race shirts and college sweatshirts – it's the perfect way to reuse shirts that have been boxed away for years! Another approach is to make use of reusable shopping totes. Its two gifts in one – who can't use an extra reusable bag for weekend shopping trips?!
3. Don't toss that 2018 calendar quite yet – or grab an old map or book. Maybe you don't have paper bags on-hand from your last shopping trip. That's okay! Make use of your 2018 wall calendar. Tear the pages from earlier in the year and use as wrapping paper. Or, if you have boxed books waiting to go to the thrift store, old maps, newspaper or comics lying around, use those. Instead of throwing out paper goods, keep them around as easy wrapping for gifts.
Do you have an eco-friendly gift-wrapping idea? Tag #TeaProudly and share it with everyone. From our gifts to your gifts, here's a small step closer to saving the environment. Happy wrapping!
More Recent Articles