---
I haven't blogged very much lately, but I wanted to make the big announcement and ask that you join me on this EPIC JOURNEY!
I promise to do better and keep you posted as I work on achieving my 2017 goal of completing my first Ironman. I signed up for Ironman Maryland after a lot of thought and reflection. I know I said I was going to hold off on any more long course racing for a while; however, a couple of things changed my mind.
First, I knew that if I put it off, I probably would never do it. Life has a way of getting in the way of best intentions and I ain't getting any younger.
Second, I have arthritis with bony spurs – pretty bad in the left knee and I started out 2017 back in the Orthopedic Office getting shots in both knees…I could barely walk or go from sitting to standing to walking without significant pain. I knew I was having problems. Longer distances were becoming a serious problem with swelling, discomfort and extended recovery. I was getting slower and slower and the knees were getting worse.
Options? Walk – WALK FAST

So, knowing that I probably won't be "running" much longer, I decided to GO FOR IT NOW! While the going is good.

What's the plan?
I have an AWESOME coach
I started training EARLY, Jan 1 – burn out is a thought but I need to build up, get strong over a longer period of time and arrive to the start HEALTHY.
I have a great, balanced race schedule to get me race ready, practice nutrition, transitions and MENTAL TOUGHNESS
I am surrounded by the most AWESOME group of athletes, spectathletes and friends that believe in me.
The GOAL is set. The PLAN is written. Time to EXECUTE the plan.
On top of all of that, I was chosen to be a Ripit Events Ambassador. #RipItAmBADASSador
Yes, I have discount codes to the RipIt Events Races.
Join me as I go on this journey to do EPIC SHIT and be a BADASS! See you out there!

Last year this time, The FireMarshall asked what I wanted for my 50th Birthday. Epic Party – Epic Trip. I planned the party – it was EPIC and the trip was for me and a friend to go to Paris for the Inaugural Disney Paris Half Marathon. Not to be outdone, I also had to participate in the first Chateaux to Castle Challenge (which meant I had to do a Disney Half Marathon in the states before Paris – I did the Star Wars Half Marathon).


We had a Grand Epic Time.
Disney Paris, in its entirety, including the two parks, Disney Village (their version of Downtown Disney) and the hotels immediately surrounding the parks could probably all fit inside of Magic Kingdom. Despite the size, the parks were packed and the lines just as long for the rides – of which we rode none. Just walking through the park taking pictures, seeing the characters, pin trading (or, in our case, buying) and people watching was just fine.
The only disappointment was that they ran out of the unique race pins by 10am of the second day the Expo/Packet pickup which meant they either didn't have enough for each participant or they let people buy several of them before allowing registered racers the opportunity to get. Now they are on sale on Ebay for $650. No sir! Although I know someone will pay that. HUMPH. There were a few glitches that were probably only noticeable to regular runDisney participants – small expo with not enough gear/variety, not enough big screens in corral to see what is happening at start and poor sound system and not enough porta-potties near the corrals. Otherwise, both the 5k and Half Marathon were fun & scenic. Lot of photo ops!
The Inaugural Race Party was nice, but they were not prepared for the number of people that paid for it as evidenced by the long lines and long wait to get food. The Wild West Buffalo Bill Show – I was pleasantly surprised by my amusement. The show was actually pretty good and entertaining. We were on the Green Team and our Cowboy sucked.
After the Half Marathon on Sunday, we hobbled back to the
hotel
lodge and enjoyed cocktails in the lobby bar as we planned our transportation into Paris for the rest of our adventure. Grown Women Gone Wild – Paris Edition will have to wait for another post.
Suffice it to say, we came, we ran, ran some more and had the time of our lives.
Of course, I put a little video together from the two races. Enjoy!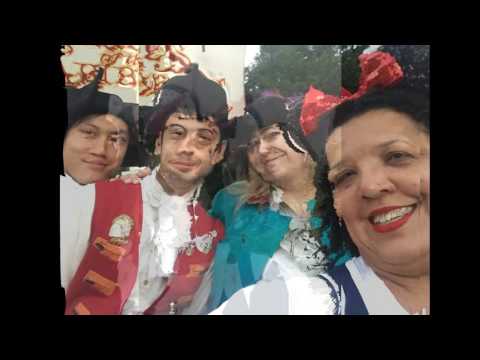 I'm not fast, I often finish waaaay back of the pack…but I LOVE it. I learn so much about myself on the journey to complete these long course races, but this time the lesson came from The FireMarshall….
Sometimes Finishing is Winning!
My 70.3 last year (Watermans) was cancelled due to the hurricane but I was given a voucher to sign up for another race in 2016 in the Virginia-Maryland Triathlon Series. I signed up for Patriots which turned out to be a 72.3 due to having to go around the county fair in the area.
If I compared myself to my ultra fast fellow triathletes all the time, I'd give up the sport from sheer shame and demoralization. What I compare myself to is MYSELF and strive to get better, faster, more proficient while MAINTAINING MY JOY!
While this race still took WAAAAYYY longer that I wanted and the goal I set for myself, it was a PR for my 70.3's and I took 2nd place Athena's. The heat was brutal and 19 people didn't go out on the run.
Sometimes Finishing is Winning.
Swim – 1:00:52
This was the slowest 1.2 miles I have ever done even though I felt like I was swimming consistent and "fast". The water was 81 degrees and NOT wetsuit legal. There was supposed to be a current going out, but I didn't feel it and the tide started going out by time I got to the turn around – the only thing I noticed is that I was having to course correct a lot. I was pretty pissed when I got out the water and saw the clock. There was a very long walk back to transition from the swim, so I had plenty of time to get my attitude straight.

Control what you can control and move on!
Bike – 4:08:06
BEST 70.3 BIKE TIME EVER!!! Knocking 15 min of my last two 70.3's, maintaining a consistent 15-16mph pace. WINNING!!!
I was feeling pretty good on the bike. I was able to stay hydrated, I used Perpetum in my camelback and had froze two bottles for my cages (Vitamin Water & Water). I took additional water & gatorade at the aid stations. Yet when I got back to transition, I'm standing there and the heat hit my like a ton of bricks. I poured water over me, pulled my cooling towel out of the ice bag I had it in, dawdled, took a nap, blah blah, blah and trudged out of transition. The FireMarshall was right there with his live coverage so when he said, "this is not the time to be walking" I refrained from cussing his ass out since I knew he was taping.
Let the death march begin…
Run – 3:18:19 – all I have to say is that it was 8min and 30 min faster than my last to 70.3 runs. Still BRUTAL.
Yet I got it done. My girl, Lynne, who I raced with finished before me and was AWESOME – she had my 2 beers and pizza ready for me at the finish. LOVE HER!!
I plopped down in the ice pool and melted all the ice in the pool, my body was so hot. Once I was cooled down, those beers were the elixir of life.
I didn't find out until the next day that I had placed second in Athena and went back to claim my prize…
I know I said I was going to take some time off from 70.3+. I'm going to think about it over the winter. I need to decide where I want to go from here. Whatever it is – FUN & JOY is the name of the game.
Sometimes Finishing is Winning!

Two Races:
Maryland Duathlon Challenge
     - July 16th – Sprint Duathlon
     - July 17th – Olympic Dualthon
27th West Point Sprint Triathlon - Aug14th

The Maryland Duathlon Challenge was a back to back Duathlon with the sprint on Saturday consisting of 2 mile run, 13 mile bike, 2 mile run followed on Sunday by the Olympic du consisting of a 2 mile run, 26 mile bike, 4 mile run. I have done both races before – always a month apart. The bike is scenic but rather hilly. These DU's are challenging all by themselves without putting them back to back, but since I have done them separately several times, I thought I would give the Challenge a go.

The Sprint race on Saturday was uneventful and I took it easy. My run times & transitions were pretty much the same as the previous 2x's I did the sprint and I knocked off 4 min off my bike time.  I didn't feel beat up, sore or overly tired. I went home to rest up for the next day.
The Olympic race on Sunday was a true test of not just my endurance but more so my mental toughness. The opening run was on pace for ME, but it had me DAL coming into transition. It is one of the most demoralizing things EVER to come into transition and you see you are the ONLY bike left in transition. FML.
I get on the bike and I settle into my game plan…My race, My pace. Catch someone – anyone on the second loop.
That 1st loop was SO DAMN LONELY. Just me and my thoughts. Just me and the road; one hill at a time; keep pedaling. As I approach the start of the second loop, passing people already on the run…KILL ME NOW!…I shut my mind down to all my surroundings; dig for my "one word" when you are about to go dark – mine is RELENTLESS – I go aero and decided – believed – that everybody could NOT be that far in front of me. I WILL catch and pass SOMEBODY! I will be relentless in that pursuit. I dug in. Approaching the double up steep hill at mile 3…I saw my opportunity. There were 3 riders. Relentless! Passing left not once, but three times.
I was alone again. Where is the pack? Pedal. Push. Climb. Climb again. There is another rider…take em. That's four. Still no back of the pack, but I'm not last anymore.
I approach the end of the bike, I roll into transition and I forgot that I had passed four other riders – didn't matter- it looked like I was the last bike into transition. DESPAIR. It had to be all over my face. Yet, before the first tear could fall – there was my coach – Coach Suzy. She nipped that mess in the bud with a quick fierceness that snapped me out of the black hole I was about to sink into. "STOP IT, LISA! You are doing great! Now Finish It. RUN!"
So I put a smile on my face and RAN! Well, it was more like a fast wog, but this girl was runnin'. 4 mile. Get it done.
And I did!
I put my two best race time on this course together and compared it to the back to back race total time. I couldn't think of any other way to make a reasonable comparison. There was a 16 min difference (16 min longer) between my best two races separately and the Challenge. That seems like a long time. Maybe. Compared to whom? Compared to what? For me, I achieved my goals. Finish. Finish standing. Finish strong. Believe you can. Endure. Don't go dark.
I did every single one of those. WINNING!
Next up was the 27th Annual West Point Triathlon. My goals for this race was to move up the podium and to ensure that the other West Point Women I suckered convinced to do the race with me (either individually or as a relay) had a great experience for their first race.
                
I achieved both goals – placing 2nd in the Athena Class and watching my friend and fellow WPW89' CRUSH it at her 1st competition, placing 1st in the Athena Category. JUST WOW! So proud of her.
       

The WPW89' Relay Team was out there crushing it as well. And my girl, Kay(runner relay) got her kids to register and they were out there getting it done as well. Best line ever – "I have two spares in case something goes south." I cried.
      
As for me and that 2nd podium finish…I attribute knocking 9 min off of last years race time to an awesome swim and knocking 1 – 1/2 min of each transition time. TRANSITION. TRANSITION. TRANSITION. Get in and get out!
     
                  
                  2015                       2016
Swim         28:03                      21:46
T1               3:23                        2:26
Bike        1:01:39                   1:02:59
T2                4:42                       2:11
Run             47:16                     47:33
I ESCAPED!!!
The tag line from DelmoSports for this race is so on point: 1 Boat, 1750 Athletes, Unlimited Smack Talk
I signed up to do Escape the Cape again because…
1. IT IS SO DAMN FUN
2. For a 50yr old, pleasingly plump, old West Point Woman Grad, this race is my Ranger School of endurance, perseverance and overcoming obstacles.
3. It makes me feel absolutely BAD-ASS
I went with ONE GOAL – An under 4 hour International Distance Race. It didn't matter how I put it together; just that I put it together and get it done. No matter what the day threw at me…and for those that have followed my escapades – having a drama free race would be like finding that pot of gold at the end of the rainbow. The key for me is to not let any one challenge trip me up.
I had The FireMarshall – one of the members of Team Spectathlete – with me who always ensures that I am ready & calm. We get up at 3am and are out the door at 4 to get to the parking area. Spectators can't get on the shuttles till 6am, so after he throws me out helps me get my gear out the car, Princess Cara and The FireMarshall are back asleep for a two hour nap.
I get to transition and get all set up to wait and get in line to board the boat. Time for selfies and group pictures with some BTA and MMTC folk -
Finally it is time to board and get ready to do the damn thing. It was a beautiful morning, a tad windy and you could see the white caps on the water…people were mumbling about it and getting antsy. NOT LISTENING. I'm going to stand over hear on the railing and dance to the music and eat my snacks.
Finally, three horns and we are off!
We were out and anchored in record time and I made my way down to the deck to line up to JUMP!
I made my way to the front and….SUPAH STAR!!!!!
I was in the water before I knew it and the current was so fast I was away from the boat about 100 yards without taking my first stroke. It was pandemonium from then on…2 ft swells, people were panicking, paddle board and jet ski people were trying their darndest to keep people close to the buoys. Plenty of support, someone always asking if you were okay if you stopped. "Just keep swimming, you are doing great." when I asked if I was going the right way. With the swells, it was damn near impossible to sight a buoy so I found the Ferry building and went for that. I told myself to ride the waves and let the current take me. The ability to breath bilaterally was definitely a lifesaver, but I did drink a little salt water. Really couldn't be helped…stay calm and GET OUT THE DAMN WATER!!!
I ended up on the beach about a 100 yards from the exit and had to run down to the timing mat. WHEW. I looked at my Garmin and started laughing. I averaged 1:04/100yrs. ARE YOU FRIGGING KIDDING ME!! That was a fast but hellacious ocean swim. I'll take it!
SWIM – 1 MILE: 29:13
Transitions are LONG. From the swim out, it is about 500+yards to the transition area – through the sand, across a parking lot, through a grass path into T1. Not as long as the swim out to T1 at Chicago Tri, but still…DAMN playa! Could you make it just a little longer??
I get it on and get to moving. It is a fast, mostly flat course with a bridge you have to go up and over 2x for the only true hill, but the headwind!!!! SERIOUSLY. Most of the wind was mitigated by the community we went through but there is about 4 miles of just grind through the wind. That is when I decided this would be the best time to get all comfy with my aero bars, drop down a gear (or two) so I'm not working so hard and spin that byotch out till I was through it. I felt like I was crushing it on every single segment (except the climb on the bridge and the wind tunnel sections). I was happy.
I passed some ladies on the course and I know that look. I know that body position – shoulders slumped, slow cadence. They are tired, they are thinking WTF, when will it be over. I know, sister. I know. I know that I sometimes HATE IT when someone passes me and says something encouraging – I'm in my feelings and don't want to hear your "encouragement" even if I need it, so sometimes I hesitate…but I say something anyway. Maybe a little humor and truth like – "You DO have this, YES YOU CAN!" I hope it was received in the spirit I meant it…truly I know and still I bring up the rear most times. What's the difference. I'm doing better FOR ME than the last time. LET'S GO!
BIKE – 25 MILES 1:41
Whelp…that salt water I drank, hit me the minute I racked my bike in T2. I took a knee and waited for the hurl. I grabbed my water bottle and swooned from nausea and was sure here it comes. PLEASE…let's just do this sick thing and be done with it so I can get out there to run from the devil. I slowly started putting on my run gear, waiting for the nausea to pass and remembered I had a carbonated water in my bag. I took a few sips of that and my stomach started to settle. I put my RIP IT hat on and made haste for the run through purgatory.
That is exactly what it was. HOT AS FUGGING HELL. No shade. I knew that I had to do my best on the front 2.5 miles because on the return you had three sections of sand dunes/loose sand to dig through to get to that damn finish line. I don't think I made much haste. There was a lot of walking. I was not prepared for the heat AGAIN. That first split was a speedy 17min pace and the second half was…I don't want to talk about it.
Running…yeah…gotta work on that.
RUN – 5 MILES OF HELL: 1:32
BUT DID I MEET MY GOAL? HELL YEAH!!!
Total Race Time – 3:59:08
YES I CAN! YES I DID! Knocked 6 minutes off my race time from 2015!
…AND THAT'S HOW WINNING IS DONE ~ Rocky Balboa
Next up…the RIP IT Duathlon Challenge (Sprint/Oly Du back to back). YES I CAN.
P.S. Notice my lipgloss is still poppin'