Most adults who live and work in Jamaica are used to watching everyday transactions like hawks. Every invoice, payment or message must be tracked carefully due to the mistakes companies make in even simple matters.
A $300 bill becomes one for $3000. An email with a straightforward request gets lost. A phone rings without an answer. Most Jamaican organizations have an issue dealing with their own recurring errors.
Compare this to the environment surrounding our world-class athletes. In post-race interviews, they often contrast their planned versus actual execution. They continually examine their performance to remove faults in ways our companies don't.
But there's a bigger problem afoot. In the public sphere, while we laud the construction of grand highways, we fail to fix ordinary potholes. Ribbons are cut to launch projects to widen roads, but within days the site looks like a war-zone, as if project management were never invented.
The challenge is that we focus on the initial vision and the excitement around it, but when it wears off, a series of recurring mistakes become par for the course.
Is your company facing a similar test? Do you put a lot of effort into launching new initiatives but fail to solve repeated mistakes?
If you are in doubt as to the answer, ask employees. They are the ones who complain about these maddening execution problems. But what drives them nuts is not the issue itself, but the manager who chases symptoms rather than causes.
The plain truth is that complex issues require people to cross functional or hierarchical boundaries. This means they must put themselves at risk, but it's far easier to fire-fight and complain than to be brave.
This managerial cowardice allows execution problems to continue.
If this phenomenon sounds familiar, how can you transform the situation?
1. Re-Define Execution
The problem with a common term like execution is everyone thinks they know what it means and therefore uses it loosely. After a while, it loses whatever meaning it ever had.
Research shows that sometimes issues recur when companies don't have a rich enough language to describe them. In other words, they can't even talk about the challenge in a fruitful way.
To bring an over-used concept to life, you'll need to redefine it afresh so it meets the unique needs of your environment.
For example, let's imagine you coin a phrase: "flawless execution." It could equate to "completing a function or process such that there are no mistakes which create further problems."
With that in mind, "flawless execution" can be adapted as a new universal standard that everyone is taught to use. It should become part of the performance management system as well.
2. Own Execution
Many companies are happy to employee workers who simply take orders without taking any additional initiative. In other words, the manager's job is to think and direct, while those underneath them should merely follow.
In modern organizations, this common approach leads to disaster.
While passive employees may be able to solve simple problems, challenges which require some thinking and coordination with others demand more. In other words, staff must have the power to take the initiative without the manager being involved.
Managers who try to micro-manage end up becoming overwhelmed. So do those who try to do all the thinking.
The solution is for managers to transform all the ways in which they undermine employee initiative. The best leaders are vigilant: they actively seek feedback on their approach to managing others to discover where they are preventing staff from problem-solving. They get themselves out of the way, and ask employees to let them know when they become controlling or otherwise offensive.
But is this enough?
3. Teaching Problem-Solving Skills
Unfortunately, even motivated employees find that solving tricky process problems isn't easy. Not only are excellent communication skills required, but a capacity for critical thinking and data analysis are a must.
Most employees are weak in these areas and lack training. A smart leader will develop these competences in a systematic fashion, knowing that as they do so, they help staff solve recurring execution problems on their own.
In other words, it's the only way to implement a new ideal like "flawless execution".
Given the fact that our athletes and coaches use these techniques every day to achieve world class standards, it makes sense for our organizations to try to do the same. Even though it's more difficult to do so in groups of people, the rewards are more far-reaching.
Why is it that strategic plans often languish on the shelf? Some would say it's a matter of lazy executives but experience shows that it has more to do with creating the right context from the start.
A client I work with has an idea: "let's put up our own website." At first blush, it makes sense. Every organisation has one. It's an easy, inexpensive way to let the world know you exist.
However, a brief survey of websites of similar organisations reveals an inconvenient truth: they are all embarrassingly stale. The layouts look tired. Not a single site is current, or has been updated in ages. Whoever had the original vision has long gone, leaving behind an obsolete artefact.
But it's likely that when the idea was first pursued, people were excited. They invested personal energy in the project and when it was done, felt satisfied that their vision had come to life.
Unfortunately, they also made a deadly mistake. In their minds, the purpose of the activity was to produce an object (a website) versus to launch a process (a way to keep staff in touch with the public.) In other words, the context they created for the project was limited.
This particular error happens every day. Imagine the typical family. The kids want to adopt a dog, but their parents refuse. The fact is, the older, wiser heads know that owning a pet is more than possessing an animal object. It also means engaging in a process of feeding, exercising and cleaning that takes time and money. They understand that this job is likely to fall into their laps when their children lose interest.
As adults, they see the real cost.
This also happens in strategic planning retreats when companies try to compress the activity into a single day. It's possible to create a report in this time-frame if the team focuses solely on producing unlimited visions of the future. They walk away feeling inspired, as if they have just adopted a dog or launched a website.
However, the typical second day is usually focused on adding in real-life constraints – the true cost. Once they are included in the plan, tradeoffs must be considered which lead to the team making difficult decisions. Among them is a choice to kill certain initiatives.
The sad reality? There just isn't enough time, manpower, money or energy to accomplish all the goals set on day one. That initial mood of boundless creativity must be balanced.
Apart from spending two days on this activity, what else is required to be strategic versus just producing a plan?
A Context of "Being Strategic"
Paradoxically, the main output of each planning exercise may not be the plan. Perhaps, it's better understood as the start of a process which engages everyone.
In this process, a new paradigm is introduced which reshapes everyday work. Now, instead of simply doing their job, an employee is doing so for a greater purpose which inspires them.
This means that the plan should be changed as often as necessary in order to play its role as a guide for daily actions. These updates keep it fresh and relevant.
Some companies unwittingly rob employees of learning how to "be strategic." First, they hire outsiders to write their strategy. When the final document (the object) is handed over, the company finds itself unable to execute because no-one possesses the requisite way of being to be successful. It disappeared out the door with the consultants.
Make Concrete Commitments
In prior columns I accused executives of failing to treat their time with the same level of rigour as they do their budgets. Consequently, their strategic plans are unrealistic and are treated as if they can all drop their overfull schedules at a moment's notice.
One antidote is to book the same time in each executive's calendar for implementation: e.g. Monday morning from 9-12 am. Doing so means cancelling or delegating existing commitments. It's a way to ensure that the new projects and processes in the plan have a chance of survival in the real, post-retreat world.
Make Behaviour and Process Changes
Pay attention to those strategic initiatives which are as painful to implement as the challenge of learning to write cursive with your non-dominant hand. At both the individual and corporate levels, old habits and processes will assert themselves, resisting the planned changes.
Instead, put in place new systems for performance management, rewards, recognition, training and automation. Hardwire these improvements to reduce the possibility of failure.
Part of being strategic is acknowledging all these obstacles and finding ways to work around them. Admittedly, they are harder than simply producing a document but they will ensure that your plan is realistic and provide a unique pathway to future success.
The challenge that organizations have is that they haven't trained, rewarded or permitted their frontline employees to exert emotional labor to create human connection when it's most needed. Seth Godin
Now and then I come across a quote which makes me stop and think. Here's why this one brought the local customer experience to mind.
Most Jamaicans who travel to the United States are struck by how well-trained service workers are. At first blush, it appears that they really know how to smile, be polite and seem interested.
However, those who end up staying to live in North America tell a different tale. They recall a discovery: five minutes after a seemingly meaningful interaction the provider can't remember your face or name. It was all an act.
Where it comes from is obvious – those who have peeked behind the scenes say it's the result of thorough training tightly coupled with swift, harsh consequences for non-compliance. It gets the right behaviour, but does it produce genuine feelings?
Contrast that situation with the experience of tourists who visit Jamaica repeatedly for several years, making lifelong friendships which start with chance encounters on the beach, village or bus. These extraordinary, unscripted stories end up bonding entire families from different cultures. Sometimes, they even cross generations, in spite of the geographic distance.
How can these two contrasting experiences be reconciled by you, a manager who must develop staff to serve local customers? Godin's quote offers a few clues.
1. Faking isn't Creating
I suspect that frontline workers in the US have been trained to "fake human connection" on demand – to go through the motions, following a set of actions they have memorized and practiced. Unfortunately, they also haven't learned to separate true emotion from fakery.
How to get past this obstacle?
If you believe that your front-line workers are acting the part but not actually creating authentic experiences, they may need deeper training. Noticing real emotions in the middle of a transaction isn't easy, especially when the customer is upset. Most of us can't: it takes a kind of emotional maturity few possess.
2. Doing Feeling Work
However, when we bump into someone who can regularly provide this experience in the worst of circumstances, we tend to think of their emotional maturity as a rare gift or talent. Unfortunately, this explanation puts them up on a pedestal, far beyond the reach of the unlucky majority.
Godin implies that this thinking is false.
"Emotional labour" is really what's missing, he explains. It's the trained effort most companies' leaders just can't be bothered to develop – the expense is too high. Their lack of care begins with haphazard hiring and continues with non-existent onboarding. Employees who receive this basic training are left to their own devices, never given the tools to produce emotional results. Then, when problems occur, most managers simply blame the employee: they fail to accept responsibility.
But Godin goes further: he hints that many companies don't even "permit" their front-line employees to provide emotional labour. They actually make it hard.
Have you ever received a quiet act of kindness from an employee who put themselves in harm's way to make an exception in your case? That's someone who is working around the limits implemented by a blind, callous leadership.
3. Identifying Moments
These subversives are not only brave, but wise. They can tell when a human connection is most needed and act decisively to provide it.
But they aren't just interesting: these moments are extraordinary opportunities to create lasting loyalty. Perhaps they explain why these tourists return to visit their newfound "family" in Jamaica. Their initial link was so positive, and so unexpectedly real, that they end up feeling closer to a Jamaican front-line worker than their actual neighbours or office colleagues.
Can workers be trained to identify these key moments in a customer's experience?
They can, but if your employees have childhoods pock-marked with trauma, it's much harder to do so. Unfortunately, given the low pay of our service providers, many have experienced such hardships and won't get over them on their own.
If management steps in and provides the counselling, training and coaching needed to move past these obstacles, everyone benefits. The fact is, employees who are being trained to emotionally labour on behalf of customers who need a human connection need to deal with their own wounds first.
This puts them in the driver's seat: able to respond to the customer without their history getting in the way. Now, they can deliberately create the kind of deep loyalty customers enjoy but rarely experience. It's emotional labor which provides a win for all concerned.
Why is it that your employees who start out excited about their jobs lose interest so quickly? Is it a problem with their age, a cultural phenomena
or just fate? Can their experience be enriched by savvy managers?
The dilemma begins with most leaders who compare employees to cars and their jobs to long-term parking spots. In other words, all they need to do is slot people into positions and leave them. From that point on, the person is expected to perform the role faithfully and occupy the position indefinitely.
Unfortunately, that's not how things work. As you may know, there are a startling number of staff who merely go through the motions: "It's just a job." Long gone are the challenges which kept them up at night. All that's left is a routine they can now do without thinking.
Predictably, they turn their attention to other life demands. They raise children to pass exams with top grades. They sign up for marathons. They become deacons in their churches and volunteers in community organizations. While there's a great deal of good they accomplish in all these other areas, their career remains stagnant: the same job from one day to the next. A few convince themselves that the steady salary is worth the deadening sacrifice. Others refuse. They walk away, quitting to find a different career or start their own company.
Meanwhile, executives in your firm probably remain clueless about the real depth of disengagement: the high percentage who give their work-life the bare minimum. Understanding why employees are more dissatisfied than ever can help you produce a breakthrough culture.
The New Employee
Today's entering staff member is often surprised at the stale environment found inside most companies. The truth is, little has changed over the years. People at all levels are still stuck in the car-and-parking-spot frame of mind.
Why are they shocked? They have been raised in a world of high engagement in which social media, entertainment and games occupy a great deal of their personal energy. Each of these platforms is engineered to grab hold of a user's attention and keep it for extended periods of time.
Creators of highly engaged online environments realize they are in a competition with other experiences. With every bit and byte, they intend to keep users interested and use attention as a measure of success. The makers of Facebook, Twitter and Instagram don't want you to slip away.
By comparison, most jobs in the workplace seem to be designed to lose, disrupt or even destroy attention. It's tempting to think this has something to do with technology: instead, it's all about intention.
Unfortunately, there are probably few managers in your company who see their challenge in the same way. They fail to recognize that "experience design" is part of their job, instead pretending as if nothing has changed over the years.
The outcome? Employees who can hardly last 15 minutes alone or in a meeting without reflexively searching their smartphones for something better.
A New Challenge
Most of your fellow managers probably just shrug their shoulders, complaining. For them, the point of engaging staff is not to entertain them, but make them productive.
Perhaps they could adapt the mindset of game designers. One of their leading thought leaders, Amy Jo Kim, asks: "How can we create experiences that get better as employees become more skilled?"
In most companies, the focus has been on the opposite. HR has been trying to keep employees' experience the same once they reach a certain level of skill: the old car-and-long-term-parking-lot model. The result is boredom.
Behind this unwanted outcome is a lack of responsibility. Most manager's don't believe that their job is to engineer an outstanding experience. In their minds, work is not a place for intrinsic fulfillment or purpose: it's a crude exchange of money for labour.
Fortunately, it doesn't take much to tackle this issue head-on. As a new employee at AT&T Bell Laboratories in 1988, I joined a system which made room for technical employees who had no interest in becoming supervisors. A technical ladder allowed many to be promoted and recognized without having the burden of direct reporting relationships.
At a micro level, your company can train managers to develop detailed ladders of skills. Imagine if, at any moment in time, your employees could know exactly which rung they occupy. Furthermore, they would also be able to pinpoint which skills they are developing. This way, they know what their next personal improvement target happens to be and when it is due.
This form of career gamification can engage even long-term staff, blocking the default – boredom – which thwarts your company's goals.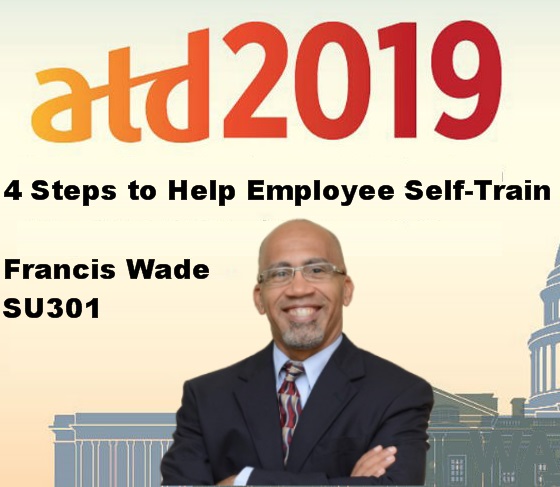 May 24, 2019
Are your employees taking their training into their own hands? If so, how can you stop the motivated learner from abandoning your good training for a five-minute YouTube video? Attend this session to discover ways to engage your learners in self-training experiences filled with expert content gleaned from your company or industry. Use it to win learners' deep attention, defeating the appeal of superficial tips and tricks.
This is a live presentation made at the Association for Talent Development Conference 2019 held in Washington DC. The accompanying slides and online game from the session can be accessed here – http://2time-sys.com/atd
To listen to this podcast, visit Source
More Recent Articles