It's the last day. At the end of work today, I'll be leaving early, way too much luggage in tow, and off to catch a cab for Union Station. Tonight I'll be in NYC. Not in passing, but to stay. It's been a quick process to make the move up, but what can I say - I'm a rip the BandAid off kind of girl.
I will admit, I will most definitely not miss those ever-present politically charged conversations, peppered with names no one else knows or cares to know (especially yours truly!)... nor will I miss h
aving to swipe one's Metro card upon entering AND exiting the Metro system. The thing I will absolutely not miss is the darn zones for the insane DC cab system. Dumb, dumb, dumb...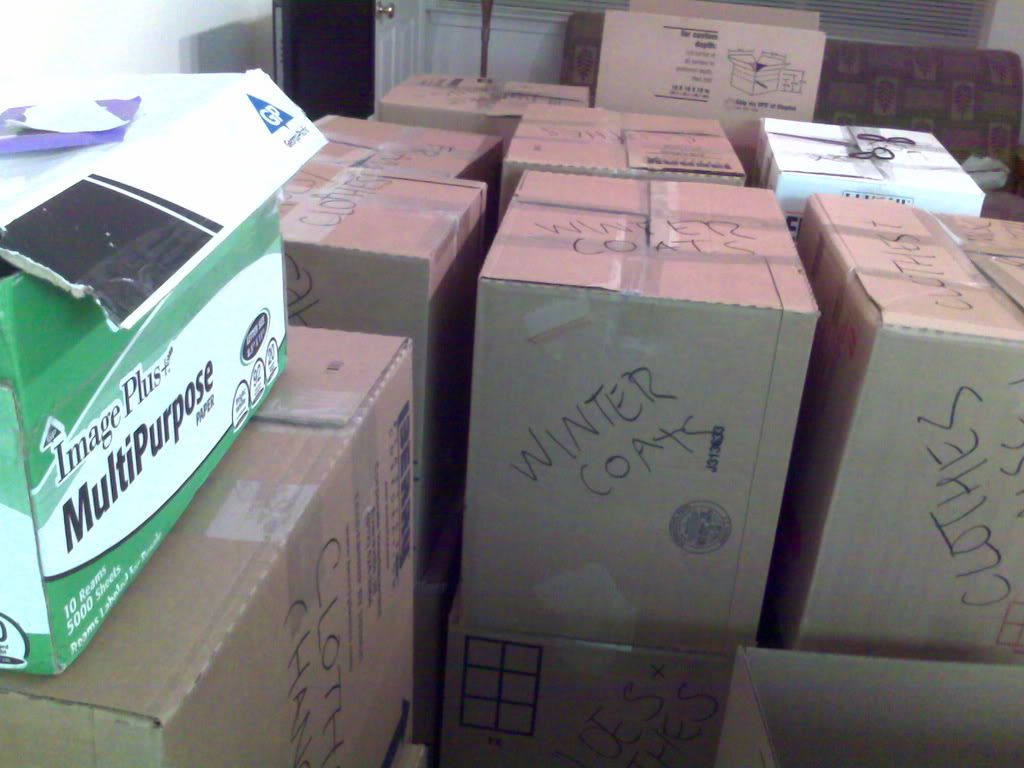 What will I miss the most? The people. All about the people. I will miss the air conditioned cars of the Metro. I'll miss my favorite restaurants. I'll miss Eastern Market and all of the wonderful local vendors. I'll miss my church and the pastor, who I absolutely think is the greatest. I'll miss my apartment with its washer and dryer in the unit. Man, I'll miss that one... but it's the price you pay for Manhattan, I guess.
And with my move outside of District lines into a land no one can claim is part of the cultural South, I figured it made sense to close out this chapter and formally begin a new one. This is of course going to remain up. I'd never take it down. But with all the changes on the horizon, thought a change was due here as well. My favorites from here though will remain linked in the new blog.
It'll likely be a while before I'm all set up with Internet access and the like, you you know you'll see me here (at the link below).
See you on the flip-side...

Last night was my pre-move gathering with my friends. We met up at Urbana for one last hurrah, since I anticipate tonight to be a scrubbin' fantastic time (as to avoid any fines/penalties for the apartment complex having to clean up after my two months of clearly filthy living). Sitting at the bar, it was comforting to be surrounded by familiar faces. Many that I see regularly. Some I wish I had seen more of in recent days. But I was reminded about the bad thing of being the common thread -- you just don't get to talk to each one enough.
So as the crowd dwindled down, I was a bit sad that so many that came (and thank you all for coming - it really means the world to me) I only was able to manage a brief exchange before they had to depart. As our group momentarily overtook the classy bar at Urbana, I was reminded of all of the fabulous people I've managed to encounter here in DC...
There's the Tour Guide... the longest standing DC connection. One of the few other University of Maryland Summer in Spain participants who was from another school. It's amazing how with some people you don't have to be physically present on an ongoing basis to still be able to develop a relationship strong enough that when you are face-to-face again, you forget there was ever a time where you were not. The TG summed it up perfectly in the card she gave me last night, saying she's glad that even though I ultimately ended up making the move I always thought I would make to NYC that I had a stop in DC along the way. I couldn't agree more.
There's the great group I was fortunate enough to encounter at church... from DrP to Tx to Coop to MM. It was the first time I'd had a chance to really talk a lot with Tx. Lots of special memories of ACL there. And I love talking music with Tx because she is passionate about it too. She'd never think I was crazy for flying to see multiple Tori Amos shows. DrP and I have the Southern connection. She's a Georgia gal and with my mom's family being from GA, we clicked instantly. I'll truly miss her, but she's one of those who will definitely stay in touch, so I know I will be seeing her soon and very soon. It's interesting all of the different levels on which you can truly connect with people.
There's my fellow Junior League New Member Group member, where we randomly found out that 1/2 our group was comprised of DC Bama girls. A Bama connection is hard to beat. And it's funny how one person can be your key ... a connection to a whole different set of people you never would have encountered. Or I guess I shouldn't say that... as one thing I've learned in DC is that it doesn't take long for you to bump into that same crowd from another angle. And it was through the Fashionista that I met WT, who will likely be my first in-house guest in November - and I just can't wait!
There's MsH. My lunch and shoe shopping buddy, who I will miss tremendously. Our frank lunchtime chats have remained a thing off the record for blog purposes, for sure - and definitely served to keep me sane during my time here in DC. Hopefully someday she'll forgive me for my exit just short of her housewarming party. I'll be thinking of you that weekend, and we'll just have to do the celebration separately. Thankfully today we can celebrate with one last lunch. I'll be thinking of you come lunchtime next week as I'm figuring out where on earth to eat my midday meal.
There's Rio, who's that friend who just gets you more than many others do. Where you don't have to explain yourself ad nauseum because they just know how to interpret the silence. I've never had another friend where we met in once city and then proceeded to run into one another in a different city. I hope he finds the warmth of the people of DC to be as rewarding as I have. It's great to have someone who loves photography to talk photos with. That's something on the to-find list once I settle into NYC.
And now the countdown's truly on. The boxes are overtaking me at this phase. I can't get to stuff for the heavy boxes obstructing my path through my little 615 square foot world. All my empty boxes are filled and I'm off to buy more last minute supplies tonight. I've gone through 300 feet of bubble wrap. I'm on my second box of 140 sheet wrapping paper. I have my shirt for tomorrow and a pair of jeans out. That's it. Oh, and five pairs of shoes...
I'd told Tam all about the glory of the Legwarmers concerts. 80's music... live... people in costume... what more do you need? It seemed like an appropriate send-off to be a part of my last weekend-ing in DC. The Mack and the Fashionista had hit up Goodwill and the Salvation Army. I couldn't bring myself to buy more themed apparel though to add to my dwindling stash clutter, having donated so much to those very organizations. Instead, I pulled back out my short denim skirt and a pair of my trusty legwarmers and made do with what was left in my apartment (which isn't too much). To add a little umph, Tam and I put Buckeye's unused crimper set to use. Too fun. We gained a full appreciation for the time and dedication it takes to properly crimp.
We all convened at AR's place in Balllllllston beforehand. We parked at the mall and walked over and were clearly walking conversation pieces all along the way. We hadn't even left my apartment complex to go over to Ballston before we had our first comments, which continued throughout the course of the evening. Hey, it's nice when you're going over the top to at least be appreciated ;-)
GH, who works for NBC, was on hand to also help to document the event. We ended up on the website, including a picture with one of the lead singers.
Unlike my prior outing, the plan was to make it until the last song on the setlist, with my hope being that they would not opt for an hour intermission during this show. However, shortly after intermission this girl in the crowd decided to up and punch one of the Mack's friends in the face - not once, not twice, but three times. In all of the times I've been to such events, crammed in the middle of tons and tons of dancing people, I'd never seen anything like this firsthand. So not even 15 minutes post-intermission, our group quickly was split in half. For the record, I just don't get people who expect to be in the midst of a crowd like that and have some sort of space bubble around them. If that's your deal, um stay further back? Or perhaps just don't leave home...
Anyhow, the rest of the show was a blast... Tam, KK, and SR danced it up with me in fine fashion. I was definitely glad I was able to see them one last time. Very fun.

Sunday my church did a nice farewell for me. It was the first time I almost cried, as Tx came up to give me a big hug, not letting go. Yes, it will be the people I'll truly miss... Tam and I then hit up Kramerbooks for brunch. It seemed appropriate the weekend included both Kramers and Lauriol, my true original DC staples.


And after today, it'll only be 2 days more...
I like those few CDs where you are content to click play on the CD player and let it run its course, start to finish. Put it on repeat? Sure, why not - 'cause it's that good. At last year's Austin City Limits, I was introduced to KT Tunstall. She was playing midday and my friend Tx was all about seeing her.

"KT Tunstall? Who?" I asked, a puzzled look on my face.

"Oh she sings that song 'Black Horse and the Cherry Tree'. I'm sure you've heard it," she replied. Hmmmm. I was sure I'd heard it at some point, but was drawing a blank. Since we had been switching off who chose the next stage to check out, I nodded in agreement and figured I'd give her setlist a try.

And boy I was not disappointed. Still a relative newcomer to the musical scene, KT had an instantaneous stage presence typically reserved for those who have long been on the concert circuit. Her brief exchanges with the audience were confident, serving to accentuate an absolutely fantastic setlist. Her stage set-up was simplistic - a few basic rugs and just her and her guitar, oh and her bare feet. I was hooked instantly. What was one of my first post-ACL purchases? That would be Eye to the Telescope, her first major release.

The bigger known cuts from her first album would definitely include "Black Horse and the Cherry Tree" and "Suddenly I See", which has seemingly popped up all over from the recent movie The Devil Wears Prada to accompanying Meredith Gray's dancing in a poignant moment on Gray's Anatomy. The album has an interesting mix of pop/rock with bluesy overtones, and it works. My favorite from the album is "Through the Dark", the final haunting track focusing on the uncertainty of the future. The lyrics emphasize finding strength to make it through hard times where you just do not know if there's a reason to even expend energy hoping for what you feel you need.

When I saw on iTunes that KT had a new release slated for mid-September of this year, I did the pre-sale right away. And when iTunes wasn't showing it in my pending downloads the morning it was released, I was annoyed and found myself purchasing it - again. On the train ride up to NYC that evening, en route to my interview for the job I will be starting next Monday in Manhattan, I was again much impressed. Sophomore slump? Not here. Although I guess if you count in her live album, Accoustic Extravaganza, this release is technically number three.

I'd been addicted to Hold On since it was put up on MySpace. I remember listening to it one of the first days I was able to go without a cast after my broken foot and I quickly found myself dancing en route to the subway, just smiling back at those passing by gazing at my twitching feet. It's just one of those songs where you have to dance. It definitely serves as a strong and catchy first single track from the album, with energy comparable to KT's prior major singles, "Black Horse and the Cherry Tree" and "Suddenly I See".

Drastic Fantastic has a mixture of the honesty of Eye to the Telescope with I think an edgy quality more prevalent in Accoustic Extravaganza. The bluesy element fades here, but the combination between pop and rock still remains - without any of the cliche sound often times classified as rock. There are albums with strong lyrics and there are those with fantastic melodies and interesting combinations of musical elements. Drastic Fantastic is solid on both accounts. It starts off on a powerful note with "Little Favours" and from there continues through a series of peaks and valleys, with the ultimate crescendo at "Hold On". Like Eye to the Telescope, Drastic Fantastic rounds out with the overall calmer yet still intinsive lyrics of "Someday Soon" and "Paper Aeroplane".

Lyrics in songs such as "If Only" and "I Don't Want You Now" show a unique balance between the sentiments of a strong and independent woman along with the occasional realities of those moments of doubt, captured especially well in my opinion in songs such as "Saving My Face". With Drastic Fantastic, KT has solidified she's a consistent entertainer who we'll be seeing more of in the years to come, for sure. I love Eye to the Telescope but in my opinion, Drastic Fantastic takes it up - a notch.

----

Check out KT's upcoming tour, including stops in the below cities:
November 13 - Los Angeles, CA @ Avalon

November 17 - Chicago, IL @ Vic Theatre

November 21 - NYC, NY @ Roseland
After a looooong cab ride to the Greenbelt metro station from Laurel, MD I'm officially car-free. I almost made it a year with my car, but I must admit it's kind of nice to be back to solely public transit. It will be all too easy to take the payments previously made to Honda Financing and All State and reallocate them to the NYC landlord. No sweat at all.

My kitchen table is officially gone. I finally found someone non-flaky who picked it up last night. My living room instantaneously went from crowded to empty, soon to be filled with even more cardboard boxes.

Tam arrived into town last night. We met KM and headed to Lauriol Plaza, a definite must for my last weekend in DC. It's like things have come full circle. Lauriol was one of the first restaurants the Tour Guide took me to back in 2005 pre-move.

Afterwards, Tam and I headed to DC9 where I'd surprisingly never been and was one of her faves. Friday night is their Liberation Dance Party. Fabulous and occasionally fabulously hideous music. We had a perfect seat to take in some of the fantastic people watching right in our line of sight. There weren't many people on the dance floor, but definitely those there were amusement enough for us. It was good to catch up though. We called it an early night to save steam for Saturday.

Tonight it's time for some fantastic 80's cover action and theme attire, of course. I decided any dancing for this weekend should likely be reserved for Saturday. Thought the healing foot would appreciate that. Cause I'm still preoccupied with 19... 19... 1985!

Sent via BlackBerry by AT&T
More Recent Articles