Here is a sample subscription for you. Click here to start your FREE subscription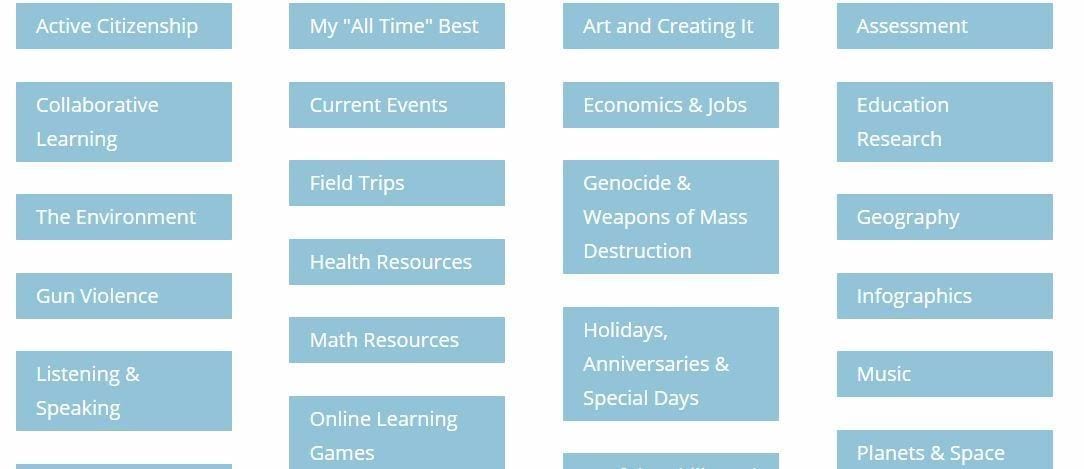 (Note: I am going to publish this same post regularly to remind regular readers and inform newer ones about how to access my "Best" lists)
As regular readers know, I have about 2,200 categorized and regularly updated "Best" lists.
You can find all of them in broad categories here. The link to that page can also be found at the top right of my blog: My Best Of Series
I also have them all on another page where they are listed in the chronological order in which I originally posted them. You can find that link at the top of my blog by first clicking on About and then scrolling down to Websites of the Year.
Over two thousand "Best" lists are a lot of best lists! Of course, Control + F on PCs and Command + F on Macs are great ways to search for keywords on those lists when you're looking for something.
In an effort to make them both further accessible and to update many of them, I began posting "Best Lists Of The Week." In those lists, I attempted to break my lists into more narrow categories while completely revising and updating them at the same time.
I've created about fifty of them so far and they encompass a several hundred "Best" lists. It will probably take a year-or-two to create ones that include all two-thousand, especially since I add new ones all the time.
You will find these newly categorized lists on a page titled My Best Of The Week, and they'll be shown as "buttons" (you can see what they look like at the top of this blog post) listed alphabetically (more-or-less). You can also click on a link on the top right of the homepage of my blog. It says: My Best Of Week
I hope you find the lists, and the way they're organized, helpful!
I'm making a change in the content of the regular feature.  In addition to sharing the top five posts that have received the most "hits" in the preceding seven-to-ten days (though they may have originally been published on an earlier date), I will also include the top five posts that have actually appeared in the past week.  Often, these are different posts.
You might also be interested in IT'S THE FOURTEENTH ANNIVERSARY OF THIS BLOG – HERE ARE THE FORTY ALL-TIME MOST POPULAR POSTS , A LOOK BACK: 2020'S BEST POSTS FROM THIS BLOG – PART ONE and 2021'S BEST POSTS FROM THIS BLOG – PART TWO
Here are this week's most popular posts:
1.I LIKE THIS NEW GEOGRAPHY GAME CALLED "WORLDE" (NOT "WORDLE")
2. The Best Online Virtual "Corkboards" (or "Bulletin Boards")
3. The Best Resources For Helping Teachers Use Bloom's Taxonomy In The Classroom
4. The Best Websites For Creating Online Learning Games
5. The Best Questions To Use For Class Closing Activities — What Are Yours?
Here are this week's top posts that originally appeared in the past seven-ten days (if they are not already on the above list):
RESOURCES FOR TALKING WITH STUDENTS ABOUT THE BUFFALO MURDERS & "GREAT REPLACEMENT THEORY"
ANONYMOUS EVALUATION RESULTS FROM MY INTERMEDIATE ELL STUDENTS
"TEACHER PREP SHOULD INCLUDE CLASSROOM-CULTURE TRAINING"
THE NATIONAL MUSEUM OF THE AMERICAN LATINO UNVEILS FIRST ONLINE EXHIBITION
NEW STUDY FINDS TEACHER TURNOVER RATES INCREASED IN MASSACHUSETTS – I SUSPECT THIS IS TIP OF ICEBERG
"TEACHER-CREDENTIALING PROGRAMS OFTEN LACK WHAT STUDENTS NEED"
PRESIDENT BIDEN ANNOUNCES FREE & REDUCED COST INTERNET FOR LOW-INCOME FAMILIES & INDIVIDUALS – I HOPE IT ACTUALLY WORKS
I'm continuing my "A Look Back" series by looking at past "Best" lists and updating them.
I originally published The Best Places Where Students Can Write Online in 2008, and have been revising and updating it since that time.
It includes sites like Edublogs, Tar Heel Reader and fourteen others.
Check them all out at the "Best" list and let me know what I'm missing!
Make Teacher Prep Practical, Not Theoretical is the headline of my latest Education Week column.
Ready teachers for the rigors of the classroom—how to plan lessons, differentiate instruction, and all the elements of educating students.
Here are some excerpts:
Ten years ago, in another somewhat futile attempt to reduce the backlog of resources I want to share, I began this occasional "Ed Tech Digest" post where I share three or four links I think are particularly useful and related to…ed tech, including some Web 2.0 apps.
You might also be interested in THE BEST ED TECH RESOURCES OF 2021 – PART ONE, as well as checking out all my edtech resources.
Here are this week's choices:
Explordle, despite its name, is not a Wordle-ripoff. It's a Geography game that shows you a short video and then provides you with a few choices. Based on what you saw, you have to pick the correct place where the video was made. I'm adding it to THE BEST TOOLS FOR TAKING STUDENTS "AROUND THE WORLD" and to The Best Online Geography Games.
Annotate PDFs With Lumin PDF – Free for Teachers is from Richard Byrne. I'm adding it to The Best Applications For Annotating Websites.
Three Ways to Create Simple Portfolio Websites is from Richard Byrne. I'm adding it to The Best Resources For Developing Student Portfolios.
By Teacher Request: 4 Cool New Ways to Connect and Engage With Students is from Zoom.
I'm adding this next tweet to
More Recent Articles