'Invite Students to Write Real Arguments' is the headline of my latest Education Week Teacher column.
In it, Rita Platt, Alexis Wiggins, Dr. Jenny Grant Rankin, Kristen Koppers, and Mara Lee Grayson share their ideas on how and why students can write for an audience other than the teacher.
Here are some excerpts: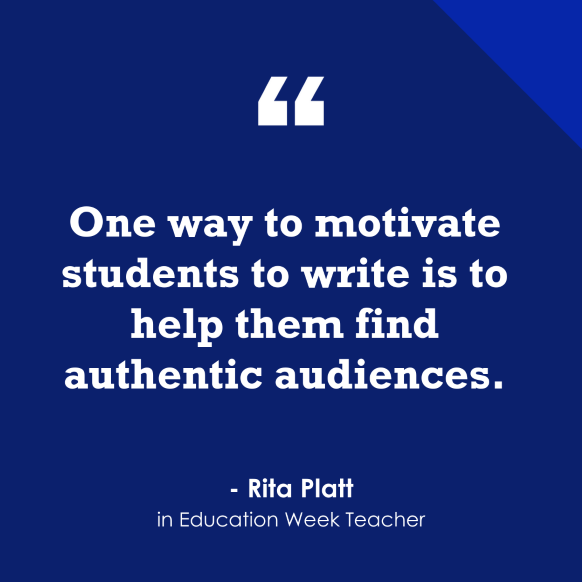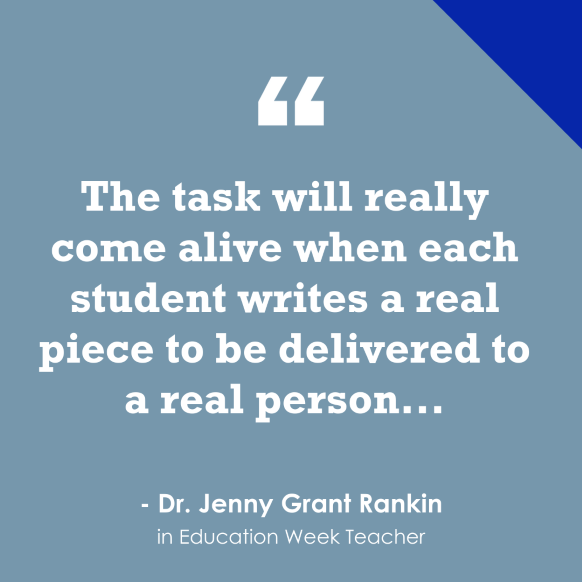 I've used a lot of tech tools over the years to record English Language Learners speaking, whether to record stop action videos of word definitions (see The Best Resources For Learning To Use The Video Apps "Vine" & Instagram), or, more often, to describe images or practice dialogues (see The Best Sites To Practice Speaking English).
Unfortunately, though, most of those tools over the year have now either gone out of business or have made themselves more difficult to share publicly (or privately) on the Web.
This year, I was trying to figure out a new alternative and decided to try the Adobe Spark app.  I've had students use it over the years on the web, but our district firewall and old technology had often made it difficult to record.  But the phone app was a different story.  After putting out a query on Twitter, many teachers quickly affirmed that choice.
We're learning about the seasons, and students had to complete this form about the seasons in their home country.  It included drawing an image about what happens during that season, and they had to write sentences describing their image.
While they were doing the project, a peer tutor took them outside to take a photo of one of their pictures and have them practice saying their sentences. It was easy to add the image from the phone's camera roll to the app and have them record their voice.  Students loved it, the process was super-quick, and it was easy and fast to upload the videos to show to the class.
Here's an example of one (shared with permission):
I'm not aware of another app that accomplishes what I want so easily (and at no charge). We'll be using it a lot this year! And, since it's from Adobe, I don't expect it to go defunct anytime soon.
I'm adding this post to The "All-Time" Best 2.0 Tools For Beginning English Language Learners.
I'm adding these new resources to various "Best" lists. You can find links to all of those many lists that relate to race and racism at "Best" Lists Of The Week: Resources For Teaching & Learning About Race & Racism:
Artist Kehinde Wiley unveils bold sculpture in New York's Times Square is from NBC News, as is Wiley believes monuments to Confederate figures should be placed in social context, not torn down. I'm adding them to The Best Resources For Teaching About Confederate Monuments.
How to Be an Antiracist Educator is by Dena Simmons. I'm adding it to New & Revised: Resources To Help Us Predominantly White Teachers To Reflect On How Race Influences Our Work.
Push to increase the number of teachers of color in California classrooms gains momentum is from Ed Source. I'm adding it to New & Revised: The Best Resources For Understanding Why We Need More Teachers Of Color.
How Italians Became 'White' appeared in the NY Times. I'm adding it to The Best Sites For Learning About Immigration In The United States.
I'm adding the next two tweets to A Beginning Collection Of Resources About Books As "Windows, Mirrors & Sliding Glass Doors" – Please Suggest More:
I've recently begun this weekly post where I'll be sharing resources I'm adding to The Best Social Emotional Learning (SEL) Resources or other related "Best" lists.
You might also be interested in THE BEST SOCIAL EMOTIONAL LEARNING RESOURCES OF 2019 – PART ONE
Finally, check out "Best" Lists Of The Week: Social Emotional Learning Resources.
Here are this week's picks:
Why Intentionally Building Empathy Is More Important Now Than Ever is from MindShift. I'm adding it to The Best Resources On Helping To Build Empathy In The Classroom – Help Me Find More.
10 Tips for Building a More LGBTQ-Inclusive Classroom is from Ed Week. I'm adding it to THE BEST WAYS TO SUPPORT LGBTQ STUDENTS.
Let's make California schools safe and supportive for LGBTQ students appeared in the Sacramento Bee. I'm adding it to the same list.
THE ASSESSMENT WORK GROUPStudent Social and Emotional Competence Assessment is from CASEL.
Stories from the Field: Building strong teacher-student relationships in the classroom is from Transforming Ed. I'm adding it to The Best Resources On The Importance Of Building Positive Relationships With Students.
Here are some recent useful posts and articles on educational policy issues (You might also be interested in THE BEST ARTICLES, VIDEOS & POSTS ON EDUCATION POLICY IN 2019 – PART ONE):
The true cost of being a teacher is from Vox. I'm adding it to The Best Data On How Much Money Teachers Pay Out Of Their Own Pocket – What Do You Spend?.
School Districts Sue Juul, Saying Student Vaping Drains Resources is from NPR.
Slow growth, big disparities after 5 years of Smarter Balanced tests is from Ed Source, and discusses the latest state test results in California.
California kids' test scores again rise by inches as achievement gap yawns is from CAL Matters, and is on the same topic.
Conservatives claim Elizabeth Warren lied about pregnancy firing. Women reality-checked them on social media. is from The Washington Post.
LA Unified moves away from plan to assign schools a single rating is from Ed Source. I'm adding it to The Best Evidence For Why Giving Schools "Report Cards" Is Bad — Help Me Find More.
Rethinking the School Closure Research: School Closure as Spatial Injustice is a new study. I'm adding it to The Best Posts & Articles On The Impact Of School Closures — Suggest More!
Californians will vote on $15 billion bond to renovate aging schools, build more classrooms is from The Sacramento Bee.