I posted "Everyone Is A Teacher" Is A New Engagement Strategy I'm Using & It Seems To Be Working earlier this week, and it was – rightfully, I think

– a very popular post.
In it, I discussed how I was trying to build a classroom culture in my Beginner ELL class where everyone would feel they had a responsibility to be a teacher. It's early, but has gone very well, and some of my colleagues have already begun to replicate it in their classes.
On Friday, I tried a next step to the strategy. I created a simple form listing the actions the class had determined they could do as "teachers" and had them glue it in their notebook. You can download it here.
I explained that each Friday, they would grade themselves on how they had done in that area during the previous week, but that I would not look at it. I would ask that they would share their grades with a partner of their choice and also identify one – just one – area they wanted to improve on in the coming week. I would ask that they share that goal with the entire class.
Students approached it eagerly. Then one student came up to me and said she wanted to show me her grades. They were accurate, and also not very good. I publicly praised her for her honesty and then everybody wanted to show me their grades. Everyone, and I mean everyone, was brutally honest with themselves. Here are a couple of examples: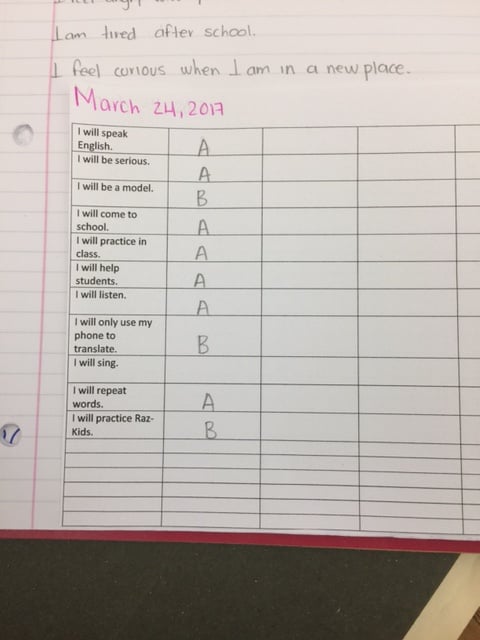 Students liked sharing with a partner, and then everybody picked an area for improvement. And just about every student picked the area that I would have chosen for them!
I have tried tons of different goal-setting strategies over the years (see Best Posts On Students Setting Goals) with varying levels of success and failure.
This one might end up being one of the more successful ones.
Do's & Don'ts of Implementing New Ideas in Education is the headline of my latest Education Week Teacher column.
In it, Cathy Beck, Dr. Heidi Pace, Dan Rothstein, Kathleen Neagle Sokolowski, Jaime Aquino and Jeff Bradbury share their ideas on how to move good ideas to effective implementation.
Here are some excerpts: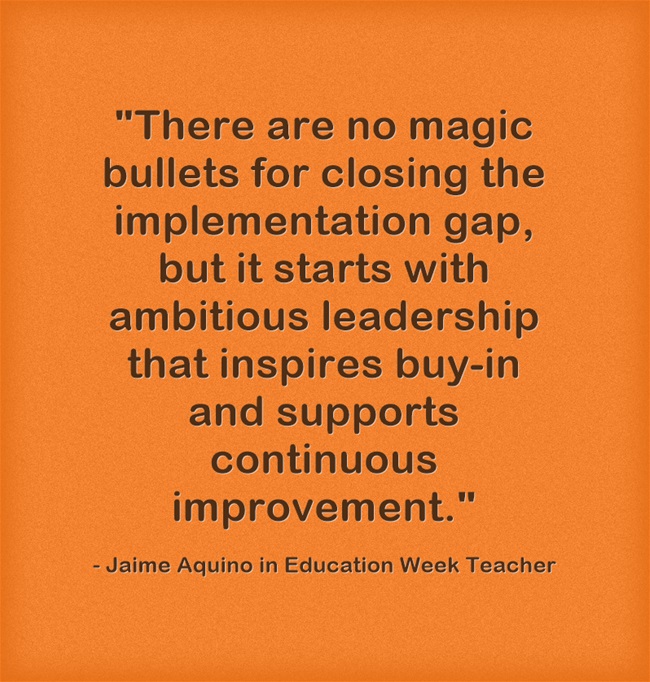 As regular readers know, at the end of each week I share the five most popular posts from the previous seven days.
I thought people might find it interesting to see a list of the ten most popular posts from the previous thirty days:
One-hundred-forty-six young immigrants died on this day in 1911 when a fire swept through the garment factory where they worked.
You might be interested in The Best Resources For Learning About The Triangle Shirtwaist Factory Fire, which I've just updated and revised.
Regular readers know that I do a weekly eight-minute online radio show with BAM! that accompanies my Education Week Teacher columns.
I've done a lot of them! And, like my column, they cover many different topics (see All My BAM Radio Shows – Linked With Descriptions).
So, to make it a little easier for readers/listeners, I'm going to start thematic lists with links to the shows covering a general topic.
This post is the first of those lists, and it's including the shows I've done on teaching English Language Learners. I'll add links to related shows as I record them:
Helping ELLs Develop Academic Language and Argument Skills with Dr. Vicky Giouroukakis, Dr. Maureen Connolly,and Tan Huynh.
Using the First Language of English Language Learners with Melissa Eddington, Wendi Pillars, and Tracey Flores.
Error Correction with ELLs: Correcting without Discouraging with Anabel Gonzalez and Katie Brown.
Identifying ELLs with Special Needs: What Are the Signs? with Maria Montalvo, Beverly Maxwell, Ann Wilson, and Jennie Farnell.
Bridging the Cultural Barrier with Immigrant Parents with Rusul Alrubail, Anna Bartosik and Jordan Lanfair.
Making Science More Approachable to English Language Learners with Alicia Johal, Maria Montalvo-Balbed, and Donna Bennett.
5 Ways Teachers Can Work Around an Awful Textbook with Mary Ann Zehr and Christopher Lehman.
If You Have ELLs in Your Class, but No Curriculum, Do This… with Annie Huynh and Wendi Pillars.
Encouraging Other Teachers Who Work with English Language Learners with Sonia Nieto, Alicia Lopez.
The Three Best Ways Teachers Can Encourage Support for English Language Learners with Jennifer Connors, Diane Staehr Fenner, Sydney Snyder
How Are Common Core Standards Impacting Teaching Math to ELLs? with Ben Spielberg, Denisse R. Thompson, Gladis Kersaint.
Teaching English Language Learners (ELLs): Five Strategies That Work with Judie Haynes, MaryAnn Zehr.
How Can Teachers Meet Common Core English Standards with English Language Learners? with Maria Montalvo-Balbed, Debbie Zacarian
What Do We Need to Do to Better Support English Language Learners? with Karen Nemeth, Judie Haynes
More Recent Articles