Here is a sample subscription for you. Click here to start your FREE subscription
Does it get more ridiculous than the story in this NBC News article, Parents are warned their children could be put in foster care over lunch debt?
Here are two useful articles about this kind of "lunch-shaming" that I've previously shared:
The government already knows how to end school lunch shaming is from CNN.
'It's embarrassing to the kids': Students who owe lunch money will get only a jelly sandwich, district says is from The Washington Post.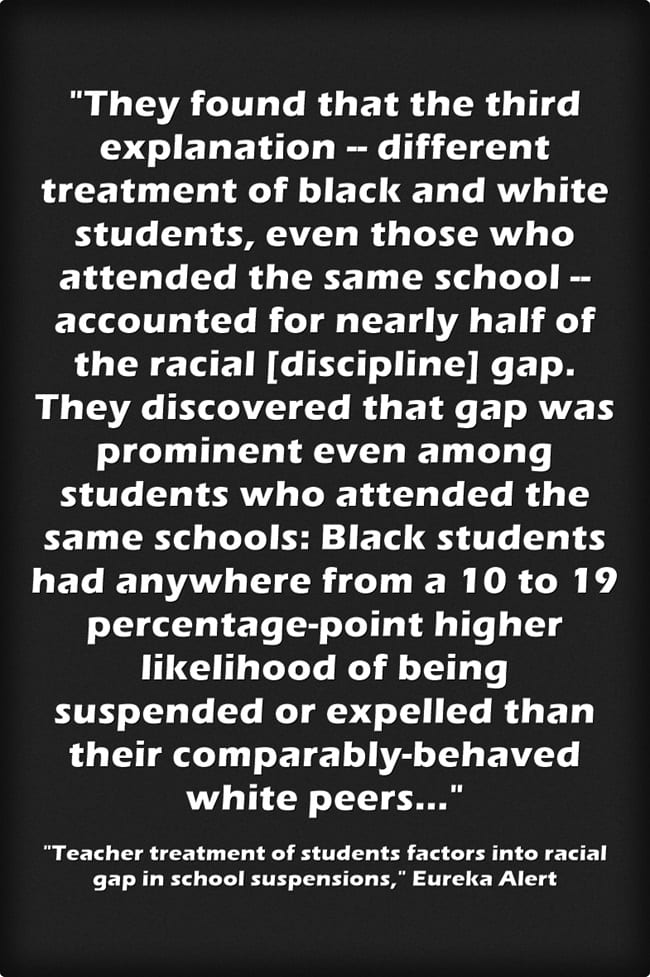 Teacher treatment of students factors into racial gap in school suspensions is a Eureka Alert article that summarizes an important new study.
It also says:
The analysis found that teachers' different treatment of black and white students accounted for 46% of the racial gap in suspensions and expulsions from school among 5- to 9-year-old children. It showed that about 21% of the gap could be explained by differences in the characteristics of schools that black and white children attend predominantly, while differences in student behavior accounted for 9% of the gap.
You might also might be interested in these previous related-posts:
Researchers Find That African-American Students Punished More Severely Than Whites For Same Behavior
We Should Be Obsessed With Racial Equity
The Best Resources Explaining The GAO Report That Finds Racial Disparities In School Discipline
I'm adding this post to New & Revised: Resources To Help Us Predominantly White Teachers To Reflect On How Race Influences Our Work.
The New York Times has published a neat interactive combining portions of the conversations the Apollo 11 astronauts had at the time with photos they actually took.
It's called Apollo 11: As They Shot It.
I'm adding it to The Best Sites To Learn About The Apollo 11 Moon Landing.
Every few months, I reprint this post so that new subscribers learn about these resources.
I have many free resources, including excerpts and student hand-outs, available from all my books. Clicking on the covers will lead you to them.
Look for a fourth book in my student motivation series (out in 2022) and a second edition of The ESL/ELL Teachers Survival Guide (out in 2021), along with three books Katie Hull and I are editing on teaching Math, Science, and Social Studies (out in 2020 – see Here Are Covers For The Three Books We're Editing: Math, Science & Social Studies):
More Recent Articles