This week I finally played with the new Pressed Petals Speciality Washi tape.... and found out for myself just why it is called "Speciality". I love it! And these flowers are so fun to make that I think they might be a little bit addictive. Plus I love how realistic they look when they are finished! I used them on these little Vintage tags.... and so of course I thought I should make a video tutorial to show you how, so that you can make your own!

These tags come together really quickly and without a huge amount of supplies. You'll have to watch the video and let me know what you think! Enjoy!



Hello crafting friends! Today I have a new tutorial for you.... this is a super cute card made with the new Magnolia Lane suite of products. I just love fancy fold cards don't you? And even better when they are easy to do!
Here is the card closed:
Here it is from above (so you can see the "Z"):
And here it is opened out... so you can see where you would write in it.
Isn't it cute??? I know you will love making it too! Below is the video to show you how. Don't forget that you can purchase these products here in Australia by clicking the
SHOP NOW
button.... I know you will love this Magnolia Bundle... it really is beautiful!!
Last month was my first month as a designer on the Master Stamper team! Each week there are video tutorials on there that showcase fabulous products and different techniques. Once a month I am doing a tutorial for the project, and that happens to be this week!
Which is extra exciting because this is also NEW CATALOGUE WEEK! Woohoo! So I picked one of my new favourite suites of products and teamed it up with a fabulous technique to produce a super fun tutorial for members of the Master Stamper program. (You can see a sneak peek above)
What do you get as a member of Master Stamper? All this...
We have several top demonstrators from around the world sharing exclusive tutorials with you each week.... and Im really excited to be part of the team!
So of course the big question is.. how much does it cost??
To subscribe to Master Stamper costs just $15 (usd) per month. There are no commitments, so you can cancel at any time if you no longer wish to be part of the group. But I would definitely recommend giving it a try.... you might just stick around for a while! My new video will be up on the Master Stamper site by the end of this week, so you really want to check that out!
To Join, CLICK THIS LINK.


It doesn't matter where in the world you are... you can be part of the Master Stamper program!
Today is the day! Today sees the release of the 2019 Annual catalogue from Stampin' Up! ... how exciting!
Those of you who already have your hands on one of our gorgeous new catalogues can start to order anytime.... its easy... just use the "
SHOP NOW
" button on this page.
If you are in Australia and you DON'T have a new catalogue yet, you can request one from me! Just click HERE to contact me and request your own copy.
Isn't it a beautiful cover???
Today I have made a video to showcase the new Magnolia dies and the gorgeous Good Morning Magnolia stamp set! This is a fabulous bundle, and its just part of a suite of co-ordinating products. You can buy any of the individual products in the suite of course, but if you are like me, and you've just got to have it all, the entire suite of products is $234.75! You can order them all with just one item code, which is 152178.
To see how I made this card above watch the video tutorial below... I think you'll be glad you did!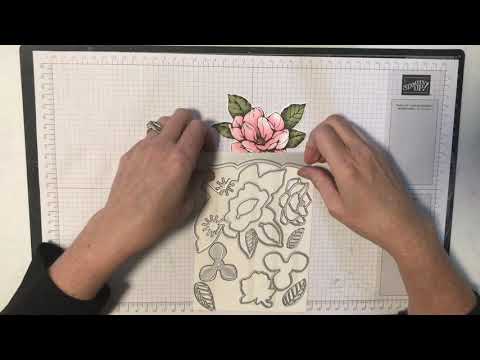 I'm looking forward to sharing lots of new gorgeous products with you! (To see even more click
HERE
to visit my Facebook business page and be sure to hit the "Like" button so you don't miss daily photos of new awesome projects and inspiration!)
Enjoy the video!
Linda D
How gorgeous is this beautiful Bird Ballad Laser cut cards in a tin?? These stunning cards and envelopes will be available in our new catalogue due out on June 4th.... so today Im doing a little "sneak peek" for you. The cards come plain, just waiting to be decorated and embellished... and here you can see I have added the birds from the Bird Ballad stamp set. Such a pretty set!!! Im also doing this card at my launch this afternoon with a very lucky group of customers!
If you haven't yet feasted your eyes on the new 2019 Annual catalogue from Stampin'Up! then you need to get your hands on one of those!!! The catalogue itself doesn't go live until the 4th June, so we still have a couple of days to grab the last retiring items from the current catalogue. But if there is anything you need, you'll need to be quick!
Here is a pic of the new catalogue for you...
Of course I am as always holding a catalogue launch to kick-off this beautiful book... and its TODAY! And I have ONE SPOT LEFT!!! If you find yourself with a couple of hours free this afternoon Saturday 1st June from 2pm, then you are welcome to join us... but you'll need to click
HERE
to let me know you are coming along. The cost is $20 and you'll make 3 great projects. I have gifts for everyone, AND those coming today will also get first "dibs" on my retiring products.
If you are unable to make it today, but would like a glossy catalogue of your very own, please
contact me
and request one. I can send them anywhere in Australia.
A reminder too that there are some discounts in amongst the retiring products, so be sure to check those out by visiting the
ONLINE STORE
.
I hope to see you soon.... check back for more ideas and inspiration!!
Linda D
More Recent Articles