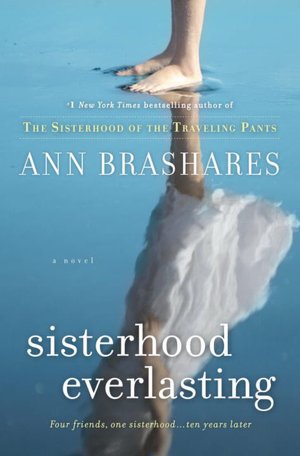 Summary from BN.com: On the cusp of turning thirty, Tibby, Lena, Carmen, and Bridget are now living separate lives, out on their own. Yet despite having jobs and men that they love, each knows that something is missing: the closeness that once sustained them. Carmen is a successful actress in New York, engaged to be married, but misses her friends. Lena finds solace in her art, teaching in Rhode Island, but still thinks of Kostos and the road she didn't take. Bridget lives with her longtime boyfriend, Eric, in San Francisco, and though a part of her wants to settle down, a bigger part can't seem to shed her old restlessness. Then Tibby reaches out to bridge the distance, sending the others plane tickets for a reunion that they all breathlessly await. And indeed, it will change their lives forever—but in ways that none of them could ever have expected.
I became a fan of the Sisterhood books about seven years ago. I was past the age of the characters in the book but I fell in love with their story. Sure, some of the characters drove me nuts (Bee, I'm looking at you) but I loved Brashares writing and I enjoyed keeping up with the girls over the years. When the movies came out, I was both pleased and slightly disappointed with how they were portrayed. The first movie was wonderful while the second movie had me a bit annoyed with how situations were handled (I still don't understand why Tibby didn't just take a pregnancy test.) When I heard that a new book was coming out, about the girls ten years later, if this was going to be the end of the stories, I knew I wanted to read it.
Surprisingly, the pants do not make an appearance in the story. If you read the fourth book in the series, then you remember that Effie lost them causing much turmoil. I didn't really expect them to magically show up but neither does anything replace them. Let me tell you, I was shocked at the twist in the story. SHOCKED. Like I dropped my mouth open and went, "Did she [Brashares] really do that?!" And then I also realized that I was only a 1/4 way through the book. I still had a long way to go with the story.
It's been ten years so the characters have both changed in many ways while still retaining some of their trademark characteristics. The two that stand out to me the most are Lena and Bridget. Lena (and I will forever think of her as Alexis Bledel, the same with Bridget = Blake Lively) has always been this waif of a character who never seems to know what she really wants. She keeps being very wishy washy throughout the story especially involving Kostos (yes, him again!) and it was starting to drive me nuts. Bridget has always gotten on my nerves. I know she's supposed to be an independent spirit and I understand why she acts the way she does due to her background. But I'm tired of hearing about the comments about her hair and how it attracts men. I also wasn't pleased with how she's treated Eric throughout the series. Eventually both these characters do grow up and I really liked the transformation. However, it also came with a FINALLY on my behalf. I'm about the same age as the characters in the book (they are a bit older than me) but yet I still felt more mature than them.
Overall, I feel the story holds well for long time fans of the book. I suppose it could be read as a stand alone but I really don't think those readers will get as much out of it as those who read the previous books. I felt many emotions while reading this book. I am almost positive that this is the final Sisterhood book as I feel that to squeeze any more stories from these characters would be stretching it. Therefore I closed the book feeling satisfied and like the Sisterhood, full of wisdom and experience and ready to move on and live life after the pants.
Sisterhood Everlasting
by
Ann Brashares
is published by
Random House
(2011)
This ARC was provided by the Amazon Vine program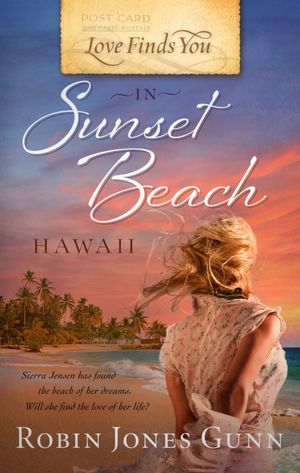 Summary from the publisher: When a wealthy friend offers Sierra Jensen a vacation at an oceanfront beach house, she envisions a quiet retreat where she can plan her next move. Instead, she arrives at the start of the noisy surfing competitions and is surprised to learn that her friend had an ulterior motive—namely, introducing Sierra to Jordan Bryce, the tenant staying below them. Jordan is a photographer whose lens and attention are focused on the surfers, and he is not willing to let anyone get in his way of landing the next cover shot for Surf Days magazine.
Sierra and Jordan came to Sunset Beach looking for different things. But as the surf pounds the North Shore, will they discover something better than either of them had imagined?
Reading this book totally made me feel nostalgic. I grew up reading the Sierra Jensen books (as well as the Christy Miller series) by Robin Jones Gunn and have been eagerly awaiting to see what would happen to this favorite character of mine. When the series ended, I will admit that things did not turn out the way that I had hoped. I was a little ticked off at how one character chose to treat Sierra and I felt her pain. I am glad that with this book, time has healed wounds (for both Sierra and me).
I also love books set in Hawaii and since Gunn had spent many times there (and now currently
lives there) she really knows the setting. I felt like I was drawn into a paradise but not one that is entirely free of faults. What I have always appreciated from Gunn is her ability to portray realistic characters with real emotions that don't act too good to be true. Sierra is just one of those characters. She is torn between many feelings in this book such as her relationship with others (her sister, her former love, her roommate, the new guy) and decisions about her future. She does not come looking for love around every corner even though she does yearn for true love. Jordan is the same. He is not your typical romance hero, he is concentrating on his work and just happens to find love at the same time.
This is not your typical romance story which I greatly appreciated. I never once felt like I was reading something that made me want to roll my eyes because it was so unrealistic. Sierra and Jordan acted just like how I would expect a man and a woman their age would act. Even their faith was realistic. It's there and they both share strong beliefs however they don't purposefully exploit to to the point of becoming stereotypes.
Overall I was very impressed with this book. It brought a satisfying end to a story that I have been following for years. I still think readers unaware with Sierra's story will enjoy it but for those of us that have been avid fans, this is like a homecoming for us. I would love to see this couple pop up again in the future but if it's not meant to be I know at least that they are happy.
Love Finds You in Sunset Beach, Hawaii by Robin Jones Gunn is published by Summerside Press (2011)
This review copy was provided by the publisher
Around the World in 80 Kisses: Smooch Stop #9
The International Kissing Club by Ivy Adams is the story of four best friends: Piper, Cassidy, Mei, and Izzy--the misfits of Paris, Texas. Their whole lives, they've dreamed of escaping small-town life and seeing the world. So when Piper is the victim of an embarrassing prank that goes viral online, she gets the idea that the girls should escape via the school's international exchange program, in search of fun, love and internet redemption.
Emily McKay along with writing partners Shellee Roberts and Tracy Deebs writes under the pseudonym Ivy Adams. They shop, gossip and watch movies in Austin, Texas.
Top Ten Movies to watch when you're home alone sick.
I have to preface this blog with a story. Back when my hubby and I were newly married, I had to have eye surgery for a detached retina. Most people who detach a retina doing something cool and active, like sky diving or rappelling. Not me. My big hobbies are reading and baking and yoga. So I have no idea how I detached a retina. The surgery wasn't bad, but the recovery is two weeks of "taking it easy" (i.e. lying on the sofa) and dilated eyes—which means no reading! Ack! No reading? Two weeks lying on the sofa without books?
So sent hubby out to rent me some fun romcoms to watch while I recovered. Those were his instructions: "fun romcoms." He came back with Romeo + Juliet, Le Miserables, and Rob Roy. Seriously. That was his idea of fun romcoms. I don't know if he just has a different idea of fun or if he didn't yet know the meaning of the term romcom. And just for the record, only one of those movies made it onto my list.
The Good
These are the movies that will just cheer you up when you're sick.
You've Got Mail – Romcoms just don't get anymore charming. Plus, Tom Hanks shows up to take care of her while she's sick. How cute is that!
The Little Mermaid – 'Cause you just can feel down when Sebastian sings Under the Sea.
Anne of Green Gables/Anne of Avonlea – Hey, if you're sick, you have time to wade through six hours of movie to get to a single chaste kiss ... it's so worth it!
Pride and Prejudice – I've gone on record as admitting that I'd watch this story if someone was performing it with sock puppets. I just love Lizzie and Darcy in any form. So bring it on, whether it's the Colin Firth BBC six-hour extravaganza or the more recent Keira Knightly version. Or Bridget Jones. Or even Lost in Austen (if you haven't seen this yet, get thee to a Netflix! It's totally charming). Or you if
want to stretch, try the YA retelling, Angus, Thongs and Perfect Snogging. Or, hell, you're sick—watch all of 'em!
The Bad
Here are the movies that you secretly want to rewatch every time you're just a little bit blue. If you're like me, it's embarrassing. These movies are my secret shame. But I'm home alone, right? And I'm sick! No one can criticize my pedestrian taste under these circumstances!
Die Hard (All of them) – 'Cause when you're sick, sometimes you just want to see Bruce Willis blow shit up. That's all there is to it.
The Twilight movies – These are movies I could never, ever, ever let my husband know how often I watch. I have them on iTunes and watch through Apple TV. I live in fear that someday Apple will add a feature that let's you see what has been recently watched. But if I was sick, I couldn't be held responsible for my bad taste in movies.
Shaun of the Dead/Hot Fuzz – Because Simon Pegg and Nick Frost are frickin' hysterical. When you're feeling your most zombie-like, you can start with Shaun of the Dead, then when you start to perk up, move on to Hot Fuzz. Warning: Don't watch these once your cold has moved into your lungs. You don't want to be coughing up a lung and laughing your ass off at the same time.
The Ugly
The ugly cry, that is. If you're having a phlegm-fest anyway, you might as well have a good cry while your nose is already red. One note of warning: drink plenty of fluids. You have to really hydrate to make it through these movies.
Out of Africa – This is my go-to cry-till-you-wanna-puke movie. We all have one, right? Well this is mine. I can't even tell you why. Once, when I watched it and there were others around, I cried so much someone asked if I needed them to call the doctor for me. True story. Now it's strictly a home alone kind of movie. Plus, Meryl Streep gets syphilis in the middle. So, no matter how bad you feel, it's still better than syphilis, right? Oh, and this is Robert Redford when he was still youngish and pretty hot.
Romeo + Juliet – Guns, tripping acid, and suicide, oh my!
Harry Potter 7.1 & 7.2 – From the beginning of 7.1 when Hermione obliviates her parents until the final battle with Voldemort, it's just a sob-fest all the way through. (And btw, that scene with Hermione isn't in the book, 'cause it happens "off screen" ... and it's one of the few moments where the movie is clearly better than the books.) Plus, there's the great Snape-sob-fest. At the theater, I cried so much I had to time blowing my nose with the explosions. By the time it's over, you're crying not just because Fred died (or was it George?) but because ... it's
over! The movies based on the best books ever written ... and it's over! It still breaks my heart. Is there some sort of HP anonymous group therapy I can join?
Leave a comment telling me you're favorite movie to watch whilst abed and be entered to win the Around the World In 80 Kisses daily and weekly prize and also become eligible to win the Grand Prize, a Kindle Fire. For a list of all our Smooch Posts you can visit and earn more entries to win, visit us
here
.
Next Smooch Stop: Friday, December 9th at
Mundie Moms