We couldn't help it; this week on
The Black Rasslin' Podcast
,
illfam79
and
khal
break down Monday night's reveal of
Jason Jordan being Kurt Angle's son
. That's far from all they talked about, though. Here's a look at everything you can find on this episode.
A look at more famous rasslin' tag team break-ups
Full preview of WWE Battleground
Mark Henry's alleged retirement
A classic New Jack video
and more!
As per usual, you can
stream and download this episode via SoundCloud
, or grab it via
iTunes
or
Google Play
. Fuck around and we'll send New Jack to ya momma's crib.
Damn, this is some devastating news.
According to Wrestlezone
,
Mark Henry
, the world's strongest man and two-time world heavyweight champion, announced his retirement on an episode of
Table For 3
with Ron Simmons and Charles Wright.
"It's been 21 years, and as we know, that Father Time is undefeated," Henry reportedly said. "My time is coming to an end. I'll go from talent to an employee here in a few months. I'm just looking forward to making that transition, helping these young guys and girls coming in beneath us."
We're not seeing any official word from the WWE or on Henry's socials, but don't be surprised if something more formal comes through the WWE channels in coming months.
Image via WWE
With
Battleground
going down this Sunday, it looks like
Smackdown
put on...a go home show. With
Jason Jordan gone from the roster
, they're down one black man, but that's one black man who wasn't doing much of anything to begin with.
Whatever, here's what the remaining black Superstars of
Smackdown
did this week.
Kofi Kingston lost to Jimmy Uso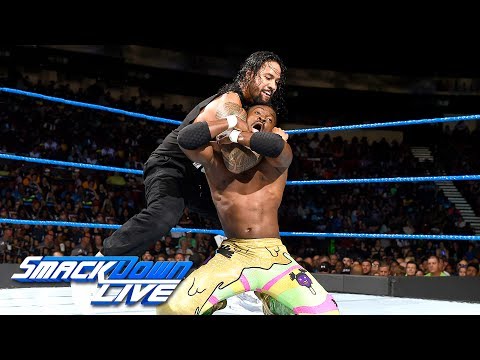 With The New Day and The Usos set to battle at Battleground this Sunday, we get the 50/50 booking. At least we got to see Kofi Kingston (literally) kick a bunch of Uso ass before Jimmy slyly took the win from him.
Naomi watched some TV then was put on notice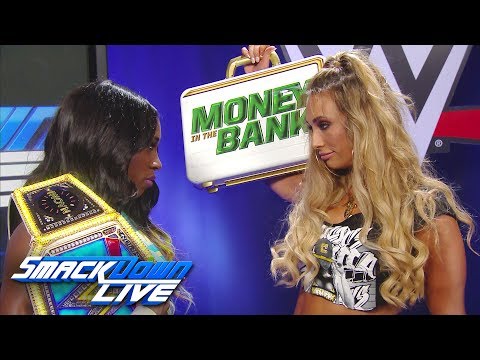 Considering that the only other thing Naomi did was watch TV during the women's match, it's kind of weak that her one promo segment was ate up by Carmella and a briefcase. Whatever, we're building towards something. But damn, give Naomi a lil more to do.
I, for one, am excited for the future of black people on
Smackdown
; aren't you?
Image via WWE
Never did I ever think that this week on
Raw
would feature Kurt Angle bringing out a black man as his son. Did blackrasslin peak for the week?
Sasha Banks attacked Nia Jax
In what wasn't Bayley and Sasha vs. Alexa and Nia for the third week in a row, we got...Bayley vs. Alexa, with Sasha and Nia ultimately at ringside. Sasha was the difference maker, evening the score towards the end of the match.
Later in the show, Kurt Angle booked Bayley vs. Sasha Banks next week for the chance to take on Alexa Bliss for the Raw Women's Championship.
Titus O'Neil hopped on the ring apron to stop a match
O'Neil figured Tozawa was getting his ass kicked and decided to get the match stopped instead of seeing Tozawa get ruined by a punk like Daivari...or something. I don't know, this moment fell flat IMO. It was weird to hear Tozawa scream "YOU DON'T CARE ABOUT ME!" on the ramp; could they be ending this Titus Worldwide pairing already?
Jason Jordan made his Raw debut...as Kurt Angle's son
In the dumbest reveal ever, Kurt Angle revealed that some woman he smashed back in the day had a kid that she gave up for adoption.
The kid ended up being Jason Jordan
, which lowkey course corrects his IRL black daddy, although this might mean Jordan now has a black mom?
Maybe someone should've told Chad Gable, though?
Talking Smack might be dead, but Renee Young did have an interview with Jordan and Angle after the program. Looks like they're legit going with the "I'm adopted af," which might be the way they explain away
the black daddy
that was shown on Smackdown back in 2016.
This show was high-key lame for a number of reasons, but it also put a black man at the center of the conversation, so...win?
Image via WWE
So the end result of the
Kurt Angle
saga, which involved
Cory Graves
digging into Angle's text messages and dropping ominous hints, turns out to be Kurt Angle revealing that
Jason Jordan
, who was one-half of the former Smackdown Tag Team Champions
American Alpha
with
Chad Gable
, is his son.
Seems like a convoluted way to bring Jordan to the
Raw
roster, no? Also, Chad Gable might've won the night for the best tweet.
It was surely better than Jordan's.
So after an awkward embrace during some trash ring music,the segment was basically over. Thing is, it's NOT over. Was this really the best idea the WWE had for breaking up American Alpha? It makes sense, considering that
just a few weeks ago
the WWE made a big deal on
Smackdown
about Gable's future as a star, while Jordan did next to nothing during a battle royale.
The real question is, did the WWE just course-correct Jordan's actual racial make-up? I mean, they've acknowledged in the past that he's of mixed race, literally showing his black daddy on television.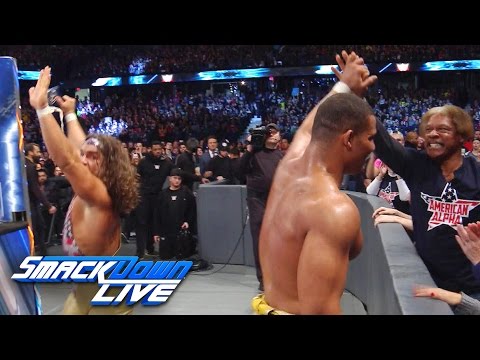 The connection makes sense, though, considering that Jordan's gone on record as
saying he "studied Kurt Angle a lot."
Wonder if he ever considered actually being in an angle with Kurt (no pun intended).
It looks like once Raw goes off the air, an exclusive interview with Angle and Jordan will air on the WWE Network. Keep it locked.
More Recent Articles