The Study
I posted this on my Facebook page one morning last week:
"Just walked outside to this beside the house. Stunning! The Father greets me in glorious ways every morning!"
This photo was taken at 6:35 a.m., and I began thinking about the morning and each new day. He truly does greet me in glorious ways each and every day. How can I look at that and not see the Father? How can I look at that and not give Him the glory? How can I look at that and not pray? He is drawing me to Him. Am I listening? How about you?
Isaiah 50:4 "The Sovereign Lord has given me a well-instructed tongue, to know the word that sustains the weary. He wakens me morning by morning, wakens my ear to listen like one being instructed."
Do you see how He greets you each day? Are you drawn to Him or are you so busy running and thinking of your to do list that you miss Him? Seeing His beauty, I can trust and know that He is there to help me each and every day. Why wouldn't I want to seek Him and have Him help me each day? Life is so much harder when we don't rely on Him. He is there waiting!
This past Sunday, we sang this hymn in church. It was perfect for today's lesson. It's called "Day by Day." Listen to it below. The lyrics are also included.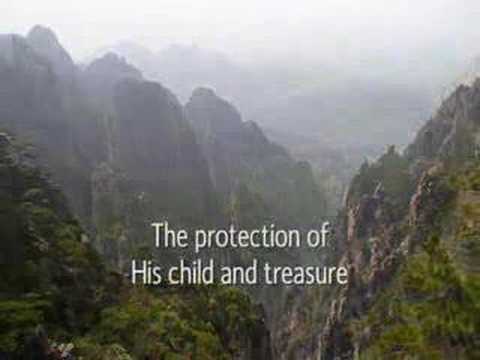 Hymnary.org says this about this hymn: "Carolina Sandell wrote this hymn several years after witnessing the sudden drowning of her father, a tragic event that caused her great distress. Having been through that experience, she still could write about God, 'He whose heart is kind beyond all measure gives unto each day what He deems best.' In the second stanza, she refers to Deuteronomy 33:25b: 'as your days, so shall your strength be' (ESV). As this hymn is sung, remember that, though no human can accurately foretell the future, God knows what will happen and is also in complete control of all coming events."
And read verse one of this hymn:
"Day by day and with each passing moment,
Strength I find to meet my trials here;
Trusting in my Father's wise bestowment,
I've no cause for worry or for fear.
He whose heart is kind beyond all measure
Gives unto each day what He deems best--
Lovingly, its part of pain and pleasure,
Mingling toil with peace and rest."
You can read all of the lyrics by
clicking here
. So, so comforting. He is there standing with you in your trials. He is your strength each day. We have no need to worry or fear. Read these scriptures, and I pray they bless you as you think about Him being there for you and never leaving your side.
1 Chronicles 23:30 "They were also to stand every morning to thank and praise the Lord. They were to do the same in the evening."
Psalm 5:3 "In the morning, Lord, You hear my voice; in the morning I lay my requests before You and wait expectantly."
Psalm 59:16 "But I will sing of Your strength, in the morning I will sing of Your love; for You are my fortress, my refuge in times of trouble."
Psalm 65:8 "The whole earth is filled with awe at Your wonders; where morning dawns, where evening fades, You call forth songs of joy."
Psalm 68:19 "Praise be to the Lord, to God our Savior, who daily bears our burdens."
Psalm 90:14 "Satisfy us in the morning with Your unfailing love, that we may sing for joy and be glad all our days."
Psalm 143:8 "Let the morning bring me word of Your unfailing love, for I have put my trust in You. Show me the way I should go, for to You I entrust my life."
Isaiah 33:2 "Lord, be gracious to us; we long for You. Be our strength every morning, our salvation in time of distress."
Lamentations 3:22-23 "Because of the Lord's great love we are not consumed, for His compassions never fail. They are new every morning; great is Your faithfulness."
I hope you will remember that He is there for you each day. Rest in Him even when things are chaotic. There will be adversity in our lives but don't let it consume you. Remember Him as you wake up in the morning. Remember Him each day. Abide in Him, and He will get you through. Do you live daily defined by Jesus or do you let the world's chaos define you?
Below is a prayer I wrote from the verses above. I love praying scripture back to the Lord. If you don't know what to pray, pray His word back to Him!
"Father, I stand here each morning and evening and praise You. I will sing of Your strength and Your love. The whole earth is in awe of Your wonders. Your compassions never fail. They are new every morning; great is Your faithfulness. I praise You that You are my fortress, my refuge in times of trouble. You hear my voice, and I lay my requests before You and wait expectantly for You are our strength every morning, our salvation in time of distress, and You bear our daily burdens. Show me the way I should go in my day today. It's in Your Son's name I pray, Amen."
Journaling Prompt
Today I have several journaling prompts for you again. I hope you are enjoying these.
What does your daily devotional time look like?
What can you praise the Father for today?
Do you enjoy singing older hymns? Why or why not?
The Art
Today I decided that I would make some
Scripture Art Cards
. I have not made these in so long, and I need to add to my album. There were also so many great verses above that I couldn't choose just one verse so this worked perfectly to share a couple of verses.
And if you look closely, I have two things I forgot. First, I forgot to add my pen marks around the words on the first card. I was waiting for it to dry and forgot. I have fixed that now but didn't reshoot the photos. Second, I forgot to use my Dorland's Wax on the printed scriptures. So, when I used my waterbrush with the Stabilo All pencil, the verse address smeared. I quickly added the wax to the rest of the scripture so it wouldn't smear. Dorland's Wax is awesome. Does it bother me? Absolutely not. That's what makes mixed media fun; there are no mistakes. :)
Stencil Girl Stencils: playful bloom
Thanks for joining me today. Feel free to join us on the
Facebook page
where some people will be sharing their creations. To see all of the information regarding this challenge and the previous studies, please see
this post here
. Let's watch for Him today and let Him be your strength and guide!
Product List
(
click product tags for more information
)
View blog post for supplies
Note: To see the name of the winner of the leather journal, please click here.

Some of you may have followed Rae Missigmans Art Marks Challenge over the past month. It was 30 days of making art marks. To see all of the details,
click here
. I did not play along but goodness I fell in love with her journal. It drew me in and made me happy. So I caved, and I began playing to make my own journal. I thought I would share my process here with you. Let's get started.
Supply List (link to supplies at the bottom of post)
Canvas (sized to 9"x5")
Various paints, pens, paint markers
Various papers (cancelled checks, paper bags, tags, envelopes, etc.)
Eyelet and setter
Ruler
Pencil
Sari ribbon
3" bulldog clip
Sewing machine
1. Paint your 9"x5" piece of canvas. Have fun with it. I did not gesso this small piece. I usually do but decided against it. I would recommend it though if you have never painted on canvas before. Let the canvas dry.
2. Begin creating your signatures by using cancelled checks, paper bags, tags, envelopes, etc. They will vary in size. Your papers will be used to make three signatures of five pages each which once folded in half will give you a total of 30 pages for your journal. You will see paint on my pages. I used excess paint from creating the canvas cover to add color to some of the pages.
3. Once the canvas is finished, stitch around the edges if desired. I used a zig zag stitch with off-white thread.
4. Next, put three pencil marks where you will sew in the signatures. I started at 3 3/4" from the left (front) side then marked two more lines 1/4" apart from the first line. You will stitch a signature to each pencil line.
5. Sew in the signatures along the pencil lines. I used a bulldog clip to hold the pages while I stitched a triple straight stitch with a regular needle. If you do not have a sewing machine, you can do this by hand or use any other binding technique you enjoy using.
6. Once the signatures are sewn in, add an eyelet and sari ribbon to the flap to be able to close the journal. I also added a charm I had in my stash.
Simple, cute, and fun! Hope you enjoyed this, and let me know if you have any questions. Now to paint the pages inside. Let the fun begin!
Product List
(
click product tags for more information
)
View blog post for supplies