Justice Democrats take direct aim at certain Dem incumbents in an attempt to shift the Democratic Party leftward.
Jamaal Bowman was on the front lines of opt-outers here in the city, one of the few principals who had the guts to tell Farina to go stuff it.
He is running for 30 year incumbent Eliot Engel's Bronx congressional seat. He was endorsed by the Justice Democrats who backed AOC and have had their eye on Engel, who chairs the foreign relations committee. There is another challenger, a teacher. Engel is a hawk - what does that mean? He would spend trillions on war shit which explains why education is short changed.
Two challengers is a serious problem and makes defeating Engel almost impossible. If the Democratic Socialists support Jamaal, he will have a serious number of troops at his disposal to counter the regular Bronx Democratic machine that will support Engel.

I also bet that the Democratic National Committee is real pissed off - oh, and the sure bet is the UFT will endorse Engel no matter how much money he takes from education for defense.
More News articles here:
For publication Friday, June 21, 2019
Memo from the RTC:

NewsiesNews, Franky and Johnny The Nothing Podcast
By Norm Scott
With the set 90% complete, the Newsies (incredibly youthful) cast and crew finally got to rehearse at the theater. As a newly added incredibly non-youthful member to the cast, I attended my first rehearsal on Saturday, joining a few more old fogies. I was offered a small roll apparently because they were running out of old men to cast.

RTC is over two decades old and is continuously renewing itself with many of the productions being directed by former teenage performers now grown up, taking on increasingly major roles. Frank Caiati who is now in his mid-thirties and began at the RTC when in high school, was the first to break out into directing years ago and has been a major force at the RTC for many years and will be directing The Great Gatsby in September (auditions are July 7 and 9). Catherine Leib, another star actor, dancer and singer at RTC will be directing The 25th Annual Putnam County Spelling Bee for the final show of the year.
What is so impressive about this
Newsies
production is another key RTC 2
nd
generation member,
Director/choreographer Gabrielle Mangano, who has wowed us with her choreography and dancing for over 15 years, is firmly in charge. James Dalid, another 2
nd
or even 3
rd
generation, is assisting. Some of the kids in the production look to be 10 years old – in 20 years they will be 4
th
and 5
th
generation directors.
I knew nothing about the play until Saturday and was pleasantly surprised, as a progressive activist, to see how relevant it is to today's times despite being set in 1899. Exploited newsboys go on strike and many social issues are raised. So this should be fun.

Performances: July 19, 20, 26, 27/Aug 2, 3 at 8PM. Matinees July 21, 28, Aug. 4 t 2 PM. Tickets – Adults $25, Seniors/children $20. www.rockawaytheatre.org.
Franky and Johnny at the Clair de Bensonhurst
Speaking of key RTC people, John Panepinto, who has had leading and support roles in many productions over the past 8 years and will be joining Frank Caiati as the assistant director of Gatsby, has begun a partnership with Frank in a new podcast along with other RTC vets. They are funny and astute. I will be attending one of their podcasts soon and will be back with some photos. Here are the fundamentals from John.
The Nothing Podcast
Hosts: John Panepinto and Frank Caiati
With: Danielle Rose Fisher, Matt Hunt, Joseph Hagopian and Tom Zaccheo
What makes somebody "Important"? Each week, two self-proclaimed "nobodies",
John Panepinto and Frank Caiati and their equally lost production team will interview a regular every day person to learn what it is about them and their career that makes them a "somebody." The conceit lies in the idea that anybody and everybody is interesting. From the highest paid doctor to the lowest paid street cleaner, everybody has a story to tell and we want to hear it. Do you know what it takes to be a garbage man? Or a priest? Or a politician? Neither do we. But we're going to find out.
Hear us on Apple Podcasts, Spotify, Stitcher and GooglePlay
Or right on our homepage at www.Nothing-Podcast.com
Social: Instagram and Twitter: @TheNothingPod
Facebook: The Nothing Podcast With Nobody Important
About us: We are a group of Brooklyn natives (and one Queens) who
decided they wanted to learn more about the people around them. The show is recorded and produced in the heart of Bensonhurst, a staple of "Old Brooklyn." The guests range from local everyday workers like a doctor, a soldier or a lawyer just to name a few, to celebrities who came from Brooklyn to locals who hit it big like host of the Travel Channels "Hotel Impossible", Anthony Melchiorri. And though the show does not, by nature, feature the neighborhood, with one listen it's obvious that the hosts are taking the old Brooklyn sensibilities and trying to branch them out to the rest of the world. We're always looking for more guests and while we hope to build a solid following we also hope to be able to learn even more about average every day people doing average (important) things.
Norm's other WAVE column is School Scope and he blogs daily at ednotesonline. com
Leonie has been our champion for class size, way more than our own union. Even if you can't make it consider a contribution. See you there!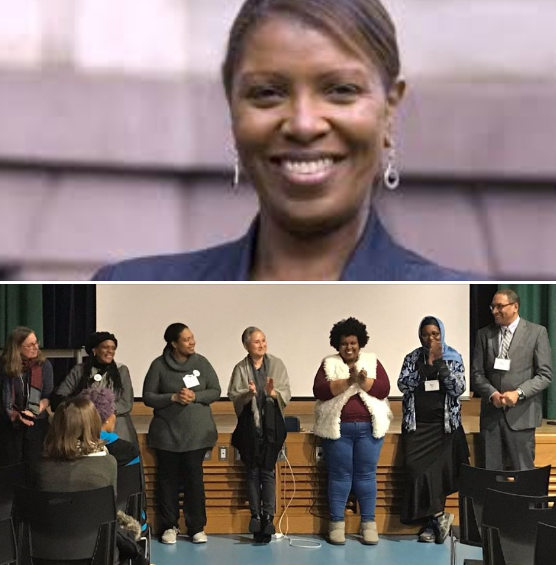 1. Just a quick note to remind you all that
our annual "Skinny award" dinner
honoring NY Attorney General Tish James and NYC Kids PAC is this Wed. June 19 at 6 PM. Please reserve your ticket now and enjoy a three-course meal, a glass of wine and great conversation and camaraderie.
2. The city budget deal was announced. It included more funding for social workers and Title 9 coordinators; it did not include dedicated funding for class size reduction, an increase in fair student funding, or pay parity for preK teachers - though the Council said the Mayor agreed to reach an agreement on the latter by the end of the summer. More details here as to what the deal means -- and doesn't mean -- for our public schools.
Regardless of the fact that our elected leaders did not agree to do one of the very few things we know for sure would help NYC kids succeed by providing them with smaller classes, you can count on us to press forward.
Leonie Haimson
Executive Director
Class Size Matters
124 Waverly Pl.
New York, NY 10011
212-529-3539
Note in particular Councilman Mark Trager's comments (starting at 4:10) where he exposes the folly of the differentiation of instructions with high class sizes.
The UFT sent one rep. His comments are at 24:06. There was a retired teacher meeting attended by 500 people just a few blocks away starting at 1PM and some could have been urged to attend. But the class size issue is not a priority item in the lexicon of the UFT leadership as it would if they made it an issue in contract negotiations.
Watch what they do, not what they say.
https://vimeo.com/342448807 Class Size Press Conf City Hall June 11 2019
from
GEM/Education Notes
on
Vimeo
.
Here are Leonie's reports - and don't forget her Skinny Award dinner this Wednesday.
We held a very successful rally - thanks to all of you who came!
There were 100+ parents, kids, and advocates who filled the steps of City
Hall. Gale Brewer and several CMs spoke about the importance of reducing
class size - despite the fact that there was an important Land Use hearing
and Budget negotiation meetings happening at the same time.

Story in Chalkbeat:

https://www.chalkbeat.org/posts/ny/2019/06/11/neither-equitable-nor-excellen
t-advocates-rally-to-demand-
de-blasio-prioritize-overcrowding/

NY1 also ran a segment featuring Lina Rosario, the 6th grader who spoke
eloquently on NY1 - I can't find the link but if others can, please share!

More here:
https://nycpublicschoolparents.blogspot.com/2019/06/nyc-parents-kids-advocat
es-union.html

Lots more photos on our FB page here:
https://www.facebook.com/classsizematters/posts/10157501775934123?notif_id=1
560300759129429&notif_t=page_post_reaction

Please call your Councilmembers today to tell them we need dedicated funding
for class size in next year's budget - you can find their phone nos. here:
https://council.nyc.gov/districts/

-------



On Tuesday June 11 at noon, more than one hundred parents, students, advocates, elected officials and union members gathered on the steps of City Hall to urge the NYC Department of Education and the Mayor to allocate specific funding in next year's budget towards reducing class size.

The rally was co-sponsored by Class Size Matters, NYC Kids PAC, the UFT, Local 372, the Education Council Consortium, and others.

Among the elected officials who spoke eloquently about the need for the Mayor and Chancellor to reduce class size were Manhattan Borough President Gale Brewer, City Council Education Chair Mark Treyger, Council Majority Leader Laurie Cumbo, and Council Members Adrienne Adams, Inez Barron, Barry Grodenchik, and Brad Lander.

Even though the state's highest court concluded in 2003 that NYC public school classes were too large to provide students with their constitutional right to a sound basic education, class sizes have actually increased since then, especially in the early grades, where the research is strongest that smaller classes leads to higher achievement and better student outcomes all the way through college and beyond.

Among the other speakers on behalf of the need to fund for smaller classes were Kenneth Cohe,n Regional Director of the NAACP, Maria Bautista of AQE, Benny Lin of the Parent-Child Relationship Association, Eduardo Hernandez of NYC Kids PAC, Shino Tanikawa, co-chair of the Education Council Consortium, Anthony Harmon of the UFT, Donald Nesbit of Local 372 of DC 37, and Lina Rosario, a 6th grade student in Sunset Park, Kathy Park of Citizen Squirrel and many others.

Leonie Haimson, Executive Director of Class Size Matters

, said: "

The mayor and the chancellor talk a lot about bringing equity and excellence to NYC schools and some the moves they are making may bring us closer to that goal. But there's a huge gaping hole in their agenda and that is class size.

Without lowering class sizes there can be neither true equity or excellence in our schools. T

his fall, more than 330,000 NYC students were crammed into classes of 30 or more.

NYC class sizes are 10-30% larger on average than in the rest of the state.

Classes this large are neither equitable nor excellent, especially as studies show that students of color gain twice the benefit when class sizes are reduced."

"Funding for class-size reduction has to become a priority for New York City. Parents and teachers know it has a huge impact on student learning, especially for our most vulnerable populations," said United Federation of Teachers President Michael Mulgrew.

"Class size reduction is one support that the New York City Department of Education has never fully implemented for students in NYC public schools," said NYC Council Finance Chair Daniel Dromm (D-Jackson Heights, Elmhurst). "It only makes sense that when there are fewer students in a class, a teacher can individualize their instruction and give students extra support. More than anything else, this is what our students need. If we truly want to see our students succeed, we must reduce our class sizes."

"It's common sense that smaller class sizes help set New York City students up for success," said Manhattan Borough President Gale A. Brewer. "Funding must be allocated for this important cause—the time to stand up for our students is now."

"We urge the Mayor and the City Council to support parents, educators and the community at large by funding smaller class sizes. Smaller classes have been proven to increase test scores and lowers the need for special education classes" stated Local 372 President Shaun D. Francois I. "All our children deserve to have access to a sound basic education. Fund smaller class sizes now."

"Many studies have indicated that smaller class sizes lead to better academic outcomes for students. School overcrowding and large class sizes have been a known problem in our school system for far too long. This is a basic equity issue for our students—classes that are too large make it impossible for teachers to provide differentiated instruction and individualized attention, which children need to do their best. I urge Mayor de Blasio and Chancellor Carranza to meet the mandates outlined under the CFE decision, and make a serious commitment to reducing class sizes," said

Council Member Mark Treyger, Chair of the Committee on Education.

Shino Tanikawa, co-chair of the Educational Council Consortium

, which represents the parent-led Community District and Citywide Councils, said: "Reducing class size is always number one or number two among parent priorities on the Learning Environment Survey that DOE gives every year.

And yet every year, the issue is ignored by the city in terms of its funding priorities.

It is time for our elected

officials to step up to the plate, and deliver for NYC children."

"We know that smaller class sizes benefit many of our students -- indeed, the NYS Supreme Court determined well over a decade ago that NYC public school classes were too large to give our children the education to which they are entitled. We also know that parents consistently place reducing class size among their top priorities on NYC Dept of Education surveys. It's time to act -- we need to ensure that smaller classes are available for all of our children," said Council Member Helen Rosenthal (Manhattan, District 6).

"As the only NYC political action committee focused solely on the improvement of public schools, NYC Kids PAC looks hard at the record of candidates when it comes to lowering class size," explained

Naila Rosario, President of NYC Kids PAC

.

"Progress must be made on this issue, which has not gotten the attention it deserves from either the Mayor or Chancellor.

Expanding Pre-K and providing 3K is fine, but as parents know,

kids need more help once they turn five and more feedback and support from their teachers.

This is impossible in too many schools right now because class sizes are too large. The number of students in the early grades in classes of 30 or more has increased by nearly 3000% since 2007."

"Ensuring that our kids get the best quality education possible should be a topline priority this budget session and every budget session," said Council Member Antonio Reynoso. "Every student in New York City deserves access to an excellent public school education. Yet in schools that experience overcrowding, teachers are stretched thin and students cannot receive the personalized attention necessary to foster their educational and emotional wellbeing. I am proud to support Class Size Matters in advocating for smaller class sizes which have been proven successful at increasing student achievement and help to narrow the opportunity gap."

"When it comes to New York City public schools, something has to change in a very foundational way," said Council Member Adrienne Adams. "We need specific funding allocated toward reducing class size as it has an effect on the ability to retain effective teachers, student engagement and overall student success. Reducing class size is the right thing to do for our students and we cannot make excuses when it comes to their future."

"New York State made it clear in 2003 that New York City's class sizes were too large to provide students with the proper attention and resources they need to learn- a violation of their constitutional right. Since then the City's public school class sizes have not shrunk- they have become larger; which leads me to believe the problem has only grown. I am proud to stand with Class Size Matters, UFT, my colleagues at City Council, and all of today's local partners and parents to support allocating funding aimed at decreasing the student-to-teacher ratio," said Council Member Andrew Cohen (Bronx, District 11).

Maria Bautista

, Campaign Director of the Alliance for Quality Education, said:

"Parents know that class sizes are too large in NYC public schools for students to get the attention they need. Research shows that Black and Latino students gain the greatest benefit from smaller classes in terms of achievement, engagement, graduating from high school and attending college. It's time that NYC ensured that our students receive the smaller classes they need for their best chance at success."




"Why is this administration singularly focused on birth to five to the detriment of all other learners? The biggest risk to our Pre-K students occurs when they enter grades K-3, where too often they're expected to learn in classes of 30 or more. Yet the DOE insists on pushing more and more Pre-K and now 3K kids into elementary schools that are already overcrowded, which causes our CBO enrollment to drop and threatens our viability.

We implore Mayor de Blasio and the Department of Education to reduce class size in grades K-3 by shifting more Pre-K and 3K students back to CBOs. It would the right thing to do and a win-win for all," said Brooklyn Pre-K director Alice Mulligan on behalf of CBOs for Equity.




As

Diane Ravitch, education historian and President of the Network for Public Education

concluded, "Reducing class size is the single most effective school reform. Wealthy parents pay large sums for small classes. We owe small class size to all children."
For print The WAVE, June 14, 2019
School Scope:

Experience Counts
I've been watching D-Day movies and finally saw Saving Private Ryan. In pretty much all war movies we see the big differences between grizzled war veterans and the rookies who are often scared to death. It is so clear how important experience is in warfare. I mean what commander wouldn't want troops who knew the ropes?

In education we often find just the opposite where newbies are preferred. Low salaries. Non-tenured. They won't talk back and will often do anything asked by administrators, no matter how stupid. And wise in education combat zones like those grizzled sergeants. Too many principals love newbies who they can manipulate.
Over the past few decades the idea that experience makes a difference for a teacher has been disparaged by the ed deformers. Note the growth of Teach for America and the Teaching Fellows where you get 6 weeks of boot camp and are sent into the world to make guinea pigs of students while you learn the ropes.
I was one of those. In 1967 grad students were losing their deferments and going into a 6 week boot camp for new teachers and teaching for two years was a way out and I took it and became a newbie teacher. You know those war movies where the guy is sweating and wracked with fear – Corporal Upham in Private Ryan is the prototype – a coward afraid of combat. I was Upham my first year of teaching. Facing a class of children and keeping them under control was my greatest fear. They were often off the wall. I was envious of these little ladies in my school who had perfect control. When I finally learned how to control a class it was one of the major achievements of my life. I never would have survived as a teacher if I couldn't. Well, I could have become an administrator.
My friend Arthur Goldstein, who is an ESL teacher and the union leader at Francis Lewis HS, one of the largest and most overcrowded in the city, for the past 15 years has written a very influential education oriented blog called NYC Educator sharing a lot of insights into the many facets of the process and often mystery of teaching.
I wanted to share an excerpt from his posting on June 12 about the coming end of the school year. Arthur has given his finals but still has to keep the students interested. He gives them a surprise test with questions such as: When was the War of 1812? Where does Chinese food come from? What color is the white board? He wondered about a student who got one of these wrong.
Arthur has many decades of teaching and here he gets to some of the essence of why experience matters for teachers
"One of the things Cuomo didn't consider when pushing the miserable evaluation law is what it's like to bomb in front of 34 teenagers. This, of course, is because he's never taught, and he's never been through what we go through each and every day. I don't know about you, but I fear that more than I fear some supervisor with an iPad. I remember it happening to me in my first few years. I remember watching other teachers and wondering exactly what they were doing that I was not. Why are their classes calm while mine is off the wall? I'm not sure there's an easy response to that. I'd say things got just a little better when I started calling houses. And maybe I've grown more confident or authoritative over the years. Mostly, I have more experience and more go-to lesson plans. If I see something not working I can usually push it in another direction and try something at least different, if not always better."

That's it. Arthur has the experience to see what is not working and has the confidence he can figure things out. Like the great pitcher whose slider is not working but adjusts. Not to compare teaching to baseball. Or combat. Welllll, maybe. One of my old pals and colleagues, Rockaway resident David Bentley used to tell the story of his first year in a tough school in 1967-68 when a class of children was so out of control he walked into the office of the principal, a tough old bird named Sophie Beller (Lagosi was her nickname) and told her he was quitting and would rather go to Vietnam. She sent him home for the day to recover and he ended up becoming one of the great teachers in my school. Ahhhh, that good ole experience does count.
Norm's brain engages in combat with his few readers at his blog, ednotesonline.com.
-->
More Recent Articles