---
KALEID Gallery is proud to present two new feature exhibitions by resident artists Steven Borelli, and Luis Jorge Mieses opening on First Friday February 5th, 5pm–9pm.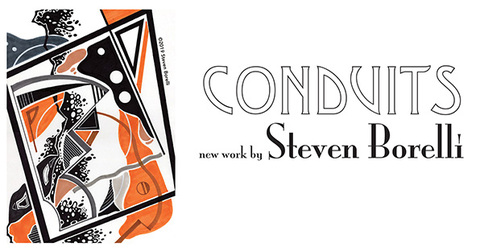 Conduits by resident artist Steven Borelli.
I am a conduit for creativity and my works are the results thereof. Through them we are able to pierce the fragile fabric of this reality and view other dimensions with unimaginable worlds, chaos and order, organic shapes juxtaposed with design elements and. . .
Just kidding. I really am just doodling. But they're amazing doodles. And we are all conduits for creativity.
About the Artist:
Steven Borelli has been drawing since he was a fetus. The inside of his mother's womb is tattooed with the ramblings of his fertile imagination. These days, between fever dreams and feeding his cat, Borelli continues to indulge his imagination by creating art. For art's sake.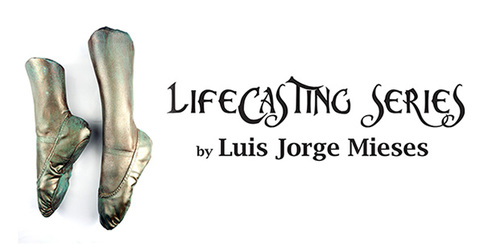 Lifecasting Series by resident artist Luis Jorge Mieses.

The idea behind this series is to show the numerous ways the body parts could be captured. I copy the human figure because as time passes the only things left are the beautiful memories embodied in the sculptures.I make them for different purposes; from getting a commission of an artistic piece to show to keeping memories of our loved ones.Making sculptures represents intimate time with myself. Through it, I get to relax, feel plenty and express my creativity trying to capture the beauty I see around me.I started modeling clay, wood carving and preparing molds for the bodies of animals that I needed for taxidermy, trying – in some way – to restore the animal's lost life in an artistic form. Making that work lighted the sparkle of sculpture in my mind. Currently, I am devoted to reproducing human body parts using molds and seeking balance in my compositions.
About the Artist:
Luis Jorge Mieses was born in Peru, where he grew up, graduated, and worked as an Industrial Engineer. Mieses inspiration started many years ago when he saw many life size sculptures taken from the people of the Amazonia, at the Pacific International Festival in his country. At the exhibition he watched an explanatory video, where he could understand how the artist took the impressions from the people. Immediately his mind traveled into the jungle with its magnificent splendor and he imagined himself taking the molds from the people that used to live there, in natural way.
Since his move to California in 2001, Mieses has devoted his time to sculpture and taxidermy. Because of the taxidermy work – which required molds preparation, shaping and molding parts for mounting different animals – he discovered the fascinating world of sculpture. Mieses first devoted his time to research and studies of the human figure, and then took art classes at Foothill and De Anza Colleges in California. Consequently, Mieses is achieving his dream though sculpture, capturing hands, faces, feet and various body parts.Currently Mieses has refined his technique reaching a professional level in the preparation of Lifecasting sculptures.Mieses' works are in private collections and galleries.
Exhibitions open: First Friday February 5th, 5–9pm
Exhibit dates: February 5–26, 2021
In-person gallery hours:
Fridays 5–9pm, Saturdays Noon–5pm and by appointment by emailing info@kaleidgallery.com
Free admission. Social distancing and mask required at all times in the gallery.
KALEID Gallery
320 S. 1st St.
SoFA District
downtown San Jose
info@kaleidgallery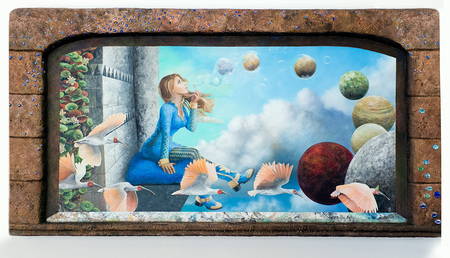 KALEID Gallery is proud to present "Beautiful Garbage," a new exhibition of paintings and sculptures by resident artist Sandi Billingsley.
Sandi Billingsley is an American artist who has sold her art and painted in homes from coast to coast. As a professional faux finisher, she has over twenty five years of experience understanding and recreating surfaces, painting murals and combining them into trompe l'œil. For a decade and a half, she has applied these skills to gallery shows of paintings and sculptures which have attracted collectors from across the United States and several International destinations.
Sandi has always been wonderfully enthralled with creating but her first objective is to be friendly to the Earth. She explores diverse styles in her art. The majority of her projects start with recycling. She's inspired by found and gifted materials. Sandi focuses heavily on structures created from used wood, discarded paper and packaging styrofoam.
Sandi's art explores beauty and extreme color. Her many passions for life on this planet, for challenge, and for the plight of women have led her to create charged pieces in seemingly different styles. Sandi Billingsley is extremely grateful to have lived a life of creativity.
KALEID is open for viewing this exhibit:
Friday July 24th & Saturday July 25th from 5pm–9pm.
Free admission.
We will have strict safety protocols including low capacity, social distancing and masks required at all times in the gallery.
KALEID gallery
320 S. 1st St.
downtown San Jose
info@kaleidgallery.com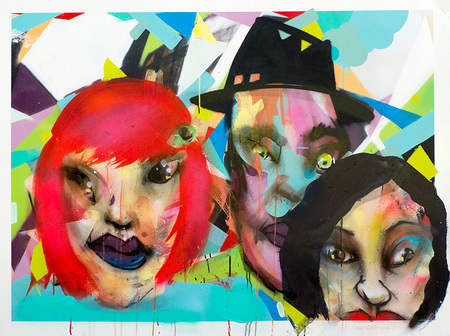 KALEID Gallery is proud to present "Espacio," a new body of work by resident artist Force129.
Force129 has been very productive during shelter in place creating new paintings diverse in themes and sizes. Unique characters, cactus, beloved animals and roses are all created in his signature style with spray paint, acrylic and marker.
KALEID is open for viewing this exhibit:
Friday July 24th & Saturday July 25th from 5pm–9pm.
Free admission.
We will have strict safety protocols including low capacity, social distancing and masks required at all times in the gallery.
KALEID Gallery
320 S. 1st St.
downtown San Jose
info@kaleidgallery.com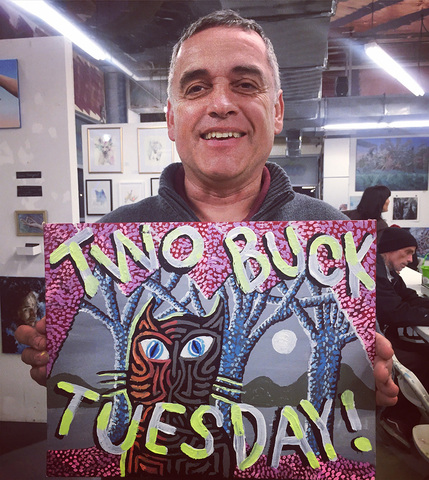 Join us for the monthly artists + community creative get together. Draw, paint, chat with artists, view the feature exhibitions plus amazing work by 70 resident artists all on site with $2 art available ONLY at TWO BUCK. Free admission and all ages welcome.
This month features artists Jeff Bramschreiber, Jemal Diamond, Joe Mandrick, Alfred Preciado and Mark Martinez all onsite creating new works and available to chat about their process.
The life drawing session model is Aleena Saha - "a futurist stuck in the suburbs" - hosted by Matthew Heimgartner.
There's two excellent solo exhibitions in the feature gallery to check out: "Things Unspoken" by Matthew Heimgartner and "Pollinators" by Rose Margaret.
HAEZ ONE will be performing live music from his recent album "San Hopeless" (cassettes will be available).
Tuesday March 19th, 7pm–10pm
Free admission, all ages welcome.
KALEID gallery
88 S. 4th St.
downtown San Jose
free street parking after 6pm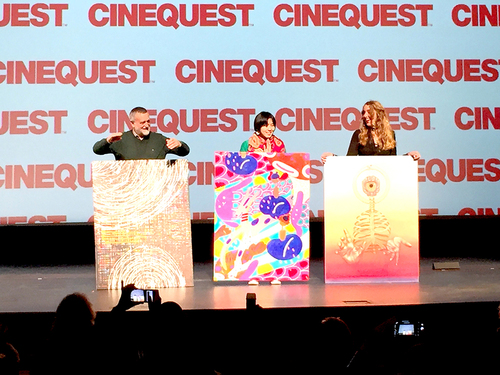 Congratulations to Gianfranco Paolozzi, Harumo Sato and Rose Margaret on their moment in the spotlight at a packed house at the Cinequest grand Closing Night. Rose was presented with an award for her wining "Unexpected" painting and all the artists were recognized with a standing ovation.
The paintings are quite remarkable and available for purchase if you'd like to acquire one of them. Please email us at info[at]phantomgalleries[dot]com for pricing info.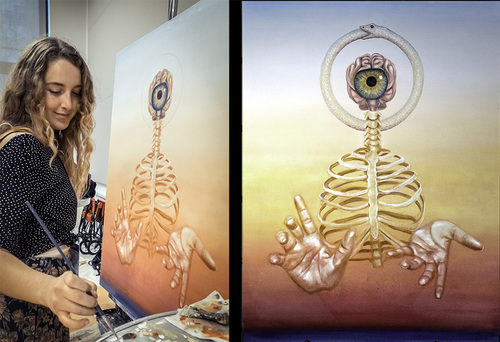 "Its Center Everywhere & Circumference Nowhere" by Rose Margaret
"The ouroboros serves as a halo on the angel of Eternity. With its gaze turned to us, I am reminded of the elusive place between being awake and falling asleep— those strange and beautiful few seconds when reality bends just as the mind slips into unconsciousness. Our human parts can look so unexpectedly alien, can't they? "

Rose Margaret is a painter, wood-burner, caregiver, composting enthusiast, student of permaculture, and muncher of plants. She does her best to support Mother Nature's wellness on a daily basis.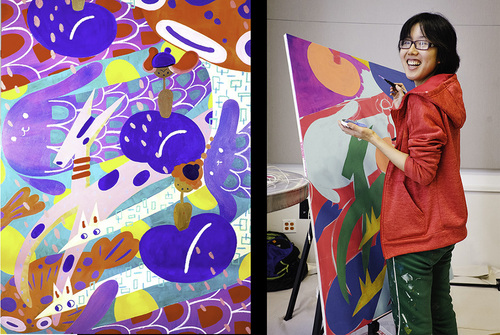 "Over the River of Tears." by Harumo Sato
"This piece is dedicated to people who suffered from a big earthquake in Japan 8 years ago, called 311 earthquake.
The final day of the live painting was March 10th (in Japan it's March 11th), and it's the day when the earthquake happened. Nobody could predict this "once-in-a-1000 years" level's earthquake. It was a unforgettable disaster, but it also unexpectedly became a turning point when I really started focusing into making art as a practice of pray. "
Harumo Sato is a California based Japanese visual artist who graduated from University at Buffalo in 2015. In questioning our busy and highly industrialized daily lives, she translates old mythological analogy and allegory imagery into modern, colorful, and unique visual images. She has a strong interest in pattern design which has traveled through many cultures and contexts over the centuries. With the various colorful materials like screen prints, Japanese watercolor, sumi ink, and acrylic she seeks visual pleasure and vivacious energy to open the viewer's mind.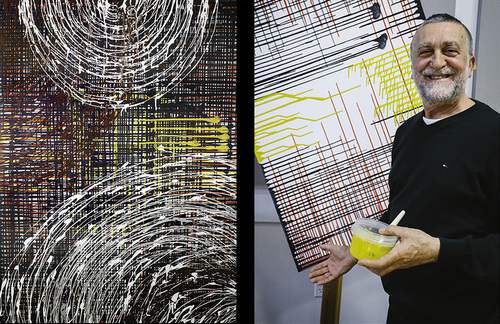 "Journal: March 7–10 2019" by Gianfranco Paolozzi
"The dripping of the colors, the rotation of the easel, and the presence of the people around me created the unexpected work."
Gianfranco Paolozzi is as much a conceptual artist as he is a painter. Each painting is considered a memory journal....the painting evolves over time, just as our memories seem to. The "finished" date of the paintings are a date of abandonment rather than completion.

A very special Thank You to the entire Cinequest family for their support of these artists and Phantom Galleries each year.