We're giving our team some leeway this month and we're confident they're going to blow our minds with creative spins on this month's Hits & Highlights challenge. Today, check out how they've reached for the stars creating around the idea *of* stars. Click through to see how they've interpreted the idea…you might find colorful galactic scenes, you might find brilliant performers belting it out on a brilliantly lit stage, you might find a simple graphic shaker design featuring one of our star shaker pouches. There are so many possibilities this month and we're excited for you to see them all!
Julie's colorful look features a galaxy full of rainbow stars…a card designed to encourage can always benefit from a little ROYGBIV magic! Rainbows immediately bring hope and optimism to mind so they're the perfect choice for an occasion like this. She topped off her star-filled design with a glittering die-cut "stars" sentiment that provides balance and some sparkle to make the card truly special.
Rachel's spectacular look features a superstar character backed by an unforgettable celestial scene. We can't even begin to count the starry points of light she's created but we *do* know a showstopper when we see one and this is it!
Time to check out how others on our team interpreted our latest Hits & Highlights challenge!
Want to add some happiness to your day? Make a card to celebrate something. Anything. A birthday, a promotion, an A on an assignment, or simply waking up to see the sun shining bright through your window. Even if there is no obvious occasion, searching out and celebrating simple joys can be just as rewarding. We have a huge variety of stamps, Die-namics, and supplies suitable for recognizing occasions big and small and today and tomorrow, you'll get 20% off all of them when you apply code CELEBRATE at checkout. *Excludes brand new.
---
The Wildflowers stamp set features an assortment of floral images in a size and style that makes them an ideal candidate for the resist coloring technique Stephanie features in this week's episode of MFTv. They're also the perfect complement to the sentiments in our newly released Sending Prayers stamp set.
In portrait or landscape orientation, this formula simply works. Be sure to watch the video to pick up some great ideas from Stephanie for coloring with Zig Clean Color Real Brush markers — I particularly love the tip for adding some very light shading outside the embossed lines to create just enough contrast to make them stand out from the white background.
Watch MFTv — Creating a Stamped Flower Border on YouTube or by playing the embedded video below. To be entered into the weekly drawing, be sure to leave a comment on this video on our YouTube channel – the winner will be selected from there!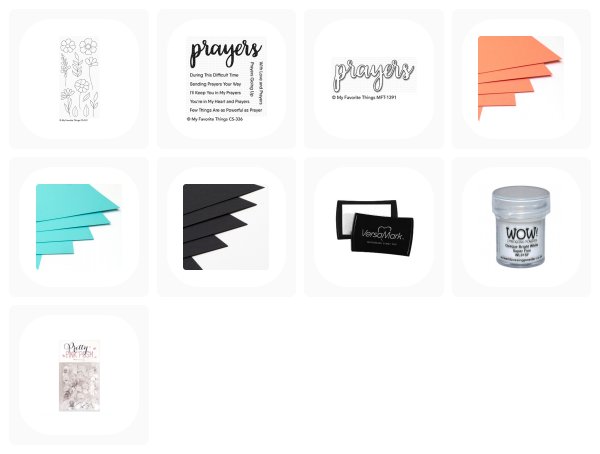 MARKERS:
Zig Clean Color Real Brush markers: 040 Green, 048 Emerald Green, 021 Light Carmine, 222 Pink Flamingo, 050 Yellow, 051 Lemon Yellow, 033 Persian Green, 042 Turquoise Green, 302 Haze Blue, 045 Pale Green
Today is your last chance to take advantage of this awesome sale. From gorgeous florals to cute characters to indispensable sentiment sets, there is something to suit every need. Shop our collection of in-stock stamps and apply code STAMPS at checkout to save 20%…what better way to treat yourself to something special and kick off the weekend than by adding more options to your MFT collection? *Excludes brand new.
---
Leigh Houston creates magic on her cards with a bit of floss and a few basic stitches. Her stitched accents provide texture and color and add an incomparable level of detail to already charming scenes, turning special works of handcrafted love into mini works of art. We're excited to have her share a bit of her process with us today!
Hello, everybody! I can't even begin to tell you how excited I am to be joining MFT this month as a guest designer! The new release is so full of fun new products and I'm having such a blast creating with them.
I could not get over how cute the critters are in the new Woodland Friends stamp set, and the fact that the squirrels are holding flowers made them just perfect for this flower-loving girl. I knew I wanted to create a card where the adorable images are the focus but I also wanted to add some extra texture and dimension, so I decided to surround them with a little stitched flower garden.
I started my card by cutting out a panel using the largest die from the Stitched Oval Frames Die-namics, setting aside the frame. I stamped and masked my little fox and squirrel images so I could ink blend some grass and a sky using my Cloud Edges Stencil and Distress Inks in Tumbled Glass, Twisted Citron, and Mowed Lawn. I removed the masks, colored the fox and squirrel using Copic markers, and stamped the "Thankful for You" sentiment from the same stamp set.
I then started my stitching. I first stitched the squirrel's flower using simple straight stitches to fill in the petals. I then stitched the garden, simply scattering simple stitched flowers around the little critters. I used woven roses, backstitched branches, and little star-shaped flowers, french knots, and daisies using lazy daisy stitches. If you are new to stitching, there are tons of great YouTube videos introducing these simple stitches (or you can leave any questions below and I'll be more than happy to help!) I added some V-shaped blades of grass as well.
To finish the card, I mounted my oval scene on craft foam. I stitched around the oval frame, mounted it on craft foam, and attached the framed scene onto an aqua panel to finish the card.
I hope you enjoyed this project as much as I did! I had so much fun enhancing these adorable little critters with a stitched garden. Thank you so much to MFT for this amazing opportunity, and I'll see you later in the month with more projects!
---
Have you integrated stitching into your own cards? Leah's freehand flowers and stitched frame are brilliant but if you prefer more guidance, our collection of cross-stitch Die-namics and accompanying printable patterns might be right up your alley. Whatever your chosen method, please tag your projects featuring My Favorite Things with #mftstamps so we can appreciate your artistry!

We're five days into our annual Card Design Superstar contest and the entries are rolling in. We'd love to make this year our BIGGEST year yet — will you help make that happen?
If you've already entered,
be sure to check and make sure your entry is visible
. If you don't see it, it may have been removed because of a rules violation or an error in the upload process. When you link your project, make sure you're sharing a new project created for the contest, that your entry doesn't include stamps, dies, stencils, or patterned paper from any company other than My Favorite Things, and that you're linking properly — filling out the Inlinkz fields with the correct content. As a reminder, here is a full list of guidelines:
Create brand new/original cards using any theme you like. Previously posted cards will not be considered.
The maximum number of entries per participant is one card per category, for a maximum of three entries in all. Multiple entries in a single category will be disqualified. Each card may only be entered in a single category.
Use stamps, Die-namics, stencils, and patterned papers from My Favorite Things. Cards using other products will be disqualified immediately, so get creative with the MFT products that you have on hand! Use whatever card stock and inks you have available.
Submit your card(s) to the appropriate InLinkz collection linked at the end of this post on or before 10 PM EDT on Monday, September 17.
When submitting your card, please simply use your name in the Link Title section.
International entries are most DEFINITELY welcome! Please note however that we are unable to accept entries from Russia due to shipping prohibitions.
We have three categories for you to choose from — enter one or go for all three…what do you have to lose? At the very least you'll have three fabulous new cards to add to your stash. That's three people you're about to make very happy! Each category has some VIP judges selected from our team to help out in the arduous judging process as well. Keep reading to find learn more about each category:
Clean & Simple Genius
Here is your chance to showcase your innate understanding of design. White space, color theory, and design rules are critical components of pulling off a beautifully clean & simple look. You understand that sometimes, less is more, and you aren't afraid to show it!
Special guest judges: Inge, Karolyn, and Laurie
Coloring Virtuoso
Whether your preferred medium is paint, marker, or pencil, coloring is a skill you've honed since those early years spent with Crayolas and a favorite coloring book. The MFT collection of images is vast, so now is your opportunity to show off your exceptional coloring skills!
Special guest judges: Amy, Francine, and Torico
Innovation Master
We're gaga for specialty cards. If designs featuring sliders, shakers, fancy folding, or 3D elements are your thing, have we got the contest for you! Let's see your brain-bending looks! Balancing an elaborate idea with pitch-perfect execution and an eye for design is a true skill — one we know you're up to the task to demonstrate.
Special guest judges: Barbara, Melania, and Rachel
---
NOW, it's time for you to get busy. You have a few more days to come up with your very best entry for each category and upload it to the proper link collection. Make sure to check your entry before the deadline to make sure it's viable as we'll continue to remove non-compliant entries for the duration of the contest entry period — we want to ensure you're hard work is recognized and appreciated!
Here are the criteria that will guide our judges decisions so keep these in mind as you craft your masterpieces.
Great design
Superb execution
Clever uses of our product
Fresh approaches
The fifteen winners will be revealed on the blog on Wednesday, September 26th, and our 2018 Card Design Superstars will be announced.
We hope that this year's updated format will encourage you all to create something you love. Show us what you've got, superstar!
Enter your card for the Clean & Simple Genius Category HERE
Enter your card for the Coloring Virtuoso Category HERE
Enter your card for the Innovation Master Category HERE
When you conceive an idea for a new card, what do you typically start with? Likely, your stamp choices will be among the first you make. Maybe you start with the sentiment to meet the needs of the occasion you are crafting for. Perhaps it's the image to satisfy a coloring urge or celebrate the interests of the recipient. It could even be a background pattern — creating a mood with pattern is a great starting point! Whatever your typical process, adding more stamps to your collection is always a good idea and now through Friday, September 14 is the perfect time to do it! Shop our full collection of in-stock stamps and apply code STAMPS at checkout to save 20%. *Excludes brand new.
Don't forget that it's Wednesday! After you check out our stamp category, hit up our Wednesday Blitzday sale to find an assortment of western-themed products marked down up to 40%! And if you're still in the mood to shop (and let's be honest, it's always fun to add some more color to our collection) take another peek at our sale category to check out the remaining products in our retirement sale — we still have plenty of ink cube sets, ink pads, and ink refills available — all marked down 40%. It's a great day to make your MFT stash even more awesome.
---
We're super proud of our recurring Youtube series featuring some incredibly talented designers. In our Christy Gets Crafty series, Christy Reuling shares her ideas for making MFT products all her own.
And since we're talking stamps with our current sale, today's video from Christy is a fantastic example of mixing images from different sets to create an inviting scene. The small leaf images from Pure Innocence Sending Blessings will be right at home on a wide range of autumn scenes. I love how she color coordinated the leaves to the trees pulled from Friendly Raccoons and placed them to create a sense of depth – so smart!
See the latest in our Christy Gets Crafty series HERE or by watching the video below.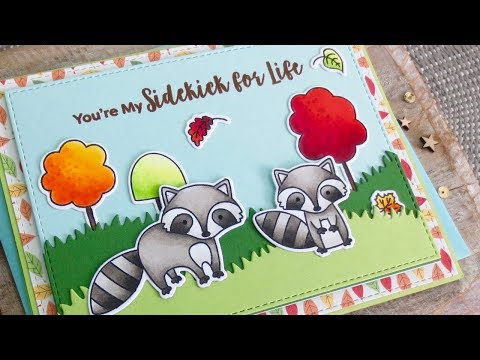 ---
Feeling inspired? Great! We want to see your mixed-stamp creations too. Tag #mftstamps when you upload to social media — you may just be spotted!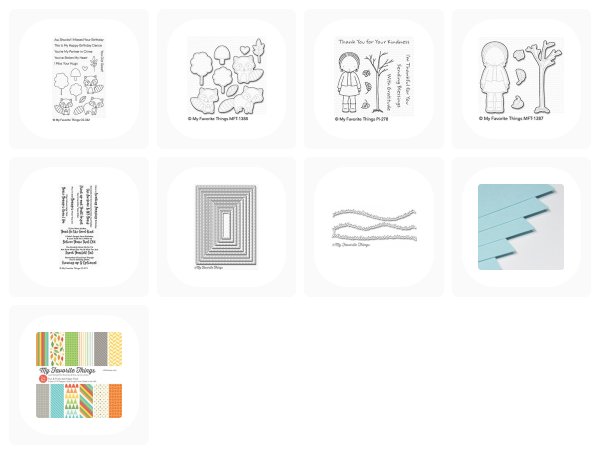 More Recent Articles