---

Here is a sample subscription for you. Click here to start your FREE subscription
We at
Long Lane Honey Bee Farms
want to take a moment to let you know how thankful we are for having you as a customer. Here are a few ways we hope to make your Thanksgiving holiday special along with a Black Friday spectacular offer!
Enjoy a moment with us this Saturday. We will be open 10am - 3pm central time. If you have beekeeping questions
David will be here and available to answer your questions in our store (no phone calls)!
We also have freshly harvested honey for sale from our own hives. Also, we have a limited number of Winter-Bee-Kinds available this Saturday. Take a fun, fall drive and visit Long Lane Honey Bee Farms this Saturday, Nov. 10th.
LIMITED TIME ONLY - NOW THROUGH BLACK FRIDAY 11/23/18
Our online beekeeping courses have been enjoyed by hundreds across the country. We are making a special offer from now until Thanksgiving.
For the next 15 days, you can purchase all 6 courses for only
$199
--a savings of $145! This is your opportunity to spend the winter enjoying these courses. No rush to complete the courses. Take them at your leisure, from the comfort of your home at your own pace. There's no deadline or start time. You have all winter to enjoy the courses and longer if needed.
These courses are video courses with worksheets, taught by EAS Certified Master Beekeeper, David Burns. Here are the courses you'll receive:
Basic Beekeeping
A Day In The Apiary With David
Spring Management
How To Raise Your Own Queens
Advance Beekeeping
Getting Your Bees Through The Winter.
Click here
to take advantage of the amazing savings we are offering as our way of saying thank you to all our amazing customers.
Going somewhere for Thanksgiving or Christmas and need a gift for the host?
PACKAGES OF BEES AVAILABLE WITH KITS NOW!!
Our Hobby KIT is a starter kit with a package of bees and a mated queen. FREE SHIPPING. Bees Must Be Picked Up At Our Location.
This is the least expensive way to get started. You will need to add more boxes or additional items to this hive as it grows, but you can purchase this kit to get started without paying for the full hive at one time, so it's a little easier on the wallet. Buy other boxes as you need them.
Click here for more information.
FREE SHIPPING! COMPLETE LIBERTY KIT WITH A PACKAGE OF BEES (BEES MUST BE PICKED UP AT OUR LOCATION IN THE SPRING)
BUY NOW
Sometimes you just need to text or call a certified master beekeeper and find out what the heck has gone wrong with your bees.
You've made a big investment of time and money into this beekeeping thing. Why not sign up for BeeTeam6, a coaching program where David answers your calls, emails or texts and helps you figure out the best plan to keep your bees thriving...
READ MORE
What Do Bees Do In The Winter?
Understanding what bees do in the winter helps you to make sure your hives have the best chance to survive winter...
Read More
IS IT SAFE TO START WITH USED EQUIPMENT?
Some diseases can be spread by contaminated beekeeping equipment. This can result in being ordered by the state to kill your bees and burn all of your beekeeping equipment. When it comes to used beekeeping equipment there may be money to be saved but potential problems that could cost you more...
READ MORE
We just started shipping out Winter-Bee-Kinds this week because the weather has cooled off. Be patient because they are being shipped out in the order in which the orders were placed and we have many, many orders to get through.
If you have not placed your order, please do so now so that you will be guaranteed to receive a Winter-Bee-Kind this season.This product is in heavy demand. Please be patient. Click one of the links below to secure your order.
Is learning beekeeping on your own a bad idea? I like learning things on my own, most of us do. I learned how to play the guitar on my own. It took me a long time and I am nothing like a trained guitarist. My 11 year old son is taking guitar lessons and he's already better than me. I have my own style and technique and it works but it is very limiting. Since I taught myself I am missing our on some important techniques. Beekeeping is similar. You can keep bees and slowly learn beekeeping over time, but there will be key techniques and approaches that you may never develop. With a guitar, you may not really care if you aren't doing it right, but with your bees, it matters. It's a huge bummer when they don't make honey or worse, they die and you've wasted your money and time.
We are all thankful that our doctors and pilots not only are highly educated, but are required to intern first before operating on us or flying us around the world. We know so much more about beekeeping today than we did 50 years ago, even 10 years ago, even last year. Taking a beekeeping classes and learning how to manage a colony can make a huge difference in not only how well your bees perform, but how much more enjoyable beekeeping can be.
We receive phone calls everyday from people around the country who want us to explain beekeeping over the phone. Their intentions are good, but unrealistic. We've spent years perfecting our beekeeping presentations so that we provide the most important information in the least amount of time. The mind can only absorb what the seat can endure. Some beekeeping instructors will bore you with historical facts and fail to explain crucial feeding techniques or chemical free mite reduction.
Very few beekeepers understand the importance of feeding bees in the winter, for example. We've gone to great lengths to study bees in the winter, and have discovered how to provide the nutrition they need in our
Winter-Bee-Kinds.
Most beekeeper think their bees died for cold temperatures. Not true. If you've never tried our winter feeding system,
click here to learn more.
Once again, we will be teaching our 2019 beekeeping classes and they are online now.
Our classes fill us very fast.
We keep them small so we can provide a more personal teaching approach. Because we keep them small, we must warn you that our classes fill up really fast. In fact, our queen rearing class usually fills up within a few weeks after we open registration.
Because of the great response to our classes you can choose between two types of classes we offer. We offer
"In-House"
classes and
"Online"
classes. In house classes are presented by EAS Certified Master Beekeeper, David Burns. They are held in our training center in Central Illinois just outside of Champaign, Illinois near Catlin, Illinois. Our online courses are available online as videos, taught by David Burns as well. The online courses can be purchased and watched from the comfort of your home on your own time, anytime. Here are our 2019 Courses:
2019 IN HOUSE COURSES (Taught At Our Training Center)
We are very excited to offer all of the above classes as online courses. We introduced our online courses 9 months ago and hundreds of beekeepers and prospective beekeepers have told us how much they have enjoyed them. Since you can take the classes from home using your tablet, smartphone or computer you save travel time, hotel expense and time off from work. Here's our courses available online:
Storing Honey Supers: Part 2
Cooler Weather Means Free Shipping On Many Items
No one likes being embarrassed. We have our egos and our reputations to protect. We want people to like us and value our advice and opinions so we hide those embarrassing moments. When we slip on the ice we get up wondering if anyone saw us.
I want to share some embarrassing beekeeping moments I've experienced over the years. Let's face it, we all make mistakes. None of us are without flaws, right?
Before I tell you my bigger mistakes, let me tell you of some of my smaller mistakes. For many years, I tried to keep bees without being concerned about mites. I ignored mites and felt I could dodge the bullet and mites would never be an issue. WRONG! It took me years of losing hives to finally learn that if I want my hives to survive, I had to battle mites. I use to think that if my bees were strong all summer and had honey in the hive, they'd make it through winter. WRONG
AGAIN! It took me years of research, trial and error to finally figure out that colonies need protein all winter, not just sugar.
I've done every embarrassing thing possible. I've accidently dropped a frame full of bees, accidently killed a queen, knocked over a hive while mowing, left a door open into the extraction room during lunch, forgot to close the extractor gate, etc.
One of my more embarrassing moments was during one of my beekeeping classes. We were out in the field inspecting a hive and it was going really well. Sometimes when I remove a deep or a super I place it on the ground on the short side, usually the front side on the ground. The handles on this super were in the middle. I had just explained to the class that before you pick up a super from this position, make sure you know which way is up. I did it wrong, and picked up the super upside down and all the frames with the bees fell out of my super. I grabbed my smoker and started picking up all the frames and bees were everywhere.
Another embarrassing moment happened when Sheri and I were inspecting our hives that were about 30 miles a part. These hives were pollinating pumpkins. During the drive between yards, I failed to block off my smoker and it burned out and I was completely out of fuel from my first inspection.
We were in a really old F150 and I parked it near the hives. Our son, Christian, was in his car seat between me and Sheri. I got out and decided to just remove the supers without smoking the colony. This did not go well. The drivers door could not be opened from the outside. So I threw the lids back on the hive and I couldn't open the truck door because we had rolled up the windows. I had parked in an area of tall brush. I had to get away from those bees by getting into the truck, the Sheri was having trouble opening my door from the inside because the car seat was in the way. Meanwhile I kept running around the truck, lifting my legs really high to hurdle the tall brush so I could run faster. Sheri said it was the funniest thing she had ever seen. Even I know you should be still and that you can't out run bees, but I had to do something!
As beekeepers we do some pretty embarrassing things. But that's how we learn not to do that again. When beekeepers ask me questions, most of them start by saying they did something embarrassing. Some beekeepers make some embarrassing mistakes storing their honey supers. They store them in trash bags only to find that wax moths have destroyed the supers by spring time. They place them in their moist basement only to find them covered in mildew and mold.
I recently made a new video showing how I handle my honey supers after harvesting the honey. Please "like" the video when you watch it.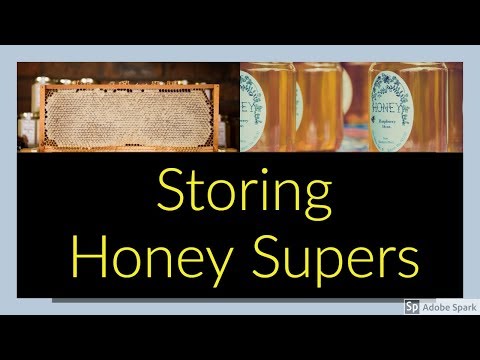 David and Jon have produced some pretty cool podcasts talking about debatable subjects in beekeeping. These are available below:
Happy Last Days Of Summer! We are David and Sheri Burns from Long Lane Honey Bee
Farms and honeybeesonline.com. It's finally almost here. Fall will arrive on September 22nd, 2018. Four days away. Are your bees ready? Our lane is lined on both sides with an abundance of goldenrod. And yes my hives smell weird! Nectar produced by fall asters make hives take on a funky smell. Don't panic and jump to the conclusion that you have the dreaded, smelly American foulbrood disease. Probably just a fall crop of goldenrod.
Watch my new YouTube video as I explain the importance of understanding that beekeeping is: Art, Science and Love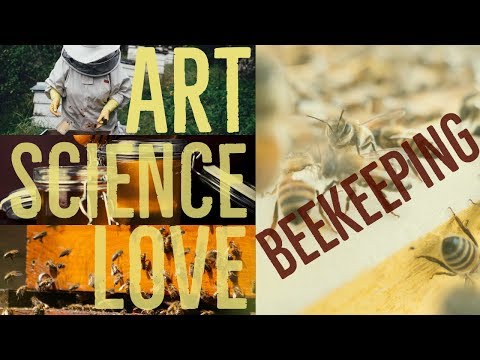 Beekeeping - ART, SCIENCE and LOVE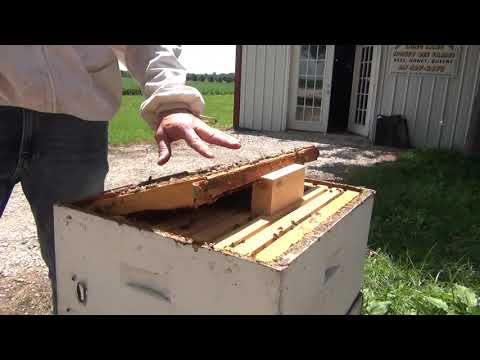 David Burns, Certified Master Beekeeper Just Invented the Frame Prop.
Click Now To Order Yours. $15 With Free Shipping
Contentious & Argumentative Beekeeping
David and Jon will be producing their live beekeeping podcast, HiveTalk, this Thursday at 1:30 central time. Please call in with your questions. Here's how:
Join online
Or Dial in using your phone: Call: 605 - 562 - 0444
Enter the Show ID: 129777 #
During the show, press 2 on your phone to "raise your hand" and let the David and Jon know you would like to
ask a question on the air. They will unmute you in order for you to speak. Call in during the live show and you may be selected to be on the air with Jon and David.
This week's topic is contentious and argumentative topics beekeepers fuss about. David and Jon have the "right" answers.
Freedom Kit with bees
is our kit for the serious beekeeper...
Read more
How Many Hives Should You Start With?
The average backyard hobbyist should always start with 2 or more. Why? With two hives, you can compare...
Read More
How Close To The House Can I Put My Hives?
This and 18 other questions are answered here...
Read more
It Will Soon Turn Cold Outside. Are Your Bees Ready?
Our Winter Bee Kinds Can Make A Huge Difference
Don't delay ordering your Winter-Bee-Kind. Now that fall is only a few days away, make sure your bees have adequate food for winter by placing our Winter Bee Kind on your hive if for no other reason than insurance that they won't starve! Available for 10 frame, and 8 frame hives.
Top 20 Questions Beekeepers Ask In The Fall
Beekeeping sounds and seems easy until you start. Then there are a thousand questions. And there are so many different opinions and answers. Which one is best for my bees?
Sign up now for BeeTeam6 Beekeeping Coaching Program because over the next several weeks David will be answering the top 20 questions beekeepers have in the fall. Sign up in September and receive a free winter-bee-kind on your December anniversary. Free shipping too.
Click here to sign up for BeeTeam 6 now.
In the last BeeTeam6 teaching video, David explained to subscribers how to evaluate frames in the fall to help determine if a colony has 40,000 future bees of winter physiology needed to carry the hive through winter. Remember, all the bees you are seeing now as adults will only live until Thanksgiving. They are mostly summer bees which die in 45 days. Bees of winter physiology live 4-6 months. Are you missing the steps needed to raise winter bees?
Here are several ways to get caught up to speed on "Getting Your Bees Through The Winter".
Online Course - Learn how to get your bees through the winter with David's new online course, from the comfort of your home. Watch the video lessons when you want. Comes with one Free month of coach with David.
Click here for more info
"Getting Your Bees Through The Winter" - David's eBook on Amazon.
Click here now.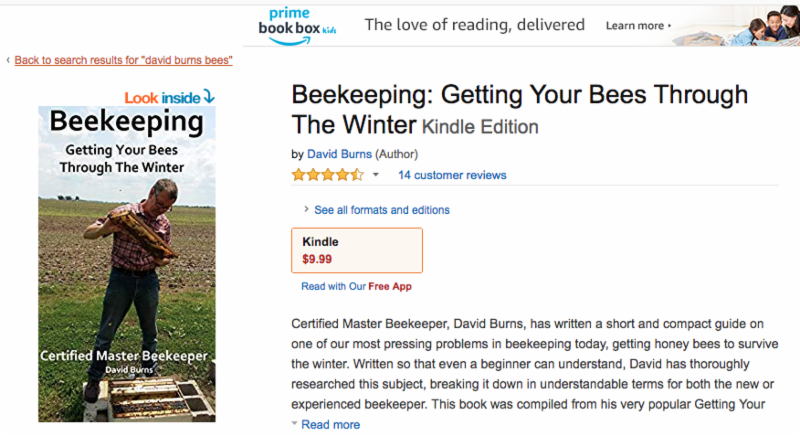 Fall Tips
David has an entire article dedicated to explain bees in the fall. One thing David writes about is mites. Mites are shifting from drones to workers and increasing in number, spreading viruses in your colony in the fall. If you think you do not have varroa mites, you are wrong. All colonies have mites. In our winter classes we actually teach you how to test for mites and calculate your hive's percentage of infestation. Do not think you do not have mites simply because you do not see any. You have them! Get rid of them. Mites prefer drones, but now that drones are being killed, mites are now parasitizing your worker brood--soon to be your winter bees. And when mites have viruses, they spread them to worker bees which shortens the life of that winter bee from 6-9 months to 3-4.5 months. That means a bee born in October will live until May or June without viruses spread by mites. But, if a winter bee has a virus it will only live to January or February. Sound familiar? If you do nothing to get rid of mites then your hive will probably not make it to see March or April
...READ MORE
I'm glad you are keeping bees or thinking about it. Thank you for supporting our family business for all your beekeeping needs.

Sincerely,
David and Sheri BurnsLong Lane Honey Bee Farms
217-427-2678
New Fall Hours:
Monday Closed
Tuesday 10am - 4:30
Wednesday 10a- 4:30
Thursday 10am - 4:30
Friday Closed
Saturday - Our store is open by appointment only
TIP OF THE DAY: When to feed liquid sugar and when to feed a candy board: A colony will cluster when temperatures reach 50 degrees (f) or below. At this temperature bees will no longer consume liquid sugar water. My rule of thumb is that when bees are no longer flying due to colder temperatures it is best to place our winter-bee-kinds on top of your brood nest area. This allows the winter cluster to continue to have the added food as insurance. You've worked so hard to keep your colony healthy all year. So don't let them starve this winter.