WA families are being ripped apart by a self-styled cult leader whose followers believe they have repressed memories of rape.
About 20 people have become devotees of a New Age "healer'', Matthew Meinck, who owns a retreat property in Chittering Valley.

Meinck, an Australian-born former monk, believes that people retain in their bodies memories of abuse that can be retrieved during intense deep-tissue massage, regressive therapy and gruelling meditation sessions lasting up to two weeks.

The Sunday Times has interviewed eight people who were under the influence of Meinck from about 2003.

During long retreats at the property, they became convinced they had been sexually abused by parents, extended families, workmates and - eventually - each other.

Several laid complaints to police and one man even confessed to "raping'' his children and a babysitter before being admitted to Graylands Hospital and realising the memories were not real.

Another man was so convinced he was a dangerous rapist that he almost committed suicide.

An investigation by The Sunday Times has revealed allegations of assault, threats and intimidation at the Chittering property.

It is believed that a core group of a dozen people, including a child aged 10, are still involved in the cult.

The estranged husband of one woman believes she has spent all her money on Meinck's "therapy''.

The former members, most of whom left the group in the past year, did not want to be publicly identified because they were concerned about the impact on their employers and children.

They signed legal documents swearing their statements to The Sunday Times were true.

Most work in responsible professions and have paid Meinck tens of thousands of dollars.

Some have spoken to police and made formal complaints to the Department of Commerce. They hope the department will shut down Meinck's retreats and counselling business, Real Intelligence.

"Matthew made me start to doubt what was real in my life,'' said a woman in her early 30s, who is living overseas.

"I didn't see my parents for two years. Matthew talked me into needing space from them, that they were doing damage to me.

"I trusted Matthew so much, I believed that anything he said was true.''

The woman, who initially found Meinck's therapy helpful for controlling anxiety attacks, said she now saw his group as a cult and believed she had been "brainwashed in a subtle way''.

"It's a belief system in what Matthew believes,'' she said. "It's like he's playing God, telling people who they can talk to, what they can do.

"There's the isolation (and) being scared to leave. If people leave, they're `doing a runner on themselves', `not facing up to themselves'.''

In 1994, Meinck wrote and published the book Discovering the Nature of Mind: A Healer's Guide to Enlightenment. In it, he recalls incarnations and gives detailed descriptions of his birth.
[...]

The head of the School of Psychology at Edith Cowan University, Craig Speelman, evaluated recordings of Meinck's "counselling'' sessions and transcripts of interviews for The Sunday Times.

Prof Speelman, who specialises in the field of memory, said the "repressed memories'' elicited by Meinck were highly implausible.

He said it was understandable that people involved in a tight group with a charismatic leader over several years could believe in false memories, particularly if they were looking for reasons why they had been unhappy.

"They seem intelligent and articulate, but it is quite bizarre,'' he said.

"The fact that it was happening in a group situation, upping the ante each time (with more traumatic and recent "memories''), helped everyone believe it.

"I suspect that this Matthew doesn't allow any critical questioning so it all seems to keep reinforcing itself. It becomes the only way to think.

"The long meditation sessions break down resistance. It's a very intense environment.

He pushes them through the pain barrier and they are trying to please Matthew by doing this.''

Prof Speelman said there were "certainly sinister elements'' to Meinck's group, similar to other cults around the world.
[...]

Bizarre secret cult ripping families apart, Colleen Egan, Perth Now/The Sunday Times (Australia), Jan. 17, 2009 -- Summarized by Religion News Blog
See also
More lives ruined by cult, Colleen Egan, in The Sunday Times, January 23, 2009

The response to our story last week on New Age cult leader Matthew Meinck has been overwhelming. I have been inundated with phone calls and emails from people who have had dealings with the Chittering Valley retreat owner, who has convinced a core group of about 20 followers that they have repressed memories of being raped and raping others. Eight of Mr Meinck's former devotees, who left his group in the past year or so, gave a fascinating insight last week into the charismatic former monk's bizarre world.

Cult leader dupes Perth families, Colleen Egan, The West Australian Mon, 5 April 2010

A self-styled New Age cult leader who has been blamed for fracturing Perth families with false claims of sexual abuse is continuing to operate in the Chittering Valley. "Counsellor" and massage therapist Matthew Meinck, who charges about $1000 for meditation retreats, is believed to have a handful of devoted followers.

False memories of abuse shatter families, ABC Local, April 6, 2010

A self-styled New Age cult leader who has been blamed for fracturing Perth families with false claims of sexual abuse is continuing to operate in the Chittering Valley. "Counsellor" and massage therapist Matthew Meinck, who charges about $1000 for meditation retreats, is believed to have a handful of devoted followers. For about a year, Perth schoolteacher Britelle Humfrey believed she was the victim of horrific abuse by her father and brothers. She thought that growing numbers of friends had raped her and eventually that she had become an abuser - and that her memories had been repressed. The person who unlocked those memories and provided emotional and spiritual guidance was Mr Meinck, whose teachings include that people "split" into conscious and unconscious beings. Ms Humfrey knows now she was not sexually abused. She was one of a group of professionals leading otherwise unremarkable lives who were caught up in what they recognise, in hindsight, as a cult.
See Also
Over the Edge Video (no longer available at this URL) broadcast by ABC (Australian Broadcasting Corporation) on April 5, 2010. Includes editorial, and a list of research resources (albeit without URLs).
You can rent or buy the broadcast, and read the transcript.
The harrowing story of the therapist whose work led some patients to believe they'd committed or been the victim of shocking sexual crimes. One patient shocked her family with the accusations, one told the police, while yet another was driven to madness.

Across Australia thousands of healers and therapists practice without any formal qualification or supervision. Now reporter Sarah Ferguson shows what happened when one of those therapists used unproven techniques to have his patients delve into so called "hidden memories". The result? Trauma, criminal investigations and families torn apart .
• Matthew's Murky Medicine (has been set to "invitation only")
• Research resources on False Memory Syndrome
Full story: Bizarre secret cult led by New Age 'healer' Matthew Meinck ripping families apart
See also: Cult Definition
The term 'cult' has a precise definition — or rather, several precise definitions. Which definition is the right one largely depends on the context in which the term 'cult' is applied. Learn more about the definition of the term cult at CultDefinition.com.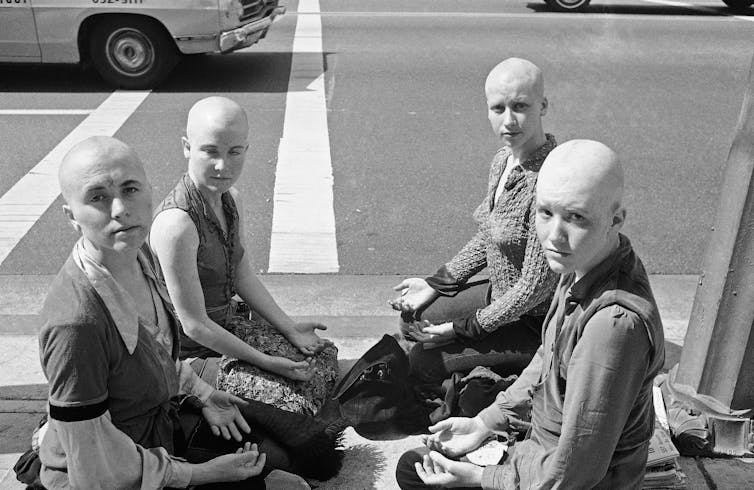 Shane Satterley, Griffith University
Project Mayhem is an all-male cult – but unlike the real cults that Sarah Steel writes about in Do As I Say, Project Mayhem is fictitious. It comes from the mind of Chuck Palahniuk in his masterpiece novel Fight Club, a dark exploration of contemporary masculinity that describes how a group of men come together to form a fringe group with fringe ideas – and how this can go wrong.
---
Review: Do As I Say: How cults control, why we join them, and what they teach us about bullying, abuse and coercion, by Sarah Steel (PanMacmillan)
---
Project Mayhem exhibits many key elements of what we see in cults.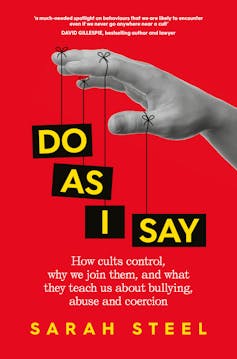 In Do As I Say, Steel (creator of the podcast Let's Talk About Sects) explores how cults usually exhibit some of the following attributes: they have unique in-group language, they require intense work schedules of members, their leaders will often deliver endless sermons, and they will restrict access to media. Members are directed not to ask questions, and professional help or healthcare and outside information are restricted.
Perhaps most importantly, cults use a method that experts now refer to as coercive control – an act or a pattern of acts of assault, threats, humiliation and intimidation or other abuse that is used to harm, punish, or frighten their victim into conforming.
This form of psychological manipulation is a key part of the fabric of domestic abuse relationships.
Triggering events
Steel reveals members of cults usually experience a triggering event prior to joining. This is backed up by various scholarly sources who've written about religious conversion and those who join extremist groups.
A triggering event may be something like a divorce, the death of a loved one, or another event that's traumatic, or perceived as traumatic. These themes have been noted by sociologists such as Emile Durkheim and Max Weber, who wrote about how fringe religious groups come about during times of societal unrest.
For Durkheim, religion (and other social norms and values) act as a kind of social "glue". In times of rapid social change, existing rules, habits and beliefs no longer hold. This produces an environment ripe for exploitation – usually by a charismatic man with all the answers to your problems.
Durkheim referred to this personal feeling of change (loss of existing rules, values, beliefs) as "anomie", which basically means everything in your life has gone to shit, producing a desperate need to find meaning, belonging and control again (or perhaps for the first time).
Cults and control
This is where the study of cults gets interesting and even controversial. As Steel outlines with countless examples, cults often seek to control every aspect of one's mental and physical existence.
Unless one is born into the group, as Steel also notes, people (overwhelmingly women) choose the group for themselves, albeit without information about its darker aspects. The question is: why on earth would anyone find groups like these appealing?
The need for order, structure and certainties are part of the answer. These have been shown to be common psychological traits for those who lean more to the political right. However, research is showing these factors are growing universally common.
This is the tragedy of cults and other extreme groups: as Steel notes, they exploit freedom of belief, freedom of association and freedom of religion – with often abusive and damaging outcomes.
Everyone loves freedom, for good reason. It's the foundation of liberal democracy. But unrestrained freedom without a sense of structure, meaning, and order is psychologically unstable – for societies and individuals.
Take, for instance, the feminist issues Steel raises in relation to cults: curtailment of reproductive rights and rights for children, and issues with problematic male leadership. Within many cults, Steel notes, women's rights are severely curtailed through controlling relationships, limited choices and subservience to the often-male leader, or men in general.
As Steel explains, Australia has been clear that when it comes to immigration, if imported misogynistic belief systems clash with Australian values, Australian values (including women's rights) should win. But cults appear to slip through the cracks, as they can hide behind freedom of religion.
Where women's rights should prevail, according to Steel, there appears to be less appetite to investigate and prosecute woman's rights violations within religious organisations. Steel also provides some social commentary around the "problematic" way we raise young men as leaders. But there are some other factors worth considering.
Cults and the appeal of 'family'
Why do ostensibly free individuals join these types of restrictive and often damaging groups, obsessed with female reproduction and sex?
From the 1960s, the contraceptive pill for women (making it easier to choose pregnancy or not), the legalisation of abortion (which has just become complicated in the United States, of course, with the repeal of Roe v Wade) and easier access to divorce have meant new levels of freedom for women. More choice – for men and women – as to what a family might look like has also introduced uncertainty.
During this same period, there's been a massive increase in fatherlessness and single motherhood. And in the US, 2019 Justice Department figures show 70% of juveniles in state-operated institutions are fatherless. Cults are religiously conservative expressions of a wish to return to the time when sex was a huge deal, because the cost to both men and women was so high – and to return the man to inside the family unit (at any abhorrent cost).
Chuck Palahniuk has lamented that his book is one of only two works of fiction that address contemporary masculine issues and what it means to be a modern-day man (the other being Dead Poets Society). The main characters in Fight Club discuss whether they should get married. Jack says to Tyler, "I can't get married, I'm a 30-year-old boy". Tyler responds, "We're a generation of men raised by women, I'm wondering if another woman is really the answer we need?"
Steel notes cults are a feminist issue – which they undoubtedly are. But women's issues do not exist in a vacuum. The factors that have led to single-mother houses, with fathers absent, have been pervasive since the 1960s. Generations have experienced fatherlessness. And there's a phenomenon of dad-deprived boys. So it shouldn't be surprising cults mimic a family with a male leader.
The characters in Fight Club go on to create Project Mayhem, a cult in which you "do not ask questions", with the catchphrase "In [cult leader] Tyler we Trust". Sound familiar? Where Fight Club diverts from reality is that a cult or a terrorist group is never purely nihilistic, like Project Mayhem, a group with the anarchic goal of tearing down society completely and starting again.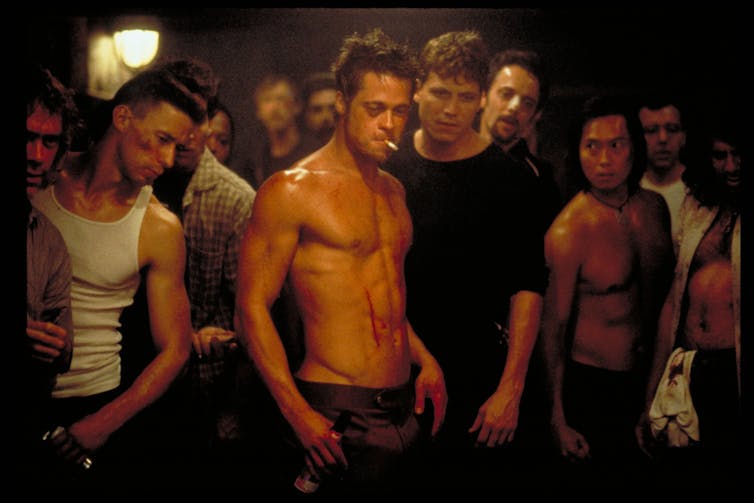 Cults and terrorist groups differ in that the former seeks to control themselves and the latter seeks to control themselves and society. There is some overlap, as religious cults often have apocalyptic and doomsday "prophecies" – but they require members to have their own houses in order before the apocalypse, to avoid hellfire.
Do As I Say is a heartbreaking and compelling read for anyone interested in the way in which cults and extreme groups come to be, control and ultimately exploit the very freedoms we enjoy in the West.
Sarah Steel shows how our desire for meaning, love and social connection can have tragic outcomes when misdirected. This book should give us pause to consider how we can put meaning, order, and structure into our own lives without giving into religious lies, conmen and the most restrictive conditional love.

Shane Satterley, PhD Candidate, Griffith University
This article is republished from The Conversation under a Creative Commons license. Read the original article.
See also: Cult Definition
The term 'cult' has a precise definition — or rather, several precise definitions. Which definition is the right one largely depends on the context in which the term 'cult' is applied. Learn more about the definition of the term cult at CultDefinition.com.
Full story: Religious lies, conmen, and coercive control: How cults corrupt our desire for love and connection