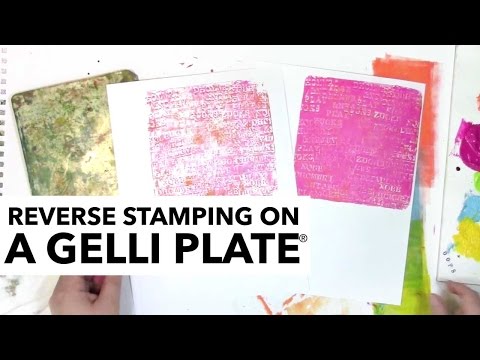 I was super excited to see these rubber stamps of the alphabet that you can snap together in words and even rows of words! Back when I manufactured custom tools for metal clay, I was super into tools for writing and actually worked on creating a tool like this.
For metal clay use, this particular tool will only be useful if you're making your own texture plates, since the letters are reversed. I still just had to mention it here because — it's so cool!
Available from LesleyRiley.com.
I made a necklace. When you say the title, notice there's no exclamation point, say it kind of flatly.
What's the story behind this? We often travel to the east to visit family, which we love doing, and also, the drive is a long slog across America, so many tollroads that all look the same, with the same roadside stops.
One thing we do to break up the monotony for the kids is let them choose and buy a squished penny. Yes, they really sell souvenir squished pennies at the oasis stops on the toll road! (I always see other kids begging for one, but their parents are less fun than we are, apparently.)
A few years ago, I started buying them for myself too, not just for my kids. By this year I'd saved up more than enough to make a necklace.
In the grand tradition of my art about #firstworldproblems, this one is lamenting my lack of travel to far away and glamorous places.
Alright, that's the back story, let's see some close up shots.
Materials: Bronze chain, rosary chain with glass beads, bronze toggle clasp, pennies, bronze finish brass jump rings, brass circle pendant, cast bronze jack and ice cream cone, steel wire shaped into circles, and a rock.
All images and the necklace itself are Copyright Elaine Luther 2016.
Every time I submit an application that requires photos, the size requirements are different! And I do this just infrequently enough that I forget how to resize photos in Photoshop.
Perhaps you find this whole thing as frustrating as I do?
Last week, I was working on an application and thought, "There should really be an app that makes this easier!"
And guess what there is!
Here's a web-based option:
Yes, it's cluttered with lots of tacky ads, but it's quick and super simple to use. You can specify exactly the pixel size you want, which was very helpful, since that's what I needed. You can't get very exact in terms of the dpi, which matters if the place you're applying to has specified an exact dpi.
The site offers the qualities, "good, better, best."
For the photo I tested, their "better" quality turned out to appear to be 72 dpi, but that may not be exact enough for your needs.
If you want to be more exact, or if you want to resize a whole folder of pictures at once, iResize is free and easy to use.
https://www.macupdate.com/app/mac/13039/iresize
The application I was working on was for an artist in residency and they wanted 12 photos. I exported my 12 photos from Photos to a folder on the desktop, then dragged the folder into iResize, specified the size I wanted and boom! With the click of a button, it was done!
It gives you choices in how to name the newly sized images, so I could tell which ones were my sized photos and which ones were my originals.
It does the job and for free! I love it! If you give it a try or have something similar to recommend for PCs, please leave a comment, thanks!