---
Rock-a-Hula Dance Party August 12th in Seattle
Did you know that that August 12th is International Tiki Day?  Yes!  Celebrated World-Wide since 2002, it's always the 2nd week of August, and Seattle's celebrating with their Rock-a-Hula dance party at Club Sur in Sodo on Saturday, August 12th at 7:30pm.  4 bands, DJ's, delicious Polynesian-inspired cocktails and food of the Islands.  Details below!  Photos below!  Contact us for more details at 206-399-9565
ROCK-A-

HULA

!

Celebrate International Tiki Day! 
With two rooms full of fun with four great bands…
Saturday August 12th
Club Sur 
2901 1st Ave S in SODO
The Boss Martians- Seattle original surf and garage rock guru's

The Black Crabs- Rockabilly & Swing 
The Ukadelics- 9-Piece Classic Tiki Tropical Orchestra
In the Don-Ho Lounge:


The Tiki-Graphs (playing 2 sets) Playing all the hits of the genre
Plus DJ Vodka Twist spinning all night
Show Tickets only $12 advance
THE BOSS MARTIANS
JOHNNY7 and the BLACK CRABS
THE UKADELICS
DJ VODKA TWIST
The post Rock-a-Hula Dance Party August 12th in Seattle appeared first on Seattle Arts, Events, Culture.
Georgetown Carnival Arts Festival on June 10

Step right up the 12th annual Georgetown Carnival on Saturday, June 10 from noon to 10:00 PM. This colorful community arts festival celebrates the creative diversity Seattle's oldest neighborhood. FREE family fun all day long!


This year's edition features free concerts by Northwest rock stalwarts Mudhoney, Young Pioneers, Tom Price Desert Classic, and Thee Sgt. Major III, joined by Pink Parts, Gibraltar, Mia Day, Shasta Bree, Sazerac, Jacque Larrainzar, Kelli Francis Corrado, Barton Carroll, Danny Godinez, Tobias the Owl, Our Dead Fathers, Megan Krantz, and R L Heyer. DJ Brownstone, Selector Dub Narcotic, and DJ David Baca will spin platters between acts.


The festivities begin at noon with the traditional performance by Georgetown's Eagles Aerie #1 Brass Band (the oldest performing band in the Pacific Northwest.) Young acrobats from Georgetown's School of Acrobatics & New Circus Arts (SANCA) and students of Seattle Drum School perform. Spin art, Minions, arts & crafts booths, art cars, food trucks, beer and wine gardens, Equinox Studios interactive art, and carnival games provide entertainment for audiences of all ages. Georgetown Clown Town includes OddMall Alley, J. P. Patches museum, sideshow attractions, and a show of contemporary clown art by Augie Pagan, Kelly O, Tamlin Marx, Doug Parry, Emilie Shepherd, Hector Tellez, Marc Palm, and Henry.


Another annual attraction of the Georgetown Carnival is Hazardfactory's Power Tool Races! Contestants of all ages fashion amusing drag racers from power tools of all varieties. They compete in thrilling side-by-side heats for trophies awarded in several categories.


Georgetown's many galleries, studios, nightclubs, restaurants, and boutiques participate with special programming. Don't miss this festive, FREE event on Saturday, June 10 on the streets of Georgetown's Airport Way S business corridor.
The post Georgetown Carnival Arts Festival on June 10 appeared first on Seattle Arts, Events, Culture.
Music, Comix and Multimedia Art at Fantagraphics Bookstore

Join us for an evening of art, comix, media, and music this Saturday, May 13 at Fantagraphics Bookstore & Gallery from 6:00 to 9:00 PM. We'll host a reception and exhibition of original art by cartoonist Cathy Malkasian. She will discuss her new graphic novel Eartha in conversation with Fantagraphics Books publisher Gary Groth at 6:300 PM, followed by a book signing.

The event will also include the video installation Patience, Atlas. This dance performance documentary from Marion Walker is presented in association with Georgetown Records. The stop-motion video captures a dancer stranded in the waiting room where patience is paramount and the weight of the world eventually tears everything apart. This festive evening will conclude with a concert by the Knights of Trash, performing music from their new self-titled EP.

Don't miss an exciting night of contemporary multimedia art. This event coincides with the colorful Georgetown Second Saturday Art Attack featuring lively visual and performing arts presentation throughout the historic neighborhood. Fantagraphics Bookstore is located at 1201 S. Vale Street, only minutes south of downtown Seattle. Open daily 11:30 to 8:00 PM, Sundays until 5:00 PM. Phone 206-557-4910.

The post Music, Comix and Multimedia Art at Fantagraphics Bookstore appeared first on Seattle Arts, Events, Culture.
Coyote's Annual Spring Art Sale May 12th
Amazing art sale to benefit Coyote, with over 20 artists at the home of Julie and Dan Little at 1121 23rd Ave. E, between Prospect and Highland on Capitol Hill.
Drop by for a day of incredible art, mouth-watering grub, and really, really good company!
This event is casual and open-house style, so come when it suits you! Mingle with the artists, grab a bite to eat, shop a ton of unique art, and enjoy the afternoon with us. While you get your shop on, you'll be supporting local artists AND Coyote!
Jewelry, Furnishings, Ceramics, Fashion, and more…
|| FEATURED ARTISTS ||
jennifer bennett
laurie conklin
dorit ely
joe max emminger
pat espey
liz gamberg
noble golden
robin hall
joyce halldorson
elena korakianitou
tracy krauter
lavera langeman
nia michaels
michaela miller
kristin nelson
julie paschkis
anne poulson
christina reed
carol rashawna williams
britt rynearson
ingrid savage
stephanie simpson
jil smith
joanne sugura
lana sundberg
sue zell
mike zitka
The post Coyote's Annual Spring Art Sale May 12th appeared first on Seattle Arts, Events, Culture.
Live Drumline Exhibition with Seattle Seahawks, UW Drumline, WSU Drumline at Garfield May 20
It's time for the 9th annual Garfield BDX Drumline showcase, a live drumline exhibition with the Seattle Seahawks, UW, WSU and Garfield Drum Lines!
Let MC Logic Amen and Tamao George Yasutake (DJ Surreal) take you on a journey from group to group supporting youth in school music programs.
This year there are 15 exciting Drumlines to make your Saturday a great day! This event is very family friendly and will have you dancing in your seat. *Set list is posted at the bottom.
New to the lineup this year are both the University of Washington Husky and Washington State University Cougar Drumlines.
Also enjoy a performance from the Seahawks Blue Thunder Drumline. This is traditionally the first full group performance of the season for Blue Thunder.
Tickets are $10 at the door.
Food and drink will be sold in the concession stand.
All proceeds go directly to the Garfield High School Drumline program!
Please invite your friends!
Thank you so much for supporting local and live music!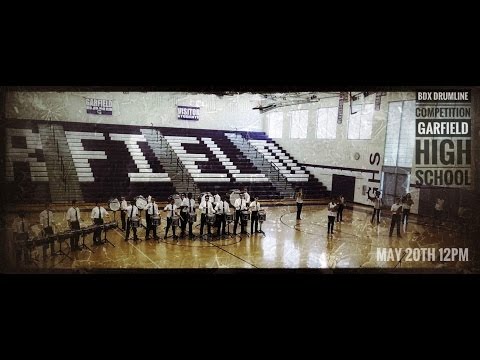 ______________________________________________
2017 BDX Performance Order
Preshow
11:30 DJ Surreal & Guest Band
Main Event
12:00 Washington Middle School
12:08 Bellevue High School
12:16 Cleveland High School
12:24 Life Christian High School
12:32 Cascade Sound Percussion
12:40 Lake Stevens High School
12:48 Thomas Jefferson High School
12:56 Lincoln High School
Intermission
1:25 Garfield High School *
1:35 Roosevelt High School
1:43 Glacier Peak High School
1:51 UW Drumline *
1:59 Emerald City Boom *
2:07 WSU Drumline *
2:15 Seahawks Blue Thunder *
* Indicates exhibition performance
The post Live Drumline Exhibition with Seattle Seahawks, UW Drumline, WSU Drumline at Garfield May 20 appeared first on Seattle Arts, Events, Culture.
Email subscriptions powered by FeedBlitz, LLC, 365 Boston Post Rd, Suite 123, Sudbury, MA 01776, USA.