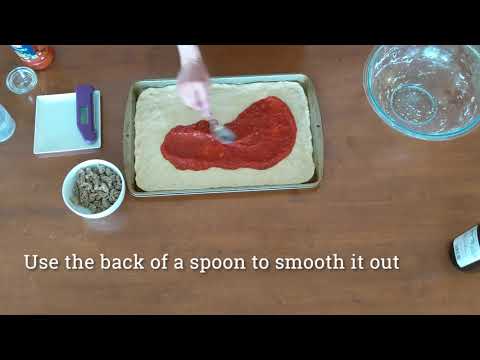 I made a video!
I also made pizza. This is a video to go along with the freezer-style pizza that I make on the regular. I call it freezer pizza because the quality of it is very like those cheap pizzas you get from the freezer at the supermarket. They're definitely not gourmet, but they taste great. I started making this one several years ago when ordering pizza wasn't worth it any more because it took over an hour, was often lukewarm when it arrived and frequently upset my stomach. I realized that the one I made took about 30-35 minutes, was always piping hot and I never got sick from it (unless I ate way too much). Bonus: the extras freeze up really well so this actually means I get a pass for dinner later in the week (or it's an extra homemade meal for my husband when I'm out of town).
Anyhow, here's the recipe. Hope you enjoy!
Ingredients:
Dough
1 tbs active dry yeast (1 use red star)
1 cup water at 105-115 degrees F
3 cups flour
1 tsp salt
2 tbs olive oil plus oil for the pan
Sauce
1 package of Pomi (either strained tomatoes or tomato sauce. If you using strained, you'll want to cook it down a bit more so it's not as watery)
desired spices such as garlic, oregano, basil, a few flakes of crushed red pepper. I use about a tbs of each and a pink of the red pepper.
salt and pepper to taste (but typically around 1 tsp each)
Alternatively you can use some store bought spaghetti sauce like Barilla which is what I do when I'm feeling lazy (as in the video).
Toppings
1 package of mozzarella or other cheese you would like
optional items: sausage, mushrooms, black olives, bell peppers, anchovies
Directions:
Preheat oven to 450 degrees. If you're using a pizza stone (yes, you can use it with the pan sheet), make sure that's in there to pre-heat as well. Technically you should pre-heat for an hour, but I never have that kind of time.
Mix the water and yeast together. Allow to sit for about 10 minutes to bloom (it should get foamy).
If you're not using pre-made sauce, now is a good time to get the sauce going so it can simmer while you do the rest. For the sauce I just put it in a frying pan to allow more evaporation, add the spices, and get it mixed. I'll usually taste it to make sure it's how I like it. Then just stir ever so often.
Similarly, if you are using a meat topping, now is a good time to cook it.
Add flour and salt to a large bowl. Give it a stir with your hand.
Add the 2 tbs olive oil to the flour/salt mixture. Also put some olive oil on your sheet pan while you're at it. Maybe another 2 tbs or so.
Add the yeast mixture to the flour/salt/olive oil. Mix (I use a single finger) until most of the liquid is absorbed.
Begin kneading. I do this right in the bowl because I don't want to make more mess, but you could pour it out and do it on a table. I recommend moving the bowl to a table so you can use your body weight to help with the kneading and save your arm strength.
Continue kneading. It'll look really shaggy for a while and you'll think, "oh noes! this is never going to come together!" But it will. Just trust. And keep kneading. It takes about 5 minutes of kneading. You don't need to be aggressive. Just enjoy the feel of the dough beneath your hands. Gradually pull in the the extra bits of flour in as the dough becomes wetter, scraping the sides. Continue kneading until the dough is smooth-ish. It probably won't get to a perfect smooth ball — or at least I never knead it that long.
Smooth out the oil in your sheet pan so it covers the whole thing and up the sides a bit.
Plop your dough on the sheet pan and begin flattening it out. You can use your hands to smooth it out. You can use your fingers to squish it out gently. I use a combination of all of these. You'll want to get it to the sides and maybe up the edges just a bit. The olive oil will probably pool in the corners. Don't worry about that. It won't make a difference in the end.
Spread your pizza sauce on the dough. I use the back of a spoon to smooth it and get even coverage.
Add any toppings you want except cheese.
Bake for 7 minutes.
Pull out the pizza — I just open the door and slide the shelf out — and add the cheese to the desired amount.
Bake for 7 minutes.
Remove, cut and enjoy. If you want to eat with your hands, give it about 5 minutes to cool and stiffen a bit before digging in.
I've got a massive backlog of projects that I worked on over the last year (or two . . .) that I never posted, so I'll be squeezing those in between more recent stuff. This one here is a set of glitter dot running skirts that I made for the Universal Studios Minion 5K. Courtney and I naturally went as Minions. 
I used this skirt tutorial by Beauty Still Remains. It was pretty easy and the skirts took about an hour or two to do. The part that took the longest was gathering the fabric to attach to the yoke. I hate gathering by hand, but I wasn't sure what the gathering amount would be with my gathering foot. Next time I will probably just use the gathering foot. I've got some glitter dot leftover from a 70's outfit I made and I'm pretty sure it's just enough for a skirt. It'll be great to use the leftover scraps for something useful!
The blue glitter dot was less than $4 a yard from fabricdirect.com. I happen to order from there because they had some other fabric I wanted, but you can pretty much get it anywhere. I know JoAnn's typically carries it as does CaliFabrics which I like ordering from since they're local.
The front and back are pretty much the same so you can't go wrong no matter how you put it on!
I recently had the opportunity to pattern test the Morrison Top and Dress from Blue Dot Patterns. This was my first time pattern testing. I had applied to various indy patterns for testing before, but this was the first time I'd actually been chosen. It was a lot of fun! I really enjoyed seeing the different stages of creating a pattern and I feel like I was able to give some decent feedback. It was nice knowing you might help make the process easier for someone in the future. Plus it's fun to feel like you're in on the secret before everyone else

As it turns out the Morrison Top is a fantastic pattern. I love the one I made and I plan to make more. Especially since for smaller sizes you can actually make it with just a yard! I was able to at least with a bit of fabric Tetris

It's simple enough that a beginner can do it or someone more advanced can knock it out in an hour or two tops. And given its simplicity, it's also very hackable.
I made both the size 4 and size 6 when I was testing. I ultimately ended up doing a 6 on top graded to a 4 at the hips, but if/when I make a dress version, I'll probably do a straight size 6. I really like the overall shape and that this pattern doesn't grab in the armpits as I find so many do. I can just toss it on and look polished for work with little effort.
The only adjustment I made was to take out an inch at the top back and grade that to nothing at the hip, but this is an adjustment I have to do on almost everything. The neck binding was perfectly sized between the notches, and I like the easy, clean finish on the armholes. I made mine out of a single yard of 56" rayon poplin from Stonemountain Daughter & Fabrics. It was the perfect Valentine's Day top!
While I get photos of some other stuff together, here's a photo of another quilt I finished. This one was for my cousin's little girl. I used fat quarters from the Wonderful Things line in the color way Honest Whispers. For the pattern I used the Fat Quarter Shop's Fat Quarter Fizz Quilt Patternbecause I wanted to showcase the fabrics which I really loved.
In fact, I loved the fabrics so much that I couldn't bear to waste any so I reused them again on the back. In some ways I love the back even more than the front on this quilt! I had one extra square from the front so that's what I did the embroidery on for the back.
For the quilting, I used a technique I'd been wanting to try. For this technique you use a wavy stitch on the machine, increase the length a bit and then just move it forward. All in all pretty easy, but it gives such a neat effect. You can see the quilting a bit more in the photo above.
For the edging I, I had a lot of the pink and I wanted to use that for the binding, but I needed some sort of visual divider. So I took the leftover backing after trimming the backing and binding and made a flat piping out of it. I really like how it turned out and would definitely use this technique again.
Overall, really pleased with how this turned out and so was little Izzy (well, at least her mom

This is just a fast post while I get some other stuff together. This is the sports bra from Butterick B6295. Well, it's the sports bra (A) with the straps of the top (B). I had this extra fabric from a costume I made as well as a skort and I thought it would be a cute set (I wonder what happened to those photos . . .) and decided to try it out. This one turned out pretty well, but not as supportive as I would have liked and the fabric for the bra pad lining was a bit thick in my opinion. The skort was too big so I decided to donate the set, but I would consider making this again without the bra pad layer.
More Recent Articles