Gretzky, acrylic on trading card, 2.5x3.5", 2011
This first of my hand painted Parkhurst cards has finally turned up on
Ebay!!
I have been monitoring the site, waiting for one to appear. The other cards by other artists were going for an average of $50 after all bidding. My card has had only 3 bids so far and is already at $150!!! I hope you'll check it out
HERE.
Thanks for the opportunity to do this, Upper Deck. Best of luck to all the collectors out there bidding on this great little masterpiece. - Jared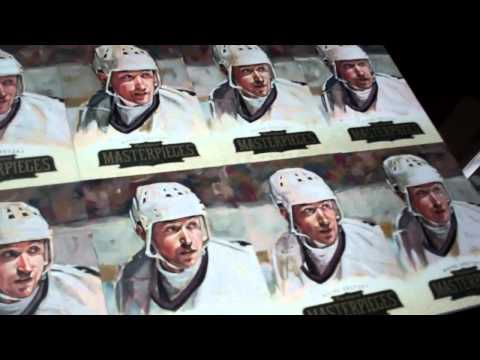 This is a sneak peak at the work I did for Upper Deck on their Parkhurst Hockey series, scheduled to hit the shelves on Oct.20th. I painted 10 cards each of Mark Messier, Wayne Gretzky, and Gordie Howe. Each was painted directly on a blank trading card and will be a very cool pick for some lucky, random customers. You can also see close-ups of these paintings on my
Facebook page
. Enjoy - Jared
After wrapping up the Presidential mini portraits for Upper Deck Trading Cards earlier this year, I was contacted by Dr. Brian Price, CEO and President of In The Game Trading Cards, and offered an opportunity to do hand painted cards for the Sport Kings line. After seeing the loyal attitude that Sport Kings embraces regarding art in their cards, I felt like it was a great chance for me to showcase more of my talents. I signed on with them for the 2012 season. More detail is available about the upcoming work at the
Sport Kings website
.
The photo included (Magic Johnson) is one of the many cards that will be available for the 2012 release. Hand painted on an actual trading card, signed by me on the back and will be available in packs of cards starting 2012.
I've added a couple more of my Dog portraits to
Ebay
. The time is running out on several of my previously listed paintings, so if you haven't ventured over to the
listings
, please check it out before it's too late! These are great pieces and I have started the biddings at a VERY affordable price point. Contact me for more info if needed. Thanks and Enjoy - Jared
For everyone that has been awesome enough to support me in my blogging efforts and who continually give me words of encouragement in my art endeavors, I want to let you know that I have started my first few auctions on Ebay. I have many paintings taking up space in my studio and I would like to sell some of these great pieces. I have started the bidding considerably lower than the "buy now" prices listed in this blog. To see which paintings are up for bids
CLICK HERE
! Bidding ends in 9 days, so check it out soon! Thanks - Enjoy!
More Recent Articles