Here is a sample subscription for leanne.pugliese@gmail.com
Hello, everyone! Laurie is our
Paper Players
hostess today with a sweet little sketch! Check it out:
This is the time of the year that I am torn between playing with new goodies or trying to use up some retiring goodies that I still have LOTS of! This Serene Scenery DSP is just so pretty, I admit to hoarding it a wee bit, so I forced myself to use this sweet dandelion scene along with the retired Banner Blessings and soon-to-be-retired Kinda Eclectic:
I stamped the sunburst in So Saffron, then the sentiment on top in Early Espresso. I stamped it again on some scrap cardstock and cut out the little banner so that it would extend outside the edge of my square. I added some mats, sequins, and burlap trim, then stamped a dear little sentiment from March's Paper Pumpkin below....I thought the two sentiments complemented each other nicely!
The design team has outdone themselves with this sketch...you can see all of their creations at the
Paper Players blog
! I hope you will play along with the sketch and use some of your new--or old--goodies too!
So....we went to a wedding Friday night; it was in a barn, but it was very nicely done. I am still trying to learn how to do a selfie, LOL!
Then bright and early Saturday morning, we did our little town's Memorial Day parade; John marched behind the color guard:
Then participated in the 21-gun salute with some of the other veterans:
Then, all afternoon, we started dismantling the kitchen....the fridge and stove are out in the garage, the cupboards are bare, and today, the rest of it will be gone...ready for the wall to come out!
Enjoy your day and be blessed!
Project Details--All Supplies Stampin' Up!
Stamps
Kinda Eclectic, Paper Pumpkin (March 2017), Banner Blessings (ret)
Card stock & Papers
Thick Whisper White, So Saffron, Early Espresso, Serene Scenery DSP
Ink
So Saffron, Early Espresso
Accessories
Tip Top Taupe Sequins, Burlap Trim
Tools
Big Shot, Layering Squares Framelits, Stitched Shapes Framelits, Dimensionals, Corner Rounder Punch








Related Stories
Happy Saturday, peeps! I feel like this week has been a whirlwind and I haven't gotten in enough stamping time! Last night we went to a wedding, today is the Memorial Day parade and tomorrow we start dismantling the kitchen! Yikes! I did sneak in some crafty minutes yesterday morning and made a masculine card with the
FMS sketch
:
I had Swirly Bird on my desk from another project (which I'll share later) so I thought I would combine it with the stars from Wood Words to make a masculine card, good for a birthday or maybe even Father's Day card:
The background is the new Wood Textures DSP; I also used it as the water, sponging it with Marina Mist, and stamping the stars on it as well in Marina Mist, Real Red and Craft White. I stamped my little sailboat in the same colors, made it float on the water, surrounded by a Stitched Shapes square frame, and it was about done!
I did add some star embellishments as well as a sentiment from Colorful Seasons! I love this vintage look!
The roofers were able to finish yesterday:
and that huge blue tarp made for some interesting special effects in Cassidy's bedroom:
Truthfully, the picture doesn't do it justice....it was like a dark blue night sky with little starlights showing through....reminiscent of Van Gogh's Starry Night!!! It looks more like an aquarium here!
She loved it! Thanks for popping in and have a blessed day!
Project Details--All Products SU! Unless Otherwise Noted
Stamps
Swirly Bird, Wood Words, Colorful Seasons
Card stock & Papers
Whisper White, Real Red, Wood Textures DSP
Ink
Marina Mist, Real Red, Craft White
Accessories
Enamel Stars
Tools
Big Shot, Stitched Shapes Framelits, Layering Squares Framelits, Dimensionals








Related Stories
Happy Thursday, peeps! My friend Billie came over on Monday to make a couple of graduation cards and we needed some ideas, so we trolled Pinterest to get some! I apologize for the photos..they were taken on my kitchen table, LOL!
Billie's grandson will be graduating soon, and his school colors were navy and burnt orange, so we made a card for him based on
this card
by demo Doris Denman, found on Pinterest:
We used French Script, stamped on a piece of scrap computer paper to create the diploma; a couple of Paper Pumpkin sets for the sentiment, and Large Numbers dies for the numbers; the inside used a retired set called Adventure Awaits!
Her nephew will also be graduating from the Philadelphia Police Academy, so we thought stars would be a great theme for his card, based on
this card
from SUO Challenges; unfortunately, I couldn't figure out which designer actually made the card to give her credit! We used the Lucky Stars EF, a Nestie star die set and Watercolor Wishes for the sentiment:
We had such a good time stamping together! Billie was one of my very first demonstrators and has been my stamping companion for over 15 years!
No Cassidy pix today, but I wanted to share the mermaid blanket Dana crocheted for Cassidy...looks warm and toasty, doesn't it?! Her own pattern too, my clever girl!
Roofers were here on Tuesday and should be finished on Friday...the weather has not been cooperative this week like it was last week! Enjoy your day and be blessed!
Project Details--All Products SU'! Unless Otherwise Noted
Stamps
Paper Pumpkin, French Script (ret), Adventure Awaits (ret)
Card stock & Papers
Whisper White, Night of Navy, Cajun Craze, Silver Foil
Ink
Night of Navy, Cajun Craze
Accessories
Candy Dot, Narrow Black Grosgrain Ribbon, Navy Brad (ret), Black Embroidery Floss
Tools
Big Shot, Large Numbers Dies, Star Dies (Nestabilities), Lucky Stars EF, Dimensionals








Related Stories
Happy Wednesday, peeps! A quick card today, squeaking it in for the I
n(k)Spire Me
sketch: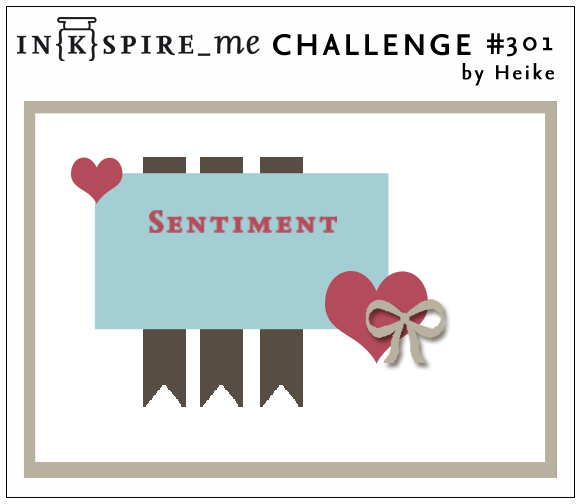 They had me at those three little banners!
This was a snap to put together; the only stamping was the sentiment from Watercolor Wishes and the little pink heart, stamped with Wood Words. Everything else was from a sweet little 6x6 pad by Simple Stories called I Am. I snipped and punched all the elements, then stuck 'em all together on a Powder Pink card base! Isn't this little birdie cute?
I think this will be a wee little bird-day card for someone sweet that I know!! Enjoy your day--be blessed!
Project Details--All Products SU! Unless Otherwise Noted
Stamps
Watercolor Wishes, Wood Words
Card stock & Papers
Powder Pink, I Am DSP (Simple Stories)
Ink
Basic Black, Flirty Flamingo
Accessories
Baker's Twine
Tools
Big Shot, Stitched Rectangle Die (Lil'Inker), Small Heart Punch, Dimensionals








Related Stories
Happy Tuesday, peeps! It's a special day for the Stamp Ink Paper team...it's our 100th challenge! Justin is challenging us to make a card with our favorite products this week! And to sweeten the week, there is blog candy! Check it out
HERE!
I can honestly say that I don't have a single "favorite" stamp...each catalog, each season, each mood brings a favorite for me!! So I really had a dilemma as to how to choose my favorite! But my friend asked me to create a 50th wedding anniversary card for her, so I pulled out a few of my "favorite" products to make my card:
I started with thick white cardstock...I can definitely say that is a favorite, because it accepts ink, embossing and watercoloring very well! Then I found a retired embossing folder which is just lovely, called Elegant Lines, and embossed a white panel to sit atop my card. I know that gold is the color of 50th wedding anniversaries, but I didn't want gold foil, so I still had a few pieces of retired Brushed Gold cardstock and I created a window and a frame for my gold-embossed sentiment from Teeny Tiny Wishes....another versatile, favorite set! It was embossed on vellum, and although you can't see behind it, there is music stamped in gold. My final touches were some gold diecuts from the Flourish Thinlets, numbers from the Timeless Type die, and I added pearl accents to them and the embossed panel as well:
The photos just don't do it justice!! For the inside, I stamped a sentiment from Occasional Quotes in Gold Encore ink and added another gold diecut down the left side:
For even more shimmer, I stamped the flourish from Flourishing Phrases on the envelope in Gold Encore ink...so elegant!
Now just in case you were wondering about "two fifties make a hundred" from the title of my post...my friend also asked me to make a 50th birthday card with a bowling theme, so I printed a computer-generated image a couple of times, fussy-cut some of the pins, colored them and popped them up, to create this card!
I used the Large Numbers die, Labeler Alphabet for the sentiment and the Zig Zag embossing folder for the background! SO...50 plus 50 equals 100, and it's the 100th challenge for Stamp Ink Paper!!! And before I forget, let me show you my blog candy, which is winging its way to Justin to go to some lucky recipient!
A few little SU goodies all tucked away in a wee little package! Hope you play along with us this week! You could be a lucky winner!!
Each child in Cassidy's class made a video of themselves, telling what they liked about their teacher. One parent will put them all together to present to the teacher as a gift at the end of the school year. Cassidy wanted to get dressed up, and she was so wound up, I could barely get her to stand still to take a photo!
But the star of the show was the sandals....sparkly! Too bad they won't make it into the video, LOL!
It's been rainy, so no work done on the addition! But I'll keep you posted! Have a wonderful day and be blessed!
Anniversary Card Project Details--All Products SU! Unless Otherwise Noted
Stamps
Teeny Tiny Wishes, Flourishing Phrases, Music Note Wheel (ret), Occasional Quotes (ret)
Card stock & Papers
Thick White, Brushed Gold (ret), Vellum
Ink
Gold Encore
Accessories
Pearls
Tools
Big Shot, Elegant Lines EF, Large Oval Punch, Scallop Oval Die (Nestabilities), Foam Adhesive Strips, Flourish Die, Timeless Type Die, Dimensionals
Bowling Card Project Details--All Products SU! Unless Otherwise Noted
Stamps
Labeler Alphabet, computer-generated image
Card stock & Papers
White, Basic Black, Real Red
Ink
Basic Black
Accessories


Tools
Big Shot, Real Red Marker, Copic Markers, Zig Zag EF, Dimensionals








Related Stories
More Recent Articles