I'm thrilled to announce that Vanderbilt University Press is publishing an expanded edition of Breach of Peace in paperback this summer. They've let me add new portraits and profiles of sixteen Riders I found — or who found me — after the original edition was published in 2008. I've also updated the profiles of the original eighty-two featured Riders.
We'll have printed copies in hand . . . real soon. Ish. For sure. In the meantime, the book's already generating press: "50 Years After Their Mug Shots, Portraits of Mississippi's Freedom Riders," on the Lens Blog at the New York Times.
On the new cover is Catherine Burks-Brooks, a Rider born in Alabama, a student at Tennessee State in 1961 and a member of the Nashville Student Movement. Burks-Brooks was part of the group that quickly went to Birmingham to keep the Rides going after the violent attacks in Anniston and Birmingham.
Pre-order your copy today.
Winonah Beamer was a Freedom Rider despite the fact that both her boyfriend and mother told her no, she couldn't be one. But she was determined that way.
Her boyfriend said no, Mississippi was too dangerous for her, as he headed out the door to Jackson, a Freedom Rider en route to getting arrested. So he was quickly out of the way. Then her mom refused to sign the parental release CORE required for younger Riders. Beamer was 19. She sad she would forge her mother's signature if she didn't sign it. And that was done.
Beamer continued in her persistence even after she got herself arrested and sent to Parchman. After six weeks — the time at which all the other jail-no-bail Riders were bailing out (to preserve their appellate rights; it's complicated) — she reused to bail out.
"With all the comings and goings, [Parchman] got to feel at times like a supermarket," she told me in 2007. Yes, it was the first time I'd ever heard Mississippi's infamous Delta prison described that way too.
So everyone else eventually left and Beamer stayed, the only person on her cellblock, the last Freedom Rider in Parchman. For three months: September, October and November. "They would let me out to take a shower, twice a week," she said, "and I would run down to the other end [of the cellblock] and tag and run back. That was my exercise, because other than that I was in the little cell."
"My feeling was there needed to be a small footnote, what the state of Mississippi was exacting in terms of a punishment for this misdemeanor. This is what it cost Winonah and Pat [Bryant, a black Rider] to go into a waiting room and sit down next to one another."
"I am here," Gandhi once wrote, "to . . . submit cheerfully to the highest penalty that can be inflicted upon me for what in law is a deliberate crime and what appears to me to be the highest duty of a citizen."
"Actually," Beamer told me, "if you don't mind your own company it's not a bad thing."
Beamer was finally released on Christmas Day, 1961, after serving an additional month back in Jackson (again, it's complicated). Waiting for her outside the jail was David Myers, the boyfriend who told her no. They took a bus back to Beamer's home in Ohio and married the next year. In their careers, Winonah worked with adolescents and adults dealing with profound intellectual disabilities, and David worked as a news photographer and TV news reporter and producer. In 2002 they retired and moved to a home on the Manatee River in Ellenton, Fl.
Beamer died in March, at the age of 76.
Below is an excerpt of my 2007 interview with them, as it appears in the book.
❋ ❋ ❋
David Meyers: I read about the Freedom Ride before it started, about the planning of it. I followed it very closely in the papers. On Mother's Day, May 14, I was home for the weekend in Indiana. That was the day of the Anniston bus burning. I watched that on TV with my parents, and we talked a little bit about it. May 24 was the day of the first arrest in Jackson. When I read about that, it really made me mad that they arrested people who peacefully go in a place and do nothing. The police had chased everybody away, there's no one in there to have any trouble with.
That was the day [David] Fankhauser [another Rider] and I talked about it and I talked to my constitutional law professor, because we had just done Plessy v. Ferguson in constitutional law.
Winonah Beamer: I was not involved in activist politics the way David Fankhauser was, from the cradle. I was just responding to things that were going on. First there was the horrible bus burning. Then when I heard there was a way we could get there and something we could actually do, I wanted to go. But David [Myers] and David [Fankhauser] were just kind of — this was their thing, they were keeping it to themselves.
Myers: No, that wasn't what it was. What it was, really, I told you, I read about these things all the time. I followed them closely and I knew what the dangers were. I had a feeling from the time I left the campus until I got back in Indiana several weeks later that I might not ever come back alive. At that time I could name you all the lynchings and—Mack Charles Parker was taken out of the jail he was in and found in the Pearl River tied up with barbed wire. I knew about all those things and I knew that there is no safe place in Mississippi.
Winonah and I had been good friends from the time we met in fall of '59, her first week in college. [They were both students at Central State University, in Wilberforce, OH.] And one day in March '61 I had a new Leica 500 millimeter lens. I was going out to take some pictures of birds and I was on my Harley-Davidson. I saw Winonah and I said, you want to go with me to the park to take some bird pictures? And she said yes and we started walking down the path and I just reached down and took her hand. And I held her hand and we just walked and walked and we never did take any pictures. And I told her that I had loved her since the first time I had ever seen her and I wanted to marry her. I told her all that that day. So I didn't want her to go to some dangerous place like Mississippi.
Beamer: I wanted to go. And David said no, you can't go. And I said, whoa, whoa, whoa. You're not the boss of me. What is this, I can't go? He and David had by that time met the people and made the contacts and knew how they were gonna get there. And I was excluded.
Myers: David [Fankhauser] and I went around campus collecting money from people. We got in touch with some people at Antioch, where there was a professor, a sociology professor, who knew Martin Luther King and Ralph Abernathy. And he got us in touch with them and some Antioch students drove us to the airport. We flew first to Cincinnati, then to Atlanta, then to Montgomery. A minister met us at the airport and took us to Abernathy's home on Thursday morning, May 25.
Because of the riots the night before, there were National Guardsmen all around Abernathy's house with machine guns and placements behind sandbags and all that stuff. When we got in the house, seated on the couch watching TV, watching the news, in their pajamas with their plates on their laps eating breakfast, were William Sloane Coffin and Ralph Abernathy and Martin Luther King.
We spent a couple of days there, and then went to Jackson.
Beamer: I went to my mother because I was what, nineteen. And I wanted her to write and sign some kind of release thing that CORE really wanted, especially with young people. And so I was telling Mom and my brother, David, another David, came in and he had pictures from Look or Life, I can't remember which, of the Anniston bombing, with the guy picking his teeth out of his bloody face and the bus burning behind him. And he said, Mom, look at this, this is what she's talking about, Mom, listen.
And so Mother said oh, oh, oh, I don't think so. No. No.
And I said, Mother, having gone to all these schools throughout my childhood and with a single-parent mom trying to orchestrate all of this, I have written many excuses and signed your name. I said, Mother, either you write it or I'll write it. I've done it before. I can do it again. This isn't gonna make a difference.
So, she did. She finally signed something. I don't know what it was. But it was something that made CORE feel, like, it was a disclaimer if this child doesn't come back, you said it was all right that she could go. So I went down to Jackson, with Pat Bryant and Heath Rush.
Myers: I was in the city jail in Jackson when Heath Rush walked in the day after their arrest and handed me a note from Winonah, saying she was across the street in the county jail. That was the first time I knew she wasn't in Ohio.
Since then, I never told her that she could or couldn't do something.
Most Freedom Riders bailed out at forty days, which allowed them to preserve their appellate rights. Beamer decided not to bail out and serve her entire four-month sentence.
Beamer: Some people left early, some people a little later, but they all left. We had more than enough people to do legally, whatever they were going to do. Plus, each person who bailed out cost CORE and not just in terms of money but in terms of effort and time and energy and so on.
With all the comings and goings, it got to feel at times like a supermarket. My feeling was there needed to be a small footnote, what the state of Mississippi was exacting in terms of a punishment for this misdemeanor. This is what it cost Winonah and Pat [Bryant] to go into a waiting room and sit down next to one another.
I think the last Freedom Rider bailed out in late summer or early fall. I stayed in maximum security at Parchman until November—
Myers: She spent September, October, and November as the only female prisoner there in a cell by herself and saw no one except prison guards.
Beamer: Actually, if you don't mind your own company it's not a bad thing.
It was a long row of cells, and I was in the front next to the showers, so when they would let me out to take a shower, twice a week, I would run down to the other end and tag and run back. That was my exercise, because other than that I was in the little cell.
Even though Freedom Riders were not allowed to work in prison, since Sunday was not a work day, the authorities decided that Sundays didn't count against Beamer's sentence.
Beamer: They added up a bunch of Sundays and stuck it on the end. I served December in the county jail in Jackson.
Myers: Winonah was going to be released the day after Christmas. I wanted somebody to be there to greet her when she got out. I didn't have any money. And her mother didn't have any money. She wasn't going down there.
I went to a church I had spoken at earlier, the Trinity CME Church on Martindale Avenue in Indianapolis. And church was just letting out and I told the minister that I wanted to be there when Winonah got out and I didn't have the money. He stopped two of the church elders and took them in his office and they came out and one of them said how much money do you need? I told him what I had, and said another $40 would give me all I need to get me down there and both of us back. He handed me $50.
I went down about two days before Christmas. There was an organization called the Jackson Nonviolent Movement out on Lynch Street. But they had kind of disbanded. I went out there and knocked and this guy answered the door. He was living in the back room. He was one of the guys that worked with them, and he didn't have any place to stay. We slept in easy chairs and on the couch and crawled in and out of windows because we didn't have keys to the door.
The house had a phone that would take incoming calls but you couldn't make outgoing calls. Anyway, Jack [Young, the black attorney in Jackson who represented the Freedom Riders] called me on Christmas morning and told me to get down to the jail right away, Winonah was being released a day early. Took a cab down there; it was a black cab that I got in the black neighborhood, where we were staying. When we got ready to leave the jail, we got a white cab to take us back out there; he didn't want to take us.
Beamer: I was just happy to be out and breathing free air. I had met my goal, I was done. We went to this little place that David spoke of and I got to take a bath for the first time in months. And we took a train back—
Myers: No, Greyhound—
Beamer: We took the Greyhound back. When we finally got to Dayton we took a cab from the Greyhound Station to where my mother was living at the time. And we were, I don't know, about a quarter of a mile away from her house and we were watching the meter and as soon as it hit the thing, David says, stop. And we paid the guy and walked the rest of the way. We didn't have quite enough to get home.
How do you tell if a Civil Rights activist is crazy?
Would it help to ask him, "Why do you believe in integration?" Or, "Do you feel like people are against you?"
Or maybe this question would do the trick. "Do you think I hate colored people any more than I hate northern Yankee bastards?"
About a year after his arrest in Jackson as a Freedom Rider (right), the Rev. Wyatt Tee Walker was arrested in Shreveport, LA, at the Little Union Baptist Church.
It was the evening of June 8, 1962. Inside the church, Martin Luther King was speaking about voting rights. Outside, Walker was imploring the police to guard the rear of the church as well as the front. King and Walker had flown to Shreveport earlier in the day from Atlanta, despite a death threat against King if he came to town.
According to Walker, J. E. Downes, the Commissioner of Public Safety, refused to discuss any security details. "G'wan inside!" was all he would say. But Walker kept asking and soon enough Downes arrested him and Harry Blake, an SCLC associate. The charge? Loitering.
So far, so typical. Louisiana officials, however, were not always content with the standard misdemeanor charges for activists. Earlier in the year Baton Rouge had charged three SNCC organizers with "criminal anarchy" — trying to overthrow the state of Louisiana. Shreveport went a different way: they asked the Caddo Parish coroner to conduct a lunacy test.
The coroner, Dr. Stuart DeLee, explained to New York Times reporter Claude Sitton that Walker and Blake had to be examined for "mental competency" because they "had acted so peculiar about their arrest."
Dr. DeLee said he did not know when he would have a decision. He explained that "sometimes you can tell at a glance that a person is psychotic, and then sometimes it takes considerable time to study a case."
As it turned out, DeLee would need two rounds of questions. The first lasted about 40 minutes. According to an affidavit Walker wrote afterward (PDF), DeLee's line of questioning went something like this:
Do you believe in integration?

Why do you believe in integration?

Have you always believed in integration?

How long have you believed in integration?

Did you serve in the military?

Why weren't you called up?

If your country called you in the service, would you fight?

If you had the choice to defend the state of Georgia or the United States, which would you choose?

Are you nervous?

Have you ever been in a mental institution as a patient?

Do you feel people are against you?

Do you think I hate colored people any more than I hate northern Yankee bastards?

Are you a drinking man?

Have you had anything to drink tonight?

What do you think of the Freedom Riders?

Have you ever been a member of a party that was connected with the Communist Party?

Would you join the Communist Party?

What do you think of the reverse Freedom Riders?

Why do you say that the White Citizens Council is un-American?

Do you think I would take advantage of you?

Why do you say I'm a moderate segregationist?

You really do believe what you say, don't you?
The first round ended inconclusively, at least for Delee. He said he "just couldn't tell," according to Walker's affidavit. "Although," Walker added, "I seemed to have all the answers."
Of course he did. What's harder to imagine is Walker having the patience to sit through the questions even once. On a second pass, he didn't.
At approximately 3 P.M., my name was called and once again I confronted the coroner, Dr. DeLee. This time he seemed halting and confused as to what to ask. When I ignored a question that he had asked me the night before, he wanted to know what was wrong with me. I replied that I was tired of him playing games with me. He asked me what I meant. I answered by reminding him of our last change of words the night previous. He said he couldn't remember. I had said to him that his attitude toward my mental competence would be exactly the same as it was on our initial meeting, no matter when he saw me again, tomorrow, next week, next month or next year. He flushed under my direct approach.

I then said to him that he was a part of the tragedy of the south. He knew what was right and couldn't or wouldn't do it; either because someone controlled him or because he lacked the courage. The fumble defense of his position prompted me to say I sympathized with him because he was caught up in the evil system (of segregation). He was sick, I asserted, and perhaps I should be questioning him. At this juncture, the examination abruptly ended.
Walker and Blake were out of jail by the end of the day.
Despite the new psychiatric angle, for King it was an all-too-familiar encounter. "The lesson of this account," he wrote in article a few weeks later in the New York Amsterdam News, "is but to demonstrated once again the absurdity of the lengths to which the racist opposition will go to thwart the Freedom Movement in the South. Will they ever learn that is as vain as trying to hold back the tides of the sea?"
An updated and expanded version of this post appeared in the Clarion-Ledger on August 12, 2018.
What do Confederate monuments mean? This is apparently a question that continues to vex many.
Perhaps Wiley N. Nash, Mississippian and Civil War veteran, can help.
"What good purpose," he asked in 1908, "is subserved, promoted and supported by the erection of these Confederate memorials all over the South?"
#Shorter Nash reply: "White people shall rule the South forever."
But of course Nash had studied both literature and the law at the University of Mississippi, so his actual answer came fully attired in his best Lost Cause finery:
Like the watch fires kindled along the coast of Greece that leaped in ruddy joy to tell that Troy had fallen, so these Confederate monuments, these sacred memorials, tell in silent but potent language, that the white people of the South shall rule and govern the Southern states forever.
Wiley was the featured speaker on December 2, 1908, when the white citizens of Lexington, Mississippi, gathered for ceremonies to unveil their new Confederate monument. It was typical of the memorials then going up across the south: A generic soldier standing atop a stone column, in front of the county courthouse.
The column is of modest height, not as tall as the one in Natchez, say, nor does it feature any secondary statues at its base, as the one in Greenwood does. Both were richer cities. Still, the monument's debut was something to be celebrated. A college band played "Dixie." A group of school children sang "The Bonnie Blue Flag." Civil War Veterans paraded along with eleven girls chosen to represent the eleven seceding states of the Confederacy.
Nash was eminently qualified for his leading role. He was a Mississippian by birth, and a lawyer who had served both in the state legislature and as the state's attorney general.
More to the point, he had fought in the war, riding in various cavalry units. Equally important, after the war he had fought in the campaign to restore white rule in Mississippi. Nash "did as much as any one man," read one of his obituaries, "to assist in gaining control of the state government and accomplishing the overflow [sic] of carpet bag and Negro rule."
"To him," it continued, "Mississippi should be ever grateful for the part he took in the protection and preservation of our traditional hereditary rights and liberties."
We may be ever grateful to Nash as well, for among his fulsome remarks that day, which run to roughly 7,000 words, he included a clear, concise, nine-point-itemized list on what the statues actually do.
The ruddy leaping joy of perpetual white power comes in at number seven. Monuments also "keep honorable" the "present and future dominant and ruling Southern Anglo-Saxon element" (item 2) and help "keep the white people of the South united — a thing so necessary" (item 6). They will also remind one and all "how sacred and how dear are the reserved rights of the States, reserved in the language of the Constitution to the States, or to the people" (item 8).
It may be asked, "What good purpose is subserved, promoted and supported by the erection of these Confederate memorials all over the South?" I answer:

(1) Besides honoring the South, the Southern cause, its supporters and brave defenders, the living and the dead, it will keep in heart and spirit the South, and her people for all time to come.

(2) It will keep honored and honorable, as the years roll on, the name and fame of the fathers and forefathers of our present and future dominant and ruling Southern Anglo-Saxon element, those who, "come weal, come woe," are to mould, shape, fix, dictate, and control the destiny of the South and her people.

(3) It will educate each rising generation, each influx of immigration in our customs, traditions, thought and feeling, as well as in the esteem, love and admiration of the Southern people.

(4) It will help all others to form a correct idea of, a respect for our civil, religious, social and educational institutions.

(5) It will help to a true understanding of home rule and local self-government, contending for which the South lost so many of her best and bravest.

(6) It will serve to keep the white people of the South united — a thing so necessary — to keep, protect, preserve and transmit, our true Southern social system, our cherished Southern civilization, —

"And Dixie's sons shall stand together,

Mid sunshine and in stormy weather,

Through lightning flashes and mountains sever,

Count on the 'Solid South' forever."

(7) Like the watch fires kindled along the coast of Greece that leaped in ruddy joy to tell that Troy had fallen, so these Confederate monuments, these sacred memorials, tell in silent but potent language, that the white people of the South shall rule and govern the Southern states forever.

(8) They will tell to Sovereign States from the Atlantic, where raged the fight that made us free, to the calm and placid waters of the Pacific, to States, if made from the isles of the sea, how sacred and how dear are the reserved rights of the States, reserved in the language of the Constitution to the States, or to the people.

(9) They will teach the South through all the ages to love the Southern Cause, her Southern soldier boys.
On this matter, Nash is an unimpeachable source: a Mississippian, a veteran, a redeemer and a monument-unveiler. This is what the monuments mean. His is the definitive answer. His is a direct expression of the original intent, if you will, of the people who built them.
More than a dozen Confederate monuments have come down across the country since the events of Charlottesville earlier this month, and others are now being reviewed. The memorial in Lexington still stands, as do all the rest in Mississippi. No cities have announced reviews. Earlier this year, a member of the legislature said that anyone who wanted to take down statues "should be lynched!" De-Dixiefication, like the Civil Rights Movement, will come late to Mississippi.
There is a renewed talk about finally changing the state flag, an effort rekindled by Dylann Roof murdering nine church-goers in Charleston, South Carolina, two years ago. Mississippi's current flag is the last in the south to contain a Confederate element. The design dates back to 1893, when the state legislature, including Wiley Nash, approved it.
Mississippi, U.S.A. — a 30-minute TV news report first aired 55 years ago — is a significant new addition to the visual history of the Freedom Rides, and a stark portrait of Jackson on the verge of great change.
The news report covered the arrival of the first Riders into Jackson on May 24, 1961. It was produced by WKY-TV, the NBC affiliate in Oklahoma City. I recently came across a link to it on Twitter; it's been on YouTube for about 18 months, part of a collection of early TV news from WKY.
What makes Mississippi, U.S.A. so valuable? It has the first footage I've ever seen of the Riders at the Greyhound station in Jackson, and more footage than I've seen before of the Riders at the Trailways station.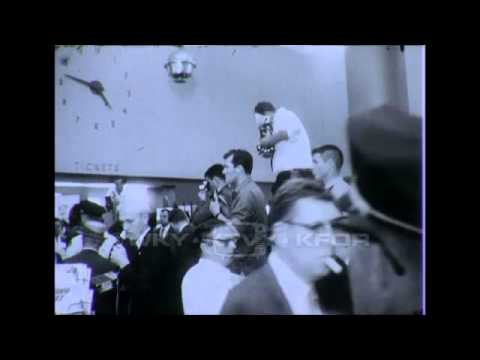 Mississippi, U.S.A. also has interviews with several key players:
Medgar Evers, the state secretary of the NAACP
William Simmons, the head of the white Citizens' Council in Mississippi
Charles Oldham, a civil-rights activist from St. Louis and the national chairman of CORE (Congress of Racial Equality), which created the Rides
But wait, there's still more:
footage I've never seen before of Gov. Ross Barnett at the press conference he held shortly after the Riders arrived
footage again that I've never seen before from the mass meeting at the Masonic Temple on Lynch Street held to support the Rides
a grim set of "man on the street" interviews — whites only, of course — none of whom thought the Rides were a good idea
Why was a local Oklahoma TV station in Jackson to cover the Rides? I don't know yet. I do know that Scott Berner, one of the report's producers, had worked in news at a TV station in Montgomery in the late 1950s, so presumably he would been aware of the movement and been paying attention as the Riders headed south from Washington, DC, in early May 1961.
As a piece of reporting, Mississippi, U.S.A. does a good job of showing and framing the moment. But it stumbles badly in trying to understand the status of the local movement. When William Simmons asserts that most blacks in Mississippi "prefer" segregation, the WKY team meekly concurs. "Outwardly they have shown little interest in the battle" for integration, the narrator intones, unable to imagine (or report) any other reason for the absence of sit-in protests in Jackson the year before, or for the fact that there were no Mississippians among the first 24 Riders to arrive in Jackson. (They would soon join in droves.)
Also, the WKY team doesn't anticipate the flood of Riders soon to descend on Jackson, despite Charles Oldham clearly explaining CORE's new plan to fill the city's jails, and despite the fact that their own footage shows Riders from the third bus into Jackson, on May 28. (See Catherine Burks-Brooks, Etta Simpson and Clarence Wright, left to right, beginning at the 13:45 mark.)
The arrival of the third bus, four days after the first two, meant the Riders had abandoned their original destination of New Orleans in favor of "jail, no bail" in Jackson. But the WKY story doesn't catch the shift in strategy (even though it does accurately report that most of the Riders had refused to bail out).
As a piece of early TV news, the WKY report is fascinating for its repeated use of "Dixie" as a soundtrack, especially during the several-minute montage showing the Riders at the two bus stations (from 10:10 to 14:28).
As TV, the WKY report is also notable for being shot by Houston Hall, who would go on to become one of the most respected cameraman in the trade. According to one poster at b-roll.net, a TV photography discussion site, "Houston Hall was perhaps the most solid shooter in the history of TV news and the man never zoomed. He just composed beautiful pictures."
Another poster provides some of Hall's backstory:
Houston Hall … when I started in the business that name was the equivalent of Babe Ruth in baseball. Houston was a rich kid from Oklahoma City who talked his parents into buying him a professional film camera when he was in his teens. He did some stringing and then was hired by WKY in Oklahoma City around 1960. I can't prove this but I believe that Houston may be the inventor of the sequence as it applies to television news. He was (and is) a master of our craft and an artist to boot.
Thanks to Hall, Scott Berner and co-producer Gene Allen, we now have this incredible record of the Riders in Jackson. Their reporting and analytical shortcomings notwithstanding, this is a great addition to the history of the Freedom Rides, a wonderful gift on the campaign's 55th anniversary.
More Recent Articles