Alvin Ho: Allergic to Dead Bodies, Funerals, and Other Fatal Circumstances. Lenore Look. 2011. Random House. 198 pages.
Call me Alvin Ho. I was born scared and I am still scared. And this is my book of scary stories.
This is the fourth book in the Alvin Ho series for young readers. (These are illustrated chapter books for those just getting comfortable with reading novels.) The first three books in the series are:
Alvin Ho: Allergic to Girls, School, and Other Scary Things
,
Alvin Ho: Allergic to Camping, Hiking, and Other Natural Disasters
, and
Alvin Ho: Allergic to Birthday Parties, Science Projects, and Other Man-Made Catastrophes
.
In this Alvin Ho book, Alvin gets in a horrible, terrible predicament. The truth of the matter is that his grandfather's best friend, Charlie, has died. In a rare moment of bravery he volunteers to go with his grandfather to the funeral. Almost from that very second he regrets it. But his grandfather seems so genuinely touched, so very pleased at Alvin's response, that he is too scared to say he's scared. The next day, in another rare moment--on the bus, I believe--he blurts out that he's going to a funeral and going to see a dead body. He never once says who. At least not that I can recall. But everyone assumes that his grandfather has died. And they tell the teacher who tells the principal who tells just about every other person at the school. So in a matter of hours, everyone has come together for Alvin and wants to honor his grandfather. So much so that they want to have a memorial service at the school the next day. Poor, poor couldn't-speak-up-at-school-to-save-his-life Alvin, he finds himself unable to say hey wait, he's not dead!
So the novel is about that big misunderstanding...and about his fears of losing someone he loves--like his grandfather, like his father--to death.
I didn't really like this one. Not when comparing it with earlier books in the series. The third and fourth books in the series just haven't excited me. It's not even that this book is 'bad' or inappropriate. It's just that I'm not sure Alvin Ho is as charming as he used to be. To me.
© 2011 Becky Laney of
Young Readers
Clementine and the Family Meeting. Sara Pennypacker. Illustrations by Marla Frazee. 2011. Hyperion. 164 pages.
The very first thing Margaret said when she sat down next to me on the bus Monday was that I looked terrible.
The fifth Clementine novel may just be the best. (Or do I say that each time a new Clementine?!) The first four novels in this wonderfully-delightful-must-read series are:
Clementine
(2006),
The Talented Clementine (2007)
,
Clementine's Letter
(2008),
Clementine, Friend of the Week
(2010).
I love and adore Clementine. I do. I love her personality, love her narration, love her family, love her neighbors (Margaret and her older brother, Mitchell), love her friends, love her classmates, love her teachers, love her principal.
I love seeing Clementine with her family. I love seeing the interaction between family members. Her conversations with her mom, her conversations with her dad. And then there's Clementine's little brother. She calls him a different vegetable name every single time she refers to him. And most of the time, well, she thinks of him as a little bother. Someone not really worth having a relationship with. But things begin to change...perhaps a bit slowly...in this fifth novel. For she begins to see, perhaps just a bit, that her brother is a person. There's a very, very sweet scene--though not mushy by any means--where her brother chooses HER to read to him his bedtime story. Another favorite scene of mine shows Clementine with her Dad at Home Depot, I believe. She wants a tool belt exactly like
his
.
Anyway, Clementine and the Family Meeting is a novel about changes, about how it's okay to have conflicting feelings about changes. That changes can bring a mix of emotions and feelings. You might be scared, worried, happy, sad, or even mad. Changes might make you more confused than anything else. There's going to be a BIG, BIG, BIG change in July for the family. Clementine will be getting a new brother or sister. And how does Clementine feel about the situation? Well, you'll just have to read and see for yourself!!!
But Clementine isn't just worried about one not-so-little thing. Clementine wouldn't be Clementine if there weren't more going on in her life to distract her. She's also worried about her science project and her science partner. About the rat, Eighteen, which was her and Waylan's project. Eighteen escaped and can't be found anywhere....
So I definitely recommend this one. If you've read the first few in the series, you probably don't need me to convince you how great the books are. If you haven't met Clementine yet, you should seek her out. But start at the beginning. That would probably be best!!!
© 2011 Becky Laney of
Young Readers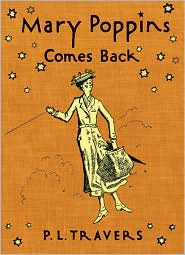 Mary Poppins Comes Back. P.L. Travers. 1935. Harcourt. 315 pages.
It was one of those mornings when everything looks very neat and bright and shiny, as though the world had been tidied up overnight.
In the spring, I read (and loved) P.L. Travers
Mary Poppins
. I found it delightful and thoroughly satisfying. I also found it quote-worthy!!! I was surprised by how much I loved it.
There are a handful of sequels to the original novel, and I hope to read them all!!!
The first sequel is Mary Poppins Comes Back. Mary Poppins returns when the Banks family needs her most. Mr. Banks is losing it--a little bit--and Mrs. Banks is having putting up with her husband and all four kids. (Turns out there may be a reason! A fifth child makes an appearance halfway through this one!) The chapters are a bit episodic as in the previous novel, but for me they are even more delightful!!! By far my favorite chapter was the second one, "Miss Andrew's Lark" in which Mr. Banks' governess arrives for a visit...
Some of my favorite quotes (from the whole book):
"I want to know how you've been behaving since I went away," remarked Mary Poppins sternly. Then she took out the Thermometer and held it up to the light.
"Careless, thoughtless, and untidy," she read out. Jane stared.
"Humph!" said Mary Poppins, and thrust the Thermometer into Michael's mouth. He kept his lips tightly pressed upon it until she plucked it out and read.
"A very noisy mischievous, troublesome little boy."
"I'm not," he said angrily.
For answer she thrust the Thermometer under his nose and he spelt out the large red letters.
"A-V-E-R-Y-N-O-I-S---"
"You see?" said Mary Poppins looking at him triumphantly. She opened John's mouth and popped in the Thermometer.
"Peevish and Excitable." That was John's temperature.And when Barbara's was taken Mary Poppins read out the two words "Thoroughly spoilt."
"Humph!" she snorted. "It's about time I came back!"
Then she popped it quickly in her own mouth, left it there for a moment, and took it out. "A very excellent and worthy person, thoroughly reliable in every particular." (22)
"She was called Miss Andrew and she was a Holy Terror!"
"Hush!" said Mrs. Banks, reproachfully.
"I mean--" Mr. Banks corrected himself, "she was--er--very strict. And always right. And she loved putting everybody else in the wrong and making them feel like a worm. That's what Miss Andrew was like!" (32)
"Well?" she said gruffly smiling a thin smile. "I don't suppose you know who I am?"
"Oh, yes we do!" said Michael. He spoke in his friendliest voice for he was very glad to meet Miss Andrew. "You're the Holy Terror!" (39)
"Doing nothing takes a great deal of time! All the time, in fact!" (156)
I would definitely recommend this one!!!
© 2011 Becky Laney of
Young Readers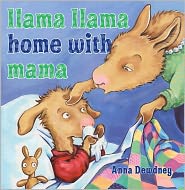 Llama Llama Home With Mama. Anna Dewdney. 2011. Penguin. 40 pages.
Llama Llama, morning light. Feeling yucky, just not right.
Down to breakfast. Tiny sneeze. Sniffle, snuffle. Tissues please!
Llama's head is feeling hot. Llama's throat is hurting lots.
Achy, fever, stuffy head...Llama Llama, back to bed.
Llama, Llama Home With Mama is the newest in the Llama Llama series by Anna Dewdney. The first Llama Llama book--perhaps the best of the bunch--is Llama Llama Red Pajama. All of the books are good. (The holiday drama is perhaps my least favorite.)
In Llama Llama Home With Mama, Baby Llama wakes up sick. He is too sick to go to school. He is too sick to have any fun. No, he'll be spending all day with Mama Llama. She takes care of him, but, then Mama Llama starts feeling horrible as well. Good thing, Baby Llama is feeling well enough to take care of Mama in return.
If you've read even one Llama Llama book you know exactly what to expect from this one. That's what makes series books so much fun, in a way. Anna Dewdney offers plenty of rhymes in her Llama Llama books. And if you love the rhythm of them, then they're a real treat!
Text: 3 out of 5
Illustrations: 3 out of 5
Total: 6 out of 10
© 2011 Becky Laney of
Young Readers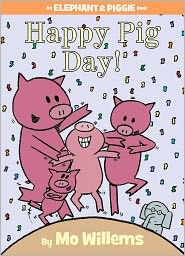 Happy Pig Day. An Elephant & Piggie Book. Mo Willems. 2011. Hyperion. 64 pages.
Gerald!
Gerald!
I am so happy!
Today is the best day of the year!
Today is free ice cream day?
No. Today is...
HAPPY PIG DAY!
I am a big, big, big fan of Mo Willems' Elephant and Piggie series. I just love and adore these two characters. The series as a whole is practically perfect in every way. They're just that good, that charming, that FUNNY! With very few words, Mo Willems gives CHARACTER (life) to these two friends: Gerald, the elephant, and Piggie, the Pig.
Piggie is super-super excited about celebrating Pig Day. Pig Day is the best day to have a pig party, eat pig food, sing pig songs, dance pig dances, etc. But Gerald isn't quite as excited about Pig Day. He thinks that you have to be a pig to celebrate Pig Day. He thinks that Piggie is going to have all this fun without him. He feels sad and left out. Can Piggie show him what Pig Day is really all about?
So what did I think of Happy Pig Day? Well, I liked it. I really liked it. I wouldn't say that it is my favorite or best. I mean it's hard to top
Should I Share My Ice Cream
and
We Are In A Book
. (Those two are my favorites, which ones are yours?)
I Will Surprise My Friend
Can I Play Too?
Elephants Cannot Dance
I Am Going
Pigs Make Me Sneeze
Watch Me Throw The Ball
Are You Ready to Play Outside
I Love My New Toy
I Am Invited to A Party
My Friend is Sad
Today I Will Fly
There Is A Bird On Your Head
We Are In A Book
I Broke My Trunk!
Should I Share My Ice Cream?
Text: 4 out of 5
Illustrations: 4 out of 5
Total: 8 out of 10
© 2011 Becky Laney of
Young Readers
More Recent Articles