Here are the FeedBlitz email updates for you. Click here to start your FREE subscription
---
Back before Christmas I made some kits for my granddaughters that required a variety of washi tape, so I ended up with a collection.  Like everything else in my crafty space, it needs a home that will keep it available and organized but not make me cranky.  My solution is simple, cheap and effective (hooray - three out of three!):
What you are looking at is the curtain rod that I installed to temporarily hold the Bygel cups onto the pegboard, and an additional curtain rod installed above it.  I need one more for the seasonal tapes...
I'm working on another project to resolve another aspect of my craft storage that's making me VERY cranky, so I'll share that when I'm done, as well.  Have a great weekend, and thanks for stopping by!
Lately I have been involved in  discussions regarding self will and asserting it - or not.  The contention is that our will is selfish and not a reliable guide, so surrendering to a higher power is the answer.
That's good as far as it goes, but here's the rub:  if you are asking said higher power for guidance, then you need to be open to and aware of the various ways that this guidance shows up.  Intuition - literally "taught from within" - is, I believe, one of those ways.  If we confuse intuition with self will - with letting the Ego take over - then we risk denying ourselves a very vital tool.
Thinking that we have to surrender our will and trust that things will "go the way they're supposed to", that however things play out is "God's will" or whatever, without our very active - even proactive - participation, is an abdication of responsibility.
Did your higher power not give you tools that you are expected to use?  Do you not have a "still, small voice" and a mind capable of processing the options available, guided by that?
Certainly we need to let go of attachments to outcomes - not let ourselves get thrown off course because it doesn't look like we expected it to - but throwing our hands in the air is exactly the same thing as throwing in the towel.
GPS is helpful in directing your route, but it only works when you're in motion, which means that you have to be an active participant in the process...
I know - weird title for a blog post.  I'll get to the reason in a minute...  First, here's the card I made for one of my daughters for her birthday:
Stamps used were Stampingbella's Petunia Thinks She's a Prezzie and The Project Bin Born Yesterday.   I colored the sweet image with my Spectrum Noir markers.  I used my WRMK Corner Chomper to round the corners of the mats and a Marvy Uchida dimple corner punch on the main panel.  The scalloped border is a Fiskars punch.  Papers are S.E.I. Happy Day patterned papers,  Stampin'Up! Watermelon Wonder cardstock, and Recollections Cool Waters and white cardstocks.  I used Stampin'Up!'s Petals-a-plenty embossing folder on the white background panel.  I didn't think of the flower brads until after the card was already put together, so I snipped the "legs" off of them and stuck them on with glue dots.
If you have seen Eddie Izzard's Dress to Kill video, then the inside of the card (and the title of this post) make sense, otherwise, I've included the pertinent clip below for your viewing pleasure:
Same papers as listed above, but this stamp is from The Project Bin's Bazinga! set.  The daughter that this is for is a very big Eddie Izzard fan, so...
Here's the video clip (it's part of a series and the next one will autoplay, so be aware of that and just click the pause button if you don't want to see the others):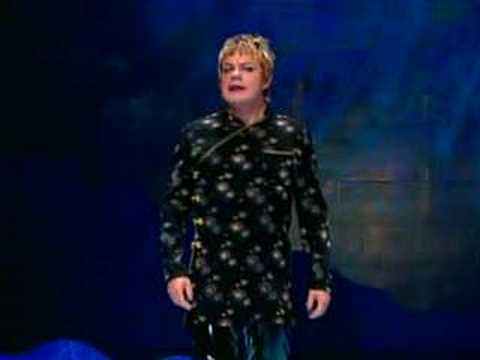 And a Lego version, just for fun...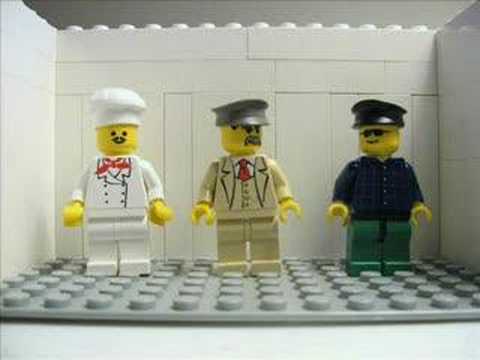 Fun extra tidbit:  The design of this card was from this week's sketch challenge on Splitcoast, and has been listed several times in the "Favorites" thread for this week...
And that's it for now!  Thanks for stopping by, and have a FABULOUS week!
So, you may remember this painting from quite awhile back (two years ago, as a matter of fact):
When I bought the canvases for that project, they came in a pack of two and I bought two packs.  Since I only used three for the above painting, I had another blank canvas to play with.  I used only the blues and painted a background, fully intending to use Tim Holtz's Crazy Birds in some configuration on it.  I played around with various ideas and penciled them on large scrap papers and laid them on the canvas and NOTHING was working!  That canvas has been sitting unloved and unfinished in the guest room closet this whole time...
Recently, one of the girls on Splitcoast (bjeans) posted a thread about an item that she saw at Ikea.  It was this:
That sparked an idea immediately for how to finish the canvas with the Crazy Birds!  I wasn't able to execute the plan for a couple of weeks after getting the inspiration, but I finally managed it:
I obviously do not have anywhere near as many birds as the inspiration piece (not as many rows of twine and clothespins, either), but this is also smaller and it makes me happy just as it is!  I had originally intended to make the canvas a piece to go on the blank wall above the toilet in my guest bath, but I've decided that it needs to live in the guest bedroom/craft room instead.  It's going above the small desk where I sit to color and fussy cut...
I stamped the birds on watercolor paper, painted them with distress inks (Wild Honey, Fired Brick, Peeled Paint, Mowed Lawn, Salty Ocean and Dusty Concord), then cut them out with the coordinating dies (bless Tim forever for creating those - these suckers are really difficult to fussy cut), then used Mod Podge to adhere them to the canvas and top-coat them.  The twine is stapled to the inside edge of the canvas frame on the back, and I already had the tiny clothespins (available at most craft stores and Walmart).
And that's the rest of the story!  Thanks for stopping by, and have a great week!
Now that I've got my room back in order and all of my stamps inventoried and tucked properly into the system, I can get back to creating, right?  I actually made a card a couple of weeks ago, but had to wait until it got to its intended recipient before I could post it here:
It was a two-fer - I wanted to join the "cuddly, snuggly" challenge on Splitcoast and I owed Sherry a card (for Christmas - doh!), so this is what I made.  Since Christmas was long past, I decided a general "I'm so sorry that you live in the frigid Northeast, but I hope you stay cozy" kind of card was in order.  This cutie is from Stampingbella:  The Penguin and the Marshmallow, and he's colored with Spectrum Noir and Bic MarkIt markers.  The papers are from Basic Grey's Eskimo Kisses, and the die is C.C. Designs.  Sentiment is from Unity's October 2016 Kit of the Month Holiday Hugs.
More creativity in the near future, I'm hoping!  I've got a project half-baked that I'll probably finish up in the next couple of days (it's not a card), so there's that...  Meanwhile, stay warm and thanks for stopping by!