The Share What You Love Suite has been designed especially to celebrate Stampin' Up!'s 30th Anniversary!  With gorgeous images, a beautiful colour combination (including NEW colours) and touches of Pearl (to signify 30 years!), this suite covers all the bases.  You can get a quick fix with the Just Getting Started Bundle, step it up with the A Little More, Please Bundle, or the aptly named Gotta Have It All Bundle! Each bundle includes FREE PRODUCT/S and the bundles are EXCLUSIVE to this promotion (the individual items will be available in the Annual Catalogue but not bundled with free product).
Last but not least is the 2018-2020 In-Colour Classic Stampin' Pad Bundle – all 5 new In-Colors at a great 10% discount– what a great head start on the new Annual Catalogue!

See all of these products in a little more detail in this great video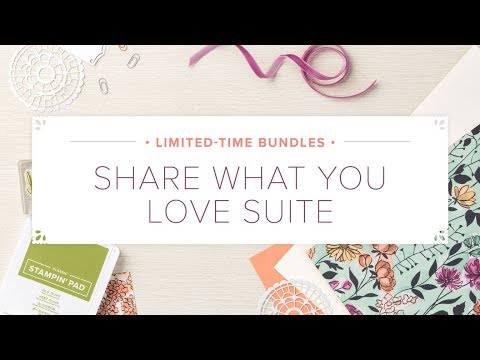 Whew, I have managed to catch up with myself after getting the girls back to school – it was fun to spend time with them over the holidays and we had some really fun adventures, but it's also good to get back to routine

I went LIVE on Facebook yesterday to share a quick & pretty card using the newly released Share What You Love Suite!  This gorgeous suite has been designed especially to mark Stampin' Up!'s 30th anniversary and so it features touches of pearl that add a lovely touch to the wonderful images and sentiments!
I layered up the colours on the flower image for a subtle tone on tone look – a combination of Fresh Fig and Rich Razzleberry, sometimes stamping off on scrap paper and sometimes stamping with the full intensity of colour.  I also got to use a brand new inkpad for the first time – the lovely Mint Macaron, so happy to have that colour returning.

You can't see it in the images but the Designer Series Paper in the background and the doily both feature a gorgeous pearlised finish that is just stunning – you will see it in the video.  The card is then topped off with the lovely soft Rich Razzleberry 1/4″ Velvet Ribbon and the Share What You Love Artisan Pearls (I can see myself using a TON of these!)
Check out the video to see how to create this card yourself!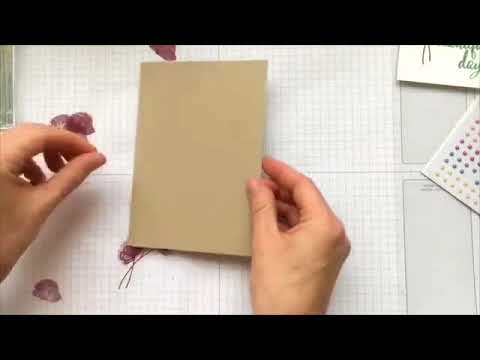 Materials
Stamps: Love What You Do
Cardstock: Crumb Cake, Whisper White, Share What You Love Specialty Designer Series Paper
Ink: Fresh Fig, Rich Razzleberry, Mint Macaron, Crumb Cake
Other: Pearlized Doilies, Rich Razzleberry 1/4″ Velvet Ribbon, Share What You Love Artisan Pearls
Welcome to this months Thinking Outside of the Box Blog Hop and tutorial!  Each month the Thinking Outside of the Box Design Team will be bringing you fabulous projects that are all to do with boxes, bags and packaging!  PLUS each post will have a tutorial for the project so that you can join in the fun too and make your own version!  I can't tell you how excited I am to be on this fabulous team with demonstrators from EVERY country that Stampin' Up! does business in!  Here we all are:

This months project is a Milk Carton Carrier – designed to carry 4 little Milk Carton Boxes.  As you will soon see, I took a slightly different path with my caddy and instead of milk cartons I turned mine into a stationery caddy to sit on a desk.  Once again this box could easily be upscaled to make a bigger version, in fact I made very large versions of this project several years ago and filled it with treats for a Quiet Night In Pack to give as Christmas gifts.

On one side of the carrier I created a longer rectangular box to hold bigger items like Sticky Note, or it would fit the sheets of rhinestones, pearls or enamel shapes that we have.

On the other side I created 2 smaller square boxes (just like cut down milk cartons really) which are just the perfect size to fit paper clips, library clips or loose embellishments!

You could easily mix up the sizes of the boxes to fit what you need – even create taller ones to hold pens, scissors etc – so many options!

I decorated my box using the Myths & Magic Specialty Designer Series Paper.  The little paper clips were created using the Tabs for Everything stamp set and the Circle Tab punch (I have had this stamp set for over a year and I think this is the first time I have used it – I will definitely be using it again now, it's so cute and has so many options!)
TUTORIAL
To create the Milk Carrier base itself you will need:
2 pieces of cardstock measuring 5 1/2″ x 3 3/4″
Score each piece at 1″ on all 4 sides
Cut tabs, apply adhesive and assemble.  You will have 2 identical shallow boxes.
For the handle, cut 1 piece of cardstock measuring 5 1/2″ by 3 1/2″
Round the top 2 corners
Punch or diecut the oval handle
Adhere one of the boxes to each side of the handle piece lining them up with the bottom.
To decorate with Designer Series Paper:
Cut 2 pieces measuring 3 1/4″ x 5 1/4″ and round corners and punch/diecut handle.  Adhere to carrier handle – the DSP will go inside the boxes at the bottom.
Cut one piece 3/4″ x 7 1/2″ and wrap around the sides of the boxes adhering as you go.
To Create the Inner Boxes
Rectangular box – Cut cardstock measuring 12cm x 16.6cm.
Score at 4cm on all 4 sides.
Cut tabs, fold and adhere

Square box – Cut 2 pieces of cardstock measuring 12cm x 12cm.
Score at 4cm on all 4 sides.
Cut tabs, fold and adhere


Well that's it from me this month – I hope you enjoyed the project and will give it a go yourself!  Be sure to hop around the globe to see what the rest of the team have created for you – remember we each have a tutorial for you to try!  You can start with Beate in Austria!
Materials
Stamps: Tabs for Everything
Ink: Dapper Denim, Melon Mambo
Cardstock: Dapper Denim, Melon Mambo, Myths & Magic Specialty DSP
Other: Circle Tab Punch, Big Shot, Layering Ovals Framelit Dies
Shannean Moncrieff – Australia
Tanja Kolar – Germany
Yoshiko Endo – Japan
Zoë Tant – UK
Annette Elias – Netherlands
Sharlene Meyer – New Zealand
Beate Wacker – Austria
Aude Barbara – France
Barb Stewart – Canada
I was lucky enough to receive this gorgeous notebook from my team member Leigh at On Stage a couple of weekends ago.  It is so gorgeous and so much work has gone into it that I totally needed to share it with you all
I love the colour combination Leigh chose and the way she has layered up all the different layers and elements – Doilies, Vellum, stamped images, Glimmer Paper and Glitter Enamel Dots, then finished off with the beautiful Burlap Ribbon and Crinkled Seam Binding Ribbon along the rings!
Isn't it amazing how something quite plain and mundane like a notebook can become something so sensational!  Thank you so much for the gorgeous gift Leigh – it is absolutely treasured!
Materials
Stamps: Falling Flowers
Cardstock: Berry Burst, Peek-a-Boo Peach, Lemon Lime Twist, Pool Party, Basic Black, Wood Textures DSP, Dazzling Diamonds Glimmer Paper, Vellum, Delicate White Doilies
Ink: Berry Burst, Peek-a-Boo Peach, Lemon Lime Twist, Pool Party
Other: Big Shot, May Flowers Framelit Dies, Celebrate You Thinlit Dies, Glitter Enamel Dots, 5/8″ Burlap Ribbon, 5/8″ Peek-a-Boo Peach Crinkled Seam Binding Ribbon, 5/8″ Berry Burst Crinkled Seam Binding Ribbon

The gorgeous Crinkled Seam Binding Ribbon is NOT carrying over to the new Annual Catalogue so if you love this ribbon as much as I do get in quick and stock up before it is sold out – you can find it here!
I taught the Letterpress Technique in this months technique class and this is the card we created.  This is a great way to stamp & emboss with any of your dies or punches and gives a lovely subtle embossed look!
Have you heard about our Colour Revamp and new style Ink Pad cases?  Do you have questions about how it all fits together?  Get all the answers in this video and start making your wishlist!  Remember if you want to stock up on any of the retiring colours – reinker/cardstock etc – then order as soon as possible as they will be the first things to sell out!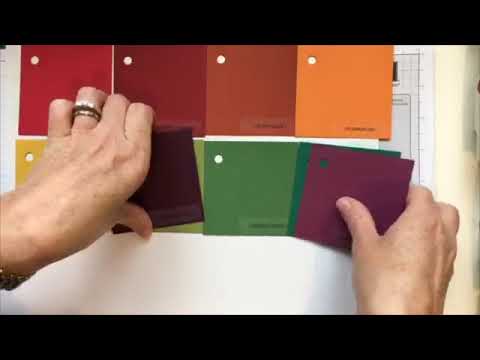 Materials
Stamps: Sunshine Sayings
Cardstock: Pool Party, Whisper White, Vellum
Ink: Daffodil Delight, Bermuda Bay, Basic Grey
Other: Big Shot, Sunshine Wishes Thinlit Dies, Silicon Mat, Glitter Epoxy Shapes, Subtles Enamel Shapes, White Perfect Accents
More Recent Articles