Sorry if you have found the website down the last few days – there was some kind of issue with my website hosting talking to the domain name…or something like that…..but my IT guy (aka my husband) got it all sorted for us yesterday so YAY!
Just thought I would pop in and let you all know that there are still some places available for my Catalogue Launch Party this Saturday!  Come and join us for a fun afternoon of creativity.  Here is a sneak peek at the make n takes everyone will be making:
I have been a busy little crafter for the last few weeks creating LOADS of projects to display so that you can go home with dozens of new ideas! Here are all the details if you don't already have them:
Saturday 27 May
1.30pm
Lower Hutt
$15
Be sure to let me know if you are coming so I can prepare a make n take pack & goodie bag for you! Email sharlene@magpiecreates.com

Woohoo – it's already time for another Colour Your World Blog Hop!  I have been crafting up an absolute storm this month with loads of new gorgeous products from the 2017-2018 Annual Catalogue.  I can't wait to share them all with you, so I thought I would use a new set for this months hop!  First things first though, here is this months colour scheme:
I have to admit that this scheme didn't really call out to me so I really had to push myself to come up with something – always good to step out of your comfort zone every now and again!  In the end it was a completely random array of cardstock scraps on my desk, and then the scissors stamp from the new Crafting Forever Stamp Set accidentally falling on top at just the right angle that inspired this card!
It's another really simple card, but they seem to be calling my name at the moment – I think all of the spatial design study I am doing is rubbing off on my crafting!  Here's a closer look at those cute scissors – just like Stampin' Up!'s Paper Snips!!
Did you know YOU can now join in our colour challenge each month?  Head over and check out our Colour Your World Challenge Group here, and then get creating – we would love to see what you create with this months scheme!
Well that's it for me this month – be sure to hop around the world and check out all of the other great projects to inspire your crafting.  You can start with the lovely Sam Hammond in the UK.
Alison Solven – Canada
Alisa Tilsner – Australia
Patsy Mullen Waggoner – USA
Sophie Prestrelle – France
Sharlene Meyer - New Zealand   <<——- You Are Here
Sam Hammond – UK
Barbara Meyer – Austria
Anna Sposato – Germany
Materials
Stamps: Crafting Forever
Ink: Basic Black, Smoky Slate, Cajun Craze, Crushed Curry
Cardstock: So Saffron, Pumpkin Pie, Smoky Slate, Whisper White
Other: Blender Pen
Are you ready for the first sneak peek from the 2017-2018 Annual Catalogue?  Let's kick off with the new In Colours!

Aren't they awesome!  I especially LOVE the Lemon Lime Twist & Berry Burst!  I have teamed the colours up with the awesome new Eastern Beauty stamp set & coordinating Eastern Medallions Thinlit Dies – such great products with endless uses and variations!  Here's a closer look at each card:

I love how you can layer up the stamps with the die cuts or use them completely independently!  Did you know that you can already get your hands on THREE of these new In-Colours as well as the Eastern Beauty stamps & Eastern Medallion Dies?  They are available in 2 exclusive bundles which also include a FREE gift!  Check them out here
Materials
Stamps: Eastern Beauty
Cardstock: Curmb Cake, Fresh Fig, Berry Burst, Lemon Lime Twist, Tranquil Tide, Powder Pink, Whisper White
Ink: Fresh Fig, Berry Burst, Lemon Lime Twist, Tranquil Tide, Powder Pink, Basic Black
Other: Big Shot, Eastern Medallions Thinlit Dies
Hello, how are you?  I have finally caught up from school holidays and those great long weekends, and also submitted my latest assignment towards my study so can finally get back to stamping and blogging!  I am breaking into all of my NEW products from the 2017-2018 Annual Catalogue so will start sharing some sneak peeks very soon!  In the meantime I wanted to share this great card from one of my technique classes last year.  The Flower Patch stamp set is actually on the Retiring List so if you want it in your collection be sure to get it soon – plus it has a super discount! (You can find it here)

This card features the awesome Black Magic Technique which I taught last year BUT I am running a catch-up class THIS Saturday so if you want to learn this technique book a place now – there are only 2 spaces left!   

The addition of some of my favourite White Perfect Accents – the kind of look like punched paper in this photo, but I can assure you they are actually shiny, dimensional cool!
May Technique & Catch-up Class
Learn the No Line Watercolour & Black Magic Techniques in one great class!
Saturday 6 May
1.30pm
Lower Hutt
Cost $30
Email Sharlene@magpiecreates.com to book!
Materials
Stamps: Flower Patch (retiring)
Cardstock: Rose Red, Marina Mist, Whisper White, Basic Black
Ink: Whisper White
Other: Watercolour Pencils, Heat Tool, White Embossing Powder, White Perfect Accents, Melon Mambo Stitched Ribbon (retiring)
 Brilliant colours, creative shapes – experience the Eastern Palace suite before it's release in the 2017-2018 Annual Catalogue!
 Available NOW in two exclusive bundles: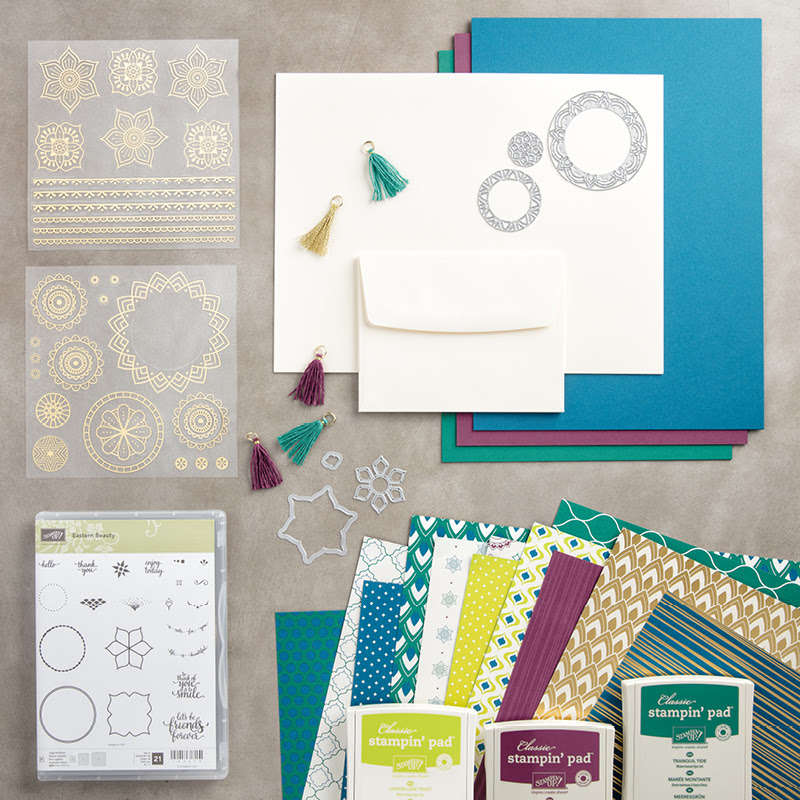 These 2 bundles even include 3 NEW In-Colours!
Check out this video to see more of this gorgeous suite!
More Recent Articles