I hope you are ready for another Blog Hop because its Colour Your World time!  I I even remembered to set up my phone to film the creation of this months card so you will see a quick time-lapse at the end of this post!  I hope you will play along with us and join in this months challenge – simply create a project using the months colours and then share your project with us all on the Facebook Group. Here is this months inspiration piece featuring lovely blues!

I actually CASE'd myself for this months project.  I designed a card very similar to this for my Stamp of Month Club a few months ago but it was in different blues and no Sahara Sand – I loved the card the first time I created it so thought it was worth re-imagining it in this pallette!
I started by using Dapper Denim & Marina Mist to wash the background, before adding splatters in Dapper Denim & Sahara Sand, and some stamping with Marina Mist.  Then I just layered up several different elements – lots of interest and texture in this one!
Want to see me creating this card?  Here's a fun time-lapse of the process: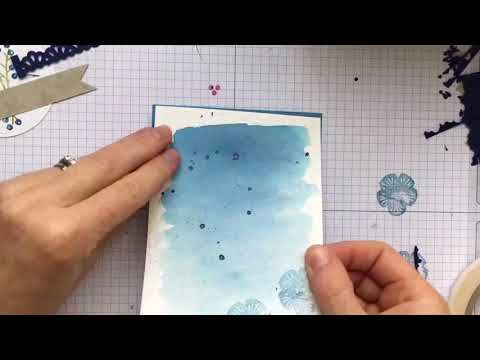 Did you know YOU can now join in our colour challenge each month?  Head over and check out our Colour Your World Challenge Group here, and then get creating – we would love to see what you create with this months scheme!
Well that's it for me this month – be sure to hop around the world and check out all of the other great projects to inspire your crafting.  You can start with the lovely Sam Hammond in the UK.
Alison Solven – Canada
Patsy Mullen Waggoner – USA
Sophie Prestrelle – France
Sharlene Meyer – New Zealand   <<——- You Are Here
Sam Hammond – UK
Barbara Meyer – Austria
Anna Sposato – Germany
Materials
Stamps: Orange Blossom
Ink: Dapper Denim, Night of Navy, Marina Mist, Sahara Sand, Old Olive
Cardstock:Dapper Denim, Night of Navy, Marina Mist, Sahara Sand, Whisper White, Watercolour Paper
Other: Big Shot, Stitched Shapes Framelit Dies, Aquapainter, Night of Navy Crinkled Seam Binding Ribbon, Decorative Border Ribbon Punch, Rhinestones
We're entering the "most wonderful time of the year," and not just because of the holidays. For us, it's because Online Extravaganza is starting soon with great deals just for you!
24-HOUR STAMP SALE!!
For 24 hours ONLY – 

12.00am until 11.59pm Monday 20 November

, get 20% off these great stamp sets:
20-26 November

 shop these exclusive deals:
Welcome to this months Thinking Outside of the Box Blog Hop!  Each month the Thinking Outside of the Box Design Team will be bringing you fabulous projects that are all to do with boxes and packaging!  PLUS each post will have a tutorial for the project so that you can join in the fun too and make your own version!  I can't tell you how excited I am to be on this fabulous team with demonstrators from EVERY country that Stampin' Up! does business in!  Here we all are:

This month we are featuring mini Advent Calendars!  These are a great option if you want an advent but don't have the time to do a whole months worth of boxes/bags etc, instead the mini version features each of the 4 Advent Sundays.

I chose to do a little luminary that you simply turn to the next number each Sunday.  This is quick and easy to make but cute and I just love luminaries!

I used the Hello Friend stamp set for the wreath image – I love how versatile this set is, it's not designed as a Christmas set but several of the images can be used in that way!  I also added some of the cute embellishments from the Holiday Catalogue – the Green Sprigs and Mini Ornaments don't really work on cards because of their bulk, but they were just perfect for this project.  I finished it off with some of the Night of Navy Crinkled Seam Binding Ribbon even though it's not a traditional Christmas colour, its just so soft and luscious!
Quick Advent Luminary Tutorial
Part 1 – Stand Box
Cut cardstock measuring 24cm x 13cm
Score the short side of cardstock at 1.5cm & 11.5cm
Score the long side of cardstock at 10cm, 11.5cm, 21.5cm & 23cm
Cut tabs as shown.
Fold along all score lines add adhesive to tabs, and assemble box
Part 2 – Luminary Top
Cut vellum cardstock measuring 29cm x 10.5cm
Score long side of cardstock at 7cm, 14cm, 21cm and 28cm


Stamp image on each section of vellum and add die cut numbers

Cut cardstock measuring 29cm x 1cm. Adhere to bottom of vellum


Apply adhesive to smallest tab of vellum and assemble box.
Part 3 – Assembly
Place vellum luminary in centre of base box and adhere to box using a glue dot or hot melt glue in each corner.
Adhere embellishments around base using hot melt glue.
Materials
Stamps: Hello Friend
Ink: Garden Green
Cardstock: Real Red, Vellum
Other: Big Shot, Large Numbers Framelit Dies, Green Sprigs, Mini Ornaments, Night of Navy Crinkled Seam Binding Ribbon
Well that's it from me, but be sure to head around the globe and check out what the rest of the design team have in store for you – remember we each have a free tutorial in our posts!
Shannean Moncrieff – Australia
Tanja Kolar – Germany
Yoshiko Endo – Japan
Zoë Tant – UK
Annette Elias – Netherlands
Dena Rekow – USA
Sharlene Meyer – New Zealand
Beate Wacker – Austria
Aude Barbara – France
Barb Stewart – Canada
THE BEST STAMP PLACEMENT TOOL ON THE MARKET! 
Why do you need a Stamparatus? This great tool helps anyone get crisp, clean stamped images; plus, you can make multiple projects in minutes—with an accuracy and consistency that makes stamping easier than ever before.
It's big news when something breaks the mold and changes everything. The Stamparatus will change the way you stamp, and before long, you'll wonder how you crafted without it! Why do YOU need one? You'll fall in love with stamping all over again when you learn everything you can do with it!
*Easily create 2-step, 3-step and 4-step stamped images using reversible plates
*Develop new and specialised stamping techniques with adjustable stamping plates and precision placement
*Two open sides so you can use larger paper (scrapbook pages anyone?)
*Make fewer mistakes, saving time and money
*If you want a darker impression, apply more ink— no need to start over
The Stamparatus features:
Compatible with Stampin' Up!'s red rubber and photopolymer stamp
Foam mat to use with photopolymer stamps
Rulers and gridlines for quick measuring
2 open sides so you can stamp on larger paper
2 reversible plates: a total of 4 surfaces to work with
2 magnets to hold the paper in place
Magnet storage areas
Retail Price–$85.00 AUD/$99.00 NZD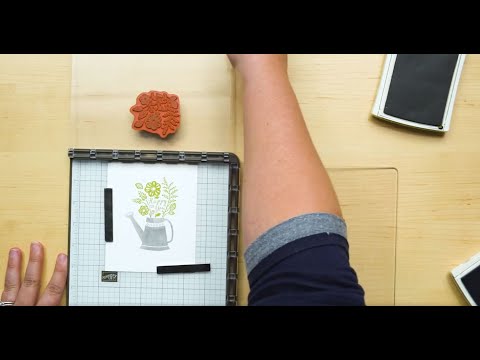 OKAY. I'VE GOTTA HAVE ONE. HOW DO I GET IN LINE?
With the launch of this tool, we're trying something different: testing a new reservation system. It acts like a true preorder: you reserve your spot and we guarantee shipment as soon as the product arrives in our warehouse. The global launch will feature three reservation windows. For each window, please note the following:
Reservation quantities are while supplies last.
Limit is 1 tool per customer per reservation window.
You may participate in multiple reservation windows.
In order to reserve your Stamparatus, you are required to provide your credit card information.
Credit cards will not be charged until the Stamparatus ships from our facility. When you close your order, be sure to verify that your credit card and shipping information is correct.
You can reserve your Stamparatus from Friday 17 November by heading to my online store here and then following these 4 simple steps
A team member and I are having a stall out our local school's Christmas Cottage tonight – this is the 5th year we have joined in with this fun local craft event! One of the items we make is always a favourite with the young and the young at heart – lolly tubes!  These are a great stocking stuffer and many parents and grandparents purchase them for this purpose but they are also popular with the school children who come to the event with a few coins to spend gripped tightly in their little hands!
In the past I have created these tube toppers using punch art but as soon as I saw the Santa's Suit bundle in the Holiday Catalogue I knew they would be perfect for this years batch:

The bundle is named Santa's Suit so of course Santa was going to make an appearance, but with a few colour changes and the addition of punched birds for ears you can also have a fun christmas elf!
I was super happy with how these cute guys turned out and going by the reactions of my 2 daughters they will be popular with the kids tonight too!  If you would like to make some of these cute tubes (or super cute Christmas cards!) check out the Santa's Suit Bundle here
Materials
Stamps: Santa's Suit
Cardstock: Whisper White, Real Red, Emerald Envy, Powder Pink
Ink: Real Red, Emerald Envy, Momento Black, Light/Dark Pumpkin Pie, Light Daffodil Delight & Dark Cherry Cobbler Stampin' Blends
Other: Big Shot, Santa Builder Framelit Dies, Circle Collection Framelit Dies, Tree Builder Punch
SHOP NOW!
More Recent Articles