Arie Boomert
The Indigenous Peoples of Trinidad and Tobago from the First Settlers until Today.
Leiden, Netherlands: Sidestone Press, 2016. xv + 197. (Paper US$ 45.00)
Trinidad and Tobago are the oldest settled islands of the Caribbean archipelago, and as Arie Boomert demonstrates, Trinidad's geography is not only still marked by hundreds of Amerindian toponyms (unlike any other Caribbean island), but the Indigenous Peoples' cultural heritage was implanted in the rural and domestic traditions of a peasantry that fused Amerindians, Africans, and Spanish people and lives on to this day. Arie Boomert's synthesis of archaeological, ethnohistoric, and ethnographic research on the Indigenous Peoples of Trinidad and Tobago is more than just a capstone to his many years of research in this field. It is also more than a book written for the general public (students, history teachers, and adult citizens of the twin-island republic). It is the only existing, up-to-date text on this long-neglected subject that is both comprehensive and yet highly informative on very specific points. Both specialists in the subject, and those with a general interest in the cultural history of the Caribbean, or even the history of the Spanish Caribbean alone, will find great value in this work which should form a part of every serious library collection on the Caribbean.
The structure of the volume is chronologically sound, divided into eight distinct time periods covering roughly ten thousand years, without any one period occupying more space than the others. As an archaeologist himself, Boomert was well equipped to provide the layperson with a good overview of archaeological research conducted in Trinidad, dating back to the 1800s, with roughly 300 sites studied. The strength of the volume lies in its archaeological and ethnohistoric dimensions, with roughly the past century and the present confined to the final chapter. In that sense, the volume tends to reinforce the established tendency to speak of Trinidad indigeneity in the past tense. Yet Boomert's book also shows how indigeneity in Trinidad is constantly returning from the margins, and is partly due to the island's close proximity to neighbouring Indigenous populations on the mainland, whose presence figures prominently throughout the book.
Many will appreciate the thick detail in this book, systematically organized as it is. Boomert draws from a wide variety of sources, including his own archaeological work, the offerings of diverse museum collections across Europe, and insights from very rare texts. There is a minimum of speculation in this book, and a maximum emphasis on information. It is also very well illustrated throughout, with attractive photographs, diagrams, and maps. Tobago is not an afterthought either: a significant amount of information about Tobago is presented throughout, with a dense chapter devoted to the Indigenous People of Tobago which in itself is a significant contribution to knowledge. Just to give the reader a sense of the coverage contained in this book, it typically focuses on trade, subsistence, material culture (pottery especially, and weaponry), ritual (burial), warfare, social structure, the division of labour, house construction, political organization, chiefs (many are named) and shamans, and an expertly synthesized and engaging presentation of colonial ethnohistory. The description of the emergence of a rural peasantry, with syncretic religious, ecological and domestic agricultural traditions founded on Indigenous knowledge and practices, is impressive. The book thus also covers issues pertaining to ecology, folklore, health and healing, and food production. Politically, Boomert also devotes considerable attention to slavery (which first emerged in the Caribbean with the Spanish enslavement of Indigenous Peoples); resistance, in the form of revolts; and, collaboration between Indigenous communities and foreign invaders. Boomert's overview of the Catholic missions among Trinidad's Amerindians is comprehensive, and not confined to Arima alone, one of the longest standing and more recent missions that is the current home of the revitalized Santa Rosa First Peoples' Community.
Among the very few shortcomings of the book, there was insufficient effort made to transform archaeologists' writing into material genuinely intended for a broad public (few would call a bowl a "serving vessel"), and some of the names of vegetables and ground provisions do not appear to be Trinidadian but are imported by the author from elsewhere (such as "coontie [zamia]"). There was actually very little on the figure of the Nepuyo warrior, Hyarima, a treasured part of Arima's history, with only a few lines offering no new information, yet a subsection of a chapter was seemingly devoted to him. Most importantly, however, is the consistent lack of citations in the text, thus not allowing readers to track down the original sources of information. Instead, Boomert opts for a select bibliography, organized into not very helpful sections. One could also quibble about other specific historical and interpretive points, but none of this is meant to detract from the fact that this book stands as a highly detailed, comprehensive synthesis, that will likely stand unrivalled for many years as a central, go-to resource on the Indigenous Peoples of Trinidad and Tobago.
Maximilian C. Forte
Department of Sociology & Anthropology, Concordia University
The Guardian, July 21, 2018
"The Santa Rosa First Peoples Community is mourning the death of its Queen Jennifer Cassar. Cassar, 66, died on Thursday after a brief illness. She would have celebrated her birthday on August 4. She was elected Queen of the Santa Rosa First Peoples' Community in 2011, until her death. Cassar succeeded then 'Carib Queen' Valentina Medina, who died at the age of 78. A statement from the Santa Rosa First Peoples Community said Cassar would be remembered 'as being a very warm, humble and compassionate Queen of the Community, who worked tirelessly with the young Community members.' She was a cultural activist for over 20 years and known for her advocacy for the arts…. The 'Carib Queen' as she was affectionately called, Jennifer Cassar was born on August 4, 1951 at Malabar, Arima to Nicholasa Lara-Pile and Rawle Pile. She is the first of five children. Her ancestral line was quite deep as she was descended from the full Amerindian bloodline through her maternal great, great, grandparents—Jose and Annicasia Lara (nee Lopez); Great Grandmother Maria Chichita Lara and Grandfather Pablito Lara, also called Hubert de France. Her paternal grandmother was also of full Amerindian blood from Guyana while her mother was also a descendant of the Caribs. Cassar was a member and Assistant Secretary of the Santa Rosa First Peoples (Carib) Community. She was a practising Roman Catholic who lived the Amerindian way of life through her grandparents who observed a staunch indigenous lifestyle through their involvement with the Santa Rosa Festival. She was a member of the Cabinet-appointed Amerindian Project Committee for five years. Cassar represented the Santa Rosa First Peoples Carib Community at the 3rd Indigenous Leaders' Summit of the Americas in Panama City, Panama in April 2009. In December of that year she participated in a seminar on the United Nations Declaration on the Rights of Indigenous Peoples for the Caribbean held in Port-of-Spain, Trinidad. She had was a cultural activist for over 20 years and was a member of the Regional Carnival Commission with responsibility for co-ordinating National Stick-Fighting Competitions. As a career public servant, Cassar joined the Public Service of T&T in 1971 and served the country for 40 years. She worked in several government ministries including the Ministries of Education, Community Development, Culture, Sports, Health and the Judiciary. She was also a certified Home Health Care professional."
Please note: Carib Queen—no quotation marks needed—is not an "affectionate title". It is a formal title in the Carib community, as has been the case for a period stretching now across three centuries.
Read more at:
Government of the Republic of Trinidad & Tobago, Statement from Prime Minister Keith Rowley.
"I wish to extend sincerest and heartfelt condolences to The Santa Rosa First Peoples Community on the passing of the Carib Queen Jennifer Cassar. As the First People mourn this loss so too do the people of Arima, as Mrs. Cassar was a symbol of strength, will and power within this community. Though today we feel sadness having experienced this loss, I feel comforted by the fact that as Carib Queen Jennifer Cassar was able to experience the celebration of the First People across Trinidad and Tobago in 2017. This celebration and recognition of the community showed to all of us the vigour, energy and excitement that was Jennifer Cassar as she ceremoniously paraded through the streets in this celebration. Mrs. Cassar was not only the Carib Queen but also heralded a career in the Public Service of Trinidad and Tobago and served this country for over forty years. She contributed to the development of her country through work in Education, Community Development, Culture, Sport, Health and the Judiciary. Today I take the opportunity to again express my humblest gratitude to Mrs. Jennifer Cassar for her yeoman service to the First Peoples Community, to the Borough of Arima and to Trinidad and Tobago. May her life be an example to those in and outside of the Carib community and may her legacy be carried with love, light and positivity. May she rest in peace".
CNC3, no date
"Mrs. Jennifer Cassar worked tirelessly to sensitise us to the role and contributions of the First Peoples Community and continuously strived to preserve and revitalise Amerindian history and traditions. The Carib Queen was one of the key advocates who lobbied Government to honour a long-standing call for a one-off holiday to formally recognise her Community's presence and contribution to our country. Government granted the request and the holiday was celebrated on October 13th, 2017 with Queen Cassar leading a procession through the streets of Arima. She was a member of the Cabinet-appointed Amerindian Project Committee from 2007 and also a member of the Regional Carnival Committee of the National Carnival Commission with responsibility for coordinating National Stick Fighting Competitions".
Read more at:
http://thebigboardcompany.co.tt/press-release/pm-issues-tribute-late-carib-queen
President of the Republic of Trinidad & Tobago, Paula-Mae Weekes:
"Having worked for forty years in the public sector before her retirement, Ms. Cassar devoted almost her entire life to the service of her country. I have known her since 1996 when I had been working at the Hall of Justice. I quickly became aware of the esteem in which Ms. Cassar was held by members of her team and was struck by the diligence with which she executed her duties. She was fiercely loyal to the judge for whom she was the Executive Secretary for many years and involved herself with many other ancillary functions of the Judiciary until she retired. During her tenure at the Judiciary, Ms. Cassar held a deep concern for the welfare of the First Peoples of Trinidad and Tobago. She had always wholeheartedly embraced her indigenous identity and sought to encourage others to also take pride in their heritage. Her inauguration as Carib Queen in 2011 therefore acknowledged her many years of activism and her standing in the First Peoples' community. I was pleased to follow her leadership as Carib Queen as she worked tirelessly to improve the unity and solidarity of the indigenous people and to secure greater recognition for their customs and traditions, such as stick-fighting [sic]".
National Carnival Commission, July, 2018.
"The National Carnival Commission of Trinidad and Tobago (NCC) joins with the nation in remembering the life of Jennifer Cassar – beloved Carib Queen, organiser, and cultural pioneer – who died on July 19, 2018. Cassar is widely lauded as a smiling, kind-hearted leader who worked alongside her community to organise events such as last year's grand celebration for the First Peoples Public Holiday. Additionally, she has been an invaluable contributor and guiding figure in the Annual Arima Fest celebrations, Santa Rosa Festival, and First People's Heritage Week. Cassar would also have a tremendous impact in an area outside of First Peoples' empowerment movement. She is also fondly remembered for her work in bringing Stick Fighting to the fore and her tireless energy in giving the artform the respect and recognition it so rightly deserves. Remembering Cassar's legacy and invaluable contributions, NCC Chairman, Winston 'Gypsy' Peters said, 'We, at the Commission, are deeply touched by her passing'".
Read more at:
Power 102 FM, July 19, 2018, Press Release from the Arima Borough Council.
"Mayor Lisa Morris-Julian and the Arima Borough Council are grieved by the passing of beloved Carib Queen, Jennifer Cassar. The Council describes the loss as a blow to Arima's foundation, which is rooted on the First Peoples' contributions. The Council laments the loss of a phenomenal woman of pure Carib descent. However, the council is thankful that she assisted in extensive work to keep persons of First Peoples' lineage united and thriving in the Santa Rosa First Peoples' Community. It recognizes her decades of labour which assisted to create a space in the borough where the First Peoples are acknowledged and respected. The Council recalls fond memories of the late Carib Queen as a smiling, kind-hearted leader who worked alongside her Community to organize events such as last year's grand celebration for the First Peoples one-off Public Holiday. The Council will miss her contribution to this year's Arima Fest celebrations, Santa Rosa Festival and First People's Heritage Week. The Arima Borough Council wishes to express sincere condolences to her family, the Santa Rosa First Peoples Community and all of her loved ones".
Daily Express, July 20, 2018, by Sandhya Santoo
"Education Minister and Arima Member of Parliament Anthony Garcia also extended condolences on the passing of Cassar….'She contributed to the development of her country through work in Education, Community Development, Culture, Sport, Health and the Judiciary. Today I take the opportunity to again express my humblest gratitude to Mrs. Jennifer Cassar for her yeoman service to the First Peoples Community, to the Borough of Arima and to Trinidad and Tobago. May her life be an example to those in and outside of the Carib community and may her legacy be carried with love, light and positivity. May she rest in peace,' he said".
Read more at:
Trinidad & Tobago Newsday, July 20, 2018, by Carol Matroo
"Arima Mayor Lisa Morris-Julien said Cassar was not only Carib Queen but the 'Queen of Arima'…. 'We expected to have Mrs Cassar with us for a very long time. She was loved by everyone, by her neighbours, by the entire community. Every Arimian was proud that she was our queen. She was heavily involved in culture and I credit her for bringing back stick fighting back to Arima, always trying to ensure that we become the cultural mecca that we should be,' Morris-Julian said…. It was Cassar's dream to establish an Amerindian village in Blanchisseuse and the Santa Rosa First Peoples Community was granted 100 acres towards this venture. 'Government gave them the land and I'm so happy that she lived to see the one off holiday (last October 13). Her role in the community could never be underestimated. She was the right hand of the chief (Ricardo Bharath) and she always took the needs of her people before her own. She was an excellent mother and wife,' she said."
Read more at:
Trinidad & Tobago Newsday, July 24, 2018, by Carol Matroo
"Her casket will be open for public viewing at the Arima Town Hall on Friday from 10 am to 12 noon and a funeral service will be at the Santa Rosa RC Church. A full Amerindian ritual service will be conducted at the Santa Rosa Cemetery 'where her body would be offered back to the elements from which she came.' Indigenous members from Guyana and Surname are expected to attend".
Read more at:
Daily Express, July 23, 2018
"Viewing of the body will take place at the Arima Town Hall from 10 a.m. to 12 noon where a condolence book will be available. After this there will be a procession through the streets of Arima and then to the Santa Rosa Catholic Church on Woodford Street for the funeral service. Following the interment at the Catholic Cemetery, guests will gather at the Santa Rosa First Peoples Centre at Paul Mitchell Street, Arima. Nightly wakes will be held today and on Tuesday at Koon Koon Street, Malabar, Arima from 7p.m. to 12 p.m. On Wednesday, the wake will be held at the Santa Rosa First Peoples Community headquarters at Paul Mitchell street".
Read more at:
Caribbean National Weekly, July 22, 2018
"Carib Chief Ricardo Bharath-Hernandez has described her passing as a great loss to the Community, especially coming on the eve of the Santa Rosa De Lima Festival on August 26, the 223rd Anniversary of the festival. 'She was indeed a Queen, for our time'".
Read more at: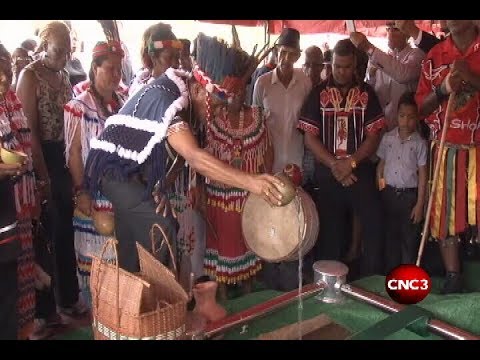 Updated on July 29, 2018
Originally published in Newsday
Sunday, October 8, 2017
Narad Mahabir acts as Hyarima in the play Hyarima and the Saints written by Gyasi Garcia of St Francis College during the First Peoples Schools Outreach programme, UWI-ROYTEC North Campus, on September 26. This was one of the events leading up to Friday's First Peoples holiday.
After years of clamouring for greater national acknowledgement, the First Peoples in TT will be recognised formally on Friday with a one-off public holiday.
And to commemorate the observance, the community has organised a week of activities, under the theme, On Becoming Visible Towards Meaningful Recognition, in an effort to enlighten fellow descendants and others about the history and contribution of the indigenous peoples to the country's development.
The activities began on Friday with a lecture on the topic, DNA Testing of the First Peoples of Trinidad and Tobago: Identification of their genealogical ancestry, at the National Academy for the Performing Arts, Port-of-Spain.
Later that day, the group hosted a Waponaka Concert, a rich mix of parang, calypso and other cultural presentations at the Santa Rosa First Peoples Centre, Paul Mitchell Street, Arima.
Today, at 6 pm, the community is expected to host an orientation ceremony for visiting First Peoples delegates at the centre on Paul Mitchell Street.
Tomorrow, the group is due to host an ancestral journey to Moruga, at which celebrants will perform sacred rites and various musical expressions.
Other events scheduled for the week include a symposium, titled, From Chrysalis to Butterfly: On Becoming Visible Towards Meaningful Recognition, at the University of Trinidad and Tobago's O'Meara campus; a children's rally and a ceremonial walk through Arima.
For Chief Ricardo Bharath-Hernandez, president of the Santa Rosa First Peoples, Arima–perhaps the largest and most vocal First Peoples community in the country–the holiday is not intended to encourage relaxation.
Rather, he said, apart from reflecting on the atrocities which were committed against the indigenous peoples, centuries ago, the holiday presented an opportunity to truly celebrate their contribution.
It gives First Peoples descendants, numbering close to 1,500 in Arima, and others a chance to participate fully in the community's events.
"Because, in ordinary times, without a holiday, people would usually say they can't come because they have to work or their children can't come because they have to go to school. So, my feeling and the community's feeling was that with a national holiday, nobody cannot use that excuse not to participate."
Outside of Arima, First Peoples descendants can be found in Lopinot, La Pastora, Maracas/St Joseph, Santa Cruz, Paria, Brasso Seco, Tabaquite, Moruga, Brazil, San Rafael and Talparo.
Bharath-Hernandez, who has said repeatedly they are not just another minority cultural group, insisted they had inherent rights with respect to land titles, which were supported by the United Nations Declaration of Rights of Indigenous Peoples. Some 144 countries, including TT, voted for the Declaration.
Bharath-Hernandez was cautiously optimistic that the group's lobby for a heritage park–a permanent place to call their own–will become a reality.
Plans for the park began during the former People's National Movement administration, under late prime minister Patrick Manning. A Cabinet decision was taken to give the First Peoples a five-acre plot of land along Blanchisseuse Road, Arima, which they found to be inadequate. The community later identified a hilly piece of land which had once been occupied by First Peoples centuries ago.
When the People's Partnership came into office, in May 2010, it rescinded the PNM's offer of a five-acre plot, and gave the community an additional 20-acres at the same site. The land has since been surveyed, following which an offer of lease was issued to the community from the Commissioner of State Lands on September 9, 2015. Alluding to the movement toward economic diversification in this year's budget, Bharath-Hernandez said First Peoples in other parts of the region, namely Dominica, Guyana and Suriname, were already firmly entrenched in their islands' tourism initiatives.
"We are still to reach that point but we see potential in our vision for a permanent space to call our own. We can contribute to the tourism sector".
Bharath-Hernandez said the parcel of land which the community has received for its park, is expected to provide employment in the areas of food processing and sales, handicraft, wildlife farming and eco-tourism.
The facility also will contain a museum, cultural/recreational space and living quarters for the Carib Queen and about a dozen families.
Originally published in
Newsday
By Tenisha Sylvester
Photo by Enrique Assoon
Sunday, October 8, 2017
Yefan Sealey shows how his ancestors would have wielded a spear.
Ten-year-old Yefan Sealey is taking pride in his heritage, as he is a descendent of the indigenous people in Trinidad and Tobago.
"I feel very happy that I am a descendant of the First Peoples, it's exciting," said Yefan last Thursday at the Santa Rosa First Peoples Community Centre, Arima.
Yefan means strength and in his daily life he manages to eat a nutritional diet and his favorite foods are corn pastelles and cassava bread. He enjoys listening to parang music which is popular at Christmas time. Parang in TT is also a hybrid of Spanish and Amerindian music.
With less than a week left, the community centre is filled with people working feverishly on props, building huts and practising their singing all in anticipation of the First Peoples holiday on Friday 13.
Yefan explained that many still think that the First Peoples were war-like.
Arima was the home of the Nepuyo tribe whose active resistance to Spanish Rule limited Spanish attempts to control and settle in northern Trinidad. "Even though the best known of the Nepuyo was the war chief, Hyarima, who continuously harassed Spanish settlements from his base in Arima, they were peaceful people despite the war-like nature Columbus recorded. What they did was stand up for themselves against outsiders."
A statue of Hyarima is located in the heart of Arima. On May 25 1993 it was unveiled, in keeping with the theme of -The year of the Indigenous People.
Living in Valencia, Yefan visits the Community Centre twice a week where he learns about the history of the indigenous peoples; that they were nature-worshippers who believed in the Great Spirit who is the God they cannot see but is always present.
"I have also learned that places named Caroni, Arouca, Caura, Tunapuna and Oropouche have Amerindian origin."
He also partakes in the First Peoples rituals where they pray, chant, dance and play their musical instruments like the chac chac, whistles and drums.
"I also enjoy learning archery there because that's one of the main ways the indigenous people hunted for food and I am looking forward to seeing the lighting of the smoke-signal on Friday."
The lighting of the smoke-signal symbolises the beginning of celebrations for the First Peoples community and is followed by a series of ceremonial prayers.
The intelligent standard three student attends Christian Primary Academy, Elementary School where his favourite subjects are science and art.
" I love science because I learn a lot of things about technology and I love art because I like to draw and paint."
Yefan's goal is to become a scientist or an artist because he wants to use his creativity to invent something that could be used by everyone, to make their lives easier.
This straight-A student is encouraged to pursue his dreams by his mother Chelese Arindell , grand-mother Sheila Cumberbatch and the entire First Peoples community.
Yefan enjoys playing with his dog, Ninja and in his spare time he creates colourful drawings and paintings.
The First Peoples celebration begins on Friday at 7am in Arima for the lighting of the smoke-signal. Then there would be a sacred street procession to the Arima Velodrome where various exhibitions would be set up in honour of the indigenous peoples. At 11am there is the formal opening with the Prime Minister, leading up to the concert at 4pm.
" I am really excited and looking forward to taking part in the street celebration on Friday, I encourage everyone to come see the festivities because it will be amazing."
First Peoples Public Holiday announced
...Gov't comes good on promise
Published on May 11, 2017
Chief Ricardo Bharath Hernandez
IN October 2016, Prime Minister Dr Keith Rowley promised the First Peoples of Trinidad and Tobago that they would be given a one-off national holiday in recognition of their contribution to the islands.
On Thursday, Government announced that Friday October 13 had been approved as the public holiday.
The call for a public holiday had been made by Ricardo Hernandez Bharath, representing the Santa Rosa First Peoples Community. He said that the holiday would be in recognition of the history of indigenous peoples.
The disclosure of the public holiday came in a statement from, the Ministry of Community Development, Culture and Arts, which noted that the First Peoples have been calling for greater recognition of their history and customs.
Click on the image below for the full story as it appeared in the print edition:
More Recent Articles