---
Every $50 you spend
before August 31 (before shipping and tax) earns a
$5
Bonus Days coupon code
that can be used September 1–30.
YouTube:
www.youtube.com/c/DeniseFoorStudioPA
October is on its way, and that means you will be searching in every spooky nook and cranny for a bit of papercrafting fun. Paper Pumpkin has just what you need—a frightfully delightful kit in a scary-cute, special edition box.
You've probably guessed already, but there are no tricks in this kit, just treats—

treat packaging,

that is. If you aren't wild about Halloween or prefer cards, here are some thinks you can do:
As with every Paper Pumpkin kit, September's kit can be repurposed. For instance, you can add cardstock and make some cards, tags for gifts, or home decor items! This kit's coordinating colors are:
Stampin' Up! will release alternate projects and share ideas as we always do in our Pinterest page, blog, and social media. Be sure to watch my Pinterest page, too.
To get this kit subscribe before September 10 here.
YouTube:
www.youtube.com/c/DeniseFoorStudioPA
Get in the mood to create something full of colors and seasons! Introducing the all-new, limited-time Color Your Season products:
Blended Seasons Stamp Set, an exclusive 10-piece wood- or clear-mount stamp set with images for
every season!
Stitched Season Framelits Dies, a coordinating stitched die that includes stitching on both the positive
and negative images!
Watercolor Pencils in 10 new colors!
Please note: The bundle includes the stamp set and dies only. Watercolor Pencils sell separately.
YouTube:
www.youtube.com/c/DeniseFoorStudioPA
Stampin' Up! has a new June Paper Pumpkin kit that will
coordinates
with
one of the suites
in the new annual catalog.
SU won't announce the name of the suite to customers until June 1, but this will make the June Paper Pumpkin Kit even more fun to experiment with alternative projects.
YouTube:
www.youtube.com/c/DeniseFoorStudioPA
Starting today and through March 31st 2017 is Stampin' Up!'s annual Sale-A-Bration period! You can download the catalog (or view it online)

here

, or check it out in my

online store here

.
If you aren't familiar, during this time, every $50 you spend, you'll receive a free Sale-A-Bration product. For those of you familiar with Sale-A-Bration in the past, there's an exciting new announcement for this year: there is now a NEW reward level, giving you more flexibility and options for your free items.
§
If you spend $50 you get one free level 1 product.
§
If you spend $100 you get one free level 2 product, OR, choose two level 1 items.
§
If you spend $150 you have the option to choose three level 1 items or one level 1 item and one level 2 item.
There are also party benefits as well as a sign up special offer as well.

Download

the catalog and read all about it!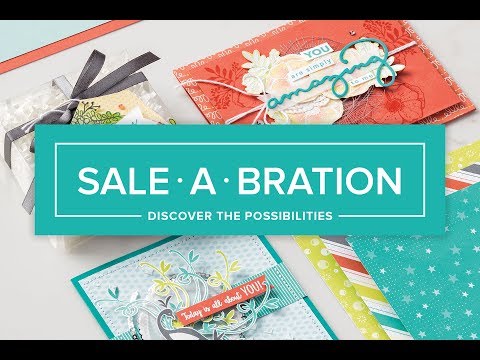 So… with the limited edition sets and accessories in the

Occasions catalog

you can make a good thing GREAT!
If you need either catalog, please contact me.
YouTube: www.youtube.com/c/DeniseFoorStudioPA