A snake cozies up to my GoPro after I set the camera down to take a selfie under a gumbo limbo tree at the Calusa Heritage Trail in Pineland, Fla., in December.
I used my iPhone to film this
quick video
. The snake, a black racer, is not venomous, and it did not do any harm to me. Although I didn't record it, the way I resolved my predicament was to take a long stick and knock my camera off the tree stump. I'm not sure if the snake was protecting eggs around the stump or if it thought the GoPro was another snake.
Maybe, the snake wanted to pose for a "#snelfie." 📷🐍🤣
Although my GoPro was recording, the snake never made it in the frame. Has this happened to you?
Thanks for watching!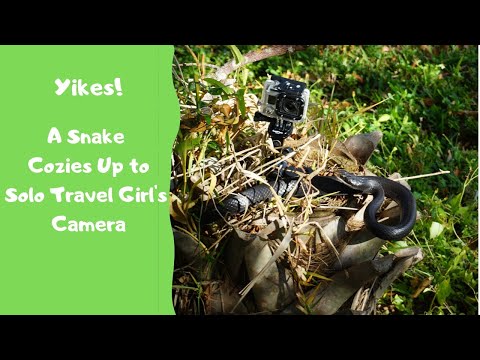 How Did Radcliff React to his Viking-Themed BarkBox?
It was #BarkBoxDay in my house a few days ago. Did my dog Radcliff like the Viking-themed box? You be the judge by checking out this video.
I've been asked, is BarkBox worth it? It depends on what your budget it and your relationship with your dog. Any time I can reward my dog, it makes me feel good seeing him so happy. Learn more about
BarkBox
and Radcliff will receive a treat.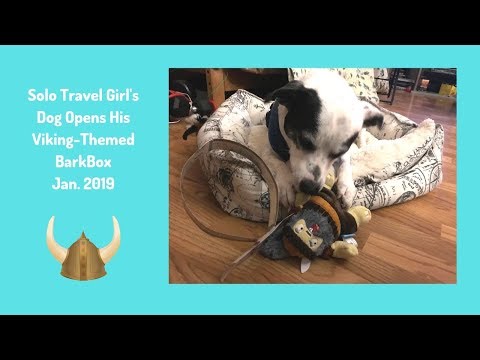 Spotted in a Walmart Parking Lot: Something Squirrelly.
I love Walmart and wish I had began posting the random things I notice years ago. So, why not begin today? While visiting a Walmart in North Port, Fla., last week, I saw this truck with a "Nuttier than a squirrel turd" bumper sticker and "SQRLY" license plate. I love how quirky this is!
It's Jan. 5, 2019 which means Happy National Bird Day! Here's a gorgeous peacock I met during a trip to Everglades Wonder Gardens last year. Read about my visit in the blog post called, "
Flocking to Everglades Wonder Gardens"
over on Solo Travel Girl.
Singletons are people, too! Why should kids have all the fun?
When I was a kid way back when, a elf visited me one year. I'm talking about back in the '70s. His name was Elfie, he left me lovely notes and was a great show-and-tell topic at school.
I never saw Elfie but I knew he existed because we communicated by notes and leaving little tokens for each other. He would leave little non-edible pies baked in bottle caps but I don't remember what I would leave him. Probably something practical like a needle and thread.
I grew up and Elfie faded away.
Fast forward to today. I'm a forty-something-year-old singleton with no children, other than those who wear fur and walk on four legs. It's where the Universe thinks I belong at this point of my life.
Elf Helped Me Write this Blog Post.
I read a blog post called Why We Love Our Elf on the Shelf today. To summarize, there appear to be two factions of family bloggers out on the Internets. One who posts about the adventures of their Elf on the Shelf
and their kids and others who criticize those who post about the Elf on the Shelf.
Related:
The Worst Christmas Gift I Ever Received
What is the Elf on the Shelf? Some marketing person was smart to package the pixie-looking elf from the last century with a hard-covered book and sell it for about $30. The elf's mission is to watch over a household's children and report back to Santa. This is how Santa knows if you've been bad or good.
I got thinking, why should all the Christmas magic be reserved for children and their parents?
My Christmas decor was sitting in my living room this morning and when I came home from work this evening to my surprise, my little elf dug himself out and left me a little note. It read:
Be good! Santa has everyone on a list.
I'm looking forward to the days leading up to Christmas and seeing what this elf has in store for me. Better yet, I'm looking forward to seeing if he's keeping an eye on me.
I suppose I need to find out what his name is.
Do you believe in the magic of Christmas?
Follow the elf adventures on Instagram and Twitter with #elfBelieve.
More Recent Articles