If you embrace the idea that your yoga practice is a "gift" to yourself, you can more easily create the time for daily practice.
Yours for giving yourself the "gift" of daily yoga.
Laura Venecia Rodriguez,  the Yoga Beginner's Coach
Save
Save
Save
Save
Save
Save
I love practicing yoga in the comfort of my home!
This morning, as I was thumbing through the August 2017 edition of the Yoga Journal, I found the editor in chief's interview with yoga instructor Caley Alyssa about the importance of listening to your intuition on and off the yoga mat. 
I was most struck though by Alyssa's response to the question, "What is the biggest lesson you've learned from practicing yoga?"  She replied,
    "Less is more. When you're doing something repetitively, you really can injure yourself.  It's better for me to stay home and do 30 minutes of what my body needs than to go to a big public class and do what someone else is telling me to do when it doesn't feel good in my body that day."
I could not agree more!  That is my philosophy as well - especially for the beginner! I have known a number of people who have suffered injuries in yoga class because they pushed themselves too far, before they were ready, just to keep up with a yoga instructor.
However, the beginner does need to get good instruction in yoga.  I managed to find some excellent books that explained yoga poses step by step in comprehensive detail which enabled me to learn yoga on my own.  And, I wrote my book, Yoga at Home:  Gain Energy Flexibility, and Serenity in 20-30 Minutes a Day for the beginner for that same purpose.
However, I am NOT a yoga instructor so my advice  here is to keep you motivated to practice at home and share some tips to help you keep your commitment.  And to share resources that I come across to help you maximize your practice.
Last week, a long-time friend stayed with me for several days and she showed me the YouTube videos of a wonderful yoga instructor, Adriene, who was new to me. I have watched a few of her videos and I find Adriene to be down-to-earth, non-intimidating, charming, totally understanding of the challenges a beginner faces in learning yoga, and fun to watch.  She is delightful and authentic! 
By watching Adriene's yoga videos, you can create a beneficial, safe home yoga practice and do yoga at your own pace.   And with your dog by your side! 
Check her out below!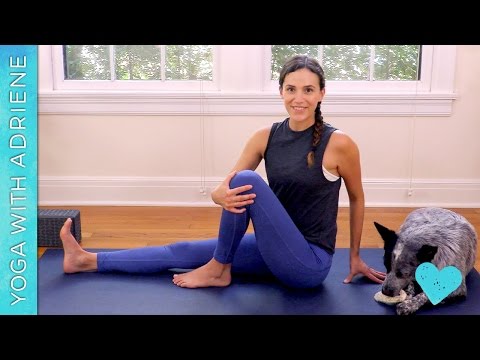 Yours for enjoying a wonderful yoga practice in the comfort of your home!
Laura Venecia Rodriguez, yoga at home coach
Save
Save
Save
Save
Save
Save
Save
Save
I have been practicing daily yoga for 47 years (except during late pregnancy or when certain events interfered with my practice). Like anything else, it's easy for such a routine to become "routine."
Just like a long-term relationship, you need to consistently make your yoga practice feel "special" to maintain your enthusiasm and commitment.
I recommend the following tips and reminders (which I followed to the letter this morning) to maximize the results of your home practice.   I have presented them in the past and they are simple, but truly powerful.  When I completed my practice this morning I felt especially energized, alert, awake, and attuned!  Here they are:
    *  Create rituals and infuse spirit into your practice to make it special.  My "ritual" is turning on my battery-operated candle (if I forget to turn if off, I won't burn my house down!) and placing it near my yoga mat.  This ritual signals to my entire being that I creating a magical time for myself and that I am "lighting" up my body, mind, and spirit with yoga.
    *  Begin with a breathing technique.  The alternate nostril breath technique is my one of my favorite yoga breathing techniques.
    *  Set an intention with a "key word" such as joy, serenity, peace, energy...  and dedicate your practice to that intention.  In other words, since I chose "energy" this morning, this meant that as I performed my various yoga poses, I focused on gaining lots of energy from each pose.  This reinforces yoga's benefits and you will feel a difference!
    *  Warm up with a yoga egg roll and neck movements/rolls.  The yoga egg roll boosts my energy because I feel like a kid each time I do it since it reminds me of being in gym class in elementary school ready to do tumbles.
    *  As you do each pose, listen to and observe your body as you move through all the steps of a pose. Be grateful for all you CAN do and don't give a second thought to what you cannot do (at this time...).
    *  Move slowly and gently as if you were watching a slow-motion dream sequence in a movie - "no pain or strain is all gain."
    *  Experience the "power of the pause" between poses.  One you complete one pose, pause and adjust your body to prepare it for the next pose.
    *  Conclude with a resting pose (savasana) for at least 2-5 minutes and allow the energy you have awakened in your body to re-settle throughout your body and mind.
If you follow these guidelines consistently, you will gain the following benefits:
"Y" - "Youthing-  rejuvenation and youthful vitality regardless of your chronological age
"O" - Oneness and openness of your mind, body, and spirit
"G" - Grace in how move and hold your body
"A" - "Awakening," "Alertness," and "Attunement" in all aspects of your body.
Yours for practicing yoga in the comfort of your home,
Laura Venecia Rodriguez
    *

     Consider adding the above yoga book to your library.  It teaches 47 poses you can do at home!

I periodically comb the digital "shelves" of Amazon.com for new books that provide guidance to yogis who practice at home. Recently, I discovered Amy Luwis' delightful little tome, Yoga to the Rescue-Ageless Beauty:  How to Keep Yourself Glowingly Beautiful Inside and Out!
I am always into being "ageless" and in looking one's best. This book offers so much more! The title belies the treasure trove of practical information within its covers to enhance your home yoga practice.
I recommend adding this book to your yoga library for  the following reasons:
*  Like my book (yes, a shameless plug for my book!), Amy Luwis writes in an easy-to-follow, and personal way. You FEEL her friendly presence as you read. I eschew yoga books that explain poses in a generic, lifeless, and institutional manner. Amy includes references to her own experiences in the book which makes her feel real to me.
*  Amy begins her book with basic health tips which are excellent adjuncts to a vibrant home yoga practice - dry brushing of your skin, dietary recommendations (adding a Reishi mushroom a day "can help keep the doctor away") and the importance of quality sleep..
*  You will find a wide variety of poses from which to choose - a total of 47 that are organized into 6 different sequences.  Each of the sequences has a different aim-such as practicing yoga to become ageless, achieving serenity, or overcoming pain.
*  Amy shares my philosophy of never pushing yourself through pain and she agrees with my tenet that "slow mo' is the way to go." She says, "Don't blast through yoga poses.. Do them mindfully, gently, and slowly."
*  The illustrations of the yoga poses are cute, non-intimidating, and inviting - highly encouraging for the beginning yogi!  You will find humor infused throughout the book - much welcome levity for the new yogi who may feel tentative about a yoga practice.
*  Amy offers easier options for the more challenging poses so that everyone can benefit even if they are less "athletic" or physically "challenged" in some way.
As you must know from the 8+ years that I have been writing this yoga blog, yoga can indeed come to the rescue for so many of life's challenges.  And, Amy Luwis' book (in addition to my book!!), in my opinion, is one of the best you can find to get your started or to enhance your existing practice.  Go buy yourself a copy today!
Laura Venecia Rodriguez, the Yoga at Home Beginners Coach
A week ago (June 4, 2017), I had fun sharing my daily yoga practice with my Wellesley College classmates.  In the above 2 photos, I demonstrate the bow and the half-locust poses.

I try to avoid using cliches, however, it's hard not to focus on how the years have zipped by when you attend your 40th college class reunion. As one of my classmates exclaimed, "where did 40 years go?!"
No matter how many years go by and as long as I possibly can, hopefully, until the day I "dance off the planet" (as 97-year young yoga instructor, Tao-Porchon Lynch says what she plans to do when her time is up), I will continue to practice yoga.
During the plans for the reunion, I was asked to give a yoga class and I agreed, emphasizing that I would share SLOW, GENTLE poses best suited to beginners, period.  And, that's what I did in the 45-minute session on a (finally, after numerous gray days) bright, sunny Sunday.
At the beginning of the class I shared my key tenets of a daily home yoga practice:
1)  "Slo' mo is the way to go" - I move into and out of yoga poses slowly and deliberately.  This allows you to really FEEL the pose.
2)  "The power of the pause" - take a short break (often going into the "child pose" as a relaxation poses between other poses) between each pose to allow your muscles to regroup and recover from a stretch.
3) "No pain or strain is all gain" in a gentle hatha yoga practice.  Challenge yourself, but never push, tug, or force your body into a pose.  A few years ago, according to an article in the Yoga Journal, over 16,000 people enter emergency rooms every year because of injuries sustained in a yoga class - no doubt the result of trying to go further than the body was ready to do
4)  Inhale and exhale deeply while practicing.  Synchronizing your breath with your movements enhances the energy boost you gain after a yoga session.
Some of my classmates are real athletes. Others may have not done too much physical exercise recently.
Whatever level they were, my classmates enjoyed the poses I shared - as apprehensive as I was in providing instruction that may have been "too basic".  I received many compliments after the class. People told me how great they felt.
One classmate told me that during the final Savasana pose (the sponge pose I call it - when you lie on your back and totally relax for several minutes at the end of a session), as she listened to the relaxing yoga music -  strong feelings welled up inside her.  And a gush of tears flowed.  Yes - in addition to its physical benefits, yoga can at times, release a much needed emotional release of pent up feelings.
In sharing my yoga practice with my college classmates, I realized once again, that indeed, you do not have to do the most complex, pretzel yoga poses to benefit greatly from yoga.  Start with wherever you are, move gently, and consistently,  inhale and exhale deeply, and you may just forget that 40 years have elapsed since you finished college!
Yours for enjoying gentle hatha yoga, 
Laura Venecia Rodriguez, the yoga at home coach for beginners
More Recent Articles