This tutorial was written using ONLY Jasc Animation Shop. I believe it can be done in Gif Animator too. Please note that both of these programs are now free. If you need the link to either of them, please send me an email.
The files you need are included in the zip you will find
here
. They are all sized so they'll be ready to use.
1. Open Animation Shop. Open your fallingshow.psp file. You'll notice there are ten frames.
2. Open your snow scene. You will have to duplicate the frame so that there are ten of them. Go to Edit, Duplicate Selected.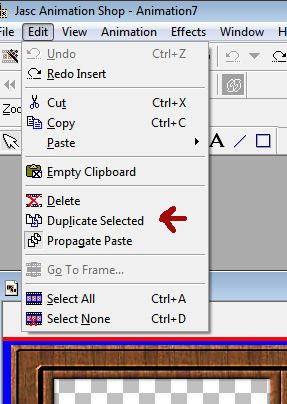 3. You will notice that you now have TWO frames and BOTH are selected. If you go to Edit, Duplicate again, you'll get 4 frames since they are both selected, right?
Bottom line is you want TEN frames here. So keep watch on the number frames you end up with. It is easy to delete any extras but make sure you only have ten frames.
4. Go back to your fallingsnow frames. Go to Edit, Select All (1), then Edit, Copy (2).
5. Click on the snow scene that now has ten frames. Go to Edit, Select All. NOTE: Make sure the Propagate Paste is toggled ON (see pointing hand on screen shot below).
Now, go to Edit, Paste Into Selected Frames.
You will see "snow" poised at the end of your pointer. Place the "snow" so that it is centered as best you can (it is a bit smaller than the scene because you'll have a window over it, right?). It will appear that you'll only get snow in one frame but once you click your mouse, each scene frame will have snow on it. I promise! :) Here is a screen shot of two of the frames for you. There is no way to show you all 10 frames without making it too small.
6. Open you window frame now. Again, duplicate the frame until you have TEN frames. Go to Edit, Select all then Edit, Copy. Just as you did in Step 4. Go back to you snow scene that has the snow on it (that you put there). Your frames are still selected so all you have to do here is repeat the Edit, Paste into Selected Frames.
7. At the top tool bar, at the far right, there is a little "movie" icon
). Click on it for a preview of your animation. Cool, eh?
8. Next, you want to save your masterpiece. Go to File, Save As. Give your animation a file name, making sure to add gif after the dot. I called mine snowscene.gif.
10. If you have size limitations in your groups, it would help to re-size your animation. To do this, go to Animation, Resize Animation.
I re-sized mine 60%. Here is my finished animation: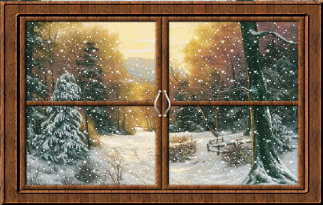 Obviously, if you want to make this a tag, you will have to put your name somewhere. You can do the same above steps to do that. Do the name part in an image editing program like Paint Shop Pro, Photoshop or Photo Impact. Save and open in Animation Shop (or Gif Animator) and follow the steps!
Both of my friends who tested this for me used different window frames and snow scenes. If you do the same, make sure that your images are approximately the same size so it looks right. That you
will
have to do in Paint Shop Pro or Photoshop. I hope you enjoy the tutorial. Please email me if you have any questions. I'll try to help!
Just a short note to let you know that I am limited here on the computer - I fell on Friday and broke my left arm. It is not fun at all to be unable to use both hands! :) I see an orthopedic doctor next Monday so hopefully will get something less bulky, So I won't be doing a whole lot of designing for a while and wanted you all to know why.
Caution about
FictionDB.com
- Although they have a great way to copy and paste the book series into an Excel-like spreadsheet, you really have to double-check the listings. I just discovered this problem tonight when updating my Tom Clancy books. I use Quattro Pro which is part of the WordPerfect Office Suite and very similar, I am told, to Excel. Anyway, when at
FictionDB
, and getting the list for the Jack Ryan books, there are two books in the list that are not Jack Ryan books. Sometimes there are books actually missing from their lists as well. I use
Fantastic Fiction
to check the information provided at
FictionDB
.
I am trying this spreadsheet idea that a member at
Paperback Swap
shared with me to keep track of the series and authors that I read. I still don't know how it will work when I go shopping for used books but we'll see. I would actually love to use a database but I haven't found one yet that specifically does what I want it to do. All the book databases I have found so far are for keeping track of the books one has in one's personal library. That isn't what I want so I will either have to figure out a way to modify the existing ones or keep looking!
Latest book I just finished was
An Echo in the Bone
by Diana Gabaldon. Now you have to understand that I have waited for at least 3 years for this book of hers which is a sequel and #7, I believe in the series. I bought the book in October and waited until late December to open it and read it.
Almost immediately, I noticed there were way too many sub-plots going on and whole sections of the book that could have been left out. There is the Brianna and Roger & family plot, Jamie and Claire plot, Lord John Grey plot, William (Jamie's son and a British soldier), Dottie plot, Henry plot, Rachel and Denzell Hunter plot, Ian plot, Jenny and Ian plot (Ian Sr., that is), etc. Not only that, but there was quite a bit of switching between the 18th and 20th centuries which was to be expected.
As I neared the end of the book, several major things happened and I could see that there were going to be things left unresolved or, worse, hastily put together. I closed the book today and was thoroughly disgusted! There are WAY too many loose ends and things left to one's imagination and, right now, I am furious with Ms. Gabaldon!! Now it looks like I'll have to wait another three years to find out what happens to Rachel and Ian, William, Henry, Jem, Brianna, Roger, Rob Cameron, Dottie and Dennie, etc. That is totally unfair to your readers, Diana! We are not tepid fans, you know. Most, if not all, of us wait as patiently as we can for your next sequel and deserve so much more than you gave us in this book.
You wasted too much time on details of the battles, side trips of stories that really added nothing to the main characters and the plots. I had seen some poor reviews of this novel on Amazon and dismissed them right away but no so any more. I am not altogether sure I'll put myself through another 888 pages to be left hanging like this again!
Since this is a personal item, I decided to post these pictures in my "thoughts" blog. On December 5, Hanna had her first slumber party and she had a lot of fun as well as her guests. I scrapped some of the photos and ended up with two really good ones.
I used papers and elements from my Feminine kit for this one. Here is the second one:
I am thinking this really tells the story of the slumber party best. I didn't make the photo collage but simply selected a layer and pasted a photo into the selection. I added papers and elements from the Dawn kit for this one. Thanks for looking!
More Recent Articles