New uber-luxe golden clad decanter from Hennessy is a bit a show stopper.
Here's more information from
Atelier 29
"A collector's item indeed! This crafted luminous decanter sheathed in gold by Hennessy would be an exclusive hand-gift for Christmas or New Year Celebration and even perfect Chinese New Year Present for those looking for something different!

An exquisite packaging design by Italian designer Ferruccio Laviani, Paradis Horus is an exceptional cognac developed from a masterly assemblage of hundreds of rare eaux-de-vie, perfectly aged for 25 to 130 years. It is has been described as the fruit of a noble alliance between man, the land and the heavens.

'A divine name for divine perfection. Its name is derived from the mythological god representing the sun. Emerging from the cellar's obscurity, its luminous eaux-de-vie irradiate. They embody the sun's power and warm light, forming a cognac beyond compare.

For this exquisite elixir, Hennessy has chosen the most magnificent cognac decanter ever envisioned. The Italian designer, Ferruccio Laviani, crafted a luminous decanter sheathed in gold to glorify this one-of-a-kind ambrosia. Reminiscent of ancient statues, the Paradis Horus decanter is as singular as the cognac it contains. It commands respect, topped with a majestic oversized cap, plated in 18 carat gold.'"
I'm very partial to mythological references and ancient legends. And a spot of gold bullion never hurt anyone. If anyone feels like sending me a decanter of super-smart cognac, feel free!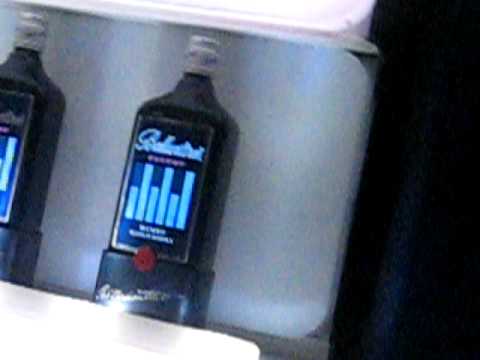 Your eyes are not deceiving you. These bottles of Ballantine's are indeed flashing. And not just flashing randomly, but pulsing to the beat of the music.
Why? Well, rather than me trying to work it out, here's what
Marketing Magazine
wrote about it:
"Designed by London-based packaging agency The Core, the Ballantine's Finest self-illuminating bottle, which can be powered by batteries or mains, is only available to the on-trade.
The bottle design is modelled on a graphic equaliser, the dark blue spray coated bottle appears to react to the tonal quality of audio passing through it, by lighting up intermittently to achieve back-of-bar standout.
The working bottle forms part of an on-trade campaign for Ballantine's Finest, entitled 'Listen to Your Beat'. Rolling out across bars and nightclubs in the UK and other markets, the campaign is based on the idea that 'by listening to your own beat and following your own instincts, you will make choices that leave an impression on others.'
Global marketing director for Ballantine's, Peter Moore, said "The 'Listen to Your Beat' campaign will energise our on-trade accounts by engaging consumers in a creative and eye catching manner.""
I'm lost for words.
I'm a big fan of these labels. It's good to see designs that aren't just about looking nice but actually engage the mind.
I particulalry like "Puzzle Time" on the left. You can see that within the word search there are terms like "blackberry" and "toast" that presumably are part of the tasting notes that you discover as you drink it. There's something brilliantly playful about it that's a million miles away from the normal "dry, elegant and crisp" tasting notes that adorn the back of most bottles.
You can see from this
blog post by Budget Vino
that the label has worked a treat. It gives a reason for people to engage with the wine label and learn more about what makes it different from its rivals. I'm intrigued to see their other labels and whatever else they are up to.
(Via Bev Law blog)