On Friday, July 22, 2011, a gang-related shooting occurred at the 300 block of East Washington Ave. The victim, a male juvenile, died as a result. During the investigation SAPD Homicide Detectives identified Jesus Canales, 18-years old at the time of the shooting, as one of the suspects. A warrant was issued for his arrest.
During the ensuing ongoing investigation, Canales was found to have fled to Michoacan, Mexico. He was recently detained by Mexican authorities. On Thursday, December 8, 2016, Canales was turned over to Santa Ana Homicide Detectives at LAX.
The Orange County District Attorney's Office has filed homicide charges and associated gang enhancements against Canales.
ORANGE COUNTY DISTRICT ATTORNEY NEWS RELEASE
December 7, 2016
Case # 16WF1916
LOS ANGELES FELON CHARGED WITH HUMAN TRAFFICKING AND PIMPING FOUR VICTIMS INCLUDING 13-YEAR-OLD GIRL AND FILMING SEXUAL ASSAULT OF 15-YEAR-OLD VICTIM
WESTMINSTER, Calif. – A Los Angeles felon is facing additional charges for human trafficking and pimping four victims, including a 13-year-old girl, and filming the sexual assault of a 15-year-old victim. James Dennis Lyle, 29, Walnut, was charged on Aug. 25, 2016, with one felony count each of human trafficking of a minor, human trafficking, oral copulation of a minor under 16, sodomy of a person under the age of 16, unlawful sexual intercourse, pimping a minor, pandering a minor under 16 by procuring, pimping, and pandering, with a sentencing enhancement for human trafficking by force or fear. Lyle was additionally charged today with one felony count each of human trafficking a minor, pimping a minor, pandering a minor under 16 by procuring, pimping, pandering, assault with force likely to cause great bodily injury, conspiracy to commit aggravated assault, and possession and control of child pornography, with a sentencing enhancement for a prior strike conviction for second degree burglary in Los Angeles in 2012. If convicted, he faces a maximum sentence of 56 years and four months in state prison. He is being held on $2 million bail and is scheduled for a pre-trial hearing on Feb. 9, 2017, at 8:30 a.m. in Department W-2, West Justice Center, Westminster.
Circumstances of the Case
Lyle is accused of being a human trafficker/pimp who exploits women and/or children for financial gain. Pimps often establish rigid rules that their victims are expected to follow including requiring victims to speak only when spoken to, address the pimp as "Sir" or "Daddy," assigning seats in the car based on "rank," and setting daily quotas that the victims are expected to fulfill. The victims are required to turn over all payment they receive for sex acts from sex purchasers to their pimp. Failure to follow these rules can result in deprivation of food and/or physical and/or emotional abuse.
Between July 1, 2016, and Aug. 22, 2016, Lyle is accused of possessing pornographic images of children.
Between July 19, 2016, and July 22, 2016, the defendant is accused of pimping and pandering Jane Doe 1 by arranging for the victim to solicit commercial sex in areas of Orange County known for human trafficking and prostitution.
During the same timeframe, Lyle is also accused of meeting a minor runaway, 13-year-old Jane Doe 2, and posing her for photos at a motel in Garden Grove. The defendant is accused of taking money the young teen victim received from sex purchasers throughout Orange County.
On July 22, 2016, the defendant is accused of driving Jane Doe 2 to Los Angeles where he conspired to abandon the victim on a street unknown to her. After she was thrown from the car, the defendant is accused of using his cell phone to film the victim being punched and slammed repeatedly into the pavement by a woman.
On Aug. 1, 2016, Lyle is accused of sexually assaulting 15-year-old Jane Doe 3 and recording videos of himself sodomizing the victim and forcing her to orally copulate him. The defendant is also accused of having unlawful sex with the minor on at least one other occasion.
Between Aug. 1, 2016, and Aug. 22, 2016, Lyle is accused of posting sexually explicit advertisements of Jane Doe 3 and 26-year-old Jane Doe 4 on websites known for soliciting commercial sex. The defendant is accused of arranging for the victims to engage in prostitution throughout Orange County and taking the money they received from sex purchasers for himself.
The Garden Grove Police Department (GGPD) investigated this case and located and arrested Lyle in late August 2016. The defendant is accused of possessing photos and videos of the victims on his electronic devices.
Members of the OCHTTF and the Orange County District Attorney's (OCDA) Office work proactively to protect women and minors from falling victim to commercial sexual exploitation. This case was investigated by GGPD and OCHTTF, a partnership between Anaheim Police Department, California Highway Patrol, Costa Mesa Police Department, Federal Bureau of Investigation, Huntington Beach Police Department, Irvine Police Department, Newport Beach Police Department, OCDA, Orange County Sheriff's Department, Santa Ana Police Department, and community and non-profit partners.
Deputy District Attorney Daniel Varon of the HEAT Unit is prosecuting this case.
Proposition 35 and HEAT
To read more about California's anti-human trafficking Proposition 35 and the OCDA's Human Exploitation and Trafficking (HEAT) Unit, please visit www.orangecountyda.org and select Human Trafficking Information from the Media Center drop down menu.
###
TONY RACKAUCKAS, District Attorney
Susan Kang Schroeder, Chief of Staff
Office: 714-347-8408
Cell: 714-292-2718
Public Affairs Unit
Office: 714-347-8405
Logan James Cunningham, a 27-year-old Long Beach man was charged Tuesday in the stabbing death of a man outside a Circle K store in Santa Ana in August, according to the O.C. Register.
Cunningham is also facing a count of murder with an enhancement for using a deadly weapon in connection. 
Cunningham will next appear in court on Tuesday and his arraignment was scheduled for just before Christmas Eve, on Dec. 23. He is being held on more than $1 million bail.
The SAPD responded to the Circle K store in Santa Ana, at 710 E. Dyer Road, on August 7, where they found Jason Paul Torres of Costa Mesa injured nearby. Torres later passed away at a local hospital. The next day Cunningham was arrested after he was identified as the suspect.
We still do not know what Cunningham's motive was for killing Torres. But that will come out in the upcoming trial.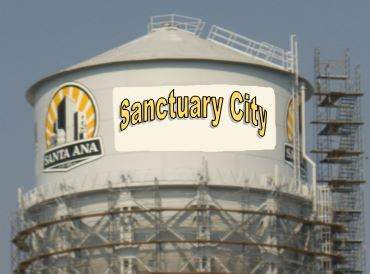 The City of Santa Ana recently announced that they have partnered with North Star Destination Strategies to develop a community "Brand" for marketing the area to residents, businesses and visitors in the year 2017 and beyond. However that branding effort might have already been settled when the Santa Ana City Council decided this week to support a resolution declaring Santa Ana to be a Sanctuary City.
City employees in these sanctuary areas are directed not to contact the federal Immigration and Customs Enforcement (ICE) agency when they become aware of an illegal alien in the community, according to the Sanctuary Cities website.
While Sanctuary Cities improve relations between local law enforcement and the immigrant community, they also can result in repeat criminal offenders being released to commit more crimes instead of being detained or deported, according to USA Today.
Sanctuary cities can also be more attractive to the undocumented, increasing the economic burden on the Sanctuary City to support this population.
In July of 2015, an undocumented resident named Juan Francisco Lopez Sanchez murdered 32-year-old Californian Kathryn Steinle on a pier in San Francisco. San Francisco sheriff's deputies blamed her murder on the city's sanctuary policies, which bar municipal employees from assisting federal immigration agents with investigations or arrests.
Sanctuary cities have released over 8,100 criminal illegal aliens in the past eight months and at least 1,900 of them later committed 7,500 new crimes, ranging from murder to child sex abuse, according to Progressives for Immigration reform.
On the contrary, a 2009 report published by the Police Foundation found that "local police involvement in immigration enforcement could have a chilling effect on immigrant cooperation" with police. "Without this cooperation, law enforcement will have difficulty apprehending and successfully prosecuting criminals, thereby reducing overall public safety for the larger community," according to Mother Jones.
So what about Santa Ana's brand? Clearly that brand is now, for better or for worse, "Sanctuary City." So the obvious question is will this new brand attract more businesses and visitors to our city?
While Downtown Santa Ana has been reborn over the past few years and the many new bars and restaurants in that area, as well as the Artists Village, do attract lots of visitors, the increase in crime in our city since the firing of former SAPD Police Chief Paul Walters has been a real problem for all of us. This has even affected DTSA, where several partygoers have been brutally killed including a young Vietnamese American woman who was kicked and stomped to death by two local women, a young Korean American who was robbed and shot and more recently an off duty security guard who was brutally stabbed while at a concert in a basement.
Whatever money the city is spending on this branding idea is now a waste of money. Thanks to our City Council we now have a new brand, like it or not. Whether or not being a Sanctuary City will actually do anything positive for our city's image remains to be determined.