There is a saying that the Santa Ana City Council should have kept in mind when they decided to antagonize President Donald Trump – mess with the bull, you get the horns. And that is exactly what just happened today as the Department of Homeland Security (DHS), U.S. Immigration and Customs Enforcement announced that they will be terminating their Santa Ana jail contract in 90 days, according to a City of Santa Ana press release.
The Santa Ana City Council had announced last year their plan to terminate the ICE contract by 2020. And this year they voted to become a Sanctuary City – despite warnings that they would lose federal funding. Now that has happened and it is a total disaster.
Santa Ana's decision in December to close one jail module results in a $663,743 annual net revenue loss and a full contract termination would create a $2 million hole annually, then-City Manager David Cavazos reported at the time. The city faces repaying about $24 million plus interest through 2024 for building the jail that it opened in 1997, according to the O.C. Register.
The Santa Ana City Jail currently receives approximately $340,000 per month in revenue from the ICE contract. The full operation of the jail includes 96 full-time and 20 part-time budgeted employees who assist in operating the jail facility.
That money is now gone – and those city employees will soon be without jobs because of our stupid City Council.
"The City has been committed to expediting the termination of the ICE contract. Going forward, it is imperative that we make decisions that ensure sustainable City operations, including those at the existing jail facility," noted Mayor Pro Tem Michele Martinez.

"In many ways, I'm more concerned with the financial and time hardships that will be created for local residents and their attorneys to visit family members or friends in ICE detention centers that will now be many hours away or in another state," Councilman Jose Solorio told the Register.
The City Council shot themselves in the foot by taking on Trump and now we are all going to pay the price for it. Trust me – this is just the beginning. Pres. Trump will surely ask all of his Federal agencies to start canceling funds to our city. Santa Ana will lose millions in Federal funding thanks to our idiotic City Council.
The sad thing is that the real issue in our city is crime – and stopping the gangs. Now our city won't have the money to do that. Our City Council decided to focus on immigration and stopping the food trucks instead of making our city safer – and we will all pay the price for their hubris.
Santa Ana Police Department
Advisory: SAPD Vice and Narcotic Unit conducted an enforcement program targeting the prostitution related activity along the Harbor Blvd. corridor
On Wednesday evening, 02-22-17, the Santa Ana Police Department's Vice and Narcotic Unit conducted an enforcement program targeting the prostitution related activity along the Harbor Blvd. corridor.
The detectives focused their efforts on female offenders soliciting themselves, loitering in the area for the purpose of prostitution.
The detectives made 15 arrests within a six hour period. One of the females arrested, Taina Theresa Starr, was additionally found to be in possession of a .380 caliber handgun. She was booked at the Santa Ana Jail for prostitution and weapons related offenses.
A 16 year-old female was detained for activity consistent with prostitution. She was found to have an outstanding warrant for her arrest. She was transported and booked at the Orange County Juvenile Hall per the terms of the arrest warrant.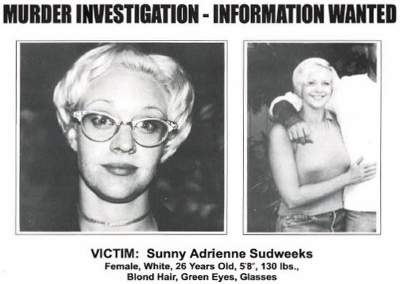 CMPD HAS IDENTIFIED HOMICIDE SUSPECT IN 1997 COLD CASE RAPE-MURDER OF 26-YEAR-OLD FEMALE VICTIM
 
Case will be submitted to the Orange County District Attorney
COSTA MESA, Calif. – The Costa Mesa Police Department (CMPD) has identified the suspect in the 1997 cold case rape-murder of 26-year-old Sunny Adrienne Sudweeks. The identity of the suspect has been unknown until recently and after extensive follow-up investigation and exhausting all avenues to capture the suspect, CMPD hopes to bring the suspect to justice by making his identity known. Felipe Vianney Hernandez Tellez, 43, has been identified as the homicide suspect who raped and murdered Sudweeks in 1997.
CMPD was assisted in this investigation by the Orange County Cold Case Task Force, the Orange County Crime Lab, the Orange County District Attorney's (OCDA) TracKRS Unit, U.S. Marshals Service, Santa Ana ICE Enforcement and Removal Operations Unit, Santa Ana School Police, and the California Department of Justice.
"While we can never make up for the loss associated with this heinous and vile crime, my hope is that we can provide some sense of closure and make life a little easier for the Sudweeks family," said Chief of Police Robert N. Sharpnack. "My staff worked hard to get to this point but we will not stop until this despicable individual is behind bars."
Felipe Vianney Hernandez Tellez
At the time of the murder, Hernandez, then 23 years old, was living in Santa Ana but had previously lived in Costa Mesa from approximately 1991 to 1993.
Two years prior to the murder, Hernandez was arrested on Dec. 4, 1995, by Newport Beach Police Department and his fingerprints were collected. He was subsequently charged and convicted of second-degree burglary.
He was also arrested on May 20, 2000, by the Santa Ana Police Department and subsequently charged and convicted for domestic violence. His fingerprints were placed in the fingerprint database in 2000.
In 2006, Hernandez fled the United States, and returned to Mexico. It is believed that he currently lives somewhere in the state of Oaxaca with his new family to include his wife and three children. He is possibly living near the resort town of Puerto Escondido. He previously worked as a painter and currently delivers rotisserie chickens to customers. Hernandez frequents his mother's home in Huitzuco, Guerrero.
Santa Ana Police Department
Advisory: SAPD conducting a DUI/Drivers License checkpoint on Fri, February 24th, 2017, 9:30PM to 2:30AM, 500 W. Warner Avenue
SANTA ANA POLICE STEP UP DUI ENFORCEMENT
The Santa Ana Police Department will be conducting a DUI / Drivers License checkpoint on Friday, February 24, 2017. It will begin at 9:30PM and is scheduled to conclude at 2:30AM. It will be conducted in the area of 500 W. Warner Avenue, in the City of Santa Ana.
The primary purpose of a DUI Checkpoint is to deter impaired driving, not to increase arrests. All too often, members of our community are senselessly injured or killed on local roadways by impaired drivers. This DUI / Drivers License checkpoint is an effort to reduce those tragedies, as well as ensuring drivers have a valid driver's license. The DMV reports that unlicensed drivers are 4.9 times more likely to cause a fatal crash than a licensed driver.
The checkpoint will be staffed by officers trained in the detection of alcohol and drug impairment to provide on-the-spot assessments of drivers suspected of alcohol or drug impairment. All checkpoints are conducted in accordance with the guidelines for DUI checkpoint operations outlined in the California Supreme Court decision, Ingersoll v. Palmer.
All vehicles may be checked and drivers who are under the influence of alcohol and / or drugs will be arrested. Our objective is to send a clear message to those who are considering driving a motor vehicle after consuming alcohol and / or drugs – Drunk Driving, Over the Limit, Under Arrest. The public is encouraged to help keep roadways safe by calling 911 if they see a suspected impaired driver. Funding for this operation is provided by a grant from the California Office of Traffic Safety, through the National Highway Traffic Safety Administration.