---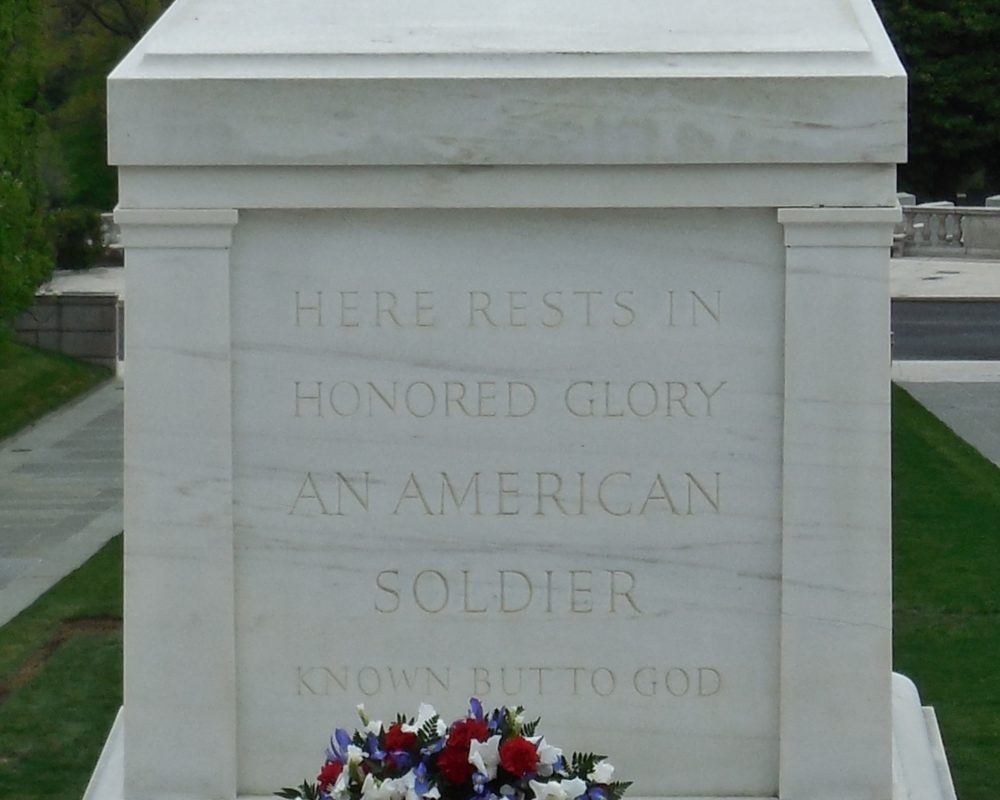 "Here rests in honored glory an American soldier known but to God."
Those are the words chiseled into the marble sarcophagus that holds the body of an unidentified military veteran from WWI. In addition, two other unidentified soldiers from WWII and the Korean War are memorialized at the same site in separate crypts. A fourth, previously unknown soldier from the Vietnam War (later identified through DNA testing at Michael Blassie) rested there until 1998 when his remains were moved to Jefferson Barracks National Cemetery. Since 1937, the Tomb of the Unknowns has been guarded 24/7-365 by a select group of soldiers known as Tomb Guard sentinels, an elite group of soldiers from the 3rd US Infantry Regiment – "The Old Guard." The soldiers rotate throughout the day, ceremoniously and meticulously marking their steps, following a prescribed protocol of duty. It's fascinating, sobering and sacred, to sit as a ringside witness to such tribute and honor. For these soldiers, their service isn't played out on the battlefields of Afghanistan or Iraq.  Instead they surrender their duty, give their time and their best, on the battlefield known as Arlington National Cemetery, all for one sacred, privileged purpose.
To guard and protect the unknown – an American soldier known but to God.
And tonight, in the quieting moments after a week that has forced my faith to new heights and my knees to deeper prayer, I am thinking about those unknown soldiers, their stories and the secrets they keep encased within those crypts. Most tenderly, I'm thinking about the soldiers who, for the past eighty years, have given up their days and their nights for the sole purpose of guarding and protecting this mystery.
Sometime in the distant past, on a landscape not my own, three soldiers died on different battlefields while defending the rights of liberty. And while their identities currently remain a mystery, their earthly remains are heavily defended by The Old Guard.
As it is with the Tomb of the Unknowns, so it is with my life. So it is with yours.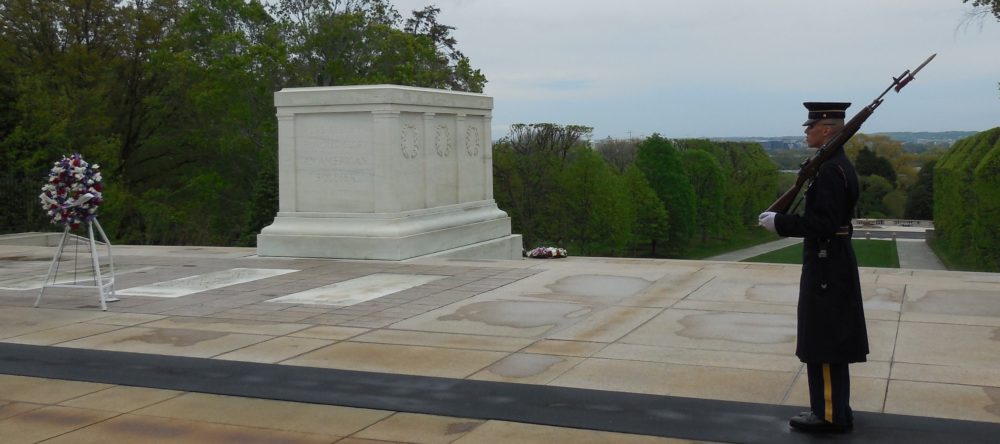 There are many mysteries, countless unknowns attached to our stories. The previously written chapters of our lives are safely scripted and bound within the annals that bear our names. But there are other pages, other secrets, chapters to come, and chapters writing themselves in this very moment, that are unidentified to us. And this can be scary at times because we have very little control over the unknowns; instead, we can only bear witness to them as they arrive and pray for God's grace to hold them as our own. And when we're shaken by newly discovered realities – when the unknown is finally identified and brings us fear rather than peace – as Christians, we have a deeper reality that we can cling to, a known truth that will cover our hearts and our minds like a warm blanket on a bitter winter's night…
The Old Guard is standing near.
Marking his paces. Guarding his own. Rain or shine. 24/7-365. Back and forth before the crypts that carry the fullness of our lives – the mysteries, things known to us, and things known but to him. For this Soldier, his service is no longer played out on the battlefield known as Calvary; instead, he surrenders his duty, his time and his best, on the battlefield known as our lives, all for one sacred, privileged purpose.
To guard and protect the unknown – a soldier's story, our stories, known but to Him.
See him there, friends. Oh how carefully Jesus Christ is guarding your tomb. Your surrender is precious to him, and in his great love for you, he has promised you his protection. What you cannot see, what you cannot know, is already seen and known to him. Your unfolding mysteries are not a mystery to him. He knows your story. He knows what's at stake. He's laid down his life for yours, and you can be sure that he's not going to let the enemy rob your surrender of one single glory.
The gates of hell may rattle and shake its cage against you today, threatening your capture. But take heart. The Old Guard is standing near, and the gates of hell are no match for the protective, loving reach of this Sentinel. He has given his life and his pledge to bring you safely home. He will keep his word. It is his highest honor to do so 
So rest in honored glory today, Christian soldier. You and your unknowns are known to God. He can be trusted with the rest of your story. As always…
Peace for the journey,



PS: Psalm 91 has been a balm to my soul in this season. You may read it by clicking here.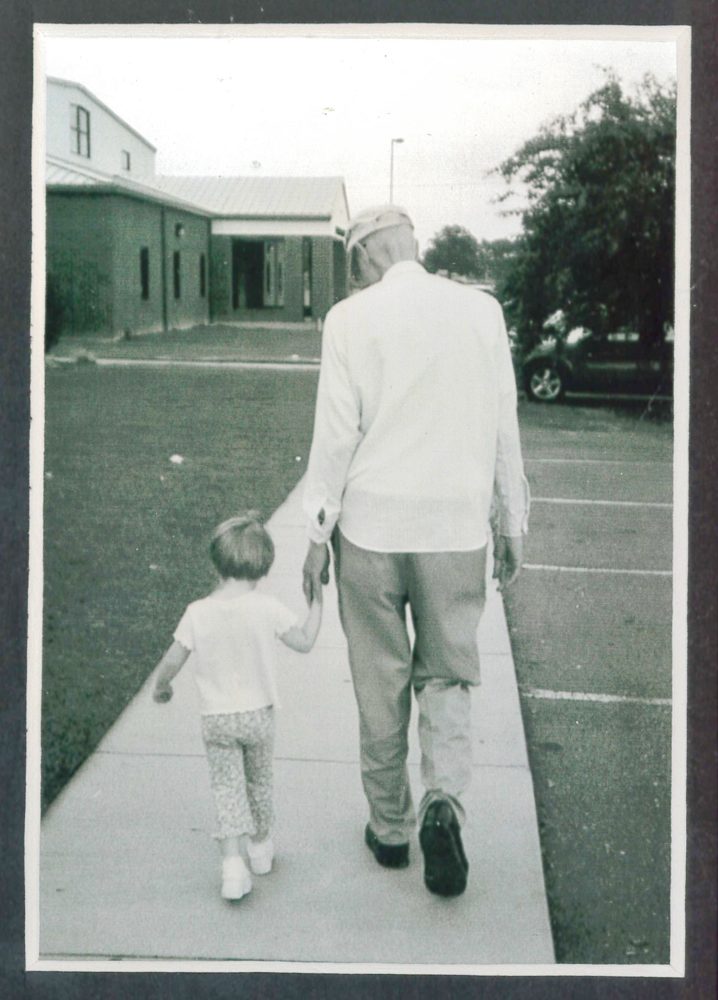 Grace's words surprised me that night. I wasn't expecting them. What I was expecting … well, I'm not quite sure. I'd never been down this road before. Just an hour earlier, I was eating orange sherbet while sitting on a couch next to my mother-in-law, Rosalie, when the call came telling us what I was expecting to hear—that my father-in-law, Bill, had stepped peacefully from this side of the eternal veil to the other.
As quickly as we could find our shoes (as well as our pulse), we made the five-minute walk from Rosalie's new apartment to the nursing facility where Bill had been residing. This living arrangement had been a dream of theirs, selling their home on Tinkerbell Rd. and moving to Carolina Meadows—a retirement community that would afford them a peaceful and pleasant pasture to write their final chapter together.
The dream had a few revisions along the way. Two years earlier, Bill's cancer (as well as a fractured hip, diminished mobility, and several late-night trips to the emergency room) interrupted their plans. Despite the multiple roadblocks along the way, both Bill and Rosalie eventually arrived at their new address. And while they would no longer share a bathroom or eat sherbet beside one another on those light-green, chenille couches that had cradled their marriage of nearly fifty-three years, they could at least spy each other's bedroom windows across the verdant lawn that now separated them—a chasm that could not be crossed quickly enough in those late hours on Wednesday, June 14th.
Soberly and tenderly, Rosalie and I entered Bill's room as well as the sacred moment. I have often said that the ground we stand upon is never more hallowed than in those moments that exist between the now and the next. Just two hours earlier, we'd been sitting in this same room with Bill, singing hymns, praying prayers, and speaking words of release to him while he peacefully slept. That was the now. This moment, well this was the next, and the difference between the two was stunningly apparent to us both.
"He is not here, Rosalie. He's gone home."
While Rosalie cradled her grief as well as Bill's fragile frame, I quietly removed the wedding band from his ring finger and slipped it onto the chain around Rosalie's neck. I stood in the shadows, watching a bride say good-bye to her husband. I was profoundly moved to a place of deeper understanding, a deeper connection to all things eternal. Indeed, what God hath wrought together, no man had been able to put asunder (Mark 10:9).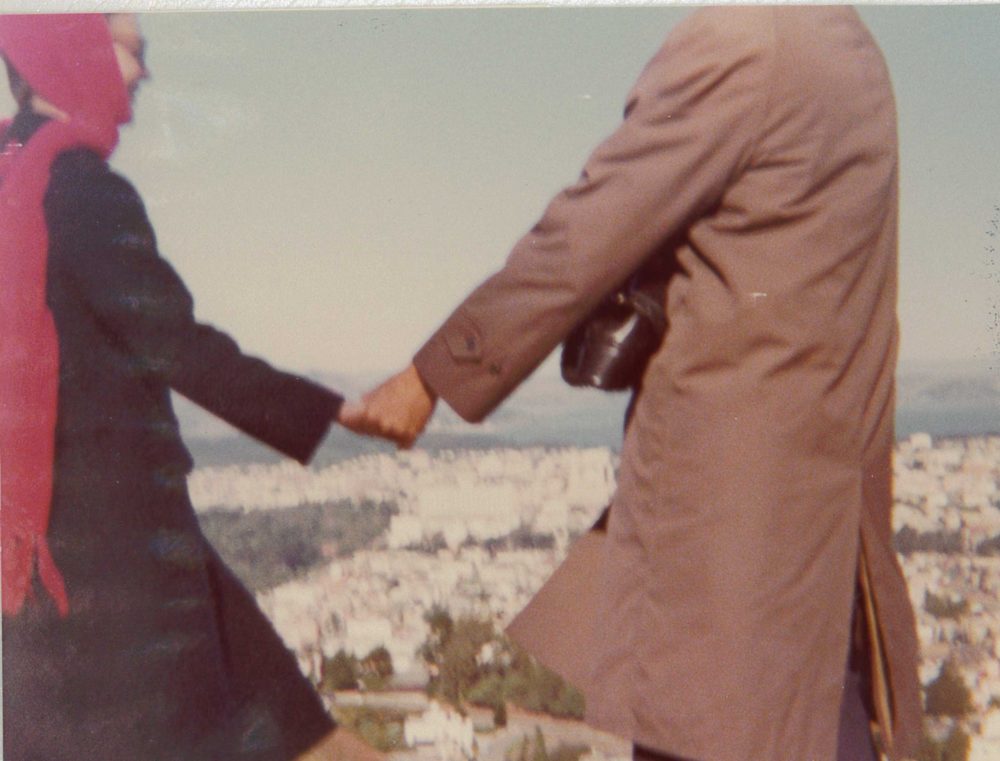 And that gift … being witness to such love … would have been enough to salve the grief that began to fill our hearts. But God gave us another gift that night, the gift of Grace—the nurse's aide assigned to Bill in his final hours and in the many weeks preceding his departure. We met her in the hallway while making our way back to Rosalie's apartment. She told us a story about a recent encounter she'd had with Bill:
"Mr. Bill was trying to help me find a shortcut through Chapel Hill. He drew me a map.

[*For those of you who knew Bill, this doesn't come as a surprise as Bill was always drawing maps and knew the Chapel Hill area better than most, as he'd been selling real estate in the surrounding community for more than fifty years.]

He told me that should I ever travel down that particular route and found myself thirsty, that I should stop by Tinkerbell Road … that a glass of water would be waiting for me."
And these, friends, were the words that surprised me that night, shook me and sweetly startled me at my core. I'm not quite sure the reason behind Grace relaying this particular story about Bill, but as soon as she released it to us for safe-keeping, I knew that no finer epitaph could ever be carved in stone to best memorialize the life and witness of Bill Olsen, Jr.—a man who lived on Tinkerbell Road, always ready with a cup of water for anyone whose thirst led them to his door.
Bill was always looking for the best route in and around his town … in and around this life … while watering his town and this life with a generous cup of goodness. He was a mapmaker and a grace giver.
A mapmaker and a grace giver. God has replayed this message over and over again in my mind these past six days since Bill's departure. More significantly, God has etched these words onto my heart eternally.
Indeed, Bill is not here with us in body any longer. He has gone home. But God, because of his great mercy and love for all humanity, granted Bill the holy privilege of drawing us a map so that we, too, may find our way home. Additionally, whenever a thirsty soul came knocking, Bill was faithful to fill our cups with a ladle of water from the well of God's amazing grace, more than enough to fuel us for the journey that lies ahead.
A mapmaker and a grace giver. Bill's life was a life well-lived. He lived simply and quietly. He loved purely and certainly.
He left a map and he left a ladle.
A mapmaker and a grace giver. The trail has clearly been blazed. The mission has clearly been defined. May we endeavor (with God's help) to follow the map, to fill the cups of the thirsty, and to live ever so rightly, vigilantly and attentively, all of our remaining days on this earth. Amen. So be it.
Peace for the journey, friends.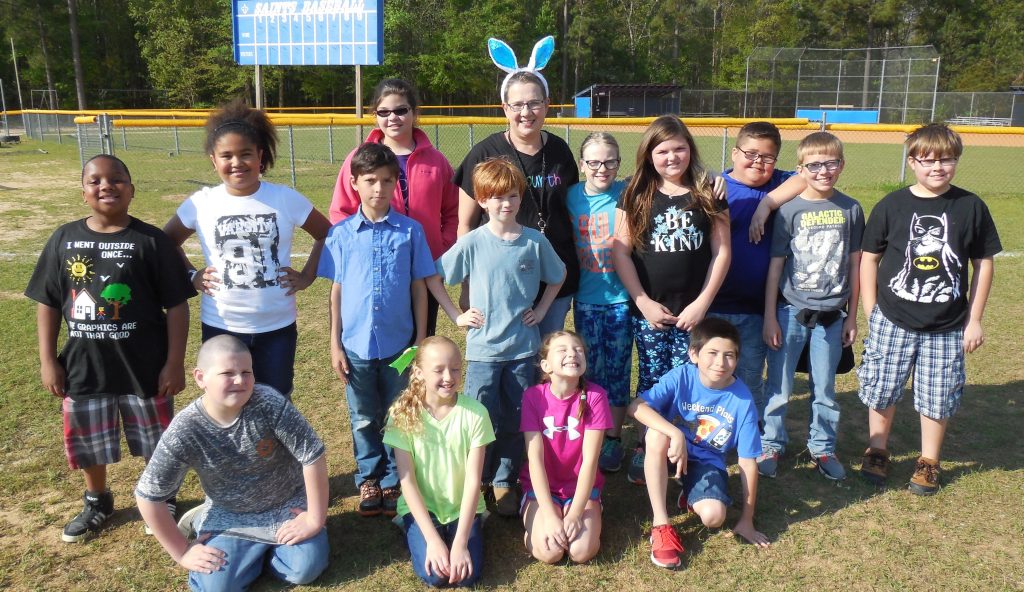 There are seventy-four left.
Classroom hours that is.
In just a couple of weeks I'll be saying good-bye to another group of fourth graders. Yes, I've been counting down the days … since the third week of school. Somehow calculating the hours way back in August seemed too formidable. But now? Well, an hourly count feels doable … like, I'm going to make it.
And tonight while sitting around the dinner table with my family, the weightiness of that number struck me deeply in my core. Seventy-four more hours …
To love.
To invest.
To give them my best.
To say my good-bye and to make sure that I say it well.
And here's the rub in all of that loving, investing, giving, and saying:
I'm not sure I remember much about my 4th grade year. I don't recall it being particularly impactful for me. Or so it seems. And I wonder to myself what they, my now fourteen students, will one day recall about their fourth grade year.
Gosh, I hope they'll say it was fun. We sure have packed a lot of laughter into the year. I hope they'll retain some practical knowledge as it pertains to their book learning. Maybe they'll read with their children about Old Dan and Little Ann from Where the Red Fern Grows, laugh about Melba Jane's hair turning blue in Love, Ruby Lavender, or eat some Turkish Delight like Edmund did in The Lion, the Witch, and the Wardrobe . Perhaps they'll pull out a charm-filled, tarnished-with-years necklace from a keepsake box and remember the laps they had to walk to get those charms.
But even if they don't remember the laughter, the stories, fractions and nouns, or even if the necklaces never make it through this summer, there is one thing I pray they'll never forget…
The truth – the gospel of Jesus Christ. Truly, that alone is what pulls at my heart in these final hours of this fourth grade year.
And this is where I must have faith in both the seed that's been planted and in the Sower who authored it. God's Word is stronger, more enduring than my efforts at the loving, the investing, the giving, and the saying. Long before I planted any heaven-sent seeds within my students' hearts, God tended to the soil therein. He plowed up their fields, readying it to receive his eternal impartations. He will continue to tend the garden going forward. Like the Apostle Paul, I can (with all certainty) say,
I planted, Apollos watered, but God gave the growth. So neither he who plants nor he who waters is anything, but only God who gives the growth. -1 Cor. 3:6-7
I am nothing but a conduit of the Father's amazing grace. And truly, friends, in that state of nothingness, I hold everything.
This is how I will spend the final seventy-four hours with my students. This is how I will love, invest, and give my best. This is how I will say my good-bye. Not only am I going to make it, friends, but I am going to make sure it counts for all eternity. As always…
Peace for the journey,


"He said, 'Throw your net on the right side of the boat and you will find some.' When they did, they were unable to haul the net in because of the large number of fish." -John 12:6
Spring fever has hit these parts. I don't know about where you live, but for those of us living in eastern NC, spring arrived early, somewhere along January. Warm weather has been our companion throughout the winter, and it's been a seasonal nightmare for the wildlife as well as the flora. The Canada geese arrived early (although I'm not sure they ever really left) and the finches, bluebirds, cardinals, and robins have been dining dutifully and daily at my bird-feeder. The poor azalea bushes bloomed a few weeks ago, only to be prematurely side-swiped by a drop in temperature, leaving them limp and colorless (as if they needed any less time to be lovely). The dogwoods are blooming, the pollen is thick, and the playgrounds are filled with students who've been celebrating the arrival of spring … well, since January.
It's been a long, not-so-much winter around here. Which brings me (albeit slowly) to a spring scene, a spring thought I'd like to share with you. It's been gnawing on my brain and in my heart since I witnessed it a few days ago while out on my afternoon walk. As afternoon walks go, mine are fairly routine. The 1.5 mile loop around my neighborhood is filled with established yards, driveways and basketball hoops, mailboxes, pine trees, and a few ponds tucked in and around for aesthetic purposes. And where there are ponds, folks, there are fishermen, all of them currently eager to see the catch that has emerged after our long, not-so-much winter.
One of them parked his car precariously close to the water this past week. I didn't recognize it, nor did I recognize him. He was in his early twenties, and his uniform indicated his vocation as a Pepsi employee. Instead of holding a fishing pole in his hand and patiently waiting for a bite, he was scanning the pond, running back and forth along the water's edge in sporadic, frantic fashion. Realizing that spring fever can do strange things to a person (remember, I am a fourth grade teacher), I gave him a wide berth before initiating a conversation.
"Did you lose something, Sir? Is something wrong?"
"Oh, no Ma'am. I just like to come out here after work and watch the fish swimming. There sure are some big ones in here this spring … bass. Have you seen 'em? Seeing 'em just makes me so happy."
"Well, I sure hope you catch some today. Enjoy."
"Oh, I'm not catching today. I'm just taking a look."
True to his word, within moments he got in his car and left … a happy man. It didn't seem to matter to him that his catch would be delayed. Instead, just seeing the fish, just knowing the fish were there, was enough to fuel his passion for a catch yet-to-be.
Spring fever indeed, and I am both thunderstruck and elated by his pure and unadulterated joy.
When was the last time you saw a fisherman running up and down the riverbank getting excited about the potential catch of fish rather than the actual catching therein, about sensing the possibility before it actually happens? It's been a long time since I've felt that kind of joy about a catch yet-to-be. Honestly, it's been a long time since I've scanned the riverbank for any signs of fish.
Spring may have come early to eastern NC, but spring has yet to arrive in my heart. Instead, I've been stuck in my long, not-so-much winter. Rather than looking for fish … anticipating fish … I've been content to look elsewhere, to keep a downward gaze instead of casting my eyes forward to the horizon of possibility. In doing so, I've missed out on something significant. I've missed the joy that comes from running alongside the Fisherman and seeing what he sees—a school of prospects swimming close to the riverbank and hovering even closer to the surface.
I've missed the opportunity to do a little early, spring fishing with the Master Fisherman.
And that, friends, has been gnawing terribly on my heart and in my spirit. It's left a hole of sorts, a spring-shaped one that can only be filled with the letting go of winter. So, instead of lingering in what might have been, I'm going to do a little scouting with Jesus this week, take some time to walk the riverbank with him and to see, instead, what's yet-to-be. Unlike the Pepsi man, I'll bring my reel and rod. If the fish are biting, I don't want to wait another moment to snatch them up and bring them home.
There's a holy catch readying itself to be caught, maybe even a big bass. Keep your nets in hand, friends. Keep fishing next to Jesus. I'll meet you at the pond. As always…
Peace for the journey,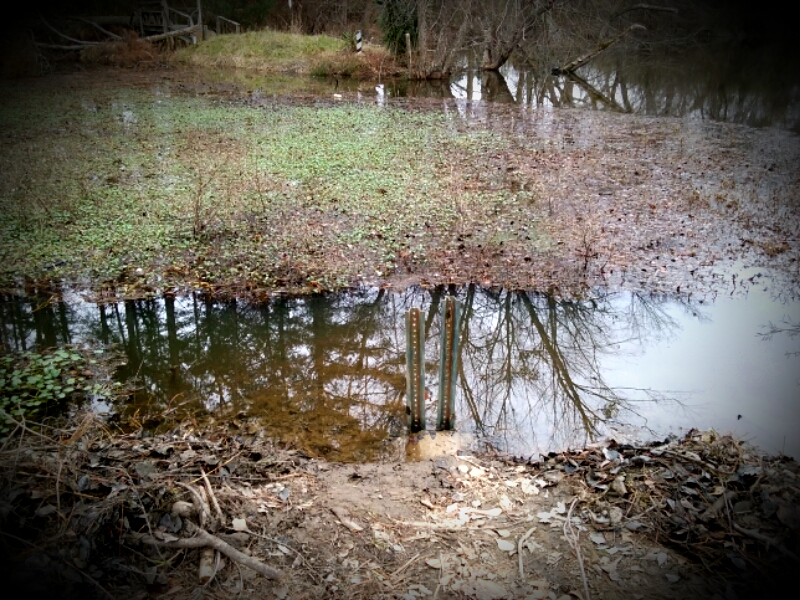 "Above all else, guard your heart, for it is the wellspring of life." –Proverbs 4:23
It's been four months since Hurricane Matthew swept through our little neck of the woods. Beyond losing our power for a few days, there has been no lasting, negative impact to my family. There has been, however, a niggling reminder of its existence each time I take a walk around my neighborhood.
There are several man-made ponds in our community, connected by culverts that keep the water freely flowing amongst them. Since the hurricane, one of the culverts has been muddied up and blocked by debris. The city maintenance crew shows up now and again to poke a stick at it, but the flow of water has mostly stopped between the ponds. Accordingly, the water has grown stagnant and murky.
Something tells me it's going to take more than a poke to get the water flowing again. It's going to take some getting down and some getting dirty, some hands on, digging in the mud to clean out and clear up the mess that Hurricane Matthew left behind.
As it goes with the culvert in my neighborhood, so it goes with my heart.
Every now and again, a hurricane blows in and around my spirit, muddying it up with debris. The water flowing in and out of my heart gets plugged up by the ravages of the storm. An occasional poke and prod of faith does precious little to release the debris clogging up my veins. A poke and prod may temporarily bring some relief, but eventually, I have to be willing to do more in order to remove the obstruction. I have to dig a little deeper, get my hands a little muddier, so that I might, once again, feel and know the free flow of water in and around my spirit.
What does that look like practically speaking?
Well, for me it begins with the wisdom of King Solomon. I must take better care of my heart, both in feeding it and guarding it. I've not been very good at my feeding and guarding in recent days. Instead, I've been stoking the fires of my faith with an occasional poke and prod of Jesus. Accordingly, my heart feels stagnant … muddy … full of the world and its rubble rather than full of something better, something cleaner, something freer. Someone finer.
The good news? I know how to unclog the drain to my heart.
I must eliminate the debris, even if it means my getting deep into the water to do so.
With God's help to guide me…
• I will guard my heart most fiercely in the days to come.
• I will diligently feed my soul with truth (God's Word), not lies.
• I will live in a posture of quietness before the Lord so that I might most clearly hear from his heart.
• I will yield to sacred road blocks, and I will merge when the lane is offered.
• I will "circle the wagons" as it pertains to those who are allowed to speak into my life.
• I will reserve the greater portion of my emotional and physical energy for my family, my friends, and my students.
• I will keep my eyes fixed on the finish line instead of the cheering (and sometimes jeering) of the mob on the sidelines.
• I will start and end my day with Jesus and offer up ten thousand prayers in between.
• And I will remember that all of my "wills" are weakened if not tethered tightly to the pull and prod of the Holy Spirit.
Perhaps today, like me, your heart's been clogged up with the debris of a recent hurricane. I don't know if anyone's come around to take a look at your mess yet, but if you're reading this, maybe you could consider this a prod toward cleaning up your culvert? You might get a little dirty in the process, but once you're free from the junk, the flow of water between your heart and God's will begin again.
Be well, friends. Live well. Guard your heart above all else. Truly, God means for it to be the wellspring of life eternal. As always…
Peace for the journey,