We're lucky to be able to get away for the Thanksgiving holiday, retreating to my late father's house in East Texas. It's right on the edge of the Davy Crockett National Forest, and, surrounded by tall pines, it feels like we're in the middle of nowhere. (We typically only see these giant trees when around here, so Rory calls them "family trees," as he knows their presence means we are close to our home away from home, Grandpa's house.)
In recent years, we've come here for Thanksgiving and often around Christmas, too, when the boys love to see their cousins. I used to hate cooking here, but, over time, we've been able to put together enough equipment, and perhaps I've become more accustomed to it. (A meat thermometer would be nice, though, I must say.) It helps that I'm only cooking for our own little family, even if the number of dishes and quantity of food is much more than would feed us — at least for a single meal.
That puts this whole endeavor more in the category of recreational cooking, and I don't feel the pressure to make everything perfectly presented, nor do I bother with making it all come out at the same time. It's actually quite relaxing, especially when I've got the music playing and the doors wide open (it's not all that cold here). When we checked the forecast before leaving, Alexa told us we were in for steady rain for the entire visit, but so far it's been sunny and nice.
I do miss my family and good friends on days like this. I've got a lot of memories of holidays in this house with my Dad and family members that are no longer with us — notably, my cousin Philip and his wife, Doris. And, of course, I think of my Mom and all the cooking I did with her for family get-togethers over the years. (This year, I've made her Pumpkin Cheesecake.)
I also hosted two campouts for the Hash House Harriers here — the Space City and the OTR Texas Interhash — before the house was built. So, often when I'm up here, I think about scouting trail (and getting lost scouting trail), as well as about running in the woods and having lots of fun.
But this Thanksgiving, someday, will be a memory, as well, of a time when my boys were 7 and 10 and fought constantly. Yet, when they managed to play together, it was beautiful and delightful.
On the way here, the boys dozed now and then, but, between naps, we listened to an audiobook in the truck — the first book from the The 39 Clues series. It's the most effective way we've found to keep the road-trip chaos to a minimum. Shorty sat on my lap nearly the whole ride, and Michael did the driving via a completely novel route recommended by Google Maps as a way to avoid holiday traffic and accidents.
Well, better get back to cooking and relaxing. Here's how things were looking a few minutes ago:
Happy Thanksgiving to you and yours, wherever you may be!
I remember her crossing the finish line at the New York Triathlon in Harriman State Park in 2001, struggling and smiling — she'd made it!
We'd spent countless hours training together for the race, bonding over our less-than-athletic physiques and our determination. But we both crossed the finish line triumphantly.
I remember us going dress shopping before Y2K, then dancing and celebrating in a private venue off of Times Square as the turn of the century approached — we were so lucky! We slipped out at nearly-midnight to watch the ball drop — then cheer and hug —  in the frigid outdoor temperatures, still wearing our fancy gowns.
She introduced me to so many wonderful people, even the realtor who helped us find our house here in Texas. And, somehow, it wasn't a surprise that she knew a real estate agent in Texas, because Jodie "Tigger" Kahn knew everybody.
We had a lot in common, so, when I returned the favor by introducing her to some of my favorite groups — the Hash House Harriers and the Riverdogs  — she understood the appeal immediately and made fast friends.
We worked in the same industry and, early in our friendship, she gave me anonymous tips that led to breaking news stories. I can still hear her giggling as she shared something that she was particularly pleased about — she had such an appetite for and appreciation of life.
This week, my friend Jodie, known to so many as Tigger, passed away after fighting breast cancer for a little over two years. With her typical foresight, she set up a Facebook group for her "chosen family," where we could keep up to date and send love and support.
Jodie was an organizer, a connector and a do-er. With some folks who pass at her youthful age (43), you might lament that she'd lived so little of her expected life. But Jodie, she truly lived every moment with gusto — there was nothing to regret.
There are so many things to admire about her, but I especially admire the way she handled her illness. There's the stereotypical image of the brave cancer fighter, and I don't want to tread any of those well-worn paths with this narrative. Jodie was just Jodie — brave and fearless in her entire life, not just in her cancer-fighting one.
I last saw her in 2013. She reached out to me via Facebook after seeing from my updates that I was in town — in NYC. I tend not to do much other than work when I'm in town for a conference — the events themselves can be so draining. So, it took a few exchanges of Facebook messages, but she finally told me that she'd been diagnosed with breast cancer. Shocked by the news, up I went to the Upper West Side to her apartment, where we spent a few hours catching up.
Looking back, though I'm sure she wanted to see me, I feel like her real purpose was to allow me to see her — in case it was the last time, which did turn out to be the case. It was then, after I asked, that she added me to her "secret" Facebook support group, which she was reluctant to ask people whether they'd like to join — she worried they'd feel pressured if she was the one to ask. In these gestures she showed the depth of her thoughtfulness.
She certainly didn't need to add anyone to the group against their wishes. Looking at the group now, I see it has 395 members! She made so many friends at events like Burning Man, Flipside and Figment — places where she could be herself entirely and express her creative exuberance.
While Jodie never talked about dying, it was obvious (to me, at least) that she was resolved to live every moment to the fullest with the best quality of life possible. She wrote about her decision to end treatment and receive hospice care at the beginning of July:
While this may sound "bad" and "scary", it is actually the right decision. By ending treatment, it allows me access to a lot of resources I don't have while in treatment.

Hospice provides many services but most importantly it gives me a team of people focused on my quality of life. My team includes a pain management team to minimize the pain, a nurse who comes weekly to check on me, get my any prescriptions or supplies, a social worker, counselor, and even a home health aide to help around the house.
By deciding to officially end treatment, I now have a professional team to help me get through each day and help me to manage pain so it is tolerable.
Pragmatically, and without self-pity (though I wouldn't fault her if she felt that and anger and more!), she comforts her friends and assures them she's confident in her "right decision" to make the best of each and every day remaining to her.
I'm unbelievably sad that bouncy Tigger is no longer with us, but I know she did it her way and is a model for the rest of us as we face the inevitable. And let's not wait until we're diagnosed with cancer or some other unspeakable disease before we follow her lead. I'll leave you with a public service message from the Tigger herself:
If Disney was an exploration of urbanism and the behavior of crowds, Anna Maria Island has been nearly the opposite — immersion in nature (including nearly constant rain).
Here the beauty is mostly natural though I've also found lovely examples of architecture as well. The environment is mostly walkable, too, as the island offers a free trolley system. And a walk along the beach is always more pleasant than strolling anywhere else.
It's funny because one of the hallmark emotions of our beach week — for me — was relief. I'd been tasked with finding a place to spend a week after our time in the Disney Environs, with the only restriction being that it couldn't be too far from the Orlando airport, as we didn't want to risk missing a flight because of encountering traffic and such. And Florida has two coasts to choose from, so it wasn't easy narrowing it down.
Finally, after much research and reaching out to vacation rental companies, I discovered Anna Maria Island. At once, I fell in love with the idea of the place — a small, walkable island with white sand beaches, a profusion of wildlife, and plenty of restaurants and bars. It helped that it's considered one of the last surviving outposts of "Old Florida," where most businesses are locally owned mom-and-pop shops rather than ubiquitous chains.
We were lucky to find a gorgeous house to rent (I highly recommend Gulf Coast Vacation Rentals, which can be contacted through this listing) located close to the beach and with enough room for all of us. It was a fantastic home base for our explorations.
The highlight for me was probably kayaking the mangrove tunnels on the bay side of the island (or, technically, another island south of us), where we saw a manatee and several dolphins. The manatee was a special surprise, in that it made its appearance known via mysterious churning water nearly underneath two of our kayaks. What the heck was that? A 1,000+ pound manatee, of course. I saw it poke its nose above the water briefly to take a breath, but, besides that, it was just a shadowy presence under the surface.
We don't have photos of the animals, but here's a little video of our entry into the bay on the kayaks: Kayaking The Mangrove Tunnels from Pamela Caird on Vimeo.
Unfortunately, it rained a good portion of our time at Anna Maria Island, but we really enjoyed visiting the Mote Marine Laboratory & Aquarium, and I was pleased to learn more about shore birds and sea turtles during the weekly "Turtle Talk" offered by Anna Maria Island Turtle Watch & Shorebird Monitoring. I got to walk there and back, along the beach for most of the way, and I loved learning more about the local wildlife.
Rory and I got a very special few hours at the beach just before our departure during a break in the rain. We dug in the sand, jumped in the waves, watched birds search for food, and generally did beach-type things. Incomparable.
The trip we're on now will be an epic vacation to remember, of that there is no doubt.
The boys are 7 and 10 — old enough to behave themselves (this is a relative concept, of course) and mature enough to appreciate activities beyond the playground. So, when Michael's middle elder brother and his family suggested meeting in Florida (we are 10 in all, with 6 coming from Scotland and 4 from Texas), we began to prepare to explore Disney World and beyond.
The trip has been years in the planning — long enough that it was hard to believe the time had finally arrived — and so far it's been all that we imagined and looked forward to.
In this post, I'll focus on week 1, which has just concluded, where we immersed ourselves in all things Disney.
First some thoughts on Disney. It's easy to see why people go nuts about Disney World, even though I'm skeptical about merchandising and commercialism and the glorification of shopping — and that's definitely a big part of it, as you can see when you're exiting a ride and are channeled directly into a gift shop. But I have to admit that Disney works very hard to create an amazing customer experience. (Hence the "weird rules" you see written about now and then.)
In my job writing about digital marketing, we constantly talk about the customer experience and the importance of giving customers an immersive, consistent experience regardless of how, or on what platform, they are encountering the brand. I've seen no more salient example of the success of this approach than my experience this past week.
For the most part, we found the physical surroundings very pleasant and clean at all of the parks, and the folks we dealt with were very friendly and helpful. The performances and rides we found dazzling in some cases and enjoyable in others. Rarely were we disappointed. Even a "cast member" we encountered in a Target parking lot was all smiles and magic, extolling the virtues of Disney and her job.
It's not even that things are perfect at Disney — I saw rides out of order, bathroom stalls out of service and seats on rides blocked off because they weren't functioning. But the way they handle things is just right. When things go wrong, the employees steer guests into equally appealing alternatives. It's like the classic social media situation where businesses are encouraged to be open, transparent and honest about what went wrong — then make it right.
It's no small feat keeping 53K people a day happy (that's the average daily attendance of the Magic Kingdom), and I think the innovations with the most profound effects are likely things that park-goers don't even consciously notice.
It's The Little Things
I've read in a few places that the buildings along Main Street USA are designed so that the second and third stories are not full size — it's an optical illusion technique called "forced perspective" — which actually makes the buildings look taller than they are. Same thing for Cinderella's castle — it's designed in such a way (and the buildings along Main Street add to this) to look taller and more impressive than it actually is. This may not be something that visitors notice but I'm sure it affects their perceptions of their experience.
Other details I found especially interesting (note that these are items I've read but haven't verified):
As visitors enter the Magic Kingdom, they walk on red bricks, meant to simulate the feeling of walking on a red carpet.
Apparently, garbage cans are located no more than 30 paces apart throughout the park. One source says Walt looked at visitor behavior in other parks and found that people would hold only onto trash for that long before dropping it. So, the design encourages visitors to throw away their own trash, resulting in a cleaner and more pleasant experience for everyone.
One observer wrote that each of the buildings along Main Street have American flags hanging in front of them — not because just because of the patriotic experience, but because they are lightning rods. I noticed the prevalence of lightning rods in the water parks, as well, as every structure taller than a person boasted a lightning rod or two. Since we've been in Florida, it's rained pretty much every day, making the presence of lightning rods a very thoughtful addition.
Another noted that the surfaces of the walking paths change as you walk through the different "lands" of the park — possibly subtle, but noted.
One academic, Karal Ann Marling, refers to it as the "architecture of reassurance," the way everything is designed to be pleasant and non-threatening.
Accessibility Vs. Walkability
Though the parks are models of accessibility (and communication about accessibility) in some ways, they're remarkably exclusive in others. Many of the attractions, especially in the water parks, required serious stair climbs and long periods on your feet.
I'm not saying there's anything wrong with this — in fact, I'm sure going to Disney World is one of the most active experiences that a lot of American families have annually (and that's a good thing). But I found it interesting the way the parks straddled these two ideals — of accessibility and of fitness and walkability.
In a film laying out Walt Disney's vision for Disney World (which wasn't opened until after his death), a narrator explains the walkability ideal: "Here the pedestrian will be king, free to walk and browse without fear of motorized vehicles."
Here are my Up records of the steps taken on each day in the parks (we didn't go nuts and weren't at any park from dawn until dusk):
Fri (Animal Kingdom) 17K
Sat (Magic Kingdom) 13K
Sun (Typhoon Lagoon) 15K
Mon (Magic Kingdom) 12k
Tues (Blizzard Beach) 11K
Wed (Epcot) 13K
Interestingly, though my step tracker kept me appraised of our progress, it didn't feel like anything was very far away from anything else in any of the parks. When we set off from one attraction to another, we got there relatively quickly and mostly without getting lost.
Patronage
Another undeniable positive aspect of the Disney phenomenon is the opportunity for artists and performers to make a living doing their thing. Aside from New York City, it's hard to imagine a greater concentration of dancers, singers, acrobats (not to mention choreographers and costume designers).
I don't know what their wages are like or whether they're worked to the bone, but it seemed to me a very good thing — perhaps even cultivating park-goers tastes so they're more inclined to support the arts in their own hometowns upon their return.
Urban Living/Planning
In doing the research inspired by our trip to the parks, I learned that Disney World, and Epcot in particular (it stands for Experimental Prototype Community Of Tomorrow), was originally meant to be a place for people to actually live. When you think about the parks through that lens, they are especially interesting.
I've learned that Walt Disney created Disneyland to give children a safe, wholesome place to go with their families. The traveling carnivals and such of the time were a little seedy. Apparently, he also thought the inner city/suburb divide developing at this time was also eroding some of the positive aspects of American life, so he put his head to designing a "community of tomorrow."
These ideas aren't foreign to me, of course. Having lived in suburbs, cities and now, in a relatively small town, I've seen the pros and cons of each option. Ideally, I'd combine the "safety" and ease of living in the suburbs or a small town with the walkability of living in a city. But is Disney-style architecture the answer? If anything, it glosses over the complexities. I was simultaneously reassured and disturbed by it, especially the underlying truth that this pleasant and reassuring atmosphere was only available to those who could pay $100/day for admission.
Jennifer Gray, a historian of modern art and architecture, gave a talk at MOMA on the topic and was later interviewed by ZDNet's Sonya James. In the writeup, Gray said of Main Street: "its miniaturized scale, historical details, and clearly nostalgic design reduce the undisciplined complexities of a city to the status of a toy – believable, fun, and entirely controlled and harmless."
Which explains why it's such a draw and can be so pleasant to immerse yourself in Disney's World for a short time.
The Future Of Yesterday
One of the creepiest aspects of Epcot, I found, is its utopian view of "tomorrow" — especially given that we're now actually living in the tomorrow that was envisioned when the park was built in 1982 (and laid out by Walt Disney even before he passed away in 1966).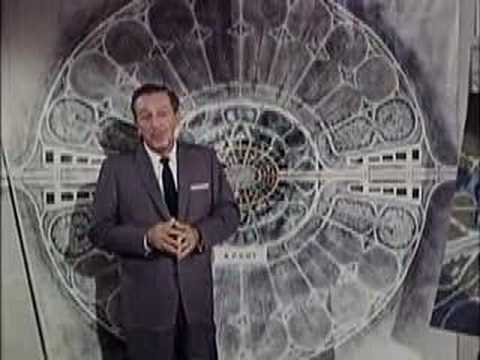 While I agree there are problems that need to be solved, I'm troubled by the Big Brother aspect of "we know best" and the seemingly blind trust in corporations. And isolating people completely from a natural world by putting them under a dome? It just seems wrong.
Talk of the natural world seems a good segue into Week 2 of our vacation, spent by the Florida Gulf Coast. I'll post that bit when it's ready.
P.S. I posted one of our first GoPro videos of the Teamboat Springs ride in Blizzard Beach.
More Recent Articles