---
I will be back
I want to explain an upcoming absence of new posts. I injured my shoulder, at the gym, and must have surgery to repair it. I want to thank all of you for supporting this blog and I promise that more reviews will be posted. Unfortunately, I will be unable to post for several weeks, but will be back as soon as I am able to type again.
The post I will be back appeared first on A Bit Geeky.
Lego Marvel Super Heroes Review
I mentioned before that my three boys were given a metric ton of PS3 games for Christmas. One of the games, which I will review here, is Lego's Marvel Super Heroes. Anyone with young children that like to play video games will be familiar with the Lego video games. My kids absolutely love them; they seem to have most, if not all, of them. If you are unfamiliar with the Lego games I recommend you check them out, I have provided a link to Lego's video game section on their website below.
Lego's Marvel Super Heroes allows us to play iconic characters from the Marvel universe, including Iron Man, Wolverine, Hulk, Spiderman, Thor, Captain America, and many others. We guide our heroes through exciting adventures, fighting villains and saving people. You can play the game solo or with a friend. As with all Lego games, as you progress through the game, you can unlock additional characters and extra features.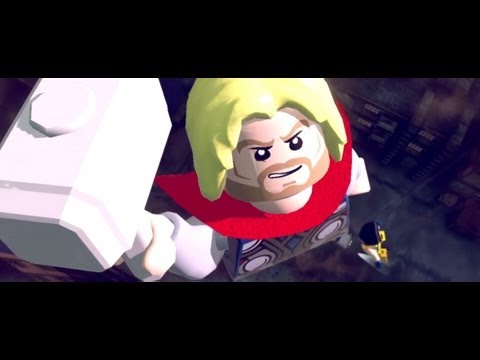 I asked my kids for their opinion about the game, here is what they said:
Logan (8): "It's fun and there are mansions in it. You can drive cars, fly planes, and drive boats."
Joshua (10): "It's fun. I like their abilities. I like that you can change from Hulk back to Bruce Banner. I like that it has a lot of the Marvel super heroes."
Aaron (11, 12 in less than a month): "I do like it, but it's not my kind of video game. I feel like it's more for younger kids and not really for me."
Admittedly, Aaron has played this game the least. He said he feels like all the Lego games are for little kids, so his opinion is not specific to this game. He is at an age that he wants to play the "big boy" games and not the "little kid" games.
So all in all, if you or someone you know likes the other Lego video games, this one should be on the play list. I have played several of the Lego video games, this one included, with the kids and I think they are a blast to play.
You can find more information about Lego's video games here.
Disclosure: This post is NOT sponsored, solicited, or endorsed in any manner. I purchased this product with my own money for my personal use, and decided to write about it.
The post Lego Marvel Super Heroes Review appeared first on A Bit Geeky.
Roccat Sense Mouse Pad Review
It would not be unusual if you never thought about your mouse pad, if you even use one. Many computer mice today don't require them. Although, when playing computer games, especially First Person Shooters (FPSs), a mouse pad is often a necessity. While most of the time it doesn't seem like a mouse pad could or would make a difference, it can if the precise location of the crosshairs makes the difference between eliminating your opponent or waiting to re-spawn. In addition to the performance increase, there are several other factors to consider when purchasing a gaming mouse pad, for instance size, texture, and thickness. A quality mouse pad can greatly enhance the gaming experience. Here I am reviewing the Roccat Sense mouse pad, designed specifically for computer gamers.
I'm a relatively new Roccat customer, but I have been impressed with their products since discovering them. I also have the Roccat Kone Pure gaming mouse, please check out the review here if you haven't already read it. The company makes some great gaming products and I look forward to using more of their products in the future.
 Along with replacing my aging Logitech mouse, I wanted a quality mouse pad to replace the free Alienware mouse pad that came with my computer. I had specific things I was looking for; the pad had to be cloth, thin, and have a large surface area. The Roccat Sense mouse pad fit the bill on all accounts. The surface is made with… well, it might be easier to let Roccat's website describe it:
"To outfit commanders for rigorous combat, our ROCCAT™ Scientists engineered the Sense by taking an ultra-soft cloth upper structure and treating it with an advanced, friction-reducing microcrystalline coating – a combination that allows for the lightning-quick mouse movements and high level of precision needed for victorious, high-octane gaming."
You may be thinking, "OK great, what does that mean…" In plain English it means the mouse pad is soft to the touch and provides a smooth (almost friction-less) surface. This equates to a mouse pad that feels nice and performs wonderfully. The Roccat Sense mouse pad is just 2mm thick, so it doesn't have an uncomfortable edge that will leave a crease in your arm while gaming. The pad is also 400mm x 280mm, so there is little concern about running out of real estate to move the mouse around. So the Roccat Sense mouse pad fit, honestly it exceeded, all of my requirements and I definitely recommend it for anyone looking for a great gaming mouse pad.
 If you would like to learn more about the Roccat line of products, I recommend a visit to their website – http://www.roccat.org.
Disclosure: This post is NOT sponsored, solicited, or endorsed in any manner. I purchased this product with my own money for my personal use, and decided to write about it.
The post Roccat Sense Mouse Pad Review appeared first on A Bit Geeky.
Syma S107G R/C Helicopter Review
Earlier this week, I wrote a review on the Air Hogs Megabomb R/C Helicopter. If you haven't' read it, check it out here. The boys also received helicopters from a family friend, but these are made by a company called Syma. In the Air Hogs review I stated that I didn't like it due to its instability and how difficult it is to fly. Well, the Syma is almost the exact opposite. This review is for the Syma S107G R/C Helicopter.
Compared to the Air Hogs, the Syma is a Cadillac to fly. Once unboxed and charged, we were flying the Syma helicopters successfully almost immediately. I honestly feel bad for comparing the two toys, since they are on a completely different level. While the Air Hogs looks, feels, and flies like a cheap toy; the S107G looks, feels, and flies like a hobbyist level R/C vehicle. It's an unfair comparison on almost every level.
So lets discuss the controller. As you can see from the picture above, it has two joysticks. The one on the left controls elevation. It is not spring loaded to stay down, like some controllers (cough Air Hogs cough), which makes it easier to maintain level flight. The stick on the right controls movement. The only other control that you use during flight is the "trimmer" control. This allows you to adjust the horizontal spin while in flight. Basically, it keeps the helicopter from spinning uncontrollably and is precise enough to allow minor tweaks to keep the helicopter pointed in the desired direction. The controller is made with inexpensive plastic, but you can't expect more from a toy in this price point. It does function and is comfortable to use, so it's good in my book.
The helicopters themselves are nicer than expected. The frame consists of more metal than plastic, so it seems like it will take a beating without issue. Our initial crash testing has proven that the S107Gs don't break easily. The 8 year old finds it funnier to crash than to fly, so everyone in the room has to pay close attention to where he is aiming, otherwise you might get a face full of R/C helicopter. The plastic accent pieces are made well and add a nice look to the helicopters. Like I mentioned before, with just a little bit of practice you can be flying well almost immediately.
Also included in the box is a USB charging cable and an extra tail blade. The USB charging cable allows you to charge the helicopter using a USB port on your computer. You can also charge the helicopter using the controller's charging cable, which is neatly tucked into the controller itself. The controller does require 6 AA batteries, which are not included, so keep this in mind when purchasing.
There may be better R/C helicopters out there, but I would bet that they are much more expensive. The Syma does everything we could ask for very well right out of the box. So if you are looking for a fun indoor R/C toy, I recommend giving the Syma S107G a try.
If you would like to learn more about other Syma products, please visit their website – http://www.symatoys.com/.
Disclosure: This post is NOT sponsored, solicited, or endorsed in any manner. I received this product as a gift for my personal use, and decided to write about it.
The post Syma S107G R/C Helicopter Review appeared first on A Bit Geeky.
Air Hogs Megabomb R/C Helicopter Review
So most of my readers know that I have 3 boys ages 8, 10, and 11. Needless to say, they made out like bandits from Christmas, so I am going to spend the next couple of weeks reviewing some of the toys and games they received. My first review is for the Air Hogs Megabomb R/C helicopter.
I'm a big fan of remote control toys. I used to race gas powered 1/8th scale R/C buggies and trucks. So now that my sons are old enough to start playing with the "good" R/C vehicles I couldn't wait to get a few. I wanted to maximize fun for the kids with something that would be easy to control and not break when the inevitable crashes occur. We also wanted the ability to play with the toy indoors, since there is over a foot of snow on the ground right now. After doing some research, I didn't think the boys were ready for the more expensive, and possibly easier to break, helicopters. So we landed (pun intended) on the Air Hogs. If you haven't looked at the Air Hogs fleet of R/C products, it's pretty incredible. They have a large selection of air and land vehicles, targeted for kids.
I will start with the good. It looks pretty cool. It's like a futuristic stealth helicopter you might see in a sci-fi movie. The premise is also pretty awesome. I mean how cool is it to have an R/C helicopter that will drop a bomb remotely. Even the bomb itself is really ingenious. It has missiles that pop out of it when it hits the ground, preferably on its intended target.
While I really wanted to like the Air Hogs Megabomb, I just don't. There are several reasons, for example, even on a level surface, the helicopter is so unstable that it falls over on its side easily. Which means you have to physically set it up right again before trying another take off. Also, it may be the one we have, but it is very difficult to fly. The "spin adjustment" on the remote does seem to make a difference, but it is not enough. We can't seem to figure out how to make it hover without spinning uncontrollably. It's unfortunate because it is a great idea. All in all, if the toy worked as intended, it would be really fun. Since the Air Hogs brand is really popular, I have to assume that we got one that isn't functioning properly.
So let's talk about the controller. On initial inspection, it looks pretty cool. It includes the usual two joystick configuration, but has a big bomb button right in the middle. I was really looking forward to hovering over a target and dropping the toy bomb, but unfortunately I can't get it to fly stable enough for this to happen. The button itself lights up when you lift the safety cover, sadly our controller's bomb button only partially lights up. I'm not sure if something came loose inside it and is blocking the light or if one of the LEDs are out, either way it reinforces the feeling of quality control or design issues for this product. Another dislike that I have is the left (elevation) joystick. It is spring loaded to stay down, so you have to apply constant pressure to maintain altitude. Since this is likely a safety feature, so the younger pilots out there can just let go of the stick and it will immediately start to descend; it has the extra feature of creating a frustrated daddy. The controller itself is made of inexpensive, but likely durable, plastic. This is to be expected for a toy at this price. My feeling for the controller is closely associated with the function of the helicopter. They both seem sort of cheap and poorly designed.
While writing this review I spoke with my son Joshua, who received this as a gift from Santa. I wanted to get his opinion about the toy, fortunately for Air Hogs he loves it. He has been trying to fly it since he got it and has had some success. So even though I would take it back to the store, he wants to keep it.
While I can't recommend it based on the one we have, I think you can find better R/C helicopters for the same price, I do think the idea is good and would probably be fun if it were more stable and easier to fly. All three boys also received R/C helicopters (not Air Hogs) from a family friend, so I will be reviewing that model soon.
FEATURES
Bomb-dropping RC heli
Push button to drop bomb
Bomb launches 3 missiles on impact
Steady Fly Technology for ultra-stable flight
1 bomb and 9 plastic missiles included
Includes practice targets
Heli recharges from the controller
If you want to know more about Air Hogs products, please visit their website – http://www.airhogs.com.
Disclosure: This post is NOT sponsored, solicited, or endorsed in any manner. I purchased this product with my own money for my personal use, and decided to write about it.
The post Air Hogs Megabomb R/C Helicopter Review appeared first on A Bit Geeky.