5 Funnels to Increase Subscriber Engagement
Let's play a game! Which subscriber would you rather have?
Subscriber A – Joins your list, stays for a few years, opens emails regularly (every 2 or 3 emails), but has never forwarded your content or shared it on social channels. A consistent subscriber, yet you've never interacted with this person and don't know what they're about.
Or how about…
Subscriber B – Joins your list, opens emails regularly, offers feedback on their interests and your content, and is inclined to share and recommend you to their social channels. You know their first name, what they are about, and quite possibly how they came to know you.
Choose as you wish, but if you ask us here at FeedBlitz HQ, we'd rather have a full serving of Subscriber B any day of the week! At this moment, your list may be primarily Subscriber As, and that's ok. With a few tweaks, you can slowly turn those As into Bs and continue to grow a list of engaged subscribers.
Cultivating Interactive, Engaged Subscribers
To put it simply: Engaged subscribers are happy subscribers who are more likely to like and share your content, helping to grow your list organically. A healthy, engaged list places you on a path to greater monetization and partnership possibilities down the road.
Get started creating this environment by implementing a few funnels that encourage interaction while generating a connection with your reader. The beauty of working with funnels is once set in place, they will run automatically.
5 Funnels to Increase Subscriber Engagement
1. The Welcome Funnel
One of the most common funnels to send, the welcome funnel (sometimes called a welcome campaign) is sent when a subscriber confirms his or her subscription to your mailing list. You're simply welcoming the new subscriber to your list and thanking them for joining. This funnel can also be used to deliver an incentive offer as it's sent immediately after subscription confirmation.
2. Getting to Know You Funnel

An extension of a welcome funnel, this series of emails (generally two-three) works to establish a connection and create a better relationship with your new subscriber. After welcoming them to your list, send an additional email asking a question or two. This serves two purposes: 1. You're voicing interest in the subscriber. 2. You're gathering feedback you can use for later targeting, guest posting and / or advertising. The questions can be anything you'd like. Common questions are:
How did you hear about us?
What are you most interested in?
What are three things I should know about you?
What is your biggest frustration over XYZ?
Who is your favorite superhero? (Don't knock it – you can learn a lot about a person based on their favorite superhero.)
Have fun with these questions as you're still getting to know this new subscriber. The subscriber can either reply to the email or if asking only one question the responses can be hyperlinked to add a tag for either future use or to add this subscriber to a follow-up funnel (see #5 below). Note: Asking one question and tagging the subscriber by answer is great for asking what topic are you most interested in.
3. Anniversary Funnel
An anniversary to your mailing list is as good a reason as any for celebration. Create a funnel thanking your subscriber for joining your list a selected date interval. Like to reach out and celebrate regularly? Go for 3, 6, 9 and 12 months. Celebrate half birthdays? A 6-month email will do the trick.
Make these emails special by offering an exclusive such as a free PDF download, an archived podcast, or a video not available anywhere else on your site. This is also a good time to offer affiliate opportunities, discounts, and giveaways.
4. Survey Funnel

There's no harm in checking in with your subscribers and offering a chance for feedback. Sending a short survey shows your subscriber you value their input, and most people will be delighted to know their outlook and opinions matter.
Pro Tip: Take this funnel a step further by integrating your online survey platform with FeedBlitz through Zapier . Once a survey is completed, the subscriber is tagged and added to a secondary funnel, making it even easier to offer an incentive for completing the survey. Good incentive = higher survey responses.
This particular funnel offers an additional benefit! Not only are you increasing trust and reinforcing the relationship with your subscriber, but you're also cultivating important feedback and insight to use when brainstorming new content (or products) moving forward.
5. Recommended Posts or Complementary Products Funnel

We've lumped these two funnels into one category as they are working to achieve the same goal: offering additional value based on previous subscriber interest. These funnels are triggered by a purchase made through tagging and shopping cart integration or as a follow-up to responses in a Getting to Know You or Survey funnel.
The key to working with this type of funnel is to be very precise about what you recommend. Complementary products can lead to an additional purchase while recommended posts can strengthen the connection with your new subscriber. If you're recommending something that has no relation, this funnel will fall flat and undermine the relationship you want to build. In this instance, it's better not to send anything rather than to send something for the sake of sending an email.
Creating Engagement Starts with You
Your subscribers follow your lead. Do you show interest in your subscribers or are they a means to an end? Do you offer value for being a member of your list or are you sending content that is only self-serving? Set the example of how you would like for your subscribers to behave and you'll find not only do new subscribers fall in line with these expectations, but older and current subscribers will slowly start to come around as well.
If you would like to brainstorm ways to increase subscriber engagement through the use of funnels, send our team an email at support@feedblitz.com. We're here to help! You can also chat, check out our Help Forum, or give us a call at 1.877.692.5489. Our Support and Sales Desk is available Monday – Friday from 9 am to 5 pm EST.
A Productive September and October = a Happier November and December
Why planning your holiday promotions now can lead to greater success — and less stress — come November and December.
The holiday season seems to move into our lives and stores earlier and earlier. Christmas decorations appear on shelves before Halloween. Stores make space for Halloween costumes before summer's end. No longer is there an official start to the holiday season. And no matter how soon decorations and discounts start to pop up, you still find yourself rushing around at the last minute to catch up on one thing or another.
Running a website during this time can easily add to the scramble. There's a lot happening on a regular day when it comes to running a website, let alone during peak holiday season! Many site owners find themselves in a pressured rush to think of catchy but relevant content, to source out the best way to capitalize on online shoppers, to decide what sales to send out and when, and more.
It doesn't have to be this way. Work through a few steps now and alleviate the year-end scramble for you and your website.
Email Marketing and the Holiday Season
As a site owner, you already know email is one of your top tools (if not the top tool) to boost sales and increase engagement both on and offline. The trick is working with your email marketing to produce organized and effective holiday campaigns, without annoying your subscribers or pulling your hair out in the process.
Plan Now to Avoid Stress, Confusion and Last Minute Pitches
Whether you are gearing up for a Thanksgiving series, Black Friday campaign or holiday sales, starting your preparations now allows ample time to get yourself organized, create the content, fine tune the details, and test things well in advance.
Get started by following these four steps:
Step 1 – Make Time to Strategize
First, start a new, blank document or pull out a blank sheet of paper and in one column write out everything you did last year for your holiday promotions. In the next column write out things you wish you would have done differently. Is there something you would have done if you had had more time? Write that down as well.
On the flip side, or on page two, take a few minutes to brainstorm anything and everything you could do during this holiday season for promotions. Include things for your website, in-store promotions (if applicable), discounts, giveaways, social media content and more. Write it all. If something was successful last year, should you consider bringing it back this year? Is there a central theme or a group of themes? With time to plan properly, would you be able to execute accordingly?
Step 2 – Map out your Plan
Now that you have consolidated your thoughts, it's time to sit down and map out your plan. Decide how many emails you plan to send, look at the calendar and schedule when to send them, and take a few notes on content and images to  include. In other words, create a content calendar for your holiday promotions. Use these details to coordinate other online or in-store advertising, and social media postings.
Once your basic calendar is in place, it's time to drill down into the details of things. A few things to consider:
Will you be using automated emails from website updates, individual newsletters or creating separate funnels

 for each holiday campaign?

Should you send every email to your full list or reserve certain emails and sneak previews for those most active on your mailing list? (Hint: FeedBlitz makes it wicked easy to pull your most active, engaging subscribers in less than 15 seconds!) 

What tags

 will you use to track your subscribers who take an action? Are you going to tag them through a specific subscription form? A purchase made? A link clicked in an email?
These are all items to consider when it comes to not only your email marketing campaigns in general but especially your holiday campaigns. If you're rushing at the last minute to throw together an email or campaign, missing details happen. You, on the other hand, are starting early, so you have plenty of time to get these items in place before your campaigns are sent!
Step 3 – Create the Content
It's tempting to jump straight to writing your content and skip strategizing and planning, but we wouldn't recommend it. With your plan in place, you now know what to write and when. It's time to put pen to paper or in this case, fingers to keyboard.
Create every piece of content for your holiday campaigns in advance. This includes subscription forms, confirmation emails, funnels, the campaign emails, headlines, social updates, and so on. Doing this now saves you time in the long run, and allows you to take a step back and see the bigger picture. When you finish ask yourself:
Is my content inline with my goal(s)? Is it consistent in voice and tone?
Are my calls to action clear and enticing? Does everything fit?
If the answer is NO to any of the above, head back to your keyboard. Work through the creation process early to avoid second-guessing yourself, creating jumbled themes, or rushed content.
Step 4 – Test, Test, TEST
The most vital step, testing is often the most overlooked. Test every single item you've created with your email campaigns — your forms, funnels, newsletters — all of it. And don't forget the less obvious things test your links, your images, your buttons, view your headlines and preview text in different mailing agents. Ensure your tagging is set up correctly.. Make and use a checklist to walk yourself through the process and mark things off as you test.
When everything has been tested, you'll be confident things are in place, with the correct timing. You may not be able to control open rates and click throughs in your email marketing, but you can and should test your timing, content, and links. We can't stress this step enough!
Spare yourself time, headache, and stress this November and December.
Imagine spending the holiday season with friends and family instead of scrambling to produce content. Put the time in now during September and October and relax a little in November and December, confident with the knowledge that your holiday campaigns are running smoothly and efficiently.
If you have any questions when it comes to email marketing or would like help in crafting your holiday campaigns, send our team an email at support@feedblitz.com. You can also chat, check out our Help Forum, or give us a call at 1.877.692.5489. Our Support and Sales Desk is available Monday – Friday from 9 am to 5 pm EST.
New: Drag, Drop and Deliver!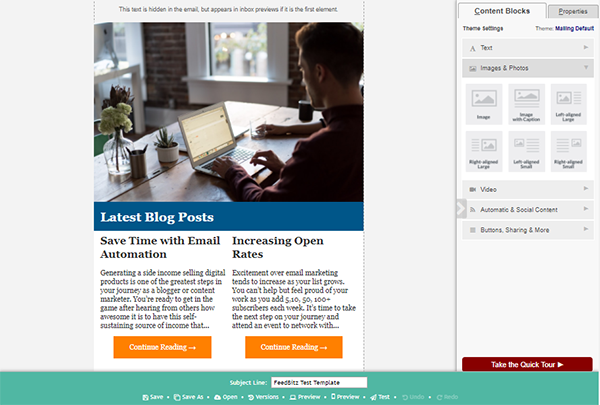 Creating dynamic, functional emails formerly required a graphic designer, or spending hours at the computer editing code yourself. Simple actions such as dropping images where you like, or easily moving elements from one part of the template to another called for multiple steps; adding video in an email-app-friendly form could often be worse with unpredictable results.
Things could get very frustrating, very quickly. And so this became our challenge: How could we address your concerns and reduce your frustration, while incorporating the very best of what FeedBlitz has to offer?
Introducing FeedBlitz's New Visual Mailing Editor (VME)
And that's what we're announcing today: Building compelling, practical, multi-dimensional email marketing campaigns just got a whole lot easier, and a whole lot better, with our new drag and drop email editor, the VME!
How is the VME different from other email editors?
The VME opens the doors to a new way to work with your FeedBlitz emails. Among the VME's many benefits, you are now able to:
Begin with a structured template, build your own from scratch, or start from a previous mailing.
Drag and drop mailing elements, from text to video to buttons to social and more!
Instantly preview your mailing in desktop or mobile versions while you're working.
Easily mix and tailor automated content (such as your blog's RSS feed, or the latest from Instagram, Pinterest, or Shopify) with your own carefully crafted copy.
Access hundreds of thousands of beautiful, royalty-free, commercial use images, or simply drag and drop custom artwork from your computer.
Easily edit the entire email's look and feel in a few clicks, change it instantly by applying a theme, or highlight specific content areas and change them for the occasional graphic pop!
Access any previously saved version at any time for those "uh-oh" moments.
Full undo, redo and autosave.
Create your own template library.
And more!
The VME is the first of two large product initiatives we're rolling out this year. It is, in effect, an early release of the brand new user interface being developed from the ground up. We're making FeedBlitz much more intuitive to use, more flexible, and more modern, so you can not only achieve your email marketing goals more quickly, but also more capably. There's so much more to come!
How to Access the VME
To work with the VME, select your mailing list, then I want to – Send, Schedule a mailing. Choose Newsflash, and the VME option will be available on the following page. Once you get going, you'll find a quick tour pointing out the main features in the right side bar — and then it's open to you to create the mailing you desire.
If you have any questions along the way with the VME or any of our FeedBlitz features, send our Support Team an email. You can also chat, check out our Help Forum, or give us a call at 1.877.692.5489. Our Support and Sales Desk is available Monday – Friday from 9 am to 5 pm EST.






Related Stories
Boost Sales and Save Time with Email Automation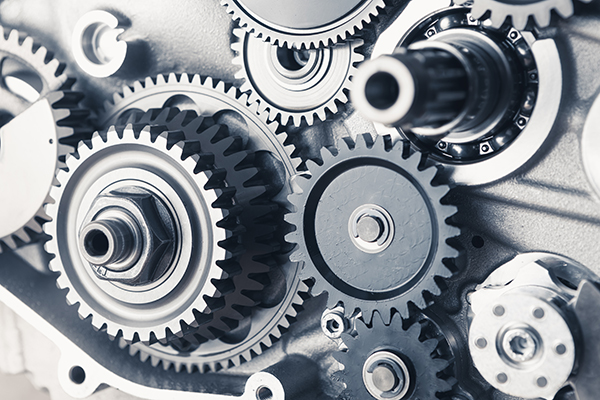 Generating a side income selling digital products is one of the greatest steps in your journey as a blogger or content marketer. You're ready to get in the game after hearing from others how awesome it is to have this self-sustaining source of income that practically runs itself. And so you put together a few offerings, maybe a checklist, a How To PDF, or even an ecourse, and start dreaming of what you'll do with the extra income boost.
Fast forward a few months and you're tied to your computer, sending one-off emails about products, crafting new sales emails, following up with customers to see if they would be interested in another product, manually tracking which subscribers have or have not made a purchase, and that's a short list of possible tasks, at best. You're then doing all of this while trying to develope new products to turn around, promote, and sell.
The self-sustaining income generator you once believed would change your life, has become a monster, consuming your time and attention.
To complicate things even more, sometimes sales are hopping as if it were Black Friday at Bed, Bath and Beyond and sometimes they're as quiet and desolate as a lone cactus in the Arizona desert. You start to wonder "What is up with this endless cycle of hustle, hustle, hustle? Where's the flow part? How do other online entrepreneurs make it look so easy? What am I missing?!"
The Missing Link: Automating and Increasing Sales with Email
The self-sustaining and automated part of the cycle is what's missing. Other bloggers or content marketers don't necessarily have it easier; it's where they have invested their time and effort.
Automation begins with your email marketing strategy. If you take the time to craft funnels, create tagging options and thoughtfully plan out your follow-up process once,  you'll need only minor edits and adjustments along the way. The key here is planning. Not only have you created the customer journey for one product, you've created a system for your next.
Added Bonus: Your time will free itself up as things start to take care of themselves.
Simple Ways to Automate Your Self-Sustaining Revenue Generator
Ask everyone who makes a purchase if they would like to join your email list. Do this during the checkout process via a Parser within FeedBlitz or using Zapier to connect your shopping cart to your FeedBlitz account.
Add customers to a follow-up email funnel to ask how they are enjoying the purchase, offer a discount on their next purchase, and / or ask for a review. This funnel reinforces the customer experience with you, encouraging future purchases.
Include your Etsy or Shopify accounts in your email template. Every FeedBlitz email template is configured to feature your most recent products in either online shop. This is a great way to keep subscribers informed of what is available, without having to manually send separate emails.
Send Etsy or Shopify-specific newsletters to your list. Using a duplicate email list, skip the content altogether and show 1, 2, 4 or even 6+ products in the email. The product images and descriptions are automatically pulled from your shop in the order they are posted. You can create this email and schedule it to be sent on an automatic schedule (weekly or monthly) or send manually when you have a new product you would like to highlight.
Advanced Methods for Next Level Automation
We recommend working with Zapier to connect your FeedBlitz account with your shopping cart for simplified integration. Doing this allows you the ability to access the advanced methods of tracking and follow up some of the biggest brands in the market implement. Two examples of this would be:
Tag customers according to the product purchased in order to add them to a purchase-specific funnel. The benefits here are not only asking how they are enjoying their purchase or offering a discount, but you can begin strategically introducing them to complementary products they may also enjoy, without including them in promotions for products they already have.Once you know your customers' buying habits and really understand their wants and needs, relating products and creating these funnels will become easier. Always lead with the value these products offer and show how they relate to their purchase before going in for the sale. Value first, sale second.
Send abandoned shopping cart emails to customers who did not complete their purchase. A gentle reminder a day or two later can be just what your potential customer needs in order to complete the purchase. The key here is having the customer sign up for an account and agree to mailings while on your site.
The Bigger Picture
It is possible for you to have an automated, self-sustaining income generator selling your products. A well-crafted email marketing strategy can help get you there. Imagine the time you'll save in the long run to focus on growing your business, creating new products, taking up a hobby or spending time with family. There is a good chunk of work required in the beginning, but you'll break the cycle of hustle, hustle, hustle with not a lot of flow once your system is in place.
If you have any questions when it comes to email marketing or increasing your online revenue, send our team an email at support@feedblitz.com. You can also chat, check out our Help Forum, or give us a call at 1.877.692.5489. Our Support and Sales Desk is available Monday – Friday from 9 am to 5 pm EST.
The Automated vs Manual Email Debate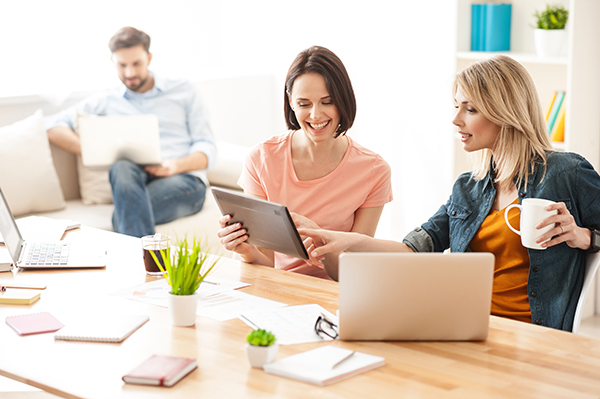 Email marketing falls into two categories: automated or manual. Some bloggers insist one is better than the other, sparking the great email debate. What really matters is:
Your preference in how the emails are sent.

The expectations you have set for your subscribers.
Do you want to be hands on and manually send out each email or would you prefer to allow your email to run automatically? Are your subscribers expecting updates from your site only or an insider look at content not available to the public?
You may be strictly one or the other, or possibly a hybrid of both. Let's take a look to see how each category works.
Automated Emails and RSS
Automated emails, commonly referred to as RSS emails, automatically send new updates from your website to your mailing list, using your RSS feed. These updates can be scheduled to mail soon after a new post goes live, or at a set time each day, each week or even each month. The more you post between sending times determines how many posts will appear in your email.
The good thing about automated emails is they are just that — automatic. Design your template, set your sending schedule and your mailing provider, such as FeedBlitz, takes care of the rest. You can focus on posting content to your blog assured your email marketing is being handled. Automated emails are a great way to stay in consistent communication with your subscribers as long as you're posting to your blog consistently.
With this category of emails, however, you won't be able to personally touch each email that is sent. While you can easily insert a subscriber's first name and add an introductory sentence to your template to personalize the emails a bit more, some bloggers prefer to hand-craft an intro paragraph or insert commentary on individual posts. Revisiting our points mentioned above, it depends on what expectations you've set for your subscribers.
The Skinny on Manual Emails
Manual emails, on the other hand, offer you greater control when it comes to exclusive content and sending time. Starting with either your email template or a blank email, you add the content and choose whether to send right away or schedule for another day.
Many bloggers enjoy manual emails as it offers a chance to be more candid and personal with subscribers than what they feel is appropriate for a blog post. This also gives your subscribers the opportunity to receive something extra that blog readers won't see.. As mentioned before, this hits on what expectations you have set for your subscribers. Did you promise exclusive content not available to everyone else? Then manual emails will be the way to deliver on your promise.
Now, say you want to send a manual email with a personalized note along with content from your website? FeedBlitz can assist you in this process. We curate the content, you choose which posts to send, the order to send them, the ability to add a note at the top (or bottom) then send or schedule.
A potential downside to manual emails as opposed to automated emails is the time invested in each email. It's not running on an automatic machine so you'll need to be more disciplined to carve out time in your schedule to send emails on a consistent basis.
Do what works for your subscribers.
The debate amongst bloggers as to which category of email is better — automatic or manual — isn't going away anytime soon. There are pros and cons for both! Good news is you don't actually have to choose. You can if you'd like, but many bloggers opt for a combination of the two. Automatic emails for the blog content and manual emails for exclusive updates or weekly summary emails.
The key is finding what works for you in meeting your subscribers' expectations. If you're unsure, simply ask your subscribers. If you'd like to test the waters, adding a second category of email, we suggest creating a duplicate mailing list and letting your subscribers know about this addition in the first mailing. This way they have the opportunity to unsubscribe to the new updates only if preferred.
Adding a second mailing can be just the next step you need in your email marketing journey. If you have any questions when it comes to the two categories of emails or anything email marketing-related, send our team an email at support@feedblitz.com. You can also chat, check out our Help Forum, or give us a call at 1.877.692.5489. Our Support and Sales Desk is available Monday – Friday from 9 am to 5 pm EST.






Related Stories