---
Weakness and Strength: How to Let God Redeem Our Weaknesses

For the sake of Christ, then, I am content with weaknesses, insults, hardships, persecutions, and calamities. For when I am weak, then I am strong. 2 Corinthians 12:10 ESV
I hate looking weak and being a 5'3″ woman doesn't help that perception. Maybe that is why I like martial arts so much. I feel strong, confident, like I could kick some rear when I wear my do bok.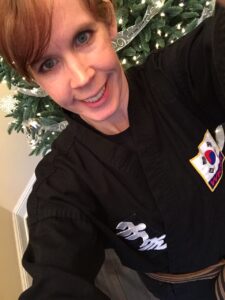 Since I want to feel and look strong, I don't want to admit an injury. Perhaps that is why in July when I injured my foot sparring I didn't tell anyone and then broke boards with it. Maybe it is why I don't want anyone to notice the giant boot on my foot or the crazy way I limp…
Weakness confirms my deeply held fear of not being enough. My fear that if I really do try I may really fail. And even though I tell my kids that we only fail when we don't get up and try again, I struggle to believe it.
But strength isn't what pleases God.
God's smile isn't for the healthy hiker who boasts he made the journey alone.  It's for the crippled beggar who begs God for a back on which to ride. Max Lucado
God's strength is seen best in my weakness. When I am strong in myself, others can only give me glory. When  God does something magnificent in my weakness, then God gets the glory. God doesn't want His children to try to run this marathon of life by themselves. No, He is looking for children to beg for a ride. Not because we are not warriors, but because we are His children. We put on the armor God gives us, and trust God to fight the battle through us.
God redeems our weakness when we stop hiding our weaknesses and ask for help – not only from God, but from His children as well. When we ask for prayer, help with physical needs, or just share our struggles, others can see God working in our lives. His story is proclaimed and our weakness is only secondary. Our weaknesses are gifts of grace where we get to see God's strength in our lives.
Father God, thank You for loving me. Lord so often I am weak and tired and I really don't like it. But when I look toward You in my weaknesses and ask You for strength, You always provide. Help me to continually seek Your strength, may I never hide my weaknesses and so attempt to steal Your glory. Instead help me admit my weaknesses and point to Your strength at all times. In Jesus' Name I pray, Amen.
How to Keep Our Eyes on Jesus When We Fail, Again

But you are a chosen race, a royal priesthood, a holy nation, a people for his own possession, that you may proclaim the excellencies of him who called you out of darkness into his marvelous light. 1 Peter 2:9
Failure.
It is a label I carry around in my heart and mind. One I plaster over different roles in my life.
If my children don't do well on a math assignment I label myself a bad teacher. I failed.
The weeks I can't get dinner planned and on the table I say a failed as a manager of my home.
When I don't make the phone call or send the text I meant to send to my friend. I failed my friend.
The doctor's office called, I forgot an appointment – mom failure.
Failure is a weight a carry with me. I work to hide it from the world because I don't want anyone to think I fail. I do a pretty good job until my eye starts twitching and the weight of failure wears me out.
Interestingly Jesus knows my failures and sin way better than I do myself and He doesn't call me a failure. He tells me I am loved and known. (Psalm 139) God knows me better than I do myself and He delights in me…a stumbling child who often chooses to put myself above Him.
Here is the mystery: my account with God is not only cleared by Jesus' work on the cross, but Jesus gave me, gave all those who believe in Him, God's righteousness. So I am not failure. I am a new creature. Though I do what I do not want to do – I sin against a holy, righteous, gracious God – He forgives me over and over again and He sees me as righteous. Perfect. Clean.
Grace and love like that are so amazing I long to please God with my life. Knowing this grace keeps my eyes trained on Jesus. Though I fail, through Him I have victory. May that be said of all those who have faith in Jesus, that we long to show our love for Him in faithful obedience.
Father God, forgive me for doing what is sinful, ugly, what does not please You. Help me to obey in humble gratitude for what You have done. And Lord, when I fail may I never accept "failure" as my label. Instead remind me of the truth. That I am loved, treasured, valued, and significant because You love me. Thank You for knowing me and loving me. In Jesus' Name I pray, Amen.
Emotions and Truth: How to Grow Kindness in the Middle of Frustration

Be kind to one another, tenderhearted, forgiving one another, as God in Christ forgave you. Ephesians 4:32 ESV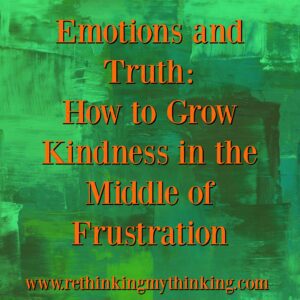 Tears stung my eyes and anger burned in my chest. I felt wronged and hurt. The hurt gave birth to anger and frustration. All I wanted to do was lash out. My mind reeled with what to say and my tongue prepared for the lashing it was about to administer. Yet my lips felt involuntarily sealed, like God held His hand over my mouth. In the silence my brain reigned in my wonky emotions.
He didn't mean to hurt my feelings. Saying hurtful things will only make it worse. I repeated to myself over and over again.
Don't get me wrong, I felt hurt and I needed to talk to my husband about what happened so I would not have unrealistic expectations and so he would avoid hurting my feelings again. However lashing out in anger and frustration would not have done any good. Reminding myself of all the times he had hurt me in the past would certainly fuel my anger, but it would not assuage my hurt feelings. Instead reminding myself of who my husband is typically – a good man, someone who takes great care of our kids and myself – helps me frame my response.
So how do we talk truth to our emotions?
Keep quiet. Wait to speak until we can calm down or we have time to consider the best way to proceed when we are frustrated or hurt.
Think about why we are feeling hurt. Are we feeling hurt because someone pointed out something about us that we don't like? Was someone thoughtless? Are we being misunderstood? What is causing the hurt feelings?
Tell ourselves the truth. What is true about the person who hurt us? What is true about God? He will bring justice. What is true about ourselves?
Ask God to help us. Ask God to help us keep our mouths shut. Trust Him to help us remain quiet and to give you understanding so that it is easier to be kind.
Be kind. Do the hard work of chasing kindness. Don't retaliate, but trust God to give you wisdom and strength to get through.
Keep quiet during struggles is difficult. What do you need to do be kind the things are rough?
The Day After: How to Carry the Wonder of the Resurrection Every Day

I hope you enjoyed my lent devotions. I will be posting three times a week for the foreseeable future. I hope you are challenged, encouraged, and strengthened in your faith as you journey with me through Rethinking My Thinking.
Simon Peter said to them, "I am going fishing." They said to him, "We will go with you." They went out and got into the boat, but that night they caught nothing. John 21:3 ESV
Jesus rose from the dead! We just finished celebrating that fact yesterday. And much like the disciples we ought to ask ourselves, "What now?" Simon Peter decided he needed to go back to doing what he knew – fishing.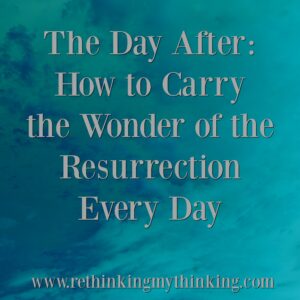 And perhaps that is what you are doing today. Going back to work, back to school, back to the daily grind. Sunday was a wonderful day full of family, food, fun, church celebration…but today, what difference does Easter hold for you today? How can we carry the wonder and the glory of the resurrection with us through all our days?
Knowing that Jesus rose from the dead ought to change everything. His resurrection should be our greatest delight. That means that when we face financial struggles we have a secret delight, the hope of heaven, the knowledge that if Jesus defeated the grave, He can overcome financial difficulties. The way He does so may not be the way we expect, but He is able to supply all our needs.
Knowing Jesus is alive means when we get the unexpected diagnosis we can know that the grave is not the end. That death holds no true sting, we have an eternity to look forward to in heaven. We have a powerful God who can choose to heal us here on earth or forever in eternity.
Jesus' resurrection helps us face difficult relationships with hope. If through His death and resurrection He reconciled sinful folk, like us, to God, then He can certainly reconcile to sinful people this side of heaven. It may not be in the time or way we would prefer. But we can trust that God is able and His way is perfect and He is making us more like Him in these difficult relationships.
Look to Jesus, when the road is hard and hope seems like pipe dream. We see Jesus' victory in part now, but one day:
He will wipe away every tear from their eyes, and death shall be no more, neither shall there be mourning, nor crying, nor pain anymore, for the former things have passed away. Revelation 21:4 ESV
And so we carry His resurrection with us as we acknowledge that God is able, we trust Him to move in our best interest (even when it isn't the way we hoped it would be), and we wait in hopeful anticipation for His full victory.
Father God, I confess that often I forget the power and majesty of Jesus' resurrection. I don't act like I believe You can do miraculous things. Help me to keep the power of the resurrection close by reminding myself of what You can do, what You have done, and what You promise to do. Then help my heart to delight in Your power and majesty that You may be glorified and honored. In Jesus' Name I pray, Amen.
Waiting for Sunday When You Are Not Sure What Day It Is

The women who had come with him [Jesus] from Galilee followed and saw the tomb and how his body was laid. Then they returned and prepared spices and ointments.

On the Sabbath they rested according to the commandment. Luke 23:55-56 ESV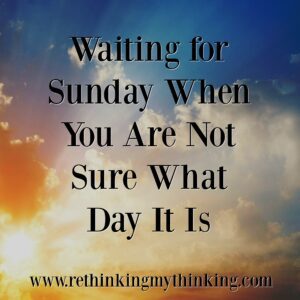 In the four gospels the only mention of the day between Jesus' death and resurrection is found in Luke. "On the Sabbath they rested…" That is all that is mentioned of the day after Jesus died. Remember the Sabbath is Saturday the last day of the week in Jewish culture.
And this side of the resurrection we often say, "It's Friday, but Sunday is coming." Still I wonder, if we didn't know Sunday was coming. If we like the disciples missed Jesus' promises and prophetic teachings of His resurrection, how would we endure Saturday?
Saturday had to be the darkest day of the disciples lives. Their Rabbi crucified, one of their own betrayed not only Jesus, but all of them. Rumors probably reached their ears that Judas killed himself. But there was no satisfaction in the rumor, only earth-shattering, world-turned-upside-down doubt. How could this be?
And how can we endure the dark things of this world when we don't know when Sunday is coming?
I wonder if the disciples gathered to pray or if they gathered to compare notes? Is He really dead? How could this happen? Wasn't He the messiah? Or did the cry out to God? Did they recall the Psalms of lament and tell God:
My tears have been my food
    day and night,
while they say to me all the day long,
    "Where is your God?" Psalm 42:3 ESV
Or were they too heartbroken and afraid?
When we are struggling through a dark difficult time it is easy to get frustrated with the wait – to doubt, fear, or even grow weary of the darkness. Did you notice what they did even on the darkest day of their lives? They kept the Sabbath as God commanded. Maybe that is what we are missing to get us through dark times. We forget to keep God's commands. We fail to obey and instead we wallow in our doubts and fears.
But we can make it through the darkness with our hope intact, if only we do what we know God has told us to do. Love Him and love others.
Father God although I know Sunday is coming sometimes I struggle to trust You in the dark times of my life. Help me to obey You whether things are going well in my life or not. As I love You well and love other people well, may Your name be made great and my I experience your peace and comfort in new ways. Thank You for loving me. In Jesus' Name I pray. Amen.