---
God Doesn't Give Up on You–Ever
Welcome to my newly designed website. I'm so grateful for your visit that I'm having a drawing for two winners, each receiving a $20 Amazon gift card and a copy of my women's Bible study, Whispers of My Heart: Daughters of the King Bible Study Series. All you have to do to enter is make a comment on the blog post or send me a comment through my website. I'll draw the winner Thursday evening, August 3, 2017.
And while you're there/here, consider subscribing to receive my blog posts through email. There's a gift included!

God doesn't give up on you–ever!
Is that hard to believe? I understand. It's hard for me.
I thought years ago when I was physically abusing our two-year-old daughter that God had given up on me–forever. But God delivered me and ended up giving me a ministry through what I learned. During that hopeless time, if I had studied the biblical book of Jonah, I think I would have known He hadn't given up on me, He just had a different plan than I wanted. That's one of the many messages from Jonah. Let's check it out.
If you haven't read the short, four chapters of Jonah, here's the basic story:
Chapter 1: Jonah runs from God: God persistently pursues Jonah

Chapter 2: Jonah runs to God: God prompts restoration with Jonah

Chapter 3: Jonah runs with God: God produces reconciliation through Jonah

Chapter 4: Jonah tries to run God: God patiently provides for Jonah
In Chapter 1, God tells Jonah to go to Nineveh to tell them to repent. Jonah hates the Ninevites because they are the wickedest people on earth and he doesn't want them to repent. He pays passage on a ship to go the opposite direction of Nineveh. God then goes to great lengths to persistently pursuing Jonah. I would have given up on Jonah! But God doesn't. Jonah thinks he can run away from God's presence and sometimes we think that too. But we can never go to where God isn't. For Jonah, God shows His pursuing power through storms on the sea that terrify seasoned sailors. They confront Jonah and he confesses he's the problem. "Throw me overboard and the seas will quiet." Those unbelieving sailors quickly believe in Jonah's God in spite of his bad representation and ask God's forgiveness for throwing Jonah overboard. And that's where the famous whale shows up! Gulp! Gulp! Jonah is in the belly of the whale for three days and three nights.
In Chapter 2, God prompts restoration with Jonah and Jonah prays for deliverance. Jonah runs to God and recognizes his need. Jonah 2:9 gives Jonah's cry: "Salvation is from the Lord." God prompts the whale to vomit him onto the dry ground.
In Chapter 3, Jonah runs with God and in His power, Jonah speaks doom and gloom to the Ninevites and they repent wholeheartedly–exactly what Jonah didn't want.
In Chapter 4, Jonah whines and complains because he didn't want the Ninevites to repent. Jonah knew God would be merciful and spare them. He wanted them dead as unbelievers in Jehovah. But he also would be seen as a liar if his prediction didn't come true. Regardless of Jonah's horrible attitude, God provides for Jonah with encouragement and physical comfort. And God lovingly shares His own heart of mercy for those who don't know Him.
You may feel like Jonah. Jonah complains, "O Lord, please take my life from me, for death is better to me than life." I was suicidal when God didn't answer my prayer for an instantaneous deliverance. Jonah also thought he knew best and being wrong in his prediction was worse than life.
We don't know anything about Jonah after God pleaded with him to see His own loving and merciful heart.
You can be assured that God's same heart of love and mercy is for you!
Afraid to Pray OutLoud?
Fear can block us from praying out loud in a group. We fear being judged because we said something with the wrong words, or in the wrong way, or with too many words. These fears are usually because we don't want others to think poorly of us.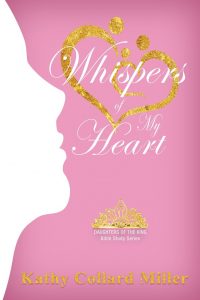 Fear takes the focus off connecting with God and focuses on ourselves. We can even know our motive and feel bad about it. But maybe we were shamed in some way in the past about praying or the way we speak and now we want to avoid pain.
Ask God to develop your strength to trust him. He only needs to approve or be pleased by your words. Sometimes he just asks your obedience in speaking out in faith and rejecting any condemning thoughts, remembering God focuses on your heart which no one else can see. Let his understanding and compassion comfort and strengthen you.
When prayer requests are shared in a group and the opportunity to pray is available, some feel compelled to pray for every request but praying for everything can limit the opportunity for others to participate. If we fear some request won't get covered, we can trust God to respond to the needs of every person, regardless of whether it's specifically prayed for.
In one regard prayer isn't "needed" since God knows everything and knows what is best for each person. But God allows us the privilege and joy of being involved through praying for others. Sometimes remembering God already knows everything will diminish the need to say too much.
This is an excerpt from Whispers of My Heart: Daughters of the King Bible Study Series, a 10 lesson women's Bible study for individuals and groups. 
Blue Fish Faith, Guest Post by Jenna Marie Masters
I'm so pleased to feature a writer that I met recently at a writers conference. When I had the joy of reading this story from her blog, I thought, "I must share this with my readers." Her words really spoke to me.

So…here is a guest post from Jenna Marie Masters. And you can check out her blog: markedbyloveblog.wordpress.com. I know you'll love reading her inspiring thoughts.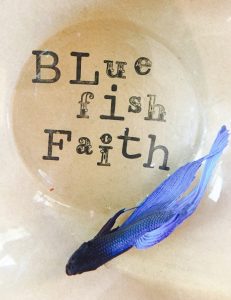 photo by Jenna Marie Masters
Blue Fish Faith
by Jenna Marie Masters
I ended up with a pet fish last month. I say "ended up," because I did not want, ask for, or like this fish. I actually do not like fish unless they have been grilled, fried or baked. I certainly do not like them looking bored in a bowl on the kitchen counter. But my sweet eight year old daughter has her daddy wrapped around his caring finger. So when the two of them ran into the pet store to grab dog food, she came back to the car proudly carrying a fish in a cup.
"Mommy! Me and Daddy bought you a pet fish!"
"Because! Isn't he so pretty? And, he was on sale!"
Well, then, if he was on sale…I would love to have another dirty animal to care for -on top of the dog, the bunny, and two leopard geckos.
"Oh, thank you, Sweet Girl. He is super pretty."
I have a horrible history with pet fish. Seriously. Once I cooked my goldfish. I didn't realize my mom had just washed the dishes with burning hot water. I unknowingly filled a cup with scalding water and carefully transfered my goldfish into it so I could clean his bowl. Within seconds, this doomed fish turned upside down, his scales white.
Poor fish. I don't even remember his name.
So here I was, once again with the task of caring for a gilled creature. His name is London. My daughter is right. He is really pretty. London is a Betta fish with long, flowing fins circling all around him.
Two weeks in, London stopped eating. He sulked at the bottom of his bowl. His fins looked burdened and heavy. He had weird white spots. I actually felt sad! I needed to find out if I could help London. I had a responsibility to keep this fish alive.
For one thing, it was a gift from my daughter.
Second, I wanted to somehow redeem myself for murdering what's-his-name all those years ago.
I Googled, "What to do if Betta fish gets sick." I went to the pet store, bought special water drops for his water. We prayed for him as a family at dinner.
While washing dishes a few days later, something caught my attention. A bright blue, poetic-like thrashing called me to London's bowl. He was at the water's surface, fins fanned and dancing around his body. He was hungry! I dropped one small fish food pellet in at a time. He literally jumped up out of the water to catch the first one. He was ravenous. He shimmied and waited intently for more. He was healthy again.
Believe it or not, God's Spirit spoke to me as I fed this silly little fish. He has been chasing me down with a verse from the Psalms for months. It's been in random worship songs I chose to listen to for the first time, and every podcast I've decided to turn on. My daughter even wrote her own devotional using the same verse. When I cleaned out the garage last week, I opened a devotional and on the top of the page was this same verse…again.
"O taste and see that the Lord is good: blessed is the man that trusteth in Him." Psalm 34:8
My response to His prompting through this verse had been, "Yes, Lord, I know You are good. You are so good." But, as I watched how breathtaking this fish was when he was hungry, deeper truth whispered to me. Just as London had become gorgeous in his hunger, we are gorgeous in our Father's eyes when we hunger for Him.
He is longing for us to hover at the top of every moment, intently waiting to receive from Him.
In order for me to truly taste the full goodness of God, I must first be hungry for Him. Not just hungry, but ravenous. Ravenous for His Word, His presence, His direction, His love. I must be swimming to the top of my prayer life, jumping out in faith to taste His goodness.
If God looks upon me and I'm sulking at the bottom of my day – with no desire to taste His goodness, no desire to be nourished by His Word – it is an indication that I am spiritually sick.
How can we taste of God's goodness if we are not coming to His table to eat? And, why would we come to His table if we weren't hungry? We are not called to come to His table as an afterthought.
We would not insult a host by filling up on a meal we cooked ourselves before we went to their home for dinner. In the same way, we owe God our full appetite.
What had I been filling my soul with before coming to the Lord's table? Was I leaving only enough space in my spiritual stomach for a small sampling of the Lord's goodness?
He is not a dessert to finish our day with.
His very Word, His presence, His love is to be the bread that sustains me all day, every day. Nothing else. The more we eat, the more our stomachs stretch. The Lord will only fill us with what we have made room for. The more we come to be filled by Him, the greater and fuller the filling will become. Our stomachs will grow, our appetites will multiply.
As we become more ravenous for the Lord, those around us take notice. Just like London's movement at the top of his bowl made me put down my sponge and watch. London is healthy, full of color and life. This is how God intended him to be.
God has designed His children to make the world stop and stare. The world should look at God's children and ask, "What are they so hungry for? What makes them so passionate that they would jump up out of the mire of life to reach for more?" And, when others ask, we will have an answer for them. Not only an answer, but we will pull up a chair and invite them to taste and see that the Lord is good.
My husband teases me, "God wanted to teach you to have blue fish fait."
Cute. But if he buys me another fish, it's going in the frying pan. Just sayin'.
Winner of "Free to Lean" AND I Don't Like Braces But They Are Bringing Something Good
Drum Roll! The winner of the drawing for Jocelyn Green's new book Free to Lean is Missi! Congratulations Missi. I'll be in touch with you so that Jocelyn can send you your autographed book. I know you'll love this wonderful book.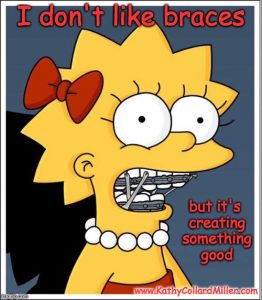 Now here's today's post.

If you've seen me within the last four months, you know I now am sporting braces on my bottom teeth. My bite has always been off with crooked teeth but now those teeth have become loose. The solution other than pulling them? Straighten the bite so they connect with the top teeth without trauma.

I'd always heard how painful having the teeth move are for those wearing braces. I've been grateful there hasn't been horrible pain with that but the pain I've experienced is different.

When the braces move into a different position in my mouth, the points of the braces hit against a new part of my inner mouth. An open sore can result that is very painful. Thankfully, putting wax on the pointy part of the brace really helps and rinsing with salt water helps to heal the skin.

This process occurs over and over again as the teeth move and the sharp edges of the braces hit different areas. But the good part is that I know things are changing. That is good news. Someday all the teeth will be straight and in alignment. The inside of my mouth will never experience sores again.

Of course I saw a spiritual application. This process of change and resulting pain but then healing is a description of sanctification.

Although we are perfectly justified before God because of acknowledging Jesus dying for our sins and then wearing Jesus' robe of righteousness, our journey of change on this earth is ongoing. Praise the Lord–He doesn't expect us to be perfect, but He does want us to grow and heal.

So He allows, sometimes even creates, circumstances that feel like a different part of a pointy brace is "touching" a part of our soul, spirit, and/or mind. That "touch" might be conviction or awareness or seeing a sinful reaction we've never seen before. We don't like that so we respond opposite of the fruit of the Spirit–anger, irritation, withdrawal, discontentment, negative thinking, etc, etc. Like that sore in the mouth we're saying, "Don't touch me. I don't want to face how I'm not fully living in trust in God." Or whatever our underlying issue is…

In this process, God's purpose is not to make life miserable but to (tweet that!) move us away from the lies that create distrust of Him. By applying the "wax" and "salt" of the truths of Scripture to heal and change the behavior, we can move away toward more holiness.

As you can tell, I haven't figured out all the aspects of this concept and I'd love your help. Maybe I'm off base? Doesn't make sense? How do you see the different aspects of this idea?

What I know for sure is that the straight teeth I trust I'll have someday do represent the perfection you and I will experience in heaven. No more pain! No more challenges! No more need for change! I can't wait! It's going to be fabulous.

Would you make a comment? I know my readers would love to hear also.
Can You Be Pleased with "Little"? Book Giveaway Continuing!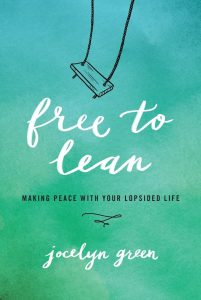 The book give-away for Jocelyn Green's book Free to Lean: Making Peace with Your Lopsided Life is still going on so I thought I'd include here the snippet she included of mine in her book.

Click on original post to learn more information about the book.
To put your name into the drawing to win an autographed copy from Jocelyn, make a comment on my blog or email me: KathyCollardMiller AT gmail DOT com. I'll draw the winner this Friday late evening, July 7, 2017.
Here's what Jocelyn included which is from my book, Never Ever be the Same: A New You Starts Today (co-authored with my husband Larry):
I have long struggled with criticizing myself because my efforts and time spent feels like I'm never doing enough. I compare myself to other mothers, wives, writers, and speakers. (Tweet that!)
I think, "Look at all they are doing and I'm not." As a recovering perfectionist, if I wasn't doing it "all," I wasn't doing "anything." That's the all-or-nothing perspective of a perfectionist. But God has been dealing with this tendency for a long time because it essentially means I'm not trusting God.
In particular, He used Zechariah 4:10 to teach me His perspective, which says, "For whoever has despised the day of small things shall rejoice, and shall see the plumb line in the hand of Zerubbabel."
At the time of Zechariah's writing, some older people were unimpressed with the construction of the new Temple. They remembered the "old" Temple that had been destroyed in their lifetime. They had seen the magnificent Temple built by Solomon, and to them, this replacement didn't compare. They called the new construction "a small thing" but God (through Zechariah) says, "Who is calling my work 'small'? Anything I do is big!" That's his message through the prophet Haggai in Haggai 2:3-4,9:
'Who is left among you who saw this house in its former glory? How do you see it now? Is it not as nothing in your eyes? Yet now be strong, O Zerubbabel, declares the Lord. Be strong, O Joshua, son of Jehozadak, the high priest. Be strong, all you people of the land, declares the Lord. Work, for I am with you, declares the Lord of hosts,…The latter glory of this house shall be greater than the former, says the Lord of hosts. And in this place I will give peace, declares the Lord of hosts.'"
Here are some "small" thoughts.


What seems small doesn't mean meaningless.

What seems small is often the beginning of something big for God.

God values "small" because then he is glorified when it brings great results.

God chooses weak vessels so that he will be glorified.

Your first step is important. Don't give up.
One way God taught me the value of small growth steps in my life was while taking care of my mother-in-law, Audrey. In the two-and-a-half years she lived with us before her death, God did a mighty work in me (and both of us) to learn and grow in so many ways. I learned to slow down my reaction and work through what was really going on within me. Little by little, I grew in my ability to listen to the Holy Spirit asking me questions about my motives. Quite often those questions helped me see how I was leaving God out of my life and trying to live on my own terms.
I remember one morning Audrey was eating her bran cereal. Every morning I had to soak the cereal in milk for at least thirty minutes to make it soft. But this morning the delusion of her Lewy Body Dementia was "alive."
She said to me, "There're rocks in my cereal. I know you're trying to kill me."
I could feel the hair on the back of my neck begin to rise. But I stopped myself, and prayed quickly, "Lord, this is my old pattern of wanting to be approved and not wanting to be seen as undependable. I'm going to pause because I know in Christ I am dependable, loved, and approved." I relaxed yet wasn't ready for what happened next.
Audrey mumbled something else and then said, "And I wish you'd do a better job of it."
Of course, she meant that I should make her cereal "better" without rocks. But the juxtaposition was funny. I should do a better job of killing her? I stifled a laugh and wasn't upset—for once!
Another morning she shuffled down the hall toward me exclaiming, "Don't lie to me, you attacked me last night!"
Oh! That is one of my hot buttons of being called a liar. I so wanted to be mean in return, but I again slowed down my reaction and prayed, asking God to help me see myself as he sees me—as a daughter of the King. The Lord gave me compassion for Audrey who was also a daughter of the King, yet was mentally influenced by dementia. Her words didn't bother me in the least. God was doing a work within me of "small things" and although I still reacted in unloving ways at times, those reactions diminished over time.
God was making small inroads into my wrong belief that I must do everything perfectly. (Tweet that!)
(excerpt from Never Ever Be the Same: A New You Starts Today)