---
Our Kids Need Us to Protect Physical Education
This post reflects a compensated editorial partnership with Voices for Healthy Kids, a joint initiative of the American Heart Association and Robert Wood Johnson Foundation.
I don't remember a lot about my school days. They were (cough) a long time ago. But I definitely have vivid memories of my PE classes. Or, as we called them in the 70's, "gym." Today "gym" means a nice workout place with fluffy towels and trainers named "Cody," but back then it meant smelly feet, grey sweatpants and an intense coach with a whistle around her neck. (Who may also have been named Cody, now that I think about it.)
I wouldn't say that PE class was my favorite period of the day, or even my second or third favorite. It was, however, the most fun and weird hour a middle school girl in North Dakota could ever hope to have because of the (controlled) freedom to be active. Here are just a few of the unforgettable highlights:
My PE coach blasting Hava Nagila and leading the class of mostly Lutheran kids in the Israeli folk dance The Hora for some inexplicable reason. (But this actually came in handy for me just last fall when I was at a Jewish restaurant in New York City and everyone got up to dance. Shalom!)
Being called an "inside agitator" by the coach during our classes' tumultuous floor hockey unit simply because I encouraged the high sticking of the snotty girls.
Mandatory showers after our swim sessions. Yes, they were probably necessary, but there weren't any hair dryers in the locker room. And since it was the last class of the day, I had to walk home in negative North Dakota temperatures with wet hair that immediately froze into a blonde ice sculpture.
Rope climbing. I know everyone has a PE rope climbing story, but did yours involve careening down the rope and incurring massive chafing to your inner thighs while girls laughed and your friend Kristi yelled Billy Squire lyrics to cheer you up? Yeah, didn't think so.
The reason PE is on my mind isn't because I just heard "The Stroke" on the radio, rather it's because I recently learned that many of today's school kids don't get a lot of physical education. Some don't get any. In fact, only 4% of elementary schools, 8% of middle schools, and 2% of high schools provide daily PE or its equivalent for the entire school year. That's shocking to me considering that I've always felt PE is as American as apple pie, baseball and not knowing how to spell Mississipie correctly the first three attempts. Meesspipy.
My family is fortunate in that the boys had PE every other day when they were in grade school, and every day in middle school. Like most active kids not thrilled to sit still in a classroom all day, they love it when they're allowed to run around with their friends and burn off some energy. Research shows it helps them learn better, too.

Per the American Heart Association:
Kids need 60 minutes of physical activity per day and PE programs can help get them there.
PE addresses the needs of the whole child, positively impacting their physical, mental, and emotional health.
95% of parents with children under the age of 18 think PE should be part of the school curriculum for all students K-12.
Racial inequalities and socio-economic challenges leave many schools without resources for PE, but kids shouldn't have to miss out on the benefits of PE simply because of where they live.
It saddens me to think that today's kids aren't getting the same chance to humiliate themselves on a rope like I did, but here's some good news: The opportunity has arisen for us to support the American Heart Association and Robert Wood Johnson Foundation's Voices for Healthy Kids mission to Protect PE. Their goal is to get PE in more schools, with more frequency. The passage of federal bill ESSA (Every Student Succeeds Act) at the end of 2015 means that now all states must develop a comprehensive plan to ensure all students receive a fair, equitable, and high-quality education. And we can work to make sure PE included in this plan which will then guarantee that PE programs are eligible for federal funding. Make sense?
Unfortunately, the inclusion of PE in ESSA plans is not a slam-dunk, so it's going to take action from concerned citizens to get daily PE included as a core component in the plan. Then, once it's included, PE programs will get federal money to pay for things like teachers, gym facilities, etc. If PE isn't included in the plan, there will be no funding from this source, and our kids won't get any of the PE benefits I listed above. We owe it to make PE happen.
Here's how we can help:
Protect PE by joining the PE Action Team at www.voicesforhealthykids.org/PE
Learn how you can work to increase PE in your community: http://physicaleducation.voicesforhealthykids.org/
Find sample letters to the editor, prescripted social messages and more here:
http://physicaleducation.voicesforhealthykids.org/resources/
Support and share on social:
Twitter: @Voices4HK #ProtectPE
Facebook: https://www.facebook.com/VoicesForHealthyKids
Every school kid deserves at least an hour a day to run around and be a kid. It makes them more happy, more healthy, and more likely to pay attention in the classroom. And that's good for everyone. Take a minute to support Voices for Healthy Kids and let's keep our kids moving forward.
Coach Cody and I thank you.
Dieting Is For The Dogs
I had lunch yesterday with a new friend, let's call her Janice, and started telling her about Teddy's new diet.
"He's kind of depressed because his doctor said he has to switch to vegetable snacks, like frozen green beans and carrots," I said. "No more meat snacks."
"Oh, that's no fun!" Janice gasped. "Who wants vegetables? Poor Teddy! That's awful!"
"I know, it's totally awful. Plus the doctor said he has to get 45 minutes of exercise a day."
"Forty five minutes? Like, all cardio or some weights, too? Does he like yoga or Pilates?"
"What?"
"Did he say how much weight Teddy has to lose?" she asked. "Is it a lot?"
"No, just two pounds by August, five by the end of the year."
"Oh, well, that seems doable," Janice reassured me. "I know Rick can skip one meal and immediately go down a size!"
It was at this point that I realized my new friend Janice thought Teddy was my husband. Not my dog. A mistake she probably wouldn't have made if my dog was named, "Bubba," but who knows. I do live in Texas.
But yes, Teddy the Dog is now on a new diet regimen to lose his winter weight and he's not very happy about it, as you can see. (Of course, he's Bichon Frise and French poodle, so he has a flair for the dramatic, anyway. I think I once saw a single tear drip down his cheek when he saw a leaf fall into the pool. C'est triste.)
He's doing okay, mostly, but yesterday, I was disappointed to find him in the backyard with a lizard in his mouth. "Teddy!" I yelled, "Spit it out and get some control of yourself! For the love of god, I didn't even resort to eating lizards when I was on Weight Watchers for those miserable six weeks last fall! Wait–how does it taste? Probably only two points, right? Leathery?"
I do feel bad for Teddy, though, because he and I are both what the veterinarian described as "Extremely Food Motivated." Seriously, if you want either of us to jump off the couch and come sprinting your way with our tongues hanging out, just rustle a bag of potato chips in the kitchen and we'll be there in under two seconds.
I think I just figured out how to get in 45 minutes of exercise each day.





The Text Object
I'm in a long-standing group text with seven friends. We've texted each other every single day since May of 2016, and our conversation shows no sign of ending unless one of us suddenly loses her data plan and/or her life. (If you've ever tried to get out of your AT&T contract, you'll know which option is easier.) Our text chats have run the gamut from serious, to tragic, to hilarious, to bored, and it feels good to know that these women are always just a few buttons on my iPhone away. And their GIF and Bitmoji games are strong. I'd like to see a middle school girl try to be as savvy with her Honey Boo Boo image replies.

This morning's text discussion was about a few kid and work things, some general chatter, a few expletives about the news (ahem) and then my friend Lisa stopped the presses when she shared with us a pic of what she found while online shopping:
That's right. This is actually considered to be fashion. I'll give you two guesses who's selling this monstrosity, but you'll only need one because the answer is always "Anthropologie." Puffy shirt that a pirate wore to a Midwestern disco? Anthropologie. Headband made from rolling papers found in an abandoned bus in Eugene, Oregon in 1968? Anthropologie. Skirt that looks like it's the love child of a dirndl and an amorous goat? Anthropologie. Shapeless house dress covered in appliques of tropical fruit? Well, that one's from Old Navy, actually. Not sure what they're trying to prove this spring, but it's not really working. What do pineapples have to do with the navy?
Anyway, here are the text group's responses to the potholder loom creation pictured above:
Lisa: "This 1974 grandma lap blanket with sleeves is just $168"
Lauren: "I'll take two!"
Liz: "I don't own enough cats to pull this off"
Laurie: "I should learn how to market some domestic crap, is the takeaway here. Why am I not using my cross stitch skills for big bucks?"
Ann: "Brand it OMFGODSEYE and you can charge $250."
Laurie: "It's a true original, as you can only wear it once before you snag it to shreds. So it's an experience piece."
Laurie: "Also, it's utilitarian because you can carry your snacks and crochet hook around in the openings."
Nancy: "Sorry, I'm trying to improve the sound quality of my podcast from under my afghan right now"
Vikki: "I have an original afghan like that in shades of brown in my blanket chest. Should I try to sell it or wear it?"
Lisa: "Jam your head through one of the gaps. Instant poncho. $187."
Wendi: "Anthropologie: Our Clothes Just Look Like They Smell Like Antiques!"
And then I of course had to point out the obvious inspiration for the $168 precious hipster lady top:
That's right. Dan and Roseanne Conner had this on their couch for the entire run of their series. It doesn't take a genius to realize that the show's prop master is probably now working in Anthropologie's design nerve center. But from the looks of it, that afghan probably made only a few tops, so get your order in soon!
As for me, well, I'm saving my money for this $398.00 item they just put up on the Anthropologie site:
I can't wait to text about it.
The Days of No Wine and Roses
I will be back to the blog soon enough, but for now, here's a link to my newsletter. If you subscribe, I will like you. So there's that.
http://tinyletter.com/wendiaarons/letters/the-days-of-no-wine-and-roses
AMAZE Your Kids with Sex Education
I have a song stuck in my head today. It's a catchy little number called "That's How the Boner Grows."
Yes, you read that right.
Lest you think I've finally gone off the deep end and/or I've found some "subscription only" part of the internet, this song is actually from a fun, new video for tweens and teens that was produced by sex education experts Advocates for Youth, Answer and Youth Tech Health (YTH). YTH's new entity, AMAZE, is an online sex ed resource for kids 10-14 years old, and it features entertaining, non-judgemental, animated videos that cover all of the puberty, sex, relationships and body change issues that constantly race through an adolescent's mind. Questions like: "Is this normal? Should I have hair there? Why don't I have hair there? Am I gay? Am I straight? Am I BOTH?"
Honestly, with so much to wonder about, it's surprising kids this age even have the time to forget to take out the trash and roll their eyes at you.
AMAZE was smart and put their videos online in a YouTube playlist format because kids spend a ton of time on the internet looking for answers to their private questions. Of course, this searching of theirs can lead to misinformation, porn, frightening rumors and lord knows what else. I mean, you can't even Google "chicken breast" safely anymore. And let's not even talk about the time I searched "how to toss a salad" because that's a permanent scar on my brain now. Spoiler: IT HAS NOTHING TO DO WITH LETTUCE.
What I like about AMAZE as a parent and advocate of sex education is that their videos are entertaining, but they also don't talk down to kids or give vague or unrealistic information. I once watched the video our Texas public schools show the 5th grade boys during their puberty talk, and all it said was: "When boys get excited, they may have an erection." What? If I was a kid who saw that, I'd probably live in constant fear of ever feeling joy or happiness lest it makes my penis do things I don't want it to do.
The AMAZE videos are also a lot more dynamic than a book (sorry, books), and, this is important, can be watched without anyone knowing. Perfect for the easily embarrassed tween. YTH has made it super simple for kids to find the info they want and need with no hassle.
Here's a really fun AMAZE video about the wonderful experience of growing boobs.
Alas, nothing about what happens later in life when those perky new boobs turn into tube socks with a rock inside the toe. Hey, could you get on that, AMAZE? We older ladies need some info, too.
Finally just so you can share my earworm, here's the "That's How the Boner Grows" video and song. It's greatly amusing, but it should also be watched just so you can see how a boner helps a young man change a flat tire. Yes, really. AAA has no idea.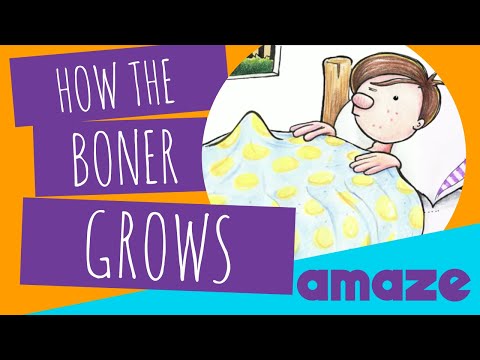 I encourage all parents and educators to use AMAZE as their go-to resource for the 10-14 year old crowd. The website is chock full of age appropriate information, links, and education. And please note that if your kid is anything like mine, there is no way in hell they'd ever consider sitting down and watching the videos together, so I suggest you just casually mention, "Hey, I hear there are some fun videos on this Amaze.org website!" then run away before the eye roll happens.
Find AMAZE at these places:
Hashtag: #MoreInfoLessWeird
Social media:
instagram.com/amazeorg
Snapchat: AMAZEorg
facebook.com/AMAZEparents (launching soon)
This was a sponsored post. All opinions, especially about tube sock boobs, are mine.