Val's Review of Attica Locke's HEAVEN, MY HOME
Attica Locke creates stories rich in setting and character and entwined with history. (Bluebird, Bluebird) The plot of her latest, HEAVEN, MY HOME, is not only intense but complex and multilayered. Levi, the nine-year-old son of an Aryan Brotherhood leader, goes missing. Texas Ranger Darren Matthews is assigned to find him. As crime novels go, that would be ordinary, except Matthews is black and must follow the law even when faced with legal and moral issues. One of the settings he's called to, Hopetown, was created after the civil war for freed slaves. Now white supremacists live there too, making a living off people who are nostalgic for anti-bellum Texas.
Matthews comes into the assignment with personal problems, including a mother who doesn't have his best interests at heart, a vulnerable marriage, and a past investigation that haunts him. As a character, he's so fully fleshed out that I feel as if I know him, making his story the kind I yearn for as a reader.
I won't go into any more plot details as other reviews have covered those. I do enjoy how Locke interweaves Texas history in the novel, plus pulls us into a world in 2016 that is more conflicted than it was a few decades ago. Like a Pandora's Box of Bigots, the racists have become emboldened and don't fear the law. Levi the nine-year-old is a bad actor, but questions arise for Matthews as well as the reader as Matthews must put aside his feelings and search for the boy. Should Levi be held to same standards as his racists' relations? Is his hate conditioning or something more rooted in his genetic make-up?
Locke leans heavily on the idea of forgiveness. Should we always try to forgive, or are there times we cannot afford to forgive?
I'm always drawn to crime and thrillers that ask big, bold, and uneasy questions like these. Early in the novel, Matthews says:
"Maybe the rules had to be different. Maybe justice was no more a fixed concept than love was, and the poets and bluesmen knew the rules better than we did."
Maybe so. Think about that for a minute before you dive into the novel because once you do, you'll be too swept up in not only what happens, but what choices the characters must make. Walk in their boots. Experience a time of both past and present, times that make moral and legal choices so difficult.








Related Stories
The Woman in the Window--Does It Live Up to the Hype?
When a pre-publication novel boasts these blurbs from Gillian Flynn, Ruth Ware, Louise Penny, and Stephen King, and is pronounced

"The Most Widely Acquired Debut Novel of all Time,"

my alarms go off.
I don't know about you, but I'm a skeptic where the publishing world is concerned. Their taste buds tend to salivate over sales—no matter how well written or crafted the novel. Plus their authors often write testimonials for their publishers' novels because, well, it's done that way. I'll scratch your back, etc. etc.
So call me a cynic when, in October, I stumbled across an online mention of The Woman in the Window, the 432-page novel referred to at the start of this review, published by William Morrow. Ruth Ware called it

"A dark, twisty confection with an irresistible film noir premise."

Lately, some novels are described as noir, when in fact they are not. So is it noir? Is it worth the hype and read? And exactly who is this wunderkind author A. J. Finn?
Turns out he's industry insider Daniel Mallory, a senior publishing executive at William Morrow/Harper Collins. In the novel's promo packet I found this about him:
(Daniel Mallory is) a top young book editor who studied mystery and suspense fiction at Oxford University, who now publishes the work of Agatha Christie, and whose own writing is crafted in homage to the classics from Hitchcock and Highsmith.
Now I was even more intrigued, and the pressure increases for this novel to perform.
Yes … and no, depending on how you define noir.
As a psychological thriller, it's gripping. The narrator, Anna Fox, an agoraphobic and once a respected child psychologist, drinks too much merlot and pops pills indiscriminately. She spies on her neighbors and becomes increasingly interested in the new ones across the street. When she witnesses a brutal crime, no one believes her. No evidence is found that a crime has been committed, a noir hook that comes directly from Rear Window with James Stewart. We wonder about Anna's sanity.
The novel is alive with Hitchcockian characters: the sympathetic Detective Little, his sidekick who doesn't like Anna, the new neighbor who Anna suspects of killing his wife, the neighbor's son who makes friends with Anna, Anna's tenant who suspiciously has little history, and an online friend Anna confides in. The characters switch from suspects to victims and back to suspects repeatedly, creating the plot twists. A definite noir trope.
Finn chose wisely with confining the point of view to Anna. He also restricted the setting to Anna's New York brownstone, therefore enhancing the sense of entrapment, isolation, and paranoia, all elements of noir.
The ending, of course, brings the truth about the crime to a close. Usually, however, noir does not end on an uplifting note, or it leaves us with a slight sense of dread that not all is right with the world. Finn decides on a different ending.
As much as I love film noir, I found the mention of so many films
throughout the novel distracting even though we're led to believe Anna's constant viewing of these movies could cause her paranoia.
Night in the City, Vertigo, Third Man, Dead Calm, Gentlemen Prefer Blondes, The Man Who Knew Too Much, Rope, Strangers on a Train, North by Northwest, The Lady Vanishes, Gaslight, Dark Passage
—all
mentioned in the first 144 pages.
I applaud Finn's nod to Gaslight with its use of madness, Vertigo for mistaken identity, and Shadow of a Doubt for its sense of urgency. After the novel took off, I quit counting the mentioned films as I became more interested in Anna's fate and the person responsible for the crime.
As for the writing itself, noir benefits with less. Most of the descriptions were spot on, but sometimes Finn tries too hard:
Sounds invade the car: The giddy shriek, the seafloor rumble of traffic, a bicycle bell trilling. A rage of colors, a riot of sounds. I feel as though I'm in a coral reef.
Her drainpipe legs are folded beneath the seat, and Punch (her cat) churns around her ankles like smoke. In the grate, a low tide of fire.



As for the story overall, The Woman in the Window is more quietly complex and suspenseful than Gone Girl (enjoyed, with reservations). It far exceeds The Girl on the Train which I didn't like at all. Finn takes care with the clues he sprinkles throughout (even the red herrings), the setting, and the way he tries to summon up the moody atmosphere of black-and-white films.
The Woman in the Window goes on sale Jan. 2, 2018 in a massive launch and has already been sold to Fox 2000 Studios with
Scott Rudin producing and Tracy Letts writing the script.
I hope A. J. Finn continues to write in the noir and thriller genre. I'm a fan.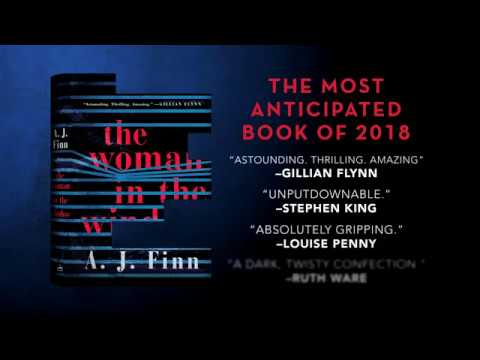 A. J. Finn's Facebook Page
"PORTLAND PREY" MY SEXY, SECOND NOIR STORY—& A PRIZE!
I will soon be interviewed on the "Kendall and Cooper Talk Mysteries" podcast! Wendy Kendall and Julie Cooper loved "Revenge in Paris" so much, they contacted me for the interview.
If you haven't read "Revenge in Paris" (it's free!), sign up at my WEBSITE. You'll be directed to download the story in your favorite format.
You will want to read Ang's story as it is the first in a trilogy of stories. The three stories will stand on their own, but isn't it more fun to get something free and prepare yourself for the thrill and mystery of the next noir in NOIR TRAVEL STORIES SERIES?
I had planned to publish "Portland Prey" in June, but a major life event happened.
My mom died. Many of you know she'd been very ill and I was gone during June to help my brother and sister-in-law who live in Naples, Florida where mom was in assisted living.
I have a lot to process about losing her, but that is for a different post. I'm just grateful she didn't have to go through hurricane Irma. I don't know what we would have done then. I'm also so grateful for my sibs who cared for her during a difficult period.
After mom died at the end of July, the sibs and I were busy with all that death demands. I spent a lot of time working on her obituary and trying to capture who she was. That was about the only writing I did for a month.
I'd finished writing "Portland Prey" in June, but I had no focus nor energy to copy edit, check facts, format, and find authors to write blurbs or testimonials for the story. I researched the next noir. I went out to lunch with my pals. I did my paying job. I watched Ray Donavan.
Now I'm coming out of the fog of Mom's loss. Thankfully the weather has cooled, my favorite season is upon us, and "Portland Prey" survived, unlike some of its characters.
When I read it over this past month, I loved it even more than when I wrote it. That rarely happens.
I finally gathered the courage to ask two people for blurbs and I was honored to receive this one from Tim Applegate, author of Fever Tree:
'Portland Prey' is a swift, seductive, menacing tale of extortion and murder that assuredly carries forward Revenge in Paris, Valerie Brooks' scintillating debut installment in her Noir Travel Story Series. Like the great James M. Cain, Brooks strips her story down to the bare essentials, effortlessly blending classic noir (an urban setting, unexpected narrative detours, a suspicious money trail) with uniquely modern components, including a professional computer hacker, Snapchat, and the Ashley Madison dating site. With its breakneck pace, intriguing cast of characters, and unabashed eroticism, 'Portland Prey' is a wild, wicked, and utterly delightful ride.
When the cover design is finished, I'll publish "Portland Prey" in ebook form and let you know when it's available. Until then, here are a few of the Portland settings in the story. Portland is rich with choices, but I decided to stay in the downtown area for the urban, atmospheric setting.
Crystal Hotel
Hotel deLuxe (photo: Kirsten Steen)
Hotel Vintage
The famous round bed in this photo, one of the settings in "Portland Prey," is in what hotel?
If you know the answer, EMAIL ME
.
Please! Do not put your answer in the comment section below.
That could give everyone who reads this blog the answer.
Those who have the right answer will have their name put in a hat (yes, I actually use a hat) and a winner will be drawn for a special prize.
By the way, remember that cute little puppy we brought home last year? Well, Stevie wants to say hi to you!
I love when you comment. I'd also like your ideas. If you have something you'd like me to write about, please let me know. Also, if you just want some love, comment and I'll write back. You keep me going.
I'm thrilled to be in your world! Thanks so much for being in mine.
7 Reasons to Sign Up for My Newsletter, Freebies and the Latest News!
Sisters. Revenge. Murder.
I launched my NOIR TRAVEL STORY SERIES with "Revenge in Paris,"
and the reviews are streaming in! Here's one that gave me the
good
kind of goosebumps.
Do you have post-holiday hangover? Maybe you need to hunker down. If so, just make sure you read "Revenge in Paris", the first installment in the travel noir series by Valerie J. Brooks. This story isn't a marathon–it's a fast-paced, sweaty-palms, heart-racing holiday sprint around the festive City of Light, told through the eyes of a wannabe killer. The plot winds through Parisian streets and cafes and museums, and into the crooks and crannies of the cold, calculating, passionate, and unmedicated mind of "Helen Craig". You'll wince at the glitter and feel the crush of holiday crowds. You'll want to get up and pour yourself a Scotch. But don't bother to guess the finale. Brooks will ambush you with it.
—Tom Titus, author of Blackberries in July: A Forager's Field Guide to Inner Peace
I'm ready to pour myself a whiskey and salute Tom!
Yes, I'm doing it again. This time I'm giving away an Amazon Kindle Paperwhite (or an e-reader of your choice)! Get in on this. Drawing takes place around the Ides of March.
GIVE A FREEBIE to FRIENDS!
Don't you just love freebies? Well, here's one that will make you feel good. Send this postcard to friends and family! They get the free story "Revenge in Paris" and are entered in the drawing for an e-reader!
Spread the love. Just drag and drop the postcard below into an email and add your own personal message. Don't forget

Valentine's Day

! What better way to say I love you than to send them a story of revenge and murder?
7 REASONS TO SIGN UP FOR MY NEWSLETTER!
If you missed downloading the free first story "Revenge in Paris"

Discover who shows up in "Portland Prey," the second story of my noir series!

Hear about freebies & contests, and enter drawings for cool stuff!

Be the first to hear news about the series.

Learn what weird things I'm forced to do as an author.

Find out what makes me tingle with excitement in all things noir.

Read about my favorite noir podcasts, tv shows and movies.
Click on the Cover to Sign Up on My Website
Thanks for following! If you have a favorite social media, you can follow me there for everything noir.
I love the dark. How about you?
Valerie
p.s. "Revenge in Paris" will soon be available at your favorite bookseller site. Stay tuned!
WHY I TURNED TO CRIME—WRITING NOIR
Playa, Summer Lake, Oregon


Amidst an anxiety-inducing election cycle, the loss of some of our great musicians, an unstable world, and whatever is going on in your personal life (I know many of you have had a tough year), I hold onto the belief that art carries us, gives us means of expression (meaningful expression, the opposite of trolling), and fills us with hope.
Art in all its forms I believe is evidence that humans are worthy of existence. The only other evidence is our social contract to help others in times of need.
Right now, after a tough personal beginning to the year, I have the good fortune to be at Playa, a month-long residency in southern Oregon to work on Vida Flats my memoir that takes place during the early 70s on the McKenzie River. The memoir has been a work in progress over the years with journaling, scene writing, examining, researching—everything that memoir demands.
Writing memoir leaves me psychologically naked, heart cut open, old wounds surfacing, and ultimately in the end is a method of holding myself accountable for what happened to me.
For the first two weeks at Playa, I spread printouts on my bed of everything I'd written so far and went at them with scissors and tape, eliminating replications, combining scenes with notes, moving notes around, highlighting the most emotional scenes, axing bad writing and tirades—well you get the idea. I cried. New memories surfaced. I tried to have as much compassion for my twenty-four-year old self as I have now for others at that age. Memoir is not about blaming others, even if they've done you harm. Memoir is about writing truth, my messy truth, about my choices when I experienced harm or love, ignorance or awareness, failure or success. Memoir is mainly about recognizing that big conscious moment when I knew life had to change, or else. It's about what I did, or tried to do to make that change. It didn't happen on the first attempt, or even the second, but it did happen.
So what does this have to do with turning to crime?
This year I had one of those moments when I knew my writing life had to change. I'd written three novels, represented by three incredibly hard working agents, but none sold. This last one is still alive, but I was tired, burned out. I could indie publish all three, but I was too tired and burned out to do that. I knew I needed to change a few things in the third novel, but I just couldn't go back to it, not yet. Plus I had this memoir. I wasn't having fun anymore, not that writing a novel or memoir is fun, but I'd lost the passion I'd had for years and seriously considered giving up writing.
Then somewhere along the line, I had an idea. Why not write something fun and short. When I thought that, my shoulders relaxed. The pit in my stomach dissolved. I no longer had heartburn. Writing something fun sounded … fun.
But what would be fun to write? Lately, amidst reading memoirs and literary novels, I'd been reading Scandinavian crime novels, recently ones written by women. My husband liked to tease me because I was hooked on what he called "murder and sex" series like "The Tunnel," "Rebus," "The Night Manager," "The Americans," and "Shades of Blue." I said, "No, not the murder and sex. I like the politics and the flawed characters." As a writer, I think of myself as a behavioral diagnostician. What makes people do what they do? What are their motives? What personal demons or desires drive them? How do their actions affect world events, culture, politics, the economy?
When I was a kid, I read Nancy Drew stories and a mystery series my English relatives sent at Christmas.?
During my teens, I read in bed under the blanket with a penlight until one or two in the morning, stories by de Maupassant, Somerset Maugham and O. Henry. Twisty, dark, atmospheric stories I sucked down like cherry sodas.
Mysteries. They would be fun to write, but they weren't seriousworks.
Then I remembered Rick Moody.
Rick and I met at Vermont Studio while I was there on a month-long writers residency. He's the author of one of my favorite novels The Ice Storm, also made into a movie.
The Ice Storm
hit something deep in me. Rick and I were New Englanders from ultra-conservative families, instilled with a Puritan work ethic, and discouraged from following our creative dreams. I'd wanted to be an artist. He'd wanted to be a musician. We compared stories about our upbringing. He attended a prep school in New Hampshire near my hometown, but not the prep school
in
my hometown. The prep school in my hometown of Tilton, New Hampshire where I went to high school sat high on a hill overlooking the mill town and main street.
The "preppies" often hung out at the same pizza joint I did and preyed on the "townies." I was not a popular target so I watched in fascination. I also observed what went on in the homes of our New England picture-perfect towns, something Rick depicted well in
The Ice Storm.
Something Grace Metalious captured decades earlier in
Peyton Place.
In Vermont, Rick and I walked through a familiar stark winter landscape and, inside VSC's library, he gave me feedback on the first twenty-five pages of my work-in-progress. When I returned to my room, I looked at the pages and at the top of the first page he wrote:
"You've got the chops, now loosen up."
I've puzzled over this for years. At the time, I was so incredibly grateful for those words "You've got the chops," that I didn't realize I didn't know what he meant by "loosen up." Was he referring to my language, the voice? The way the story unfolded? Too structured? Too forced? And why, after these many years, am I remembering this now?
I noodled on that for a few days, finally admitting that my first novel was the one I loved writing the most, a dark story about a young woman's coming of age in the claustrophobic controlled scary confines of a New England town run by her father who was afraid of the mysterious woman who moved in next door. It contained a mystery!
I also reminded myself how much I enjoyed writing "The Hotel Deluxe." I'd been on assignment for an upcoming online travel magazine where I'd been sent to Portland, Oregon to write a travel piece. I was told to let my imagination fly and encouraged to write something "different." So I embedded a travelogue in a mystery. I didn't kill anyone, but the voice was pure noir.
Noir.
I got goose bumps. Always a good sign. I also had to laugh. Mom once described me as "a good girl who wanted to be a bad." Writing mysteries was for good girls. Noir was for bad.
Why it took me so long to figure this out, I have no idea. During college I'd studied film noir in a course titled "Film as Literature." We watched and dissected films, and Matty Walker, Catherine Tramell, and Lynn Bracken, characters motived by hypocrisy, love, betrayal, and money, captivated me. Flawed, intriguing, greedy, messed up characters. No one you'd want to be friends with, but damn! I sure could have fun writing them.
But the book marketplace was flooded with mysteries and thrillers. What could set my short noirs apart from the rest? The travel noir piece I wrote gave me an idea. Why couldn't I set each noir in a place Dan and I had traveled? Weren't there people who would love to know more about the setting, the places mentioned in the story, if they knew they were real? I could add a back section to each short story with links and photos and. … More goose bumps.
Plus not everyone had the time to read or even focus on novels. My short noir-travel stories could be read while sitting in the car waiting for the kids to get out of school, during the inevitable long wait at the doctors, eating pie and drinking coffee at a café while their car was being fixed. With the back travel section, the reader could plan a trip to the setting or just live vicariously off the photos and links.
Sometimes life works in your favor. Over the 2015 Holiday season on a two-week vacation in Paris with Dan, I'd kept a journal and saved every receipt and brochure. Gold! I fleshed out a character and a plot, and wrote my first Noir Travel Story "Revenge in Paris."
And that's why and how I ended up writing crime, or more accurately noir.
My first e-story in the series "Revenge in Paris" will launch December 1 to coincide with the holidays, and the story will be FREE to download to your e-reader. I'm giving it away to celebrate my launch of the NOIR TRAVEL STORY SERIES. Plus, you'll have access to a gift card to print out and insert in your holiday cards so you can give this free NOIR TRAVEL STORY to everyone you know.
Because you'vebeen with me a long time, you get the first peek at the cover—before I reveal it on my social media!
Thanks for following me. You'll receive an announcement when the e-book is available.
And, please, if I end up in jail, post my bail. I'll mention you in the credits of my next noir.
Au revoir,
Val
For more fun with NOIR click on these links:
WOMEN CRIME WRITERS ARE NOT A FAD