Behind-the-Scenes at The Cure's 1985 "In Between Days" Video Shoot
Check out this newly discovered behind-the-scenes EPK about director Tim Pope and the video shoot for The Cure's "In Between Days" music video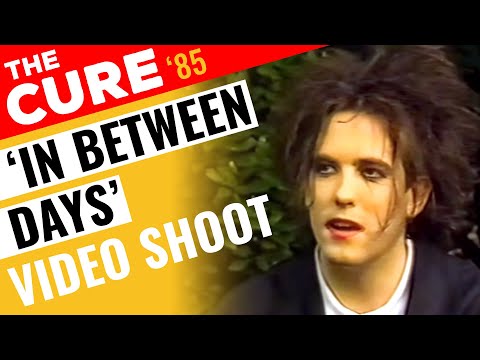 The post Behind-the-Scenes at The Cure's 1985 "In Between Days" Video Shoot appeared first on Golden Age of Music Video.
"Too Shy" and "NeverEnding Story" Singer Limahl Talks Stranger Things, Kajagoogoo, Dennis Miller (?) and His New Holiday Song "London For Christmas"
As the lead singer of Kajagoogoo, British singer Limahl enjoyed the instant celebrity of hitting the top of the charts with the 1983 debut single "Too Shy," courtesy of its high-rotation video in the early years of MTV. After unceremoniously and infamously being kicked out of the band, Limahl quickly struck out on his own and re-emerged at the top of the charts again with the worldwide smash single "The NeverEnding Story," the theme song to the hit film of the same name.
So here we are, 36 years later, with Limahl re-entering the pop culture consciousness with those songs highlighted on three wildly popular television shows: "Too Shy" was featured earlier this year in the standalone, interactive Black Mirror episode "Bandersnatch" on Netflix and also in AMC's hit anthology American Horror Story: 1984, while Stranger Things' fans saw two key characters sing "The NeverEnding Story" during the climax of the this season's finale.  
Not to rest on those laurels, Limahl has released a new holiday song "London for Christmas" as this new chapter in the career of Limahl continues. We spoke with Limahl by phone about the "Too Shy" video, the wild ride of his songs resurgence in 2019, and, uh, comedian Dennis Miller. Read on.  
The Christmas song that you've recorded and released this year is called "London for Christmas." How did it come into your mind to want to write and record a Christmas song?
Well, it was always in the back of my mind, to be honest. I just thought it would be an undertaking that would be madness, but I like the challenge. I bet myself that I could never write what would be yet another Christmas song, because it's just a topic that has been well, well covered, and I thought that there can't possibly be a new angle or new melody, etc. I mean, we hear these wonderful Christmas songs every year. There's some I hate, we all have those. But there are particular ones I love, and just those are the ones that kind of help me to keep the faith, as it were. And really the other deal, the yearning I've had is to write a song about London. If you're into popular music and jazz, you hear these songs with place names, you know, and that means something to that person who wrote it or sings it – he's twenty-four hours from Tulsa or she's on a midnight train to Georgia, or whatever it is.
Ray Davies of the Kinks is so famous for having name checked so many of the places where he grew up in the U.K. He composed in that area of British music that's very close to home in its lyrics.
Yes, absolutely! And obviously for him that felt important, reminiscing about where he was raised, etc. For me, I spend my adult life for forty years in London. I love to travel, I've also seen the world, and I'm very lucky, but there's always something special about London for me. And also, over the years, I learned to love jazz. It's an acquired taste. If you grew up with Motown and pop, as I did, jazz felt too sophisticated to me as a youngster. But then, you start listening to Ella Fitzgerald, or you be listening to a jazz song in a movie or on an album, and there'll be a funny song about Manhattan. And I loved it, you know, describing all these areas of Manhattan that I've never heard of. "Manhattan, the Bronx and Staten Island, too." These places that sound so charming, and what the lyric is saying is that it doesn't matter where we are as long as we're together. It was such a nice sentiment. So by combining all of that, we ended up where we ended up, with "London for Christmas." Also, these circumstances happened that led to me write this song. About three nights a week, the resident and pianist at the Savoy Hotel in London is John Nichols. Just so happened that he lived around the corner. And so, you know, I think I rang him up in the summer, and we said, let's just have a jam and see what happens. Then, it just was very organic. It just sort of came from that.
I sort of feel that if I gone to the record companies and said, "Can we put this out, guys?" then it couldn't have happened. I mean, I'm 60 years old! So, with the technology as it is today, with outlets like Spotify and iTunes, everything allows us to instantly connect. And unlike a new band, I've got a bit of a profile that makes it slightly easier to cut through, especially at this moment. I'm trying to grab with both hands because of the exposure of the old catalogue via those TV, those high profile TV shows.
Speaking of that, this seems like a wonderful moment for you, to have your songs pop up in Stranger Things, Black Mirror and American Horror Story, all in the same year. I would guess that's a little head-spinning for you in 2019.
I think the reason is that there's a bit of an 80s thing going on, yet again, and I think conglomerates are very good at jumping on bandwagons. They think,"Hey, that's working. It's made a million, let's duplicate that." Why did they pick up my songs? I have no idea. You know, it's serendipity. It's luck. And of course, I'm thrilled. If I worked like really hard and I was going, "Yes, we achieved something," it would be different, but I had nothing to do with it. (laughs) When you sign a publishing deal, you basically allow them to manage the copyright, as it were, for a percentage of the earnings, of course. They'll administrate, they look after it, so on and so forth. It came out of nowhere, right out of the blue. It is a blessing as far as I'm concerned. I'm really enjoying it.
What's great about the Stranger Things episode is that it's not just a song in the background of a random episode. The NeverEnding Story is sung by two characters at a very pivotal, important plot moment in the season finale. That's enormous!
Yeah, I know. I hadn't been watching Stranger Things, I do watch  Netflix. But, you know, there is so much choice and there's limited time, and I just hadn't got around to that one. So the first time I heard about it was through social media — oh, and my nephew Cole! I mean, now I have seen the scene, and I had heard how important it is, and why everybody thought the guy didn't have a girlfriend. Yes, it was a very touching moment.
Now, to that point, I did a gig in north London about eight weeks ago. It was a private birthday party gig, so I of course have "NeverEnding Story" in the set. I start singing, and a bunch of kids come running to the room, right to the front of the stage and were literally quivering with excitement. Their little faces! It was so adorable. They were like 9, 10, 11, 12 years old! And I just thought, wow, here we are, thirty five years later, and this song is reaching a whole new generation and they're standing in front of me! It feel not just a thrill, but a huge sense of responsibility, and I'm so grateful that I can still sing it because it's never been the easiest song to sing. It's quite demanding vocally. It's all at the top of my register!
When you perform "Too Shy" and "The NeverEnding Story," are you transported back to when you first recorded them, or does it have a different meaning for you now?
Oh, no. It takes me back without a doubt. You know, I remember joining Kajagoogoo, I remember driving to gigs. I remember the demos. I remember meeting Nick Rhodes from Duran and getting signed to EMI and then him co producing our first album. I remember all of that. That will never leave me. And even though it was a little acrimonious in the end, we are on talking terms now, and I think we've all moved on.
Kajagoogoo
I mean, there's lots of things to talk about with "The NeverEnding Story." First of all, there's the irony that if I hadn't been fired by Kajagoogoo in a phone call, I may never have recorded "The NeverEnding Story." It's this sort of bittersweet experience. I remember when I when I got the call to record "The NeverEnding Story". I had met Giorgio Moroder (the song's producer) with my manager in Japan about six weeks earlier. We'd done something music festival in Tokyo at the Budokan Hall, and then later back in the UK, my manager got a call that Giorgio would like to try my vocals on a song for a movie.
So of course, I get on a plane and go to Munich. I nearly missed the flight! And when I got there, my voice wasn't working. Picture it — I'm 23, I'm young, I'm successful and I'm up all night partying on smoking cigarettes, and I'm now late for the session, and my voice is gone. But Giorgio was very calm. "Hey, listen, don't worry. We have some food and wine and we try again later."
Also, I think my brain didn't connect with singing in daytime, that it was somehow an evening thing. And, you know, thankfully, we nailed it later.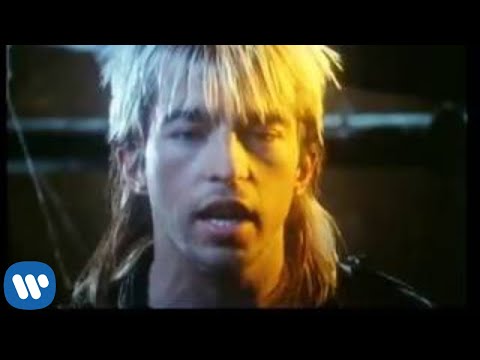 There must have been some satisfaction from the success of "The NeverEnding Story" after being throw out of Kajagoogoo after "Too Shy" became a hit.
I'm not going to lie, there's no better impetus or incentive to do well than that. I'm sure I did have a bit of that – the whole "Okay, guys, watch me" thing. It's a bit like being jilted by someone you loved. There will always be, for me, a sort of morbid fascination about what they're all doing, whether it's individually or together, because you just cannot take away that three important years that we spent together. But of course, later, we all realize that life's too short.
What do you recall from shooting the "Too Shy" music video? It was very iconic for the time.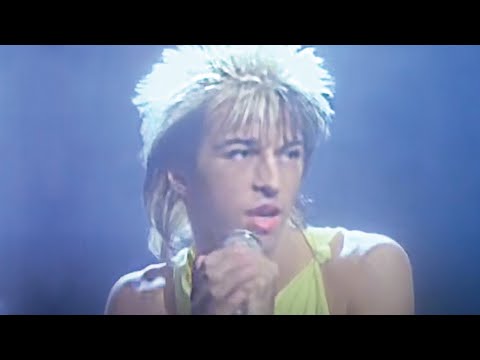 The woman in the video was my best friend, Ali [Carolyn "Ali" Espley]. I met her at the Embassy Club. The Embassy Club was the place to go. I used to see Gary Numan in there. Lemmy from Motorhead too. He used to put lots of money into the slot machine and then get more and more drunk. One time he had hold of the machine and he was slamming into the wall, he was so angry.
For the "Too Shy" video, I remember them discussing the budget of 30,000 pounds. Of course, that's recouped from royalties, and that would be like $50,000. Right then, we see emergence of MTV and later VH1, and the record companies thought, well, this is an important part of the selling of the artist. So anyway, we sat down with the director of the video department came up with the idea of this girl is coming towards the band on the stage, and as she does the crowd era changes. So initially it's during the war, then it was 60s, I think. And then we were into the 80s. I don't think a lot of people really got that. It was too subtle, you know, for whatever reason, and yet they spend a lot of money on that set, you know, changing it for each era.
So, here's a story about me and Ali. We were in New York, and we went to a comedy place called Catch a Rising Star on the Upper East Side somewhere, and Dennis Miller was on that night. And when we came out, we were standing on the pavement in front of the club, and we were thinking it's early  — at that age, you know, 11 o'clock at night is early – so where should we go now? So then Dennis came out, and he said we should come with him to a place called Columbus. We said okay, and got in a cab with him — a total stranger! We went into Columbus and the first person we see is Michael Douglas, and I thought, oh, my God, this is a really cool place. So Ali went to the bathroom, as ladies do, you know, to check on makeup and hair, and the first thing that Dennis said once she is gone is, "Wow, your girlfriend, she's beautiful." And I said, "No, no, I'm gay, we're just like, best buddies." And he goes, "Oh, thank God." And the rest, as they say, is history. He dated her for a while and then they got married and have three or four beautiful children. They live in California. It's a fantastic story of serendipity, of fate, whatever you want to call it. And just it was such a thrill to watch this guy just tear up an audience, and then he married my best friend!
I'm sure you've been asked this before, but what is the origin of your name Limahl?
OK, so, I'm fine with my name, Chris. My mum calls me Christopher, which is kind of nice and always makes me smile. But I just thought it didn't stand. And I remember thinking at the time — Sting from the Police. That's very cool. One word, and clearly not a real name. Just like a stage name, you know. And I was a fan of ABBA and I remember reading how the name is based on Benny, Bjorn, Agnetha and Anna-Frid and I and I start thinking about letters in my surname Hamill, my real family name. So I just put one of the L's at the front and I read it backwards. L-I-M-A-H-L. And I thought, oh that sounds original. So — I'm not even sure we were signed – and yes, there was some snickers in the rehearsal room when I came in and said "Guys, I'm Limahl now. Don't call me Chris." (laughs)
Check out Limahl's "London for Christmas" right here.

The post "Too Shy" and "NeverEnding Story" Singer Limahl Talks Stranger Things, Kajagoogoo, Dennis Miller (?) and His New Holiday Song "London For Christmas" appeared first on Golden Age of Music Video.
Female Playwright/Leads Turn Off-Broadway's "Eddie and Dave" Into a Gender Reversed (and Dissected) Thrill Ride through Edward & Diamond Dave's Roller Coaster Relationship
The mighty Van Halen: Edward, Dave, Alex, Michael
It may have the old MTV's last gasp: that moment at the MTV Video Music Awards in 1996 — the one that host Dennis Miller announced as "having survived their very own rock & roll version of the old Dick York/Dick Sargent debacle" — when a seemingly impossible band reunion actually happened right in front of our eyes. They walked onto the stage. First, Eddie and Alex Van Halen, then bassist Michael Anthony, and finally, his highness himself, Diamond David Lee Roth. All that had changed in rock and roll since 1984 had apparently now evaporated as people stood and cheered for two full minutes. Strangely lost on this audience was that this was the band who put a smile on heavy metal & spawned the hair band era that Seattle was born to kill. Four Pasadena boys, whose music harkened back to an era where you were hot for teacher and might as well jump, just stood there, somewhat dumbfounded, marveling that anyone still cared.
September 4, 1996: The band got back together….sort of.
That night's events serve at the lynch pin of an amazingly creative endeavor called "Eddie and Dave," essentially a play about Van Halen forming, rising, and falling apart. Playwright Amy Staats concocts a fully fabricated and still strangely accurate version of the story, told through the wide eyes of a true Van Halen fan. Casting female actors as the band members, Staats has transformed what could have been just a frothy "Behind the Music" episode into a fun house mirror of gender dissection; credit goes to Staat's spot-on writing, Margot Bordelon's loosely reined directing, and the go-for-broke performances are a delight, including Staats as Edward himself.
We took a moment to talk with the playwright as this production, currently residing at Atlantic Theater Company's Stage 2, enjoys an extension until February 17.
Q: What is your earliest Van Halen memory?
Amy Staats: Van Halen was always in the air as a kid. I remember reading a magazine at a friend's house about Eddie Van Halen being a genius guitar player before I was fully aware of the band.
Q: Why did the 1996 MTV Video Music Awards seem like a great focal point for this story?
A: A guilty pleasure of mine is watching band break up confessional videos. There is something very compelling to me about the humanity behind a great rock band. I saw an interview of Eddie and Alex after VMA's. Eddie Van Halen seemed very upset, and I wanted to know why. The more I learned about Van Halen, the more fascinating and un-knowable they became.
Q: Did people try to discourage you from telling such a specific story, one that might only seemingly be interesting to a niche audience?
A: Quite the opposite. The theater community was excited and supportive. Most importantly, the response from Van Halen fans has been a joy. I am such a fan myself, and it was imperative that my respect and love for the band come through in the play.
Q: How much about the real story did you know, and how much did you need to research?  
A: I did a ton of research, and I made a lot of stuff up. After all, the only people that really know what happened are the band members themselves (as it should be). This is a work of fan fiction.
Q: What would you say is Van Halen's absolute best music video?
A: Okay, this is going to be divisive. I love the live video of "Unchained" because the band is so awesome. But, as far as utilizing the video format, "Hot for Teacher". And "(Oh) Pretty Woman" is bananas. In a good way. Actually, all the videos they did with Dave are historic.
Q: What was the most difficult part of this process, from first inception to last preview? Van Halen's history is rich and complex; there is a lot of material to mine! My director and friend Margot Bordelon and my collaborator and friend Megan Hill (who plays Dave) all worked together on Eddie and Dave during residences and workshops for three years. They helped me cherry pick what to keep and what to throw away. Writing Eddie and Dave has been deceptively tricky from the start. I am so grateful to have such brilliant collaborators.
Q: Why does Van Halen mean so much to you?
A: We are living in an era where technology is evolving much faster than humans. Something is compelling about the physical and bombastic world of Van Halen. Lightning in a bottle. Musicianship. It's fucking exciting.
Q: Did the creation of this work teach you anything about yourself?
A: I think I was intrigued by the interview of the Van Halen brothers because it seemed to me that Ed's anger was that of a shy person driven to the edge. I am a shy person who avoids conflict, so my anger comes out in weird ways. I'll have to talk to my therapist about this.  
Read more about the production here.
The post Female Playwright/Leads Turn Off-Broadway's "Eddie and Dave" Into a Gender Reversed (and Dissected) Thrill Ride through Edward & Diamond Dave's Roller Coaster Relationship appeared first on Golden Age of Music Video.
Tony Lewis of The Outfield Talks About Working with David Fincher, This Summer's Retro Futura Tour, His First Solo Album OUT OF THE DARKNESS, and The Enduring Legacy of Josie's Vacation Far Away
Alan Jackman, John Spinks and Tony Lewis of The Outfield, circa 1986
When you think of Tony Lewis, former bassist and vocalist of The Outfield, you inevitably hear that voice, that moment, and that lyric.
"Josie's on a vacation far away, come around and talk it over."
The Outfield's 1986 hit "Your Love" arrived on MTV and pop radio in the spring and dominated the airwaves throughout that epic summer. The song, dropping hints of infidelity and citing a penchant for girls "a little bit older," was written by guitarist John Spinks and belted by Lewis's unmistakable voice, resulting in a signature song for the band and their album Play Deep going multiplatinum. On the strength of "Your Love," the singles "All The Love (In The World)" and "Everytime You Cry" became hits as well, with music videos directed by none other than a young David Fincher.
After a few more albums, band took a break in the 1990s, but then reformed & continued releasing albums and touring. When John Spinks passed away in 2014, the band officially retired.
Now Lewis has emerged with a solo album on Madison Records, Out of the Darkness, full of magic and life, with that voice still belting out heartfelt tales of love and loss. Tony Lewis spoke to us about the journey to that moment, along with some Outfield memories, the loss of Spinks, and his experiences shooting those 80s music videos.
Tony Lewis of the Outfield (above) has a new solo album
"We were basically on a four year hiatus, with the passing of John," Lewis said. "and I didn't want to do anything.  I wasn't even interested in music. I didn't even want to pick up a guitar for the first year. Uh, then another year goes past and then, my wife and I went out for something to eat and she said to me,  'Why don't you get back to it and record, and do what you do best?' And I said, 'Well, you know, I do, I do like recording and making music.' She said, 'Well, if it's, if it's what you enjoy doing, well, just have a go.' So I put together some backing tracks, I had about sort of three or four, five, and then we got six backing tracks, but  I was struggling with the lyrics. Then she said, 'I've got some other lyrics here.' She's he's pretty good at telling a story, and the lyrics seemed to fit the backing tracks really well."
"I had Out of the Darkness as the title, not just about the passing of John, but just me coming out and saying that not just the bass player. I've got more strings to my bow. That's me producing, on the melodies, and on the guitars, keyboards, and drums."
After meeting with Madison Records' head Tanner Hendon, himself a musician, Lewis signed with the label in October, and his first solo album Out of the Darkness was released on June 29th. Currently on the road with the Retro Futura tour, Lewis joins an lineup of legacy bands that includes Belinda Carlisle, ABC, Modern English, Annabella Lwin of Bow Wow Wow, and Limahl.
"I'm really really excited about what's coming up," said Lewis about balancing the performances with new and old. "I like playing 'Into the Light,' which is the single, and 'Here and Now,' but I'm not losing sight of the fact that these tours are all about the 80s, so I don't really want to swamp the set with my new material. I know people want to go along, and they want to hear 'All the Love (In the World),' and 'Your Love,' all The Outfield hits. So, yes, I'm excited about the album and tour, and if anything grows bigger from this point, it'll just be a bonus for me because as far as I'm concerned, I've fulfilled my desire to get a record out there."
But what is it about "Your Love" that keeps it in the pop culture consciousness? Covered by several modern artists in the last five years, and serving as the centerpiece of a Saturday Night Live sketch with Josh Hutcherson lip-synching the lyrics, the song has a status among great pop hits.
"Well, the song was written in about 20 minutes. I've still got the original lyric sheet that was on a piece of lined paper. John shouted out the words to me in his corridor, in his flat. John said, 'I've got something,' and I remember sitting on an amp and thinking, 'Oh, there's a catchy little song.'  There was no plan, like 'Let's make a song that's gonna last for maybe 40 years that people are gonna love.' We just thought it was a great little pop song, you know, a pop rock song. And I didn't even think, even to this day, it would be as successful as it became. I tend to not try and analyze it. And now I understand why it works, but I don't really overanalyze how it's worked. It's just one of those songs that just came out of that time period. And that springtime and going into summer, the song just seemed to have a life of its own. And it didn't happen overnight. Some people thought we were overnight successes. It took between six and nine months before it really kicked in."
Among the multitude of covers of the song, both on the internet and officially licensed, Lewis said that he enjoys Katy Perry's version, among the many.
"I think that when you have a song like that, one that people want to do a cover version of, I find it very flattering — even a dance version of 'Your Love' – it's great that people like the song and want to do their own version of it."
The Outfield had the benefit of a strong music video for "Your Love," directed by John Jopson, and then two follow-up hits from Play Deep had videos directed by none other than Academy Award-nominated David Fincher, who shot many music videos early in his career.
"It's just about capturing the vibe. When we did the 'Your Love' video, we had to film all night long. We started at six in the evening and finished about four o'clock in the morning. I think if you look closely, you'll see Graham needs a shave in some of the clips.(laughs) But it was a very big soundstage. Also, there was the height difference between me and John, I had to stand on a box most of the most of the filming. I'm five foot six and John was six foot four. And it looks like we're the same height in the video.  I was standing on the box. (laughs) It was like — do you remember Alan Ladd in those westerns? He would have the leading ladies walk in a trench while he walked along, so he'd look taller than her. (laughs)"
"He was up and coming, and he was a very nice man," Lewis recalls about Fincher. "I just thought he was quite special because he had an imagination that no other video director had, from my perspective. He had quite a lot of charisma about him, and we used to shoot different ways, especially on 'All the Love (In the World)'. He had a great vision of how a video would look. I just knew he would be successful because he had an enormous talent."
Lewis recalled that after the Fincher-helmed "All the Love (In The World)" clip was completed, he found himself being called back to set.
"I was at home, about an hour away from London, and his assistant had called up and said, 'Tony, can you come to London as soon as you can?' I thought there was something wrong. They said, 'David wants to shoot a clip of you looking up at a CCTV camera.' I said, 'Oh, okay.' But he was that particular. He was that ambitious. Even late, late at night, you know, if he had an idea, he'd want to shoot it. He would want to do that at that time rather than just, "Oh, we'll wait 'til tomorrow."  But it was like, put on the makeup and put a coat on just to shoot what was like a five second clip. In the end, I don't even know if they used it or not. (laughs) I could tell he ate and breathed film work, you know. He was really dedicated to his trade."
"John used to say to me, 'We're not film stars, we're musicians, but we've got to do this.' At that time, MTV was the vehicle to sell the song, and I felt it was a bit sad that you had to have a video to sell the song. We enjoyed it, but I felt like we were a commodity rather than a band that was selling, you know? We just felt like we were a band rather than, you know, video stars, and there was a very big emphasis on MTV world premieres for these songs.  I mean, I understand how videos work now. When you think about the budgets then, you know, $240,000 or $250,000 for a video, and now you can do one on your iPhone!"
As much as Lewis is enjoying performing again, he said that playing the Outfield songs for the first time without his bandmate John is a mixed experience, both onstage and meeting the other artists.
"The Retro Futura tour is the first tour I've done in 14 years, and it's going to be, for me, quite a bittersweet experience, bec ause I'll be getting on stage, and now John won't be on stage with me. I'm going to find that pretty overwhelming.  But by the same token, I'm really excited, and so I'm just taking in each day as it comes."
"I don't remember this, but I think we did a show with Modern English back in the 80s. I've not met ABC or Belinda Carlisle or Annabella Lwin [from Bow Wow Wow]. Actually, I think Annabella was recording her album at the same time we were doing Play Deep. So it'll be nice to new friends, you know?"
Info on Tony Lewis's new album Out of the Darkness is available here. 
The Retro Futura Tour ticket info and dates can be found here. 
The post Tony Lewis of The Outfield Talks About Working with David Fincher, This Summer's Retro Futura Tour, His First Solo Album OUT OF THE DARKNESS, and The Enduring Legacy of Josie's Vacation Far Away appeared first on Golden Age of Music Video.
Watch Video of The Traveling Wilburys 1988 Recording Sessions
It would be hard to top the Traveling Wilburys when it comes to supergroups. When your lineup boasts both Bob Dylan and a Beatle (George Harrison), you're already breathing rarified air. But round out that roster with Tom Petty, Jeff Lynne of ELO and the legendary Roy Orbison, and you're bound for glory. The Traveling Wilburys recorded their first album in 1988, scoring two top ten hits, and their second album written and produced after the untimely passing of Orbison.
Check out this amazing behind-the-scenes special about the making of that first album, including rare footage of the actual Wilbury recording sessions.
The post Watch Video of The Traveling Wilburys 1988 Recording Sessions appeared first on Golden Age of Music Video.