Love in a Time of COVID-19: Love Your Neighbor as Yourself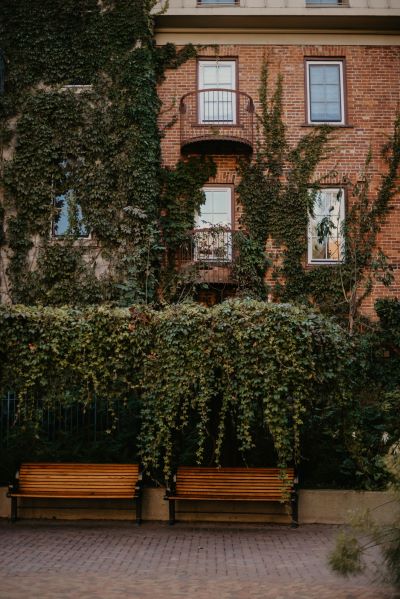 Health officials are giving us step-by-step instructions on hand-washing, stocking our pantries and medicine cabinets, and even a meter-stick guide to social interaction. Experts are doing a great job explaining how social distancing can flatten the curve and be one of the most altruistic actions we can take right now as a nation. But when it comes to caring for our hearts and the hearts of those around us in the midst of these most unusual days, I hope these few reminders will be a help:
Stock-pile Peace
God has promised us peace if we ask Him. He doesn't promise life without sickness, brokenness or frustration, but he readily makes His peace available to us. He invites us to come and get it freely. It's never out of stock and it's never too costly.
"Peace I leave with you; my peace I give you. I do not give to you as the world gives. Do not let your hearts be troubled and do not be afraid." (John 14:27).
"Cast all your anxiety on him because he cares for you." (1 Peter 5:7)
"Do not be anxious about anything, but in every situation, by prayer and petition, with thanksgiving, present your requests to God. And the peace of God which transcends all understanding, will guard your hearts and your minds in Christ Jesus." (Phil 4:6-7)
Take your thoughts captive (2 Cor. 2:5). Fix your thoughts on Jesus (Heb. 3:1). Take every anxious thought to Jesus through prayer and petition. Over and over again, we are given very active directives on how to war against anxiety. It starts and ends with Jesus. We pray. We fix our thoughts on Him. We worship Him as the One who is better than anything else, who is secure and firm even when everything else is rocking.
Pass the Peace

If you know and understand something of the comfort of God, this peace that passes all understanding (Phil 4:7), then you have a resource more precious than an N-95 respirator. Just like on the airplane when they tell you to secure your mask first before trying to help another person, if you are breathing in the peace of Christ, you are free to be a conduit of life-saving peace to the anxious and desperate around you. That desperation may not be anxiety about the virus itself, it might be anxiety about finances, the safety of loved ones, the dreams or plans put on hold or broken. Whatever it is, if you know the peace-giver, you can pass the peace. He is the One who gives us hope even amidst devastation of all sorts.

"Praise be to the God and Father of our Lord Jesus Christ, the Father of all compassion and the God of all comfort who comforts us in all our troubles, so that we can comfort those in any trouble with the comfort we ourselves receive from God. " (2 Corinthians 1:3-4)
"Therefore, encourage one another and build each other up, just as in fact you are doing." (1 Thes. 5: 11)
"And we urge you, brothers and sisters, warn the idle and disruptive, encourage the disheartened, help the weak, be patient with everyone." (1 Thes. 5:14)

We have seen clear evidence of how a virus can spread exponentially. Guess what? You know what else can be a contagion? Hope. Peace amidst insecurity. Spread it. Infect everyone you know with the hope that Christ is the peace of every age, of every crisis, and of the age to come when all these things are distant memories. Be a vector of peace in your communities.

Social-distancing Doesn't Equal Relational-distancing

Loving your neighbors well during this time may mean for many of us staying home, not gathering in large crowds, canceling our calendars and cutting back our activities. But just because we are keeping our physical distance, does not mean we need to keep our emotional distance.
Reach out to your loved ones with a phone call, text, email, Facetime, Skype, or whatever form of communication is most comfortable for those whom you love. Check on them. See if you can help meet a need whether it may be physical, emotional or spiritual. Reach out to the people on your street or in your neighborhood, school, or workplace. Listen to God's Spirit; perhaps someone comes to mind who could use a call or email of encouragement?
Remember that air-mask on the airplane? If you are receiving God's oxygen flow of encouragement through drawing near in prayer and His word, you are in a position to help secure someone else's mask.

Love Your Nearest Neighbors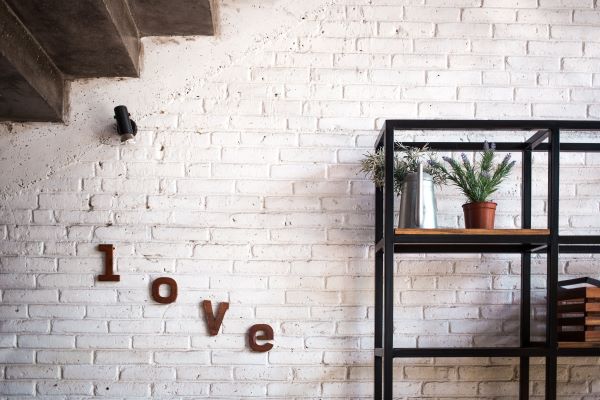 Last, but certainly not least, love well those closest to home. Don't forget that your spouse, your children, your room-mate– whoever is living within your four walls– is your closest neighbor. They need you to love well right now too. Loving well means casting your cares on the Savior, drawing your peace from Him that you may truly, selflessly focus on the needs of others. That may mean putting your phone down and playing a board-game with your stir-crazy children. It may mean re-assuring your spouse that he is more important to you than your vacation plans or your 401k. It may mean looking past the irritating qualities of your room-mate and focusing on something you like about them or just making a meal together. Who knows, how slowing down, cutting back, and staying home might strengthen your relationships, if you lean into God's care for you and extend that same love to those closest to you.
To "Love your neighbor as yourself" (Mark 12:31) means to care for yourself by drawing near to God so that you can extend that love to others. Social distancing doesn't have to mean relational distancing. If we look to Christ for our strength, we might find our relationships growing stronger than ever.

I leave you with the words from one Rebecca Arendell Franks, writing from Wuhan, China. She shares how God has been with them in the quarantine. Take heart:

Rebecca Arendell Franks is with Tsungirirayi Tinotenda Chakaza Fisher and 2 others.
March 8 at 3:42 AM
WUHAN. It's roughly day 48 of the city's quarantine. We've been locked in our apartment complex for many weeks. I haven't eaten out since January 19. We're living in such strange times.
After my last post, which was all about locks on doors and further restrictions, my husband asked me if I've posted any of the good. But…but… well, but nothing. That convicted me.
So from the epicenter of the coronavirus, here is just SOME of the good we have been experiencing because of the lockdown: (Be warned – there is no way this post could be short.)
Our family life has never been better. Usually one weekend is long enough before I'm ready to send each of us back to school or work. But for SEVEN weeks, we've been home together with very little outside influences or distraction, forced to reconnect with one another, learn how to communicate better, give each other space, slow down our pace, and be a stronger family than ever before.
We've learned how to accept help from others. During this time, we've HAD to rely on others to show us how to get food and other things we need. People here are so good, and they want to help. It's satisfying to accept the help.
Shopping is so much easier now. It comes straight to our complex, and we just pick it up. Simple.
Right now I hear birds outside my window (on the 25th floor). I used to think there weren't really birds in Wuhan, because you rarely saw them and never heard them. I now know they were just muted and crowded out by the traffic and people. All day long now I hear birds singing. It stops me in my tracks to hear the sound of their wings.
Spring in Wuhan is absolutely stunning. God has been giving us glimpses of the beauty to come with near-perfect weather. Because of lockdown, we get to watch spring slowly unfold right in front of us with no work, traffic, pollution, or other distractions. I have pulled up my chair and am ready for the creator's show.
My cooking has gotten way more creative. I'm cooking like a homesteader. Housekeeping hasn't suffered, either.
We take naps in the middle of the day sometimes.
We've all been reading so much more than before.
I've reconnected with lots of old friends. We've talked with our families more than ever before.
We still work and do school, but all from home and all on flexible hours. It is not perfect, but it is fairly productive and good.
We are exercising more. Because we borrowed a rowing machine from school right before the lockdown, Edgar Franks has been rowing regularly at home and has lost several kilos already. I still walk in the morning as usual, but I do so with no time restrictions and now with friend Erika Carlson.
In my yoga world, I have finally done a forearm stand. I also share goofy yoga photos each day with a local friend/yogi. This keeps us connected in spirit and movement.
I could devote a whole post to the amazing community we've been blessed with because of this lockdown. We live near 4 other staff members, most of whom we didn't know well at all prior to this. Because of this quarantine, we have bonded with and supported each other in ways that I've never experienced in 9 years of living here. (Crowd sourcing for feminine products and coffee, creatively sharing overstock of carrots and squash, etc)
Friday night, we four staff women celebrated Julia Marie Roehrkasse's birthday together. We four have never before been together without husbands, kids, or larger community. But that night, I felt like I won the lottery in the friendship department. Our gathering was genuine in a way that can only be shared by people who are experiencing the same thing at the same time and understand what each other are going through. This bond we have may lessen when our world gets back to normal, but for now I wouldn't trade it for anything. It is good.
My prayer life has never been better and my study time has been much more real. I have quiet time that is actually (usually) quiet – and I can devote real time to it. Most days I have so much more time to think, to listen, to process, and to discover. I am discovering the good gifts that God has given me and my family. More than anything, I am bowled over by his goodness at every turn. He overwhelms me with his goodness.
We had "church" by Zoom this morning at 10:30, as usual. My husband just woke up from his nap. My kid is reading quietly on the couch. I have the luxury of writing uncensored here on FB. We are about to go pick up a ham that a friend is giving us, taking her our coffee and cranberries to share.
God is providing so many opportunities for good while we are here, and he is showing us his goodness every single moment.
We are at peace in the epicenter of the virus. We are at peace in the epicenter of his will.
Fear is a faithless coward and has no place in the lives of believers. Fear and worry have no seat at our table. We're here because he wants us here, right now, for his purpose.
Coronavirus wants you to isolate and stock up and take care of your own first. Instead, look to him first while you take care of others. In community, we can do so much more than we can do on our own. God is caring for us so richly and showering us with SO MUCH GOOD each and every moment.
And the song just plays nonstop in my head – Oh, the overwhelming, never-ending, reckless love of God.
It chases me down, fights 'til I'm found, leaves the 99.
I couldn't earn it, I don't deserve it, still, You give Yourself away. Oh, the overwhelming, never-ending, reckless love of God.
Psalm 118:6 – The Lord is with me; I will not be afraid. What can man do to me?

Like what you are reading? Take a look at some of my past posts and books. Don't forget to subscribe so you never miss a post. I won't overpower your inbox; I just want to encourage you to live a deep and fearless faith.
Falling Short
The other night my husband and I watched a small-budget film. We cringed in places at the writing and acting. While it was clear the film had heart, we stopped the movie more than once to groan over its shortcomings.
Now I'm a huge proponent of doing whatever you are called to do with as much excellence as you can. And while healthy criticism has an important place, I want to bracket that for the moment to share the wave of conviction I felt later that evening as I went to bed.
God laid me flat with this thought: It's easy to criticize; it's hard to create.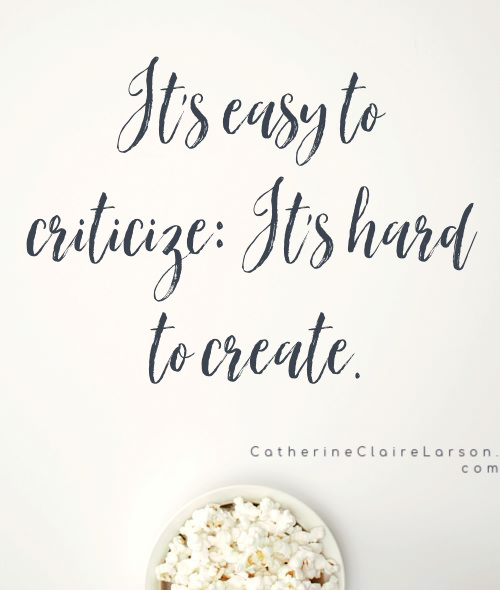 Clearly, we live in a consumer-oriented culture. Everywhere we go, we are lulled into the sluggishness of consumption. Restaurants, grocery-stores, our televisions, even our churches let us limp along with the false assumption that our primary purpose in life is to lap up the fruits of others' toil.
But God made us all in His creator image for a purpose: to model Him in creating. And that means everyone, creative types and those who would never apply that label to themselves. God calls each of us to create and bring order out of chaos.
But here's the rub: to create, as an imperfect being, means to create with imperfections. It means even as we aim, we err.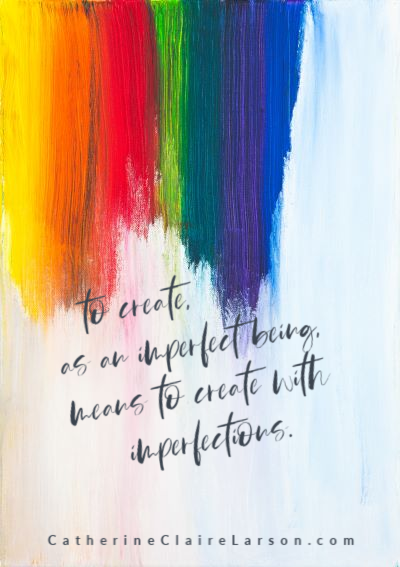 Earlier tonight, my middle son sat crumpled in my lap in tears. He had labored over a drawing book, emulating a master artist's creation of a blue jay. Despite my son's earnestness and effort, his final product was not like the master's. That gap between ideal and real undid him with shame.
As I gathered him in my arms, did I mock his work? Certainly not. Did I lie to him and tell him it was easily as good as the drawing in the book? No. But I truthfully told him that his drawings showed much more promise than mine did at his age. I praised his effort and encouraged him that even going through the process of emulating the master's work he was learning and improving. I sympathized with the gap between our hoped-for creations and our actual-creations. And I told him I was so very proud of him and pleased that he was practicing his drawing skills.
Here's my point. God calls all of us to create. To create is by nature a risk and we have no promise of perfection. But that risk by no means gives us the right to opt out. Like the parable of the talents, we have been entrusted with a sum. The master will by no means be pleased if we bury it in the ground (Mt. 25:14-30).
We consume on auto-pilot. That's easy. Criticizing? Yep, that comes naturally too. But where is God calling you to take a harder route?
Creation requires mindfulness, effort, and vulnerability. Perhaps the fear and nakedness we feel as we do it, might just be the reason God calls us to it in the first place. "Take my hand," he whispers: "I'm with you." Falling short might just mean we have to fall up and further in.
Like what you are reading? Kick back and stay awhile. Check out some of my past posts, take a look at my books on Amazon, and subscribe here so you don't miss a post. I hope you leave here challenged to live a deeper and more fearless faith.
Weep with Me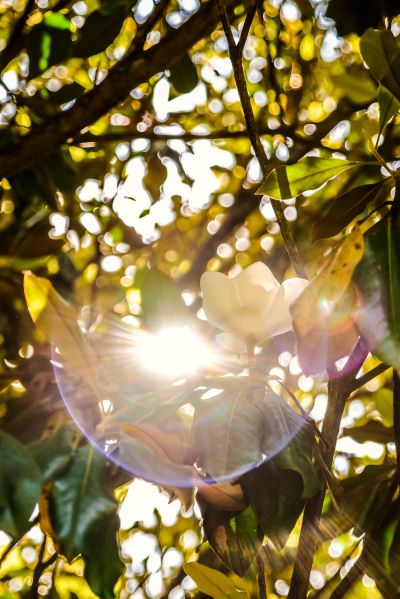 an uprooted tree
About a month ago at our rental home, I stood at the sliding glass door with my heartbroken boys watching our beloved magnolia tree lacerated and ultimately severed with an ax. I felt each hit in the pit of my stomach as I watched. We've lived in this new place for less than a year, but it has been a hard-hitting year for my boys. One of the bright lights, in these difficult months had been our large backyard and in particular that tree. They've climbed this tree, swung from it, read under and in it, collected its funny pine cones, discovered treasures in it like a beautiful bird nest, and dug for worms in its shade. It has been a source of joy on some very hard days. And right outside that glass a paid worker was hacking away at that piece of goodness in our lives to reroute a drain system.
As I stood later watching an excavator ply at the root system of that ancient magnolia, I could feel why the year that had included a move to a different state had been so hard on my boys. Oh the roots! They were so much more intricate and elaborate; they were so much stronger than I knew from looking at the above-ground version of the tree. Watching the worker push that strong trunk again and again with that mighty machine, unsuccessfully trying to displace that stump from the ground, was both mesmerizing and unnerving. The machine itself would tip up off the ground as it tried to get enough traction to ply the trunk from the ground. It took hours getting it all out. As I stood watching, I felt the crushing guilt of moving my boys, of uprooting them and all the manifold network of roots that were severed in the process.
a frozen waterfall
Strangely, later that day I was driving my boys down the mountain we live on when I caught sight of something that was both breathtakingly beautiful and yet somehow hit me as hauntingly sad. It was a frozen waterfall—the first one I've ever personally seen. It clung to the rocks, a cascade of icicles, frozen mid-motion. There it loomed above us a crystal chandelier, dangling from rocky crags, an extravagant spectacle of beauty, and yet also somehow cold, hard, and piercing with its myriad spiked edges. For weeks I haven't been able to get that image from my mind. Did it have a meaning? Why had I seen it the day the magnolia died?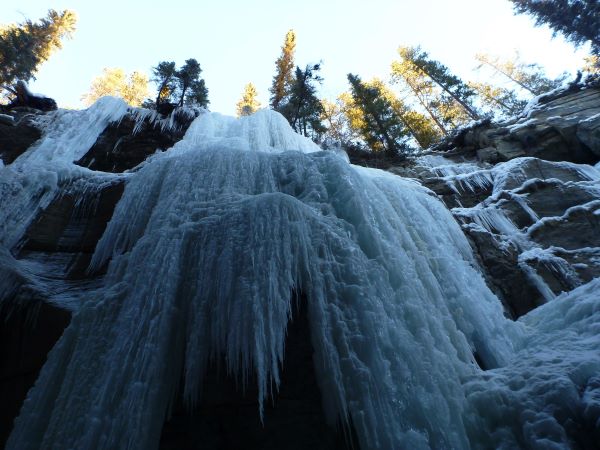 I've been wondering about it, rolling it around in the back of my mind. I know it didn't have to have a meaning, but somehow it felt meaningful to me. As a person who has spent many years of my professional life telling people's stories, I've noticed what a masterful storyteller God is. I've marveled at the way he weaves symbols into our stories, the way he shows us themes and ironies, and how he cares about our character arc and our resolution. And so I mulled the meaning of the tree, which felt so obvious, and the meaning of the frozen waterfall, which did not.
an invited guest
A week or so later, I couldn't sleep. Tears kept slipping down my cheek and onto my pillowcase. It was after midnight. My husband was sleeping peacefully next to me. I didn't want to wake him. I didn't particularly want to be comforted. I just wanted to cry, and let the weight of many heartaches fall.
I slipped out of our room and into the family room. I sat on the floor next to the same sliding glass door where we'd watched the magnolia fall. And with the moon lending its light over that hollow place in the earth, I wept. I poured out my heart to Jesus not just about the ache I felt in uprooting my boys but about other sorrows I'd been carrying and wept and talked some more. There was no magic at the end. No real resolution. But afterward I felt spent and ready to sleep. I had wept and Jesus had wept with me. It was what I needed. I felt heard, seen, understood.
In my life I've known deep and meaningful friendships and since I've been married the depth of a truly intimate friendship with my spouse. But there is a way in which none of us can be completely known, completely empathized with, except through Christ. As Christians we have an unsurpassed intimacy with Christ. He has truly felt our every emotion alongside us. He has experienced with us both our highest joys and deepest sorrows in ways that even the most kindred of our friends, family or even spouse cannot. As George MacDonald writes, "In every man there is a loneliness, an inner chamber of peculiar life into which God only can enter. I say not it is the innermost chamber." There in the innermost chambers of our hearts we are known. This is intimacy.
a lyric of love
The next Sunday at church, our music minister sang a song from Rend Collective I'd never heard before called "Weep With Me." The lyrics so perfectly encapsulated my after-midnight meeting with my Savior:
Weep with me
Lord will You weep with me?
I don't need answers, all I need
Is to know that You care for me
Hear my plea
Are You even listening?
Lord I will wrestle with Your heart
But I won't let You go
You know I believe
Help my unbelief
Yet I will praise You
Yet I will sing of Your name
Here in the shadows
Here I will offer my praise
What's true in the light
Is still true in the dark
You're good and You're kind
And You care for this heart
Lord I believe
You weep with me
Part the seas
Lord make a way for me
Here in the midst of my lament
I have faith, yes I still believe
That You love me
Your plans are to prosper me
You're working everything for good
Even when I can't see
You know I believe, yeah
Help my unbelief, oh
Yet I will praise You
Yet I will sing of Your name
Here in the shadows
Here I will offer my praise
What's true in the light
Is still true in the dark
You're good and You're kind
And You care for this heart
Lord I believe
That you weep with me

Songwriters: Ali Gilkeson / Chris Llewellyn / Gareth Gilkeson / Stephen Mitchell / Patrick Thompson
Weep With Me lyrics © Capitol Christian Music Group
I listened to that song on repeat every chance I had for the next week. It was full of so much truth. In it, I could hear and remember Christ pausing in the pregnant moment of time to weep with Mary of Bethany, the sister of Lazarus. He knew he would raise Lazarus from the dead before nightfall, but he stops, he sees Mary in the depth of her pain, he experiences the pain and loss and sorrow with her, and he weeps (John 11:35). In the song, I could also hear the doubt and the faith of the man who had come to Jesus to heal his demon-possessed son. "Lord, I believe; help my unbelief." (Mark 9:24). And I could hear the echoes of Job, who could in the midst of his sorrow, say, "though he slay me, yet will I trust in Him" (Job 13:15).
three funerals, two hospital rooms, and a glass bottle
This week loss has echoed through my heart. My cousins lost their Dad on Thursday. A friend from college lost her husband and the father of their three children, the same day. And another friend lost his teenage son on Wednesday. Two other friends have children battling cancer in the hospital. And as I think of each of them, my heartaches seem small, but these truths loom even larger. Our Savior sees. Our Savior feels. Our Savior weeps.
And so as I've been mulling the haunting beauty of that frozen waterfall, the answer has come to me at last. I've long loved the verse in Psalm 42: "Deep calls to deep in the roar of your waterfalls; all your waves and breakers have washed over me." That line comes from a psalm replete with questions (Where is your God? (Ps. 42:3), Why are you so downcast, oh my soul? Why so disturbed within me? (Ps. 42:5), Why have you forgotten me? (Ps. 42:9), Why must I go about mourning? (Ps. 42: 9). It comes from a Psalm famous for its longing: (As the deer pants for streams of water, so my soul pants for you. (Ps. 42:1)). The psalmist feels flooded by wave upon wave of sorrow. And yet amidst that flood, deep calls to deep. Something deep within the heart of God calls to something deep within the heart of man.
Another passage in the Psalms, which has often given me comfort is: "You keep track of all my sorrows, you have collected all my tears in a bottle, you have recorded each one in your book" (Ps. 56:8). To me it is a reminder that not a tear has been shed which God has not seen, not a moment of loss is unimportant to Him.
In the shortest verse in the Bible, time itself seemed to stand still: "Jesus wept." Jesus paused with Mary to weep over the Lazarus whom he would soon raise. And in the midst of the torrent of waves and breakers washing over the psalmist, time stands still. He hears deep calling to deep in the roar of the waterfalls. He feels known. And in the midst of my own sorrows, the sorrows of my children, the sorrows of my friends and family, he pauses for a moment from the always-forward work he is doing, from the story he is telling, he pauses to put his arms around us and weep with us.
If you could build a monument to the Savior who stands and weeps with us, I think it might look like a cascade of light and beauty, frozen in time. I think it might look like the hard, cold edges of sorrow, looming large from the crags of the mountain above, yet somehow transformed to a spectacle of glory as prisms of light invaded each frozen shard, as the pieces of the whole joined together to form a breathtaking masterpiece, as the very impermanence of it all spoke forth a truth that this is but a moment, a frozen breath, that whispers the story is not yet finished.  Maybe you'll think I'm crazy but I think that's why God drew my attention to the frozen waterfall the day the magnolia died. It was His ephemeral monument to the intimacy of sorrow shared, and heard, and known. He let me glimpse the tears caught in the bottle—his and mine and yours—frozen in time, and the light shining through them.
Like what you are reading? Subscribe to get these posts straight to your inbox. Stay, for a while, read a few past posts or check out my books. I pray that you will find something to encourage you to live a deep and fearless faith. And if this post blessed you, share it with someone. Thanks!
Leap-aversery
Nine years ago last month, my husband, Mark, and I took a leap of faith. Shortly before, I'd taken the jump from a job I adored into the arms of stay-at-home parenting. And now that our firstborn was 10 months old, we took an even bigger leap to say farewell to his paycheck and the luxury of a company health-care plan for the dream of working from home and being his own boss.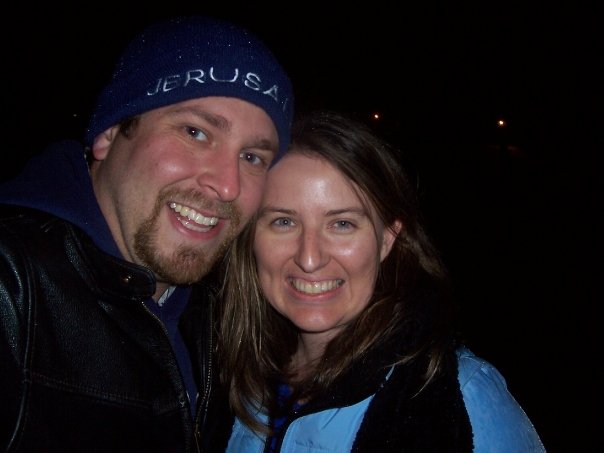 We made the decision with caution. We had saved up enough to give the dream a go for six months. If we didn't see signs of encouragement after those six months, he'd scour the job-search engines and circulate his resume again. Thankfully, when six months rolled around, he had done well enough that we took a deep breath and said we'd give it a go for another six. We've continued to set mini-goals and re-evaluation check-points along the way, but so far God has continued to give us the green light on the dream. And though there have been some very dramatic downs and ups, God has blessed our leap and our faith and that is how we find ourselves nine years on the other side of the chasm of the unknown.

Up until the time Mark turned in his resignation, he had been dutiful and productive in his work, but not happy. He was earning a living, but not loving the life it gave him. I knew him well enough to see that and to encourage him to give what looked like a risky venture to the outside world a go. While not everyone gets the joy of loving his or her job, I knew that if it was at all possible, I wanted Mark to spend his 9 to 5 doing something that would bring him deep satisfaction, just as my work as a writer had given me.

I often joke that my husband got the left brain and I got the right and together we make a whole brain. But in all seriousness, it hasn't always been easy for me to understand what exactly it is about numbers and spreadsheets and studying a company's quarterly earnings that makes him love working as a long-term investor for a living. But I have always respected the way God made him enough to see what makes him come alive and cheer him toward the godly use of those gifts.

The point of this post isn't to pat ourselves on the back. Certainly, every provision we have received has been a gift from God's hand, a mercy, and not a right or guarantee. God could have let those dreams fail and still been a good and faithful Father. But I bother sharing our leap-aversary at all because I think there is a goodness in taking a risk in faith and for the right reasons. My husband longed to be a part of the daily life of our family. He longed to use his gifts at that intersection of God's glory and his deep gladness. And God blessed the dive.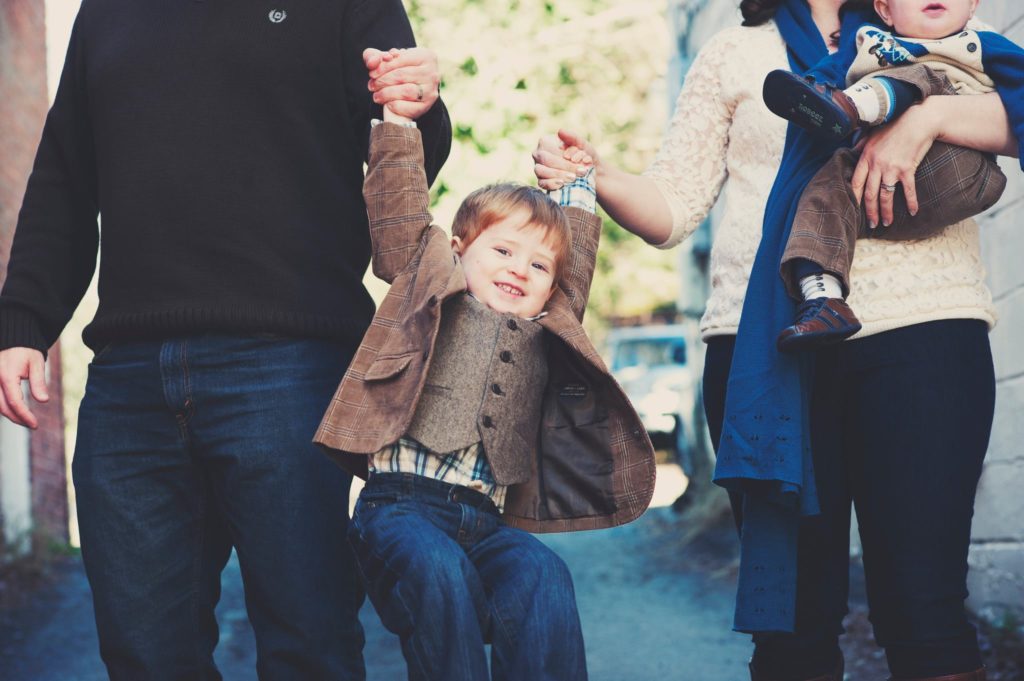 Maybe God has been nudging you in some area to take a risk, to splatter some paint on a blank canvas, to speak into a void, or open yourself up to the pain of possible rejection. Have you stopped to listen? Have you stopped to dream? Risk is at the heart of the Christian life. Love risks. Faith risks. Faith can risk because faith has a faithful Father, willing to catch us even if everything falls apart.
So let me encourage you to slow down a minute. Ask the questions. "Where, God, are you calling me to take a holy risk?" And ask him to help you have the faith and the confidence in his character to sow your seeds of faith generously (2 Cor. 9:6). May I leave you with the words of one of my favorite poets, Rainier Marie Rilke:

"God speaks to each of us as he makes us,
then walks with us silently out of the night.
These are the words we dimly hear:
You, sent out beyond your recall,
go to the limits of your longing.
Embody me.

Flare up like flame
and make big shadows I can move in."
Who knows? Maybe a year from now, you can write and tell me that you are celebrating your leap-aversary.
Awakening
Looking outside in this season of what Rosetti called "bleak mid-winter," it is hard to imagine life is getting ready to burst out in splendid renewal. All we see are limbs standing naked of their glory, fields cowering beneath in their barrenness, and clouds shrouding the brightness of the sun. The earth beneath is hard and cold and unforgiving.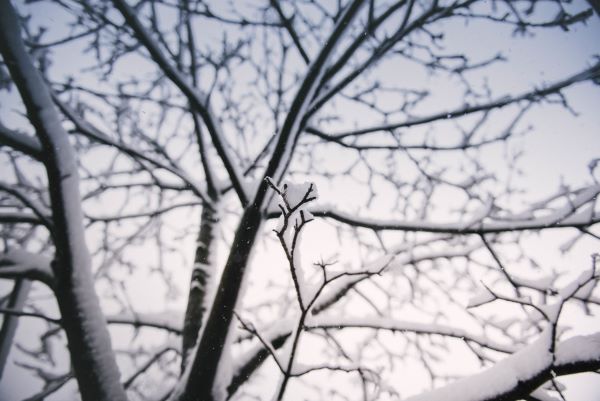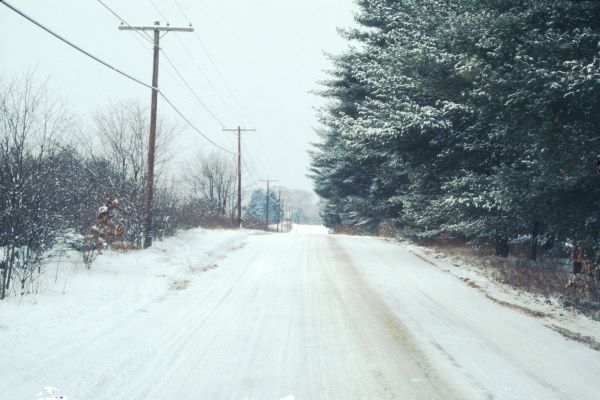 Just as the world outside us goes through seasons, I believe our souls do as well. In my life, I feel as though my inner creative world has been going through a long winter's nap. Undoubtedly, for me the demands of five children under the age of 10 are such that the creative self has little room or time for blossoming. But lately, as I've pushed myself to truly practice Sabbath rest, I've felt a stirring.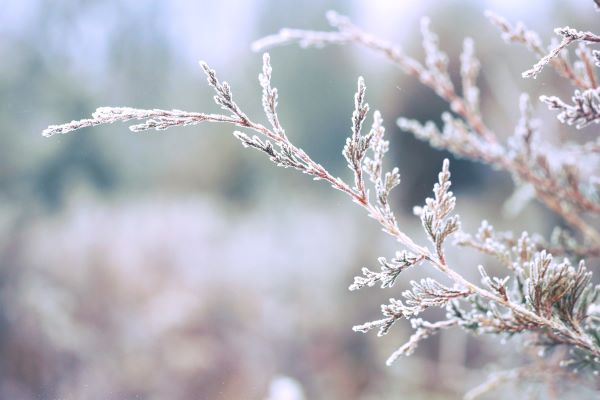 It began with just a simple yearning, a hunger I filled with His Word. It led from there to an ache for beauty. I slaked my thirst with gazing deeply at Jesus, but also beholding His glory in nature and poetry and music and dragging two toddlers with me to bask in beauty at our local art museum (this by the way, is not the ideal way to enjoy art). And it has led from there to tender shoots of inspiration—a gift, not a guarantee—pushing up through a cultivated soil.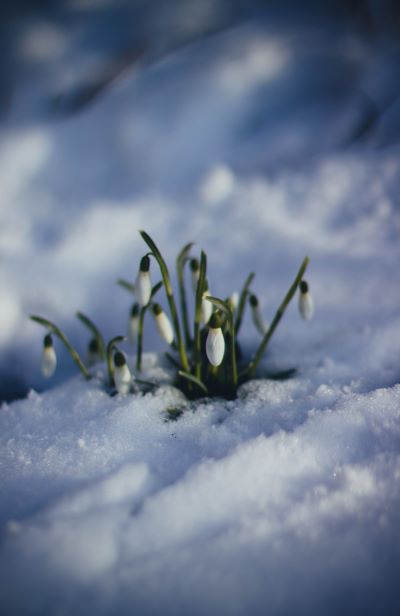 As I meditate on these new awakenings I wonder. Perhaps the birth of all new things in our lives begins with a void. The emptiness gives ways to longing. The longing morphs into season of waiting, of aching. And then sometimes in the mercy of God, a new thing bursts forth, surprisingly in a way we could not have expected or imagined. "See I am doing a new thing," the Lord says to the prophet Isaiah, "Now it springs up. Do you not perceive it? I am making a way in the wilderness and streams in the desert" (Isaiah 43:19).

From what I can tell, we don't have much control over the seasons we face in our lives. But in every season, we worship God through a posture of faith, gratitude and expectancy.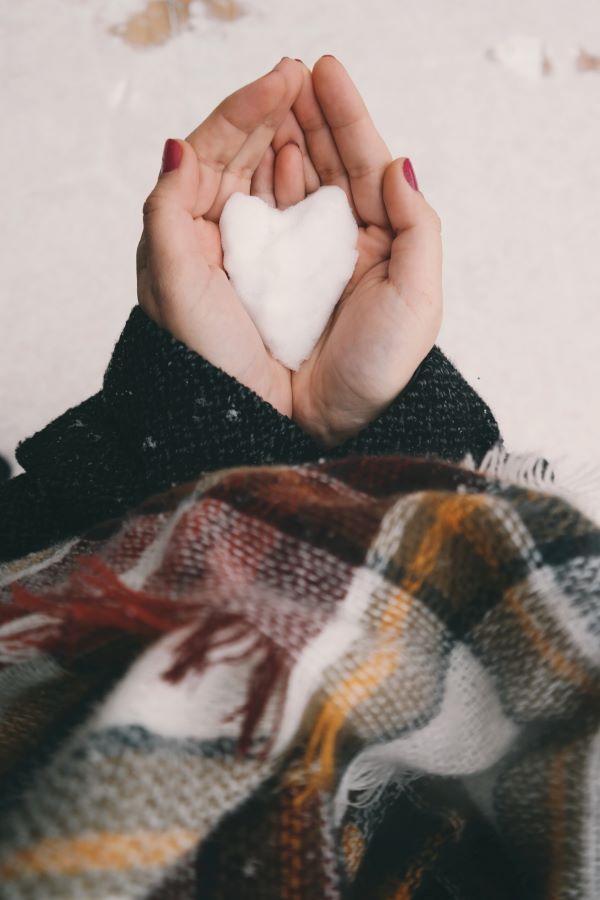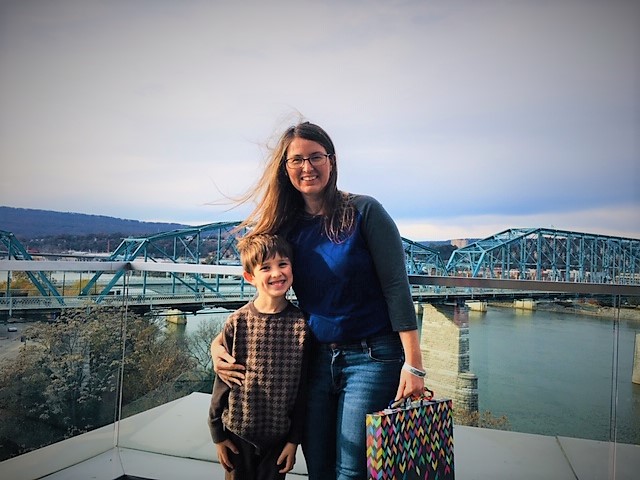 May I encourage you—if you are in a season of deep mid-winter—look with the eyes of faith. Even the discontentment, even the ache, is a pathway that will lead you to Him, if you are brave enough to follow it. God works wonders in the hidden places. Even resurrection began in the dark.
Like what you are reading? Follow, share or pin this post: perhaps someone else needs this message today. Also check out Catherine's books, available on Amazon or wherever books are sold.