---
Running For the Land, For the Wild, For the Future
I traveled to Arizona last weekend to run an ultra, the Whiskey Basin 88K around Prescott, which I'll blog about next time. For now, I want to share how revisiting the Southwest boosted my motivation to raise awareness and support for something much bigger and more important than just running—something that represents hope for future generations.
It has to do with the Grand to Grand Ultra, but not the event itself. Rather, its setting.
I find myself daydreaming about returning to run the Grand to Grand Ultra in September—a 170-mile weeklong, self-supported race that I ran in 2012 and '14—and visualizing the Southwest's wide-open, remote topography in northern Arizona and southern Utah, a landscape that makes me feel tiny yet tough.
I yearn to immerse myself once again in those baking-hot plateaus, where rocky buttes colored crimson terra cotta jut up from the desert floor, and to climb those earthen walls and pick through a forest's prickly brush and piñon, feeling animal-like with all senses alert. I'll once again scuttle over slickrock and slog through sand, each day logging at least a marathon, with the hardest 50-miler I've ever done on Day 3, carrying all my food and sleeping gear for the week in a pack.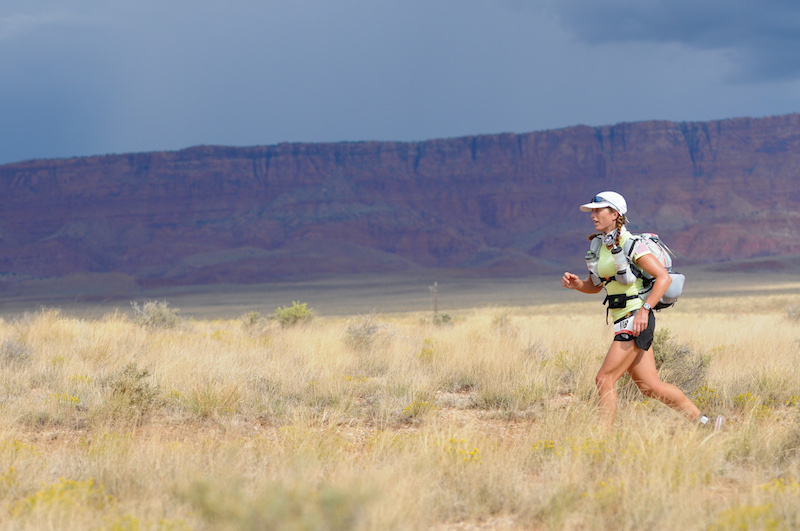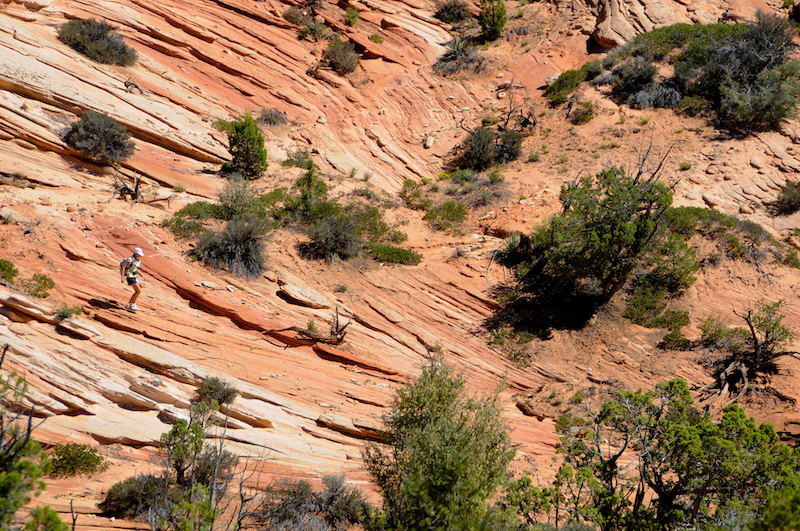 All the while, I'll be in awe of the vastness and wilderness of this little-traveled swath that spreads through the center of what's called the "grand circle" of national parks, Grand Canyon, Zion and Bryce.
Most of us know about and value America's celebrated national parks, in the Southwest and elsewhere, but we collectively care less, or at least understand less, about the millions of acres of public land outside of the parks, much of it managed by the Bureau of Land Management. I'm doing this race again less as an endurance competition, more as an opportunity to revisit and revere this region up close, and ultimately do what I can to help protect it.
Where am I?
In 2012, the first time I ran the Grand to Grand and saw so many miles of the West's undeveloped acreage up close and by foot, I gained a new level of appreciation and curiosity about it. Trekking solo on remote segments of the event's route, totally off the grid, I'd occasionally ask myself, Where am I? What is this place even called? When I plugged back into civilization, I tried to educate myself more about it.
Fast forward four years. I was on a flight to Vegas, to rent a car and drive to Kanab, Utah, again, this time for a trail-running event called the Grand Circle Trail Fest, and I was thinking about how all the pieces of land in the region fit together—what's what, between the national parks, state parks, wilderness areas and monuments.
I knew the Grand to Grand finishes in a state forest overlooking a magnificently sculpted, multilayered expanse known as the Grand Staircase-Escalante National Monument, and I had just read an article that helped me understand what "national monument" meant. The story, by ultrarunning coach Ian Torrence in iRunFar.com, was called "A Trail Runner's Primer on Public Lands," about the federal government's relationship to America's public land and the agencies that manage them.
Serendipitously, I struck up a conversation with a woman in the seat next to me, and she said she worked for the Durango-based Conservation Lands Foundation, the only nonprofit organization dedicated solely to protecting, restoring and expanding the National Conservation Lands.

What are the National Conservation Lands? Good question; I didn't know myself until I asked.
America's newest protected public lands
The National Conservation Lands are more than 36 million acres of protected public lands, rivers and trails mostly in the West and Alaska managed by the Bureau of Land Management. They include 28 National Monuments, including Bears Ears and Grand Staircase-Escalante.
Bruce Babbitt, who served as Interior Secretary under President Clinton, established the National Conservation Lands in 2000, which classified certain areas within the BLM as deserving of special protection, restoration and conservation because of their natural, historic and cultural value.
The creation of the National Conservation Lands represented a shift in the BLM's mission, and a victory for anyone who cares about conserving open space for wildlife and recreation, and preserving the historic and cultural treasures found in many of these places. During the prior half century, since its founding, the BLM managed more than 250 million acres of federal land mainly to use it, not to leave it untouched. These uses include mining, logging, grazing, and oil and gas production. When the government declared that more than one-tenth of this public land would be off limits to destructive use and worthy of permanent protection, it was, simply put, a big deal.
You can see a map of the National Conservation Lands here and here. Check it out—I find it inspiring to learn about protected public land, full of trails for exploring; for example, I knew about and have visited the Black Canyon of the Gunnison National Park, but I hadn't realized until I looked at those maps that right next door is the 62K+-acre Gunnison Gorge National Conservation Area.
Of course, none of this special protection happens overnight or without a fight. And more areas are worthy of the safeguarding that comes with the National Conservation Lands designation. Which brings me to the real reason I'm writing this: to throw my support behind the Conservation Lands Foundation and appeal to you, too.
I've launched a campaign to raise at least $10,000 for the Conservation Lands Foundation between now and when I run the Grand to Grand Ultra, and I sincerely hope you'll support my online fundraising campaign with a donation.
Since its founding in 2007, the Conservation Lands Foundation has been at the forefront of protecting and expanding the National Conservation Lands. It does this in part by coordinating and supporting the efforts of some 70 "friends groups"—grassroots groups throughout the West working at the local level to advocate for public land protection and restoration (see here for a list of all the groups in Conservation Lands Foundation's Friends Network).
Last year was a particularly busy year, as the Trump administration severely cutback the land designated for protection in Bears Ears and Grand Staircase-Escalante National Monuments. Conservation Lands Foundation has been fighting through litigation and public advocacy to uphold the original designations for these national monuments.
(I'll wait until May to write more about that controversy, because May 9 – 12 Morgan and I are traveling with a Conservation Lands Foundation group to hike around Bears Ears and learn more about what's at stake and why we should care about these spectacular and sensitive areas.)
I want to spotlight instead some inspiring news about the National Conservation Lands.
The best news all year
In case you missed it, last month our polarized government did something truly amazing, which restores some of my hope for good government and citizen advocacy: with broad bipartisan support, Congress overwhelmingly passed and Trump signed into law the John D. Dingell, Jr. Conservation, Management and Recreation Act. This landmark omnibus legislation, the result of years of work at the grassroots level that was supported by Conservation Lands Foundation, greatly expands and enhances protection for National Conservation Lands. It also permantantly reauthorizes the Land and Water Conservation Fund. It's a win for water, wildlife habitat, cultural landscapes and the outdoor rec economy.
Here is a Conservation Lands Foundation infographic that sums it up: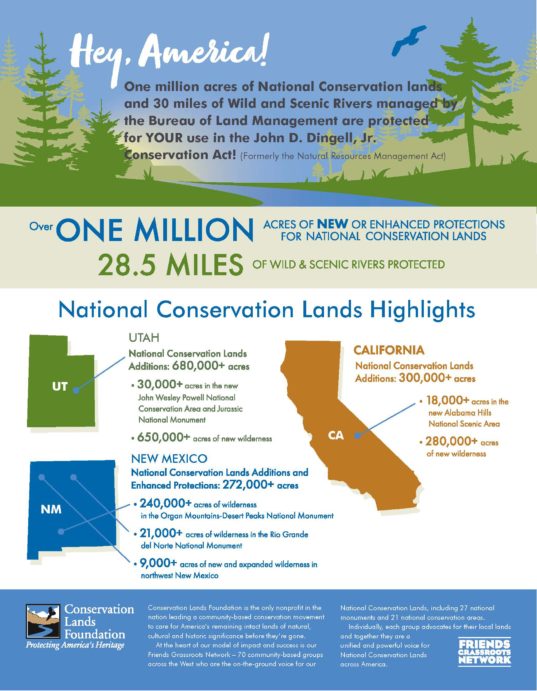 So, will you join me in supporting this nonprofit group that is doing so much for the National Conservation Lands—for more than 36 million acres, 2400 miles of river, 6000 miles of trails throughout the West? If you have any question about the impact or management of the Conservation Lands Foundation, I hope you'll read this summary of their 2018 annual report to understand their work better.
If you value the great outdoors and love to run trails through wilderness like I do, then I hope you'll consider making a donation to my campaign through this link, and sharing this post or the fundraising page with others. I really want to do all I can to support the important work of this group, to help safeguard this remarkable public land that is so essential for so many reasons—for the wildlife and ecosystems, for the historic and cultural significance, and for the respectful recreation use by outdoor enthusiasts like us. For our kids' kids.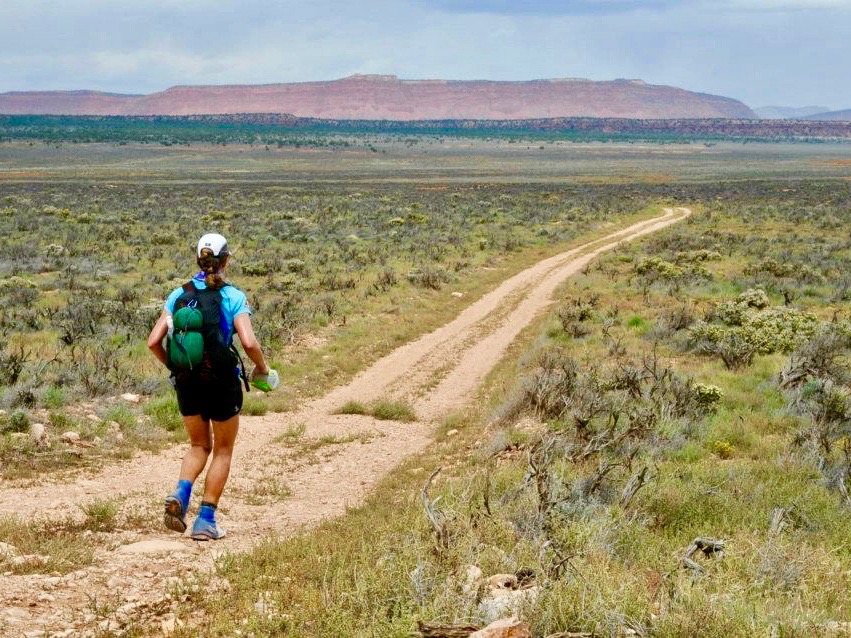 And lastly …. if you want to learn more about the Grand to Grand Ultra, check out its site or my archived posts about it; it's not too late to sign up and train for it. Get a copy of The Trail Runner's Companion for all the info and inspiration you need to safely and effectively train for mountain/ultra/trail adventures.
How to Get Started and Get Past What Holds You Back
I probably hooked you with a self-help "how to" headline, but I'll admit up front this post doesn't deliver simple, pithy advice. It's the distillation of thoughts from a recent long run.
I read an article, listed as the most popular article in The New York Times the other day, about why we procrastinate, and it described what I already knew intuitively: that procrastination is not a time-management or productivity issue. It's an emotional issue. We put off doing things because of the challenging feelings that a task stirs.
I'll give you an example.
Emotions, not lack of time, are preventing me from planning a senior grad night party for my son and his classmates, scheduled June 1 following their high school graduation. I'm the de facto leader of the parents' party planning committee, and it should be fairly simple to take the next steps of soliciting volunteers, figuring out the audio-visual equipment needs for the music and slide show, creating a welcome banner, plus myriad other details, but I can't bring myself to work on it because I feel anxiety when I visualize all that can go wrong and how my son and his peers, or the other parents, might blame me.
And if I honestly peel back the onion of these challenging emotions further, I confront flashbacks to my own partying that provoke an unsettling combination of remorse, nostalgia and parental angst. Following my graduation in June of 1986, when I was 17, we drove recklessly across the state all the way to Reno to Leslie's house intoxicated. (Morgan asked that I edit out the details of what we did, but I told him I can't erase the image of nearly hitting a gray-haired couple as we gunned the car as fast as it would go up the parking ramps of Circus Circus, their faces aghast as they scuttled their old bodies out of the way in the nick of time.)
I recognize I feel conflicted, trying to protect my son from being like me but also on some level wanting him to be like me, just not as risky. See the deep shit that one ordinary project can stir up, provoking procrastination?
Challenging emotions, hand in hand with the psychological hangup of perfectionism, also keep me from blogging. I use this forum to write only maybe once a month. I feel I have to have a story to tell with a tidy narrative arc and life lessons all figured out, along with decent photos to illustrate the piece, before I can sit and write. It hit me on my run that I'm never going to write with consistency and voice—never going to enjoy and develop the craft of writing—if I postpone writing until I have something well formed and figured out. That's like a pianist expecting to sit and play a complicated piece flawlessly without practicing. So I've decided to use this space more regularly to make observations, share anecdotes and organize thoughts to figure stuff out, with little filter.
I've been ruminating about my relationship with running—how a joyful, energizing relationship with the simple act of running unexpectedly shifted from hobby to career about a decade ago as I became a writer covering the sport and a coach guiding others in it. Having this sport feel like a job—with concerns about networking, performance metrics, reputation and the like—led to some burnout and thoughts of retirement. I realized I needed to return to thinking about running as a relationship, and fall back in love with it.
I wrote about this topic for my column in the March issue of UltraRunning and drew on lessons from marriage therapy that helped salvage and then strengthen my long-lasting relationship with Morgan, with whom I fell in love as a teenager and married at 21 (crazy, huh?). To have a healthy, passionate, "long-running" relationship with the sport, I concluded I needed to do some things learned in couples therapy, including: Don't rely so heavily on the relationship (i.e., running) to define my identity and satisfy needs; embrace change and try new things; unplug and make time to stoke the passion.
So now I'm turning 50 in a month and shifting to a new phase of life as we move to Colorado, and I'm thinking about branching out and trying new things, not just professionally (I have ideas for work in addition to coaching) but in terms of hobbies and sports. But procrastination has been getting in the way of me starting what I want to do, mostly due to challenging emotions around new endeavors, such as frustration, inadequacy, or feeling guilty about working on something that isn't resume-building "real work."
In February, we took a quick trip to Colorado, and I signed up for a beginner's lesson in skate skiing (a form of Nordic skiing that requires movement and balance similar to in-line skating). It was so much harder than I thought it would be—I felt terribly uncoordinated, didn't enjoy it, really sucked at it—and I felt relieved when the lesson ended, not wanting to do it again. But then I realized that this type of challenge is what I need more of, requiring the patience to learn a new skill. Running feels second-nature now; it's a challenge to run fast for longer distances, but it's not really difficult or new. It's feeling a little boring, to be honest. I get excited about my upcoming ultras because they provide a chance to explore a new destination and cover a lot of ground, but the training is feeling rather ho-hum and obligatory.
As I think about this summer and beyond, and what I want to do after we settle into a new home, I feel inspired by my kids, Kyle and Colly, who developed skills out of true interest and playing around with it, not because they felt they "should." For Kyle, it's skateboarding and working with horses; Colly, drawing, designing and making things (my girl learned woodworking and welding!), and circus arts.
I see my son maneuver his horse around obstacles and use one arm to throw a rope, or I see my daughter shimmy up a rope using all her hand and arm strength developed over years of practicing aerial arts, and I think, I want to try that.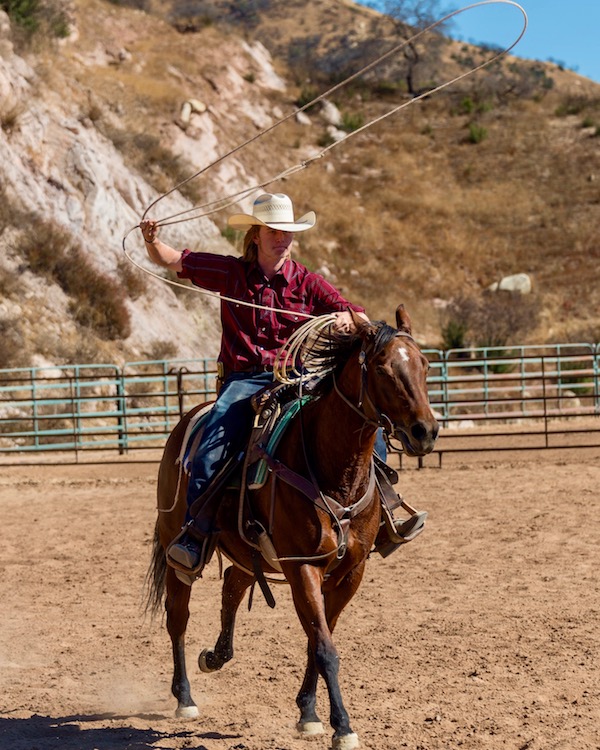 I want my son to teach me how to rope, even if I never have the real need to rope a cow, so I can feel what it's like to circle the rope overhead while my horse trusts me enough to stay calm, and then to take aim and throw it over an object (first practicing on a stationary fence post, maybe eventually graduating to a calf), the horse playing his part of backing up to tighten the rope and then standing obediently while I dismount to tie up or release.
I want to learn how to climb and overcome a fear of heights. My daughter has developed so much strength and agility, and watching her on the rope in the video above, or as she develops her specialty in pole dancing, makes me want to work on—or I should say, play around with—these movements that make me feel weak.
I recall the fear—and thrill—last summer midway through the Telluride Mountain Run, having to use my hands and find footholds on a jagged fin of a ridge at 12,500 feet with drop-offs on both sides, how this one section of the ultra challenged me more than any other because I had to manage a fear of falling and had to employ my hands and feet in unfamiliar ways, and I felt a sense of accomplishment that running itself rarely delivers anymore.
When I think of the manual labor we'll have to do around our new property, such as clearing snow, chopping wood, or loading up and spreading manure around the pasture this summer, I'm guilty of visualizing Morgan doing this because it intimidates me. I naturally lapse into assigning work along traditional gender lines, and then I catch myself thinking, why the hell shouldn't I also learn to drive a skid steer loader to move manure or snow, and to use a chainsaw and ax to make a wood pile? I don't want age or gender to limit what I can do, yet I find myself slipping into older-woman ways of thinking, and I vow to resist it.
So I'll add to my over-50 bucket list: Get my brother to teach me how to use a chainsaw.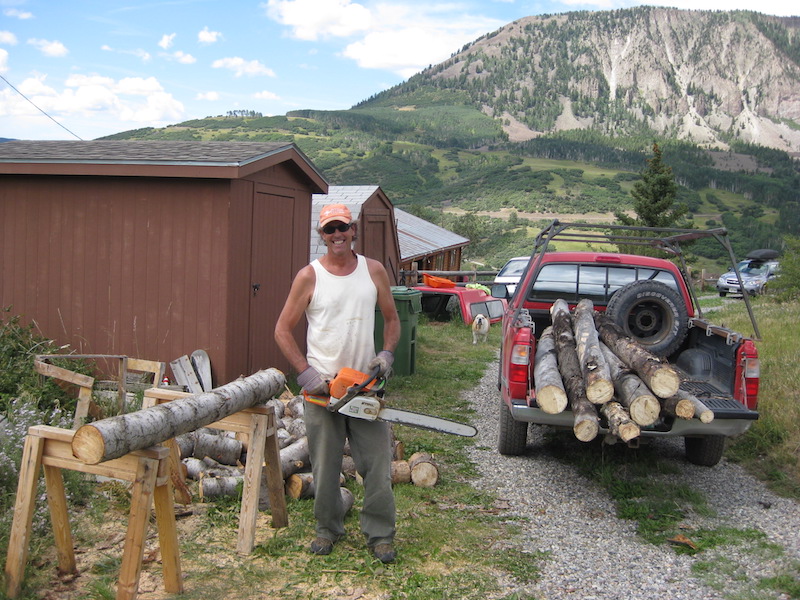 I've been pondering mortality (listening to the audiobook version of When Breath Becomes Air, thinking about a relative's cancer, witnessing a family mourn the death of their 13-year-old girl) and asking, "What is it you plan to do with your one wild and precious life?"
That most famous line from Mary Oliver's poem "The Summer Day" should be read in the context of the lines that precede it, the musings following her act of observing a grasshopper:
…Now she snaps her wings open, and floats away.
I don't know exactly what a prayer is.
I do know how to pay attention, how to fall down
into the grass, how to kneel down in the grass,
how to be idle and blessed, how to stroll through the fields,
which is what I have been doing all day.
Tell me, what else should I have done?
Doesn't everything die at last, and too soon?
Tell me, what is it you plan to do
with your one wild and precious life?
As conveyed in that poem, I desire to experience things, beyond running, for the sake of trying and doing—including the act of doing nothing, being "idle and blessed"—for the focus that comes while engaged in something that genuinely sparks interest and creates satisfaction. It could be roping, climbing, making a wood pile or perhaps even skate skiing.
I just need to push aside the feelings (the "can't," "too hard," "not worth the time," "should be doing something else," "too old for that") that prevent me from starting.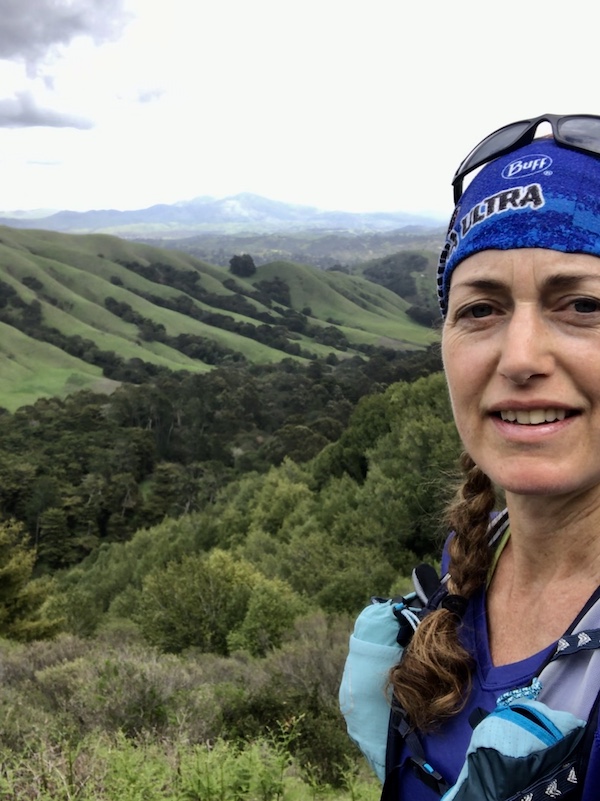 The post above was sparked in part by listening to this excellent podcast of coach Mario Fraioli interviewing Brad Stulberg, who's also a writer, coach and performance expert. Their talk explores self-awareness about performance, passion, mental illness and more.
And here's The New York Times piece on why we procrastinate (answer: it's not about laziness or time management).
Finally, I've been inspired, in running and aging, by Kami Semick. I haven't been writing a lot, but when I spotted Kami's name on the entrants for Lake Sonoma 50, I knew a good story probably was waiting to be told. So I contacted her and wrote this piece for UltraRunning and then interviewed her on UltraRunnerPodcast.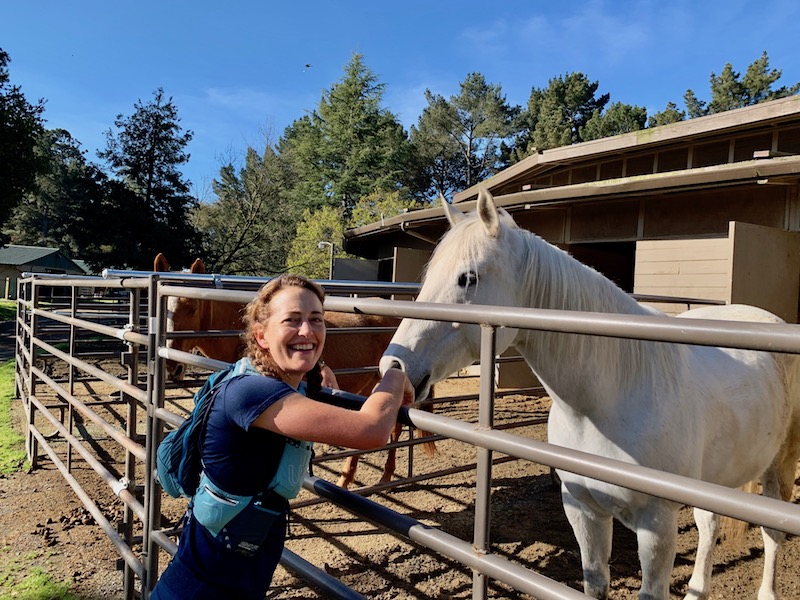 Related Stories
Why I Raced a Road Marathon Even Though I Didn't Like It
While running as fast as I could sustain for 26 miles at the Napa Valley Marathon one week ago, I had plenty of time to ponder "the why" of the endeavor.
I even said out loud, "Why?!" around Mile 22 as toe-curling charley horse cramps preyed on my arch and calf, causing my left foot to spasm and lower leg to stiffen. My pace slowed to a discouraging 9 minutes per mile in some of those final stiff-legged miles, but I willed myself to keep running instead of becoming one of the defeated-looking walkers I kept passing.
Cramps from running, by the way, are not primarily caused by salt deficiency or dehydration, contrary to popular belief. My electrolyte intake and fluids were fine. Rather, the cramps represented a kind of neuromuscular panic attack—a sign that I had pushed myself past the point that my body had adapted to handle. In other words, the severe cramps signaled I was undertrained for the combination of intensity and duration I was striving to achieve. It's true, I hadn't trained quite as much or as well as I could have to achieve my goal. But at least the cramps signaled I was giving everything I could to the effort.
I certainly wasn't running this race—my first serious attempt at a road marathon in a decade—"for fun." If it were for fun, then I would have settled in to a relaxed pace, allowed myself some walking breaks, and chatted socially with those around me, thereby treating it like the early miles of an ultra.
Instead, I focused and ran silently with those around me, as dead serious as if we all were taking an important exam without a break for 3.5 hours. Frequently, I tucked behind one of the runners to copy the rhythm of his or her stride. This was one of the few things I enjoyed about the marathon: the wordless bond among the cluster of runners whose presence helped carry me along, and the opportunity to study their style and running form as we traversed miles, each runner developing into a character study in my mind.
Based on my training, and on two half marathons I raced since New Year's—both of which I finished just under 1:45—I set a realistic goal to break 3:40, with a stretch goal to break 3:35.
I had to face the reality that averaging a pace in the 8:10 – 8:20 range, to finish around 3:35 – 3:40, was aspirational but achievable. My ego takes a hit just typing those numbers, because they reflect how much slower I am than in my road-running prime as a thirtysomething. Once upon a time, I could break 1:30 at the half marathon (around a 6:50/mile average pace), and I PR'ed at the Napa Valley Marathon in 2009 with a time of 3:05:53, an average pace of 7:05/mile. Now I struggle to run more than a minute per mile slower than that PR pace for the marathon, and anything under 8-minute miles feels extra fast.
As the Napa marathon unfolded down the paved Silverado Trail, bisecting green vineyards dappled yellow with blooming mustard, I hit my goal pace in the first half, then slowed in the second half due to fatigue and a headwind. Overall I averaged an 8:29 pace. The coach in me objectively concludes I ran smart but was undertrained—a little too light on the training volume, a little too heavy on the body weight. During the past two months, I prioritized other things going on in my life, and overindulged on some comfort food and drink due to life stress and travel, so be it.
When I crossed the finish line in 3:42, I felt profoundly relieved and mostly satisfied, feeling just a twinge of disappointment at missing sub-3:40.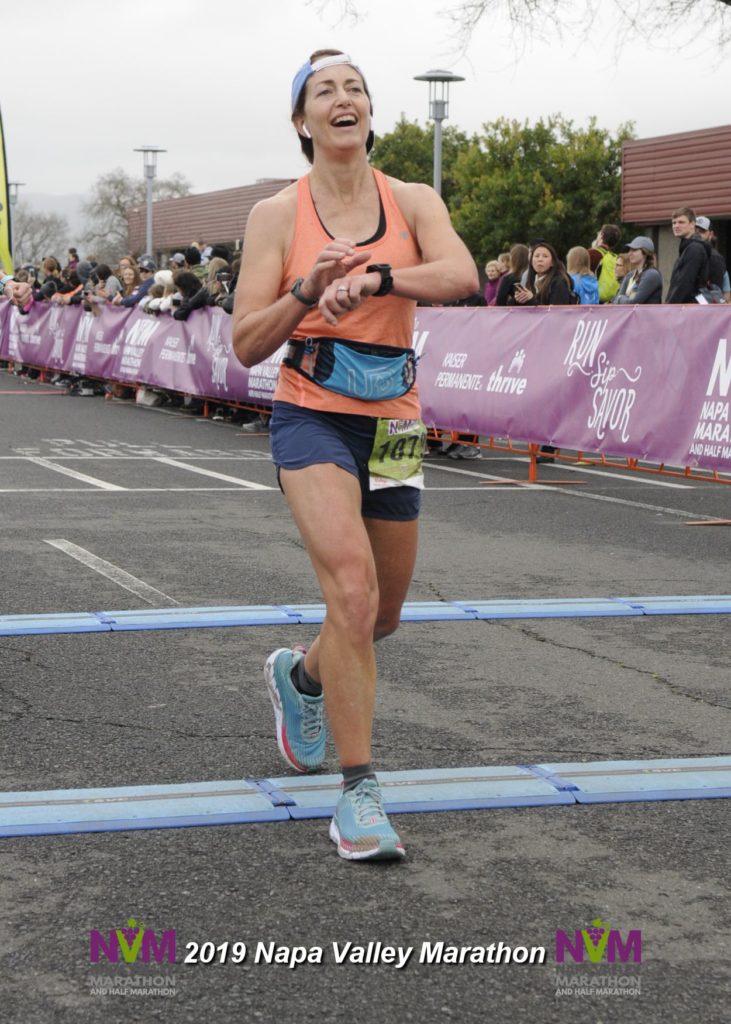 Then I hopped around in pain as the cramps rebelled in full force. I literally had to lie down to keep from falling over, and a runner friend, Mitch Gunderson, kindly rubbed my feet and uncurled my toes to help calm the muscular insurgency.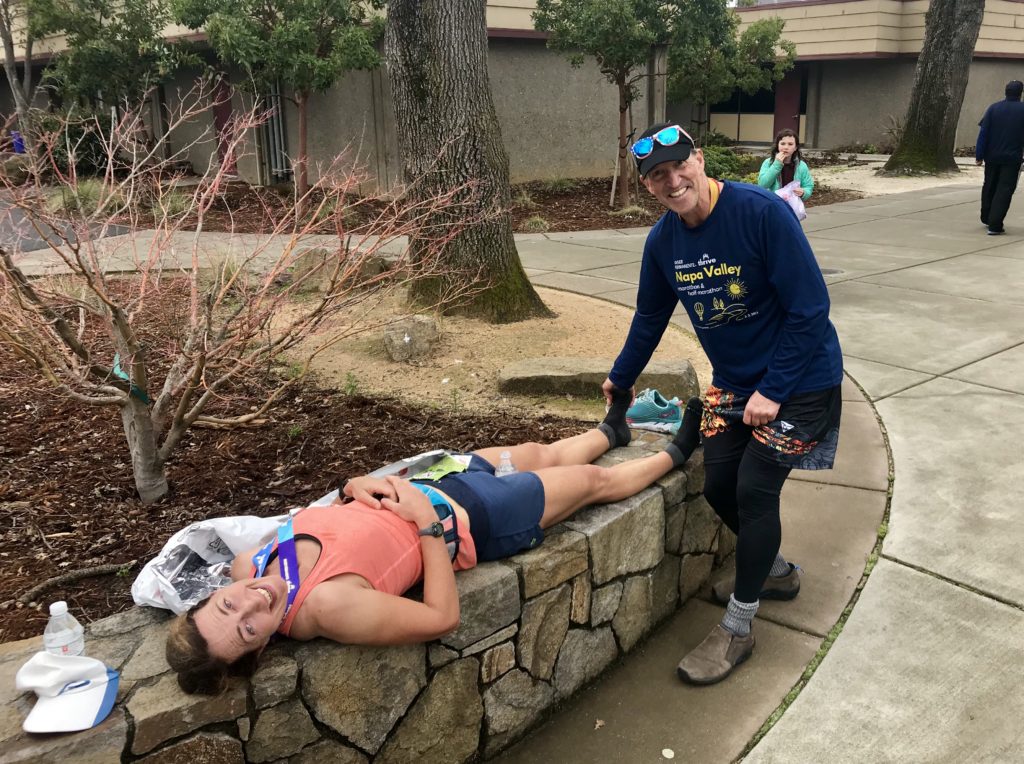 Overall, was it a worthwhile experience? Yes, but I wouldn't say I liked it. To borrow a punchline from my forthcoming column in UltraRunning magazine, I feel about it the way my husband feels about his colonoscopy: glad to have done it and achieved a decent result, but grateful it's over and not looking forward to the next one.
Honestly, the best, happiest parts of race day were the beginning and the end, and not just because I felt the anticipation of starting and the relief of finishing. It's also because I got to hang out with two of my clients and friends, Kim Nichelini and Kimberly Perricelli. Focusing on their performance and their feelings somewhat liberated me from thinking about my own. It felt exciting to imagine what they were going through with their marathons, and satisfying to witness their success.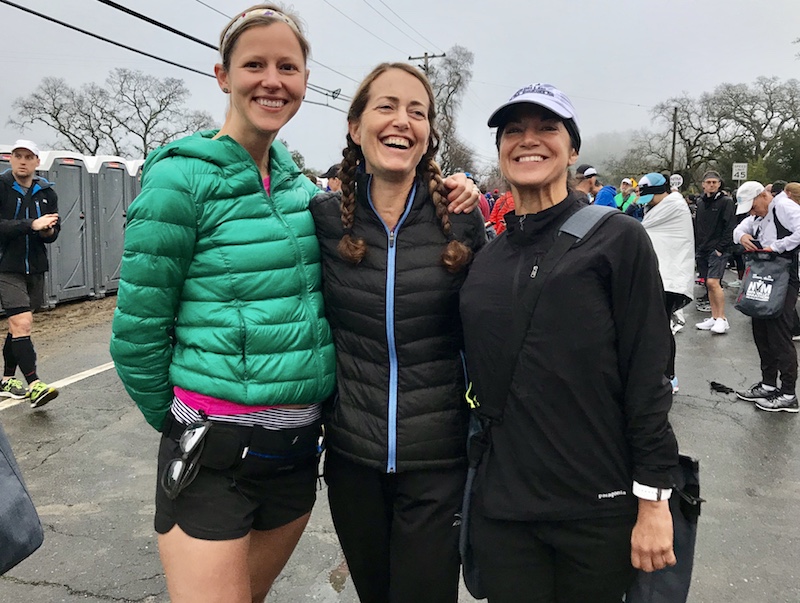 I didn't have to run this marathon; I could have driven up to spectate. So why do it? I concluded these are the main reasons:
Because it's hard and I'm not so good at it anymore.
The farther away I got from road marathoning and that PR set in 2009, the more intimidating and daunting it felt to try it again. And because it felt hard and scary to push myself to run at a higher intensity level for 26 miles and to see the clock reveal how much I've slowed down over the years, it loomed as an important personal challenge, in many ways harder to face than an ultra-distance trail race.
I recognized that I have changed and slowed as a runner over the past several years not just from age-related decline in oxygen-processing capacity, but also from extra-slow miles spent trail running, especially in the high altitude of Colorado's mountains. I believe my focus on tortoise-like trail running fundamentally altered my stride sense of pace. That meant I'd have to work extra hard to earn back some of my leg turnover and speed, along with the stamina to keep running relentless flat terrain instead of fluctuating my pace according to a spiky hill profile.
This year's marathon challenge developed into more than a test to run fast; it became a dare to see if I could let go of—or at least make peace with—the psychological baggage that my ego carries. It also challenged me to be process-oriented rather than outcome-oriented, which I coach my clients to be, by focusing on doing the best I can and enjoying the week-by-week process of training rather than obsessing over the outcome of race day.
I wanted to be brave and go through the process and try it again, even if the outcome might disappoint, because if I didn't give it a good try, then I knew I'd feel as if I'd wimped out and left behind unfinished business.
Because it makes me feel sentimental and reflect on life.
My first baby is about to turn 21, and my second is about to graduate from high school. We just sold our house of 19 years and are building another one. Milestones like these make one reflect on life's big narrative arc.
For me, the Napa Valley Marathon stands as an event almost as significant as births, deaths, marriages and dream-home moves, because this event got me running 25 years ago and changed my life for good. I was a graduate student two months shy of turning 25, not in very good shape and never into playing sports, when I went to the 1994 Napa marathon to watch two friends run it. I knew virtually nothing about running and wanted to attend for the sake of a post-race picnic, not to watch a bunch of runners, but witnessing all those regular-looking people running in spite of suffering after Mile 20 completely captivated and inspired me.
I tried running the next day—my first real 3-mile run ever, the first Monday of March 1994—and got hooked and became determined to run the marathon the following year.
When I think back to running my first marathon at Napa in 1995, I recall the excitement and wonder unique to being a beginner. I didn't realize at the time that I looked like a dorky newb—ill-fitting hat rising up over bushy ponytail, oversized cotton shirt (from the 1994 Bay to Breakers) tucked into shorts, chubby thighs rubbing and chafing. I was in the best shape of my life and felt extraordinary for being one of the marathoners pinning on a bib. I was utterly elated by running the whole thing and squeaking under 4 hours.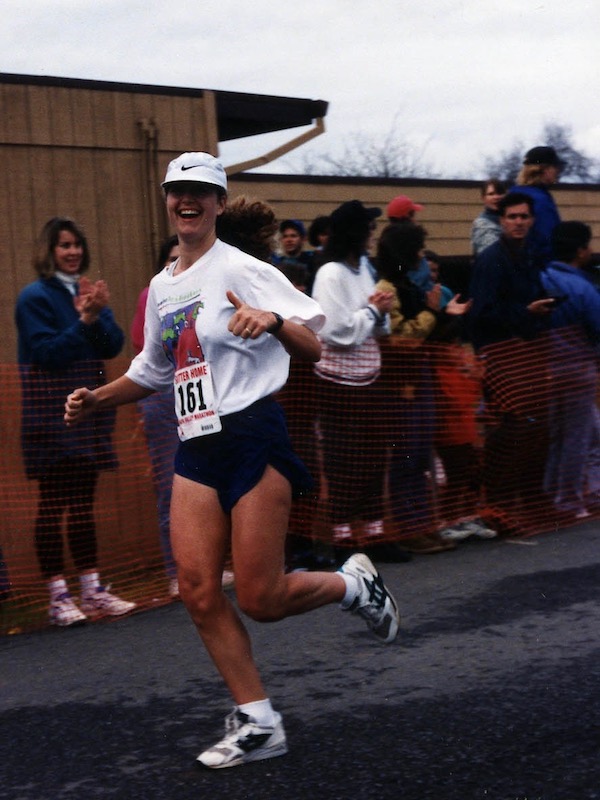 I went back to the Napa Valley Marathon this year to reflect on the quarter-century journey, and to try to connect more with that first year's enthusiasm and innocence void of self-criticism. I hoped to rekindle my 25-year-old self's celebratory joy, and to let go of trying to be the faster 39-year-old who set a personal best there in 2009. Alas, on this front I didn't fully succeed, but at least I tried.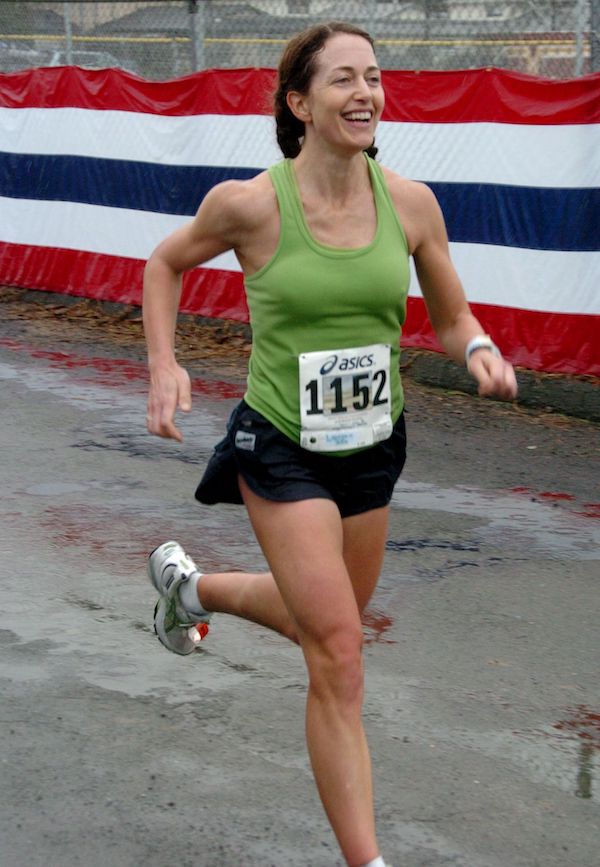 However, being at the starting line of the Napa Valley Marathon again, and reliving those earlier marathons, genuinely made me feel emotional and profoundly grateful for how becoming a runner transformed my life and gave me so much personal growth and happiness over 25 years.
Because I want to be a better runner.
Training for a road marathon with a goal time made me a better runner by sharpening fitness and improving form. Doing deliberate, more challenging speedwork and steady long runs with fast finishes—plus racing the two half marathons earlier this season for practice—boosted my performance more than typical trail training does. The lesson, I think, is to maintain elements of this training, and to keep working on form and cadence, as much as possible.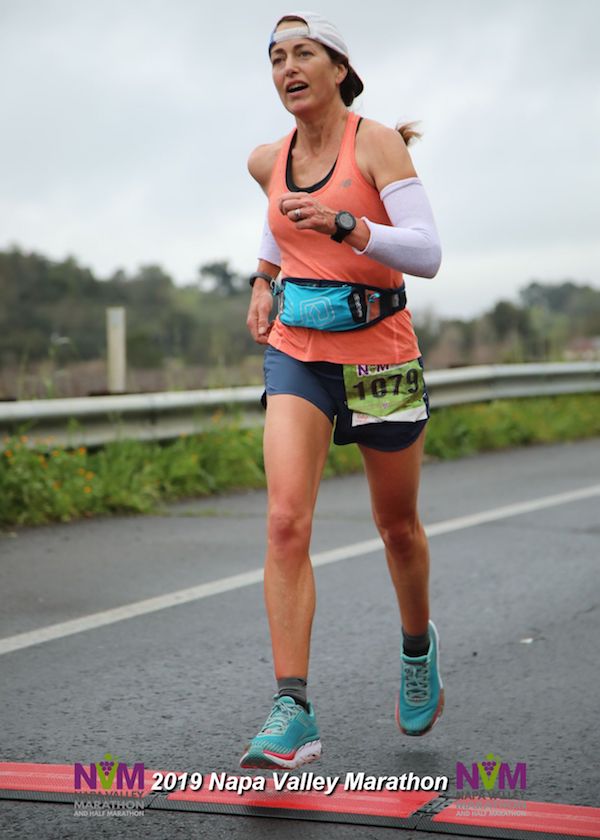 Two days ago, my body felt recovered enough from the marathon to head out on a 20-mile trail run with nearly 3000 feet of vertical gain. Thanks to the mega workout of the marathon five days earlier, my legs felt stronger and faster—and my mind, more motivated—while trail running than they had in months. It's as if the depletion and recovery of the road marathon super-charged my desire and ability to train for upcoming ultras.
Thankfully, I qualified to enter the lottery for the Boston Marathon (see qualifying standards), and by enough of a margin for my age group (13 minutes) that I have a good shot at a spot. I'd like to run Boston one more time in 2020 (having done it twice before, in 2000 and 2009), this time truly for fun, soaking up the sights and reveling in the experience like a tourist.
Let me end with a story I find inspiring and gratifying—my client Kim Nichelini's mini race report—because her example shows that you get out of training what you put into it. Whereas I'd give myself a B grade or about 85 percent for the effort and dedication I put into my marathon training, Kim went "all in" to achieve her goal at Napa. She transformed from an ambivalent mid-packer who took longer than 4 hours to finish a marathon, to a committed athlete realizing her potential and qualifying for Boston.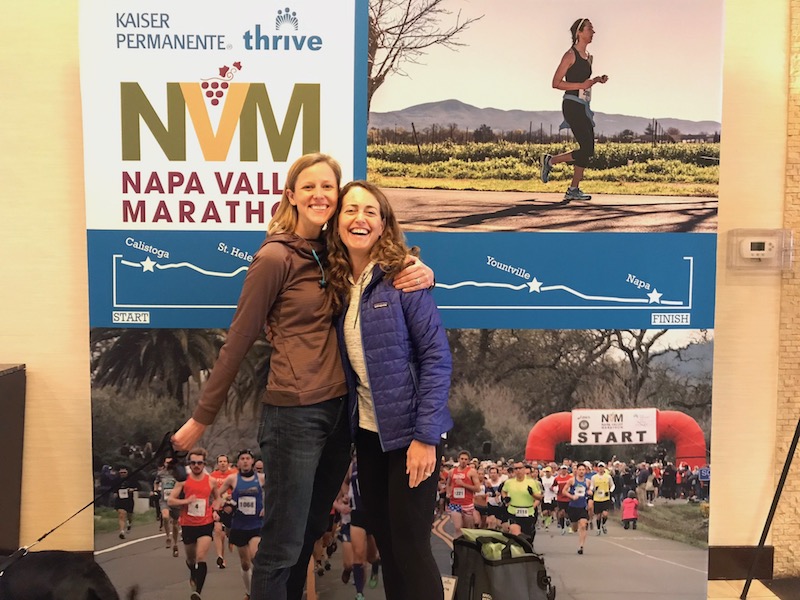 Kim, who's 34 and works full time as a pediatric dentist, wrote the following:
"Seven months ago when I reached out to Sarah, I was in a running rut, feeling unmotivated and slow and ready to give up the sport for good. I had harbored a secret dream for almost 10 years of someday qualifying for the Boston Marathon. Last summer I was running 10+ minutes/mile and not recognizing what I was doing wrong in my training attempts. My most recent marathon time had been 4:40+ with a LOT of walking and self-berating in the final 8 miles.
"On our initial phone consult, I was barely able to share my ultimate goal with Sarah because it seemed so far out of reach. But Sarah was encouraging, confident and kind, and said that based on my previous PRs she believed a BQ was (eventually) possible. She set out a basic training plan for me with several phases (build base, build volume, peak training, taper). In those first few weeks I was embarrassed to upload my times: 10:30-11:15 minutes/mile for my long runs, walk breaks, aborted attempts to complete the training as planned. I used Sarah's book often for strength training and also nutrition and gear advice. After about four weeks of lots of effort for some very slow runs, Sarah suggested I get some basic blood tests done. Sure enough, I was very anemic. Within 2 weeks of iron supplementation and 6 weeks into Sarah's plans, I was feeling MUCH stronger and able to run a 2:02 half marathon (9:16 average pace) feeling peppy!
"Empowered by my progress, I started leaning into her plans striving to complete each one exactly as directed, and I improved dramatically. I was able to run a 3:46 marathon [at the California International Marathon in Sacramento last December] after 3.5 months of training with Sarah at an 8:40 average pace, feeling strong and proud with perfectly even splits and even sprinted across the finish line. She encouraged me to go for a Boston-qualifying time (3:35 for my age group) just three months later, and then coached me to a half PR of 1:43, and at my full marathon in Napa, a PR and BQ of 3:34 (8:10 average pace).
"Looking back at my training notes from six months ago, I barely recognize myself; I struggled, made excuses and considered quitting often. Today I feel confident that when I start a run, I'll finish what I set out to do, and I perceive headwinds, hill repeats, treadmill inclines and long weekday tempo runs in the dark as opportunities to get stronger instead of reasons to quit. During these months I worked full time, bought and moved to a new home, acquired a puppy, and dealt with weeks of bad air after fires and drenching storms, so we had to do some juggling of the schedule. Sarah is supportive of life balance (she gets it!) but does not accept excuses and recommended a very balanced plan. I'll remember this achievement that seemed so out of reach forever, and I know I wouldn't be the confident runner I am today without Sarah's expertise, guidance and support."
Now THAT makes me happy!








Related Stories
What Makes a Long Run Suck, and Why You Get It Done Anyway
January flew by. It seems like a week ago, not a month, that I hastily packed away Christmas crap and emptied our house in advance of getting it ready to put on the market.
We moved into a new apartment nearby in Oakland, where I'll live through April, and put most of our stuff in storage to transport to Colorado, where I'm moving permanently in May. Then, on the morning the movers showed up, my son had shoulder surgery for a skateboarding accident. Focused on my son and on clearing out the old house, I forgot to budget time and energy to move into and furnish this new place, so I experienced at least a week of scrambling to find stuff while adjusting the pets and myself to apartment living.
Now we're settled, and I should be back in a groove of training for spring races (see the updated race calendar in my blog's side column if you want to see what I'm training for), but I'm struggling. In particular, I'm having a hard time with the cornerstone of any training plan, the weekend long run. It's as if I'm a rookie who feels like any run past two hours is a real stretch. I'm pathetically tired and heavy-feeling.
I was gratified, therefore, to hear Jim Walmsley—the UltraRunner of the Year for the third year straight, and the guy who recently hit an Olympic qualifying time of 1:04 at the Houston Half Marathon—describe on this January 23 UltraRunnerPodcast episode that he, too, felt stressed and tired from moving. He's 29 and recently moved into a new house. He described having to buy pots and pans, and assemble furniture, and how the hassle and time of doing that negatively affected his workouts and made him concerned about how he'd run in Houston.
"It's a stress in life that you can't really quantify like a 10-mile run," he said of moving. Yes! It's easy to forget how life stressors, even something as mundane as a too-long trip to Bed Bath & Beyond, can wear you out.
During the past two weekends, I experienced a bad long run (although, there's no such thing as a bad run if you get it done, really—but I'm jumping ahead), then a good long run. I felt fatigued from the outset of both, but the mindset and circumstances made all the difference.
These two contrasting experiences made me reflect on what makes a long run suck versus what makes it a run to savor.
Part 1: The Suck
Partway through my run two-and-a-half weeks ago, I made a mental list of circumstances that make a long training run extra challenging:
Ambivalence
Late start
Route uncertainty
Comparing oneself with other, better runners
Bad weather
Constipation or diarrhea
A heavy period (guys, you have no idea)
Just one or two of these factors can sabotage a run. What happens when all conspire on the same run? Let me tell you.
Bad move #1: I had a long-run plan, but then I changed it the night before for reasons not worth detailing. The new route would be a 22-miler going out-and-back from the San Francisco waterfront, over the Golden Gate Bridge, then up a trail to a ridge that connects to the Marin Headlands.
Early that morning, streetlamps illuminated sideways rain from a steady downpour in the wind. I got online while waiting for my coffee to "do its job," checked live tracking for the HURT 100 and Houston Half under way, thumbed through the Instagram posts of other runners making it look so happy and easy, and generally felt shitty that I felt so unmotivated to run a slow-pace 22-miler. Still no bathroom action, I decided to get real work done by updating clients' plans.
An hour later, the window revealed persistent rain, dense fog and strong wind. This was not the type of weather in which one should run over the Golden Gate Bridge. I toyed with doing my long run on the treadmill, maybe downloading the dueling Fyre Festival documentaries to watch while I ran, but I can barely stand 40 minutes on a treadmill, and I probably couldn't figure out how to download a movie onto my phone anyway.
Frustration and a sense of hopelessness simmered as I doubted my ability to get out and run at all. Then I thought of my clients, who endeavor to follow their training schedule not only because of intrinsic motivation, but also because they know I'm checking and holding them accountable. No one checks on me or cares whether I run or go back to bed. It's up to me to make it happen, to find motivation.
I visualized the Napa Marathon, that springtime goal. Being a spectator there in 1994 had triggered my entire running hobby that's going on 25 years. I want to prove I can do it again—no, I want to thrive there again.
I realized I can't just talk the talk, I gotta run the run. In marathon and ultra training, you can't take shortcuts around quality workouts and long runs. "Preparation is the key to success," my first coach used to say. And I need to set a good example for my clients. "It is not fair to ask of others what you are not willing to do yourself," Eleanor Roosevelt once said.
These voices nagged my conscience as the time grew later, urging me to get out the door. Hurriedly, I got completely ready to run—extra layers for the rain, calories, tape to prevent chafing, basic first aid, and I was almost out the door when I palmed my forehead and realized, doh! Gotta take the dog out.
Our dog Beso doesn't like getting wet, which makes no sense because he's a Portuguese Water Dog. He flinched and looked up at me woefully as the rain dampened his coat. "C'mon, pee-pee, poo-poo," I said as we set off down a sidewalk with narrow strips of landscaping that Beso deemed unsatisfactory.
Finally, he sniffed a strip of grass, hunched his backside, paused for dramatic effect, gave me an inscrutable look—and then changed his mind and resumed walking. I yelled, "Beso! Shit or get off the pot!"
We walked two more blocks. He made the droopy-butt move one more time but produced nothing. I let him off leash at a nearby high school so he could scamper on the grass, but he found garbage to eat, and I had to plunge my hand into his mouth to extract a splintering chicken bone. I seethed with frustration. My run felt doomed.
Both of us wet and constipated, my dog and I returned to the apartment. I was on the verge of giving up any attempt to run, suggesting to my husband that we go out to brunch because all I wanted was a platter of cheesy eggs and fried potatoes. To his credit, he said, "Just go, run, I'll take care of Beso, get going." (Clearly, he knew my mood would go from bad to worse otherwise.)
It was 9:30, more than two hours past the time I had wanted to start this ill-planned run.
I burst out the door of the apartment building and headed up Broadway Terrace in North Oakland toward Lake Temescal, relief washing over me that finally I was running—but how long would it last? Where would I go? Out-and-back seemed most manageable. Just get to 11, then turn around. Like Spinal Tap, I'll go to 11.
But I could barely run. I didn't want anyone I know to drive past and spot me jogging so slowly. I sometimes advise my clients, "Find your easy" on easy days; meaning, it's OK to run slowly, take it as easy as you need if it's a scheduled easy day. But I had no gear for "easy" other than walking, and I'd get chilled if I merely walked in this weather. So I forced myself to run. When I looked at my watch and saw I'd only gone about 1.25 miles, I realized that 22 miles might feel like 100 today.
I was so bored, I won't go into detail because it'd be boring to read. I was so bored, I stopped to take photos in the fog.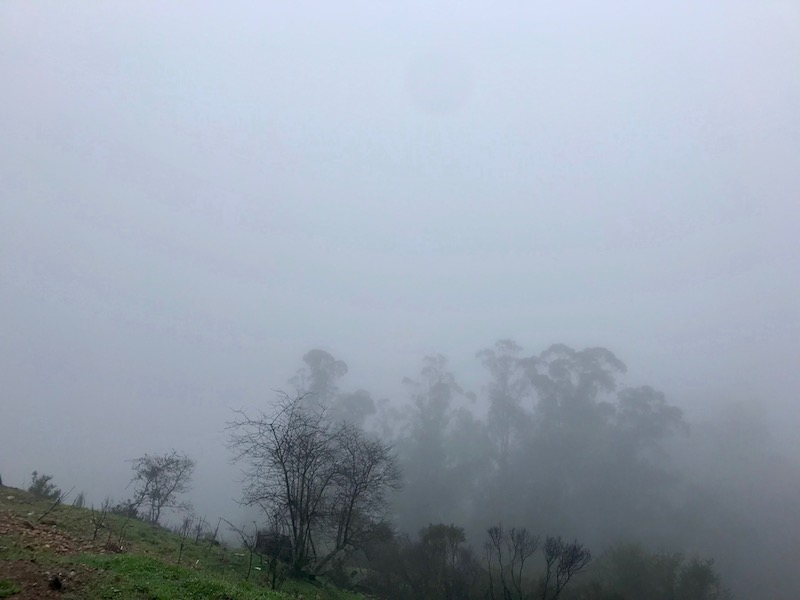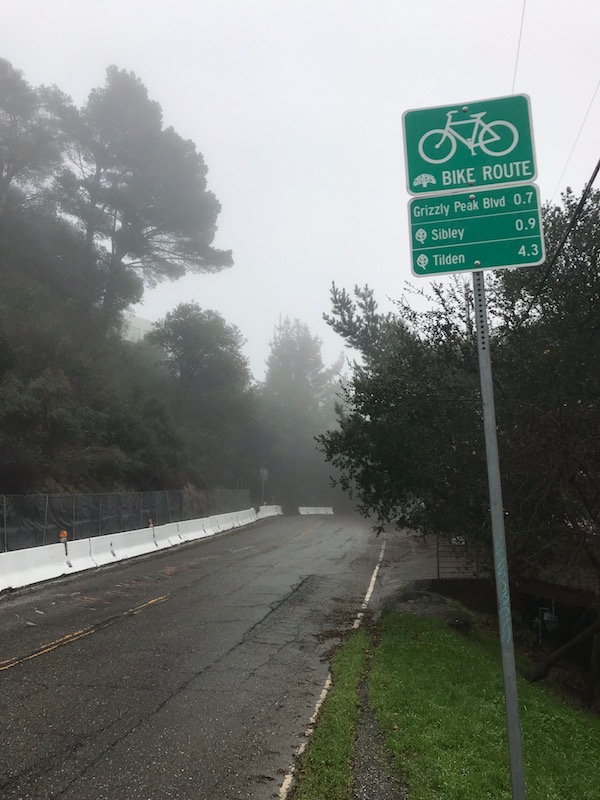 I decided to run up Old Tunnel Road because it's a grind, and I might as well punish myself, and then the downhill on the way back would be easier. I wanted to reach Sibley Regional Park and transition to trail.
By the time I got to Sibley, about 8 miles into it, I was drenched and starting to shiver. I also noticed my lower back had been cramping and spasming as if having flashbacks to 1998 and 2001, the two times I experienced uterine contractions to trigger childbirth.
I entered the restroom at Sibley with a clear agenda: Sit on the toilet to get the job done (finally), and multitask by changing out of my wet shirt and into the dry one I had wisely packed in a Ziplock bag.
But my plan got sidetracked, and I got more chilled while sitting there wet, when I realized I had a major mess of unexpected bleeding, which explains the lower-back cramping. What the hell, a week early!
For the better part of the decade, I had taken a low-dose birth control pill, which had regulated, moderated and limited my angry period, sort of like Brett Kavanaugh reined in as a circuit court judge, but two months ago I went off it to see if I'm menopausal, and surprise surprise, it's as fierce and ugly as this winter storm.
I fished out a tampon from a baggie at the bottom of my hydration pack (my UltraVesta is a real grab bag of wonders, God bless it), changed my shirt, and realized I had to get moving before I got seriously chilled. I counted on the trail making me feel better.
But first I paused outside the bathroom to ask someone to take my picture, so I could remember this moment.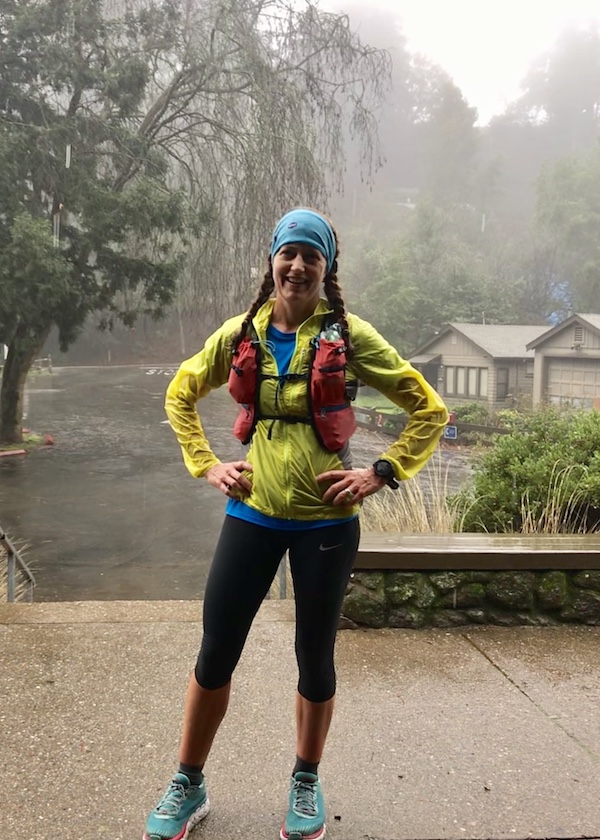 The spur of the first trail swallowed my shoes in mud, so I turned around and went down another branch of trail expecting reliable footing, only to find the trail drowned by ankle-high water, but I ran through it because at this point, things were getting so ridiculous, they were starting to feel just a little bit fun.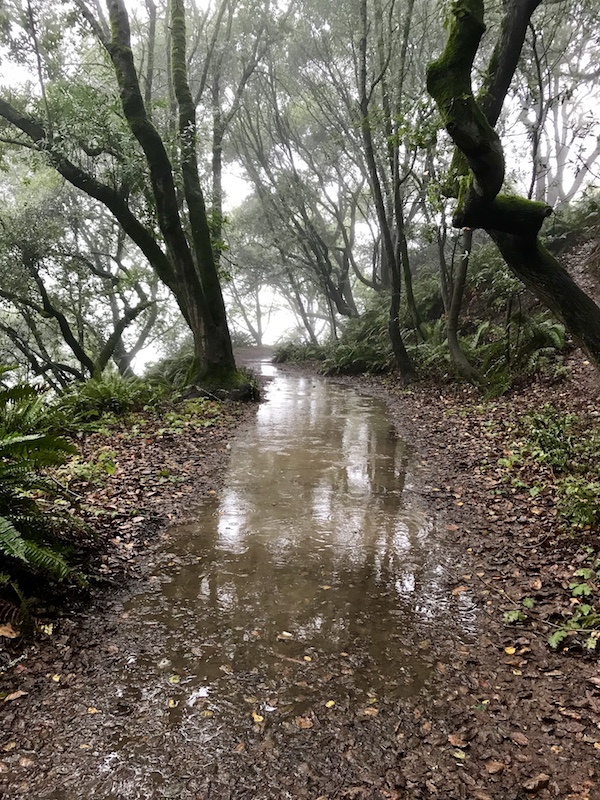 Eventually I made it three miles south to Skyline Gate, and my GPS hit 11 miles. Deciding, "No way in hell I wanna return the way I came and repeat that," I made a plan on the fly to loop back to my apartment via a different route.
"Embrace the suck," ultrarunners sometimes say. So I metaphorically embraced it, because this run felt so bad, it started to feel good, because I was doing it in spite of everything.
I felt "Hell, yeah!" better and proud of myself with each passing mile, even when I had to take a long cut to make enough mileage. When I got back to my apartment building, I was about one-tenth of a mile short, so I ran up and down the block to hit 22.
Can there be such a thing as a bad run, if it makes you feel so good when you finish? Does it feel so good because it sucked so bad? Contemplate that on your next long run.
Part 2: One Week Later, The Savoring
The following weekend, I was reminded of the circumstances that make a long run feel like something to relish, even prolong, rather than endure and celebrate only when it's done. I made a mental list:
An inspiring and specific destination, such as a peak
Enough time to feel unhurried
Enough water along the way to avoid dehydration
Scenery that makes you want to observe closely
Patience
Gratitude
Visiting my hometown of Ojai in Southern California, to spend time with my son and attend a meeting at our high school, I gazed at the mountain range that defines the valley to the north. Its ridgeline rises and folds over itself, and its creeks carve canyons, and all those layers blend together in beige and gray tones of the chaparral native to the region.
I decided to run up to Chief Peak—a steady 4700-foot, 10-plus-mile climb up switchbacks, then along a fire-break road on Nordhoff Ridge, to a peak that looks like a dorsal fin when viewed from the valley.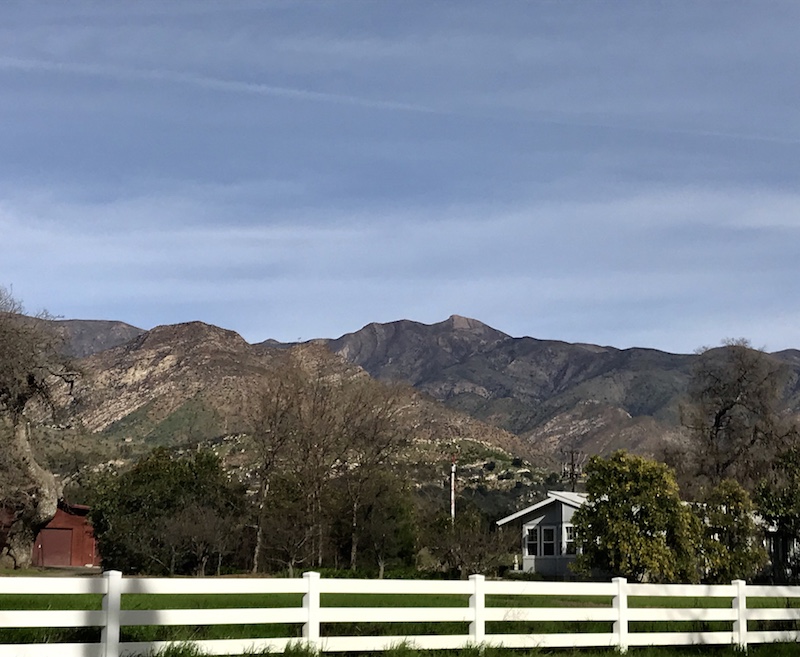 My legs felt heavy from the start, and a bone-deep fatigue from travel and staying up late made me yawn to force more oxygen through my system and to stimulate tears to moisten dry eyes. I let myself hike and yawn; I was in no rush. I told myself: It's OK to feel tired—that's a sign you've been working hard, not necessarily a sign that you're out of shape.
The mountainsides look more bare than in past years, due to the fire that scorched this whole area 14 months ago and nearly devoured my school and the town. But green shoots of new growth pushed through blackened and browned vegetation, and small streams from recent rains flowed like an answer to prayers from all the locals who cope with the perennial drought and triple-digit summer temperatures. This landscape is not beautiful the way southwestern Colorado or the Sierra Nevada are dramatically beautiful, but I love it because it's so familiar and hearty.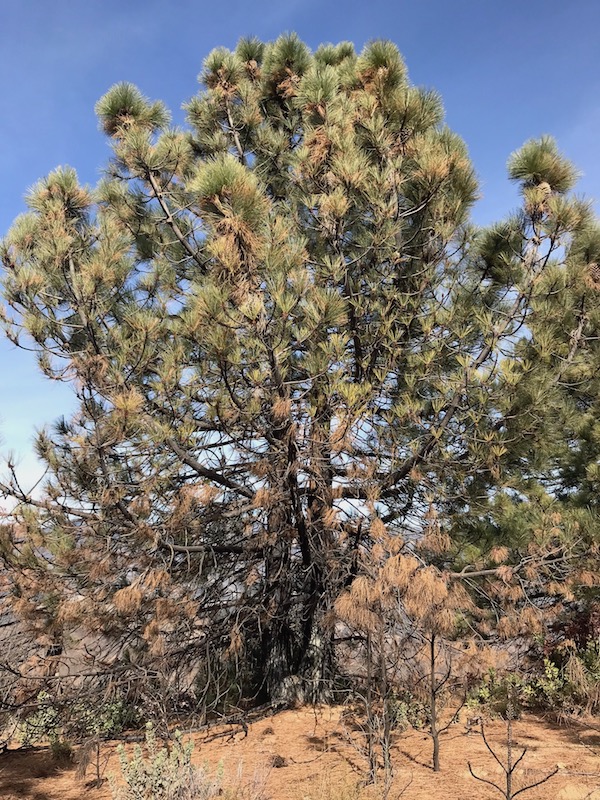 I felt such gratitude for these hours on the trail, and the challenge of reaching the peak—grateful that I had grown up here and could revisit, grateful my body has the ability to do it, grateful that the landscape and town recovered from the fire, grateful my grandparents moved here in the early 1940s. I refilled my bottle in a precious, beautiful creek, remembering how I had dehydrated and wilted in the heat on a run here last October. I traveled through time on this run, thinking about past and future, my mind turning over as much as my legs. I felt alive, not bored.
At the base of Chief Peak, over 5,000 feet elevation, I gazed at the rock outcropping that forms the chief's nose and concluded it felt too risky to bag the peak solo, given the climbing and rock scramble it requires, so I did not make it up the final 100 or so feet, but I told myself that's OK, I'm not a wimp, just being smart (though I do want to get up to that top spot next time). I paused to survey the valley and think of my family members, past and present, who spent time around here, and how I want to run and hike like this well into old age, so I need to take care of my health now. Then I ran all the way back down, another 22-miler in my log.
The best kind of long runs exercise the mind as much as body. These runs that we shoehorn into real life, which afford time to think and to explore, feel fulfilling even as they fatigue.
At peace, in my element journeying solo, I experienced none of the angst or boredom that plagued the prior weekend's run. But I credit that earlier sucky run for making this good long run feel even better.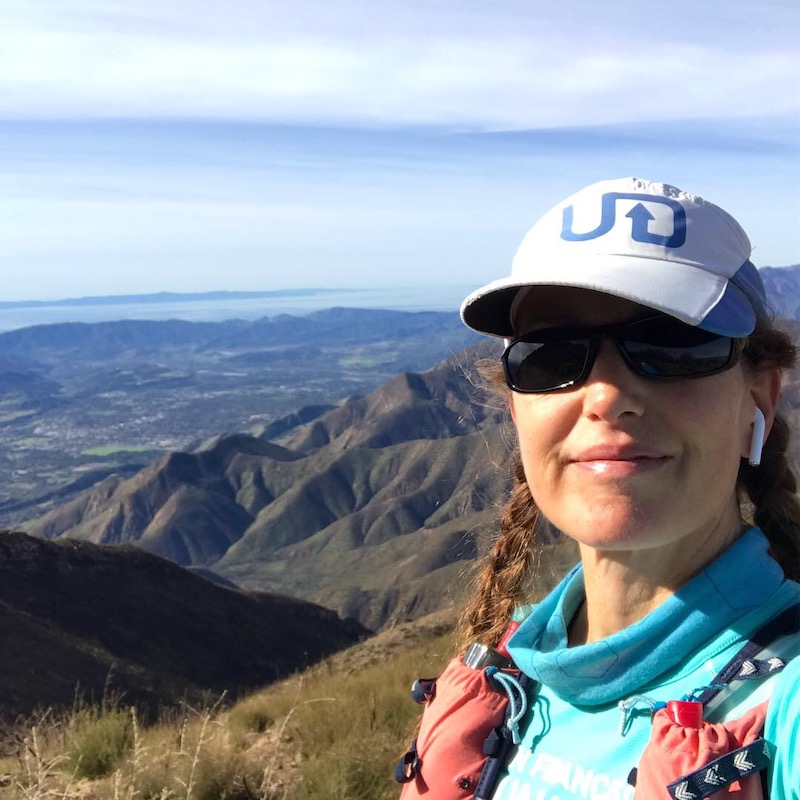 Today I'm Gonna Run Like It's 1999
Organizing and packing for an upcoming move, I'm digging through stacks of photo albums inherited from my parents and boxes of photo printouts leftover from the early-2000s era of Snapfish, when we printed and saved every digital image. I'm drowning in memories and moved by the range of feelings they stir when I come across this yellowing page in an album from 19 years ago.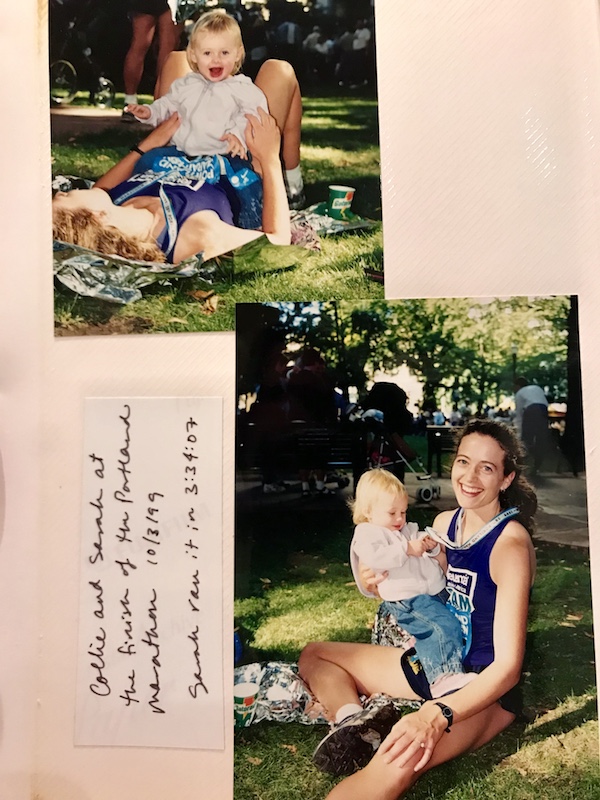 It pictures me at the finish of the 1999 Portland Marathon, my fourth marathon and first as a new mom. I had turned 30 a few months earlier. I held my 19-month-old baby girl and felt so profoundly happy and satisfied.
My first Boston Qualifier. My first baby. Being a dedicated runner and a dedicated mother could co-exist after all! I brimmed with potential, motivation and optimism (shrugging off the apocalyptic fears and survivalist urges that everyone harbored in those waning months of the century as a "Y2K meltdown" loomed).
I PRed at Portland with 3:34. Surely I could go sub-3:30. At the 2002 Chicago Marathon, following the birth of my son, I finished in 3:23.
That decade of my 30s, I believed I could keep getting better and faster, and I had the confidence and determination to do it. At the 2009 Napa Marathon, at age 39, I PRed with 3:05. And I loved it—I was so into training for each and every marathon.
Then I turned 40 and became more and more drawn to the trails and longer ultra distances. I ran the Oakland Marathon a couple of times, but not very seriously. Marathoning became something I did in my 30s, not my thing anymore.
But that 1999 photo from Portland hit me big time—coincidentally on the same day, last Sunday, that the California International Marathon took place. All morning, I had been wrapped up in tracking the performance of one of my clients running CIM, celebrating her big PR. "I just kept telling myself this was MY DAY and allowing myself to enjoy the cheers and crowds and passing people and feeling so proud of my final 6 miles. I've never done so well in the final 6," my client Kim wrote the next day, describing how fantastic it felt to finally smash the 4-hour barrier and for the first time to run the whole marathon without walking breaks, finishing in 3:46.
Several months ago, with ambivalence, I signed up for the 2019 Napa Valley Marathon. I figured I should go back to that place and race where I first felt inspired to run (I started running in 1994 the day after watching two friends finish the Napa Marathon). I should go there to celebrate 25 years of running, and I should face my fears about running a road marathon again.
I signed up more with a sense of "I should" than "I want." Now, after seeing that 1999 Portland photo and hearing friends' enthusiasm about CIM last Sunday, I'm feeling a lot more motivated to train for it as best I can under the circumstances in the next 12 weeks.
Something that Mario Fraioli wrote in his Morning Shakeout newsletter this week—after he PRed last Sunday at CIM—resonated and inspired me, even though I'm 13 years older and much, much slower than he at marathoning: "Crossing the line on Sunday in 2:27:33 at the age of 36 in my tenth marathon was a thrilling, validating, and straight-up special moment for me. I've been at this crazy sport for 21 years and haven't broken a personal best since graduating college in 2004. Motivation has wavered in and out over the past several years, my body can't handle the amount of work it once did, and other things have taken priority in my life. But, as I shared in this very space almost a year ago, I was committed to 'eliminating excuses, competing with a sense of renewed purpose, [and] making my own training and racing a priority for the first time in a long time.' It's exciting to look back at that decision and realize that this road has come full circle."
Coming full circle—that's how the prospect of this coming season of running feels to me. Facing a marathon and facing 50, I want to see what this body can do. From prenatal to postpartum to perimenopausal, this body has graced me with good health. My heart, lungs and legs have carried me nearly 40,000 running miles since I started keeping a log in the mid-1990s.
I am much slower now, but I know I have to shake the "I'm so slow now " belief that crept up and handicapped my determination and confidence. My Marathon Goal Pace for that Napa Marathon a decade ago, 7:05/mile, now feels like a fast 5K pace, and I have a hard time believing I can run 26 miles with a pace in the mid 8s. I have not set a time goal (yet) for Napa, and have no illusions of getting anywhere close to my PR time, but I would like to finish well under Boston Qualifying times for my age and gender, to have a shot at going back to Boston one more time in 2020.
Bottom line, it feels good to feel more excitement than trepidation at the prospect of starting the Napa Valley Marathon on March 3, 2019, two months before my 50th birthday. Now I wonder, why the heck wasn't I more excited before?! How cool it will be to get a shot at feeling and earning the finish-line glow captured in those earlier pics.
With the Hardrock lottery in the rearview mirror and the unsurprising confirmation that I did not get in, my 2019 race schedule looks like this:
SF Kaiser Half Marathon Feb. 3
Napa Valley Marathon Mar. 3
Whiskey Basin 55M on the Prescott Circle Trail around Prescott, AZ, April 13
Bighorn 100 in Wyoming, June 14 (If you've run Bighorn, please message me any advice or descriptions about it. I need to do my homework and learn more about it.)
Maybe pacing at Hardrock, maybe the Ouray 50 (not the 100); I am inclined to keep July/Aug open to enjoy summer more, to recover from Bighorn, and then to train more specifically for that big September goal listed below.
Maybe the Telluride Mountain Run Aug. 24; it depends on the kids' schedules for their transition back to college.
And then—I'm going back to the Grand to Grand Ultra stage race in the third week of September!
I am not planning past September, except to look forward to trying some winter sports such as Nordic skiing since we'll be living in Colorado for the first time all winter.
(If anyone reading this is interested in the Grand to Grand Ultra or its sister race in Hawaii in May, the Mauna to Mauna Ultra, please read my archived posts for info on it. If you decide to register, I'd appreciate if you put in my name where the form asks, "how did you hear about it?" because then I will receive a discount for a referral, which will help make this pricey-but-worth-it adventure more affordable.)
I'm stoked by the lineup above—to tune up as a road marathoner and come full circle and run Napa again; then to explore two destinations at ultras in regions where I've never run; and finally, to go off the grid and be self-sufficient once again for the insanely scenic, soul-filling and challenging week-long 170-mile Grand to Grand Ultra in Northern Arizona and Southern Utah.
Feel free to share your 2019 race plans below. My advice: Try something old and something new. Pick races carefully, and only if you genuinely feel drawn to them. Aim for variety in terms of destination, distance, terrain and climate. (Check out my recent UltraRunning magazine column for more on this topic.) Most of all, never lapse into thinking that your best races, or your best days, are past.
Did you check out my "good stuff" aka gift guide for trail runners? Reminder: I am selling signed, personalized copies of my book, The Trail Runner's Companion: A Step-by-Step Guide to Trail Running and Racing, from 5Ks to Ultras, for the same price you'd buy it from Amazon. Details in the gift guide post, or please email me if you're interested.








Related Stories