---
My Ouray 100K: A Case Study Of An Ultrarunning Blowup
Heading into the Ouray 100 Mile Endurance Run on Friday morning, July 27, several fears gnawed at my confidence, chief among them the mountain passes I had not yet scouted out and that threatened dangerous electrical storms on exposed ridges above treeline. I had spent the past couple of months training on all the major climbs in the second half of the route, but the first part remained mostly unknown, aside from the main arteries of Camp Bird Mine Road and Imogene Pass Road.
"Just get over Richmond Pass to Ironton," I told myself, referring to the section between miles 21 and 27 over a 12,600-foot saddle with a talus field and an off-trail section where dense fog could hide course markings.
The first half-marathon-length section, up and down the first 11,600-foot climb to Silver Basin alpine lake, went by in a comfortable blur that I barely remember, as I settled into a relaxed rhythm of briskly hiking and running any flatter and downhill portions. Then, as we headed up the second 12,200-foot peak, above the remains of Upper Camp Bird Mine, the sky turned charcoal gray and the temperature suddenly felt icy.
But I wasn't scared or worried. This spur off the main mining road, which I perhaps visited with my dad as a kid but didn't remember, fascinated me. I kept peering at the mining ruins—the rickety wooden remains of cabins and sheds, the dark tunnels in hillsides—and my throat tightened as I pictured my grandfather, David S. Lavender, working there in 1932 (as chronicled in his book One Man's West).
"You think this is hard?" I asked a couple of runners next to me as we hiked while leaning into the slope, and I told them about how my grandfather and other hardrock miners worked there during the Depression. My grandpa (who passed away in 2003) operated a hoist deep in the darkness of these hillsides' innards, until he got a better assignment in the fresh air and daylight. His "promotion" involved hammering and busting up boulders into smaller pieces, picking over the rock pile for strains of precious elements to salvage. I wondered, had Grandpa spent time in any of these buildings? Did he bust rocks around here? His spirit fortified my resolve to handle whatever challenges that the trail and weather presented.
Reading the sky, I said to a woman near me, "Time for rain pants," and I donned my lightweight Ultimate Direction Ultra Pants just in time for them to protect my skin and retain body heat as the clouds unleashed piercing BBs of hail. I expected this kind of storm in the afternoon, but mid-morning? On only the second of 14 major climbs? A couple of other runners huddled under a pine tree, shivering, while I kept hiking up the steep grade as the sky thundered and forked lightning danced on the ridge.
Next to an ominous dark pit in the side of the mountain, called the Chicago Tunnel, we had to step out onto a sky-high ledge overlooking the alpine basin and Camp Bird Mine. The race director had placed a hole punch here, attached to a string, and we were supposed to punch our bibs with the hole punch as proof of tagging the peak. (Each hole puncher on the various peaks was slightly different, creating a specific shape to prove we made it up each section.) But the string attaching the hole puncher was so short that I had to kneel down awkwardly to slide my paper bib into the thin opening of the hole punch. My wet, frigid hands slipped and couldn't grip or squeeze it to make a hole. Blasts of thunder like bombs rang in my ears, and lightening crackled nearby. Good grief, is this how I'm gonna die, trying to punch a hole in a piece of paper on a rocky ledge in the middle of the sky? Finally my wet, feeble grip managed to get the goddamn hole puncher to pierce my bib, and then I ran down that trail as fast as I could to get back down to the protective trees.
I had gone barely 15 miles and tagged only two peaks, about five hours into this insanely wild and tough event. We had about 87 miles, 12 more peaks and some 40 to 45 hours left to go.
That was one hell of an introduction to the Ouray 100.
The Highest High
Going up Imogene Pass Road, to tag Fort Peabody in Section 4 of the elevation profile, I started to feel giddy and invincible, absolutely reveling in this environment. Drivers in every Jeep that passed gave encouraging remarks or thumbs-up, and instead of feeling annoyed by the 4WD vehicles hogging the narrow road, I waved back at the drivers while savoring memories of my introduction to these mountains, here on Imogene Pass Road, as a kid in the late 1970s and early '80s. Back then, I'd bounce around in the back of Dad's truck on a ratty mattress with my siblings (no seat belts, of course), clutching the sides and huddling under a smelly green tarp when the sky unleashed precipitation. I looked over my shoulder to the Chicago Tunnel overlook we had tagged and saw the whole mountainside dusted white with fresh hail. I felt in my element, childlike while reconnecting with family roots and imagining my dad (who passed away in 2013) cheering me on. He would have driven his truck up here to spot me and would have gotten such a kick out of seeing me in this race.
I punched my bib again and then bombed down from the high point of the course, Fort Peabody (13,365 feet), and met up with another woman, Autumn Isleib, and hung with her to tackle the bogeyman of Richmond Pass together. We paused at an aid station at Mile 21 that looked depleted, even though a relatively small number of runners had passed through ahead of us. I got the last six ounces of ginger ale, and took some potato chips that surprisingly, and disgustingly, were sour cream and onion flavored. "Hmm, slim pickings," I murmured to Autumn, "and we're near the front of the pack. Uh-oh."
After the finish, I'd hear from a back-of-the-pack friend that he dropped after this aid station, because when he arrived, the aid station had run out of water, and he was dehydrated and drenched. At the finish line celebration on Sunday, one of the race officials apologized emotionally for poor planning and thin supplies at this aid station, and he vowed it would never happen again. I chalked it up as a reminder to always carry backup provisions—such as a water filter for refilling at streams, and extra calories—rather than relying on support along the course.
Autumn and I soldiered up Richmond Pass toward the 12,600-foot saddle, along with the uber-experienced ultrarunner Beat Jegerlehner, with whom on any normal day I had no business running near. We picked our way over wobbly basketball-sized rocks in a talus field that would bedevil me many hours later in the dark as we returned this way after nightfall.
I was aware that I was near front-pack runners and pushing my effort level, but the second major storm of the day was darkening the clouds over our shoulders, ominously approaching the mountain we had to traverse.
"We're gonna beat the storm!" I yelled maniacally to Autumn, "c'mon, let's do this!" and she looked at me as if I were hollering about beer pong on a Sunday morning. But she gamely followed, although a gap widened between us.
"Be disciplined"—the words of advice from the legendary Scotty Mills, which he sent me in a text message the day prior to the race, rang in my ears. But I rationalized I was being disciplined, because I was pushing to save my life over this exposed pass before another storm unleashed its fury.
The course flags routed us off trail to a technical cross-country section that involved rock scrambling. I spotted my friend Howie Stern way up on the summit, taking photos, and I commanded that he put his camera down and give me a hug, and he obliged. Then I took off, picking my way over rocks and following flags through an extremely tricky section while thunder began once again to roar and rumble like a caged animal.
I crested the saddle and viewed an immense bowl of alpine tundra, as smooth and green as a golf course, unfurled in waves below the summit. The three peaks of the Red Mountains in the distance looked fiery crimson, the late-afternoon light and dark-gray sky saturating their colors. Forked lightning illuminated the sky to the north, each jagged flash immediately followed by a blast of thunder to announce its close proximity. I had maybe 10 minutes before that lightning picked on me.
My Spotify playlist cued up Boston's More Than a Feeling as the thunder and electricity enlivened the sky, chasing and daring me. In perhaps the most thrilling miles ever in my 25 years as a runner, I ran pell-mell down the mountainside with the cheesy power ballad in my ears, beating this storm and reveling in the drama of the landscape. "This is like The Sound of Music with lightning," I shouted to one runner I passed, making him flinch with surprise as I zoomed by while he methodically hiked. I reached the protective forest below treeline while sheets of rain started flooding the hillside.
From there I zig-zagged down switchbacks to the aid station where I'd meet my dear friend and crew chief, Clare Abram, and my husband Morgan. Wind-driven rain drenched me, but I didn't mind, I felt totally prepared and insulated by radiating body heat. I ran strong down the dirt road to the Ironton aid station, mid-afternoon Friday around Mile 27, with Tom Petty's Runnin' Down a Dream pulsing in my ears.
As soon as I saw Morgan and Clare, I said wild-eyed, "I may blow up, but those were the best 27 miles of my life."
Sabrina Stanley, who won the Hardrock 100 the prior weekend, and her boyfriend Avery Collins, past winner of the Ouray 100, greeted me at the aid station with hugs. I reveled in the role reversal of these ultrarunning celebs treating me like a rock star. Sabrina took my photo and said, "Way to go, you're first woman!"
"Well, that's irrelevant," I shot back dismissively or defensively, because I didn't want being in the lead to affect my head or my pacing. But of course it did, of course I wanted to hang onto that lead.
The Lowest Low
About 13.5 hours and 31 miles later (which translates to a 26-minute/mile average pace for those 31 miles—yes, the going really is that slow), I stumbled into the Weehawken Aid Station, Mile 58, around daybreak, a completely different person.
"Must nap, 15 minutes," I mumbled to my friend and pacer Allison Snyder, and without thought I lay down and lost consciousness on the aid station's pile of drop bags, cold air seeping through a poncho and chilling my bones. I was out as quickly as if anesthetized.
I had in my head that the past five miles of the Weehawken segment would be the easiest on the course, ascending only to about 11,000 feet, and plus, I'd have Allison accompanying me beginning at Mile 53. I had done this segment during a training run, no big deal. Even the name "Wee-hawken" sounds cute. But I began to unravel on that Weehawken out-and-back. Coming back into the aid station, powerless to resist a nap, I felt shocked and numb, disbelieving how quickly my race had devolved and left me trashed.
Earlier, I had nailed Miles 27 to 53. All my logistical planning and gear prep paid off; Clare had what she needed, such as several layers of fresh clothing and dry jackets, to take care of me and feed me at the Ironton Aid Station (which runners pass through three times). I had steadily ticked off the 16 miles on the double loop known as Corkscrew Gulch, between Miles 27 – 43, sharing several hours with a jovial fellow from San Diego, Eric Makovsky, who took nearly 50 hours last year to finish the Ouray 100 and felt stoked to shave several hours off his time this year. A pediatric nurse and professional singer, he had an effervescent spirit that kept me humming along past nightfall.
I approached the 12,600-foot Richmond Pass close to midnight and solo (Miles 43 – 49), and still felt relatively strong. Ascending Richmond Pass felt monumental, harder than any pass I'd experienced while pacing the Hardrock 100—even the 14'er Handies—and descending proved no easier, due to the cross-country section that involved rock scrambling with eyes straining to spot the next flag in the dark distance; and the chunky, sharp, unstable rock footing on the decline, whose crevices threatened to grab and snap my trekking poles. At least a full moon rising in a clear sky enhanced the lighting and views.
I thought about a text that iRunFar's Meghan Hicks sent me a day earlier, wishing me luck and fortifying my resolve. Meghan, a Hardrock 100 and Tor Des Geants finisher, hasn't done the Ouray 100 but knows it from pacing her friend Melissa Beaury, who holds the women's record in 34:26. Meghan had noted how the Ouray 100 messes with runners psychologically—the severe weather, the out-and-back sections with repeat visits to the same aid stations, and most of all, the interminable vertical gain and loss.
"You always have to climb at least 3K and descend at least 3K. Don't even think about it, just do it," Meghan typed to me. I was just doing it, but I was thinking about it, too, thinking especially about all the mountain passes in the second 50 miles that I'd have to spend another 24 hours going up and down.
Then I met my friend and pacer Allison at Mile 53, sometime around 2:30 a.m., and several bad things started to happen. These bad things began to mix and flow together, gaining power like a cascade.
In hindsight, I experienced the first "uh-oh" signals on the hard Richmond Pass return climb, but I pushed them away until they demanded attention on Weehawken. In no particular order, the bad things involved:
A pulse in my ears that sounded like a heartbeat in my throbbing head.
A gunk in my lungs that fluttered and burned with each deep breath.
A gag reflex that rebelled against swallowing anything, even gels.
A swelling in my shins and ankles that restricted the ability to flex my feet, making my lower legs feel stumpy and clumsy.
And perhaps worse, a blend of discouragement, frustration and self-pity. These emotions fomented a mental storm that doused optimism. I blamed it partly on the trail friends with whom I'd chatted amicably hours earlier—first Beat, then Eric, then two women named Sunny and Esa, followed by Autumn—all passing me while seeming and acting like their determined, positive selves. I recognized it wasn't their fault, it was all mine, which only made me feel worse.
When I started the Weehawken climb with Allison, she did her best to revive my spirits, but she couldn't improve my oxygen intake. I couldn't catch my breath; even at this snail's pace, I breathed heavily and rapidly as if recovering from a sprint. I tried a pattern of counting 20 steps, then pausing to lean on my trekking poles and breathe deeply for 10 breaths. But that didn't help. I took a few hits off my new Albuterol inhaler, which I got in June following respiratory issues at the San Juan Solstice 50, and it provided short-lived relief. My lungs were telling me—through coughing, burning and rapid breathing—that I had stressed them out by working so hard in such thin air for the first 50 miles.
Without adequate oxygen flowing through my blood, my gut started to shut down, my muscles strained to do their job and my brain became more foggy. The only way I could respond was by slowing down considerably so that I would need less oxygen. So I started moving like a geriatric hiker at about a 35-minute/mile pace, with lots of short breaks, and consequently, cold and stiffness numbed my limbs. The desire to sleep trumped the desire to catch up to those who had passed me.
Giving Up, or Giving My All?
Allison woke me up after the 15 minutes I spent passed out on the drop bag pile at the Weekhawken Aid Station. Almost immediately, I started shivering. My eyes took in the site of Vale Hirt, a perky, small-statured, big-hearted woman who was attempting the Ouray 100 after two prior DNFs. She had been way behind me, and now here she was, staggering and telling her pacer she needed to sleep.
I summoned all my strength to form words and speak authoritatively from my prone position in the dirt, "Do not lie down, Vale. It's not worth it. You'll feel worse." She nodded, acknowledging the wisdom of this old lady in the trash heap, and slumped miserably in a chair instead.
I thought to myself, She really cares about this race. I'm not her.
I closed my eyes again and visualized the mountain passes and peaks we faced in the next 42 miles: Hayden Pass, summiting around 12,000 feet up, out and back again; Twin Peaks, up to nearly 11,000 feet, climbing rotten, loose wooden steps falling out of the eroding mountainside; Chief Ouray Mine, up and down another zigzag of switchbacks up another 3000-plus feet; and then the final 11-mile ascent way above tree line, up more swaths of switchbacks on a talus field, to the so-called Bridge of Heaven.
I had done all of those segments in training runs, to prepare for this moment. But those careful, arduous training runs on those segments dissuaded me now. I had seen them in daylight already; I knew what to expect. And every part of me did not want to see or do them again. I wanted to avoid them from the comfort of my condo; I wanted to call it a day at 24 hours.
I sat up and told Allison, "Do you have any coverage here? I'm going to call Morgan. I just can't face the remaining passes like I'm feeling, at this pace." I asked for her phone and took my tracking device out of my pack to hand to the aid station official.
Allison looked at me sympathetically and said something philosophical such as, "You know yourself best."
I called Morgan, who was a few miles away at our condo rental in Ouray, at around 6 a.m. "I'm dropping, I need to."
He didn't need an explanation. Sounding chipper and relieved, he said, "No problem! It's OK, I'll be right there."
I huddled on the ground, miserable, shivering uncontrollably. Vale got ready to leave and urged me to follow her. I shook my head, saying, "I'm done."
Meanwhile, back at the condo, Clare was supposed to be sleeping in because she planned to start pacing a mutual friend in about 12 hours. She expected Morgan to leave the condo to meet me at the next aid station several hours later. She woke up confused and told my husband, "It's too early for you to leave," and he explained that he was going to get me.
"Oh no, no," said Clare, jumping out of bed, a woman always on a mission.
About 10 minutes later, I saw our truck drive up, and I spotted Clare next to Morgan. I told the aid station official—to whom I was on the verge of handing my tracking device, but I just couldn't unleash my grip—"Oh, fuck, here comes the good-cop, bad-cop."
Clare marched up, all business, no bullshit sympathy, and in her prim British accent announced, "Oh, no. No. I do not see a bone, I do not see blood."
She pulled a folded piece of paper out of the pocket of her down puffy, the memo I had printed out for her as my crew chief. She unfolded it and pointed defiantly to a paragraph I had typed a week earlier. "It says right here, right here!" she jabbed the paper for emphasis, "that I am not to let you drop unless you have a bone sticking out or you're bleeding."
I looked at Morgan, who half-shrugged and cowered next to Clare. He was not going to save me. And then I burst into tears, shoulder-wracking sobs. Clare, the person who had paced me to a sub-22 finish in my first 100-miler, and a sub-24 finish at the storied Western States 100, was not going to let me off easily, was not going to let me down. Her determination and loyalty wrenched my heart and made me feel like more of a loser, and I cried harder.
Clare kneeled down, put her arm around my shoulders, and said, "I've been there. Do not think about all the miles left. All that matters is getting you to the next aid station. Let's get some food in you."
I sobbed and shivered. Allison and Morgan stood back, looking uncertain, deferring to Clare, the Captain Sully about to land a crashing airplane.
Clare barked orders to get the sleeping bag, get some ramen. I saw another woman who had been way behind me, Tina Ure, the multi-Hardrock finisher, come into the aid station and look at me as if, "I'm glad that's not me," and I sobbed harder. All the pent-up congestion in my sinus passages and lungs gushed through my nostrils and mouth, making me gag and cry more as Allison—in her first ever gig as a pacer, probably wondering what she had signed up for—fished a wad of toilet paper out of my pack.
The cocoon of a sleeping bag, and a hot bowl of ramen, made the shivering subside. Clare told me, "You're going to get to Crystal Lake," the next aid station about eight miles away, over a 12,000-foot pass. It was an order, not a question, and I nodded sheepishly. I tucked my tracker back in my hydration pack's pocket.
Clare pulled me up and steadied me on wobbly feet. I started moving down Camp Bird Road, toward the next trail head, on autopilot, still crying, my hydration pack hanging off my shoulders not properly attached, my trekking poles scraping the dirt while dangling from straps on my wrists and dragging uselessly, Allison scrambling in the background to get ready and follow me, all the litter and layers of clothing I had shed left behind on the ground for Clare and Morgan to clean up. I fumbled to put earbuds, attached to my old iPod Shuffle, into my ears and to tune out everyone and everything except the music. Shuffling, sort-of jogging, I advanced to the next trail head.
I so very much wish this story took a turn toward a happy ending here. I so very much wish Clare had been right when she promised me I'd feel better with the sun rising in the fresh new day.
But I felt even worse on these next miles, crossing the 100-kilometer mark. The breathlessness, weakness and gag reflex returned. On the steepest section, I paused to take so many breaks that it took about 40 minutes to go one mile.
When we finally summited Hayden Pass and began traversing and descending, I tried to regain a positive mindset by noticing how I breathed more normally on the downhills. But I couldn't bust up the pity party. As soon as we started going downhill, I felt miserable and sorry for myself because my lower body lost its functionality and my feet forgot their agility. The swelling and numbness in ankles and shins spread upward to knees and thighs. I felt as if I had the after-effects of an epidural, unable to control my legs. I used my trekking poles as if they were crutches, relying on them for balance as I slipped and tripped repeatedly.
I felt utterly debilitated and miserable. I kept dwelling on how I want to be a strong runner who covers 100 miles in 24 hours, not a slow, weak hiker who takes twice as long on a course like this. No part of me wanted to spend the next 24 hours traversing the remaining mountain passes in this manner. My body felt so foreign and messed up, I worried I was crossing over from mere suffering to inflicting long-term damage (likely not the case, but the possibility messed with my head at the time).
The steady train of runners ahead of me—the peer group I should have been running alongside; Beat, Sunny, Esa, Eric, Autumn and others—passed me one by one on their return from the next aid station, steadily hiking back up the mountain above tree line while I struggled to crutch and stumble down the trail, a couple of hours behind them. I decided, and felt certain, I would inform my crew at the next stop that I'm dropping, and not let them talk me out of it. I stopped caring about finishing. I only cared about avoiding the climb back up this mountain after the turnaround at the aid station.
The hardest thing would be facing the faces of my crew, not just Clare, but also John Medinger and Lisa Henson. John and Lisa, the ultrarunning legends who had been waiting for hours at an aid station for my arrival so that Lisa could pace me the final 25 miles. I was so looking forward to spending 25 miles with Lisa.
They cheered my arrival as if it didn't matter I was several hours behind my timeline. Seeing their energy, their support, their care and enthusiasm made me start crying again, from guilt and defeat. Because I had made up my mind and was letting them down.
Clare started her "No, no," dialogue as if quitting were not an option, but I said, "You can't talk me out of it this time. Please don't. I can't go back up that mountain, and even if I could, I couldn't get down the other side. I won't."
They tried so hard not to listen to me and to act as if I just needed rest and sustenance in order to get back on the trail.
The fact that part of me knew they were right just made me cry harder and feel like more of a failure. (I have never bawled like this in public, except briefly at the finish line of the 2014 Miwok 100K. I couldn't control the pathetic, cathartic tears, which released all my pain and disappointment.)
I objectively knew I had enough hours before cutoffs to keep going and make it to the finish, even at this ridiculous glacial pace of 30 to 40 minutes per mile. But I couldn't summon any desire. I was too miserable, too doubtful of my ability to handle the remaining downhills on Gumby-like legs. I wanted to get off the trail and end the suffering more than I wanted to finish, and I didn't see a way to turn around those feelings.
Lisa, John, Morgan and even Clare finally gave in. They let me hand my tracking device to the aid station official, and they helped me to our truck. I felt enormously grateful and relieved, letting go of my cares and, finally, letting myself truly rest.
About an hour later, as I took care of my aged, depleted body in our condo, I heard thunder and looked out the window to witness another extreme storm. A friend took the picture below on Highway 550, not far from the Crystal Lake Aid Station where I dropped out. This is the storm that I would have hiked through on the return trip over Hayden Pass if I kept going—the storm that Vale, Tina and others in the back half of the pack bravely suffered through on the mountain ridge. During the storm, I felt relieved and grateful I wasn't with them on the mountain anymore.
The Day After
I spent the next 24 hours, from midday Saturday until the final cutoff time for the event at noon on Sunday, napping and feeling mostly relieved. Also, I became happily distracted by crewing for my friend and client Tara, who ran the event's 50-mile division throughout the night while Clare paced her in the final 25 miles.
It wasn't until about 12:30 p.m. on Sunday, as we all gathered for the finishing ceremony at the Ouray Hot Springs park, that regret predictably and painfully began dominating my emotions.
I saw the faces of Sunny, Esa, Autumn, Vale, Tina and others who had finished. Sunny, the first place woman, took 44 hours, 46 minutes; Tina, the final female finisher, took 50 hours, 50 minutes. I felt such admiration for them—I wanted to be them.
Of the 81 100-mile starters (19 female, 62 male), 31 finished (8 female, 23 male), a 38% finish rate.
I believe I could have been finisher number 32. I know readers of this story will conclude that I went out too fast or pushed too hard in the beginning. I disagree, I think I simply did my best and made the most of the first quarter of the route, and I wouldn't want to temper the emotional high of that first day. The problem is, I didn't want the finish badly enough, and my ego stood in the way of making peace with falling so far behind. I never had my head or heart fully committed to suffering and enduring through the second day and second night. Well-wishers via Facebook sent messages telling me, "You gave it your all," but I don't think so. I suffered mightily, but I gave up before giving it my all.
I feel chagrined by my second-ever DNF, this one so much harder than the first because I invested so much time and training in the Ouray 100. I'm confronting the reality that I did not fulfill my hopes or live up to my expectations, and I wonder whether I have it in me to personify the "wild & tough" Hardrock motto. And yet, I'm not sure I want it enough to finish it, even after experiencing this disappointment. I don't know if I can bring myself to sign up again for some 48 hours of miserable slow hiking in extreme conditions, given how I felt at the 24 hour mark. Part of me wants to sign up for the 50-miler and see how well I can do at that distance.
For now, I will hold off any decisions about signing up again next year. I'll savor those magical first 27 miles, the friendship and support of my crew and other trail friends, the haunting beauty and power of those mountains, and especially, the experience of 66 miles in one of North America's hardest 100-milers that athletically and psychologically took me to the zenith and nadir of mountain running.









Related Stories
Ouray 100 Preview: Some Background On This Ridiculously Challenging Ultra That I Start in About 36 Hours
Hardrock, Hardwalk, Wild & Tough, Kiss the Rock—I'm getting over last week's Hardrock and letting go of longing for it. I've found another event to capture my heart or at least fill my headspace.*
As much as I've hoped over the past several years to run the Hardrock Hundred Endurance Run, and as much as I've savored flirting with Hardrock by getting involved as a pacer or volunteer in years past, I'm accepting the likelihood I'll never get into that venerable, clubby 100-mile race that loops around the San Juan Mountains, due to its daunting lottery odds for the mere 45 spots available to first-timers.
(* I say that now. But I know, I will continue to yearn for a chance to be a Hardrocker, and I'll keep entering its hopeless lottery with a feeling of futility each November. If someone named Dale calls my name, I'll come running …)
This year, I decided to turn my sour grapes into fortified grape juice and attempt an upstart, scrappy race the following weekend, on the same mountain range, that's arguably even more difficult (approx 41,000 feet of elevation gain up 14 major passes or peaks). It's a race that almost any 100-mile ultrarunner can enter due to its more relaxed qualifying standards and, for now, its lack of a lottery (though I predict it'll rocket to popularity in the coming years, in large part due to Hardrock's impenetrability).
It's the 5th running of the Ouray 100-mile Endurance Run!
This Friday morning, July 27, I'll be one of 98 entrants starting the Ouray 100—22 of whom are female, almost 23%, a much better representation than at Hardrock, where only 13 of this year's 146 runners, or 9%, were female.
Since this Ouray 100 is still relatively unknown, and it's still working to repair a reputation tarnished by an inauspicious first couple of years, I decided to write a preview with some stats and background, as well as a snapshot of my training and present freak-out.
Some Facts & Orientation to the Ouray 100
Whereas the Hardrock 100 is a giant loop, the Ouray 100's route looks like an alien insect with legs and stingers branching out from a spine, with a loop like a head at its southern end. The 100 miles feature a series of out-and-backs, plus one double loop, and runners must tag several peaks using a hole punch placed at the top of some of the peaks. (I've had anxiety dreams about searching in the dark on a mountaintop for a hidden hole-puncher.) We also must traverse two big passes that connect the "spine" of Camp Bird Road with Highway 550.
Here is a map that shows the overview, which I annotated to show the different sections that are reflected on the elevation profile below. The start/finish is at Fellin Park next to the Ouray Hot Springs (same place as Hardrock's Ouray aid station).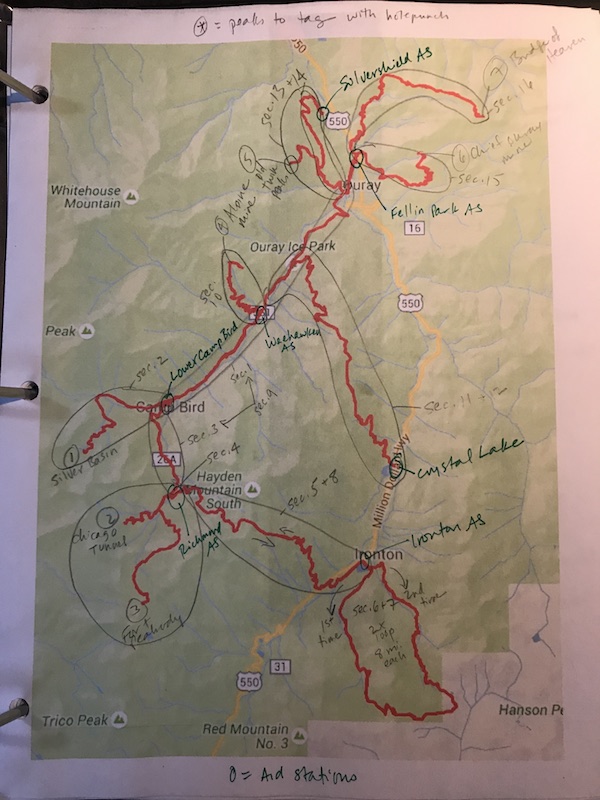 And here's the elevation profile, with the peaks and passes, and their elevations, labeled: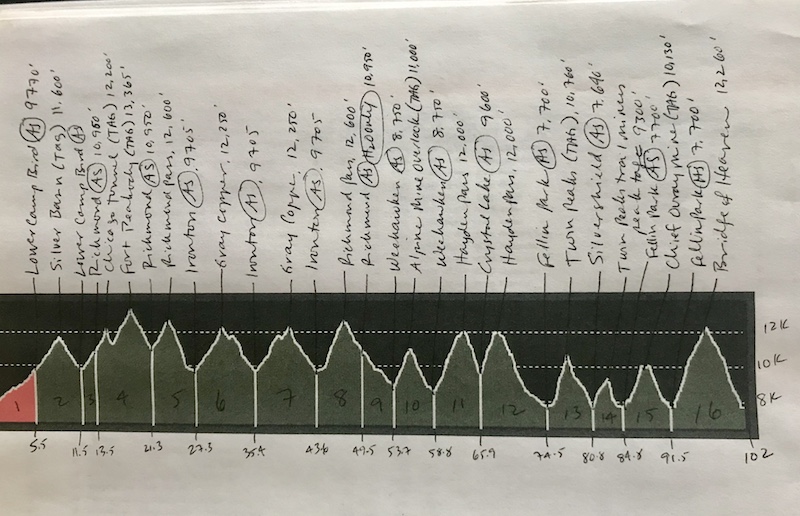 You can read the course descriptions here and follow along with live tracking on race day here.
If you want a great overview of the course, watch this documentary film, the Ouray 100,
about Avery Collins running the 2016 Ouray 100, available through Amazon Prime.
One big difference between Hardrock and Ouray: Ouray will be more sociable insofar as runners pass each other several times on out-and-backs. As a rookie to this event, I like that. Also, it's much easier for crew and pacers to reach their runners. The three main aid stations with crew access (Fellin, Crystal Lake, Ironton) are all along Hwy 550 within about 25 minutes of each other.
A Brief History of the Ouray 100
I was under the impression that the Ouray 100 cropped up as a market response to Hardrock's popularity, a chance to capitalize on the difficulty of gaining entrance to Hardrock. But two weeks ago, when I sat down with race director Charles Johnston to chat about the Ouray 100's origins, I discovered I was wrong. This event started out as a whim, independently and almost randomly. Here's a timeline; there's a bigger story to be written here, but I'm keeping it relatively short because I'm busy getting ready for the event and need to go to bed early (as if!), and I want to develop this story more and talk to others about it.
2013: Charles Johnston, then only 29, moved with his wife from Houston, Texas, to Montrose, Colorado, for a job. Charles has a background as runner who dabbled in ultras, influenced like so many by Dean Karnazes's Ultramarathon Man, but he knew almost nothing about southwestern Colorado and was pretty clueless about the Hardrock 100. (He has since graduated to running the Moab 240.) He's a CPA who started working as a CFO for a company near Montrose, and a passionate guitar player. But he didn't have aspirations to become a race director until he took a foray up Imogene Pass Road and became dazzled by the San Juan Mountains around Ouray. He also paced 40 miles at the Leadville 100 that year and got a taste of Colorado ultrarunning through that experience.
"I was oblivious to this area—I didn't know this part of the world existed," he said as we sat in the Starbucks inside the Montrose City Market.
2014: Charles got the notion to become a race director, on top of working full time and becoming a dad. But he didn't start gradually. This is a guy who goes all in and thinks big; he and his wife had four kids over the past five years, for example.
"I've been described as a high-functioning crazy person," he told me, his furrowed, thick eyebrows, and intense gaze behind glasses, making his face look dead serious.
So he launched a small, low-profile 50K near Montrose in May of that year, a 100K near Gunnison in June, another 100M near Crawford in July, and the first-ever Ouray 100 in August, because, why not? Even though he was new to race directing, an outsider with few connections to recruit volunteers, he decided to go for it.
"I wanted to try it, to see if I could do it," he said. "I lost a ton of money. It was a disaster."
Still, he managed to pull off the first annual Ouray 100, with 35 starters and 19 finishers—but it was a completely different course than today's route. Hence, the first year of the Ouray 100 doesn't really count in comparison to the current event. It had "only" about 20,000 feet of elevation gain and followed a lot of county roads. Courtney Dauwalter, lesser known at the time, was first female and second overall in 26:46. But no one pays much attention to the 2014 edition of the Ouray 100 because Charles went on to change it completely.
He says runners asked him afterward, "Why didn't you keep it more in the mountains?" So Charles consulted with longtime Ridgeway runner and retired RD Jan Peart about how to improve the course. He says she sketched out what's close to the current route on a napkin. He liked how it was geographically concentrated, to simplify permitting and aid stations.
He made a new route proposal, added up the elevation gain, and discovered it came to around 38,000 feet. (The Hardrock 100, by comparison, climbs 33,000 feet.) "I thought, I can't just do 38. It's gotta go over 40,000," Charles recalls. So he modified the route some more, got the permit approved, and got ready for the 2015 edition.
How did 2015 go? Oh, the horror, the horror.
2015
Charles realizes now in hindsight that he could have done a lot more to prepare runners' expectations for the radical course change and skyrocketing difficulty from the 2014 to 2015 editions. "I did a terrible job emphasizing that it was going to be a bloodbath with almost 42,000 feet of climbing," he said.
Charles set an ungodly 4 a.m. start time. (He has since changed it to a very civilized 8 a.m. start.) Then he got to race-day morning sleep deprived and stretched way too thin due to a combination of factors—his company was going under, prompting a wave of layoffs he had to announce; he had newborns and toddlers at home; he was tired from helping with the Colorado 200 a couple of weeks prior—and all that conspired to make him reach his own event exhausted and tardy. He showed up 15 minutes late to the start of his own race, facing a mob of angry runners. "I was running on fumes at that point, and I didn't have the bandwidth it [the Ouray 100] deserved," he said in his candid, straightforward way.
Then the event went from bad to worse when the tracking function he had promised runners and crew didn't work out, so crew had no way to track their runners. Plus, for 48+ hours, the sky dumped rain as only the San Juan Mountains can. "The weather was awful, like something from a movie," he said.
Because of the topography and stormy sky, GPS watches went nuts and inaccurately tracked significantly longer mileage than the course actually measured, creating more confusion and anger among runners.
Forty-five runners started. Nine finished.
"I don't think it was a good experience for anyone," Charles sums up the 2015 Ouray 100. "I overpromised and underdelivered."
A handful of pissed-off participants provided a kicker to the 2015 edition: They lobbied the Forest Service to revoke the event's permit. (This is all according to Charles; I haven't talked to others about this yet, but hope to find out more of the full story after this year's event.)
Charles could have given in or given up, but instead, "I came back with full fury, ready to fight." He felt determined to correct his event's shortcomings and make the event a respected, sought-after 100-miler.
2016 and 2017
I didn't have time to talk to Charles about what happened over the past two years—our time ran short in our interview—but you can see the story yourself by watching the Ouray 100 documentary linked above (filmed in 2016, with some additional footage from 2017).
In 2016, only 30 runners started the 100-miler, and only 5 finished. Avery Collins won in 34:01, and the fifth official finisher took 50:25. No woman finished the event since the new course was introduced in 2015.
In 2017, participation jumped up to 58 starters, with 22 finishers. Chris Price won in 30:46. Most notably, the first woman, Melissa Beaury of Moab, finished in a fast time of 34:26, and three other women also finished.
Who knows how 2018's race will unfold? I'm grateful to RD Charles Johnston for having the vision and tenacity to develop and improve this event, which seems this year to have finally reached a critical mass for participation.
A Brief Lament About My Training and Expectations
It's getting late on Wednesday night, and I should be getting to sleep rather than doing this blog post. Suffice to say my training is not what I hoped it would be, but I believe it's good enough. My only truly long, all-day training run was the San Juan Solstice 50-miler in June (a little under 14.5 hours). I only had one week, the week of July 2, that amounted to more than 70 miles of training. I hope to be like one of those old-goat veteran Hardrockers who don't train at a very high volume but who leverage muscle memory and wisdom from past ultras to tough it out.
On a more positive note, I've been adapting to these high-altitude mountains since early May, and I'm on my feet and much more active than when I'm living in the Bay Area. I was able to get to Ouray and scout out many segments of the route. And I feel logistically organized with a great team supporting me! From mile 53 to 74, my friend Allison Snyder of Ophir, who co-guides the San Juan Mountains Running Camp with me, is pacing me; then, the ultra-experienced Lisa Henson takes over pacing me for the last quarter of the event while her husband Tropical John Medinger helps as crew. Meanwhile, my wonderful ultrarunning friend and pacer Clare Abram will be my crew chief the first 74 miles. Then she puts on her pacer hat and paces my friend and client Tara Butson, who's doing the 50-mile version of the event, for the final 25 miles of her race. Not pictured below: My phenomenal husband Morgan, who also will be in Ouray crewing and managing our kids and animals.
I'm feeling overwhelmed but excited about Friday through Sunday. My best-case scenario estimates me finishing around 42 hours. But the event has a 52-hour cutoff. That means I could finish anytime between 2 a.m. and 12 p.m. on Sunday. I can't fathom running and hiking into a second night. I'm also wickedly frightened of the thunderous storms hitting hard each afternoon; just today, we had a hail and rain deluge with ear-splitting thunder and lightning. I really don't want to be above tree line on an exposed mountain pass when a storm like that hits Friday or Saturday—but I could be. I'll just have to live and breathe the Hardrock "wild & tough" motto and get through it, one mountain pass at a time.
Gear Essentials
Given the afternoon downpours happening almost daily here, I need to be well prepared with many layers of dry clothing available in my pack and drop bags. These are the key pieces of gear I'm using and recommend:
UD's Women's Ultra Jacket V2 (available in men's style too)
UD's Women's Ultra Pant V2 (ultralight & comfy rain pants, also available in men's style)
UD's Adventure Vesta 4.0 (favorite large-capacity hydration vest with trekking pole holders and lots of great features)
Black Diamond Z-Poles
(essential for helping me get up and down the loose scree and to gain stability on sketchy segments with drop-offs)
And to carry it all: UD's Crew Bag, an ingenious duffel with lots of see-through outer pockets and inner pockets for organizing, and backpack straps for carrying
For fuel I'm relying on GU products—Rocktane drink mix, Rocktane gels and Stroopwafels—because they're highly effective sources for calories and electrolytes, and they're easy to get down while breathing hard in the thin, dry air on the trail. I'll eat more substantial food at aid stations.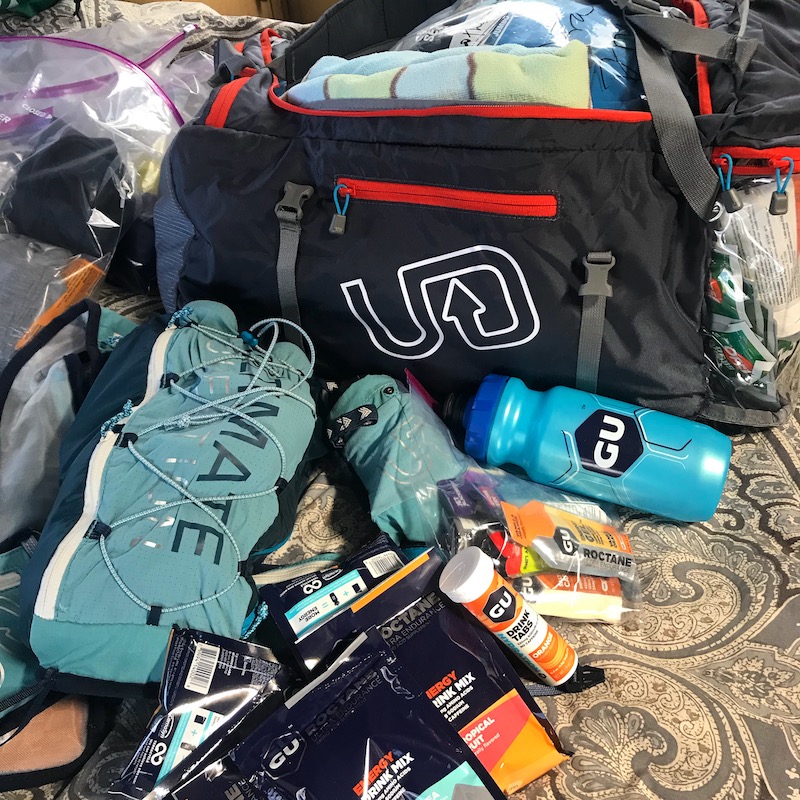 One Last Request & Reminder
Tapering has given me fresh legs. But my book needs fresh legs, too! You can really help by recommending my book on Amazon with a customer review, or by giving it a social media shoutout. What, you say you haven't read The Trail Runner's Companion? Please check it out! The Trail Runner's Companion: A Step-by-Step Guide to Trail Running and Racing, from 5Ks to Ultras
Allison and I are seeking more signups for our Sept. 23 – 26 camp in the mountains above Ouray and Ophir. If you'd like to run around these mountains when the aspens are turning golden, please join us! Check out my last blog post to learn more about it, and see this website.
Now it's time to sleep, pack, head to Ouray and go offline until the end of the event on Sunday, July 29!








Related Stories
4 Mountain Running Traits Developed At Our San Juan Mountain Running Camp
Michelle, a flatlander from Chicago in her late 40s, had never encountered the kind of rocky, washed-out segment of trail we faced.
She arrived in southwestern Colorado only a day prior, and consequently she needed to adjust to the thin, dry air we breathed at high altitude. The first mile of our first run through an aspen grove, with the town of Ouray framed below, featured switchbacks on a talus field, and the chunky, sharp-edged rocks felt wobbly underfoot. As if immediately ascending some 500 feet on this terrain weren't enough of a challenge, I was asking her to pick her way through a recently flooded slide of dirt and mud that dropped to a canyon below.
She looked frozen with doubt. But, trekking poles in hand and determination on her face, she pushed forward and navigated the tricky spot.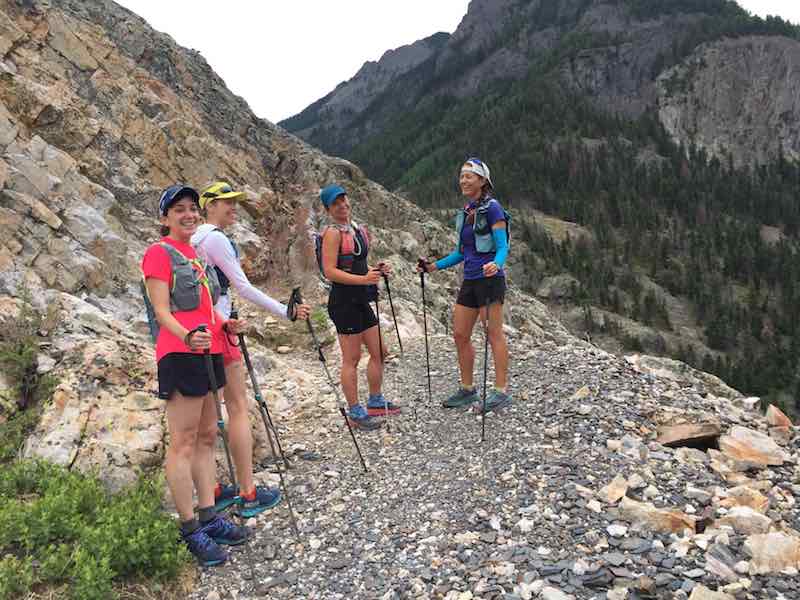 "For these three days," I told her and others in the group, gathered for our inaugural San Juan Mountain Running Camp, "I want you to encounter and experience challenges on the trail that you don't expect, and that perhaps intimidate you, because you'll discover that you can get through and handle more than you think you can. And you'll develop one of the key traits for success at mountain running: adaptability."
Last week, along with my runner friend and mountain maven Allison Snyder, I co-guided and coached a small group who had signed up for our camp, which took place in the mountains above the town of Ouray and the tiny historic mining village of Ophir, not far from my home in Telluride. Parts of our routes overlap part of the Hardrock Hundred Endurance Run route near the Chapman Gulch and Ouray aid stations.
Everyone involved, myself included, felt these three-and-a-half days together made a highly worthwhile and magical getaway in the mountains. We're doing it again September 23 – 26, and spaces are still available to register; check out the website for details.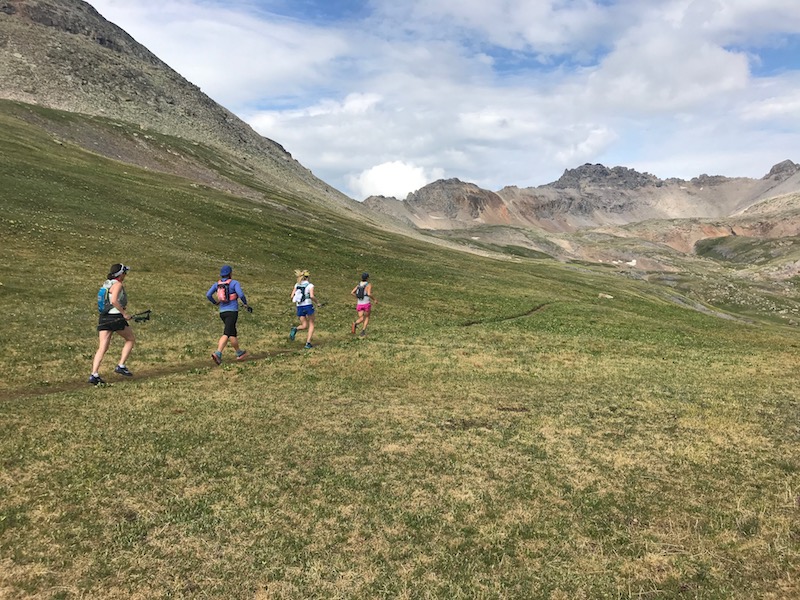 Another participant, also named Michelle but from the Bay Area, called the camp "the highlight of my summer—sharpening my skills in mountain running, navigating difficult terrain, power hiking, proper trekking pole use, downhill technique, scree wall scrambling and high elevation training. We worked HARD, tackled tough terrain, challenged fears and laughed!"
Here are four key traits or skills I sought to nurture among the participants as their coach:
Adaptability
I explained that I wanted this camp experience to be like the one I experienced in Juneau, Alaska, in 2012 with Western States 100 champ Geoff Roes—a camp that proved pivotal in my development as a mountain/ultra/trail runner. During that time in Juneau, Geoff took us on routes that made me hug and climb over a downed tree lodged in an avalanche flow, glissade down a snowy mountainside on my backside, and fish my shoe out of shoe-sucking mud. I used my hands and moved my body in ways I never normally needed move to as a regular runner. I learned to adapt to, and get through, whatever surprise the trail presented.
A flexible mindset, and problem-solving for troubleshooting, enhance adaptability. Thankfully, our group didn't encounter any significant problems aside from quick-changing weather that frequently prompted us to take layers of clothing off and on. Mainly, the newcomers to the San Juan Mountains had to adapt to the complexities of the terrain and the steep slopes, learning to use trekking poles efficiently and to take care of their bodies along the way through refueling, rehydrating, and protecting their skin and regulating body temperature due to strong sun and moments of precipitation.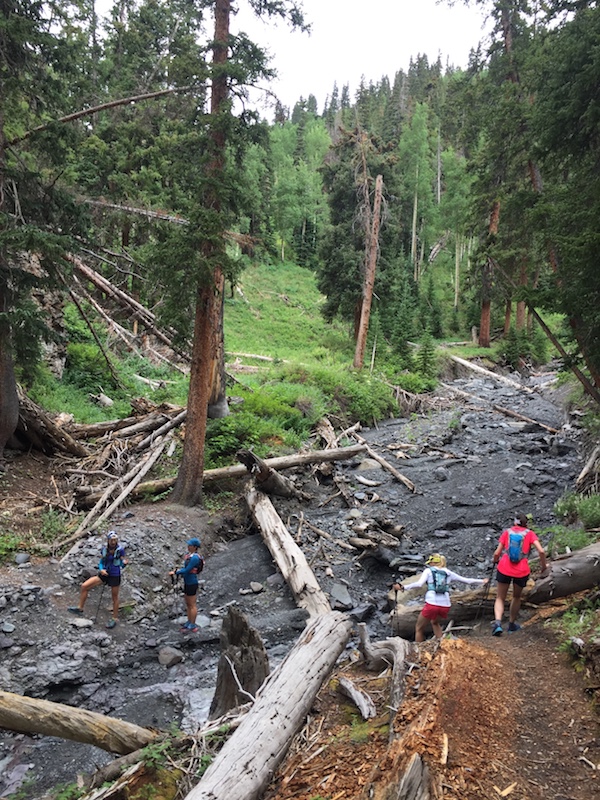 Safety & Self-Reliance
Over dinner on the first night, I gave a show-and-tell of the gear I carry in my hydration pack for mountain outings. "Ask yourself, if you got hurt and had to stop moving—say, from a rolled ankle—could you take care of yourself, and stay warm as your body temperature drops, for a half hour or longer? Would anyone know how to find and help you?" Then I showed my pack's contents:
Hydration (including a Katadyn Befree Water Filter with Collapsible Flaskto refill at streams) and extra calories
First aid kit including self-adhesive bandage to wrap an ankle, a small syringe to flush out a wound, lots of bandages, and antihistamine in case I come upon someone suffering an allergy attack
An emergency bivy
A signaling whistle
A light source (lightweight headlamp if I head out in the afternoon; otherwise, I keep my phone on low-battery mode and could use its built-in flashlight)
Map (paper map and/or photo of a map on my phone)
Matches
Extra layers of clothing: gloves, hat, windbreaker, lightweight poncho
Sunscreen and other sun protection
My phone with the sheriff's search and rescue number listed under "favorites"
A SPOT GPS Messengertracker that shows my family where I am and can send an SOS message to search and rescue with my GPS coordinates in a life-threatening situation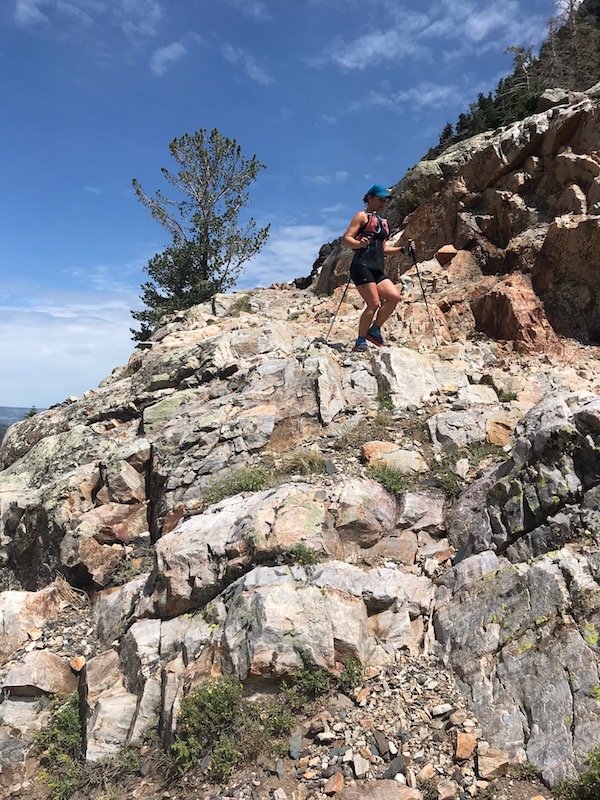 Agility
On the morning of Day 2, we ran a half mile from the backcountry lodge where we spent the night and paused at the summit of Ophir Pass Road, elevation 11,789 feet. I gave tips on downhill running technique to help them smoothly navigate the uneven terrain with a quick, light footstrike for about 1000 feet of elevation loss over 1.5 miles. I told them to keep their poles packed away and to let their arms float freely by their sides, acting as stabilizers. We did a head-to-toe check of how eyes, shoulders, arms, core, glutes, knees and, of course, feet all assist in downhill running, the goal being to reduce impact through good form, and to avoid tripping and falling. They repeated after me, "Pick your feet, lift up your knees!"
Agility on technical terrain is a skill developed over time, as eye-foot coordination improves and the mind learns to "read" the trail for the best line. Experienced trail runners seem to float over the roots and rocks, lightly touching the surface for a split second, rather than over-thinking where each foot should land and braking with each step. They also learn to transition seamlessly between brisk hiking and running, whichever feels most sustainable and efficient given the trail segment's character.
Becoming more agile—and gutsy—built the runners' confidence on sketchy slopes and segments of narrow trail that featured drop-offs. (If you want details on downhill and uphill mountain-running technique, I hope you'll order and read my book, The Trail Runner's Companion: A Step-by-Step Guide to Trail Running and Racing, from 5Ks to Ultras,
which features a chapter called "Conquer Hills and Navigate Gnarly Terrain" that covers this topic in depth.)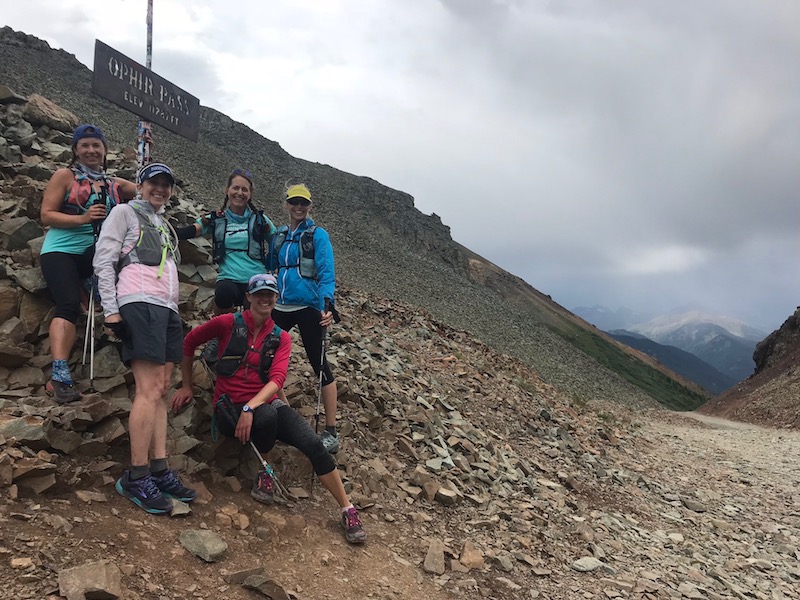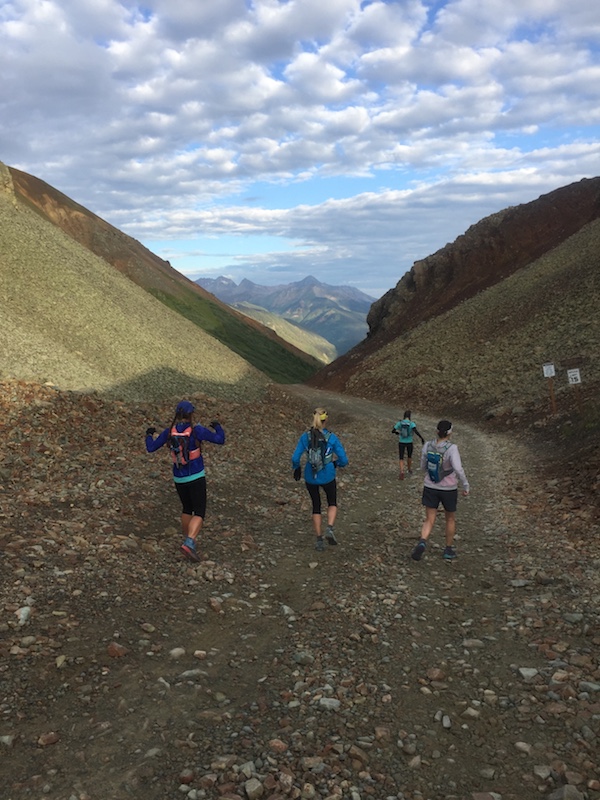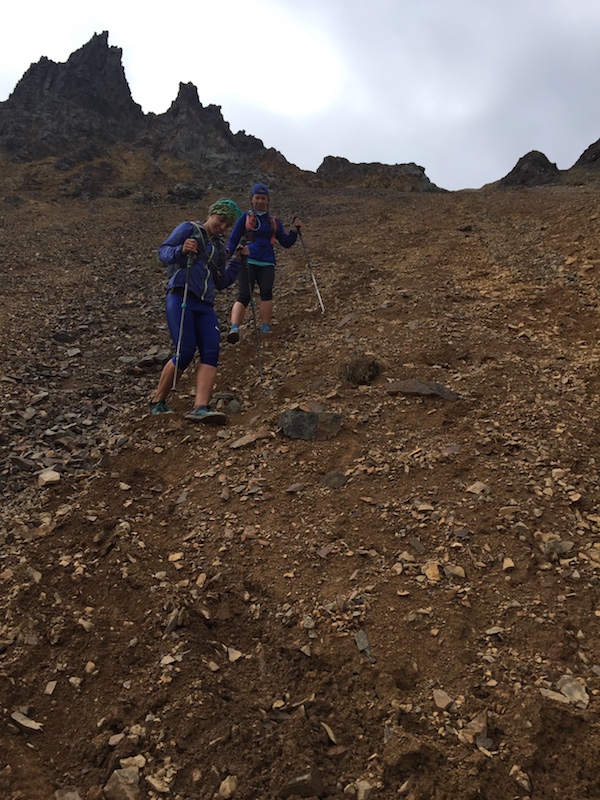 Endurance
Mountain running takes more of everything: more calories and hydration, safety gear, and especially, time and patience. That's because the pace tends to be extra slow. It's not unreasonable to expect high-altitude mountain "running" (broadly defined to include a lot of hiking) to average only 3 miles per hour, or a 20-minute-per-mile average pace. The steep uphill ascents on loose, rocky terrain, ascending some 3000 feet in a couple of miles to reach above tree line at 12,000 feet or higher, slows the hiking pace down to the 25-minute-per-mile range or slower. We run the flats and downhills, but the uneven terrain and thin air make for a slow running pace in the 10- to 12-minute-per-mile (or slower) range.
Mountain runners consequently need to endure the elements and move steadily forward at a slow pace for a much longer duration than typical running at low elevation on smooth surfaces. Runners can bolster their endurance not only with patience, but also with a mindset of "no whining, no complaining," a sense of humor, and an unplugged mindfulness that makes them look around, notice and appreciate the present surroundings.
Our itinerary shows that while our mileage was relatively low, our time on feet added up to many hours (including breaks for picnicking and picture-taking) due to the challenging terrain and thin air. We did the following on the three mornings (and then spent the afternoons relaxing and taking shorter walks), totaling about 31 miles or 50K:
8.75 miles, 4 hours, 2600 feet of elevation gain
14 miles, 5.75 hours, 4000 feet of gain
8.25 miles, 3.25 hours, 1550 feet of gain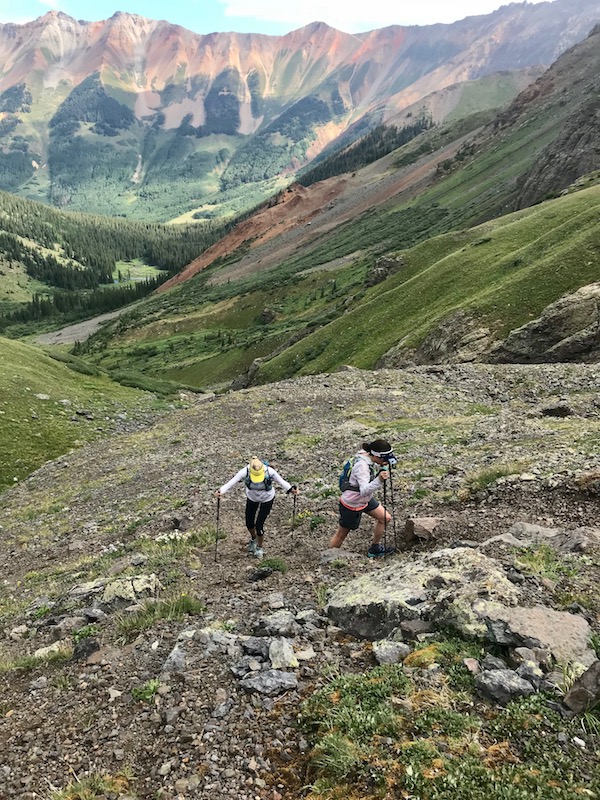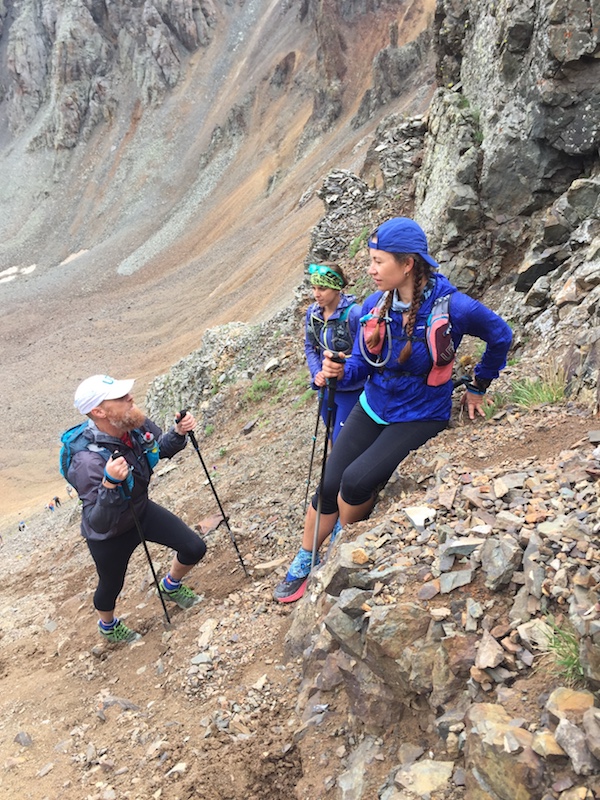 More Camp Details
We spent the first night in the town of Ouray, then transitioned to two nights at a backcountry hut called The Opus, nestled in an alpine basin flocked with wildflowers at 11,700 feet in between Ouray and Ophir. Though "hut" sounds rustic, the lodge features a cozy kitchen and communal area with an in-house cook preparing delectable, healthy meals, along with comfortable beds and nice bedding for up to 16 guests.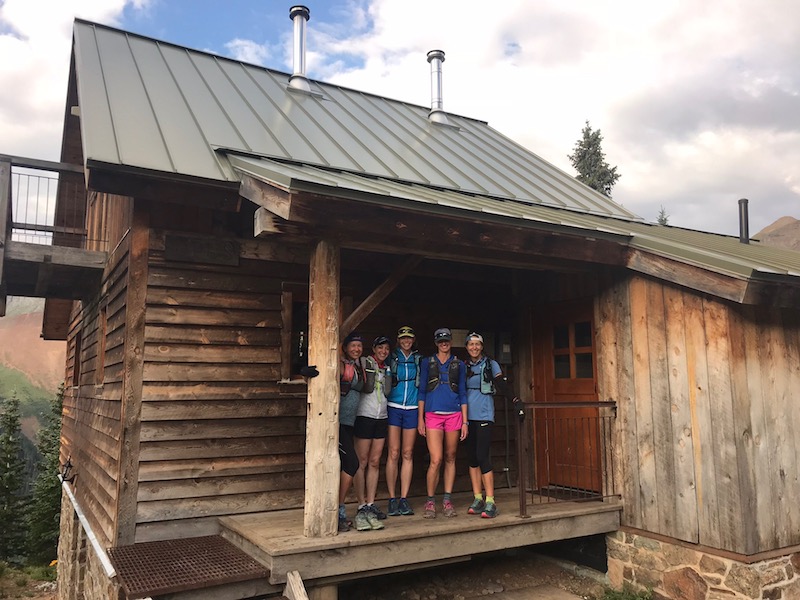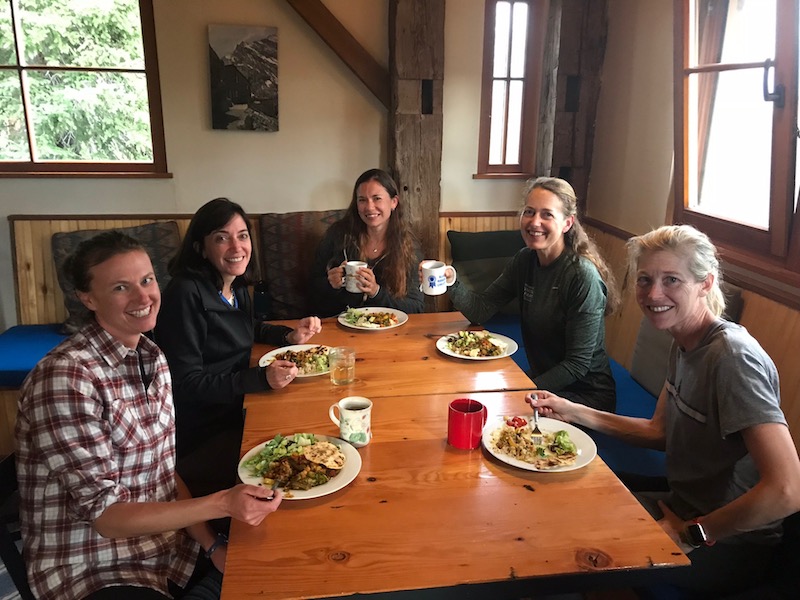 One of the participants called it "an unforgettable experience that combines gorgeous mountains and unique running instruction—a great learning experience over varied terrain that really builds your confidence. Whether you are new to mountain running or have done ultras, Sarah and Allison provide invaluable instruction."
Please check out the website for details on cost and to register for the September 23 – 26 camp, and "like" and rsvp on the Facebook events page. Message me if you'd like to know anything more about it.
I'm so glad this camp came together—and I'm grateful to my collaborators: Allison Snyder, Jared Vilhauer of Highline Running Adventures, and special guests representing the Boulder Running Co., Joshua Stevens and Ray Nypaver, who joined us for part of the time.
Enjoy these photos, which tell more of the story: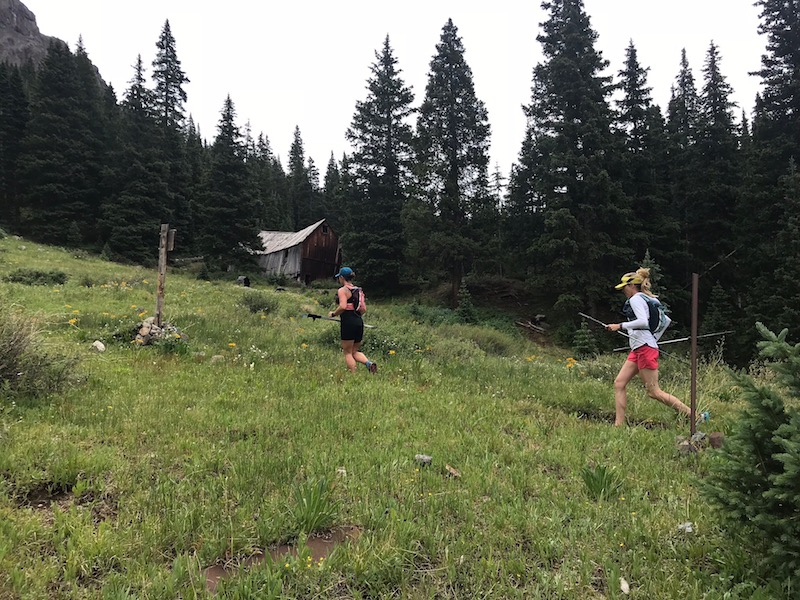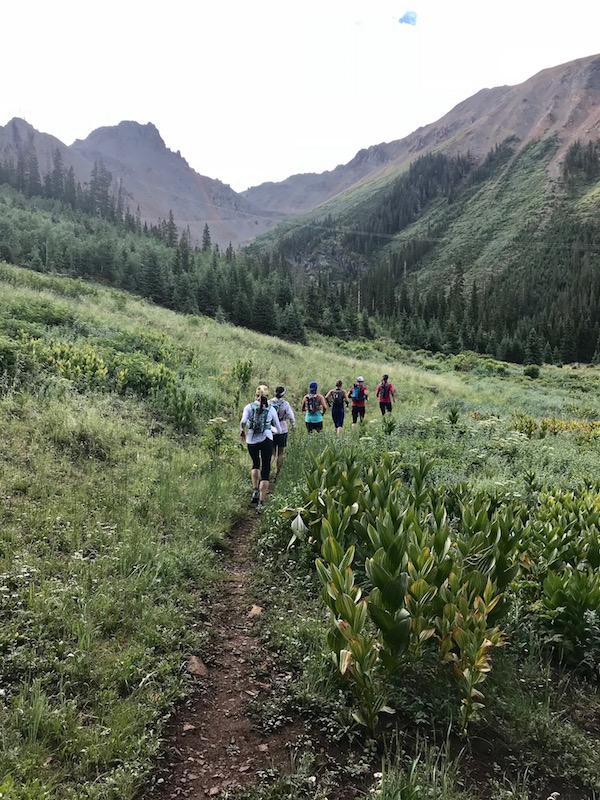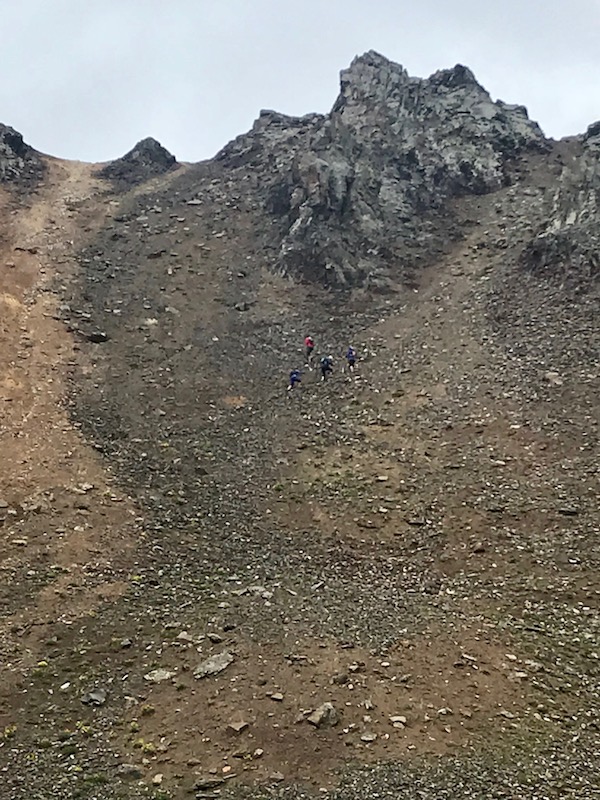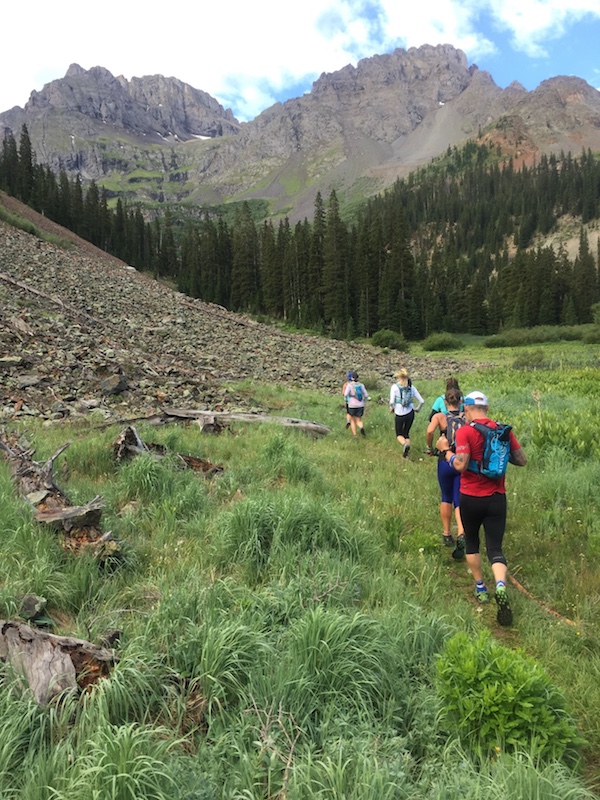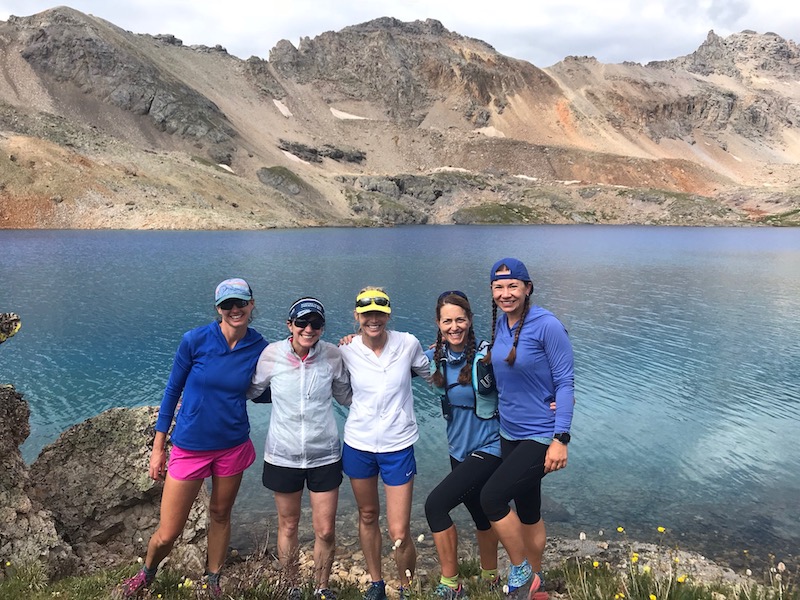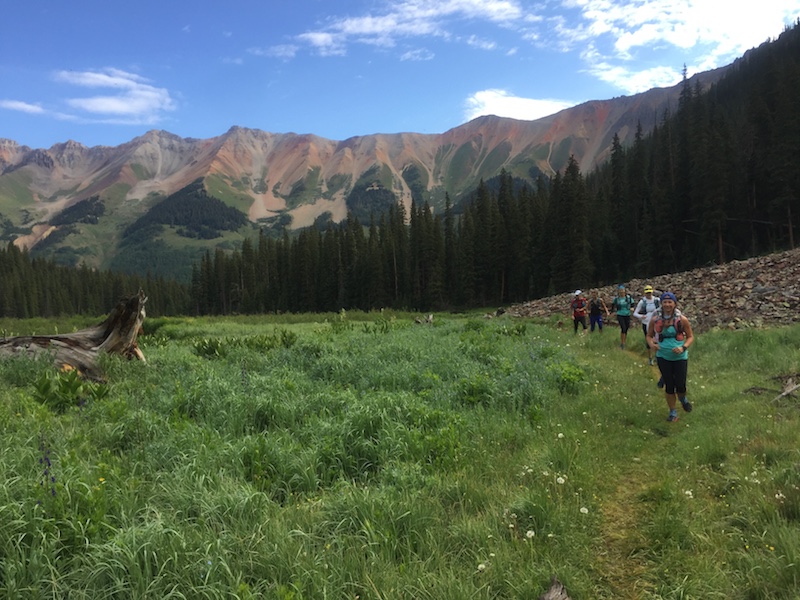 Related Stories
Adventures in Home Building and Homemaking: The Dirt on Our New Life Taking Shape in Colorado
I look out the window of our trailer, parked next to the construction site where we're building a home on 35 undeveloped acres six miles outside of Telluride, Colorado, and I marvel at the odd juxtaposition of old and new objects we've created and collected in the past couple of summers living here, now scattered around a homesite taking shape.
Our Airstream, where we daily experience "tiny house living," is flanked by flatbed trucks loaded with materials, earth-moving equipment, mounds of dirt, rows of trenches, our dusty Subaru wagon and GMC truck, our ATV, the barn we built last summer and its two horses, and our son's skateboard ramp—and in the center of it all, a rectangular concrete home foundation where workers are starting to install the floor joists.
At the turn in the driveway, a historic yet high-tech outhouse stands next to an industrial porta-potty, awkwardly stuck side by side like family members from different generations. We moved the outhouse from lower on our property, where it had sat next to an old barn for the better part of the 20th century, and outfitted it with water filtration equipment and telecommunications gizmos we need to live here (the kind of stuff that will go in our basement utility room when the house is ready). A few weeks ago, we topped the outhouse with a satellite dish in a seemingly never-ending and expensive quest to secure reliable Internet service—and it worked great for about a week, until new leaves on the surrounding aspen trees grew in, and the seasonal leafy green blocked the signal. So we moved the satellite dish last week to another side of the property, creating yet another strand of electrical cords and hoses that crisscross the land to support a funky temporary infrastructure while the house gets built.
Down the hill a little ways sits the tilting, falling-apart barn from the 1930s that we've propped up with support beams and hope to restore someday. The barn acts as a quiet reminder of the ranchers who made a living on this land before us, and it warns us to build with care, or the mountain weather and passage of time will work together to wear away our new house just as the natural forces corroded the barn in decades past.
About six weeks have passed since we transitioned from our Bay Area home to here, where three years ago we decided to leverage our resources to purchase this place and build a home. It's not intended to be a luxury second home for vacations, like the monstrous big-log homes that sit vacant most of the year in the ski village. We intend to live here half the year, May through October (if we can make two-state living work financially and logistically, which is still an "if"), perhaps year round after retirement. It's our desire and midlife project to stake a claim in this particular corner of Colorado, which always made us happy and felt like home, by constructing a farmhouse-style two-story house. In the process, we're building on my family heritage and creating something for our kids' future.
We spent the past two summers living in the Airstream and a canvas tent annex to plan the home, and now the construction is really happening. I periodically ponder, What are we doing—and can we do it? How's this going to work out? Those questions arise as I survey the scene where we've turned a swath of the natural, untouched pastureland into plowed dirt, using equipment to modify the slope of the hillside and to level the homesite; or, when Morgan and I make another wire transfer in the five or six figures to finance our construction, carefully forecasting and managing the debt.
We're investing all our resources and energy to build our future here. I wonder, are we over-building? Under-building? Should we have planned something more affordable, less custom but comfortable, like my dad did when he built his cabin across the road four decades ago? Did we make the right decision earlier in the year to spend a small fortune on century-old reclaimed wood from Canada and get it shipped all the way here for hand-hewn support beams? And did we make the right decision a few weeks ago to indefinitely delay building a detached garage for the sake of saving money? Yes, I reassure myself, those were smart decisions. I'll go crazy if I keep second-guessing all the life-altering and costly decisions with which we'll live for decades to come.
What I know for sure is: I love this land, I feel connected to it, and I feel an enormous responsibility to build on it in a way that respects and honors the land's history and its natural setting—and also, in a way that doesn't bankrupt us or saddle us with design decisions we'll regret.
We couldn't do this without our builder, Justin Stratman, and his crew. Justin is devoting himself entirely to our project this season, and he sweats every detail to make our house as special and well-built as possible. The other day, for example, he showed us some rusted old drilling rods reclaimed from some salvage yard or industrial site nearby, which he picked up because he thought they might look cool integrated into our stairway railing. Yes, we agreed, go for it!
I thought it would bother me to have so many workers show up by 8 a.m. every weekday morning, right outside our trailer's doorway; but now, as their faces grow familiar, I welcome the crew showing up to make progress, and the reassuring sight of Justin overseeing it all.
Family Roots and Branches
Our parcel sits at 9,000 feet elevation on Last Dollar Road on Deep Creek Mesa, an area about a mile from Telluride's small airport, where mountains cradle rolling pastureland and Deep Creek carves a canyon that connects with Highway 145 in between Telluride and the village of Sawpit.
As friends know, this place molded my sense of identity and adventure when I was a kid. My dad purchased five acres, across the road from what's now our parcel, in the early 1970s, where I spent every summer of childhood. The land that we now own felt like an extended, wild playground where I'd climb around the aspen groves, play house in that historic barn, and catch and ride horses belonging to the Aldasoro ranching family, who periodically kept their pack of horses here.
"Last Dollar" and "Deep Creek"—the two phrases that name our road and the nearby river make me think of my parents, and laugh, because in the 1970s, when my parents were in their early 40s, we got CB radios for Dad's Chevy truck and Mom's Datsun wagon. Dad made "Last Dollar" his CB handle, which fit due to his fondness for gambling at poker and other games, and Mom chose "Deep Creek" because it played to my dad's raunchy sense of humor.
My grandfather on my dad's side, the author and historian David S. Lavender, was born and raised in Telluride and passed onto Dad a connection to this region and a desire to live here part of the year. (Dad's work for The Thacher School, where Grandpa taught English for three decades, meant that I grew up mainly in Ojai, California, and went to Thacher for high school, but Dad had summers off and consequently we lived in Telluride during summers.)
My dad, whose ham-handed design sensibility veered toward utilitarian and had little to do with aesthetics, didn't go through the arduous, detail-oriented process of designing a home like we're doing now. He stretched his resources to buy the five acres, then simply bought an affordable Lincoln log-style kit and erected the cabin in 1975 when I was 6. I vaguely remember that rowdy summer when Dad hired local hippies with negligible construction experience to put up the cabin, and I made forts with scrap lumber.
I more vividly recall the hours I spent exploring the open meadows and aspen groves on the property we now own, across from Dad's cabin, on the lookout for sheep or cow skulls to inspect and collect. One time, when I was about 7 and barefoot, I was walking down toward the old barn and nearly put my foot on the back of a porcupine whose quills rolled side to side as the porcupine trundled along. I screamed so loudly, my mother heard me from inside the cabin up the hill, and she came running and hollering with fear that I had fallen into an abandoned well.
Ditching It
Grandpa's grandpa, Charles Painter, arrived in San Miguel Valley in 1880 and was the first mayor of Telluride and the town's newspaper publisher. (My grandpa was born with the last name Painter, but then his mother divorced his father, David Painter, and remarried rancher Ed Lavender, hence our Lavender name.) Property records show my great-great-grandfather briefly owned about half our parcel's acreage. A leading businessman who likely always was on the lookout for a quick profit, he bought the land as a tax lien in 1907 for a mere $100 and sold it a year later for ten times as much.
My husband Morgan—who fell in love with Telluride and my dad's cabin in the summer of '85 when he was my boyfriend, the first of many summer trips he took to spend time with my family and me here—discovered that bit about my ancestor briefly owning our property when Morgan delved into the property's title history and its water rights as we embarked on making a bid to buy the land.
We knew we couldn't bank on living here for the rest of our lives, and pass it on to our kids, without a reliable source of water here in the arid West; one need only look at the meager runoff from the thin snowpack, or to feel the dusty, furnace-like afternoon wind against chapped skin, to understand that climate change and drought seriously threaten the long-term viability of life here. So Morgan learned all he could about the land's lifeblood, its aquifer, which thankfully measures a robust flow, and he negotiated hard to drill a dedicated well next to our homesite two years ago. The real estate reps who are still trying to sell neighboring parcels wanted us to agree to share a well with neighbors. Nope, no dedicated well of our own, no deal.
Morgan also studied the history and rights to the irrigation ditches that branch out and flow like veins around our parcel. A three-tiered system of ditches on the hillsides above us divert precious snowmelt from Sheep Creek and Deep Creek, two tributaries to the San Miguel, the big river that flows from Telluride down valley. First built in the late nineteenth century, these ditches are testaments to the collaboration of ranchers who worked together to build and clear them. Several times a week, I run the trails that border these simple yet ingenious ditches—because they provide one of the few flat, relatively smooth places to run around here—and pay homage to their history and engineering. By controlling the flow with rudimentary hunks of metal placed near the stream, and then cutting notches into the ditches to allow the water to flow downhill, the property owners irrigate different parts of their land.
"Here's your Christmas present—I bought us a ditch," Morgan told me in December of 2015, before we had even closed on the property. When he recognized the value of rights to the ditch and to a percentage of the water that flows from the stream, he purchased a claim to it for about the price of a small car. I didn't fully appreciate it at the time, but now I do. Water is gold. The right to this water historically is based on seniority, however, so if—or more likely in this drought, when—the water resource managers make a call that more water needs to flow undiverted to the San Miguel River, then we may need to temporarily give up our claim to the stream flow and let the ditch run dry.
I've savored watching Morgan ditch his regular life as a Bay Area attorney, start a new firm (specializing in litigation graphics, leveraging his creative talent), and use his newfound flexibility to work this land. He still works full days, sitting for hours at the table in the Airstream to manage his work remotely; but when he needs a break, he usually heads into the aspens to check and tinker with the ditch. Over these past two summers, he developed a hobby of managing and improving our ditch for the sake of green pastureland where horses can graze, along with sheep herds that periodically pass through and wild elk herds that visit nearly every week. Unfortunately, Morgan suffered an accident three weeks ago that ruptured his Achilles, so with his mobility restricted, he gets out to manage the ditch on an ATV.
The Daily Chores
With Morgan's mobility restricted for eight weeks until his Achilles heals, the animal care falls on me (with some help from our 17-year-old son, Kyle). A large portion of my day revolves around caring for two horses, a dog (plus my brother's two dogs, whom we're dogsitting while he and his wife travel) and a frisky kitten. We adopted the kitten a few weeks ago to manage the rodent population, after we reopened our Airstream in early May and discovered mounds of turds from mice that infested the trailer over winter. The kitten is adorable, except when he pees on our bed.
We started with just our Portuguese Water Dog, named Beso, who adapted to Colorado life once he bonded with my brother's two dogs across the road. The three dogs blissfully roam back and forth between the homes, gnawing on elk bones, diving into the ditch water, and tracking mud into the my brother's cabin and our trailer.
Then our kids, Colly and Kyle, twisted our arms to get a family horse two summers ago. They didn't have to twist hard. Both Morgan and I ride and love horses, since we both attended Thacher School (where we met) and rode in the school's horse program. Then Colly and Kyle attended school there and became horse-crazy accomplished riders. So Cobalt the quarter horse came into our lives. But Cobalt needed a place to live, plus a friend (because horses are herd animals and shouldn't be alone), so last summer we built a barn for Cobalt and started boarding a neighbor's horse for companionship.
The two-story barn stands to the east of the homesite, a reassuring reminder that we actually can plan and complete projects. The masonry base, the rough lumber sides made of reclaimed wood and the metal roof prefigure the style of the house we're building. Every morning I slide the thick wooden barn door to the side, step into the central area that's filled with hay, look to the tack room filled with saddles and tools, and look up at the storage loft that serves as my son's makeshift bedroom, and I feel grateful that horses came back into my life and that we built this barn as a warmup to building the house.
But horses mean dirt and manure, and a daily need to feed, exercise and clean them. So I've rekindled the main chore of my youth, of mucking out manure from a paddock, tossing alfalfa to hungry horses, and nurturing a relationship with our steed as I exercise him almost daily. I try to ride most days, or to lead the horse up the switchbacks of the Deep Creek Trail as I get my exercise running and hiking by his side; but some days, we simply turn Cobalt and his companion, named Freckles, loose in a pasture area fenced with electrical fencing that we can move around to prevent overgrazing of any one area. Our small mountain of manure dumped in a corner of the aspen grove grows daily, and we're planning to build a three-bin composting system—one of several projects on the summer to-do list.
Because of the horse care, plus the dusty land around us and the cumbersome process of taking a shower in the Airstream, I've never been so dirty. Within one week of living here, my thumb became so permanently chapped, cracked and soiled that my iPhone no longer recognized my thumbprint for Touch ID. I live with dirt; I try to wash it from the cracks in my dry skin or to get it out from under my nails, but it seems a lost cause at this point. I put on the same dusty work pants every time I go to the barn. I sweep and dust the trailer daily, but the dog and the two guys I live with track more dirt in, and the wind blows dust through the screen door. When we celebrate the occasional rainstorm, as we did last weekend, we witness with a mix of delight and horror as the thick dust turns to deep mud. Suddenly, mud covers the floor, the sides of the vehicles, the horses who roll happily in it—mud gets everywhere. I'm gradually making peace with all this dirt and accepting it as a fact of life.
Sometimes I wonder why I can't get more "real work" done—why I'm not writing or reading more, or why I'm not taking on more coaching clients. I wonder if I should get a real job with regular hours to bring in more income. But I barely have enough time to take care of my current stable of clients, plus devote enough hours to training to prepare for two mountain ultras on the calendar. I spend about half my day taking care of clients and running, and the rest of the time goes to chores that revolve around animal care, homemaking and house planning.
Where does the time go? Every mundane aspect of home life takes a little longer and is a little more complicated than usual. To bathe, we have to empty out the Airstream's extra-narrow shower, because it doubles as a storage closet that holds the dog food bin, broom and mop. To get dressed, we have to paw through clothes stored in a large plastic bin under the bed, because the trailer doesn't have room for a real dresser with drawers. To pour a glass of drinking water, we have to refill the plastic water jug from the water filtration system housed in the old outhouse. To cook dinner, we have to manually light the stove with matches (making sure the propane tank outside isn't running empty), and then time the cooking to heat the pots and pans in shifts, because the three-burner tiny stove can barely handle more than one pot at a time.
To flush the toilet, we have to pour a glass of water down the commode to rinse down the waste, because the toilet won't flow properly;  we tried unsuccessfully three times to fix it and gave up. (Plus, every couple of days, we have to empty the sewage from the trailer's tank into a larger storage tank and hire someone to pump it out monthly.) To do laundry, we have to go to the town laundromat, where I end up spending two-hour blocks a couple times a week—a chore and location I actually enjoy, feeling now like the laundromat is a second office. To buy affordable groceries (because Telluride's market is so overpriced and limited), we have to drive nearly 90 minutes to the nearest medium-sized, affordable city, Montrose, where I also spend time visiting my mom, who now lives in assisted living there.
So this is has become my life, my domestic ultra. If someone asks what I do, I probably should embrace the old-fashioned term "homemaker," because that's my main purpose now: building and making a home, and in the process, circling back to the summertimes I savored as a kid. I would not trade it, and so far, I have no regrets.
Et cetera
If the long post above didn't bore you to tears and you wanna read more….
To learn more about the history of this region and my grandfather's way of life, check out his memoir,One Man's West
.
Also, I blogged about Telluride and our family escapades in these two earlier posts:
Mining Family Stories for Inspiration and Summiting a 14'er to Reach Into the Past
An Ode to Telluride, Family Ghosts and the Hardrock Spirit
If you'd like to explore some of these mountain trails on foot with me, check out the San Juan Mountain Running Camp we're launching July 11 – 14 and Sept. 23 – 26—spots still available for both July and September.








Related Stories
"This One Time, At Trail-Running Camp…" or, Why I Want To Share My Ideal Getaway
My trail-running shoes and trekking pole tips make a crunchy sound each time they land on the trail's crushed granite, and my breathing sounds shallow and rapid in the thin, dry air. I endeavor to take slower, deeper breaths while ascending rocky outcroppings through pine trees, almost above treeline at just over 11,000 feet. Running at this slope and altitude is out of the question, but I can hike faster to work my cardio system for peak training while reaching the summit of Mount Rosa near Colorado Springs.
Thankfully, I've got good company to boost my spirits and beat back ambivalence. I'm following ultrarunning friend Monica Ochs, an accomplished runner from Washington state, and she's following champion runner and coach Corrine Malcom, who's guiding us. Behind me, a half dozen new runner friends make the trek—runners like Michelle Rice of New Jersey, whom I've nicknamed "Horse Powered" because she does endurance riding on horses and previously rode in the Vermont 100. Now she wants to run the Vermont 100 on her own legs.
I'm in Day Three of an ultrarunning camp organized over Memorial Weekend by coach Jason Koop of Carmichael Training Systems, which brought together nearly 30 runners like me to participate and several top-level coaches, like Corrine, who work with Koop. When we finally reach the 11,500-foot summit of Mount Rosa to take in the panoramic views of other mountaintops, including Pikes Peak, my legs feel rubbery, but overall I feel elated because I'm accomplishing three solid days of training in this region with like-minded trail/ultrarunners.
On the previous two days, we put in solid half-day runs on steep terrain, with mileage hitting the high teens each day. Day Two routed us up the famous Manitou Incline of steps on a mountainside—2000 feet of climbing in a mere mile, part of the day's 5000 feet of vert. Today, we'll go for over seven hours, up 6500 feet and close to 30 miles.
During this running camp, nothing matters but following the day's route with other interesting, inspiring runners. I learn as much as I can, sharpen my trail-running skills, push my limits physically; and then, in the evening, eat good food and recuperate.
A Trail-Running Retreat
To me, an ideal getaway is not an island resort or a spa weekend. It's a running camp in a mountain environment. Attending Geoff Roes's Alaska Ultrarunning Camp in 2012 proved transformational in my development as an ultrarunner, giving me the courage and skills to complete my first self-supported multiday stage race that year. Being a guest coach and mentor at a Texas trail-running camp in 2015 similarly inspired and boosted my aptitude as a runner, while also developing some lasting friendships.
Going to Koop's camp two weeks ago provided the three-day training block and motivation I needed to fast-track preparation for the June 23 San Juan Solstice 50, which I'm running as part of the buildup to the Ouray 100 in late July. (Injury handicapped my training in March and April, so I needed to get my rear in gear and make up miles in May.)
These totally worthwhile experiences at trail-running camps heighten my excitement to launch a new mountain-running camp just one month from now—the San Juan Mountain Running Camp organized by Highline Running Adventures and coached by yours truly. We still have spots available for the two sessions, July 11 – 14 and September 23 – 26, and you don't have to be a hard-core, altitude-adapted ultrarunner to participate (check out the website's "difficulty" and "itinerary" tabs for info on the experience recommended). You can be a moderate midpack trailrunner; you just need the desire and means to get to this gorgeous corner of Colorado to spend three great days "running" (broadly defined to include a fair amount of hiking) on trails in the mountains above Ouray and Ophir (near Telluride).
Our camp will start in Ouray for the first night, and stay near Ouray for the first run; then we'll transfer to a rustic backcountry lodge called the Opus Hut located at 11,600 feet off of Ophir Pass Road.
We'll spend the better part of each day running on nearby high-elevation trails, including part of the Hardrock 100 course, and then we'll have downtime and clinics in the afternoons and evenings. Some of topics we'll cover: safety & gear for mountain running; fueling & hydrating for mountainous long runs; uphill & downhill technique and pacing strategies.
If you or someone you know might be interested, please contact Highline to sign up and rsvp "interested" on the Facebook event pages for the July camp (soon, because it's only a month away!) and the September camp. We have a great small group so far for July, and I'd love to welcome a few more.
Training Update
I get butterflies when I think I have to run an extremely tough 50-miler in TWO WEEKS, the San Juan Solstice 50; and then, I have to get my head and body ready for the extreme challenge of the Ouray 100, which has 41,000+ feet of gain (more than Hardrock, which has 33K of gain!?!). I don't know how I'll do it, except by doing the ultrarunning equivalent of "How do you eat an elephant? One bite at a time." I'll take this one segment or mountain pass at a time, somehow stringing together and getting up and down 16 segments that, each on their own, would make a significant day hike.
My training volume is not what I hoped it would be, but it feels at least close to adequate and high quality. Mostly I'm grateful to be running again, (almost) injury-free. My sore spot still feels bruised and achy (an oblique muscle/tendon strain near the iliac crest of the right side of my pelvis), but it's manageable and does not affect my gait, so I'm running through it.
I viewed the three-day Colorado Springs camp, which took place two weeks ago, as a litmus test for whether I could and should run San Juan Solstice 50. If I couldn't handle the camp's volume, then I'm not ready for this 50-miler. But those three days felt pretty darn good. Similarly, I'm viewing SJS50 as a litmus test for Ouray 100. If I can't get through that 50-miler with confidence, then I probably shouldn't line up to start the Ouray 100 five weeks later.
Meanwhile, I'm savoring these training runs. Sign up for our July 11 or September 23 camp if you'd like to run around here, too!








Related Stories