---
Bad Day Sunshine: My 2017 Run Rabbit Run 100 Race Report
Get to the summit. Keep going until sunrise.
Those phrases repeated in my head while I feebly walked uphill on a dirt road through an aspen forest in the predawn darkness last Saturday morning, around Mile 76 and at 9000 feet of elevation during the Run Rabbit Run 100 in Steamboat Springs. Facing 1500 feet more in climbing over some six miles until the Summit Aid Station, I grasped onto the promise that daybreak would deliver rejuvenation.
That's the way it normally works in 100s and has worked for me in the past. The sun comes up, enters your pores and works like coffee brewed with half a hit of Ecstasy. You feel energetic, emotional and uninhibited (and consequently, you reveal personal details to your pacer that you'll later regret and take a poop trailside without really bothering to hide from view). Your stiff hiking gait transitions to a smoother run, and you hallucinate the head of a horned, helmeted Viking warrior in a tree branch, or the backside of a buffalo in a stump. Sunrise is the best part of a 100-mile ultra, allegedly.
So I kept putting one foot in front of the other. Running was not an option due to the combined handicaps of a steep slope, rapid breathing, and anterior shin pain that internally pierced the fronts of my lower legs any time I accelerated.
The deterioration of every fiber of my being began after Mile 52, just past the Long Lake Aid Station, sometime in the darkness before midnight when I was with my first pacer, Jacob. The sequence of events went like this:
Miles 0 – 22: I started at 8 a.m. in the less-competitive "Tortoise" division with an earlier start than the Hares who start at noon and compete for the sport's largest prize purse. My pace was strong but conservative, and I felt better than OK on the first 4000-foot climb up a ski run to the top of Mount Werner, because throughout summer I had hiked a lot of ski slopes in Telluride. Eight or so miles of steady, smooth running after that passed by in a blur. "Find your easy" became a mantra; I found and maintained an easy running pace, and downshifted to hiking whenever running felt hard.
At around Mile 4 after that monster first climb, I said out loud, "Yay, only 99 to go!" because the course supposedly measures around 103 miles. Another runner nearby, who's a Steamboat Springs local and has done this event several times in the past, told me that no, the course actually is around 109, according to most Garmin measurements from years past. The true distance is a mystery and matter of debate. In any case, I got the first hint that each segment of the route would feel and actually be a little longer than advertised.
Lots and lots of people passed me on the most technical downhill section—a jagged-rock stretch of some three miles approaching Fish Creek trailhead—but I truly felt fine with that and stepped aside to let them pass. A bad fall three weeks earlier still spooked me on the gnarly downhills. "Better safe than sorry" became this section's mantra. I stayed relaxed and congratulated myself on not tripping. When I hit the paved four-mile downhill stretch to the next major aid station, Olympian Hall at Mile 22, I felt smooth and flowing. So far, so good.
I took good care of myself at Mile 22, eating and drinking the equivalent of lunch, applying sunscreen before heading out into the blazing midday heat, and strapping on my iPod for the 20-mile stretch.
Miles 22 – 42: Runners wilted on this hot, hilly, not-particularly-scenic section. The struggle was real. But I did relatively well here, helped by the music in my ears (favorite tune on the playlist: 1978's "Every 1's a Winner" by Hot Chocolate, a song my son Kyle discovered through a skateboarding video, and he'd play it whenever he got behind the wheel to drive to his first real job this past summer—me riding shotgun, since he only has a learner's permit and can't drive alone—and it became a summertime anthem that we'd sing together). We had to go up and down a dirt track with about a 20 percent slope, aptly named "Lane of Pain," and every time I saw the "Lane of Pain" sign, I said out loud in a voice imitating a monster truck show announcer, "It's the LANE of PAIN!" I passed lots and lots of runners who had passed me 20 miles earlier on that technical downhill section.
I ran into the Olympian Aid Station at Mile 42 and felt delighted to see both my pacers—Jacob and Terry—waiting for me. I changed my clothes (a brief downpour a couple of miles earlier left me soaked, and I wanted dry, fresh clothes for nighttime). At that point, I had nothing to complain about—no stomach or foot problems, no significant issues. A little crampy in the calves and tired, but eager to pick up my pacer Jacob and start the nighttime stretch. We left the aid station shortly after 6:15 p.m.
Miles 42 – 70: Jacob Kaplan-Moss is one of my clients, and I've been training him since new year's in prep for the Grand to Grand Ultra stage race. But we didn't know each other very well before that night. Turns out he's into horses and also went to UC Santa Cruz, so we had a lot to talk about, and we chatted amicably on the uphill back toward Fish Creek Falls.
The route took us back up toward the summit, some 4000 feet of gain over 10 miles, so I wasn't planning to run that section, save for some short shuffling intervals on flatter parts. I told him I'd run once I got to Long Lake and we hit rolling single track.
At Mile 52ish, around the second pass by Long Lake, I had my first feelings of "uh-oh" and premonition that, like Wasatch 100 two years ago, I would face the consequences of being well-trained for a 50-miler but not for a mountainous 100. It would be a long night.
I started telling Jacob, "Sorry, I can't go faster … sorry, I need a break…" I tried to focus on all that was going right: hydration and eating felt fine; body temperature felt good (I avoided getting chilled in the high-altitude nighttime air). An almost full moon rose in the sky and made clouds glow with a silvery outline. We were lucky—the winds had shifted, blowing smoke from nearby forest fires away so that the sky was clear enough that a few stars could shine through. But my quads, knees, shins and feet all started to ache mightily.
I had to take breaks from running the long downhill down to the Mile 70 Spring Creek Ponds Aid Station, where we'd meet Pacer #2, Terry Miller, a nice guy and experienced ultrarunner whom I'd met at Hardrock. I felt progressively achy and icky on the descent. "Tell Terry he doesn't have to worry about me dropping him," I told Jacob as we entered the aid station.
Mile 70 to the End: So at around 3:45 a.m., Terry and I headed back up the road that I had just run down with Jacob. (Crazy, huh? Why do we do this?)
I told Terry to keep track of our mileage, since my GPS ran out of battery earlier and I had only a simple watch to tell the time of day. I resisted the urge to ask him how far we had gone until I felt sure it was about 4, and when he said, "About two a half," I wailed, "Is that all?"
Fussing with clothing and poles provided distraction from obsessing about how far to the summit and how long until sunrise. A pocket of frigid air would make me grateful for my jacket, long-sleeve wool top, gloves and leggings. A quarter-mile later, I'd feel hot and bothered and strip the layers off. I couldn't make up my mind about trekking poles, either. Fold them up, put them away, curse yourself for bothering to carry poles on such a smooth stretch of dirt road. Then stumble and trip, take them out again, try without success to generate momentum by swinging arms and planting those clickity-clack poles.
Terry gamely tried to engage me in conversation and kept reassuring me that I was doing fine time-wise. I brooded and remained silently judgmental until blurting out an order or a random thought, channeling the person I was three decades ago when I identified with Ally Sheedy instead of Molly Ringwald.
"I'm taking a nap at the aid station," I told Terry in a tone that dared him to argue with me. He wisely tried to change the subject.
Feeling decrepit physically is part of the process in a 100-mile ultra. I get that. It's supposed to be hard and hurt, as I tell my clients. I could have handled that alone. Feeling down in the dumps mentally, however, threatened to do me in. All my coaching about the power of positive thinking, about faking optimism to make it real, about using mindfulness and acceptance to acknowledge and move through negative thoughts—none of that was working.
It wasn't working because I didn't care enough. I didn't genuinely care about this race; I entered it to earn qualification for the Hardrock lottery, not because I felt excited about this event. I didn't train enough. I felt worn out from traveling back East and moving my daughter into college three days prior. I had an excuse for every mile. "Just finish" became a recipe for ambivalence, and ambivalence became a deep desire to be done and over with it. I wanted to be a fast runner, not a slow slogger. I wanted to feel the thrill, not the drudgery.  Feeling so miserable and not into it made me second guess the main goal of doing Hardrock someday. If I can barely make it through one night at this mountain ultra, how would I handle going into a second night at Hardrock (which probably would take me 40 some hours)? My thinking went: I don't deserve to attempt Hardrock because I can't execute this qualifier with dignity or determination. Doing 100s doesn't have to be my thing anymore. I should drop at Summit so I don't get the qualifier and don't have to belabor the Hardrock process. Take a nap first, then decide.
The sun came up. Terry took out his phone to capture me at sunrise. "I'd rather you not," I said and refused to look at him.
Sunrise revealed a few trucks and campers parked here and there. Eyelids heavy, I engaged in extended internal debates about which vehicle seemed like it would belong to an owner that I would feel comfortable enough asking if I could lie down in the back seat for a while. I visualized getting into these trucks in such detail that my thoughts crossed over to dreaming, and I realized I had slipped into a wobbly sleep-hiking.
The higher the sun rose, the brighter it got, the more I wanted to close my eyes. God damn it, the sunrise isn't working its magic.
Another pocket of cold air hovered around the summit, so I hoped they'd have blankets on the medical cots. I made it to the aid station tent and saw a heater and some chairs, but no cots. So I took a chair, pulled it as close as possible to the heater and tried to power nap. Terry got me a bowl of scrambled eggs and bacon, which tasted surprisingly good, so I woke up enough to eat. Then, just as I was drifting off, a woman I met the day prior came in with bouncy energy. It was Wendy Wheeler-Jacobs, slightly older than I at 50, a notable runner and race director from the Pacific Northwest. She took a seat next to me and asked how I was doing.
"Not good, not my day," I mumbled.
"Well, let's go then!" she told me.
I should have hitched my wagon to Wendy's momentum and followed her right then and there. I so very much admired and envied her energy. That should have been me—a closer. I've had a strong final 20 miles in past 100s. I've perked up with the sunrise. But I let her go. Not my day.
I spent an unknown number of minutes eyeing a van parked nearby and imagining a scenario in which I stretched out on the back seat and had a long, involved conversation with the aid station captain during which we clarified that the van was close enough to the aid station that my entering it would not constitute a DNF. This scene took place with vivid reality but, in fact, I was sitting in a stupor spooning eggs into my mouth and losing the feeling in my cold, stiff legs.
I woke up enough to realize I needed to warm up my legs, so I stood and bent over the chair, leaning on the armrests for support. I backed my butt up as close to the heater as possible so hot air would blow up my backside and hopefully dry the damp crotch lining that was chaffing my inner thigh crease.
Flopped over that chair, my butt pleasantly roasting in the heater, my head hanging down and my jaw open to drool, I drifted toward unconsciousness in a bent-over rag-doll position. Ahh….this feels more like it.
A question came out of nowhere, like an alarm that shatters silence and rips through slumber. A man's voice from the corner of the tent, loud enough for everyone who was milling around the aid station to hear.
"Are you Sarah Lavender Smith?"
Huh? I opened my squinty eyes just enough to make out someone I didn't recognize. He was sitting and looking at me expectantly.
"I got your book," he said. "I work in leadership and use it."
Was this really happening? I wanted to laugh and ask, Are you kidding me? Wanna take a picture of me like this? Did he mean he used my book for leadership training, or for his running, or for both, or—whatever, I was totally confused and caught off guard, the ultrarunning version of a minor celebrity who looks fat and scowling in a tabloid photo.
"Ah, yes. That's really nice. Really appreciate that. What's your name?" I don't remember what he said. I felt as if I were waking up from an exposure dream, still half naked.
The question echoed internally, "Are you Sarah Lavender Smith?" Are you the person who will walk the walk, not just talk the talk? I had a bookload full of advice I expected others to follow. Don't ask of others what you're not willing to do yourself, to paraphrase Eleanor. I had to get the fuck out of that aid station and back on trail. I left while Terry was grazing at the buffet table, and he had to scramble to catch up.
We had 13 or 15 or so miles to go. Who knew what the exact mileage would be, it would be long.
Summit Aid Station back down to Long Lake should have been runnable. Lovely, smooth singletrack on the Wyoming Trail through aspens and alpine meadows. It's like the Cal Street stretch of Western States—it's a crime to bonk and not run there! So I would take a few steps to try running, but then I would walk again. "Can't do it," I told Terry. The foot ache, the spiked heart rate, the shins, the knees—every body part protested what I was doing to it.
Runners kept passing us, each taking a piece of my pride with them. Terry momentarily cheered me up by sparking a conversation about favorite movies, but my inability to remember titles or actors' names made me momentarily dwell on my mother's memory loss and feel paranoid that I was already showing signs of losing my mind. Speaking of which, I started seeing dog faces, Viking heads and buffalo bodies in the woods, but no moose, and I really wanted to see a real moose.
This section—from Summit back to Mount Werner—seemed to go on forever. Trite but true. I hated being so slow and feeling so infirm. I hated the logic that I wanted to cover 100 miles so I could be done with 100 miles because I didn't actually want to do the full 100 miles. Ugh, none of it made any sense.
I took extra time to eat and put on sunscreen at the final aid station atop Mount Werner. I could have and should have finished this course in 30 hours or less. But I could do the math with my pace and the distance, so I knew it'd be 31 and change. Why worry, why hurry? Just get to the finish.
All summer, I finished runs on long, steep downhills. I actually felt prepared for the final segment of this course. But I couldn't muster extended running on that steep downhill back to town. Running intervals of a few minutes at a time, then taking a walking break, was all I wanted to do, all I cared to do.
Yeah, we made it back. Of course we did, I believed I would. But crossing the line in 31 hours, 7 minutes felt so anticlimactic, so unemotional, almost businesslike, like meeting a deadline at work on a Friday and then heading to happy hour to start the weekend. Got it done.
I need a break, I know I do. Finishing a 100-miler should feel a lot more celebratory and special than that.
I sat in a stupor on the porch of the Sheraton's restaurant overlooking the ski resort, the start/finish line in view, listening to other runners celebrate or commiserate about their day. Their chatter and camaraderie brought me back to life. I heard one woman, who looked showered and fresh because she finished hours ahead of me, say to someone, "Yeah, I had a really great day out there."
That'll be me again, someday. I'm feeling more positive about the experience and proud of my tenacity with a few days' perspective. It was worth the effort. I've got the Hardrock fever again, glad to have completed a qualifying race to enter the snowball's-chance-in-hell shot at getting a spot. (Crazy, huh? Why do we do this?)
I'm coming away from this event full of gratitude for my pacers, Jacob and Terry; for several Steamboat Springs runners who welcomed me and came to my book-signing event a couple of nights before the race; and for the Run Rabbit Run 100 RDs and volunteers. During a week of natural disasters, when smoke created a haze around northwestern Colorado and ash rained down on Steamboat Springs, we were so fortunate that nearby fires didn't shut down the event; in fact, the sky cleared remarkably on race day.
Here's how I looked before the race (with bunny ears that all participants were asked to wear for photos). I'm looking and feeling smiley again. But I also can see in my face and eyes below that I went into this race tired. Now, time for sleep and rest!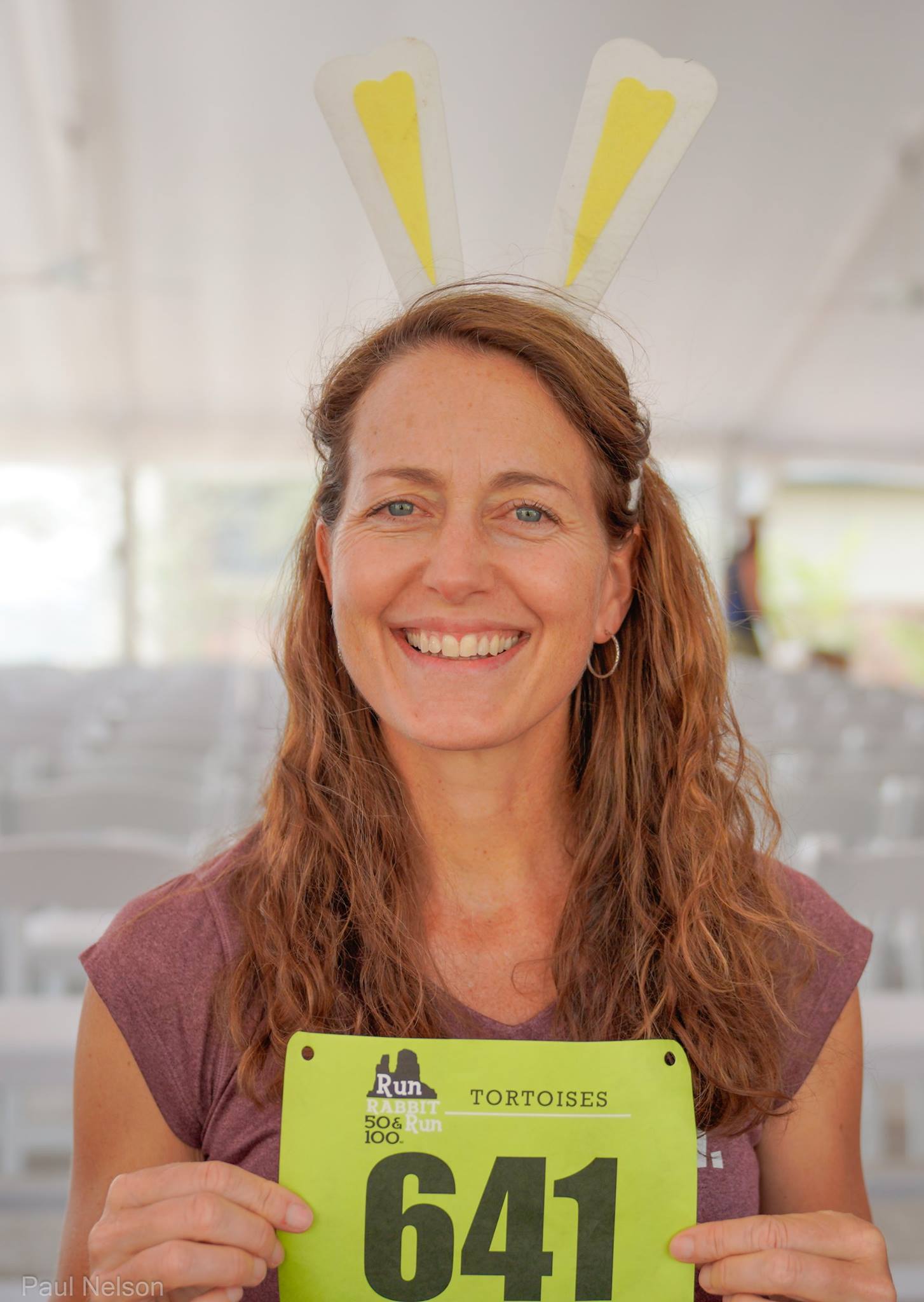 End note: Thanks so very much to everyone who has purchased a copy of my book, The Trail Runner's Companion: A Step-by-Step Guide to Trail Running and Racing, from 5Ks to Ultras. Please consider ordering a copy, or leaving a customer review, at this link. You can check out reviews and excerpts of it here.








Related Stories
I'm Supposed to Run 100 Miles and I Barely Feel Up for Five
I almost didn't write this post, because I should be spending time getting other things done, but ultimately I figured it's important as a coach and dedicated runner to share struggles and less-than-flattering portrayals, because I suspect the majority of us go through times of transition when our confidence and control prove fragile and completing anything, even an awkward introductory paragraph, feels onerous.
My calendar says that a week from now, I'll fly to Denver and drive three hours to Steamboat Springs, Colorado, where I'll host a book promotion event at a local bookstore and then, 36 hours later, line up to start the Run Rabbit Run 100.
I will fly there from Providence, Rhode Island, where Tuesday (four days before the race) I'll help my daughter move into an apartment for her second year at the Rhode Island School of Design. Morgan has to stay home to work, so heavy lifting, here I come.
I just drove up to our Bay Area home from Ojai, California, where I moved my son into his junior year at The Thacher School.
To say I'm unprepared for next week is an understatement. Drop bags? Yeah, I need to figure those out and pack them, too.
We've been living in Colorado all summer, so half-unpacked suitcases clutter our bedroom floor, next to laundry piles and bags of gear. Our century-old house here in Piedmont, which we left in the care of our daughter and other extended family members over the summer, needs "a mother's touch," the kind of care that only I seem to give it. I keep spotting burned-out lightbulbs, dusty cobwebs, misplaced items jumbled in drawers.
Instead of straightening out the house and getting my travel and race plans together, time slips by as I scroll the news, captivated by video of flooding in Houston and fires in Oregon, signs of catastrophic climate change but at least a distraction from potentially apocalyptic nuclear threats. I switch to Facebook or Instagram to see stunning, almost utopian, photos of ultrarunners I admire as they cavort in the Alps in prep for the Ultra Trail du Mont Blanc. They fill me with irrational, overblown negative emotions ranging from insecurity to annoyance (which I know is hypocritical, since I posted scenic photos of me all summer romping around the San Juan Mountains near Telluride), so I flip back to the real news.
Other than caring for my coaching clients—corresponding with them and modifying their plans, and probably on some level living vicariously through them as I feel more genuine interest about their training than my own—I can't focus on responsibilities, I can't finish the book I've been reading, I can't get any shit done. At night, I nurse myself with spoonfuls of peanut butter and bottles of beer.
Feeling adrift from saying goodbye to our son, and from the impending departure of our nearly adult daughter, I wake up in the middle of the night filled with excessive worries about their whereabouts and well-being. Wandering down the hallway, I discover my daughter left a light on in her room, and the Subaru is gone, which means she spent the night elsewhere (which on one level I don't mind because I trust her and who she's with, but it hits me how much she's grown up and how I've aged). My son is camping with his schoolmates and a teacher somewhere in the Eastern Sierra this week, which objectively I realize is wonderful, but I picture him sunburned and dehydrated. Accuweather sends an "extreme weather alert" to my phone warning of potential lightning-sparked forest fires in the area where he's camping, which is not what I need to read right now. My kids are beyond my reach, and I want to pull them back.
Just the other week, we had an idyllic time, with all of us together before school restarted. This is how my 16-year-old son Kyle and 19-year-old daughter Colly look now: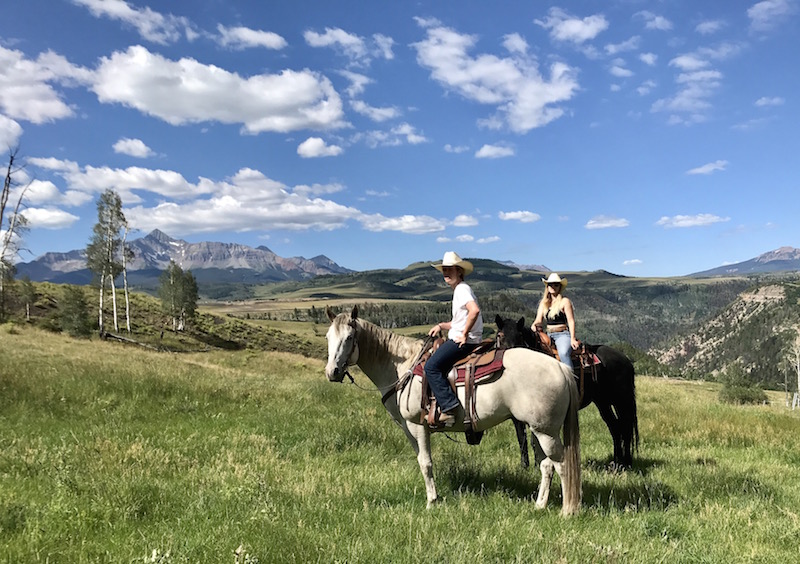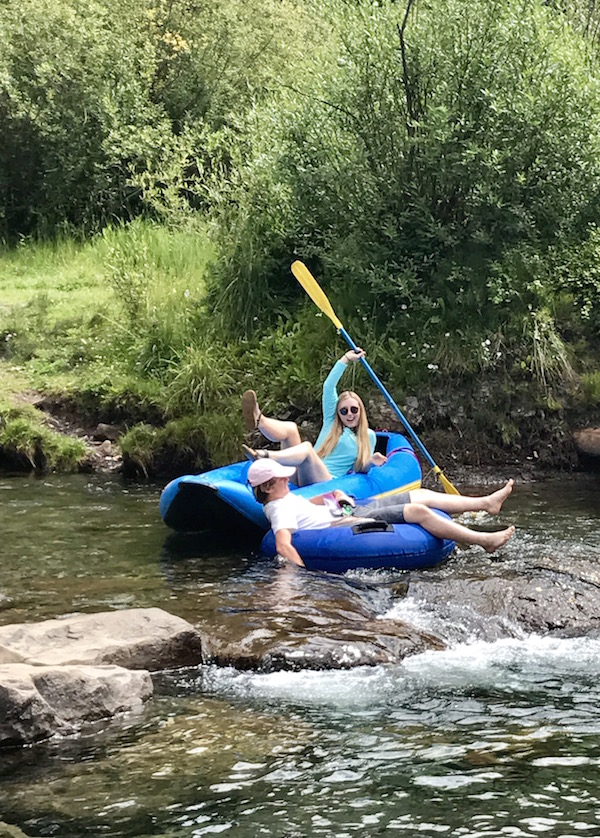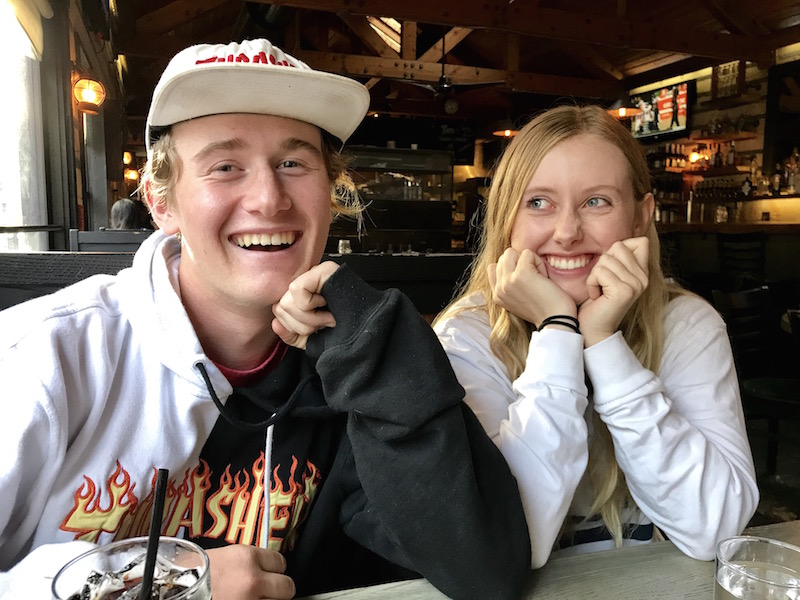 I fall back asleep, only to jolt awake by a recurring nightmare of falling. That sensation of catching a toe, tripping and landing with a thud—a real-life thing that happened less than two weeks ago, leaving my forearms scarred and still too painful to perform a forearm plank—haunts me and makes me tentative when I'm on the trail.
Dreamily, I think about our horse and our summertime rhythm of feeding and grooming, giving carrots after dinner, picking out hooves, mucking out the pasture. I feel the weight of the wheelbarrow handles in my hands, hoisting and emptying a fragrant load of manure onto the pile we created in the aspen grove to compost and spread for fertilizer next year. I feel the horse's soft muzzle nibbling my palm and nosing my pockets in search of a treat, hear the clip-clop of his hooves, sense the flexing of his back under the saddle and the reins alive in my hands that gently communicate with the bit in his mouth.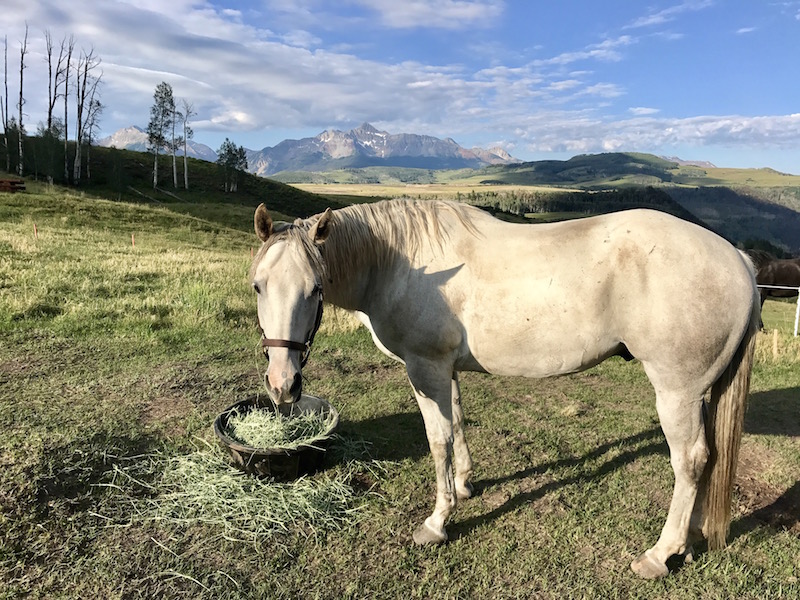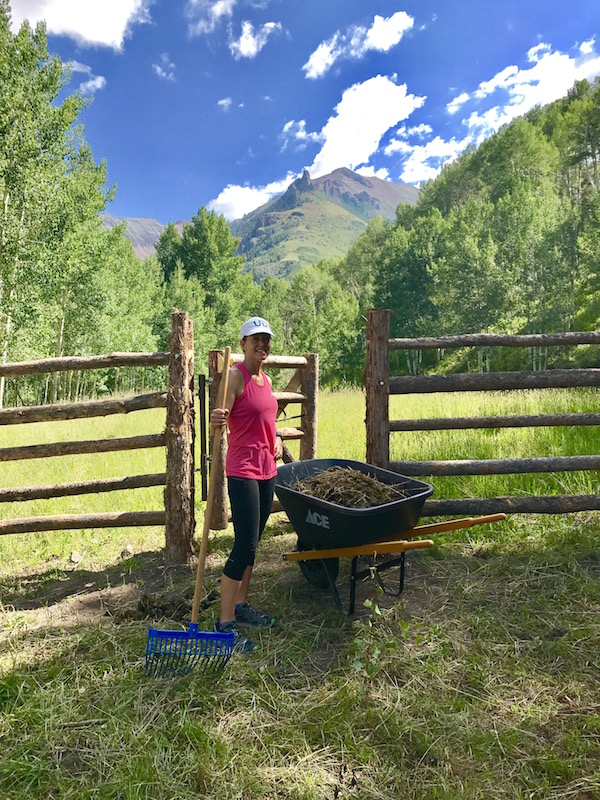 I mentioned it in passing at the start, but I can barely face this monumental thing demanding my attention, this 100-miler on September 8.
Returning to our home after a summer away, I rediscovered the trophy I earned at the Mauna to Mauna stage race back in May. That Hawaii trip feels like a year or more ago, not a season ago. The person who trained assiduously, whose every workout had a purpose and goal attained, who meticulously planned every piece of gear and meal for a week of self-supported running and camping—that seems like another person, and she's not here now.
After that event, we transitioned to Colorado, and something both liberating and worrisome happened: I cared a lot less about my running. I spent a lot of time on the trail, but most of the time, I hiked. Or I rode the horse, savoring the feeling of trotting and cantering up the switchbacks, rekindling my first sport and love. Others use the phrase, "like riding a bike," but for me it's a horse.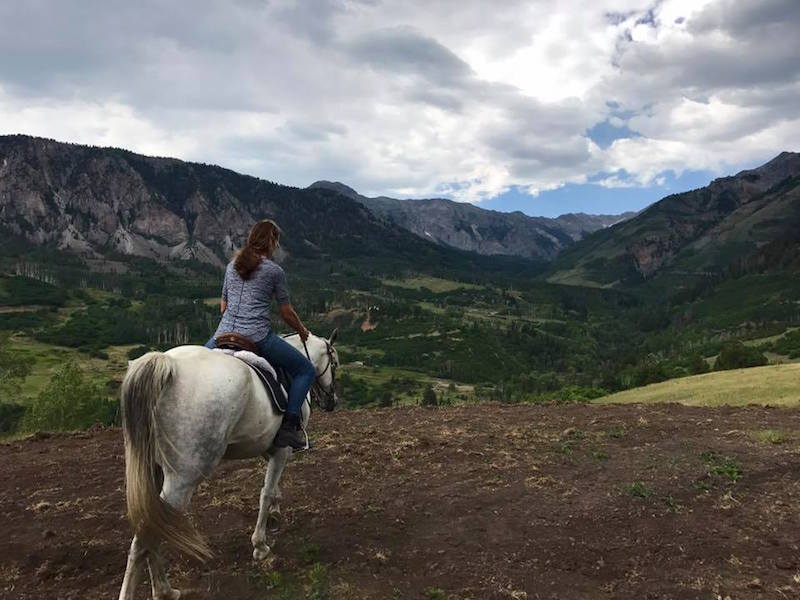 In contrast to that natural, powerful movement in the saddle, running steadily felt unrelentingly and unusually hard, even on the gentler valley trails—and unnecessary. I skipped more days than usual. When I'd work on my clients' training plans, I'd feel mild envy mixed with guilt because my own training seemed so subpar compared to theirs.
Sometime in early August, after the enthusiasm from pacing in July's Hardrock 100 wore off and after the Speedgoat 50K thoroughly humbled me and felt more like a 50-mile effort, I headed out on the trail near our house and promptly began hiking the switchbacks, feeling no drive to run even the flatter straight-aways. I knew I should be peak training for this 100-miler in early September. If I followed my own coaching advice, then my training volume would be nearly double and more specific than the half-hearted training I was doing. I felt deeply unmotivated, but also, blissfully relaxed and appreciative of the surroundings. What, me worry? I'll just mosey along and enjoy the views.
What if—during one run on Deep Creek Mesa overlooking Wilson Peak, I opened the door to ominous questions—what if what I've been doing with regard to running has been, at least in part, an enormous waste of time and energy? I reassured myself that it hasn't been, and I'm proud that my adult life's passion culminated in a coaching business and a book that shares all that experience. But still, what if? Or, what else?
I imagine that others who cultivate time-consuming, decades-long, mostly solo pursuits occasionally flirt with similar doubt and contemplate the worthiness of it—the concert pianist who spends the better part of a lifetime at the keyboard, for example, or the ballerina who endlessly repeats those positions and movements. What if it's time to move on to something else? What else could I, should I, be doing with my life? I've been a runner half my life, since grad school as a twentysomething. It defines who I am. It evolved from hobby to profession. What more am I meant to do? That run became a daydreaming hike—contemplating future possibilities and past decisions, contemplating turning 50 and embarking on other meaningful projects, ideally to serve a greater cause—and I felt content to turn back early, after a mere hour or so.
I thought about pulling out of the Run Rabbit Run 100 race, but I need to finish it to have a qualifier to enter the Hardrock 100 lottery again. The goal of running/hiking Hardrock sometime in my lifetime remains intact.
There's no denying I am truly undertrained and logistically underprepared for this event. I already made up my mind not to race it, to do it on my own terms non-competitively, and to that end I'm thankfully enrolled in the event's "tortoise" division instead of with the "hares," which allows more generous cutoff times and the use of trekking poles and pacers. But stress about getting there and getting it done, combined with other life stressors, is making me doubt my ability much more than usual.
If you've stuck with this slow-moving-train-wreck of a blog post this far, thank you, and I apologize for being a downer. But it gets better (really, I'm not being sarcastic).
A few things transpired in the past 24 hours to get me moving and thinking more positively again.
First, I met the Rocket yesterday morning at Lake Merritt. We had a routine of meeting on Tuesdays, as described in this post. It was my first morning back in the East Bay, and I felt disoriented and stiff from the prior day's long drive. He approached me walking with a slight limp, his knee aching and palms scabbed up from two bad falls on the trail the prior Saturday. We hugged, walked and talked, and after a mile our walk transitioned to a slow shuffle. It felt just fine—fulfilling, even—to go that slowly, as if we were slowing down time and enriching our three-mile lap together. He is still committed to his daily running streak and to his planned 100-miler in one month, in spite of being less than optimally trained and suffering a setback that made him hobble.  He was the angel and mentor I needed to relate to my doubts and weaknesses, to reassure me that this thing we do called ultrarunning is a profoundly complex metaphorical journey that goes beyond physical exercise to breathe life into life and help us cope with challenges such as anxiety and aging.
Later that day, I corresponded with an accomplished fast runner who's training for the California International Marathon in December. Pretty soon we were swapping training advice about fast-finish long runs and marathon goal paces, and I nostalgically relived in my mind the sensation of running the vineyard-bordered Napa Valley Marathon course, which I haven't done in eight years. I surprised myself by calculating split times and wondering with a flicker of curiosity how I'd do if I were to do it next March. For the first time in months, the idea of a track workout didn't fill me with dread.
Finally, I saw the announcement from Hal Koerner canceling the Pine to Palm 100 due to Southern Oregon's massive forest fires. The smoke-filled sky and the disappointed runners really hit me with a sense of gratitude and privilege that I have the opportunity, environment and good health to spend some 30 hours traversing a scenic swath of Colorado that I've never seen before.
I am switching from viewing this 100-miler as a source of stress and potential failure, to a mini vacation for personal growth and socializing. The reality is that I'm presently in a mode where I feel like stopping after an hour, and I look at my watch in disbelief over how few miles I've covered. That may or may not change in the next week, and if I have 36 hours in a row like that at Run Rabbit Run 100, so be it. It'll be an interesting experiment at least. Ready or not, here I come.
***
Personal note: If you have purchased a copy of my book, The Trail Runner's Companion: A Step-by-Step Guide to Trail Running and Racing, from 5Ks to Ultras,
 thank you! You could do me a huge favor by leaving a short customer review of it on the amazon page, or recommending it to friends on social media. If you have not, then I hope you will consider buying a copy for yourself or as a gift to someone. If you would like a signed copy, then please order through this link to our local independent bookstore, and I will sign the copy before it's shipped (this will take slightly longer and cost more than ordering through amazon, but it supports a great store).








Related Stories
Mining Family Stories for Inspiration and Summiting a 14'er to Reach Into the Past
I can't stop thinking about my grandmother as I use my hands to crawl and climb above 13,500 feet on the southeast slope of Mount Sneffels, where the mountainside's chunks of talus rock and loose scree transition to iron-tinged, broken-up boulders. A cascade of these large rocks, many of them wobbly and threatening to tumble down and strike me in the process, covers the passageway to the 14,150-foot summit.
Every footstep takes deliberate effort and represents a decision about where to step without slipping. Every labored breath, and every glance behind to survey how far we've come, leaves me lightheaded.
This summer, here in southwest Colorado near Telluride, I set out to improve my mountain running skills, to study this region's history and to learn more about my family roots. This pilgrimage up Sneffels relates to all three goals.
How in the world did my grandmother do this? What was is like for her, what was she thinking, and what kinds of clothes and shoes was she wearing in the early 1930s? Did her heart race like mine?
My whole life, our family drove past the Sneffels mountain range in between Ridgeway and Telluride during summers spent here, and my dad mentioned on several occasions that his mother—Martha Middlebrook Bloom Lavender, who went by the nickname Brookie—was the first woman on record to climb it, in 1932. I would see the Sneffels massif miles away, from the comfort of our car zooming across Dallas Divide, but I couldn't really get my head around her accomplishment, nor could I picture her.
The significance of Brookie's climb, and her adaptation to the San Juan Mountains as a young New York transplant, didn't sink in until I spent much of this summer studying her, along with my grandfather and my grandfather's brother's life, back then.
Finally, last Saturday, I got the chance to follow in her footsteps—sort of. It turns out, she ascended a much more difficult north-facing route up to Sneffels from Blaine Basin. My husband Morgan and I took an easier approach, from Yankee Boy Basin above Ouray, and still I struggled in the thin air to catch my breath, to calm my nerves and prevent injury while scaling those rocks. I've reached the summit of a 14'er only once before, Handies Peak on the Hardrock 100 Endurance Run course, and this Sneffels route makes the trail to Handies seem like a groomed parkway path.
The rock-strewn ridge we're climbing—the final pitch to the summit—is called Lavender Col (a "col" being a ridge or saddle between two peaks). How many hikers have puzzled over that colorful name? It's called Lavender not for any pale purple hue, but rather, in honor of my great-uncle—my grandfather's younger brother—Dwight Lavender.
I've been studying how my great-uncle Dwight, my grandfather David and his wife Brookie experienced awe-inspiring adventures in the San Juan Mountains in the early 1930s, and they escaped to the mountains during time off from work just as the Depression delivered severe economic hardship to the region. They left academia to help keep the family ranch afloat, and, in the case of my grandfather, to work a series of odd jobs before getting a position for a season at Camp Bird Mine near Ouray. My grandpa explained in an interview: "I got $5 a day, from which 20 cents a day was deducted for board and 5 cents for insurance. Union people would come up to try to organize the guys, and the miners themselves would run them off. The waiting line of people wanting jobs would have stretched from the Camp Bird to Ouray. Those were hard times."
The more I learn, the more I see parallels between their mountain escapades and the adventure that this generation's mountain-running, dirt-bagging endurance athletes glorify. Like today's Hardrock 100 ultrarunners who travel to Silverton weeks before the event to camp and spend entire days hiking and summitting the mountains, to adapt to the altitude and study the terrain, my relatives and their peers spent whole days testing their limits in the San Juan Mountains. But what my great-uncle, grandmother and grandfather did when they were 21 and 22 is more impressive to me than the mountain outings that my peers and I do insofar as they were trailblazers, scouting new routes, fashioning rudimentary gear and trying untested climbs.
Plus, I'm not a real climber. I can run and hike and get around big obstacles, but I am amazed by how my great-uncle and his peers really climbed these fearsome mountain faces.
In 2017, Morgan and I approach Sneffels' summit equipped with knowledge of the route, a trail marked by cairns, a GPS signal and an altimeter to measure our progress. We use trekking poles, hydration packs, good-quality shoes and layers of appropriate clothing for wet weather protection. We spot other hikers ahead and behind us, so we don't feel alone.
Eighty-five years earlier, Brookie, David and Dwight set out for Sneffels under much different circumstances.
Dwight took the lead, because Dwight knew the Sneffels range better than probably anyone else at that time, and perhaps since.
Dwight (born May 26, 1911) and my grandfather David (born February 4, 1910) were born in Telluride and grew up under the care and mentorship of their stepfather Ed Lavender. Their mother and their real father, David Painter—son of Telluride's first mayor, Charles Painter—divorced when the boys were young; their mother Edith remarried Ed, who adopted the boys and gave them the Lavender name.
Ed Lavender was a mule-pack operator who transported goods to the mines above Telluride and Ouray in the early 1900s. When the advent of aerial tramways and automobiles cut into his packing business, he turned to cattle ranching and eventually expanded his cattle running from Southwestern Colorado across the Utah border. The boys attended boarding school to get a proper education but spent summers working on the ranch.
Dwight became an avid climber in his teen years and a founding member of the San Juan Mountaineers, a group of daring young men who explored as much of the San Juan Mountains as they could. Dwight's friend Carleton Long wrote of Dwight, "Imbued with a love for the entire San Juan, Lavender nevertheless had his favorite mountain group. This was the Mt. Sneffels massif, with its enticing surroundings of unclimbed peaks and pinnacles. Lavender led successfully the only recorded ascents of the great north face of Mt. Sneffels—one of the most awesome slopes of ice and rock to be found in the United States. Struck by the total lack of any reliable maps in the Sneffels region, Lavender determined to survey this area accurately. Thus came to successful fruition in The San Juan Mountaineers Geological Survey which gave new and accurate elevations to Mt. Sneffels and dozens of surrounding peaks, and which recorded the existence of startling spires and pinnacles which will hold the interest of mountaineers for years to come."
Dwight and a handful of others spent four consecutive summers climbing, route-finding and measuring these mountains, and in 1933 Dwight and two of his friends co-authored the first guide of its kind, The San Juan Mountaineers' Climber's Guide to Southwestern Colorado.
Only about four copies of this mountaineering guide existed in mimeographed form until the Colorado Mountain Club Press dusted off the manuscript and published a limited edition of it in 2008. This Climber's Guide to Southwestern Colorado book, along with my grandfather's autobiography One Man's West,
captured my imagination this summer and are the sources for the info that follow.
Mountaineering—that is, teams of hikers exploring, climbing and mapping the mountains—developed in Colorado in the late 19th century because mining companies and the government commissioned geologic surveys to map and prospect the land. Finding routes to ascend and map 14'ers back then primarily had a scientific and economic purpose.
A generation later, Dwight and his peers continued some of this scientific work—exploring, measuring and improving the precision of the region's topographical maps, especially of lesser-known 13'ers—but, they also made mountaineering more of a sport and a celebrated form of recreation. The advent of cars enabled them to drive to trailheads to bag as many peaks as they could. Weekend hikes with picnics became a part of the region's social scene, as thrill-seeking young adults came together to form a group to summit a peak. (For more on this scene, I recommend the chapter "High-Altitude Athletics" in my grandfather's book, One Man's West.)
My grandmother Brookie was a high-society East Coast transplant. In the summer of 1932, at age 22, she visited southwestern Colorado for the first time, having become engaged to my grandfather that spring. A graduate of Smith College who went to UC Berkeley for graduate school, she met my grandfather in the Bay Area on a blind date when he was in his first year at Stanford Law School. (My grandfather attended law school for only that one year; he dropped out to work and save money, and he probably realized he didn't want to become a lawyer.)
It's amusing to think of the disapproving reaction Brookie's mother probably had to her daughter's desire to run off to Colorado to be with my grandfather. My dad has described his grandmother (Brookie's mother) as "a domineering, opinionated and difficult woman. Ancestry, lineage, and 'breeding' meant everything to her. She was a Mayflower descendent and never let the fact be forgotten." Brookie's parents actually hired a private detective to investigate my grandfather's lineage and education, since his adoption and name change from Painter to Lavender aroused their suspicions.
Brookie, engaged to my grandfather, showed up that summer to spend three months on Ed Lavender's ranch, about 20 miles outside of Telluride in between the Lone Cone and Beaver Park. She began exploring the region with David, his brother Dwight, and Dwight's new bride Ruth. According to her diaries (as recounted by my dad in his introduction to the new edition of my grandfather's autobiography), Brookie loved the region and quickly learned to ride horses on the ranch, becoming quite attached to a horse named Roy. Rather than being turned off by the dirt and hard labor of ranch work, or the extreme weather and thin air of the mountains, she must have instead felt enthralled by the land and the lifestyle.
On July 18 of 1932, she and my grandfather camped overnight and made their first climb at daybreak: the 13,500-foot Dolores Peak, not far from Ed Lavender's ranch.  My father writes, "It was not a difficult climb, but it was her first ascent of a major mountain, and she was thrilled and proud."
About one week later, on July 27, 1932, Brookie and David decided to take on the challenge of summitting Sneffels with Dwight. They camped the night before in Yankee Boy Basin. Swaths of ice and snow covered the north-facing route they chose, as shown in this photo from Dwight's collection (this photo is from an earlier ascent of Sneffels, with other members of the San Juan Mountaineers).
Here's how my grandmother Brookie describes it in her diary:
Up at 4:00 (brr). As day broke, we hiked onward and upward. Followed a trail through timber past the old Blaine Mill, by waterfalls, over streams, on to timberline. Ruth signed off there. Dave, Dwight and I went on. First over slide rock to the edge of the snow sheet, where we roped together. Dwight led, then Dave in the middle, and I at the end. They cut steps with ice axes. It took us about three hours to get up the snow sheet to rock. There it began to rain and hail. We wormed up over mammoth rocks, belaying on the rope. Above the rocks was more snow and a peak of it at the top of the couloir, where I was dispatched ahead and did a pendulum act….
Let me interrupt my grandmother's narrative to give my dad's explanation for what his mother meant by "a pendulum act": "I heard many times that as they neared the summit, my mother slipped and fell fifty feet or so before the rope caught her. She said she literally saw her life flash before her eyes. Interestingly, though her diary records the climb, she makes no mention of this—unless it's the 'pendulum act' noted."
Back to my grandmother's diary:
…Then more rocks—gigantic hunks of them. But we gained the summit! 
Unfortunately, it was not a clear day, though we could get a considerable view, and it was such as I could scarcely comprehend—all that sweep of peaks surrounding. Despite the wintry chill, it was an experience and left an impression I'll always have of bigness and of my own littleness. 
We didn't linger long but inscribed the record in the cairn and sped down, for storms were gathering. Quick glissading down the snow (though I'm far from adept at it)—eventually I rolled over on my stomach and dug my ice axe in. It made me rage to fail like that, but I survived. Met Ruth at timberline and we hurried back to camp to pack the car.
I was elated at having succeeded and at having had the thrill of standing up there and absorbing that stupendous view. I do love being here in this country!
The words from my grandmother's diary, which I've nearly committed to memory, spoke to me as I sat on the summit and inscribed a memorial to include in the record box. Borrowing Morgan's business card so I'd have something to write on, I wrote my name, date and, "In honor of Brookie Lavender, David S. Lavender and Dwight Lavender." The wind blew away some tears I shed. I felt emotional because I wanted so much to thank them in person—to know them in person—because of how they've influenced me to get closer to these mountains, to take risks and live life more fully. I am in awe of their courage and skills.
On the way down, I worked on improving my skills of glissading down scree. Every time I slipped and fell—at one point bloodying an elbow against rock—I thought of Brookie's words, "It made me rage to fail like that, but I survived."
Here is the page in Dwight's guidebook that describes their route and records my grandmother with her maiden name ("Miss Martha M. Bloom") as part of the north face ascent (click to enlarge):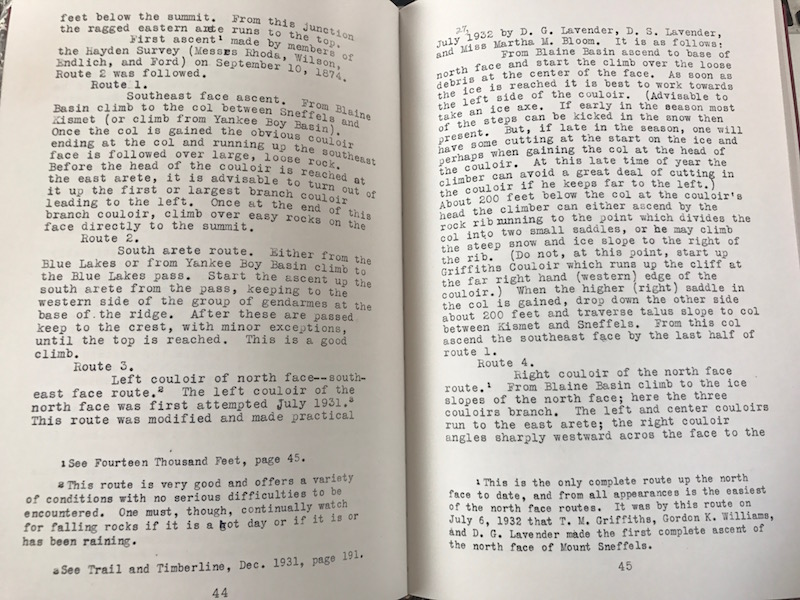 I take lessons and gain motivation from each of them—from my grandfather David, to be more scholarly; to read and write more, and also to stay connected to the land by working with my hands and savoring free time outside. I picture Grandpa operating a hoist in the darkness underground at Camp Bird. As soon as springtime came, he requested a transfer to work outside, accepting the job of busting up rocks in a rock pile. The fresh air and sublime views made the exhausting, backbreaking work bearable. Living through the Depression and working in those conditions gave him and his peers an appreciation for recreation and the beauty of the outdoors that too many of us privileged, outdoorsy types today take for granted.
From my great-uncle Dwight, I feel inspired to learn more about this region's geography—the names of the peaks, the glossary of terms to describe their features; to break out of my running routine to hike and climb higher, pushing back a fear of heights and a sense of helplessness when faced with a seemingly insurmountable obstacle on the trail.
And from my grandmother Brookie, I gain courage to take on new challenges. To challenge society's expectations of how a woman should behave or what a woman can do, and to risk a comfortable, easy life for the sake of following a passion.
I chase the ghosts of Dwight and Brookie because I feel a connection to them that goes beyond kinship, but I never got to meet them. I wish I could travel back in time to tag along on one of their mountain outings. I did know my grandfather David when I was growing up and remember him fondly as a grandpa, but it was only after his death in 2003, when he was 93, that I began reading his works more closely and developing a greater interest in his life as a cowboy, miner, writer, teacher and historian—and now I regret that I didn't spend more time talking to him about his past when he was alive.
A cruelly ironic illness cut short my great-uncle Dwight's incredible life in 1934, at age 23. Before he died, he accomplished more than 30 first ascents of peaks 13,000 feet or higher in Colorado and Wyoming, and he wrote extensively for climbing journals. When you learn he died young, you might assume he was killed by a fall or some other accident during a mountain outing. Instead, he died because he chose to do the responsible thing of returning to the classroom to earn a graduate degree in geology. When he entered Stanford University in September of 1934, he contracted the polio virus (Jonas Salk didn't develop the polio vaccine until 1953). Within a matter of two or three days, the virus completely crippled Dwight's exquisitely athletic body, and he succumbed to infantile paralysis.
Grieving the death of Dwight, and one year later the loss of Ed Lavender to stomach cancer, my grandfather David and grandmother Brookie worked tirelessly during the Depression. They oversaw Ed Lavender's cattle ranch after Ed died, until the bank repossessed the bankrupt operation, which failed not from lack of effort but rather from the collapsed economy.
They headed to LA with my father, born in 1934, as a young child, and my grandfather eked out a living writing pulp fiction and articles. Eventually, in 1943, he found his calling as an English teacher at the Thacher School in Ojai, California (where I grew up and went to school), and he spent the remainder of his career living and working in Ojai. He wrote some 40 books of nonfiction and fiction about the American West during his career, twice nominated for the Pulitzer. He also rekindled an interest in running, which he developed while running track at Princeton University. I doubt he ran much as an adult (he certainly hiked a lot), but he became the longtime track coach at Thacher. Dozens of Thacher alumni have told me how they cherished him as a teacher, coach, camper and cowboy.
My grandmother, meanwhile, settled into life in Ojai and worked as the librarian at Thacher. She never had more children after my father was born, because she had a very difficult pregnancy and delivery.
One day in 1959, when Brookie was 49 years old (one year older than I am now), she suddenly collapsed on the Thacher campus and died of a brain aneurysm. Her sudden death floors me—one day, no warning. I wish so much I could have known her. Instead, I learn what I can about their lives back then.
Mostly, they remind me to live life with a keen awareness of mortality, because you never know which day may be your last; to appreciate your loved ones, make the most of your time together and pursue your "someday" goals sooner rather than later.
Their history doesn't feel so distant when I'm able to retrace their steps and re-read their writing. Learning about their relatively fleeting lives that passed through these massive, eternal mountains makes me want to leave behind stories for my future grandkids.
One day soon I hope to go to the University of Colorado at Boulder and delve into the special collections, where my great-uncle and grandfather's works are kept. Thankfully, three of Dwight's photo albums are available for browsing online here. And if this post has sparked interest in my grandfather, I invite you to read his obituary here and encourage you to read some of his books, such as One Man's West, Bent's Fort and The Way to the Western Sea.
Someday soon, also, I hope to go to the La Plata mountain range, 15 miles northwest of Durango, and climb the 13,160-foot peak named Lavender Peak in honor of Dwight. Time is always running out.
Women of the Hardrock 100—Growing In Numbers and Recognition, They Rock
As an avid Hardrock 100-mile Endurance Run follower and wannabe-someday-participant, I'm excited about this year's women's field. It includes several "wild & tough," fresh first-time Hardrockers, so this year feels different, with more interest and more unknowns around these 20+ women.
In the past, you could count on one hand the female frontrunners and recite their names (e.g., Diana, Darcy, Anna, the Betsys). While I hold these veteran female Hardrockers in high esteem, I'm glad others are joining them for a more intriguing race*.
(* Yes, I'm calling it a "race" not a "run." Though I very much appreciate the tradition of calling it a "run" in which the last finisher matters as much as the first who crosses the line in Silverton, I and many others follow Hardrock as a race, captivated by how the competition unfolds and inspired by the participants pushing each other not only to finish the harrowing course, but also to pass or keep up with others.)
The female Hardrock entrants total 22 this year, compared to fewer than 20 in most years, making up 15 percent of the 145 participants (if my count is correct; the gender-blind entrants' list makes it a little difficult to count the ladies). You can look at this glass as half empty or half full. The women's field still makes up a disproportionately small percentage, given that roughly a third of the applicants to the lottery are female, but it's improving. I'm not going to delve into the intricacies and pros/cons of the Hardrock lottery, except to say that I understand and respect why the board has designed it the way it is, but the upshot is that the mostly male pool of veteran entrants will keep the guys dominating the list for years to come. (see below links to posts that explain the lottery system)
Hardrock started in 1992, and in its first year, two of the 18 participants were female. During each of the event's years in the mid to late 1990s, women filled seven or fewer of the spots. It wasn't until the past decade that significantly more women began to qualify for entry, apply to the lottery and take on the formidable challenge.
This year, runners like young Hannah Green (26)—winner of the San Juan Solstice 50, who blew me away when she set a course record last year at the Telluride Mountain Run—and two French women, Caroline Chaverot and Nathalie Mauclair, both past UTMB champs, will challenge Hardrock winners and favorites Anna Frost (who twice finished Hardrock, winning both times) and Darcy  Piceau (six-time finisher, three-time winner).
Will any of them break Diana Finkel's course record from 2009 of 27:18, set in this counter-clockwise direction? No other woman has ever finished under 28 hours. Diana's time is the 30th fastest time overall; Kilian Jornet holds the course record in 22:41, on the clockwise course, which some consider the faster direction (see here for history of results).
Additionally, it'll be great to see first-timers like Katie Grossman and Jamie Frink (two strong, experienced ultrarunners I've enjoyed getting to know) race alongside other women who likely will make up the top 10 among women—Darla Askew, Rachel Bucklin, Debbie Livingston (also a first-timer), Kari Fraser, Betsy Kalmeyer and Tina Ure.
Yesterday (July 11), I attended a panel discussion in Silverton featuring six women of Hardrock, a good mix of veterans and newcomers with a wide age range:
Betsy Kalmeyer (this will be her 18th Hardrock; she won five times in the past)
Darcy Piceau
Margaret Heaphy (a 10-time Hardrocker, age 61, who's crewing for her husband who's running this year)
Caroline Chaverot (who, in addition to winning UTMB last year, won the Skyrunning World Championships)
Hannah Green
Katie Grossman
Gina Lucrezi of TrailSisters organized and moderated the panel. I took notes and share below some take-aways and favorite comments.
On the early years of the race: 
Margaret, who was a pacer during one of Hardrock's first years, recalls that the route's difficulty astounded everyone, regardless of gender. "Everybody was like, 'Wow, can we do this? … They'd look over Grant Swamp and say, 'Is this for real?'" (see link at end for a short video of Grant Swamp Pass)
On the Hardrock community: 
Betsy: "It's like a family reunion every year—and the family is getting bigger."
Hannah: "I love the feeling of people [in and around Silverton] welcoming you even if they don't know you, just because you're here for Hardrock."
The discussion led to comments about growing pains; in particular, the issue of crowds of crew and spectators at aid stations, and the desire to keep Hardrock small enough to feel like "family" and to still fit all the runners, volunteers and crew members into the Silverton School's gym for the traditional post-race ceremony and brunch. Given the desire to welcome and mentor a new generation of aspiring Hardrockers, there's no easy answer to these growing pains.
When asked if Hardrock had considered instituting a self-supported "solo" category of runners (an added challenge that a few 100-mile ultras feature, which presumably would cut down the number of pacers and possibly also lessen crew), Betsy, who's a Hardrock board member, said it's been considered but didn't indicate whether it's a serious possibility in the future.
On what holds women back from participating in the higher levels of mountain/ultra/trail running:
Betsy: "A lot of women have obligations at home, and guys feel they can go and do stuff … it's harder for women to say, 'I'm gonna go train'; it's harder for women to spend that time away. Thirty years ago, ultrarunning was 50- to 60-year-old guys because they were retired and empty-nesters. … Obligations and society have kept us back."
Katie noted it's hard to find other women to train with her in her hometown near LA because of the time involved with driving to the trailhead and doing the run. To train for an event like Hardrock, you have to make training a priority and devote a great deal of time to it.
Darcy, a mom, recalled bringing her young daughter to Hardrock. (I recall this too—several years ago, I observed a mutual friend, Nettie Pardue, babysitting Darcy's daughter at aid stations while also crewing and getting ready to pace Darcy, and it struck me at the time as a powerful testament to women supporting each other in multiple ways and being strong role models to little girls.) "It's a balancing act all the time … You need a team, and your crew makes it possible."
Caroline said she felt guilty leaving her three children back home in France while she races, "but my kids are happy with my parents." Since I'm a parent of two teens, and I regularly left my kids with others so I could train and race when they were younger, I want to expand on Caroline's comment. It's my belief that kids usually do well when they have time away from parents under the watch of other loved ones, and it makes the parent feel happier and more well rounded to have that "me time." It can be a win-win situation, so try not to feel guilty!
None of the panelists mentioned the timing of pregnancy, but a new post by Stephanie Case about UTMB denying entrance deferrals for pregnancy made me consider how planning a family also can deter women from getting into a sought-after event like Hardrock (or Western States or UTMB). Gaining entrance to Hardrock is a continuous multiyear process, involving running a challenging ultra on the qualifying list, then applying to the lottery for as many years as it takes to get in (which can be several—and you gotta keep running qualifiers to be in the lottery). Taking a year off for pregnancy and postpartum certainly can throw a wrench into that process, so granting a one-year entrance deferral for women due to pregnancy is something I'd support. Check out Stephanie's post on the issue.
On the value of pacing as preparation for someday doing the whole Hardrock:
Several talked about the value of pacing and crewing—that is, of being part of the runner's crew team, and accompanying the runner for a portion of the course—as a way to prepare for the event and also to mentor more women to enter the field.
Darcy, on encouraging women to apply to Hardrock: "Go for it, and if you don't get in, come here and pace."
Katie: "It took me three times of being in the lottery before I actually wanted to get picked"—meaning, Hardrock is so intimidating and challenging, it takes several years of pacing and learning about the event before gaining enough experience and confidence to genuinely want to do it. I share Katie's point of view; I've been pacing, crewing and volunteering at Hardrock since 2011, but I didn't have enough confidence or a qualifying race to enter the lottery until 2015. After losing twice in the lottery, and gaining the experience of pacing several times, I finally feel confident (enough) to genuinely want to attempt the whole HR100 (but still intimidated and nervous at the prospect!).
On training and preparing for Hardrock: 
Betsy: Practice hiking and using poles. "You can really train and become more effective with walking."
Katie and others: Come to the region early to acclimate, and practice big climbs. Katie has been training for Hardrock in the region since early summer and cracked, "I think my quads are bigger. My jeans fit differently."
Caroline—who impressed me as friendly and humble in the face of Hardrock, in spite of her credentials and star power as a champion European mountain runner—said she trains almost exclusively on very steep mountains, on terrain that requires efficient hiking because it's unrunnable, so she's nervous about having to run Hardrock's "ramps" (the long, moderate climbs that characterize the counterclockwise direction of this year; Hardrock's profile has climbs/descents nicknamed "walls" and "ramps," and in this year's direction, runners mostly go up the ramps and down the walls). Caroline described being well adapted to steep vert and less confident about the more runnable sections of the course—an unusual point of view for most first-time Hardrockers, who generally feel intimidated by the "walls" and welcome the gradual slopes of the "ramps."
On general advice to get through Hardrock and avoid a DNF:
Darcy: "I don't really give myself an out; I'm not dropping unless a medical person says, 'You're out of here.'"
Katie: "I've wanted this [a spot in Hardrock] for seven years, so I'll remind myself it's a gift to be out there."
Betsy: "You earned that vertical. Take at least 30 seconds at the top to look around."
For further reading and to follow this year's Hardrock:
See iRunFar's post on live coverage, which has links to previews of this year's competitors. I also recommend iRunFar's article on this year's lottery results, which explains the lottery process.
Listen to the UltraRunnerPodcast interview with Blake Wood that I co-hosted, during which I asked Blake (a 20-time HR100 finisher and Hardrock board member, and a key architect of the event's lottery system) about managing conflicting interests around the Hardrock entry system and considering ideas to achieve greater female representation.
Personal note:
I'll be crewing and pacing for my friend and first-time Hardrocker Mark Tanaka, and Clare Abram arrives Thursday night to help crew and pace also—I can't wait! The plan is for Clare (who finished Hardrock in 2015, and I paced her that year) to accompany Mark from Grouse Gulch (mile 42) to Telluride (mile 73), and then I'll go with him the remaining 27 miles from Telluride to the finish in Silverton. This experience reinforces for me how special and satisfying Hardrock is in terms of bringing runners together to function like a team in support of the official participant.
Check out Mark's FB video of what it's like to go up and down Grant Swamp Pass here. (He and I will be doing that stretch together sometime Saturday.)
The Hardrock profile; see the Hardrock website for more course info and live runner tracking.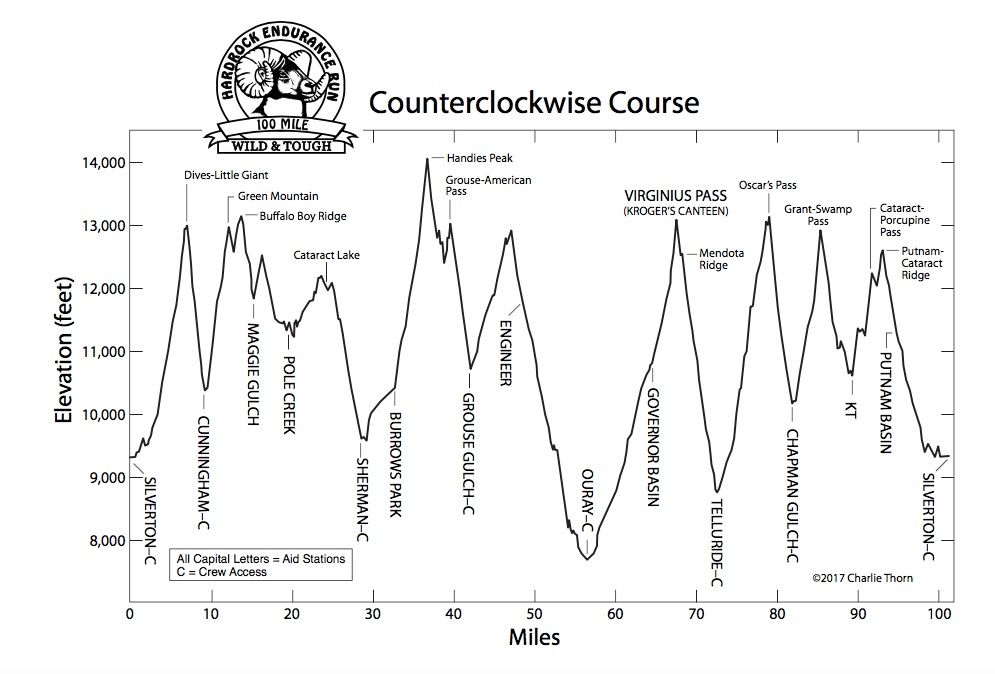 Related Stories
Tuesdays With The Rocket: A Special Start to 2017
Until I left California a few weeks ago and transitioned to Colorado for the summer, nearly every Tuesday of 2017 went like this:
I run 2.5 miles from my house to the edge of Oakland's Lake Merritt to get there at 8:52 a.m., because The Rocket always arrives early to our 9 a.m. date.
While I stand and stretch near the tall columned structure called The Colonnade, Errol "The Rocket" Jones, 67 years young, runs up sporting a trim-fitting shirt neatly tucked into shorts, looking dapper even in running clothes. His skin is smooth and shiny, except for some wrinkles around the eyes, and his thin, sculpted legs look like those of a champion East African runner.
"Rocket, I'm tired today," I admit as soon as I see him.
"Honey, I am so glad to hear that! You and me both." He throws his arms around me in a sweaty hug, his laughter loud enough to turn heads. Passers-by see our contrast in age, gender and race, and a few must wonder, what gives? But most probably don't think twice, because this is Oakland, and the lakeside pedestrians look as representative as the UN.
I tell him, "I feel like your '79 Cadillac, you know? I've got the potential to look good and run well, but I'm old and rusty."
"Well, I had the worst run you can imagine yesterday," he tells me (because we have fallen into the habit of one-upping each other with worst-ever stories like this). As we begin stiffly running clockwise around the lake, dodging geese and walkers, our talk takes on a confessional tone. He relates how he drove to Skyline Gate in Redwood Regional Park to run 7.5 miles out and back to Pinehurst Gate, but he felt so lousy, and the trail was so storm damaged, that he cut the run short. "It didn't even end up being 5; it was 4.8, but it was still above my prescribed daily 3."
Rocket's "prescribed daily 3" is his minimum requirement to maintain a streak—that is, running every single day of 2017, in preparation for redemption at the 100-mile distance. He's committed to finishing the Heartland 100 in Kansas in early October.
Today, a Tuesday in late June in Colorado, I'm not missing too much about California, except The Rocket and "the big dance" happening this weekend. I keep dwelling on the Western States 100-mile Endurance Run, which takes place Saturday, and flashing back to my experience one year ago—those 24 hours that lived up to the hype and turned out to be everything I hoped it would be. Errol, helping as my crew and mentor, was a big part of that day. I wish I could be part of this year's excitement around States and hang out with The Rocket again.
I can't recall exactly how or why we started the new year with the "see ya Tuesday at 9 at the lake"—two ultra-distance trail runners meeting midweek for a paved, flat, easy loop. I only recall the feelings of vulnerability and anxiety that settled in my stomach toward the end of 2016.
Nervous about the imminent publication of my book, worried about my kids' personal struggles, daunted by a crazy weeklong race I committed to train for, doubtful I could prove to myself that I could take the entire month of January off from drinking alcohol (when a single night of abstinence, pre-race, felt like a struggle)—the combination of these and other stressors, including the specter of Donald Trump, made me feel close to hopeless and powerless.
It's fair to stay The Rocket started the year a little stressed, too, haunted by DNFs at a couple of 100s and determined to fulfill a running streak. He transitioned from semi-retirement to return to work as a carpenter, taking on a tough remodeling job. He felt fatigued from race-directing and volunteering. He kept shaking his head in disbelief and dismay about current events, the clock turning back on civil rights.
I needed a friend, a counselor, a reminder of the best, most humorous and resilient sides of the human spirit. We both needed a conversational-pace easy run with no expectations of distance or speed, a chance to rejuvenate a few days after a depleting weekend long run.
Each Tuesday, we learned a little more about each other. For example, one time, he told me about running trails solo in Mexico in January (where he, along with his close friends Tropical John Medinger and Lisa Henson, traveled during the inauguration week to get away from it all), and I asked, don't you ever worry about your safety while running unknown trails solo in a foreign country?
He gives me a look, like, don't I know anything? "Honey, I was a point man in Vietnam!" He launches into a story that transports me from Lake Merritt to a jungle where I visualize him dressed in camo holding a rifle, forging solo into the unknown to flush out enemies and other threats, making it safer for troops to follow.
Another time, I tell him about how my weekend long run got all screwed up by a mid-run phone call with my mother and her caregiver. I had stopped running and caught a chill while trying to get through to my confused mother, who no longer possesses the cognitive ability to remember the four-year anniversary of my dad's death. Errol listens sympathetically and describes his mom as a saint, his dad a philanderer. We get to talking about siblings—the good and the bad—since I'm the youngest of five and he's the oldest of seven.  "It's life. You can't choose who you're related to," he reminds me.
I don't need a psychologist to recognize that in this midlife phase, lacking parents who are healthy, strong role models, I seek out older mentors who on some level fulfill paternal or maternal roles and who cheer me on, inspiring me to be better and stronger while at the same time accepting my aging, imperfect self.
But mostly, Rocket and I talk about running, because there's always running.
When he tells me his plans for the Ohlone 50K in May, I ask if he ever considers doing the Silver State 50 near Reno on that same weekend, as an alternative. Again, he looks at me like, don't I know anything?
"Back in the day, some of us would do Silver State and Ohlone," he says, because one event is Saturday and the other is Sunday, making a back-to-back race possible. "We were warriors! Today, you're all creampuffs!" We laugh so hard, more heads turn.
Then The Rocket grows subdued and recalls when he used to run the Ohlone 50K in the early 1990s in close to 5 hours, placing near the front, not in the 6 to 7 hours it takes now. (On May 21, a brutally hot day, he finished the Ohlone 50K in 8:05.)  "I had something then, I wasn't just a has-been," he says more to himself than to me. I remind him that he has a daily streak and a 100-miler on the calendar, and that's not a has-been.
"That's right, and after three months, I'm really feeling the payoff" of this year's training, he says with more characteristic cheerfulness.
It's been 35 years since Errol "The Rocket" Jones ran his first ultra, the American River 50—and since some other trail runner in the Oakland hills gave him the nickname that stuck by referring to him as "the black guy rocketing around" (a story recounted in this UltraRunnerPodcast episode)—and he's run more than 200 ultras since. His 100-mile time dipped below 20 hours in his prime. Now, he anchors his goals on getting out and finishing, pure and simple.
He writes a column called "Rocket Rants" for UltraRunning magazine, and in last month's issue, he described friendships nurtured through ultrarunning. "Sometimes life happens, and we need a go-to person or persons, those you can always count on to be there in your time of need," he wrote. "If you're lucky you've developed a similar relationship with a someone, or a group, in the sport, who can share your pain over 40 to 60 miles of rugged trail and drag your wretched behind to the finish line. Or get you over whatever hump is blocking your way in life."
I agree completely, but it's funny how I also found that to be true on a gentle three-mile loop around Lake Merritt.
If you haven't seen it, check out this short video about Errol "The Rocket" Jones, which I helped the filmmaker develop in late 2015 (and I'm seen running briefly with him in it).
Good luck to everyone chasing their dreams this weekend at the Western States 100-mile Endurance Run! Here's the lowdown & links from iRunFar on how to follow it.