---
Today I'm Gonna Run Like It's 1999
Organizing and packing for an upcoming move, I'm digging through stacks of photo albums inherited from my parents and boxes of photo printouts leftover from the early-2000s era of Snapfish, when we printed and saved every digital image. I'm drowning in memories and moved by the range of feelings they stir when I come across this yellowing page in an album from 19 years ago.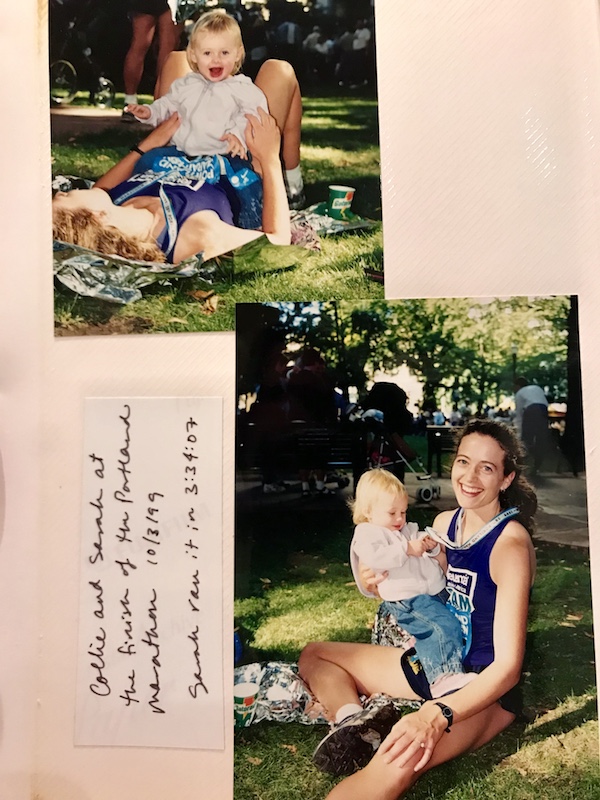 It pictures me at the finish of the 1999 Portland Marathon, my fourth marathon and first as a new mom. I had turned 30 a few months earlier. I held my 19-month-old baby girl and felt so profoundly happy and satisfied.
My first Boston Qualifier. My first baby. Being a dedicated runner and a dedicated mother could co-exist after all! I brimmed with potential, motivation and optimism (shrugging off the apocalyptic fears and survivalist urges that everyone harbored in those waning months of the century as a "Y2K meltdown" loomed).
I PRed at Portland with 3:34. Surely I could go sub-3:30. At the 2002 Chicago Marathon, following the birth of my son, I finished in 3:23.
That decade of my 30s, I believed I could keep getting better and faster, and I had the confidence and determination to do it. At the 2009 Napa Marathon, at age 39, I PRed with 3:05. And I loved it—I was so into training for each and every marathon.
Then I turned 40 and became more and more drawn to the trails and longer ultra distances. I ran the Oakland Marathon a couple of times, but not very seriously. Marathoning became something I did in my 30s, not my thing anymore.
But that 1999 photo from Portland hit me big time—coincidentally on the same day, last Sunday, that the California International Marathon took place. All morning, I had been wrapped up in tracking the performance of one of my clients running CIM, celebrating her big PR. "I just kept telling myself this was MY DAY and allowing myself to enjoy the cheers and crowds and passing people and feeling so proud of my final 6 miles. I've never done so well in the final 6," my client Kim wrote the next day, describing how fantastic it felt to finally smash the 4-hour barrier and for the first time to run the whole marathon without walking breaks, finishing in 3:46.
Several months ago, with ambivalence, I signed up for the 2019 Napa Valley Marathon. I figured I should go back to that place and race where I first felt inspired to run (I started running in 1994 the day after watching two friends finish the Napa Marathon). I should go there to celebrate 25 years of running, and I should face my fears about running a road marathon again.
I signed up more with a sense of "I should" than "I want." Now, after seeing that 1999 Portland photo and hearing friends' enthusiasm about CIM last Sunday, I'm feeling a lot more motivated to train for it as best I can under the circumstances in the next 12 weeks.
Something that Mario Fraioli wrote in his Morning Shakeout newsletter this week—after he PRed last Sunday at CIM—resonated and inspired me, even though I'm 13 years older and much, much slower than he at marathoning: "Crossing the line on Sunday in 2:27:33 at the age of 36 in my tenth marathon was a thrilling, validating, and straight-up special moment for me. I've been at this crazy sport for 21 years and haven't broken a personal best since graduating college in 2004. Motivation has wavered in and out over the past several years, my body can't handle the amount of work it once did, and other things have taken priority in my life. But, as I shared in this very space almost a year ago, I was committed to 'eliminating excuses, competing with a sense of renewed purpose, [and] making my own training and racing a priority for the first time in a long time.' It's exciting to look back at that decision and realize that this road has come full circle."
Coming full circle—that's how the prospect of this coming season of running feels to me. Facing a marathon and facing 50, I want to see what this body can do. From prenatal to postpartum to perimenopausal, this body has graced me with good health. My heart, lungs and legs have carried me nearly 40,000 running miles since I started keeping a log in the mid-1990s.
I am much slower now, but I know I have to shake the "I'm so slow now " belief that crept up and handicapped my determination and confidence. My Marathon Goal Pace for that Napa Marathon a decade ago, 7:05/mile, now feels like a fast 5K pace, and I have a hard time believing I can run 26 miles with a pace in the mid 8s. I have not set a time goal (yet) for Napa, and have no illusions of getting anywhere close to my PR time, but I would like to finish well under Boston Qualifying times for my age and gender, to have a shot at going back to Boston one more time in 2020.
Bottom line, it feels good to feel more excitement than trepidation at the prospect of starting the Napa Valley Marathon on March 3, 2019, two months before my 50th birthday. Now I wonder, why the heck wasn't I more excited before?! How cool it will be to get a shot at feeling and earning the finish-line glow captured in those earlier pics.
With the Hardrock lottery in the rearview mirror and the unsurprising confirmation that I did not get in, my 2019 race schedule looks like this:
SF Kaiser Half Marathon Feb. 3
Napa Valley Marathon Mar. 3
Whiskey Basin 55M on the Prescott Circle Trail around Prescott, AZ, April 13
Bighorn 100 in Wyoming, June 14 (If you've run Bighorn, please message me any advice or descriptions about it. I need to do my homework and learn more about it.)
Maybe pacing at Hardrock, maybe the Ouray 50 (not the 100); I am inclined to keep July/Aug open to enjoy summer more, to recover from Bighorn, and then to train more specifically for that big September goal listed below.
Maybe the Telluride Mountain Run Aug. 24; it depends on the kids' schedules for their transition back to college.
And then—I'm going back to the Grand to Grand Ultra stage race in the third week of September!
I am not planning past September, except to look forward to trying some winter sports such as Nordic skiing since we'll be living in Colorado for the first time all winter.
(If anyone reading this is interested in the Grand to Grand Ultra or its sister race in Hawaii in May, the Mauna to Mauna Ultra, please read my archived posts for info on it. If you decide to register, I'd appreciate if you put in my name where the form asks, "how did you hear about it?" because then I will receive a discount for a referral, which will help make this pricey-but-worth-it adventure more affordable.)
I'm stoked by the lineup above—to tune up as a road marathoner and come full circle and run Napa again; then to explore two destinations at ultras in regions where I've never run; and finally, to go off the grid and be self-sufficient once again for the insanely scenic, soul-filling and challenging week-long 170-mile Grand to Grand Ultra in Northern Arizona and Southern Utah.
Feel free to share your 2019 race plans below. My advice: Try something old and something new. Pick races carefully, and only if you genuinely feel drawn to them. Aim for variety in terms of destination, distance, terrain and climate. (Check out my recent UltraRunning magazine column for more on this topic.) Most of all, never lapse into thinking that your best races, or your best days, are past.
Did you check out my "good stuff" aka gift guide for trail runners? Reminder: I am selling signed, personalized copies of my book, The Trail Runner's Companion: A Step-by-Step Guide to Trail Running and Racing, from 5Ks to Ultras, for the same price you'd buy it from Amazon. Details in the gift guide post, or please email me if you're interested.








Related Stories
The Week I Started Running Again, and It Meant the World
The day before Thanksgiving, I stepped onto the sidewalk in front of our house and inhaled deeply. The air smelled moist and felt cool from a light rain. Leaves from the elm plastered the ground, newly fallen during the early hours of a developing storm. My lungs expanded with the vapor of a cleansing mist.
I broke into a run. Not a careful warmup jog, but a bounding, springy run.
Two days earlier, when I exited the house and breathed deeply, my lungs burned as if recovering from a chest cold, reminiscent of that first cigarette the morning after an excessive night out during college. The sun looked like an orange ball. The views to the west toward the bay, and to the east toward the hills, dissolved into dirty-white haze.
It was Monday, November 19, Day 10 of a smoke-filled sky, and I wore a mask, the kind with a round filter in front that was supposed to keep out 95 percent of the fine particulate matter threatening everyone's respiratory systems and polluting all of Northern California due to the devastating fire. I hiked up our neighborhood hillside, making a few half-hearted attempts to run a quarter mile before giving up and walking in the toxic fog. My eyes burned, my nose ran incessantly—it took too much effort to remove the mask to wipe it—and I breathed heavily, feeling borderline suffocation while inhaling carbon dioxide trapped from exhalation.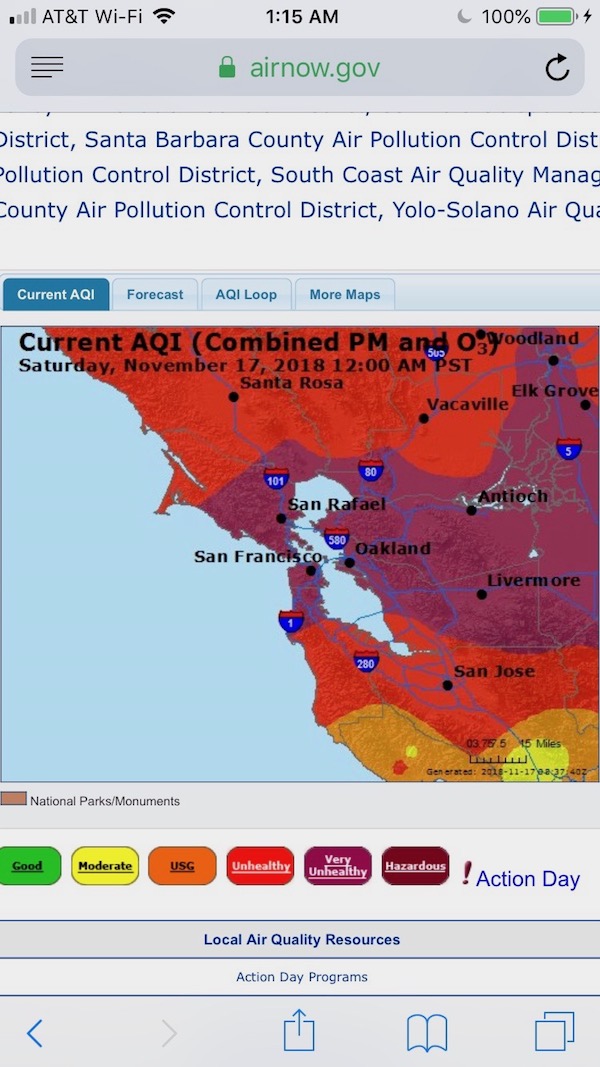 I felt desperate to get outside to exercise. I had purchased a day pass at a local gym twice in the past week for two hour-long treadmill runs, and I had done step-ups, squats, jump roping and other exercises inside our house, but I hungered to move my legs a couple of miles up this hill.
Instead of strength and satisfaction, however, I felt weakness from inhibited breath and sadness from the enormity of this catastrophe that burned so many lives and homes, and from the sinking feeling that our planet is irrevocably damaged. Fires last December nearly destroyed my Southern California hometown. Fires last summer in Colorado turned the sky orange and obscured the mountains. And now this, the new norm.
The cleansing rain and cool winds finally returned, and the view of San Francisco's skyline sparkled across the bay.
I pondered how at the beginning of this month, running felt uninspired and uncomfortable, and I had declared I don't love running right now. I had wanted to take a break. But not this kind of forced break, so suddenly and for such horrible reasons.
So I bounded out the door on that beautiful Wednesday, the day before Thanksgiving, and had my first truly good run in weeks, maybe in a couple of months. My legs felt refreshed, and the achy stiff areas felt close to normal. I zoomed around the neighborhood.
After 45 minutes, I looked at my watch and thought, Only five miles?  It felt farther. The blood flow enlivened my lungs and legs, sweat dampened my skin, and I felt so good—but so tired! Since October 1, I have completed only two runs longer than 10 miles. My endurance had evaporated.
Saturday should be interesting, I thought.
Saturday, November 24, was the Quad Dipsea, the 28.4-mile trail race that stands in a class of its own for difficulty and odd distance. It's four times the storied Dipsea race from Mill Valley to Stinson. The fastest runners barely manage a sub-10-minute-mile average pace, given the hiking necessitated by hundreds and hundreds of treacherous, slippery steps built into the rocky, rooted hillside. The route presents 9200 feet of climbing and an equal amount of descent.
I did the Quad once before, in 2016, when I was in better shape from running Western States that year. I broke 6 hours and finished 5th female on that year's rain-soaked slippery course. How would I fare this year, undertrained and several pounds heavier? Could I break 6.5 hours; could I even finish? The uncertainty felt exciting and liberating. I didn't care. I just wanted to try to go the distance, to be a solid mid-packer, to see old friends, to run and be a runner.
The gathering at Old Mill Park in Mill Valley had the vibe of a festival. I lost track of the number of people who said hello, and my brain scrambled to remember names and faces. I have felt so out of the loop, isolated, here in our local community of Piedmont since returning from an extended period in Colorado, and out of touch with the Northern California running scene.
I hugged Clare, whom I hadn't seen since she heroically crewed me at Ouray, and I decided I'd run for her today, since she couldn't run due to injury. She showed up to volunteer. And I'd run for The Rocket, who also showed up to volunteer, since our runs together are on hiatus due to his injury. I'd run for everyone who lost everything two weeks ago.
I stood at the start thinking, This is going to be really hard.
The sound and movement of the other runners swept me along. After the first mile, Scotty Mills from San Diego, the legendary ultrarunner I profiled last year, surprised me by running by my side and making small talk. Repeatedly, people struck up conversations along the way. "This is Sarah," one guy named Greg told another guy near us, "she gave me advice about States when we ran Woodside together." I did?
Other trail users stepped aside for us runners, and for the most part they looked bemused, not annoyed. Instead of thinking a phrase that too often goes through my head while driving freeways and scrolling Facebook, "People can be such assholes," I thought, "People can be so nice."
More than a run, the Quad Dipsea reminded me that this—this sport that went from hobby to lifestyle and social network—is what I do, and that my body still has the wherewithal, and that each of us on the trail is so fortunate to get to do it.
I still got it, I thought as I finished the second lap and headed up the Mill Valley steps to begin the journey to Stinson Beach again.
This really hurts, I thought at the end of the third lap, leaving Stinson Beach and heading up the hill for the final journey back to Mill Valley, knees achy, toes bruised, quads twinging. I pushed through the ache and fatigue toward a finish that would be 19 minutes slower than my 2016 self, not bad, under the circumstances.
I breathed deeply and looked at the sky, so blue and vast above the ocean.
To breathe deeply, to see the horizon clearly, to talk to old friends, to move your legs up and down a mountain—how marvelous and precious this life on earth is, the more imperiled it becomes.
My 2018 List of Good Stuff for Trail Runners (aka Gift Guide)
This time of year, I like to share recommendations for worthwhile running- and outdoor-related stuff I discovered over the past 12 months. I've personally used and truly like all the items below. I didn't carefully test or judge each one against others in its category, because I'm not a gear reviewer or product tester, just an avid mountain/ultra/trail runner and coach wanting to spotlight a few products that enhanced running and outdoor experiences.
Most of the links below will generate a small commission for me, to help support this mostly commercial-free blog, so thanks in advance for doing some shopping through this post! (Note: prices below are rounded up, and they're subject to change, of course.)
Safety First
As described in this column I wrote for UltraRunning, a search-and-rescue tragedy hit close to home and reinforced the importance of safety on trail outings. The sidebar to that column lists the safety gear I recommend taking on solo trail outings, especially in the mountains. I'll highlight two that I started using a great deal this year: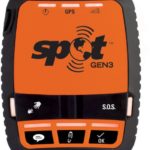 When heading out on a route where cell coverage is spotty, I take the Spot Gen 3 personal GPS tracking device with me. I turn it to tracking mode and periodically send "OK" messages to my husband. It gives peace of mind knowing that someone will find me through the signal if for some reason I lose consciousness, and also, that I have an "SOS" button at my fingertips that would signal search and rescue if something life-threatening suddenly came to pass.
It's not cheap—once you buy it for $150 (50% off if you take advantage of a rebate going on through December 31), you have to activate it, and a one-year basic subscription costs about $200. Find out more through Spot's site about service plans. But this could be a life-saving investment.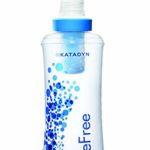 I simply love the Katadyn BeFree soft-flask water bottle with a built-in filter. I use it all the time to refill from streams. If you need to refill from a natural source, then get one of these! ($40 for 20oz size)
Good Reads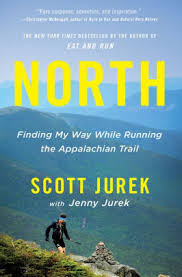 The best running/adventure nonfiction book I read in 2018 is North: Finding My Way While Running the Appalachian Trail
by Scott and Jenny Jurek.
Many know Scott Jurek as one of the greatest ultrarunners of all time and the author of Eat and Run. In his latest book, co-written with his wife Jenny, we see him struggling with self-doubt and identity in midlife, seeking to rediscover the desire to train and compete that drove his younger champion self. More than a runner's book about endurance, this is a relationship book that captures the back-and-forth of husband and wife collaborating, arguing and growing stronger together. Jenny's voice, and her role as Scott's crew chief, makes this book stand apart from other running books that focus on the central athlete. All of the colorful characters who support Scott on his 2,189-mile odyssey—and the vivid descriptions of the Appalachian Trail itself—make North an epic and unforgettable adventure story. You can hear the interview with Jenny Jurek that I co-hosted on this UltraRunnerPodcast episode.
It's been a year and a half since my book's release, and it keeps generating positive feedback and 5-star reviews, like this one that popped up on its Amazon page last month: "This is a great book with a wealth of information for a trail runner, and fun to read on top of that! I really recommend it. … It comes through in the book how friendly and enthusiastic Sarah Lavender Smith is. She includes a lot of anecdotes and personal lessons alongside tons of information for a new trail runner like me. It covers *everything*—from specific training exercises and programs, to gear, to race day planning, just to name a few topics. So in September 2018 I ran my first 50K—quite a change for the guy who rarely got off the couch in his 20s and 30s. This book was a tremendous help in doing so."
If you would like to order The Trail Runner's Companion: A Step-by-Step Guide to Trail Running and Racing, from 5Ks to Ultras, you can order through its Amazon page here
but, I am making an offer through the end of the year for a signed, personalized copy mailed to you at the same discounted Amazon price ($15 plus shipping). Email me if you'd like the details on how to order a signed copy with a special note from me.
Ultimate Direction Must-Haves
As an Ultimate Direction ambassador, it's not surprising I'm drawn to their products and recommend them. I want to highlight just a few that proved essential while training for and running the San Juan Solstice 50, Ouray 100 and Telluride Mountain Run ultras, on high-altitude routes with severe weather.
For the perfect combo when you need protection from wind and rain during a trail run, I love the waterproof, windproof  Women's Ultra Jacket V2 (guys, there's a version for you, too), $190. It's breathable, has armpit vents, and a well-designed brimmed hood with a vent in back so I don't feel claustrophobic when running with a hood over my head. And when the rain and hail are strong enough to warrant rain pants, I recommend the Women's Ultra Pant V2, $120, made of the same fabric as the Ultra Jacket V2. "Rain pants" may make you think of clingy, heavy things, but you can really run and feel good in these.
All summer long, I found my Ultimate Direction Adventure Vesta 4.0 ($160) indispensable. I use the slightly smaller-capacity (10.1L)  Ultra Vesta 4.0, $135, for shorter trail runs, but for any longer outing when I need to carry more clothing layers, food and safety gear, I go for the 12.4L Adventure Vesta, which has roomier pockets up front. Note: check the product's sizing chart, and if in doubt, size down. The XS/SM fits me fine, and I'm 5'7″ tall and 36″ chest.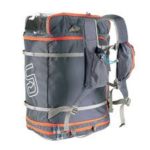 To carry all my stuff to ultras: UD's Crew Bag. A cross between a lightweight duffel and a backpack, it has interior pockets for organizing, exterior see-through pockets for storing stuff I'll need to grab quickly when crew meets me at aid stations, a separate roomy compartment for wet/dirty clothes or shoes, and well-designed straps for schlepping it. I like this bag ($125) so much, I started using it for regular travel as well as for ultras.
My Favorite Puffy
I bought this Patagonia Nano Puff Jacket early in the year and wore it everywhere, all year round. It's $200 full price but presently 30% off through that link. I like how warm yet lightweight, not bulky, this jacket feels and fits. Plus, its inner chest pocket functions as a stuff sack. Overall, I'm a fan of Patagonia and willing to pay a little extra for its products because of its commitment to the environment and social responsibility.
My Favorite Beanie
Early in the year, I co-hosted an event with someone I greatly admire, champion ultrarunner and Olympian Magdalena Boulet, and I thought, "Hmm….I really like her hat!" Later in the year, as you can see from the second photo below, I got my own GU Pom-Pom Beanie, and you can too for $25. While at their site, order some of the yummy flavors of gels that came out this year: Birthday Cake, French Toast and Chai Latte.
My Favorite Self-Massage Tool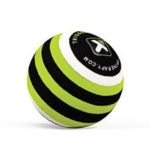 We all have foam rollers and know we should use them. But when you have a troublesome spot on a stiff or stressed muscle that's radiating pain (as I do near my hips and upper hamstring), it helps to have a ball on which to roll to promote myofascial release and blood flow to the area. You can use a tennis ball or softball fairly effectively, but this year, I discovered a medium-sized, 5-inch foam ball that I believe works better: TriggerPoint Foam Massage Ball MB5 (5-inch).
 I credit sports chiropractor and ultrarunner Hal Rosenberg for turning me on to it. Get one for yourself! ($23)
My Favorite Slippers
I'll end with something more traditional, because who wouldn't love slippers, especially for wintertime? I got these unisex Haflinger Classic Grizzly slippers ($125) early in the year and wear them around the house all the time. In fact, I'm almost never barefoot in the house, because my feet feel achy on the hardwood floors, and I need the substantial arch support that these not-sexy but so-cozy and supportive slippers provide. They function as the perfect recovery shoe post-run. Plus, I like the look of the cork soles!
Here are a couple of photos I took while trying to capture my pets snuggling—and I was wearing the Haflinger slippers, of course.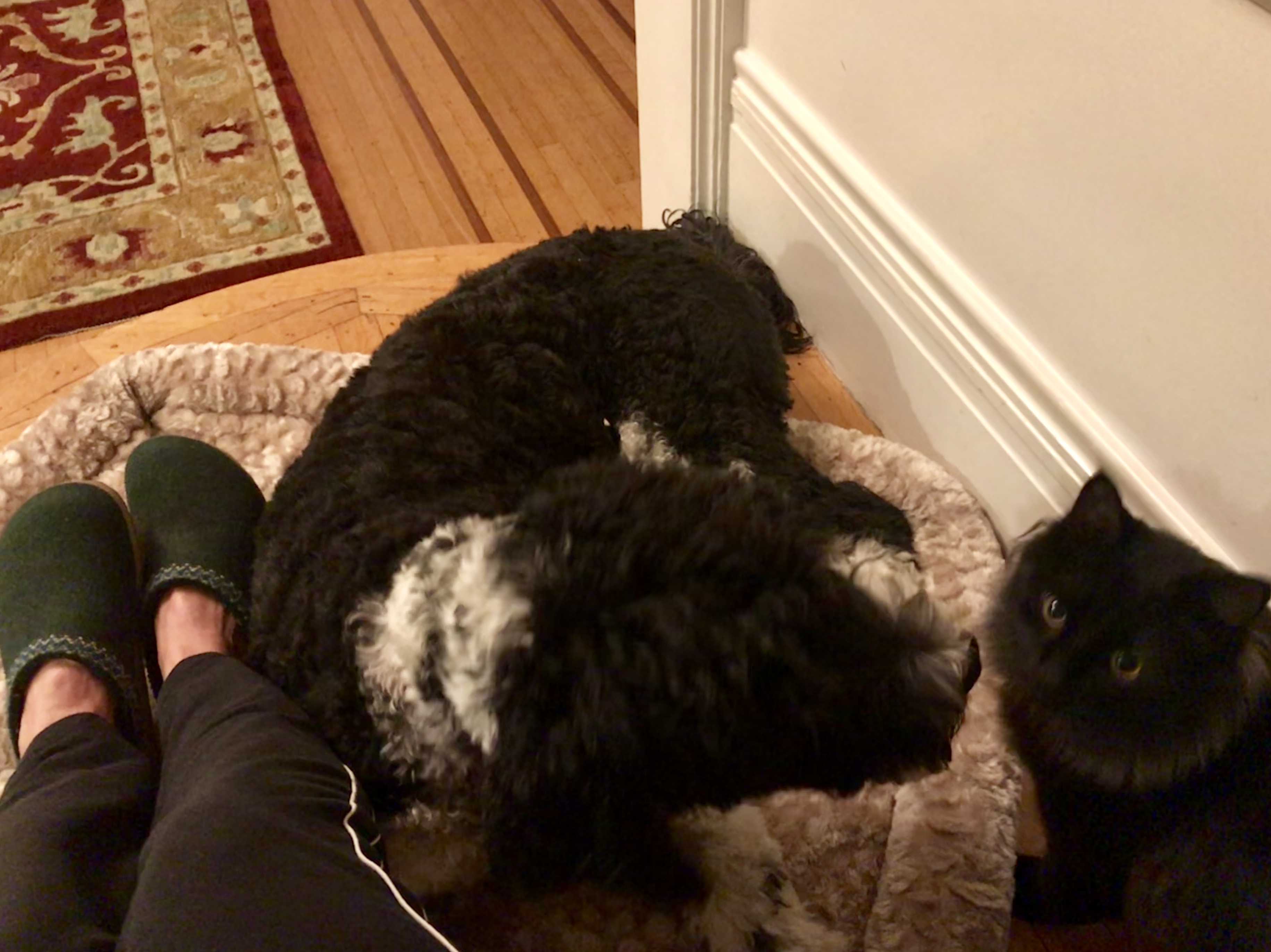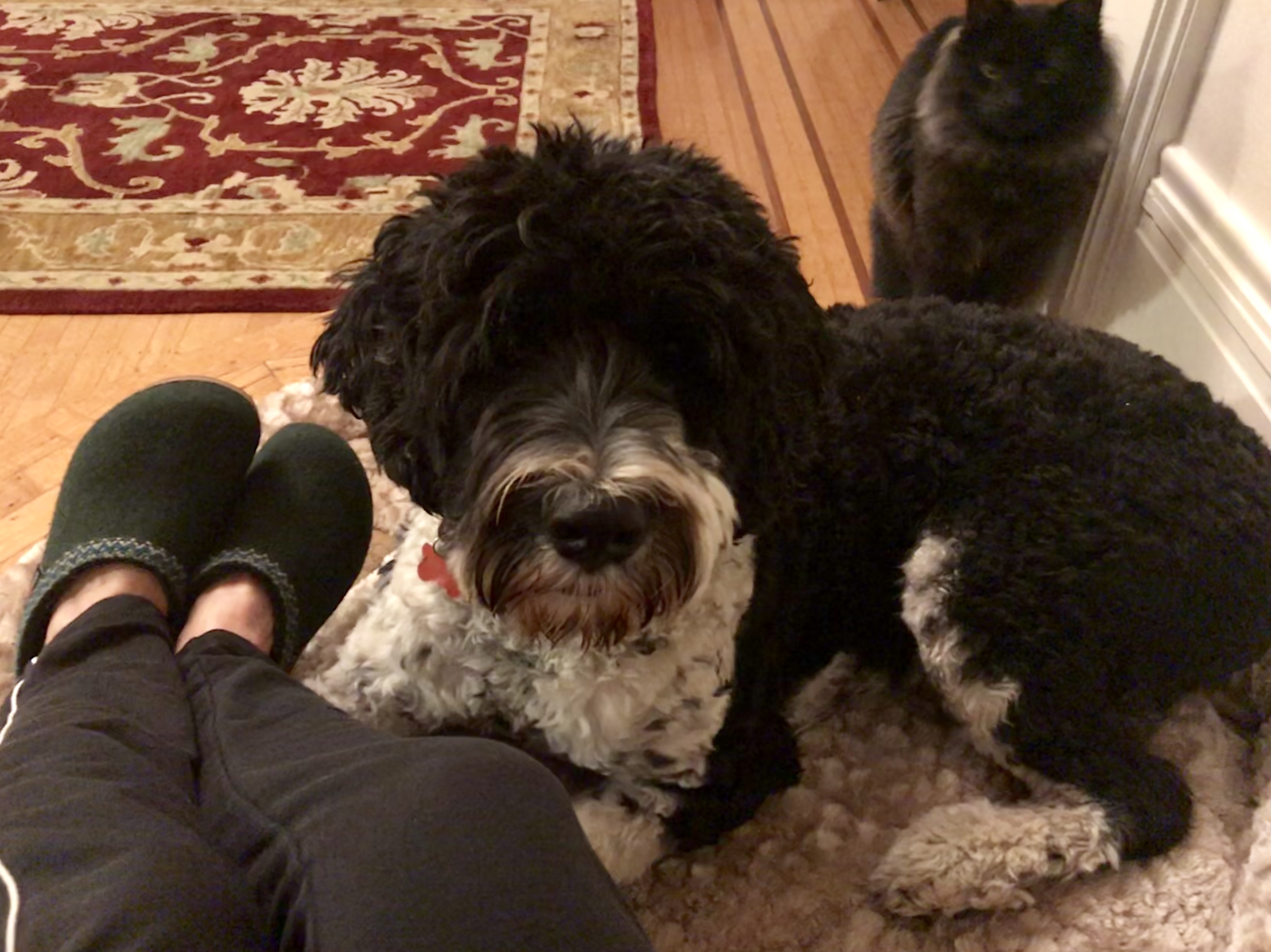 Need any more ideas for gift-giving and gear recommendations? Check out UltraRunnerPodcast.com's guide—a cornucopia of goodies for trail runners.
Thanks for reading and supporting my blog this past year. As the photos above show, I'm guilty of writing some "fluffy" features, which may seem tone-deaf during this time when so many are suffering catastrophic losses and heartache. I share this post in part to provide some escapism as well as inspiration for better times, better things and better health. I'm full of gratitude for our family's good fortune and for my loved ones. I hope we all strive to give more than we get and to help others who have lost so much. May you have a safe, happy and gratitude-filled holiday season.








Related Stories
I Don't Love Running Right Now, And That's OK
While writing a story or editing someone else's, I ask myself, "Does it pass the 'who cares?' test?" This question forces the writer to think through, "What's the story, and why would anyone care or relate to it?" Good stories build around tension from conflict or change.
I haven't blogged about running in a long time because I fear it would be like writing about a flat line and not pass the "who cares?" test. I've also been tuning out the news about the sport, my mind focused instead on the real, calamitous news of current events and on my family's home transition. The North Face Endurance Challenge 50-miler is happening this weekend? I couldn't tell you who's toeing the line.
Physically, I just don't feel very good running. I get through it, and when I feel better afterward, I wonder if I feel better because I ran, or because I'm done with it and don't have to go farther. A nagging stiffness and soreness on my right side that's been bugging me since spring—both around the iliac crest of the pelvis (likely where the tensor fasciae latae muscle attaches) and in the upper hamstring area—makes running feel plodding rather than flowing. I'm significantly slower than a year ago, and anything longer than two hours feels arduous.
I can't recall a time I felt this degree of ambivalence about running, which is supposed to be my passion. I considered that perhaps I'm fitting the profile of burnout, but burnout usually follows overtraining, and since September following the Telluride Mountain Run, I've been undertraining, taking an extra rest day during the week and cutting long runs back to medium length.
A couple of weeks ago, I wrote John Medinger, who coordinates the Ultra Runner of the Year ballots for UltraRunning Magazine, and admitted my feelings. It's an honor and responsibility to gain a UROY ballot, a little like being a member of the Academy to vote on Oscars.
"I'm looking ahead to December and feeling as though I can't give the UROY ballot the time and attention it will deserve," I wrote Tropical John. "It's not just that I'm overly busy with work and getting ready to put the house on the market; it's also that I don't feel well qualified this year. Other than following and fanning over Courtney Dauwalter, I really haven't followed the sport closely, especially the men's field. … I'm being candid because I don't think that I deserve a UROY ballot when so many others around the country meticulously follow who's doing what in ultrarunning."
John wrote back, "No worries," and I felt relief at offloading that ballot to someone who cares.
I really want to feel like my old self—not my "old" current self, but rather, my younger, energetic, smooth-running self. Objectively I know that these "blahs" with regard to running have a lot to do with my focus and stress related to an upcoming move and life transition. We plan to put our Piedmont house on the market shortly after new year's, then downsize to an Oakland apartment; then in May, we'll move to our new home in Colorado and begin living there year round. We'll keep the Oakland apartment for Morgan's work. The process now underway of sorting through nearly two decades' worth of stuff and the attendant memories stored in the nooks of our old home, and getting ready to give away or sell much of it and thereby close a big chapter in our lives, is taking a psychic toll—but that's another story.
Thumbing through the new November issue of UltraRunning Magazine,  I stumbled upon Ellie Greenwood's column, headlined "Re-igniting Your Passion." Her advice resonated with me, and I realized that my case of the blahs likely is a story to which others can relate, hence I sat down to write this blog post.
Ellie writes, "The first step to get your love for ultrarunning back is to admit that you don't love running right now, and that's okay. …. If you find that you're routinely not looking forward to runs at all and having to force yourself to keep going once you are out on the trail, then it's time to step back and 'reset.'"
She advises removing any pressure of upcoming race goals. Yes, good advice. To that end, I decided not to do the annual Turkey Trot 5K. Whereas in past years this local race motivated me to get my speed back and push hard, I have zero desire to do it this year, because I don't want to push hard and don't want to quantify how much I've slowed down. Running it deliberately slower "for fun" just doesn't sound fun. So I'm giving myself permission to skip it.
I'll go to the Quad Dipsea that weekend, however, more as a community celebration—to reconnect with others—than to race. I've only done the QD once, in 2016 when I was in better shape for Western States that year, and I broke 6 hours and got the award for the most-even splits for each lap on the 7.1-mile gnarly trail. I know I can't get close to that performance this year, given the shape I'm in, so I'm simply going to take it lap by lap with gratitude for my ability to run at all (keeping in mind a good friend who'll be there volunteering instead of running due to persistent injury) and enjoy the company of others.
Ellie also advises taking a true hiatus from running, lasting at least three weeks. I definitely want to try this, starting the week after Quad Dipsea through Christmas. I'm eager to focus on wellness and low-impact workouts, and improving my nutrition, rather than running. I'll also rededicate myself to figuring out what's the cause of this right-side hip-area and hamstring soreness and resolve it. When I first contemplated a December break, I hesitated because I've signed up for the March 3 Napa Valley Marathon, which means I should be training in December. I realize it's more important to take a break and follow the first piece of advice—remove any pressure of upcoming race goals.
Meanwhile, I'll keep finding and appreciating the joy and satisfaction I get through my clients' running. Their enthusiasm inspires and rubs off on me. I love getting messages like this one from Gina, a busy mom of three who's living in Hong Kong and trying to find time to train for an upcoming 100K and a week-long stage race. She wrote to me about her 52K race on Saturday: "On so many fronts I had the best race I've ever been in. … But then I took a wrong turn (as did a few others) down a hill to a village and then realised something wasn't right. No ribbons etc and no racers, so back up I had to go. It added 2k to my race. Who cares! Lesson learnt. I was having such a good time and singing away in my head that I totally missed the sign."
And I especially relished witnessing my client Kim at her first 100-miler two weekends ago, the Rio Del Lago 100, as she came into each aid station with a smile and then showed grit throughout the night. As I paced her during the final 30 miles and inwardly struggled with my own fatigue and soreness, I watched her run with determination and thought to myself, "I don't have it in me now to race a 100, but I'll get back to that point next year."
Starting in the new year, I really hope to feel eager to ramp up again. I signed up for an ultra in mid-April with a destination and route that intrigues me, since I've never visited that region: Aravaipa Running's 55-ish mile Whiskey Basin around Prescott, Arizona. Then I'll see how the rest of the year unfolds.
I intend to follow (or at least, attempt to follow) the advice in Ellie's concluding paragraph: "Take some time away (people with stress fractures are allowed to, so folks with mental fatigue are also allowed), try to stave off feelings of guilt or obligation, ignore what others are doing, and when the time feels right, bring your running back to basics with a focus on enjoyment over performance."
I'm not sure if this post passed the "who cares?" test, but it helped me feel a little more optimistic, a little less blah.
p.s. A Special Promo
As I mentioned on Facebook and Instagram recently, I am selling copies of my book The Trail Runner's Companion: A Step-by-Step Guide to Trail Running and Racing, from 5Ks to Ultras, signed and personalized at the same discounted price you'd get from Amazon, plus shipping. You can check out its reviews and buy it from Amazon here,
but if you'd like a personalized copy for yourself or for someone else as a gift, email me the details!








Related Stories
Ten Years Ago, I Did a One-Eighty. I'm Ready to Change Again.
It's officially autumn and October, summer a memory. Two full months have passed since I blogged here about the Ouray 100 experience.
I could write about how I feel like a runner again—how I regained some fluidity, consistency and something close to a runner's high or at least a runner's rhythm on steady runs around these mountains.
I felt the thrill of the race—trying to pass people or keep from being passed, the legs remembering how to increase turnover while the heart beat so fast I couldn't talk—at three events following Ouray: the Bridalveil 20 (a low-key local event measuring some 18 miles), the Telluride Mountain Run 38 Mile and then a road 5K. I dared myself to enter the town's 5K to get a good speed workout and to deal with the ego hit of my slowest 5K ever, partly to blame on the altitude but mostly on a lack of speed training. I ran hard the whole time and finished respectably.
More recently, I retreated to the mountains with a small group to host the second San Juan Mountain Running Camp, which deepened the satisfaction that coaching brings.
But I don't feel like writing much about running.
I'm presently not as drawn to train, or to write about the sport, as I usually am. My relationship to running remains as reliable and caring as ever—and I don't take for granted the good fortune of being healthy and non-injured—but I feel more private and casual toward it. A lot of days, it seems, I run as an afterthought rather than a priority.
Sometimes I look at this blog and my book
and my archived articles and think, how can there be that much to say about running? Am I meant to focus so much time and attention, for this many years (half my life), on running?
Because it's the season of change and transition, with the mountainsides painted in flaming swaths of golden yellow where aspen groves burst through the dark green pines, and because I face the move back to California in a few weeks and some very big decisions about our home, I am constantly mulling, What next? What will I do after I turn 50?
To plan ahead, first I look back and reflect.
I reminisce about life one decade ago, when I stood on the brink of 40 and re-evaluated my direction and values.
My 40s became my best decade so far, when I developed in ways I didn't anticipate. Could my 50s be better—and different? I hope.
"Hope" and "change"—I remember.
Ten Years Ago
The Obama "Hope" poster by Shepard Fairey decorated the landscape, and Barack Obama's personality and politics dazzled me. When I got to meet Obama at a fundraiser in the Sea Cliff neighborhood of San Francisco, I told him my kids were the same age as his girls, 7 and 10, and for their sake and for the sake of all future generations, I hoped he'd get elected.
Obama looked straight at me, his eyes crinkled with a smile, and he said parent-to-parent with genuine warmth, "Aren't they at a great age? They can be so hilarious!"
Perhaps I latched on to that election's hope, meaning and promise of change in part because my personal life felt adrift and hollow.
I was 39, and when people asked what I did for a living, I resisted the urge to say that it was my job to spend my husband's money, even though that seemed the honest answer. Somehow along the way, my journalistic career aspirations got mommy-tracked and dried up because it didn't make economic sense for me to work outside the home, given my low earnings combined with our high tax bracket and the cost of child care.
Morgan's career as an attorney, and the success of a law firm he co-founded in 1997, took off in our 30s, and my philosophy-major-artsy-high-school-sweetheart-Deadhead-boyfriend had become a hot-shot litigator. I had quit my last real full-time job two years prior, because the commute and the dependence on a nanny felt too stressful.
In my 30s, I started to slip into a role I hadn't expected and didn't want. I started to emulate some women I knew who invite each other to designer trunk shows in their impeccable homes (me, who had to be clued into what a "trunk show" is and who prefers to shop at REI), who drink too much wine and who take volunteering as a classroom room parent way too seriously.
Unsure about my career path and identity, and needing ego gratification and escapism, I blossomed as a runner and ran away to the trails. I peaked competitively, capping off 2008 with a sub-5-hour win at a hilly 50K in the Marin Headlands.
Still, I yearned for something different and more significant—what, I didn't know. It sounds trite, but I wanted to expand my horizons. I pondered our future while sitting on the stairway landing in our entranceway the day after new year's 2009, dwarfed by our century-old home's high ceilings adorned with ornate crown molding. I recognized the space in which I was sitting as a metaphorical rut in which I was stuck, and I wished I could change and improve so many things about day-to-day life, and about myself. I wished I were closer to my kids and could have more fun with them and learn with them, chucking our schedule and routine.
Sitting there, facing the new year, myriad factors funneled into a singular conclusion: that I wanted to convince my husband and kids that we collectively should do a 180 and head in a much different direction. I needed to figure out what I could and should do with the rest of my life.
When Morgan walked in the door at day's end, I told him, "I think we should pull the kids out of school and travel for the year."
He paused and carefully considered what I had said. My comment sunk in; he could tell I wasn't joking.
He had been chronically stressed out from work and also wanted to change, but he didn't know how. To leave his firm would mean jeopardizing personal relationships as well as financial security. He didn't want to hunt for another job and couldn't think of any other position that might fit.
For the past few years, he had said, "I want to take the whole summer off and travel," but we never did, because he knew that nothing would change during an extended vacation; he would return to work at summer's end with a backlog of crushing work.
Gotta Try New Things
Six weeks later, by Valentine's Day, Morgan had resigned his position.
Six months later, by summer, we had found renters for our home, developed an independent study plan to teach our kids the equivalent of 3rd and 6th grade on the road, bought round-the-world airplane tickets, rented an apartment in Buenos Aires for our first two weeks abroad, and figured we'd wing the itinerary after that. My in-laws agreed to care for our dog while we traveled.
And then we took off, unsure about where we were going, or what we would do if and when we returned.
We lived nomadically around the world for the duration of a school year, "roadschooling" the kids and practicing frugality by traveling cheap, sleeping as a foursome in small spaces, and limiting our belongings to one bag each plus a communal gear bag. We stayed in 83 different places on five continents and adopted a family motto, "Gotta try new things." (If you'd like to read more about what that trip was like, and what it meant, I suggest this post.)
A Decade of Adventure
In my 40s, thanks in large part to that year away, I developed more meaningful pursuits. I became adventurous insofar as I challenged myself physically and mentally in new environments with uncertain outcomes. Most of what happened over the past ten years, I never saw coming when I was 39.
I'm writing all this down to remind myself that I can change course, and that I can try and accomplish new things.
I developed a travel blog (away-together.com) and then this blog. I worked side by side with Morgan following our trip, helping him launch a new business, a litigation graphics and strategy firm called Cogent Legal. I served a nine-year term on my high school's board of trustees, rising to a leadership position.
I parented my kids through adolescence and helped them both accept and leverage their learning differences. I got over my fear of public speaking and gave presentations and started co-hosting UltraRunnerPodcast.
I said "yes" when a publisher asked me to write a trail-running book,
 under the condition I could write it in my voice rather than lifeless third-person.
I graduated to longer ultras and self-supported stage races. I discovered the Hardrock 100 by pacing friends at it, and then I ran qualifying 100s to apply to it. (Still hoping to get in it before I turn 60.)
I learned all I could to become a coach and developed my own coaching business.
I fulfilled my fantasies about owning a campervan and living in a trailer.
I became a horsewoman again and built the barn of my dreams.
I nurtured my Colorado roots, and three years ago, Morgan and I decided to direct all our resources into buying property and building a home near Telluride on a parcel across the road from where my dad built a cabin in the early 1970s.
I felt better about myself.
What's Next
Building the house this summer (what I referred to in this earlier post as "my domestic ultra") has stirred up the same feelings and questions we had when we left for extended travel in 2009. Morgan and I are asking ourselves, are we doing the right thing? Can we afford it? The process prompted us to re-evaluate our values and to change our routine (for example, working remotely, handling new daily chores and living in an Airstream).
But the house will be done soon, the kids will be launched into college and adulthood, hence I wonder about what's next—how will I make the most of my time? How will I contribute to something worthwhile in a significant way?
It hit me this summer that what I seek, in the years ahead, is a deeper sense of belonging and community, along with meaningful work. I have worked independently and part time for so long, perhaps it's time I find a job again outside the home, to be a part of a team and to pull more of my weight as an income-earner.
The problem with straddling two states and living half time in each, which we had planned to do, is that part-time status inhibits full engagement in either community. Plus, it's more expensive than we can afford.
My whole life, I've been a part-time resident and visitor to this corner of Colorado, where my family roots run deep—where I can find a framed photo of my great-great-great grandfather on the wall in the county courthouse, and where I can fondly recall my dad's booming laughter when he showed me how to gut a freshly caught trout, or when he swept up my poker chips after he won another hand of five-card draw as we gathered around the kitchen table in the cabin. Our time around Telluride made me a wild child and revealed my more adventurous, authentic side. But I've never felt like a full-fledged local, because California remained our primary residence.
I don't know what I'll do in the next decade, but I'm repeating that motto again, "gotta try new things." Gotta make a new home—not just build a part-time residence, but a real home, and steward its land. Gotta try new activities and new work, gotta be more than a runner.
I absorb the views around our thirtysome acres on Last Dollar Road when I run the switchbacks of the trail next to our driveway, or when I daily shovel manure from the horse paddock we built, and I feel what I yearn to feel: a sense of belonging and of place.
I'm heading back to California for the winter and spring, and I eagerly anticipate running in Redwood Regional Park above Oakland and on other favorite Northern California trail systems, during my favorite season there, when much-needed precipitation turns the hills green. I bet I'll run with deeper appreciation because I expect it'll be my last season there, before I move to Colorado year round and, rooted there, try some new things.