---
All Women Should Be Free to Run: A Campaign For Those Who Face Violence and Repression
We're approaching the 50th anniversary of the 1967 Boston Marathon, when a 20-year-old journalism student from Syracuse University named Kathrine Switzer challenged the all-male tradition and rules by running the 26.2 miles. Officials tried to stop her by interfering and pulling her off course, but she outran them.
Five years later, six women staged a sit-in at the starting line of the New York City Marathon to demand to run the race with the men. They were protesting rules of the Amateur Athletic Union (the governing body of the sport that sanctioned marathons in those days). The AAU had relented to allow women to run sanctioned marathons, but only if the women had a separate starting line.
It seems outrageous and almost difficult to imagine that American women—who now make up more than half the entrants in U.S. road racing events—would face such barriers to participation. When I began running and training for marathons exactly one decade after the 1984 Summer Olympics introduced the women's marathon, I took for granted that I could run 26 miles wearing nothing but skimpy shorts and a tank top, and that the guys I ran with would be friendly and supportive.
Fast forward to 2012. I met an awesome woman named Stephanie Case during the Grand to Grand Ultra multi-day stage race; we shared a tent, and I learned about her work as a human rights lawyer for the UN. We kept in touch over the years, and I followed her online posts with awe and admiration as she worked for human rights in extremely challenging situations, such as in a South Sudan refugee camp (see related post).
In 2014, Stephanie started a non-governmental organization called Free to Run to promote running and other sports for women in regions where cultural or religious beliefs and the threat of violence keep girls and women from participating in athletics and outdoor recreation. She started in Afghanistan, and now the program is spreading to other areas.
In three years, in spite of being a small volunteer organization, Free to Run has made a significant impact not only on the girls and women who've experienced hiking, 10Ks, marathons, skiing, skating, volleyball and even ultras with Free to Run's support; but also, on the communities they live in, by changing attitudes and promoting tolerance.
This is why I've committed to raise $10,000 for Free to Run over the next three months, and I hope you will support my effort through my Crowdrise page!
"When I started training, I couldn't run on the street," says Zainab, who became the first woman to complete the marathon in Afghanistan, in 2015, as described in this video below. "We had just one day training on the street, and cars would stop; the children were stoning us; the people said bad words, like, 'Prostitutes, why don't you stay at home?'"
Thanks to Zainab's example in 2015, five young women ran the marathon and more than 100 ran the 10K last year. Free to Run's blog post about the event describes a scene involving one of the runners that harkens back to that of Kathrine Switzer:
"It was her first time running on her own, and she had never felt more free. A sharp reminder of the reality of running in Afghanistan came in the form of a young man on a bike on the side of the road, who made a beeline for her and attempted to knock her down. After lunging out of its path, Hameda dusted herself off and raced on. She was a bit shaken, but a motorbike wasn't going to stop her from achieving the goal she had set months before." That blog post also describes several progressive men, who are members of a mountain-running club that collaborates with Free to Run, who supportively ran with and encouraged the women.
Free to Run is about more than running and sports, explains Stephanie. It's about promoting tolerance and confidence among these girls and women, and changing the attitudes of society around them.  "In places like Afghanistan, the simple act of hiking or running outside, especially for women and girls, is a powerful thing. We believe through sports that women and girls can reclaim public space, and that ultimately changes the way in which society view females."
Highlights from Free to Run's work over the last couple of years, as listed on their website, include:
Over 50 female students from sports clubs in Afghanistan trained for and participated in a 10km race outdoors in the Central Highlands region.
Zainab, a Free to Run Ambassador, became the first Afghan woman to run a full marathon in her country.
Two ultramarathon teams from Afghanistan, including the first mixed-gender sports team from the country, successfully completed two 250km self-supported footraces in the Gobi Desert and Sri Lanka.
20 female students have gained access to weekly ski lessons and 5 women competed in the 2016 Bamian ski competition.
Nelofar, a Free to Run Ambassador and ultra athlete, started a running club of 20 women in the north of Afghanistan and successfully organized a half marathon for International Women's Day.
Female refugees in Hong Kong who were previously reluctant to leave their homes are now participating in outdoor activities on a regular basis.
Free to Run's refugee running team in Hong Kong received an award from the local running community for their achievements.
"In one of our more conservative regions where our team has been practicing for over six months now, it has changed the community's perspective," says Taylor Smith, Free to Run's program manager in Afghanistan. "Before, our program officer was having trouble recruiting girls, not because of lack of interest, but because of lack of permission; girls' families were not comfortable with their daughters running in public. Four months later, those families started sending their daughters, sisters and wives out to meet our Free to Run team to run. They told us, 'Because you have been running here regularly, our families decided it's safe for us to come as well.'
"Our goal for 2017 is to deepen our impact on girls and young women, and to turn them into strong leaders in their communities. We have recruited and developed core teams in three regions in Afghanistan who come together to practice sports three to four times a week; we've also integrated educational opportunities into these practices and hikes, such as lessons on the environment and human rights. We want to expand these opportunities and create larger teams, which is why we need fundraising!"
All of this has happened because Stephanie dared to think big and take action. "The things that I'm most proud about in life have started out as crazy and impossible ideas," she said during her recent TedTalk in Switzerland.
Think about how Americans' views of women running changed in one generation. Let's help change other parts of the world where women sorely need not just athletics, but basic rights and education, by using the power of running and recreational sports to bridge divides. Recently, Free to Run started a groundbreaking mixed-gender training team in Kabul. Imagine the progress toward peace and gender equality that could happen if Free to Run's work could spread.
I'm embarking on this fundraising campaign over the next three months because it coincides with training and attempting the most difficult athletic challenge I've ever faced: the self-supported, 155-mile Mauna to Mauna Ultra from May 14 – 20. I anticipate it'll be harder than the Grand to Grand Ultra or any 100-miler I've done because of the humidity and all the different climate zones and types of terrain we'll face on Hawaii's Big Island, from rain forests to the cold of Mauna Kea, along with having to carry food and gear for the week in a pack. If I doubt my ability, I'll think of the determination of Stephanie, Nelofar and Zainab, who together completed the Gobi Desert stage race (read Stephanie's blog post about this experience).
What You Can Do:
For Further Reading and Listening:
My recent interview with Stephanie Case on UltraRunnerPodcast, in which she talks about Free to Run and about her harrowing New Year's Day rescue in the Alps following an accident during which she almost died.
"The Real Story of Kathrine Switzer's 1967 Boston Marathon": a gripping first-person account by Kathrine Switzer.
"You've Run A Long Way, Baby," my first-person essay on female role models, body image and the power of running.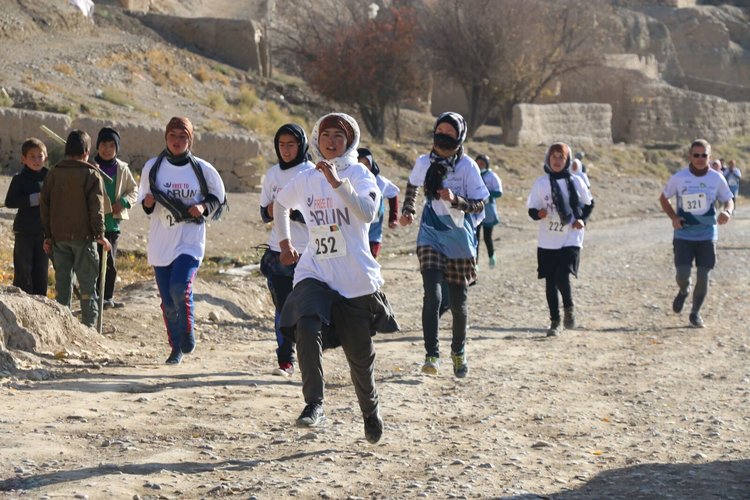 Related Stories
Central Park Running and NYC Travel Tips (Updated)
I wrote this post in April 2012 and updated it February 12, 2017, after we spent four days in NYC. I'm not positive the five-year-old dining and hotel recommendations below still stand, but I can vouch for the new recommendations added based on our trip last week. If you're interested in running the 2017 New York City marathon on November 5, hurry! The deadline to apply is February 17, and the drawing takes place March 2.
My infrequent visits to NYC always start with a run in Central Park. Nowhere else in the city feels as welcome and familiar yet at the same time ripe for discovery.
Sometimes I'll just cruise around the 6-mile perimeter loop, deviating from the pavement of the east and west sides of Park Drive where a dirt bridle path runs along it. Other times, I'll ramble through the pathways of The Ramble and the various meadows. Usually I do at least one lap around the 1.5-mile Reservoir Track, my favorite place for a speed workout. Each time I notice something new: an obelisk here, a castle there. My eyes scan almost every breed of dog being walked while my ears pick up conversations in languages from around the globe.
And here's how it looked in February 2017, one day after a big blizzard nearly shut down the city! I enjoyed a glorious, albeit freezing-cold, run on a blue-sky day, with fresh snow on the reservoir track.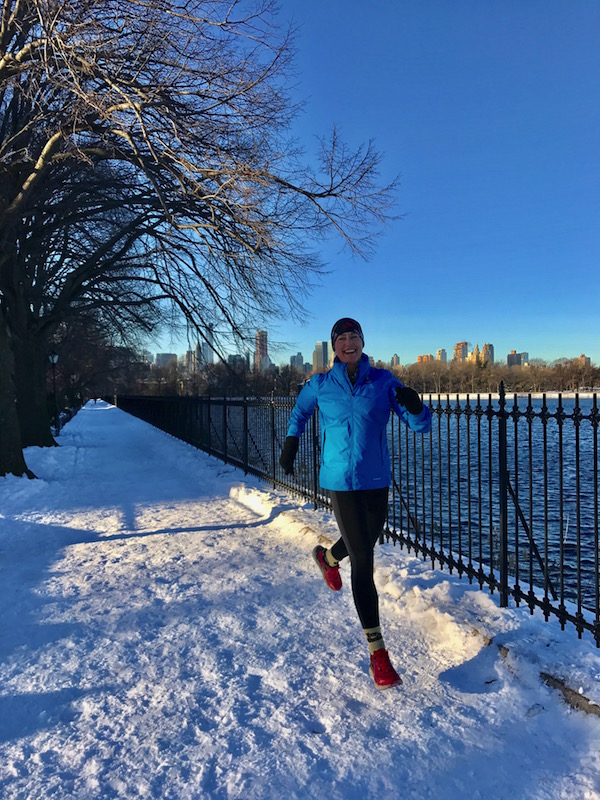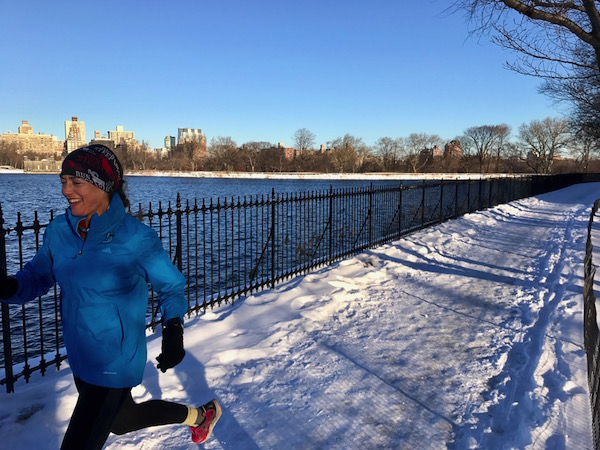 The first time I came here, I was 35, a small-town Californian dazzled to be in New York at last. It was Christmastime, a light snow turned the tree branches white, and I ran as hard as I could when I first stepped on the Reservoir Track to warm my chilled extremities. Nearly eight years later, when we returned last week (April 2012) for Spring Break, pink tree blossoms and Easter Egg-colored tulips added swatches of color to the greenery.
If you visit NYC and want advice on where to run in the park, where the nearest bathroom is, or whether there's a 5K or 10K scheduled for the weekend (as one almost always is), just stop by the New York Road Runners kiosk next to the Fred Lebow statue at the East 90th Street entrance. Lebow, a runner and longtime president of the New York Road Runners club, founded the New York City marathon and last ran it in 1992, in celebration of his 60th birthday, after he had been diagnosed with brain cancer. He died in 1994.
And here's how Fred looked last week after the blizzard. I imagined him telling me, "Put your phone away, run hard, seize the day and never take your health for granted"—and so I did.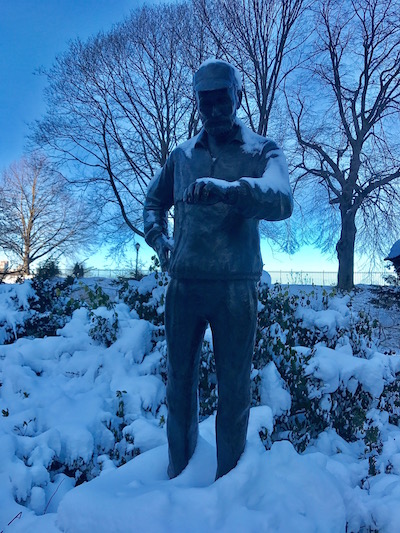 For more info on running in the park, visit the NYRR site or this Central Park guide.
And here are a few New York City travel tips from our visits:
Lodging
From 2017: We're glad we chose The W Hotel on Lexington at 49th, in Midtown; it was a good deal price-wise and featured nice modern rooms, a well-equipped and roomy fitness center, and a convenient location. It was almost exactly one mile to run from the hotel to the southeast corner of Central Park.
From 2012: I've stayed in a variety of hotels in NYC over the years and would recommend the one we chose this week as the best deal for families. The Hotel Beacon is on the Upper West Side at 75th and Broadway, easy access to the park and subway and close to great restaurants on Amsterdam and Columbus. We got a two-bedroom suite with a kitchenette that comfortably housed the four of us (the kids shared a pull-out sofa bed), and having the small kitchen to prepare simple meals was a relief from eating every meal out. The Hotel Beacon is right across the street from the Fairway, a fantastic gourmet supermarket.
Urban hikes: Walk from Central Park to Rockefeller Center and go to the Top of the Rock observation deck. If you're lucky like us, you'll catch Tina Fey outside filming an episode of 30 Rock. On another day, pass the dozens and dozens of ethnic restaurants along 9th Avenue through Hell's Kitchen and go to 10th Avenue and 30th Street, the north end of the High Line. Then walk the length of the High Line, a one-mile path and urban garden along a former raised railway. It's an ingenious example of urban renewal.
And no trip to NYC would be complete without a visit to the World Trade Center memorial (you need to reserve a time to visit through the 9/11 Memorial website). It's a stunning, humbling experience to see the footprints of the former twin towers, about an acre each, transformed into reflecting pools with cascades rimmed by the names of all those victims. In the midst of this vast memorial stands the Survivor Tree, the only living thing found by workers clearing the rubble in the month following 9/11. The pear tree was nursed back to life at a nursery, only to be uprooted during a wind storm in 2010, but then it was brought back to health again and finally planted in the middle of the plaza. Several anchors prop up the tree, suggesting frailty, but new green leaves on its branches show that it's thriving.
Restaurants
From 2017: We had three excellent dinners out, and one so-so, each at a different price point.
Most expensive and chichi but worth it: Gotham Bar and Grill, 12th Street in Greenwich Village. This place opened in 1984 but, surprisingly, it still earns and deserves its ratings as a New York favorite top restaurant. I had to-die-for pork; Morgan splurged on lobster. We will be eating beans out of cans for the rest of the week to make up for the cost, and I will be going vegetarian for several weeks to make up for a too-meat-heavy week.
Great Midtown meal: Crave Fishbar, near the W Hotel on 2nd Ave. Cozy, pub-like interior belies a sophisticated menu with (allegedly) sustainable seafood and fantastic raw bar. I feasted on a cheese plate and swordfish with a magnificent wild mushroom assortment.
Good place for a pre-theater meal near Times Square: The Glass House Tavern on West 47th. Morgan and Colly had tickets to Hamilton, lucky them! In fact, that was the impetus for this trip; Colly is obsessed with the show, so a ticket to it was her big Christmas present. (I decided to save many hundreds of dollars and skip it, so it was a father-daughter date.) Before the show, we ate here, and I had my one and only disappointing meal (braised lamb). I also wasn't crazy about the dark interior. But, Morgan and Colly's fillets were excellent and generous, and the appetizers did not disappoint.
Affordable and great for big families, near Washington Square Park and NYU: OTTO Enoteca Pizzeria at 5th Ave and 8th Street. We had a big gathering with my sister, brother-in-law, niece, nephew and nephew's wife. Finding a table for 8 that we all can afford might have been challenging, but OTTO Enoteca turned out to be perfect, with generous appetizers, excellent homemade pastas and tasty (but not amazing) thin-crust pizzas. I appreciated the attentive service and generous wine pours, too. We splurged on dessert, and it wasn't just the wine talking—those desserts were amazing.
From 2012: Three of my favorite dining experiences: The Mermaid Inn seafood and raw shellfish bar on the Upper West Side, Blossom vegetarian/vegan restaurant in Chelsea, and Ellen's Stardust Diner in Midtown, aka "the singing waitress place." The food at Ellen's is mediocre diner fare, but it's a hoot to hear the wait staff sing show tunes.
This post only captures a fraction of what we did during this memorable family vacation. I know we'll return in the years ahead because we love exploring the city—for a few days, at least. Admittedly, the crowds grow tiresome and the feet start to ache.
It's crazy, in spite of all the things we've done in NYC—all the museums and must-see sights—we still haven't been to the Met or the Statue of Liberty! Someday … (Update: See below!)
Now that Colly is a student at the Rhode Island School of Design, she very much wanted to go to museums. We spent one day at MoMA and another at The Met. If I had to pick just one, I'd definitely choose the Metropolitan Museum of Art and spend two days there if possible. It's huge, awe-inspiring and spans all of history. MoMA was certainly cool to see again, however. 
Call for comments: What are your favorite places to stay and eat, things to do, and routes to run in New York City?








Related Stories
The "C" in the Crystal Springs 50K: How to Use Races as Effective Training Runs
I headed to my first race of 2017, the January 21 Coastal Trail Runs' Crystal Springs 50K, with low expectations and depressed feelings. Count me among Americans who listened to the presidential inauguration the prior day with dismay. A big part of me said to spend Saturday devoted to the Women's March. But we all cope with situations in different ways, and I craved peace and camaraderie, not big crowds, in the ferny redwoods of Huddart Park in Woodside. Plus, my long-range training schedule called for a solid extra-long run this weekend.
This early-season race would be a good, challenging training run, I told myself. "This will be a supported long run to kick my butt, period," I messaged my friend Penny Macphail, encouraging her to join me. "I'm not going to really race until later in the season."
"Perfect. … I think I need the fun of being at a race," she wrote back, echoing my sentiments.
Trail runners often characterize their races as "just a training run," sometimes as an excuse to sandbag, or sometimes as a coping mechanism to handle anxiety over the prospect of giving maximum effort for best results. If, for whatever reason, you decide not "to really race" to your athletic potential, then how can you deliberately use the race for training and get the most out of it to benefit your season?
I decided to use this post to share advice on how to use a race as an effective training run to help fulfill a longer-term race goal. (A couple of gear recommendations and misc. notes also follow.)
An "all-out assault" vs. "mediocre social gathering"?
Some coaches feel strongly that you should toe the line if and only if you are prepared to race competitively, giving your best effort. Five years ago, I approached a notable coach about potentially working together, and he sent me a summary of his training philosophy, which included this about racing: "Race seldom, and keep the races quality! If you step to the line, step to the line to race. The purpose of a race is to get from the starting line to the finish line as quickly as you can. If you carefully select your races, then they will be higher quality performances than if you try to do it too often. … Make them all-out assaults instead of mediocre social gatherings."
While I understand and respect his point—and recognize it's one reason he has elite-level competitors as his clients—I use a different approach for my clients and my own training.
The A, B, C's of choosing races
Instead of the all-or-nothing characterization of races as either "all-out" or "social gatherings," I categorize races three ways:
1. An "A" Race:  This is your top-tier goal, the culminating event of your training season. This is the race you feel most passionate about and that you tailor your training toward. For this race, you do everything in your power to perform your best. You devote your peak training weeks to preparing specifically for this event's terrain, elevation profile and climate. You thoroughly do your homework about the course to mentally and logistically prepare. You taper just right in the two weeks leading up to race day. You start the race with a finely tuned plan about how to pace the miles, and a commitment to do the best you're capable of on that day. You put your heart into it.
Last year, my "A" race was the Western States 100-mile Endurance Run. This season, it's the Mauna to Mauna Ultra self-supported stage race in May. In the fall, it'll be the Javelina Jundred, where I hope to set a 100-mile PR. (There, I went public with that goal, no turning back now!)
2. A "B" Race: This is a race that serves the purpose of practicing and conditioning for the "A" race. Often the "B" race is shorter than the "A" race, functioning as a stepping stone to the longer distance. You "really race" it and go "all out," to become better at racing; that is, you endeavor to run as fast, smart and efficiently as possible. But, it is not your season's main event; rather, it's a dress rehearsal. You test out strategies and gear, and possibly make mistakes from which you learn. You let the "B" race interrupt your regular training routine because you taper your volume during the seven to ten days leading up to it, and you give yourself several days to a full week to recover from it; then, you return to focused, peak-level training for the "A" race.
Last year, the Lake Sonoma 50 was my main "B" race leading up to Western States (and the Marin Ultra Challenge 50K was a "B" race in preparation for Lake Sonoma). This season, I'll treat the Salmon Falls 50K in late February as a "B" race. If I get into the 100-mile Wasatch Front Endurance Run in early September (lottery to be held February 4), I'll have to decide whether to approach it as a "B" or "A" race. One could argue that any 100-miler demands an "A"-level effort. But I'm inclined to make Javelina the "A" goal for that season and Wasatch a big "B" leading up to it.
3. A "C" Race: This is the race you call "just a training run." You train normally the week prior, rather than tapering your volume and intensity, and you put little if any special preparation into it.
You might be asking, why spend a hefty registration fee to participate in a race rather than going on a long run solo or with a few friends? Good question. Most if not all of the time, a regular long run is all you need. But if, on occasion, you lack the motivation to go the distance of a scheduled long run; or if you want to explore a new trail route, or a new region, and want the support of course marking ribbons and aid stations, then participating in a race is a smart and fun way to have a great long run.
Chances are, you will run with higher effort and sharper focus in the context of a race than you would on your own, even if you are giving less than your "all-out" best, so the "C" race is likely to be a higher-quality workout than a solo long run.
Here are five "C" words to further define a "C" race and help you run it deliberately for training purposes:
Calm: In a "C" race, when you release the pressure to place or perform at your maximum level, then you can practice and enjoy a calm, steady, relaxed state of running. This mode of calm running is essential for the early miles in ultras, when going out too fast or stressed will sabotage your race.
Cautious: A "C" race isn't worth hurting yourself for. Be a little less gutsy and a little more careful over challenging terrain. If you feel an old injury start "talking to you," then dial back your pace or take a break to address the problem, rather than trying to run through it.
Casual: Your approach to a "C" race should feel laid back; and ideally, the event itself is more casual than uber-competitive. You are out there mainly to have fun and enjoy the day, not to beat a prior time or beat others.
Constructive: A "C" race builds you up; it doesn't damage or overly deplete you. Sure, you'll feel fatigued the next couple of days, but you should feel the "good" kind of fatigue that signals you stressed your body in a positive way that leads to adaptation and progress. You should be able to return to normal training after only one or two recovery days.
Camaraderie: You should always be nice and use good trail-racing etiquette in each and every race. But in a "C" race, when performance matters less, it's definitely incumbent on you to act as a trail steward and good ambassador. Talk to other runners if they feel like talking; chat with aid station volunteers and always thank them. Do your best to boost the spirits of other participants and help anyone who needs it. Go to the trouble to pick up trash if you spot it on the trail; don't race by thinking, "The sweepers will get that." No mere "mediocre social gathering," this a time to form friendships and have fun!
My race unfolded as I hoped. I started steady and strong but stress-free; I spent about an hour caught up in conversation with another guy who was running my pace, until he sped up and I let him go; I reveled in the damp forest and admired the roaring runoff, the result of so much precipitation this month—enough to end the drought in Northern California! I chug-chug-chugged up the uphills, cautiously and slowly picking my way over several downed trees.
The final portion of the route follows smooth, rolling singletrack for about 6 miles, then a steady descent of some 1000 feet over the last 4 miles. The spongy, runnable forest path enticed me to speed up and practice faster downhill running. Tired and eager to be done, I pushed faster as if blowing off steam, channeling and processing a lot of pent-up emotion and stress. But I never crossed over to significant discomfort.
This 50K, "just a training run" or what I'd call a "C" race, proved to be a beautiful, focused, steady long run that provided escapism and support—and, a better-quality workout than I probably could have or would have accomplished on my own.
Big congratulations to Penny, who ran hard to break 5 hours and finished 1st female, 5th overall (full results here). And she did it with a rubber chicken strapped to her hydration pack. When Penny turned 49 earlier this month, she vowed to carry a rubber chicken with her for the entire year, as part of a campaign to raise money for Oxfam to buy real chickens to fight hunger. She's that kind of person!
Please check out her fundraising site and join me in making a donation.
Clothing & shoe recommendations
At the race, I wore a new pair of shorts from the company rabbit. I heard about this company in December, through one of their sponsored ultrarunners, Sabrina Little, and through this well-done review by Jade Belzberg on UltraRunnerPodcast. I bought the size s hopper shorts (the company has a thing about lowercase letters). My go-to shorts for years have been the North Face "Better Than Naked" shorts. I like these just as well and perhaps better, though I'm still getting used to them. In particular, I like how they sit low on the hips, just snug enough to stay up but with zero tightness around the abdomen. They feel like "barely there" shorts—no drawstring, smooth and unnoticeable seams, soft fabric. Thumbs up!
I also broke in the new model of Hoka Challengers, the ATR 3. They felt really good … but honestly, not significantly different from the ATR 2's. This is why I don't write shoe reviews; I can't discern the subtle differences from one year's model to the next, nor do I care. They either feel good and work well on my feet, or they don't. I loved my Challenger ATR 2's except that they prematurely (like, after just a couple hundred miles) developed holes in the fabric sides. Let's hope these are more durable. Thumbs up (for now)!  Read the iRunFar Hoka Challenger ATR 3 review for details on this shoe.
Last but not least … some personal news
I received exciting news last week that I was named the overall winner in the UK-based RunUltra's best blogger contest—an international contest with a shortlist of 62 nominees! I sincerely thank all my readers and friends who clicked through to vote for me and who sent me encouraging messages about this blog, The Runners Trip. I will write a guest blog post for RunUltra sometime soon. Here's the news story about the contest winners. 
This year is off to a good start for me personally and running-wise. I made it past Week 3 of my commitment to abstain from alcohol in January, to achieve better moderation the rest of the year (which I'll explain in a later blog post). That's actually a very big deal for me; I didn't think I could do that—didn't think I could go even a full week—unless I were pregnant and had to.
My book manuscript made it through copyediting and is heading into production soon, to be released by Globe Pequot Press in late April or early May. (I'll blog a lot more about that later! Suffice now to share the title: The Trail Runner's Companion: A Step-by-Step Guide to Trail Running and Racing, from 5Ks to Ultras.) I need to get over the hump this week of finishing an article for Trail Runner, and preparing for and presenting at a meeting in Ojai for the board I serve on (for Thacher School). Finally, in early February, I'll get a chance to return to Sacramento and record a couple of UltraRunnerPodcast shows with Eric.
That's another reason I ran the Crystal Springs 50K: I knew the upcoming week would be "a cutback week" when travel and work prevent much running. Last year, my mileage hit 2500, and my goal this year and for the years to come is to maintain that level. That means an average of 50 miles/week, assuming I take a week off completely after Mauna to Mauna and Javelina.
As one of my favorite mid-ultra mantras goes, "So far, so good."
Many thanks to Scott Dunlap (see his blog) for the use of his forest shots above. And here's another race report from this event with great pics and descriptions, by Kowsik Guruswamy. 
10 Sites Every Trail Runner Should Follow for News, Humor and Inspiration
Happy Friday the 13th! Since I don't have photos to go with this post, I'll share something frightening to get your attention:
Now to the point:
A deadline and a request to you, the readers of this blog, sparked this post. The UK-based RunUltra site has a "best blogger" contest going on, and voting ends this Sunday, January 15. I've been nominated and am close to the lead. If you like the stories and advice found here at The Runner's Trip, then I'd greatly appreciate if you'd click through and vote for me! Earning this recognition would provide a boost to this blog and my spirits. (Thanks but the deadline passed, so read on!)
The contest got me thinking about blogging and our sport's media, which over the past five to ten years has grown considerably, reflecting the surge in popularity of MUT (mountain/ultra/trail) running. How can you follow the news in our niche without cutting into the time you should spend working running? I don't necessarily have the best answer, but I can share how I do it.
I subscribe by email to updates from these sites below and read them regularly; I also follow them on Facebook, twitter and Instagram. I listed them in order of the priority I usually give them.
This list is by no means all-inclusive, and not intended to be a blogroll of all the awesome blogs out there (e.g. by Cory and Stephanie to name just a couple). Instead, it's a subjective top 10 to help you grasp and digest the sport's news—everything from breaking news to practical advice, to commentary and wacky dispatches. Feel free to list your favorite must-follow sources in the comment thread below.
1. Ultra Runner Podcast's Daily News: Thanks to my buddy Eric Schranz, subscribers get a digest of the sport's news five days a week, distilled into pithy paragraphs that convey Eric's voice and put a smile on my face. With this aggregate, I'm able to get a sampling of lots of blog posts and news articles without having to subscribe to all those individual sites. @UltraRunnerPod
2. iRunFar.com: I've been following iRF since its early days and am truly impressed with how Bryon Powell and Meghan Hicks have grown their two-person home-based business into an international operation, with a small army of contributors and volunteers around the country and overseas to cover the top ultra races here and abroad. In addition to their race coverage—featuring thorough previews, live-tweeting on race day and results coverage—they publish numerous worthwhile columnists and features. @iRunFar
3. Trail Runner magazine's Inside Dirt weekly newsletter: Please, as I've mentioned before, subscribe to the real print magazine! (I'm a contributing editor and columnist, so I hope people read the full, satisfying print product.) The e-newsletter, Inside Dirt, is the next best thing because it provides links to the magazine's fresh online content, much of it produced by a coach and runner I admire, David Roche. 
4. UltraRunning Magazine: The original, longest-running and probably most beloved chronicle of the sport, UR Magazine provides an e-blast to supplement its print magazine, with links to its digital content. I also appreciate how UltraRunning's newsletter includes a section, "From Around the Web," with links to other worthwhile content, along with recent race results. (I think you might have to be a magazine subscriber to get this e-newsletter. Subscribe to the full magazine; it's worth it!) 
5. Competitor.com: This site is about road racing more than trail, but it publishes consistently useful and well-reported articles. Whenever I want to research a specific training topic or injury, I head here. 
6. OutsideOnline.com: I debated whether to include Outside, because 4 out of 5 times, their e-newsletters annoy me with their sensational headlines (two recent examples: "Forget Everything You Know About a Healthy Diet" or, "Is Your Local Chairlift a Deathtrap?"). I also grow weary of their over-the-top romanticizing of "the outdoor lifestyle" (which, one could argue, indirectly contributes to the outdoors' steady decline). But, that said, Outside frequently produces excellent articles about endurance sports in general and running in particular, so I read it—and also secretly enjoy the outdoor-lifestyle articles about tiny houses, multitools and van conversions. 
7. Mountain Outpost (and Outhouse): This show, not even one year old, has a cult following, and I am among those hooked. Mountain Outpost is the YouTube show by Jamil Coury and Schulyer Hall that features wacky ultrarunning challenges, usually involving food. It all started with the Mystery Drop Bag Challenge and expanded to ones like these, US Sky Drinker and Quad Dipsea Holiday Challenge. Mountain Outhouse is the must-see satirical news spinoff that Jamil does weekly.  A guy named Michael Carson, who works for Jamil's company Aravaipa Running, is the genius behind the camera and makes the show what it is through clever editing. Subscribe to their YouTube channel, and look for my story about them to come out in the special "DIRT" issue of Trail Runner this spring. 
8. Mario Fraioli's Morning Shakeout: Coach Mario Fraioli uses the tagline "running, media and more" for his weekly newsletter, and his thoughtful musings roughly divide into these thirds of running-related commentary, media analysis, and interesting stuff broadly defined. He tends to focus more on elite-level competition in track and road racing than general trail/ultra, but I find the content compelling and also like how he recommends worthwhile podcasts and articles. 
9. Trail Sisters: I always find something worth reading through this site, founded by Gina Lucrezi to promote and support women in the sport. The quality of contributors—both as writers and runners—makes this an outlet for staying in touch with inspiring and trail-blazing female trail runners such as Krissy Moehl, Sandi Nypaver and Sophie Speidel, to name just a few. 
10. A Trail Runner's Blog by Scott Dunlap: I'd be remiss not to mention the original trail-running blogger, Scott Dunlap, who inspired and informed me when I transitioned from road to trail a decade ago. He's been blogging for ten years strong! If you want to research any "old" news, then search his archives, a real treasure trove. In 2016, Scott took a bit of a hiatus, which he explains in this year-end post. Way to go and thanks for all you've done for the community, Scott! 
What? You say you want another gory trail-toe shot? OK, here you go!
Four Phases to Structure Your Training Season for a Top-Goal Ultramarathon
As a coach and runner, I look forward to the weeks around New Year's because my clients and I plan our training seasons in preparation for spring and summer goal races. I also start working with some new clients and get them on a consistent weekly routine.
Having spent the past two weeks creating several long-range training plans that span 16 to 24 weeks in preparation for a top-goal ultra, as well as developing base-building weekly plans, I thought I'd share the process and use my own training horizon as an example. For the 19 weeks between Jan. 1 and May 14, I'll be training for the Mauna to Mauna Ultra, an inaugural seven-day, self-supported, 250K (156 mile) race on the Big Island of Hawaii.
Many of us spent the past month, between Thanksgiving and New Year's, running minimally and taking a break from structured training. Some of us stopped running in favor of snow sports. Cold and wet weather discouraged consistent, quality runs. It was a busy time of year due to the holidays, family and travel. For these reasons and more, weekly mileage tended to go down for many runners over the past six weeks, while food and alcohol consumption probably went up.
Personally, I didn't do much long or quality running after the November 26 Quad Dipsea; my weekend long run became medium length, and I took it easier during the week, so total weekly mileage dipped down to the 30 – 35 mile range. And, admittedly, my food and alcohol consumption spiked. I'm therefore starting 2017 with work to do to get back in shape.
I generally break a training season that leads up to an "A"-level ultra-distance goal race into four phases:
1. Base (Re)Building
This is the time to establish or re-establish consistent weekly training. Consistency is key! Everyone is different, so please don't think this is a one-size-fits-all recommendation; but, generally speaking, a good, solid training week for long-distance running features:
At least four, preferably five or six, runs.
Three of those runs should be more challenging runs; typically: (1) a midweek run with speed intervals to develop cardiovascular fitness and running economy; (2) a midweek run longer in duration than other midweek runs and including hill work for strength and fitness; and (3) a weekend long run at a relaxed but efficient and sustainable pace to develop endurance, cultivate patience, and practice troubleshooting, refueling and rehydrating over long distances.
The other runs during the week should be shorter, relaxed easy runs at a conversational pace. Schedule these between your harder days. These easy-run days help you adapt to the stress of the hard days and make progress. One of my favorite sayings is, "Make your easy days easy, and your hard days hard."
Layer in upper-body conditioning (emphasizing core/glute), and lower-body PT (emphasizing balance, flexibility, and exercises to address weak or trouble spots) for 20 – 30 minutes, two to three times a week.
Cross-train once/week (e.g. spin, skiing) if you enjoy it, but it's not necessary; I prefer low-impact cross-training activities, like swimming or yoga, for active recovery after a hard run, as opposed to engaging in an intense, challenging cross-training activity.
Have a complete rest day and let yourself sleep in at least one day a week.
Focus on health & nutrition. If you're heavy, then use healthy eating strategies (see related blog post) to get closer to race weight early in your training cycle, as it will help you feel and perform better for the remainder of your training.
Generally speaking, the base-building phase is not a time to race. You may do a "fun run" race as a supported long run, but don't really push yourself, because you're not yet ready to race. You'll stress your body and require extra recovery days, which interferes with the pattern of weekly training you're trying to establish.
During base-building, frequency and consistency matter more than duration. Your "long" runs don't need to be significantly long. Base-building can last anywhere from four to eight weeks, depending on your prior level of fitness and experience. You'll know you have your base back when the weekly training feels routine and less challenging.
For me, I'll rebuild my base during the month of January; I'll get back to a routine of a harder run on Tuesdays, during which I push the uphills, do stair repeats, and go a little longer; a weekly speed session with intervals on Thursdays; a longer run on Saturdays; and, I'll once again get habitual about strength conditioning and PT. I'll run shorter and easier on Monday, Wednesday (or alternatively, Friday) and Sunday, and also rekindle the habit of doing some yoga at bedtime. I have a 50K race scheduled January 21, but I'm doing this as a challenging, steady long run, not a real race, so I will train through it rather than taper for it.
2. Enhance Your Fitness and Increase Your Volume
During this phase, you should continue to follow the weekly pattern described above, but turn up the intensity of your hard-day workouts, and incrementally increase the duration of your long run.
I continue to favor short-interval speed workouts during this phase, because they are so effective for building fitness. On the other weekday hard run that involves hill work, I recommend growing the distance to be at least half the duration of the weekend long run; e.g. if you have 18 miles or approximately 3 hours scheduled for the weekend, aim for this harder hilly midweek run to be around 9 miles or 1.5 hours. I also like introducing plyometrics at the end of one of these weekday hard runs, for added lower-body strength-building and cardio, such as a couple of sets each of: high-knee skipping, grapevines, box jumps and one-legged squats (plus a couple of other lower-body exercises emphasizing ankle/Achilles/foot care and balance).
Build up your volume and intensity week by week gradually and carefully, and every three to four weeks, give yourself an easier week. Let yourself rest more; shorten your long run; make one of your midweek hard runs less intense. An easier week like this once a month will help prevent burnout. If you look at your calendar and see a difficult week due to work or travel, then plan ahead to make that your easier running week.
This phase is a good time to do a shorter practice race that serves as a stepping stone and dress rehearsal for the big goal race. Push yourself to race it well—which means, give yourself a one-week taper leading up to it, and a few extra days of recovery after it. If you're training for a 50K, for example, then race a trail half marathon or 30K. Practice tapering and race-day prep (described in the Taper phase below), and during the race, practice smart pacing, efficiency at aid stations, and refueling/rehydrating.
Depending on the time horizon to your goal race, this phase can last anywhere from four to eight or more weeks. Personally, this phase will encompass February and the first week of March. I'm registered for a 50K on February 25 that I'll race hard and competitively, to test my fitness and practice race-day execution.
One final note: By now, you should have all your logistical arrangements in place for your main goal race. Don't wait til the last minute to book lodging or figure out transportation to the start line. Take care of those details early, so you avoid stress approaching race day.
3. Train Extremely Specifically for Your Goal Race and Peak in Volume
At this point, all your training should focus on specific preparation—physical, mental, logistical—for the goal race.
Early in this phase, "do your homework" and learn as much as you can about your goal race, through others' race reports and the event website, and visualize the race as you run. Practice your mental game as well (see related post). Develop and fine-tune a race-day plan for details such as drop bags, crew, pacing, calories and hydration, etc.
This is the time to deliberately practice the terrain and hill profiles of your goal race; to adapt to the climate as best as possible (e.g. start heat training in prep for a hot race); and to run at different times of the day to mimic running during the time of day when your ultra will be. If you are doing a 50-mile or longer ultra when you will need to take in substantial calories, then focus on adapting your gut by fine-tuning your refueling strategies and occasionally running while digesting (e.g. after a light lunch or dinner). Practice nighttime running a few times if your ultra will take you past sunset.
During this phase, when specificity and volume peak, your once-a-week speedwork should transition away from shorter intervals, to a "comfortably hard" tempo pace that you can sustain for at least 25 to 30 minutes. During a midweek run lasting an hour or more, for example, you could run 30 minutes at this higher-intensity but sustainable tempo pace; or, you can try a negative split run, where you run the second half progressively faster.
If you are training for a 50-mile or longer ultra, I also recommend carefully scheduling a few back-to-back long runs, about once every three or four weeks. This allows you to adapt to running/hiking on fatigued legs and more closely simulate what an effort that lasts some 10 to 30 or more hours (for a 50- to 100-mile race) would feel like. I like to break a back-to-back unevenly, with longer mileage on the first day; for example, 30 miles on a Saturday, 15 to 20 very slow miles with a lot of hiking mixed in on the Sunday. If possible, participate in a 50K in this phase as a supported long run, and then have a significant long run the following day for a back-to-back effort.
I also recommend a weekly "two-a-day" during this phase, especially for morning runners who are unaccustomed to running late in the day. Add an easy-pace run for an hour or so in the late afternoon or early evening on a day when you also run in the morning; but, expect this "easy" run to feel hard—that's the point; you're adapting to late-day running on fatigued legs to practice for your ultra!
Don't forget to have a "cutback week" every three to four weeks when you allow for lower mileage and more recovery; these are good to schedule following a weekend back-to-back run. Also, phase out cross-training activities; it's better to train specifically for your race, by running and hiking, or rest completely, rather than adding another activity such as cycling. (Note: I use "cross training" to refer to other recreational activities like cycling, rowing or swimming; "conditioning" to refer to specific exercises for strength, injury prevention and flexibility. Keep doing conditioning two to three times a week, for 20 or so minutes at a time.)
It's important to time this peak phase properly, so you don't peak in your training too early. A four-to-six-week time frame is good for a 50K or shorter race; for a longer ultra, build in more time for this phase. Last year, when my goal race was the 100-mile Western States Endurance Run, I gave myself the eight weeks from the third week of April (following a week of recovery from the Lake Sonoma 50), to the first week of June (allowing for a two-week taper), for this peak phase.
I recommend scheduling the longest, most depleting long runs five and six weeks before the goal race; then, on the weekend four weeks before the race, schedule a long run, but not quite as long and depleting. Three weekends before the race, have a long run approximately 75 percent of the peak-long-run distance, and then start tapering.
As I train for the Mauna to Mauna Ultra, I'll shift to this phase in March and spend all of March and April training very specifically and peaking in volume. For a multi-day, self-supported stage race, a great deal of specialized training and gear prep is required, such as getting used to running with a pack that weighs approximately 20 pounds, adapting to the hot and humid climate we'll face, running multiple back-to-back long runs, and subsisting on a limited calorie supply (because we have to carry all our food for the week).
For pack training, I'll start by walking as much as possible during the day with my adjustable weighted vest (using 10 to 20 lbs),
 and as much as my schedule allows, I'll literally run errands—that is, go shopping with an empty backpack, running to the shopping district a couple of miles away, and walk home with a loaded backpack. This kind of time-on-feet training in addition to regular running is excellent preparation for a multi-day stage race. I'll also start hitting the sauna to adapt to Hawaii's humid climate, and use time in the sauna to do some strength conditioning (especially core/glute work) and PT exercises.
For peak training runs, I'll pace/crew my friend for 30 to 40 miles in the dark at the Zion 100 in early April, while wearing a pack; then, the following weekend, I'll do the Mount Diablo 50K also wearing a loaded pack for a super-slow, challenging long run.
Mentally, I'll cultivate patience and the slow-and-steady pace that running/hiking with a backpack requires. In terms of volume, I want to reach the point where I normalize a 20-miler; that is, I'm able to run a 20-miler midweek without much problem and without feeling like it's a big deal, and truly long runs will be in the high 20s to mid 30s range, with several back-to-backs.
4. Taper
The taper is hard to get right. The idea is to reduce your volume, and emphasize rest, in the two to three weeks before the ultra, to arrive at the starting line as fit, healthy, rested and stress-free as possible. Too many runners arrive at the start line tired and frazzled from too much training and life stress or travel stress; or, they're heavy and sluggish from too little running with too little intensity, and perhaps too much eating.
Here are six things I recommend during a taper (the devil is in the detail; I'm giving only general recommendations because how and how much you should do the following differs for individuals and depends on the specific event):
reduce the duration of your long run: The weekend before a goal race, my "long" run generally tops out at two hours.
reduce the volume of your weekday runs, but maintain some high intensity: I still run some fast miles during the taper. The Tuesday before a weekend race, I like to do a last, short speedwork session, which generally involves a set of strides and a couple of mile repeats.
eat and hydrate well: This can be tough, especially if you're traveling to a destination race and eating out in the days leading up to race day. Listen to your hunger and fullness cues, and avoid overeating. Also cut back or entirely cut out alcohol. Don't "diet" or restrict calories during the taper in an effort to be lighter and faster on race day, as this will backfire by stressing you out and depleting your energy; instead, address your weight management, and maintain a healthy race weight, earlier in your training season.
store up on sleep: Let yourself wake naturally on as many mornings as possible. Get a good night's sleep two nights before the race, to compensate for possible insomnia and early waking on race day.
avoid illness and injury: Be germ-phobic; avoid sick people, and wash your hands frequently. Don't do any new or unusual activities out of restlessness, such as cleaning out a closet or gardening, as this could cause muscle strains or soreness.
when in doubt, think "less is more": Your physical training is in the bank. Doing too much during the taper is riskier than doing too little. Focus instead on sleep, nutrition and overall wellness.
Mental and logistical preparation—which you should have started in the prior phases—should be fine-tuned and rechecked. Go over your race plan; check the event website for last-minute announcements. If you are using a crew, go over your plans with them. (Check out my article from the December issue of Trail Runner, "Avoid the Crew Snafu.")  Make sure you have a foolproof plan for getting to the starting line with plenty of time to spare.
I'm admittedly nervous about my taper period for the Mauna to Mauna Ultra, because it will involve stress and then temptation. For the first weekend of May, when I'll start tapering, I'll have to travel to and handle presenting at a board meeting in my role as a school trustee. There's always a lot of work involved with getting ready for those meetings. Then as soon as the meeting ends, I'll fly to Hawaii with my husband for five days of vacationing together before the Mauna to Mauna event begins. That means five days in paradise with my husband, relaxing and acclimatizing to the climate, which sounds perfect—except for the temptation of food and drink! I'll have to be extra careful to moderate intake of this:
And do this, but also in moderation:
I hope this post helps and inspires you to do some long-range planning for your training season. Here's how my six-month season leading up to the 2016 Western States Endurance Run looked last January through June; it included the Sean O'Brien 50K, Marin Ultra Challenge 50K and Lake Sonoma 50M. I'm proud of the injury-free consistency I achieved, and I hope to have a successful buildup again this January through May.