Like everything else that's gone wrong, I had plans to write blog posts more frequently this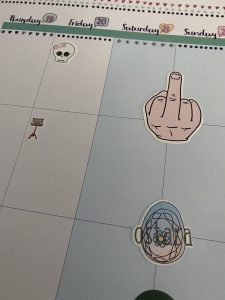 year. I had plans to go places and do things and try to find some sort of purpose and meaning beyond whatever my everyday was.
Even today's post was blindsided by the fact that once again, I've lost another friend. (So, so many people I knew, either personally or professionally are gone. Cancer or Covid, both have been utterly ruthless. My brain is numb trying to wrap itself around the fact that I'll never see them again and just…well, it's going to be a melancholy post instead. My apologies.)
And no, I'm not flipping off Ostara on my planner. That just happened to be the day our exchange student was made to go home during the early days of Covid and I couldn't bring myself to write down the flight information. In hindsight, of course it made a lot of sense to send all the exchange students home – but we were getting so much information (true and false) that we couldn't figure out what we were supposed to do. What should have been a fun second half of the year ended with our student shutting himself in his room in absolute depression for the last several days of his trip.
I don't know really. In some ways it feels like life just…stopped after he left. Schools were closed, jobs were sent home. I went from trying to figure out 3 different sets of school activities and shuttling everyone around to going nowhere. (Job-wise…everything stayed the same for me. I was already working from home due to health reasons, so aside from the fact that all my coworkers are now in the same boat that part has blissfully remained constant. Small favors.)
I'm not even going to get into the political bullshit of this year – there's too much to unpack and I don't want to do it right now.
My kids stopped caring about classes, alternating between staying up all night, and half-heartedly logging in to maybe finish a test or a lesson, when they already knew none of it was going to count anyway. (It's been a little better the second time around – schools at least are trying to have a better plan, but I'm watching my kids drown in work, no less apathetic than they were. They still stay up all night and I don't care. As long as the work gets done and the grades stay up, they can run their own schedules as they please. So far it's worked out – we even managed to get the eldest accepted into university for next year. so at least that's one less thing to worry about.)
I bought like 4 or 5 different planners last month. Not sure which one I'll use. Maybe all of them. Maybe none of them. I'm not even sure why I bought them at all, though I'm sure there's some deep-seated urge to somehow retain control of my schedule, as though that will somehow bring a new sense of normalcy.
It probably won't. No matter how much I write down what my plans are for a given week, it doesn't take much to upend them. Hell, I took the last week off hoping to rejuvenate and rest and all that great stuff…and I've been nothing but beset by terrible headaches and fatigue. I've lost nearly half the week not being able to get out of bed for more than a few minutes. My exhaustion is total and I don't know why.  (Maybe this *is* my body's way of saying, oh, good, you have time to rest. STAY IN BED. Maybe it's Covid. Maybe it's just the usual chronic illness garbage.)
All my writing plans went out the window. My baking plans. My cleaning plans.
*sigh*
But that's okay. Tomorrow is the start of a new year and hopefully better times for everyone.
That in mind, if you'd like a copy of my latest  – a hardcover edition of Came A Harper, I'm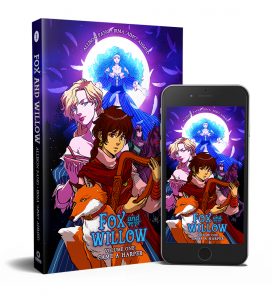 giving away a few on Patreon. You do NOT have to be a Patron – it is open to anyone. (You probably need a Patron account to leave a comment, but you don't have to be giving us money or anything.)
Just put down what your hopes/dreams are for 2021, or what you're looking forward to, or share whatever makes you happy. I'll draw two winners tomorrow.
See you all next year.