"Methane Mitigation" which can be defined as using the anaerobic digestion (i.e. biogas production process) to help humanity in the fight against climate change, is the core subject announced for the World Biogas Summit 6 -8 July 2021.
It will be "All About Methane"!
Find out more by reading the ADBA Press Release reproduced below:
---
WBA Press Release 29 June 2021:
International Energy Agency and Climate and Clean Air Coalition to headline the "It's all about the methane" World Biogas Summit 2021
Held online from 6th to 8th July, the
World Biogas Summit 2021
, organised by the
World Biogas Association
(WBA), will feature
Keisuke Sadamori,
Acting Deputy
Executive Director of the
International Energy Agency
and
Drew Shindell,
Special Representative for Action on Methane
, Climate and Clean Air Coalition
as keynote speakers – leading an impressive line-up of eminent figures from not only the global biogas sector but also from the worlds of finance, retail and urbanism.
This year's event held virtually due to the Covid-19 pandemic, will focus on how, in the build-up to COP26, AD and biogas can help reduce global methane and other greenhouse gases (GHG) emissions. In particular, it will explore the need to capture and recycle the 105bn tonnes of organic wastes generated by human activity every year – and turn these wastes into a valuable resource (1).
Entitled "It's all about the methane", the 2021 Summit programme will review how to efficiently capture organic wastes, recover the gases and nutrients they contain and recycle them in the form of clean energy and natural fertilisers – achieving GHG emissions savings, displacing fossil-based equivalents, restoring soil health and helping reduce the carbon footprint of hard-to-decarbonise sectors such as heat, transport, agriculture and waste management – thus contributing to countries meeting their Net Zero targets.
Ahead of his address, CCAC's Drew Shindell said: "
Methane mitigation is one of the most significant climate actions the world can take this decade. There are cost-effective solutions that can be implemented immediately, and the benefits far outweigh the costs. The world needs to make 2021 a 'methane moment,' by committing to implement policies and measures to rapidly reduce methane emissions and working to drive a decade of methane action."
Click on the image above to find out more!
There's no Net Zero without Biogas: ending waste, delivering the circular economy, tackling the climate crisis.
"Biomethane the key option to decarbonise heavy vehicles immediately";
says trade body in a new publication
Biomethane: Fuelling a Transport Revolution reviews how the anaerobic digestion and biogas industry can help decarbonise heavier modes of transport, such as trucks and buses, much sooner than electricity or hydrogen.
· The Policy Briefing report by the Anaerobic Digestion and Bioresources Association (ADBA) details the GHG emissions issues facing the UK transport sector and explores the solutions available for heavy goods and public transport vehicles, which alone generate 20% of current emissions per year.
· Rapid deployment of biomethane for HGVs could reduce GHG emissions by 38% over the next 10 years. Current technological barriers to powering heavy vehicles with electricity or hydrogen mean these future fuels could only cut emissions by 6% over the same period.
· Major fleet operators are already making the transition to biomethane trucks and buses.
· Fuelling HGVs with biomethane can cut well-to-wheel emissions by 80% per km driven and greatly improve air quality.
· As well as decarbonising transport, biomethane can boost an entire economic sector, with ROI for hauliers achieved within two years of operation.
Earlier this month, the Anaerobic Digestion and Bioresources Association (ADBA) launched a Policy Briefing report demonstrating the crucial role biomethane could play in decarbonising transport in the UK in the short-term.
In the first of a series of Policy Briefing Events, the trade body presented Biomethane: Fuelling a Transport Revolution, which analyses the UK transport sector's issues and explores the options presented by electric vehicles, hydrogen and biomethane.
The research highlights the value of biomethane in providing a green fuel alternative for heavy good and public transport vehicles - immediately. Trucks and buses currently generate 20% of the UK's greenhouse gas emissions from transport, which is itself the highest GHG emitting sector in the UK (27%).
" Transport is the most polluting sector and its GHG emissions levels have not changed over the past decade. "
, explains Charlotte Morton, ADBA's Chief Executive.
"Biomethane is ready to be produced, ready to be used, and can decarbonise heavy vehicles transport here and now. At time when the pollution levels exceed WHO guidelines on 97% of UK roads, we can not afford to wait 15-20 years for electricity or hydrogen solutions to become ready."
A 2020 report by Element Energy shows that rapid deployment of biomethane for HGVs would reduce emissions by 38% over 10 years, whilst waiting for hydrogen/electric HGVs to be manufactured would deliver only 6% over the same period.
Biomethane is particularly appropriate for public transport, long-haul logistics and food distribution vehicles. Household names and cities such as ASDA, Royal Mail, Nottingham City Transport and Liverpool City Council are already making the transition for their delivery fleets and buses.
The report reveals that fuelling HGVs with biomethane can cut well-to-wheel emissions by 80% per km driven, compared to diesel, and that the Return On Investment (ROI) for fleet operators is achieved within two years.
"Using biomethane as a transport fuel is an immediate "no regrets" option that not only contributes to significant cuts in GHG emissions from HGVs, but also stimulates continued growth in the UK biomethane sector."
says Philip Fjeld, CEO of CNG-Fuels.
"As the refuelling network expands across the UK, biomethane as a transport fuel will become a win-win solution that is available to all hauliers and that continues to reduce the carbon footprint of a sector that has always been seen as very hard to decarbonise".
With the launch of the CNHi Biomethane tractor and small scale on-site methanation units, agriculture could be the next sector to benefit from the availability of biomethane to reduce its GHG emissions. The biomethane sector is therefore primed to play an increasingly crucial role in helping the UK achieve its Net Zero targets by 2030.
DOWNLOAD THE ADBA POLICY BRIEFING
Biomethane: Fuelling the Transport Revolution
- ENDS -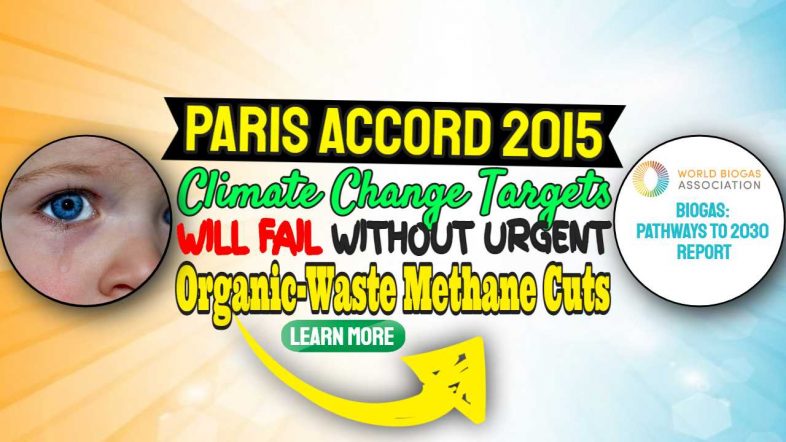 The World will fail to meet promised Paris 2015 Accord Climate Targets unless action is taken now to reduce organic-waste methane emissions.
Globally all governments must act now to start cutting highly damaging methane emissions from the breakdown of organic waste now, or they will be by default simply abandoning their pledges – is our interpretation of the latest WBA report just published.
All those hard-won 'Paris Accord' promises will simply go for nothing and the fervent hope of all people, especially the young, that global warming can be defeated will be hit a body blow.
That's because although carbon dioxide (CO2) is most often talked of as the climate-changing gas most worrying, methane (for a long while quoted to be 32 times worse – but is now known to be 85 times1 worse due to it's longer persistence in the atmosphere.
Read our full article including the Press Release by the World Biogas Association in full here:
https://blog.anaerobic-digestion.com/world-will-fail-climate-targets-unless-organic-waste-methane-is-cut/
Biogas analysis and maximizing the efficiency of anaerobic digestion plants are gaining more attention as the anaerobic digestion industry matures. If you are seeking to find out more about this topic, read-on because this article is for you!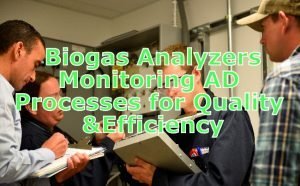 With the rapidly increasing global awareness that the world must decarbonize or suffer huge problems and costs as a result of unrestrained global warming, biogas is in rising demand as a valuable energy source. However, the highest prices are only available for top quality biogas with a consistently high calorific value after upgrading (purification). To do that operators need to pay close attention to the quality of the digester off-gas. The way to do that is through biogas analysis
Thankfully, robust and low-cost biogas analysis sensors are available from a number of manufacturers for controlling the various biogas quality upgrading processes. The development of these devices specifically tailored to the biogas industry has been essential. But, there has been great progress, and biogas plants are now able to work much more effectively than before. The challenge for the equipment specifier is to match the available biogas analysis products for the scale, robustness, and accuracy to suit every application.
Many devices combine the functions of biogas flow measurement with quality monitoring systems for a wide variety of needs. There is often a requirement that the biogas analysis device includes, not only a capability to measure the main constituents of biogas, but also the lower concentrations, and even trace-level contaminants.
The need to continuously measure methane (CH4) and
carbon dioxide (CO2)
, can be joined with a need for analysis of the low percentages of CO, H2S, N2, O2, which can also be found in the biogas composition depending on the nature of the process it originates from.
There are special requirements for the analysis of biogas which is produced as landfill gas, and the additional contaminants often found in that form of biogas. For that reason, we have devoted a section of this article to landfill gas analysis. Scroll down and read that if you are seeking information about landfill biogas analysis.

In the paragraphs which follow we provide more info on biogas analysers or general use. Biogas plant operators need economical, versatile, and reliable biogas analysis. Whether dealing with biogas plants, landfills, sewage treatment plants, and in some circumstances even composting plants. Some are fixed units, and some are mobile, and products are even available that are a combination of a stationary unit and mobile gas measuring device enables.

Today, like never before there are comprehensive professional biogas process control and optimization devices available for purchase. REad more here: https://anaerobic-digestion.com/biogas-analysis/
2020 has been a lost year for new anaerobic digestion plant capacity in the UK.
A few years ago there were UK biogas plants starting construction at the rate of at least two a month, and the industry was even then disappointed and thought the rate should be higher. It was hoped that at least in 2020 with the UK's Brexit departure set in stone at year's end, the UK industry might return (later in the year) to the rate of progress seen pre-2016.
It was in 2016 that the withdrawal of most UK government support for the technology began to stall new project starts which had been running at double that rate or higher for several years. Many will blame the COVID-19 pandemic for the poor performance this year, but in other industries such as in the UK wind-powered energy sector, turbine construction activity has continued.
In the last 2 to 3 years the UK government has made increasingly encouraging announcements about supporting the production of renewable energy production in areas of high potential such as the AD industry. But action seems to have been almost entirely lacking.
It seems that while Brexit talks continue to occupy the cabinet, much more important UK decisions will continue un-resolved, let alone will any real progress be made:
on climate change pledges, and
the benefits offered by a vibrant biogas industry.
The industry can also, let's not forget, generate many jobs at a time when these are so badly needed. At least 20 UK AD plants must be sitting with planning permission granted, and can surely be "shovel ready" in no time if only decisions are made to return confidence to the UK AD sector.
But, we are not about to let other European governments off the hook here. Their renewable energy performance when judged against the promises made during the Paris Accord 2015, and general statements made subsequently toward Net-Zero 2050 goals is also very disappointing.
To make our point more clearly, we are pleased to be able to republish the following article which explains the above statement and was first featured in the
[RE]fuel Report
, Issue 156, on 30 November:
[RE]fuel Article Starts:
---
EU countries remain far behind FQD requirements, EEA data shows
EU countries remain far behind on their requirement to reduce the intensity of greenhouse gases in the fuel they produce by 6% versus the 2010 level by the end of this year, according to figures released by the European Environment Agency in late November.
Although worrying, the figures are lagging and it will be two years from now before it is clear that countries have fallen short of the end-2020 deadline.
Figures published by the European Environment Agency (EEA) for 2018, the year that the most recent data is available, show that nearly all Member States are well behind Fuel Quality Directive (FQD) requirements, with data for the EU as a whole in 2018 showing that the greenhouse gas intensity of fuels across the EU have fallen by 3.7% compared to the 2010 baseline, mostly due to
the use of biofuels.
"Progress varied greatly across Member States, but almost all need to take swift action to meet the 2020 target of 6%,"

the EEA said in a statement to accompany the data.

The EEA said the fall in emission intensity of road transport fuels between 2017 and 2018 can be attributed mainly to a rise (from 4.5% to 5.2%) in the proportion of biofuels used, because biofuels
have a lower emission intensity than fossil fuels.

However, the heavy reliance on crop-based biofuels that year partly offset the benefits that could have been achieved, namely a 4% rather than a 3.7% reduction in emission intensity by 2018, the Commission added.
"This increase in biofuel emission intensity was due to an increase in the use of oil crops, which generally have a higher emission intensity than other feedstocks, in biofuel production."
Compliance with the 6% FQD does not consider emissions from indirect land-use change (ILUC) but the EEA said that if ILUC is taken into account, the average GHG emission intensity of fuels consumed in 2018 is only 2.1% lower than in 2010.
[RE]fuel Article Ends:
---
It is clear that most of the reduction has been gained from crop-based biofuels, and this is itself a form of fuel production which although renewable by its general nature has been heavily criticized and is being phased-out globally due to the fact that:
while it is undoubtedly a lower carbon-emitting energy source than fossil fuel sources, including natural gas, it isn't particularly low carbon-emitting
government subsidies for crop-based biofuels have been heavily criticized for their suspected perverse effect in raising food prices. In principle, how can it make sense for governments which say they intend to keep food prices low, to continue to subsidize farmers to take a food crop (often maize -sweetcorn) off the food market to use it to make fuel?
The UK biogas industry, in particular, which produces a low output of crop-based biofuels which in recent years is considered to amount to no more than a 1% use of the national maize crop is tired of being roundly criticised for the use of food crops in this way.
While some older farms in the UK continue to use some food crop in their feed mix, those are operations set-up many years ago and are grandfathered in upon funding agreements due to end in the next few years. Those AD plants are a small and diminishing part of the UK industry.
For many years the UK AD industry has been an industry based upon the use of AD technology to process all forms of waste biomass, and when maize is used as a feedstock it is used in such a way that the waste (stalks, leaves etc.) form the feed for the biogas process.
Let's be clear, the global biogas industry projections by bodies such as ADBA and the WBA for the contribution of up to 11% contibution (which we have reported previously here) that biogas can make to reducing carbon emissions from transport before 2050, are based upon biodegradable waste biomass feedstocks, and not food crops.
To explain this more fully, the energy industry distinguishes between the many sources of biofuel through the concept of "generations of biofuels". Read on to find out more:
---
What are Crop Based Biofuels?
Crop Based Biofuels are first-generation biofuels.
These are fuels made from food crops grown on arable land. The crop's sugar, starch, or oil content is converted into biodiesel or ethanol, using transesterification, or yeast fermentation.
What Generation of Biofuels are Destined for Use in Producing Biogas and by Upgrading to Become Biomethane?
Those fuels will be the second generation biofuels using current and future anaerobic digestion process technologies.
Wikipedia defines second generation biofuels as:
Second-generation biofuels are fuels made from lignocellulosic or woody biomass, or agricultural residues/waste. The feedstock used to make the fuels either grow on arable land but are byproducts of the main crop, or they are grown on marginal land. Second-generation feedstocks include straw, bagasse, perennial grasses, jatropha, waste vegetable oil, municipal solid waste and so forth.
There are also third and fourth generation biofuels the technologies for which are not so far advanced in their development.
---
Conclusion
We hope that the sections following the [RE]fuel article above explain fully the fact that most of the reduction so far in carbon emissions by European nations has not been from anaerobic digestion and the use of upgraded biogas production (biomethane).
It is hoped that government actions throughout the globe will soon begin to remedy this by encouraging investment in their anaerobic digestion industries.
This post was originally published in the Anaerobic Digestion Blog.
More Recent Articles