---
The profound flaws with Payback
Simple payback, often referred to just as payback, describes the length of time needed for the savings generated by a resource efficiency project to return the initial investment made. It is calculated using the formula:

Thus, an investment of US$1,000 that yields regular annual savings of US$500 has a payback of two years. The annualized saving could be determined by a number of uneven cash flows, e.g. US$250 in year 1 and US$750 in year 2; here, the payback period is determined by adding up successive savings in the cash flow until they match the investment. If we are interested in the payback in months, then we would multiply the annual payback by 12.
A fractional payback is only strictly correct where our savings are continuous throughout the year (e.g. if I install new energy-efficient lamps the saving occurs every day the lighting is used). On the other hand, if the saving results from a discrete payment at the end of the year (e.g. a waste collection charge that is levied annually), then the payback period will be a precise number of years, even if the final saving exceeds the amount needed to cover the investments. Thus, if I have invested US$1,000 and this results in savings of US$600 at the end of year 1 and US$600 at the end of year 2, strictly speaking, the payback is two years, not 1.7 years as it won't be until year 2 that the investment is repaid.
The saving is a net figure, that is to say, interest or other finance charges are included, unlike most other most methods of financial appraisal. We should also allow for tax in our savings. In other words, if these savings result in an increase in profit which is taxed, we would usually use the lower after-tax cash flows that are created by the investment. Alternatively, if we have a tax benefit – such as an enhanced capital allowances or depreciation – as a result of our investment, the net savings should be increased by the tax benefit.
The problem with payback
Despite its widespread use, payback is a very poor method of evaluating investments in energy or resource efficiency projects and is only really suitable as a high-level indicator of project risk rather than as a method of financial appraisal. Payback may be helpful when we have a return on investment of less than a year, where other measures of financial performance such as IRR are unsuitable, but should otherwise be avoided.
Consider the two projects below. They both have identical payback periods of five years (and the same Accounting Rate of Return, ARR, of 20%). Clearly, project B is much more desirable as it makes significantly greater savings earlier on, whereas project A defers almost all the savings until much later on.
Payback is unsuitable for comparing investment options because it fails to consider the timing of the savings within the payback period.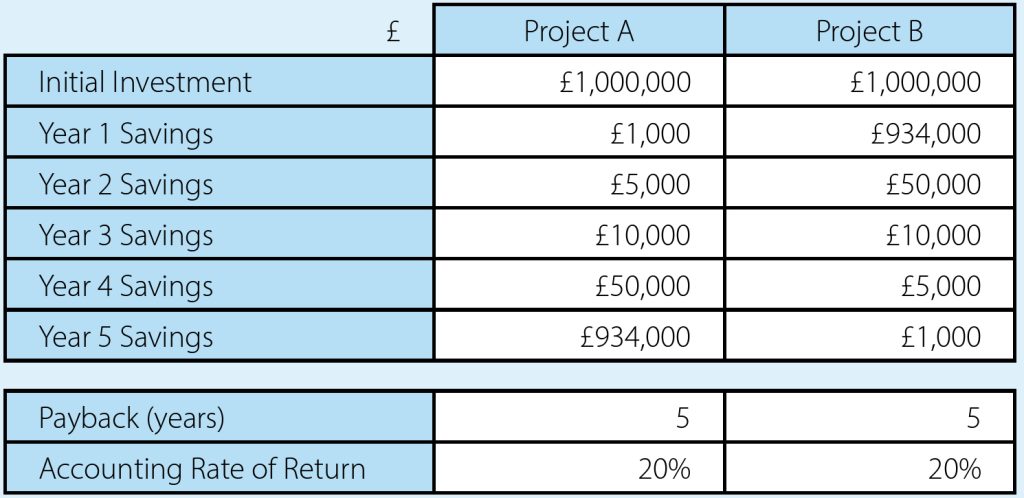 Now consider the two alternative investments below:

It would appear that project B with a shorter payback of four years is more attractive than project A. However, project B has a duration of just four years, so it adds no value at all to the organization as it only just covers its costs. Project A, on the other hand, continues to deliver savings for 20 years after it has paid for itself. Clearly, Project A is the better investment choice, even though it has a longer payback.
This example forms the basis of the cartoon below.

Payback is unsuitable for comparing investment options because it fails to consider the duration of the savings beyond the payback period.
However, the payback does provide a measure of the risk of a project. Clearly, a project which pays for itself quickly is has less uncertainty around it than one which takes a long time to return the initial investment. Given two projects whose financial performance is similar, then payback can help us make the final decision.Don't just take my word for it. According to Capital Budgeting[1]:
Payback is a very unsophisticated and misleading measure and it is not recommended for accepting or rejecting projects
So what are the alternatives to payback? Techniques such as Net Present Value discount future savings compared to immediate savings, in order to favour immediate returns. The Internal Rate of Return is another widely-used measure of investment return. The strengths, weaknesses, "gotchas" and applicability of these techniques are fully explained in the Finance chapter of my book, Energy and Resource efficiency without the tears – the complete guide to adding value and sustaining change in an organisation, available free of charge on this site.
[1] Dyananda, Don. Capital Budgeting: financial appraisal of investment projects (Cambridge University Press, 2002). ISBN 978-0-521-52098-0
The post The profound flaws with Payback appeared first on SustainSuccess.
Fear of flying*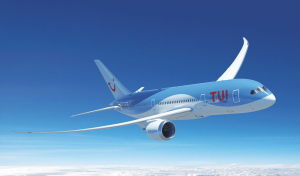 I am writing this post from Goa, on the West coast of India. I flew here from Manchester, in the premium economy section of a Tui Boeing 787 Dreamliner.
According to the ICAO carbon calculator [1] the aircraft will have burned 54 tonnes of fuel on each leg of the journey, which equates to 654kg of CO2 per passenger (2x the standard economy emissions due to the "premium" cabin seating). The plane was full, so I think the calculations are reasonable and, while I could argue that "premium economy" is not really twice the space or mass of standard economy, I don't quibble with the figures.
So that makes 1.3 tonnes CO2e each for me and my wife, which we have offset, as we have done for many years now, by buying comparatively expensive voluntary carbon offsets from the World Land Trust at £15 per tonne (total cost £32.50). Where the journey is for business we actually double the calculated emissions and ask our customers to pay, more to initiate a conversation with them, rather than than to recover the cost of the offsets.
To put the 1.3 tonnes figure in context, the average per capita emissions of a person in India is 1.73 tonnes in a year and 6.50 in the UK, in 2014, according to the World Bank [2].
Despite the offsets, I do feel guilty about flying. But then it isn't really just about me. Arriving in Goa, it becomes abundantly clear that tens of thousands of folks depend for their livelihood on the income that tourism brings. Adding to the direct employment effects, tourism has also spurned the development of lots of other infrastructure, such as roads and communications, and supports the artisanal fishermen and a supply chain stretching across the country, judging from the Kashmiri, Rajasthani, Nepalese and other traders whose wares fill the tourist markets on Anjuna Beach. What is noticeable is that many of our fellow tourists are Indians, so maybe the average emissions per tourist Rupee will have declined over time?
So tourism helps lift many people out of poverty – a just, and noble thing. I was first challenged on the dynamic of "local versus global" by a conversation I had several years ago with Alex Pitman, then head of sustainability and energy efficiency at The Cooperative, a well-known UK ethical food retailer. Why, I asked, wasn't the Co-op getting behind the "food miles" campaign to reduce transportation emissions? Alex's reply was compelling. "Because we have made a promise". He went on to explain that the Co-op was proud of the foundation work it had done around Fairtrade and the social impact this was having. They couldn't just walk away from their flower growers in Kenya, their green-bean suppliers in Peru or their coffee growers in Central America. 
Those of us with a concern for the environment tend to fall into two schools of thought: folks who think that we must make dramatic changes to our lifestyles to dramatically reduce consumption and those of us who believe that we need to change the supply chain that responds to our consumption. The classical "demand-side" and "supply-side" responses. In practice, as we all know, we need to do both, although I tend to favour the supply-side as I think that few folks are willing to curtail their lifestyles to a sufficient degree for demand side to work alone (especially those in the developing world who want schools and hospitals and tv and jobs and mobile phones etc). Asking people to don "hair shirts" is almost certainly going to get them to disengage. No, we need to start with the premise that we need to "do more with less" – we need to lift billions of people out of poverty while consuming considerably fewer natural resources. We need to become vastly more efficient in servicing our demand. That is not to say that we shouldn't consume less as individuals – or rather consume intelligently! Our purchasing power is one of the most powerful levers there are for change.
So, as tourist-consumers, we should ensure that we spend plenty and generously in the places we visit. We should favour ecologically sound destinations, lodgings and activities and we should find out about the local sustainability issues and engage appropriately with them.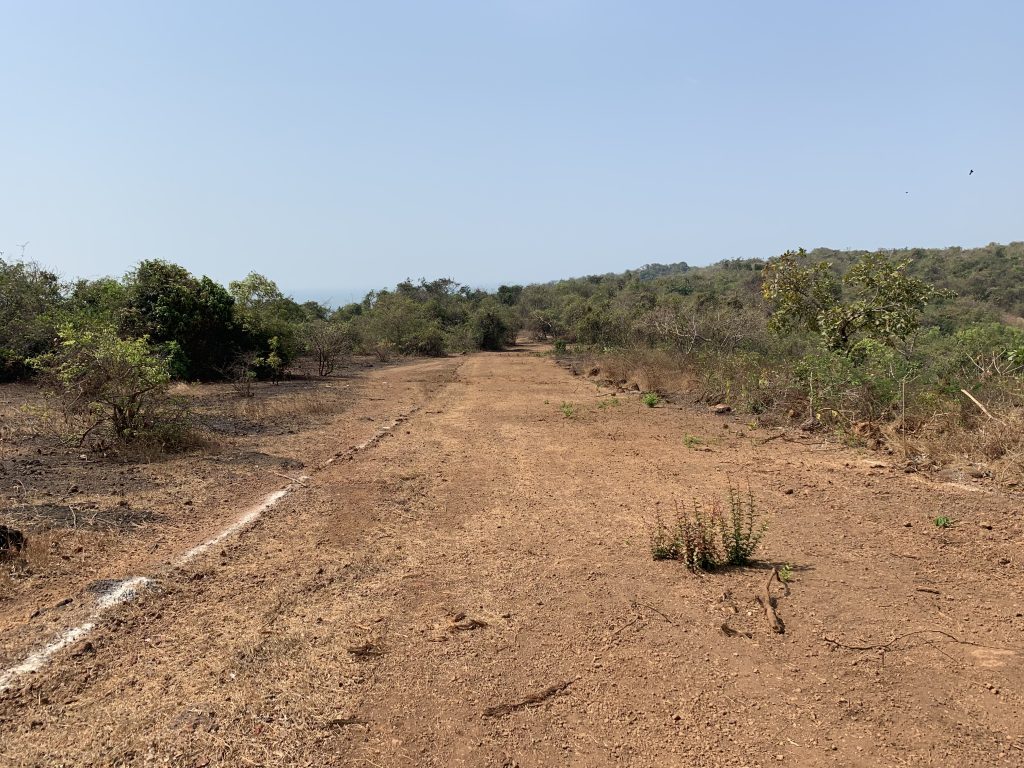 Which brings me to this morning. My wife and I took a "birding" walk up behind our hotel at Baga Bridge – a walk which promised a shaded narrow trail with over 30 species of birds to be seen in a variety of habitats, Much to our shock, upon reaching the ridge of the hill we saw that a wide swathe of the woodland had been cleared for a road, with the undergrowth on either side having been burned. The road clearing stretched all along the ridge for a couple of km at least. As we were taking this in we were approached by a group of local people who explained to us that they were campaigning against the road which had been built on government land. They passionately described how they, and their parents before them, would visit this site and collect the cashew nuts to be turned into liquor and that the burning had killed many of the trees and displaced the birds.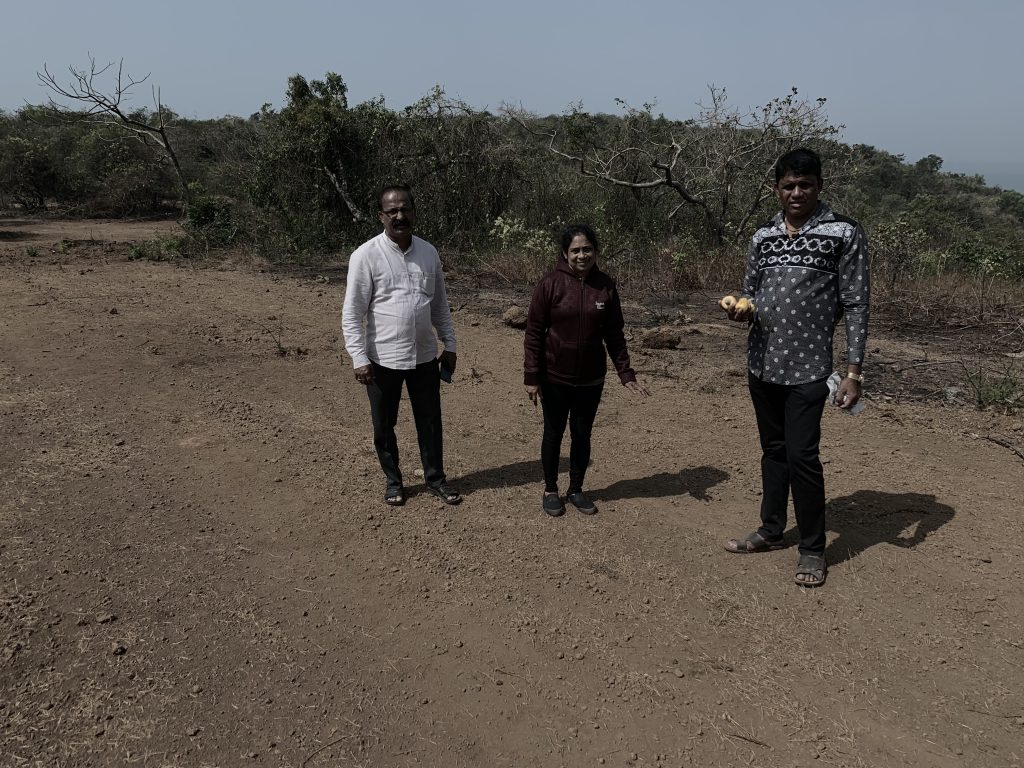 These concerned citizens were in the process of taking the case to the High Court to get the road stopped and asked if we would be willing to give them a few sentences on a video – unscripted – to say why we were on the hill and what we thought of the clearing, which they could use as evidence in Court. Of course, we did so without hesitation. They also took pictures of the birding guide by Peter North that marked the path, as evidence that this was a special place recognised by visitors from the UK.
I was moved as they described their tears on first seeing the damage and their determination to halt the building that would follow if the road was established. We in turn said that we would share their story and also get in contact with the bird-watching community back home to see if they could raise objections with the Indian tourism authorities and so forth. We will keep those promises. I can feel some pro-bono time from SustainSuccess will be justified!
So, should we have stayed at home and spared the planet the emissions we produced? Probably. With choices, though, come responsibilities, so we are doing what we can to understand the negative impacts of those choices and put them right, as well as the positives. I'm not sure that is the right answer and I am troubled by it. But, unless we talk about these things, we can't come to a conclusion.
[1] https://www.icao.int/environmental-protection/Carbonoffset/Pages/default.aspx
[2] https://data.worldbank.org/indicator/EN.ATM.CO2E.PC
*Apologies to Erica John for nicking the title of her 1970's feminist novel.
The post Fear of flying* appeared first on SustainSuccess.
Capability and Motivation – why you need both to achieve change.
For change to happen, people and teams need two things: the capability to carry out the required action and the desire to do so. Capability reflects many aspects such as knowledge and skills, as well as resources like time and money. Motivation can be intrinsic due to beliefs and attitudes or extrinsic due to instructions, incentives, penalties or social norms.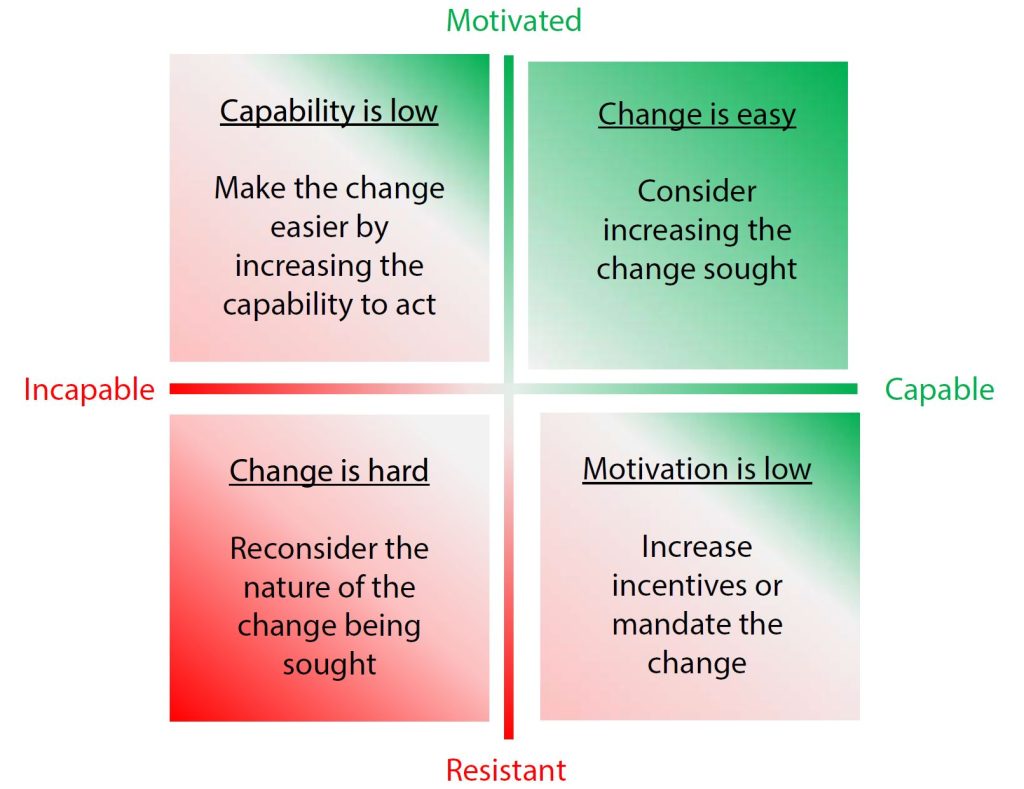 Capability and motivation are related. An easy-to-implement behaviour change (i.e. one for where the existing capability to act is high) will need much less motivation than a challenging behaviour change (i.e. one which requires lots of resources, time, effort, risk-taking, knowledge, etc).

Understanding the interrelationship between capability and motivation can dramatically increase the chance of success of our change programme.
A useful first step of our behaviour change process is to define the precise action we want people to perform and assess the level of motivation and capability needed to carry out that action. Having understood the requirements, we can then determine the actual levels of motivation and capability within the target group and develop strategies to bridge any gaps.

Much of the literature on behaviour change focuses on changing the intrinsic motives of individuals by, for example, engaging them on an emotional level on the implications of climate change. While this is certainly desirable, as strong beliefs can lead to more sustainable behaviours in the long run, it is also more difficult achieve.
When working on motivation, extrinsic factors such as incentives, penalties or social pressure can be easier to put in place but have a drawback in that the behaviour change can be harder to maintain once the external stimulus is removed. Intrinsic motivation is much more powerful, but takes much more effort to develop.
When embarking on a sustainability behaviour change process, I tend to start my planning by focusing on reducing the capability and opportunity barriers to change rather than on motivation. For example, I consider how to make the change easy and convenient to implement, what tools and training are needed, and how to ensure that the necessary time and money are available. Once this aspect is maximized, I then consider what messages and motivation are needed to prompt people to act. By ensuring a high capability to act I also reduce the negative emotions and frustration that can arise if motivated people subsequently encounter barriers to action.
This post is an extract from my book "Energy and Resource Efficiency without the tears – the complete guide to adding value and sustaining change in an organisation" . I have made this available free of charge to fellow practitioners.
The post Capability and Motivation – why you need both to achieve change. appeared first on SustainSuccess.
Are small actions counter-productive?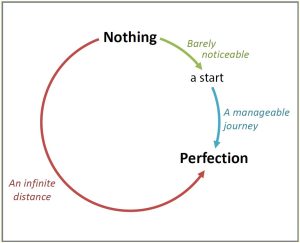 I started my book on energy and resource efficiency (available free as a pdf) with a traditional saying:
"How do you eat an elephant? Why, one bite at a time, of course".
In the section on availability barriers to resource efficiency, I argued that we can drive a successful efficiency programme by getting a lot of people to regularly dedicate a little time rather than by getting a few people to commit a lot of time. Clearly, we need to start with where people are at and it is often unrealistic to ask someone to make a large change in their behaviour from the outset. Indeed, asking for too much or holding back for "perfection" are the root causes of many programme failures I have observed with my own eyes. So starting small is a reasonable strategy.
Is that true, though? Some argue that if all that we request in terms of change is a minor action, then this will result in – surprise, surprise – a small result! Folks like Donella Meadows, Bob Doppelt and many others have reasoned eloquently that no less than a fundamental change to our underlying systems will deliver the scale of change needed to address the magnitude of the problems we face. Similarly, Cambridge Professor David MacKay, in his fantastic book Sustainable Energy — without the hot air  asserts:
"Modern phone chargers, when left plugged in with no phone attached, use about half a watt. In our preferred units, this is a power consumption of about 0.01 kWh per day. For anyone whose consumption stack is over 100 kWh per day, the BBC's advice, always unplug the phone charger, could potentially reduce their energy consumption by one hundredth of one percent (if only they would do it).

Every little helps!

I don't think so. Obsessively switching off the phone charger is like bailing the Titanic with a teaspoon. Do switch it off, but please be aware how tiny a gesture it is. Let me put it this way: All the energy saved in switching off your charger for one day is used up in one second of car driving. The energy saved in switching off the charger for one year is equal to the energy in a single hot bath."
Wow! Therein lies the issue with these small actions, that is that they make us think that we have done our bit, that we have made our contribution to solving the problem. In short, they enable us to rest on our laurels.
Central to the debate over small actions is the notion of spillover. That is whether these small actions will lead to others in a "virtuous escalator" (positive spillover) or whether people will declare victory and cease to take an interest in further actions (negative spillover).
Tom Crompton and John Thørgersen have written a strong critique of the notion of spillover in their paper Simple and painless? produced for WWF. Their argument, which I have much sympathy with, is that many organizations, individuals and policymakers are in denial of the scale of change needed to fix environmental challenges and that promoting marginal improvements simply will not deliver change at a sufficient scale. A consumer who installs an LED lamp will not go on to install solar PV (although installing solar PV would most likely encourage the adoption of more LEDs).
We have already seen some examples of organizations which are making ambitious commitments to change from the outset, for example, Interface's Mission Zero. This is the ideal.
However, we need to be realistic. Where we don't have a strong mandate, we need to recognize that our request to staff in our organization is in competition with other demands on their time. We may well have simply no choice but to start small. It is better to do something than to do nothing, because, if we design our initial engagement carefully we can ensure that it grows over time [that's the big caveat].
Where we don't have a strong mandate, motivation to act will most likely be low, so we need to focus on capability – we need to make the initial action easy to accomplish. Critically, though, we need to consciously design the initial action so that it will lead to further action.
The initial action might simply be to observe or passively participate in an activity carried out by someone else. We know that when householders were asked to peer into their attics to observe the lack of insulation or to feel for themselves the heat loss from a water tank, they are more motivated to take action[1]  themselves. Or we may start with an activity that creates a psychological connection with the change we want to achieve (expand box below for more on this).
Click here to learn more
There is evidence that, used appropriately, small initial actions can facilitate a larger change. Some foot in the door techniques do genuinely appear to work.
The classic case study [1] of these techniques is that of the Canadian Cancer Society, which found that people who had agreed to wear a lapel badge with their logo were subsequently twice as likely to donate than those who hadn't been asked to wear the badge.
One explanation for this behaviour dates back to the 1970s where Daryl Bem developed self-perception theory.[2]
As a result of the action of putting on the badge, the theory proposes our own self-view is modified. Now we see ourselves as supporters of the Canadian Cancer Society, and so subsequent actions that we take strive to maintain consistency with this self-image. Thus, when asked to make a donation we are much more likely to do so.
We may put together a series of interactions that lead to an increased probability of participation. For example, if we are looking to promote recycling we might prime the process by carrying out a survey of our staff to ask them if they think that providing more facilities for recycling would be a positive step (most would agree with this proposition). We could then follow up with a descriptive norm: "75% of the team in our department agree that recycling is a good idea." At this point, we should be in a position to launch the change, with a much greater probability of commitment by staff.
We must avoid processes where folks can select actions involving minimum effort, which may have small results or, worse, let them conclude that the task is complete. Resource efficiency, we must establish from the outset, is about continual improvement. There is always another next step (or bite!).
[1] McKenzie-Mohr, Doug. Fostering sustainable behavior: An introduction to community-based social marketing (New society publishers, 2013) [2] Bem, Daryl J. Self-perception theory (1973)
The post Are small actions counter-productive? appeared first on SustainSuccess.
Lighting Tool Updated
The popular Lighting tool has been updated to version 1.3. Previous versions may fail to return Latitude and Longitude when a user enters a location name, displaying instead "REQUEST_DENIED".

The reason for this is that Google Maps has started charging for geolocation requests used in our "mashup", and so SustainSuccess has now opened an account with Google to cover the costs of these requests.
To protect our budget, we have limited the number requests per day, so if you get this message in version 1.3, please try again the following day or enter a Latitude and Longitude manually.
To upload the new version, please follow the link, right.
The post Lighting Tool Updated appeared first on SustainSuccess.