---
Streamlined Energy and Carbon Reporting (SECR) – update

Following up on my earlier post, I attended a webinar where Gary Shanahan, Head of Business and Industrial Energy Efficiency, Tax and Reporting at BEIS, clarified some key points:
Timing: Organisations will report in their Annual Report and Accounts covering their first reporting period after 31st March 2019. Thus an organisation with the typical April-March financial year will report in their Annual report ending 31st March 2020 on energy and emissions from 1st April 2019 to 31st March 2020.  These organisations have just six months to prepare their data collection processes. An organisation with a calendar year reporting cycle, January-December, would report on energy and emissions in the Annual Report and Accounts covering the period 1 Jan 2020- 31 Dec 2020, sometime in 2021.
Scope: Unlike the CRC, subsidiaries only have to report their energy and emissions (either alone or as part of a group) if they themselves would qualify (the criteria being any 2 of the following: at least 250 employees, net annual turnover greater than £36m and net annual balance sheet total greater than £18m).  In terms of Group reporting, it is not clear whether organisations with multiple overseas parents can nominate one single organisation to report on their behalf or whether there has to be a direct parent-subsidiary connection (I suspect the latter given the wording of the draft legislation).
The consultation website does not mention it, but there is draft legislation covering SECR, which I was able to track down. The legislation itself is somewhat "legalese" and has duplicate sections  covering LLPs (Limited Liability Partnerships) , listed and unlisted companies, but the Explanatory Notes on page 19 do provide some clarification.
Finally, Gary Shanahan advised that it was the intention of BEIS to publish detailed guidance on the regulations by "the end of January 2019", and I will update folks as soon as I see this is available.
The post Streamlined Energy and Carbon Reporting (SECR) – update appeared first on SustainSuccess.
2050 Pathways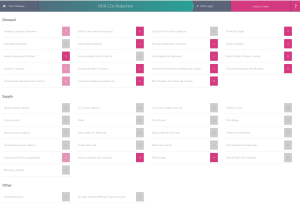 As part of the update of my book, and in preparation for a two-day energy management training course I am delivering shortly,  I revisited the 2050 pathways model for decarbonisation of the UK economy by 80% by 2050.
I took the plunge and completed my own 2050 scenario, achieving an 81% reduction, summarised in the actions illustrated above. My model is heavily focused on the demand-side, as you can see from the red colours in the upper section of the screenshot above. This brings home the fact that no matter how many wind-farms we put up, unless we change our heating and transport to electricity, the supply-side changes will have little effect.
One particular quandary I had was how much land to dedicate to biomass. When I reached 78% emissions reductions, one of the few remaining ways to reach the 80% target was to increase the land use for biomass from 5% to 10%, or start to import biomass, neither of which I wanted to do. In the end, I achieved the target by turning down the average temperature in homes beyond what I really think is feasible. These kinds of decisions bring home the complexity of the energy system and the fact that no single technology can achieve the goal.
The model also attempts to quantify the cost impact of the selections. In the "do nothing" model the annual cost of energy would be around £4,500 per person per year, whereas in my model it will rise to around £5,500 to pay for all the new infrastructure. These are only the direct effect – as the model states, the Stern Review estimated that the lost GDP due to climate change could amount to £6,500 a year.
I thoroughly recommend this tool for its powerful illustration of the complex trade-offs needed to achieve substantial emissions reductions. And it's fun!
The post 2050 Pathways appeared first on SustainSuccess.
EREWTT Update – v1.3 Sept 2018

Just to let folks know that I have updated my Book Energy and Resource Efficiency without the tears – the complete guide to adding value and sustaining change in an organisation.
The ability to change the text frequently is one reason why we have chosen to go with "print on demand". The other is that it has a lower environmental impact as supply matches orders.
The chapter on ISO 50001 has been completely updated as the standard has moved from 50001:2011 to 50001:2018. There have been other updates and corrections throughout the text including checking and updating all the web links in the 800+ bibliography at the end of the book.
The free PDF has been updated as well as the print editions. Please do download the free PDF rather than buy a print version – not only is that more resource efficient but you will always have the up to date version! However, if you absolutely insist on buying a print version, then please do order it through this site.
There have been some price increases in the print version, as follows:
The paperback is increasing from £59.99 to £74.00 (US$79.99 to US$99.00)
The hardback is increasing from £79.99 to £89.00 (US$109.99 to US$129.00)
The price rises are due to an increase in printing costs but mainly because third-party vendors require a larger margin than I have been previously willing to offer, in order to list the book in their sites/stores. I have held the prices as low as possible – this is not a money-making project – but I have reached the conclusion that I do need the book to appear on sites like Amazon and bookstores, if it is to reach a wider audience.
Please continue to send me suggestions for improvement and errata – I really appreciate these.
The post EREWTT Update – v1.3 Sept 2018 appeared first on SustainSuccess.
Streamlined Energy and Carbon Reporting (SECR) – details emerge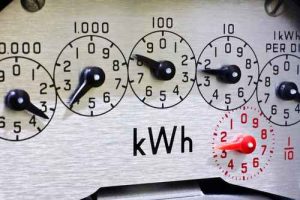 SustainSuccess participated in the government consultation on on the future of streamlined energy and carbon reporting (SECR). The government's response was published on 18th July. This is our summary:
The new reporting regime follows the abolition of the Carbon Reduction Commitment (CRC) at the end of the second phase (31st March 2019 – although Annual Reports will still need to be submitted and allowances paid, so the administrative requirements will continue for a few months).
The £700m income that the CRC provided to the government will be replaced through significant increases in the Climate Change Levy (CCL), which are set to rise from 0.583 p/kWh to 0.847 p/kWh for Electricity and 0.203 p/kWh to 0.399 p/kWh for Natural Gas supplies (45% and 67% respectively, note that CCL other fuels such as LPG will also increase, see this link).
The consultation response (available here) has answered a number of important questions about the new reporting regime. However a number of key issues remain unclear, as set out below.
The basics
When: The Streamlined energy and carbon reporting requirement starts on 1st April 2019 (it is not clear from the consultation response if this is the date where reports must be produced, e.g. relating to the 2018-19 financial period or whether this is the date for which the first report must be made i.e. relating to the 2019-20 financial period).
Who: Reporting will be mandatory for Limited Liability Partnerships, quoted and unquoted companies with two or more of: at least 250 employees, annual turnover greater than £36m and annual balance sheet total greater than £18m. This is the definition of a large company under the Companies Act 2006.
Organizations using less than 40,000 kWh will not be required to report. It is unclear if this applies to organizations within a larger entity or organizations that stand alone. According to the impact assessment, unquoted companies are now able to benefit from an exemption where it is not practical to obtain information. Furthermore, there is an option to exempt disclosure of information which the Directors think would be seriously prejudicial to the interests of the company.
How: The report will appear in the Director's Section of the Annual Report. Companies that appear in a Parent company's report do not have to report themselves. Where a parent company is not registered in the UK but has subsidiaries that are registered in the UK, these subsidiaries, if qualifying for SECR in their own right, would need to report.
What: For quoted and unquoted companies and LLPs, the report will include UK energy use and associated scope 1 and 2 emissions and an intensity metric. For quoted companies this report will also include global energy use (as is already the case). Transport is defined "as road, rail, air and shipping (and the associated scope 1&2 emissions)". The choice of intensity metric "will be left to sectors and to existing best practice and guidance". The report will include a narrative commentary on energy efficiency action taken in the financial year, but will not be required to disclose ESOS recommendations and how they have been taken forward.
At present the report will be "backward looking as it will provide data in relation to the year of the annual report and a preceding year". This suggests that we may report on two years at a time, and also that there will not be a requirement to provide a forward-looking disclosure (as recommended in the Task Force on Climate Disclosure), such as climate change risk statement or similar.
Impact
When the 40,000 kWh deminimis is taken into account 11,300 large companies will be in the scope of the SECR reporting requirements. There are no exemptions for companies or energy suppliers already reporting under other regimes, such as the EUETS or Climate Change Agreements.
Electronic reporting will not be mandated initially. That means that there will not be a central database of responses. However, government have said they will keep this option open for the future.
The Devil in the detail
Government has not responded to question 15-18 of the Consultation, which include important issues for participants. We were disappointed to see that some of the important issues raised by SustainSuccess still need to be clarified, such as:
There was a question in the consultation on incentives and support to help organisations to make investments in de-carbonisation. We, along with several other respondents, suggested an extension of Climate Change Agreements (which provide rebates of the CCL in return for verified emissions reductions), from "energy intensive" sectors to "large energy consuming" sectors, such as the property sector. This would free up considerable investment and have a lower £/tonne mitigated costs than some of the existing mature CCA sectors. Property is particularly pertinent, as the Committee on Climate Change noted in their last annual report that this sector has "flat-lined" in terms of emissions reductions and needs additional incentives if it is to achieve the necessary level of emissions reduction for the UK to reach its targets.
We raised a technical (but important) point about flaws in the "market based" reporting of electricity use (Scope 2) which currently allows organisations to buy "green electricity" (Renewable Energy Guarantees of Origin) for little or no cost and report no or zero emissions.  We feel strongly that the precedent set in the CRC which means that all grid electricity is reported using a common factor, should be continued into SECR. To do otherwise would allow large organisations to hoodwink the public by claiming for themselves renewable electricity which has been paid for by all electricity users, through the green levies on all consumer's bill. Allowing "green electricity" claims removes motivation for Boards to reduce their energy use that the SECR regime is intended to create.
Uncertainties remain about whether complex organisations, such as investment trusts, or groups with one or more common overseas parents, can report effectively. In many ways the ability to nominate a representative organisations, as in CRC, would make sense, as long as it is clear what participants that organisation is reporting on behalf of. Without some form of consolidation, the SECR could be far from "simplified" for organisations with complex financial/corporate structures ending up with a large administrative burden to allocate emissions to legal entities rather than operational ones.
Further guidance on the reporting requirements will hopefully provide more detail on the treatment of issues such as on-site generation, green and renewable energy tariffs, business travel, carbon offsetting, and the increasing prevalence of ultra-low emission vehicles.
As with all such schemes the devil will be in the detail.
The post Streamlined Energy and Carbon Reporting (SECR) – details emerge appeared first on SustainSuccess.
Peel Land and Property Group – ISO 50001 system certified for another 3 years

At SustainSuccess we are passionate about helping our clients achieve long-term value from their sustainability initiatives.
Back in 2014, we helped set up Peel Land and Property's energy management system. When, in 2015, the system was formally certified to the ISO 50001:2011 standard, Peel Land and Property became the first major UK property company to gain this certification.
The Peel 50001 system has been very successful because it has focused on the value-adding aspects of the standard, and because it was built around the ideas and ways of working of the Energy Champions who have day-to-day ownership of the process. Peel's success can be seen in the outcomes – the energy savings delivered by the team has reached £1.6m a year on a bill of just over £4m – that's an improvement of over 30%!
Another aspect to appreciate is that the system involved a lot of folks across a huge portfolio of properties: the Peel Land and Property offices portfolio including iconic large office buildings like the Venus and Victoria in Manchester; EventCity, the leading event and conference centre in the North; MediaCityUK, the vibrant new centre for creative industries in Salford; Gloucester Quays and the Lowry Outlet Mall; as well as Robin Hood and Tees Valley Airports.
Achieving certification is one thing, but maintaining it is, in some ways, even more challenging. This is where the hard work and enthusiasm of all participants really counts. Joanne Holden took over SustainSuccess' role in the system when she joined Peel as Sustainability Manager in 2017. She has taken on the 50001 process with gusto and steered Peel through its first formal re-certification to the standard in 2018. What was remarkable is that the re-certification audit found no major and no minor non-conformities, indeed there were no observations! That is a truly remarkable accomplishment.
How do we feel at SustainSuccess? Well we couldn't be happier that Jo has taken the baby we helped deliver and is bringing new ideas and focus to the process! The true test of success is when we become redundant!
The post Peel Land and Property Group – ISO 50001 system certified for another 3 years appeared first on SustainSuccess.