---
February 2018 Little Things
February marked the start of the 2018 school year and saw Sarah starting her last year of school (!!) and Luke starting high school... and boarding school! These were all huge events, but the one that would have the biggest impact was that our 'baby' was going off to boarding school and wouldn't be part of our family life during the week anymore. He seemed very excited to get there on that first day (after being a little apprehensive initially) and took the whole experience in his stride. Turns out Grant and I took it harder than he did on the day that we dropped him off and drove away.
Needless to say, we so look forward to our weekends now as we miss this kid desperately during the week. He seems to have settled in nicely at the boarding school and is enjoying high school so far. There has been a lot of information for him to take in and new routines to learn, and he has certainly been overwhelmed at times, but for the most part, he is enjoying his new set-up.
Back in February Grant and I went to a Robbie Williams concert with a few friends and had a fantastic night out in the city. That guy is a great entertainer!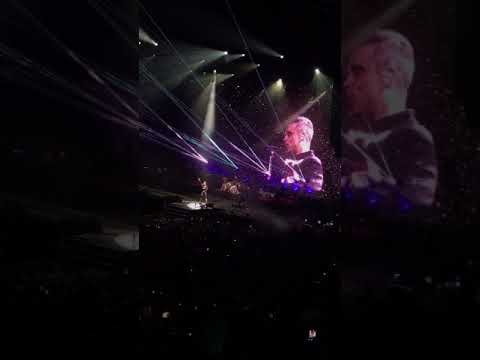 I also attended a Garden Party at Luke's school in February:
That new school of his has some beautiful buildings:
But it was not all fun and games in February. Jessica broke her foot last month and ended up staying in the hospital for a night while they assessed whether she would need an operation. (Luckily she didn't.)
It was quite a significant (spiral) break, poor kid and such bad timing what with Uni starting the week after it happened. Getting to lectures has been quite a challenge as her campus is quite hilly and the bus drops her at the bottom of quite a steep hill. She joked one day that she was seriously considering changing courses as the Business building was so far away from her bus stop! Hah!
And then a couple of weeks ago Grant and I headed off to another music concert with some friends, this time to see The National playing at Villa Maria wine estate:
It was a beautiful, balmy evening and we sat on the lawn sipping delicious Villa Maria wine, nibbling on our packed picnic snacks while listening to the mellow sounds of The National. Not a bad way to spend a Sunday evening, I'd say.
And that was our February. Over and out. xx
Melbourne: The Australian Tennis Open 2018
One of the highlights of our year is going to the Australian Open in January. We've been going for about five years now and every year is as good as the previous one. The tennis is superb and the whole vibe around Melbourne during that time is fantastic.
Melbourne city is one of my favourites. This was the view from our hotel balcony:
Cities with trams always have a certain charm, I think.
And Melbourne is also great when it comes to arts and culture. I try to go to a museum or art show every time we're there, but sadly I didn't get to see anything special this time. I did admire the amazing graffiti that can be seen around the city though and saw these talented street artists performing on the street one day.
These guys were phenomenal.
Sarah was holding the fort while we were away and sent me these messages one day. (Read from the bottom, up.) I had a good giggle at these. Going away definitely highlights just how much parents do for their kids, doesn't it? So not a bad thing to get them to appreciate us more, I think.
This year they were selling delicious doughnuts at the stadium and I was all over that stand in a flash. #doughnutsmakemehappy
Yum.
Seriously yum.
The night games have such a great vibe:
We had breakfast at Brunetti again this trip - but this time at their new location which is quite flash and modern. Great site. And great coffee.
We took a walk around all the courts at the Stadium and came across some fun installations and some super-talented youngsters who were playing on the outer courts. There is so much talent out there.
I love this event and that we get to eat out at some of the many fabulous restaurants in Melbourne - that city has some amazing restaurants. I also cherish getting to see our Melbourne friends when we're there. I love those people. This trip is definitely a huge treat and a firm favourite on our calendar.
January 2018 Little Things
Much of January was spent relaxing next to the pool and enjoying long, lazy days without too many plans. To me, that is absolute bliss. And I love our neighbourhood, especially during Summer when everyone is out walking, coming to the beach and picnicking in the park.
We also celebrated Grant's birthday with a family lunch and had the usual discussion about blowing out the candles without spitting on the cake. ;) Oh boy, that discussion seems to come up at every birthday now. Hahaha.
My mom kindly made this delicious cake for Grant. Thanks, Mom!
I love Summer, and pool parties. And the kids loved their long school holidays and getting to catch up with their friends in January, after having been away in Cape Town for most of December.
Jess spent some time in Sydney with a few friends back in January, and seemed to have a great time over there.
After that, she came home for a day and a half, did some laundry and then flew out to Fiji with 3 girlfriends for a week of island fun. Quite the little jet-setter, that daughter of ours.
Great for her to have so much fun before Uni started again.
Meanwhile, we got ready for our trip over to Melbourne for the Australian Open - more on that in my next post.
December 2017 Little Things
Back in December, we also had an awesome full moon:
(And as usual, I was out there taking 3000 photos of that beauty, only to be rewarded presented with these shots. One day I'll learn how to take a good night shot. Obviously not this day. But hopefully soon. In the meantime, here is the best I can offer.)
We've definitely experienced some awe-inspiring full moons lately - no doubt about that *making mental note to delete 2 million blurry moon photos on phone*, and when it occurs it's documented repeatedly, ALL over social media. So when I read this on Twitter after that beautiful moon, I had a good laugh:
(I've found myself spending more time on Twitter lately, after a long break, and I know it's a big time waster, but I find myself so fascinated by all the American news at the moment that I can't seem to look away. Anybody else over on Twitter lately?)
We went out for dinner with my sweet friend, Linda and her husband back in December, before we both jetted off on holiday. That girl is so special. And she made me laugh when she hauled out her Elf on the Shelf for this photo that night!
Luke's last day of Prep School (junior and middle):
You can read my other December posts here, here and here.
And I'll leave you with this December deliciousness before waving goodbye to December 2017 and all of 2017, in fact:
Goodbye, 2017. *waving*
Cape Town: December 2017 Part 3
So when I first starting thinking about our trip to Cape Town, I knew that I had to be super organised about getting to see everyone because that time of year can be quite busy - people go away on holiday or are incredibly hectic with all the goings-on in December, so while we did manage to organise many get-togethers and got to see lots of family and friends (a
nd it was so heartwarming to spend time with everyone again)
, we
sadly didn't get to see
everyone
we
wanted to see (next time?)
.
One thing we've realised over the years is just how important our relationships with family and friends in Cape Town are and those relationships are definitely what we miss the most. Immigration isn't easy from that point of view.
But of course, this was also our annual family holiday, so we made a point of carving out some family time to relax on the beach and see some of the tourist sights too! (Cape Town is, after all, a beautiful city and we miss so many parts of it!) So I've already written about our visits to Signal Hill, Clifton, Camps Bay, the Waterfront, Sea Point, Constantia, Table Mountain, Witsand, Newlands, Grand Africa and Zeitz MOCAA - see Part One here and Part Two here - and now for the rest...
Grant and I got to celebrate our wedding anniversary with a dinner in Camps Bay one evening:
... made complete with a very romantic walk on the beach at sunset...
And we also spent a morning with our dear friends, Warrick and Kathy (and their kids) at Kirstenbosch. I chose that venue because it was our old stomping ground when our kids were little, and there is now a new(ish) feature (called the Boomslang) in that beautiful Kirstenbosch Botanical Garden which we hadn't seen yet and I was dying to experience.


And even though that new elevated walkway was very cool, spending time with our sweet friends was even cooler. I wish we'd had longer together. I miss our Friday afternoon teas with the kids, the dinner parties and the camping trips. Those were some fun times we had back then.
Dinner with the cousins one night:
This was me when I thought about having to leave this beautiful beach and all my special people again...
And another cool experience that I had been wanting to soak up again on that trip. Such a cool area. We stopped there on the way back from the beach one day. Good old Bo Kaap:
Not only are the buildings in this neighbourhood very colourful, but we overheard some seriously colourful language while walking around the place that day. Hah! ;)
Cape Town, you are über-cool.
And then one last family get-together before we headed home to Auckland:
We went out to visit my aunt and uncle and my cousin and her family, one day. This reunion was extra special because I got to meet my cousin's two baby girls for the first time that day. And what little angels they are! (Sadly my aunt isn't in this photo because she was taking it.)
And then, two days later, we were off:
Leaving this beautiful country was sad, but we left with our hearts and minds full of fun memories and experiences.
Until next time, Cape Town. You were fun. Really hoping you get your much-needed rain soon!
xx