---
Friday Five
How is it the end of May already? I'm mildly flabbergasted. But also, I'm rather happy that it's the weekend again because, as weekends go, this is going to be a pretty exciting one. I'm going to watch Luke perform in his school production of Big House Music tonight, and the rest of the weekend we will be celebrating Jessica's 20th birthday. 20! My first-born will no longer be a teenager. All quite crazy, really. Again, mildly flabbergasted.
What have you got planned for the weekend?
Before I leave for Luke's show, I wanted to share my Friday Five links with you:
1. Are you worried about your privacy? Should you be?
2. This is another reason I'm
moving this destination higher up my travel bucket list
.
3. Looking for some new ideas for quick lunches? (For work or any other time, really.)
4. Eagle vs Fox - check out this amazing footage.
5. Did you watch the royal wedding? We were out that night, so I didn't watch it from beginning to end, but the snippets I saw afterwards were amazing. And don't you love the official royal wedding photos?
Have a wonderful weekend, everyone!
xx
When you find yourself in the countryside. Yes please!
After getting Luke's new cast fitted, we headed up north to Mahurangi, to drop him off with his rugby teammates who were playing a game up there on Saturday. And after watching the first half (featuring Luke as the waterboy), we decided that seeing as though we were already up north, we should probably have a little meander around Matakana village and possibly a walk on Omaha Beach too. I mean, why not? It was only a short drive to get there and Luke was going back to boarding school with his team afterwards, anyway.
Omaha Beach

Visiting Matakana is always a good idea as this quaint little village is home to so many adorable shops and art galleries. We drove in just as the famous Matakana Farmers' Market was wrapping up for the day, so we rambled into the village and, after scrutinizing a few restaurant's menu lists, were tempted by the Tramcar Diner's simple, yet delicious-looking offerings. Grant ordered the chowder and I opted for the prawn and ginger dumplings.
(Grant has yet to learn that in order to avoid having his photo taken by me all the time, he has to be the one taking some good photos!) #longsuffering #haha
And after resisting the urge to purchase a piece of artwork, we drove on, for a walk on the expansive Omaha beach.
I must say - this totally spontaneous little road trip that we tacked onto dropping Luke off at rugby, turned out to be a very lovely jaunt in the pretty countryside north of Auckland. Autumn in the countryside is quite literally a breath of fresh air!
Friday Five
But before I go off to fetch him from school, I wanted to share these links with you:
1. Email responses and what they really mean. I laughed out loud at quite a few of these.
2. Are you Team Yanny or Team Laurel? I'd love to find out what you hear when listening to this recording. Let me know in the comments below.
3. Another reason to love Benedict Cumberbatch.
4. Check out these long weekend getaway places to visit in New Zealand.
5. Ways you can bond with your teenager. Having three teens, Number 9 certainly resonated with me (it's an ongoing battle in our home).
Have a great weekend, everyone!
PS My mom gave me those pretty tulips for Mother's Day - thanks again, mom!
Being adventurous in the rain wins you extra points
We haven't been doing weekends away much in the past few years because of school sports commitments, but just recently we managed to find a gap in the schedule and booked a weekend getaway to celebrate my mom's birthday which was back in March.
We decided on Hahei, in the Coromandel, and my sister found a house with spectacular views of the beach. Sadly, however, it turned out to be the wettest weekend we have had in the past few months! Rain, wind and wild, stormy weather. But we didn't let that stop us from going out for walks and getting to see what that part of New Zealand has to offer. It also meant we ate loads and got to play lots of games which is always fun on weekends away!
How amazing is this Cove? We've lived in New Zealand for over 8 years now and we hadn't been to visit the famous Cathedral Cove in all that time, so I was beyond happy that we eventually got to see that beautiful place. Even if it was in miserable weather!
For some crazy reason, that place makes you want to put your hands up in the air! Haha!
3 monkeys having a quick rest, out of the wind and rain: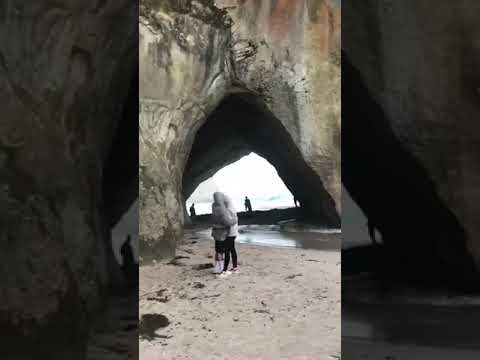 The walk from the drop-off zone (you can only park a way off so I would recommend getting somebody to drop you off at the start of the walk down to the cove) is hiker-friendly and quite gorgeous, with beautiful trees and breathtaking views along the way:
I would highly recommend doing this hike down to see Cathedral Cove if you're ever in Hahei in the Coromandel. You'll be very happy that you did. Whatever the weather.
We definitely plan to go back during summer, when we can enjoy that beautiful beach as well. Ah, New Zealand, you're very pretty.
Friday Five
I don't know about you, but my week was pretty average and even somewhat frustrating at times, so I'm beyond excited that it's Friday and I have the weekend ahead to relax. And double whammy - it's Mother's Day on Sunday!
Have you got anything fun planned for the weekend? Celebrating a mother in your life? We've got a big family brunch booked at a restaurant, and Grant and I will probably end up watching more Prime Suspect, an old TV series we have just started watching.
Anyway, here are my Friday Five picks that I want to share with you this week:
1. Have any of you seen this "Flower Obsession" art installation by the Japanese artist Yayoi Kusama? Mindblow.
2. And these bus drivers in Japan made me smile when I read this story. Um, can you tell that I'm still slightly obsessed with all-things-Japan?
3. Childish Gambino's video for his new song, This is America came out recently and caused quite a stir. What do you think? (If you haven't seen it, proceed with caution.)
4. I don't know about you, but I'm definitely going to see this movie. No doubt.
5. Have you tried this brand? I use their Hydro Cool Firming Eye Gels and they're amazing. Next on my list to try - their Plumping Lip Gels.
And on that note, I'm now thinking that I might add a little Mother's Day pampering session to the mix this weekend and get somebody else to do my ironing...
Have a good one, everybody!
PS
I found the cute picture quote (at the top of this post) on Instagram the other day - don't know who created it, but it's spot on! (If you know who it belongs to, please let me know and I will credit them.)